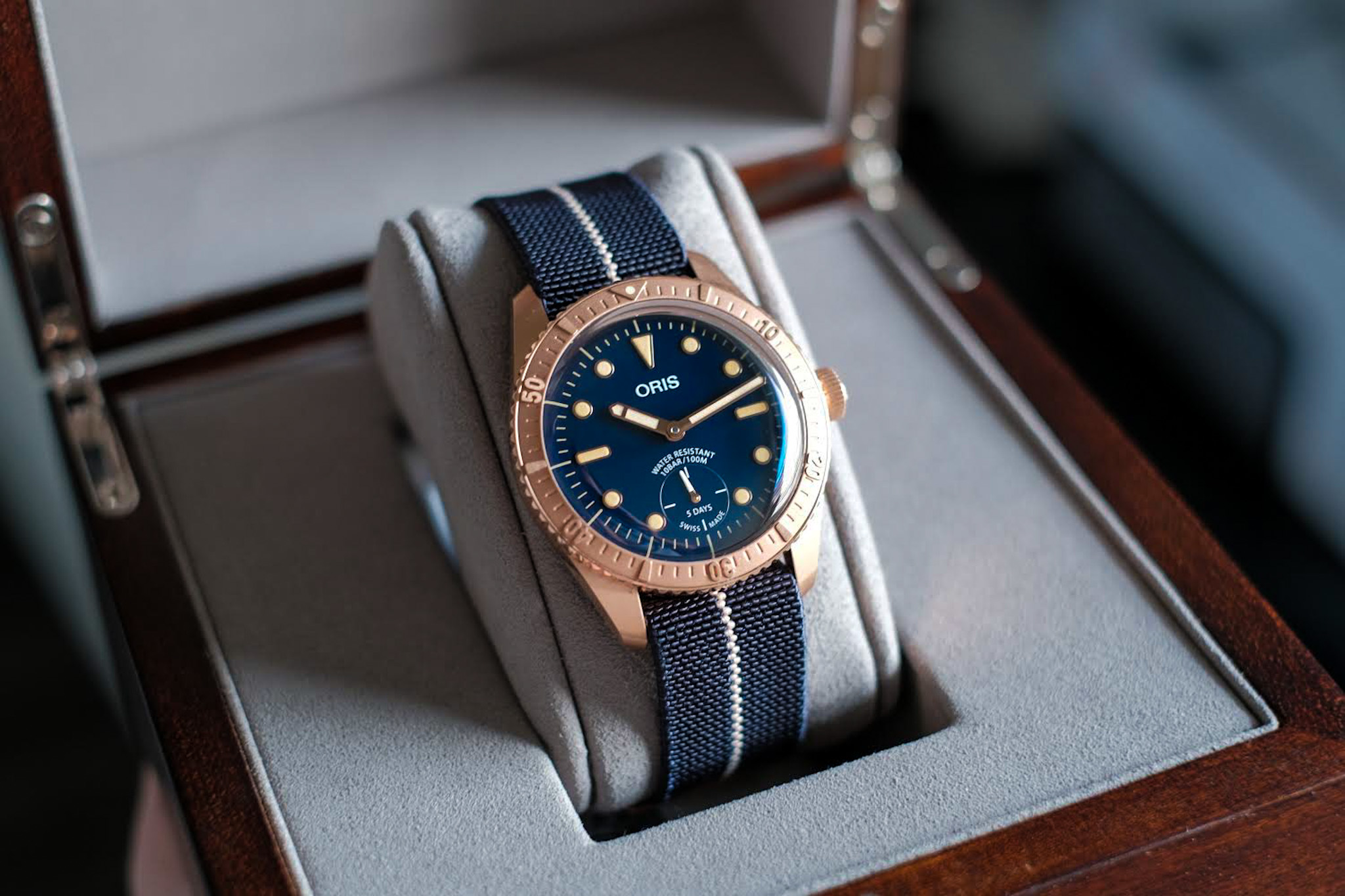 Carl Brashear spent his entire life breaking barriers and progressing his professional diving career. Born in 1931 to Kentucky sharecroppers, Brashear grew up battling not only poverty, but a segregated society that treated him and other black men as second-class citizens. In 1948, he joined the recently-desegregated US Navy, and became the first black sailor to graduate from the US Navy's Diving & Salvage School. He served with distinction, at one point serving as an escort for President Eisenhower's Presidential Yacht.
In 1966, the US Air Force accidentally lost a nuclear bomb off the coast of Spain. Brashear was one of the divers called up for the dangerous recovery operation. During the recovery, he was severely injured by a falling pipe, and his left leg needed to be amputated. Not to be deterred, Brashear trained hard, and two years later would become the first amputee to be re-certified as a US Navy diver. In 1970, he was promoted to Master Diver, the first black American to achieve that distinction. He served nine more years, ultimately achieving the rank of Chief Boatswain's Mate, one of the Navy's highest enlisted ranks.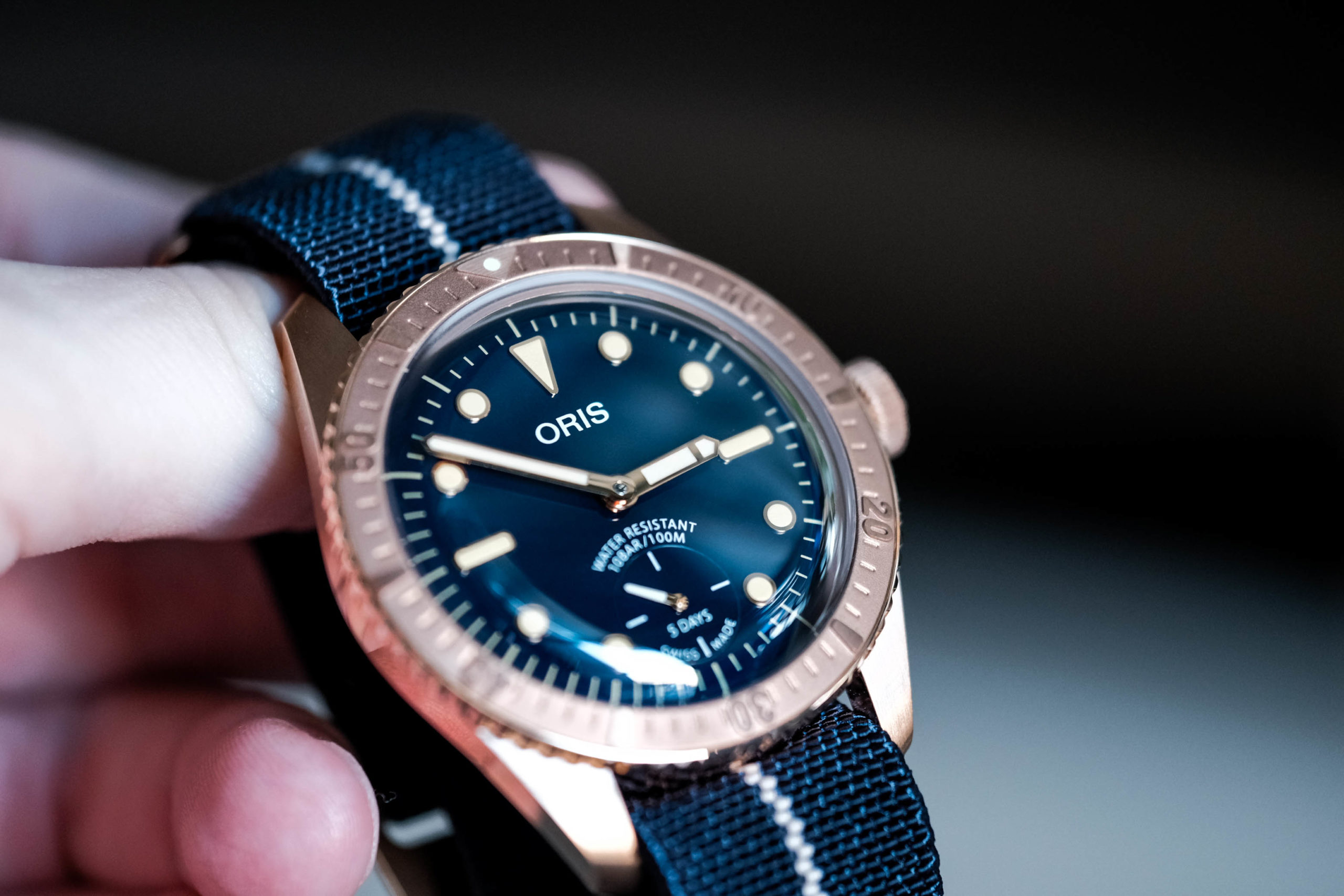 Swiss watchmaker Oris has now released the Carl Brashear Cal. 401 Limited Edition. As its name implies, this is a limited edition watch that was produced to honor the legacy of this incredible man. I managed to get my hands on one, and put it through its paces. Here's what I found.
Nautical Bronze Case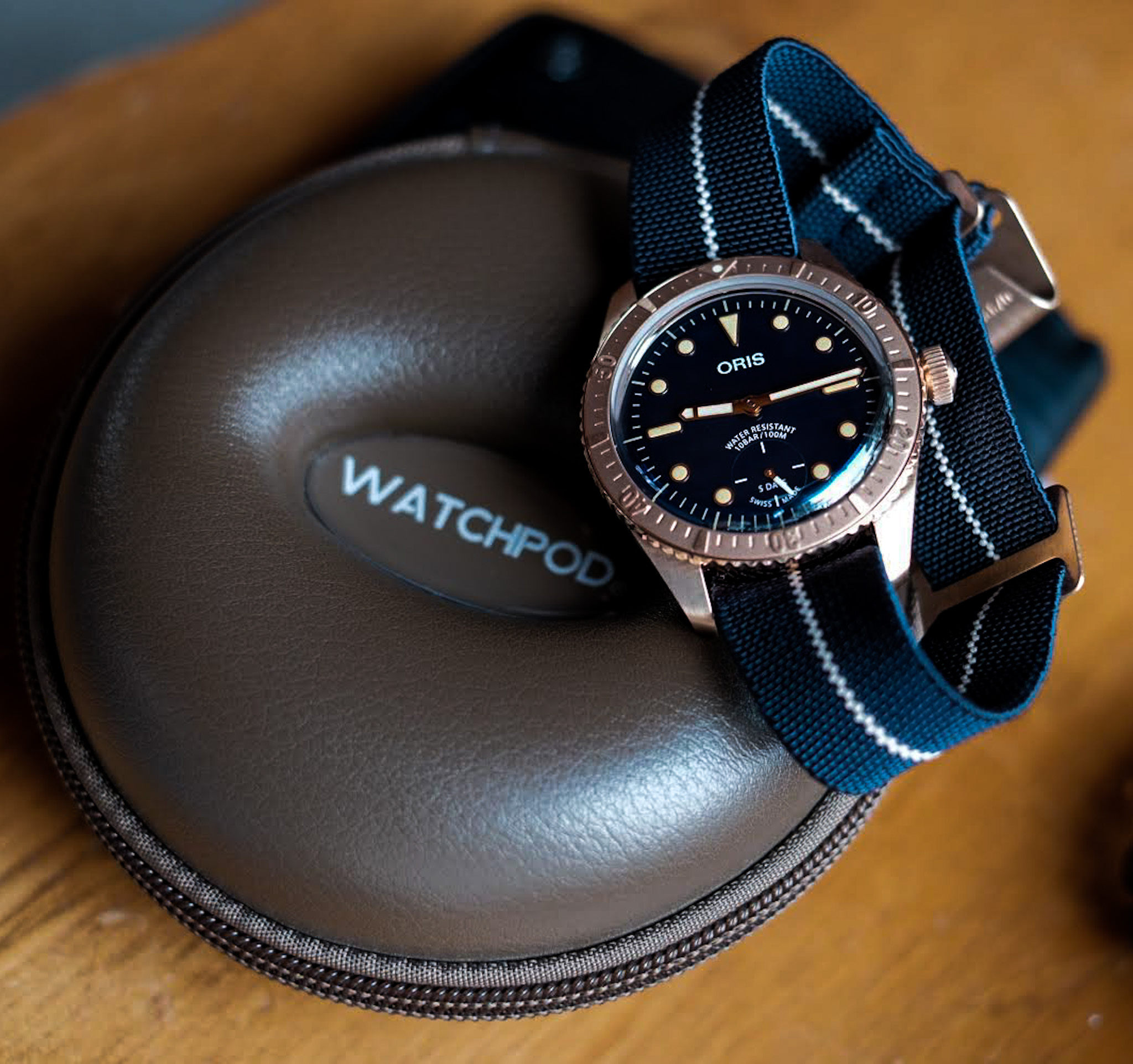 The Carl Brashear Cal. 401 Limited Edition is made to look like an old-fashioned dive watch. Forget about 70s-style Pepsi bezels. I'm talking about an old-school single-color rotating bezel. In this instance, the bezel is bronze, a perfect match for the case. It rotates easily, but it's exquisitely designed to look like a continuous part of the case. Unless you're looking very closely, it all looks like one solid non-rotating piece. The screw-down crown is similarly well-engineered. When it's screwed in, it sits very tight to the case. This screw-down design allows for a water-resistance rating of 10 bars, or 100 meters. It's not a true "dive watch," but it's good enough for most watersports.
The sapphire crystal is double-domed, which creates an appealing vintage illusion when looking from the side. It also slightly distorts the edge of the dial when looking straight on, but not enough to make the watch unreadable. In fact, with its scratch-resistant design and anti-glare coating on both sides, visibility is excellent. There's no display back. Instead, the caseback sports a US Navy anchor, along with the name of Carl Brashear. There's also a special edition engraving, with a unique number for each timepiece. The caseback is stainless steel, providing a beautiful contrast to the bronze body when the watch is removed.
High-Visibility Dial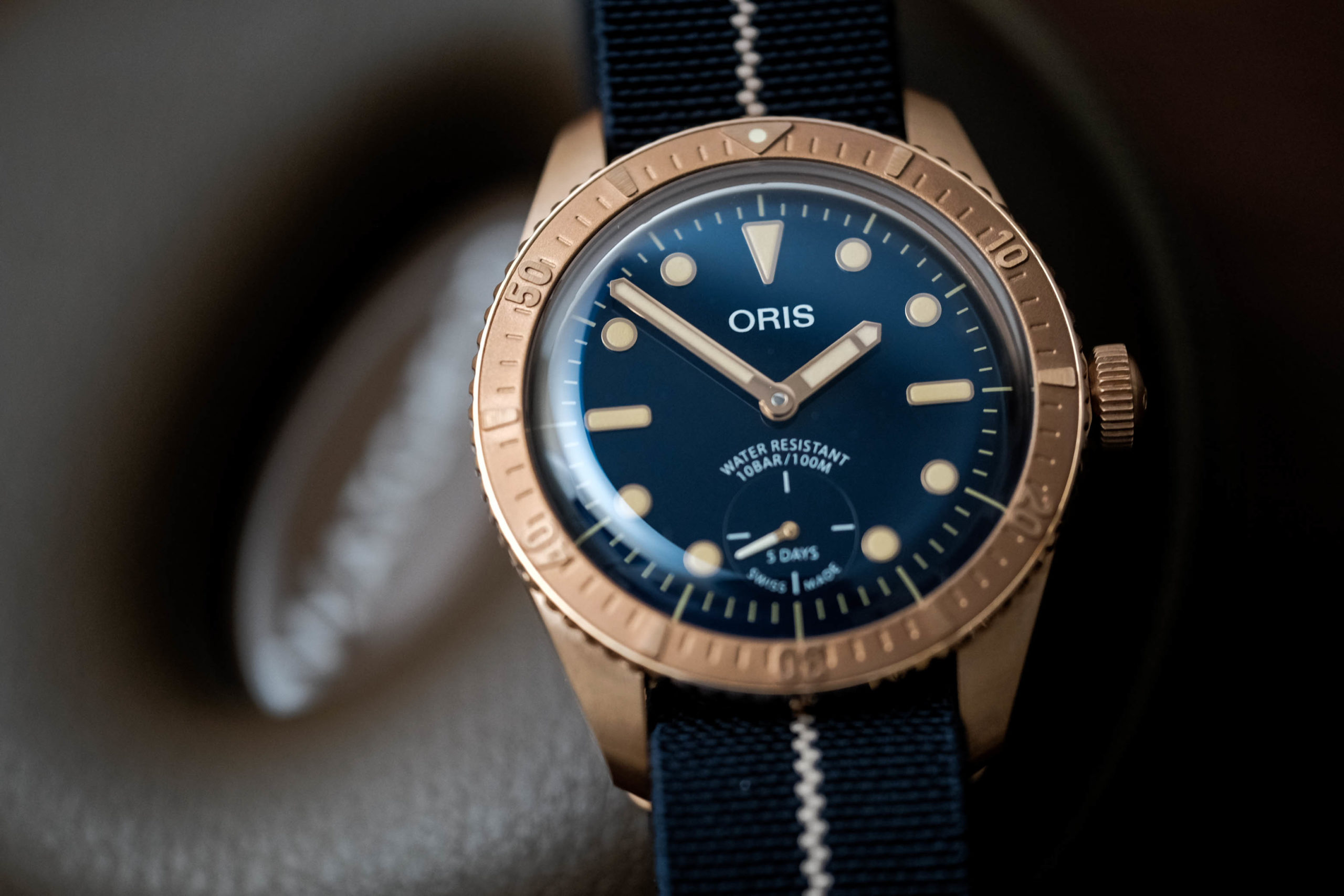 Many people make the mistake of thinking a high-end watch should be ornate. And, to be fair, a lot of Swiss watches do have a ton of complications. But the Carl Brashear Cal. 401 Limited Edition is gorgeous without the need for all kinds of embellishment. The dial is midnight blue, fading from an almost imperceptible light center to a darker color at the perimeter. Large bronze and luminescent filled markers mark most of the hour positions, with bars at three and nine o'clock and an arrow at 12 o'clock. At the six o'clock position, you'll find the small seconds sub-dial, which is a new "function" for the Divers 65. This is unusual placement, but it's surprisingly easy to read, and provides a nice refreshing look to a classic model.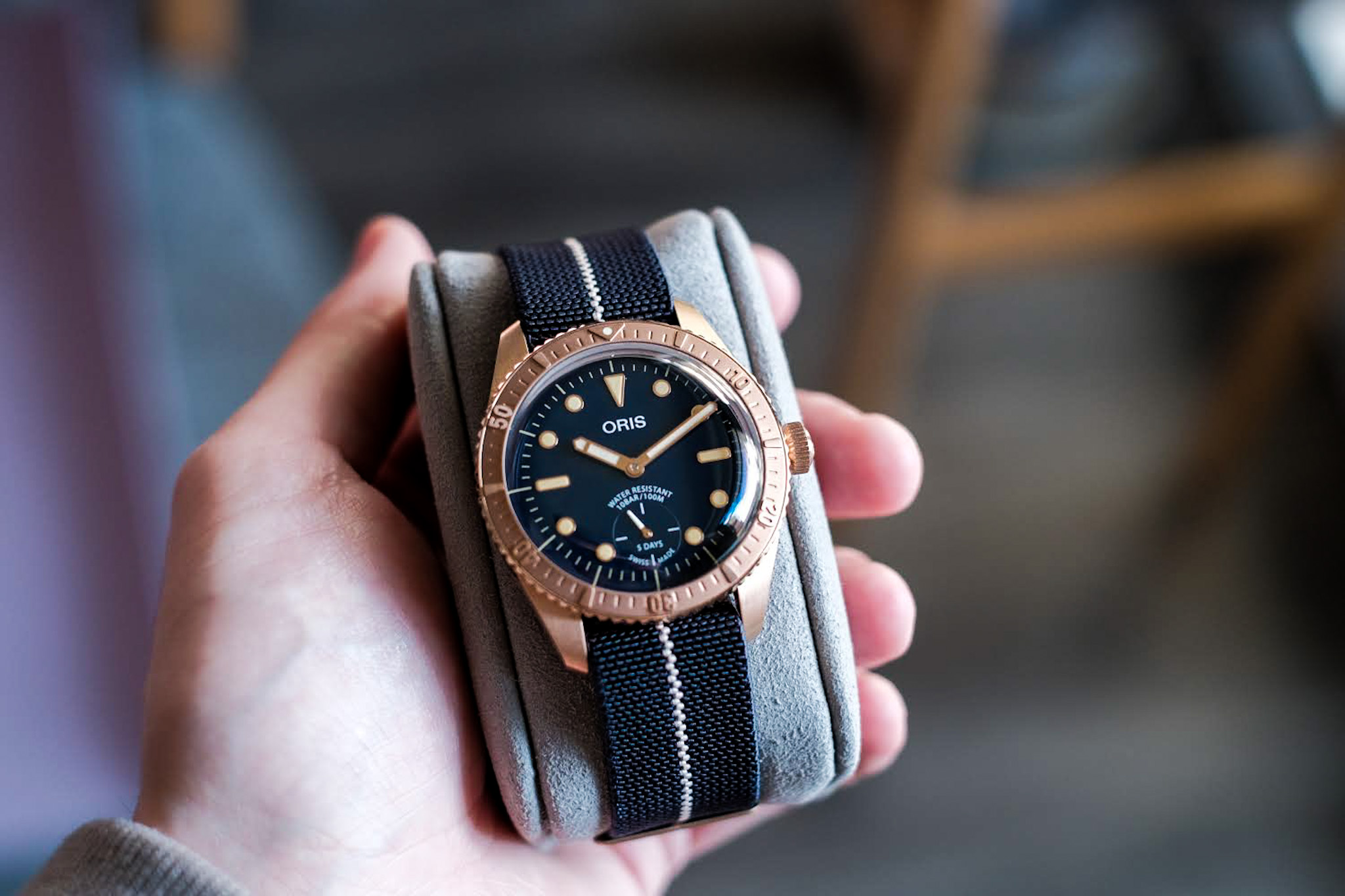 The hands have a broad shape, and are the same color as the case and the index. They're bordered with fine lume lines that provide some nighttime visibility. That said, in all but the darkest light, the large metal hands and shiny indexes make the dial very readable. You might not have the water-resistance for deep sea diving, but you'll have plenty of visibility in murky conditions.
Quality, In-House Movement
The Carl Brashear Cal. 401 utilizes Oris' 400 movement, which is a in-house movement developed completely by Oris. The generation of Diver 65's that used the original Call 400 had the large second hand, whereas the newly modified Cal 401 incorporates the small seconds at 6 o'clock. More importantly, this new movement has a massive 120 hour power reserve. It's comprised of 24 jewels and vibrates at 28'800 A/h, this allows it to run very smoothly, so you'll barely even notice the ticking. It's also hacking, so you can easily adjust the time accurately when it becomes necessary.
Special Edition Extras
The watch strap is thick and durable elastic nylon webbing strap that uses a bronze buckle clasp to fasten. The simple clasp matches the case, and opens and closes easily. The strap is quite unique, and was produced by Erika's Originals for this special Carl Brashear edition. Along with this, you get a beautiful wooden display case. This is a beautiful re-design of the popular Oris Divers 65, and with only 2,000 pieces made it would make for an outstandingly unique addition to any collection.
To view all of Oris's watch offerings visit their official website here.