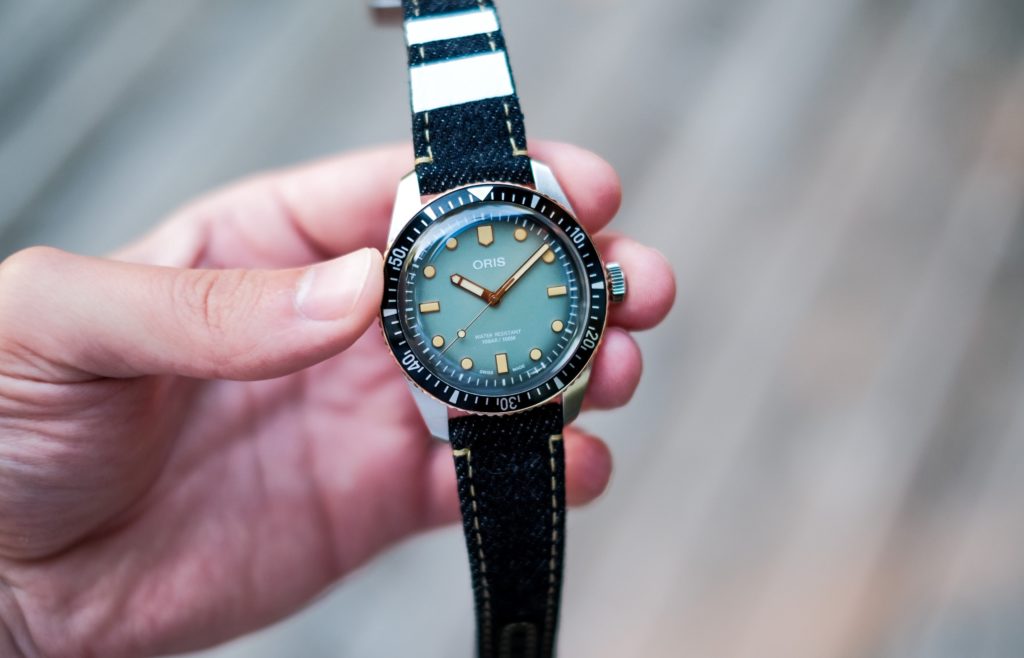 The Oris Divers 65 is already a great watch, when introduced with this new green fume dial it just brought it to the next level. The level that watch collectors actively seek. It's a twist on a classic design, and when some brands sometimes get it wrong, this time Oris got it very right.
This is considered a "special edition" from Oris. Not to be confused with a "limited edition". At the moment there is no cap on production quantity, well at least this is what Oris tells us. Realistically they could halt production on this model at any time.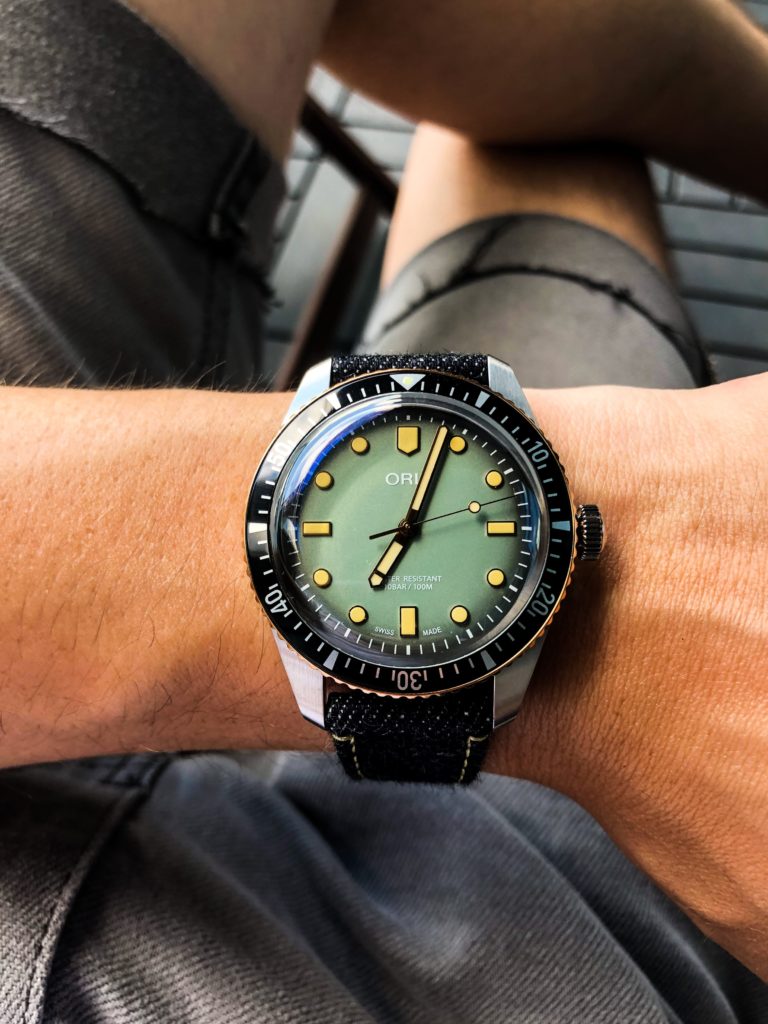 This model was created in collaboration with the Momotaro Japanese Jeans company, because of both companies fond appreciation for excellent craftsmanship. This explains the unique denim strap with the Momotaro signature stripes.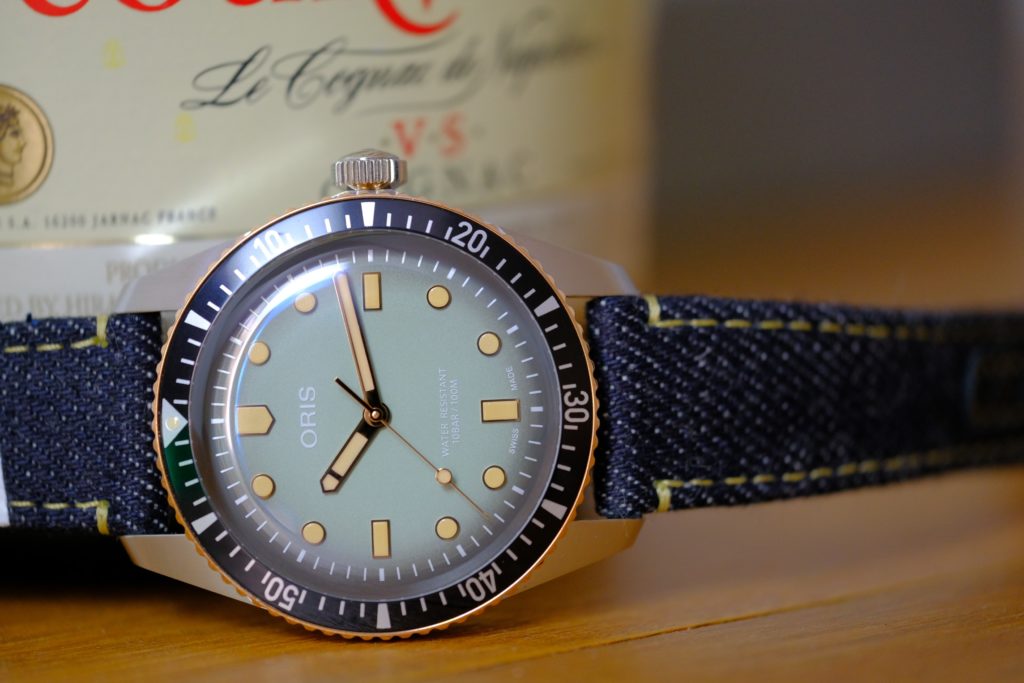 This was a little bit of an "under the radar" release from Oris, well at least I didn't hear much about it when it first launched back in April, perhaps because of the Coronavirus outbreak everyone was a little pre-occupied. It wasn't until I started to see some pics show up on Instagram that I started to catch on, as I took a double look and was mesmerized by this super cool subdued green dial that begins to have a fume gradient near the indices.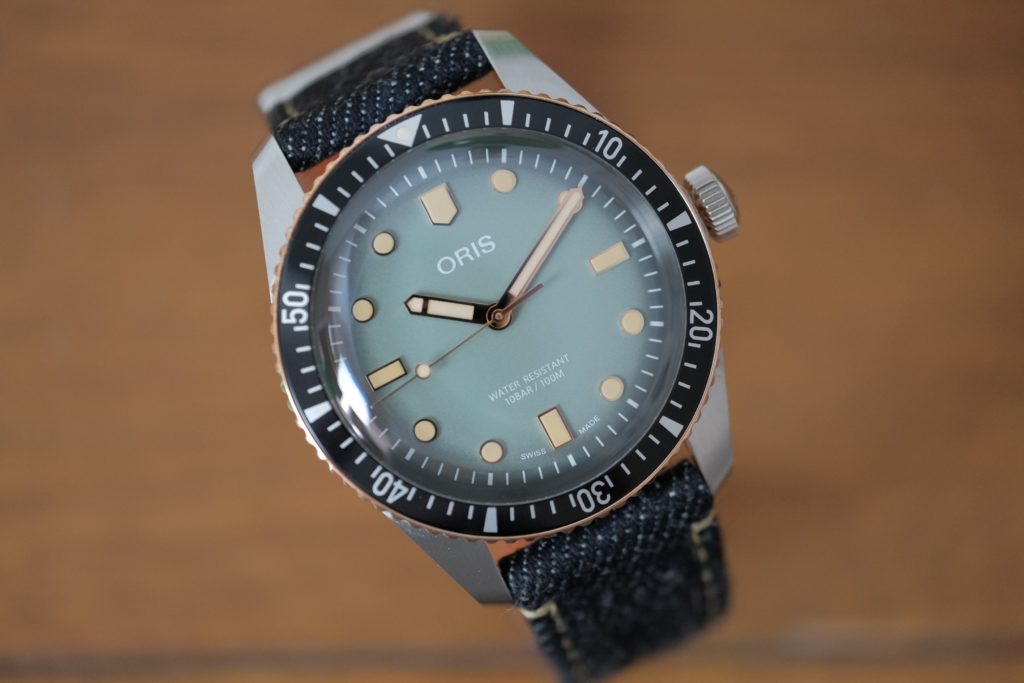 Also unique to this piece is the combination of a steel case with a bronze bezel, only really apparent from the side, but also the hands and round indices match fantastically.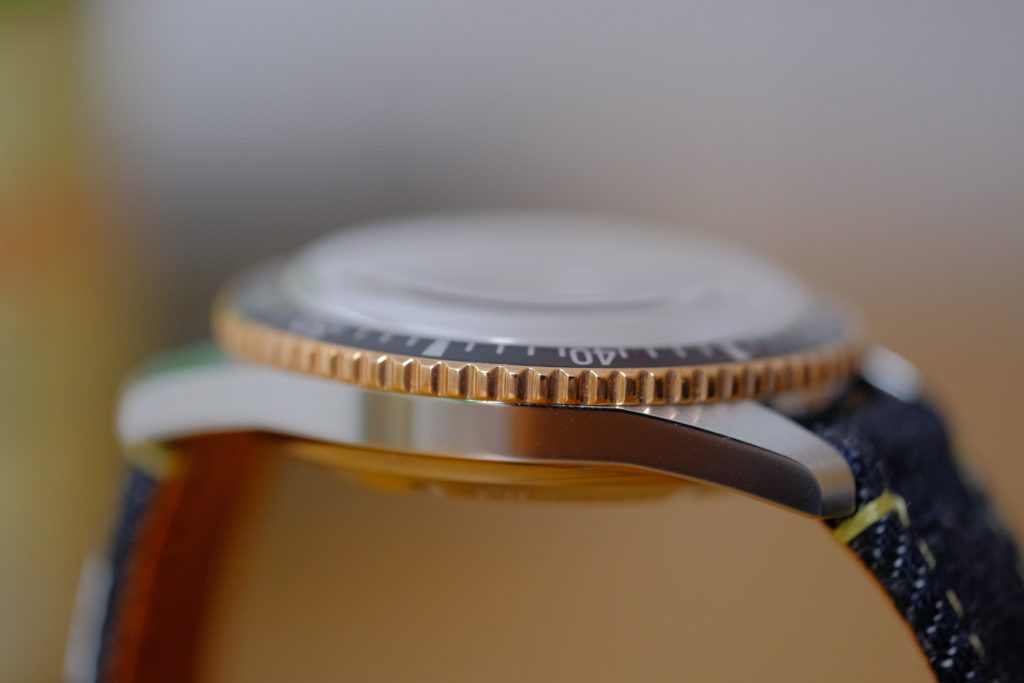 The short curved and tapered lugs allow this piece to sit very comfortably on the wrist, and the surprisingly slim case makes it extra comfortable. This is not a large wearing 40mm watch.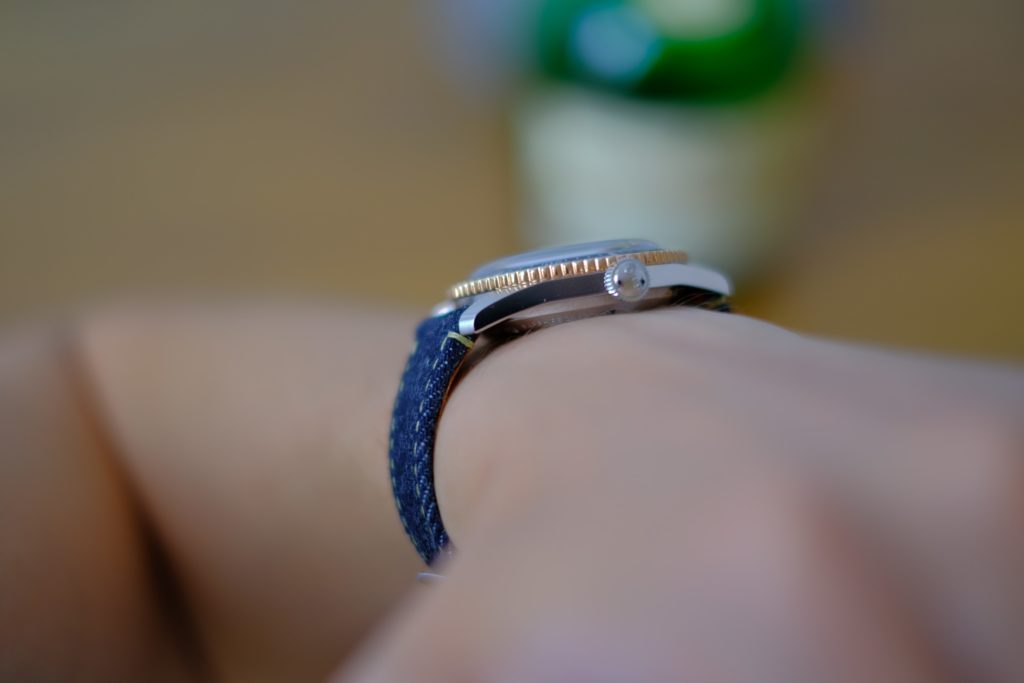 The two-tone coloring of the watch is very subtle, and for someone who isn't a massive two-tone fan I actually really like it. It's just enough of something different without coming off as brash.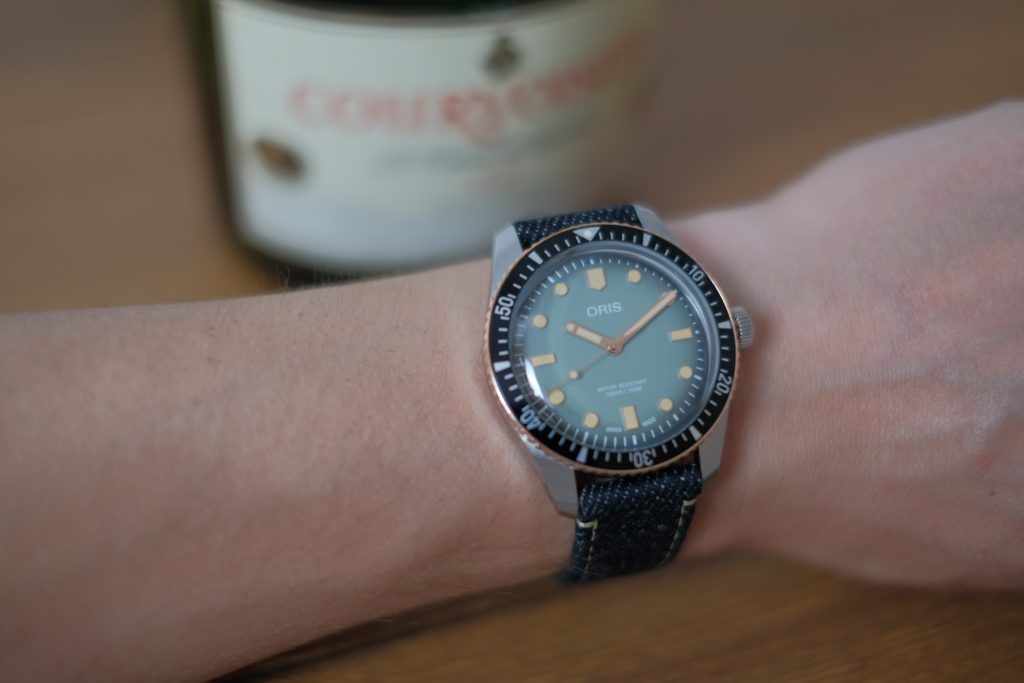 The dial is really where this watch shines, and will be the main reason people are going to buy it. Someone online described the colour of this dial as the underside of a green leaf, which is highly accurate. It has that very soft almost silvery type of green that changes depending on lighting. It also has a very beautifully done fume fade around where the green dial meets the bronze indices. If inspected closely you'll notice the fume gradient starting with a light charcoal and ending with a dark charcoal or almost black appearance, very cool and unique.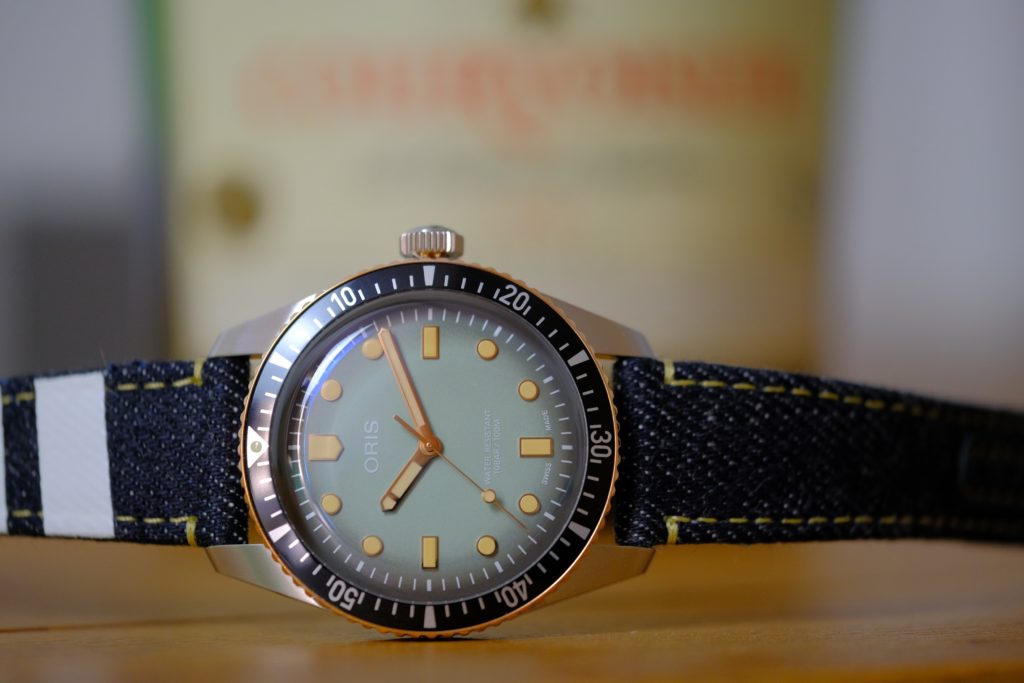 The indices are applied bronze, they're filled with an almost pastel cream colour that looks authentic vintage. It's different than the faux patina indices you'd normally find on some watches that are trying too hard to look vintage. So this one works brilliantly.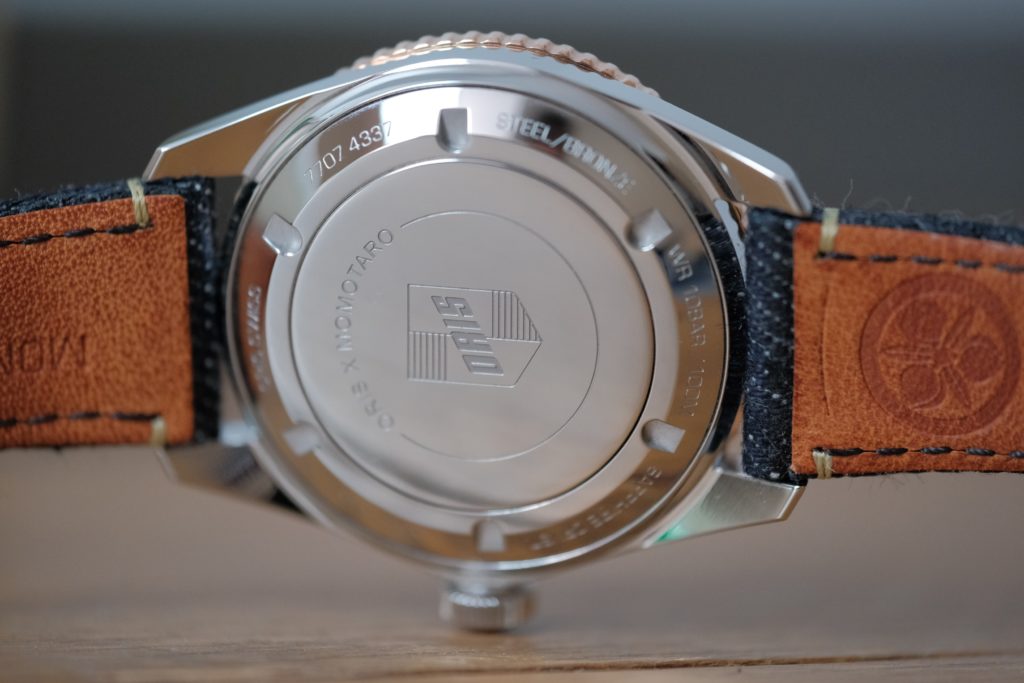 The movement in this watch is the same as the rest of the Divers 65 collection, no reason to change that. It's an Automatic Winding Date SW 200-1 Oris 733, 26 jewels, with a power reserve of 38 hours.
That about sums up my love for this watch. For more specs and to view the entire Oris collection visit their official website here.