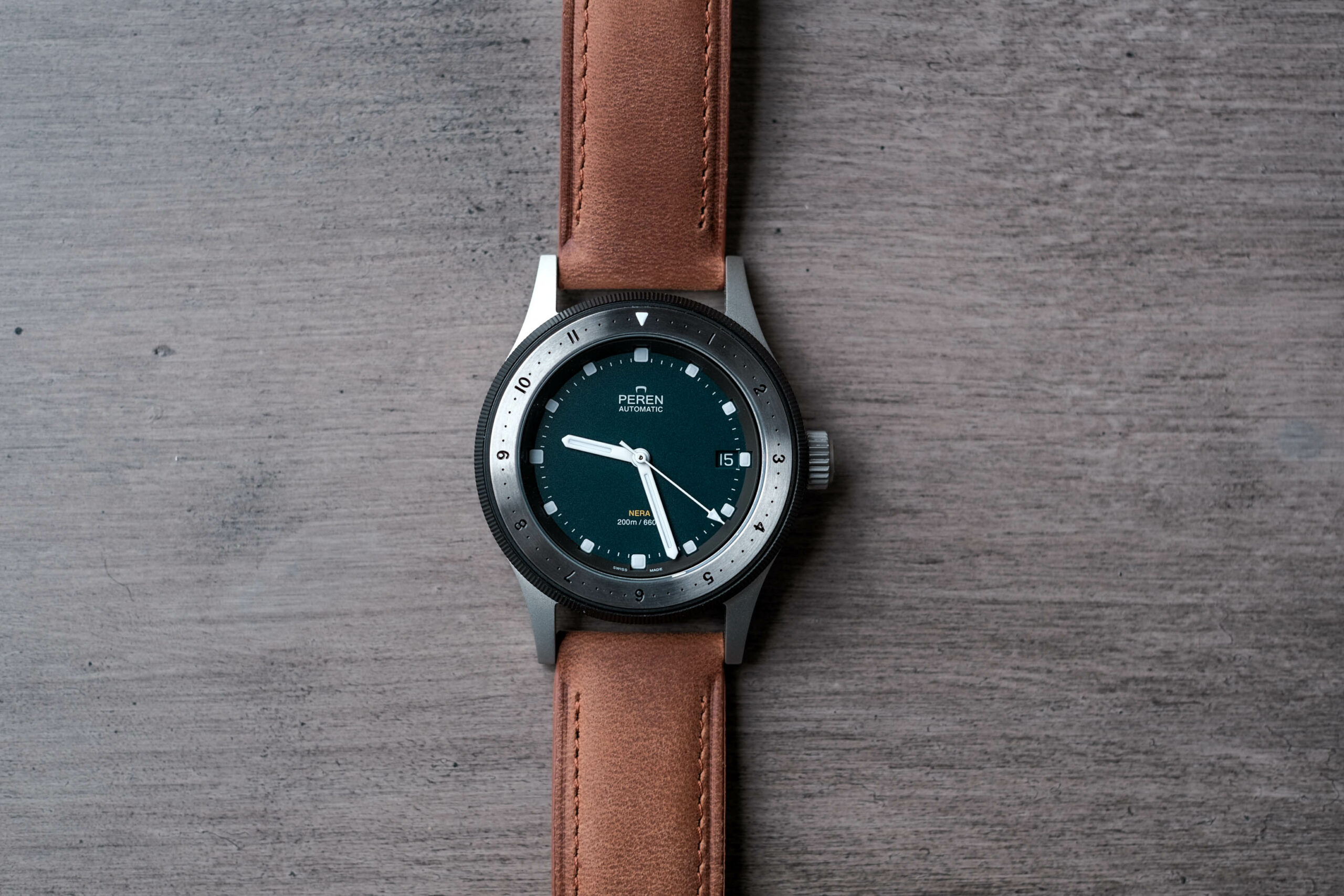 Every once in a while, I like to check out a new, up-and-coming watch brand. Peren is a new Swiss watchmaker, founded by Transylvanian-descended Andy Bica. Bica's motto is "We are inter-connected and what we create now, echoes in eternity."
To that end, the word "Peren" is an abbreviation of "perennial," meaning something that continues indefinitely. The way Bica sees it, Peren isn't just an endless brand, it also has no beginning, he simply introduced it to the world, bringing traditional Transylvanian style into the arena of watchmaking.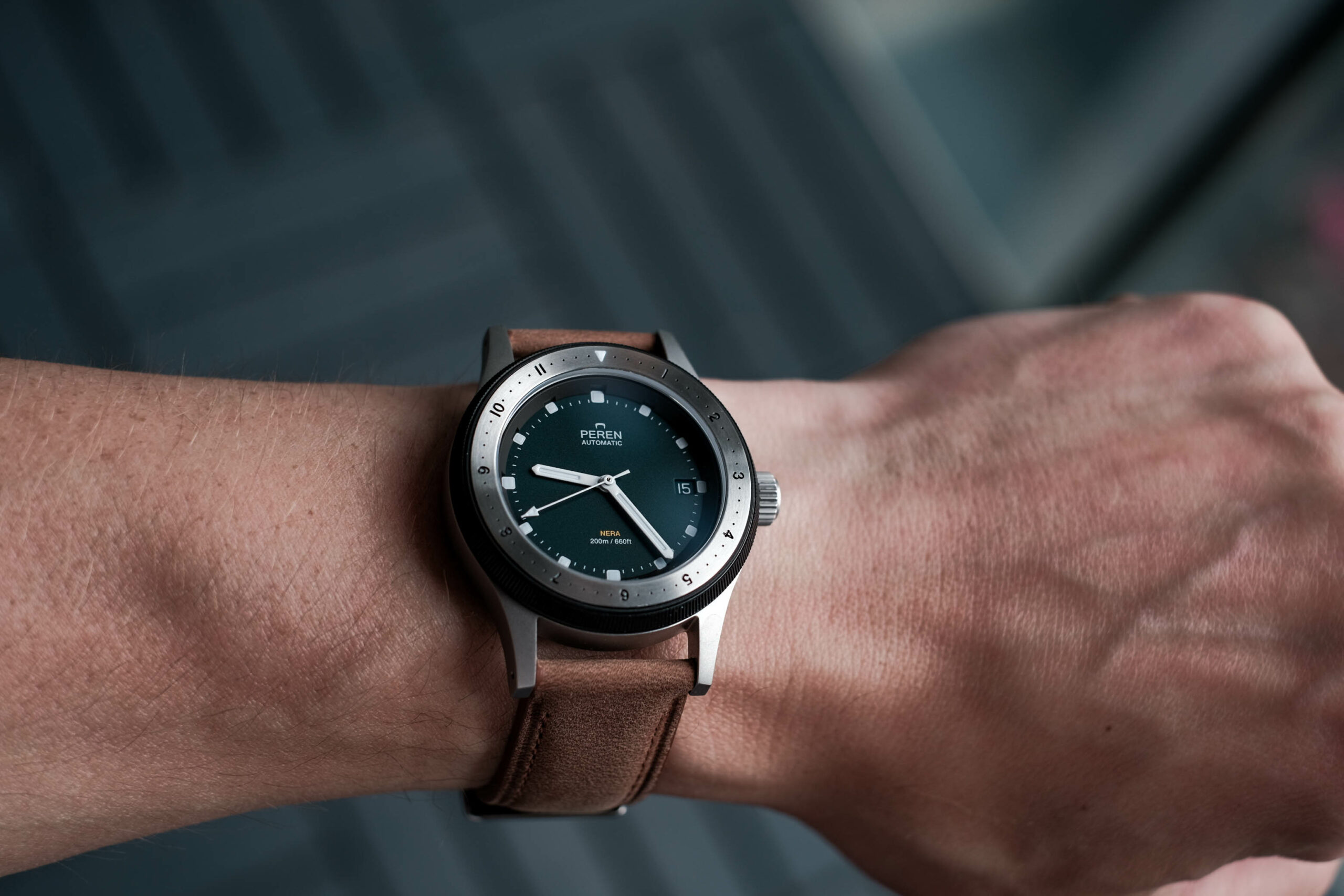 Andy Bica drew his inspiration from the Transylvanian calendar at Sarmizegetusa Regia. This is a large complex, created by ancient Dacian peoples. This stone calendar is famous for being more accurate than other ancient stone calendars, like Stonehenge and Gobekli Tepe. The simple, understated look of the old stone complex is apparent in Peren's design work.
Bica's interest in watchmaking began as a child, thanks to his father, a surgeon who liked to tinker with watches in his spare time. At the age of ten, he disassembled his first mechanical watch, using a set of surgical tools. As a young man, he went on to intern with a series of Swiss watchmakers, eventually assembling his own watch.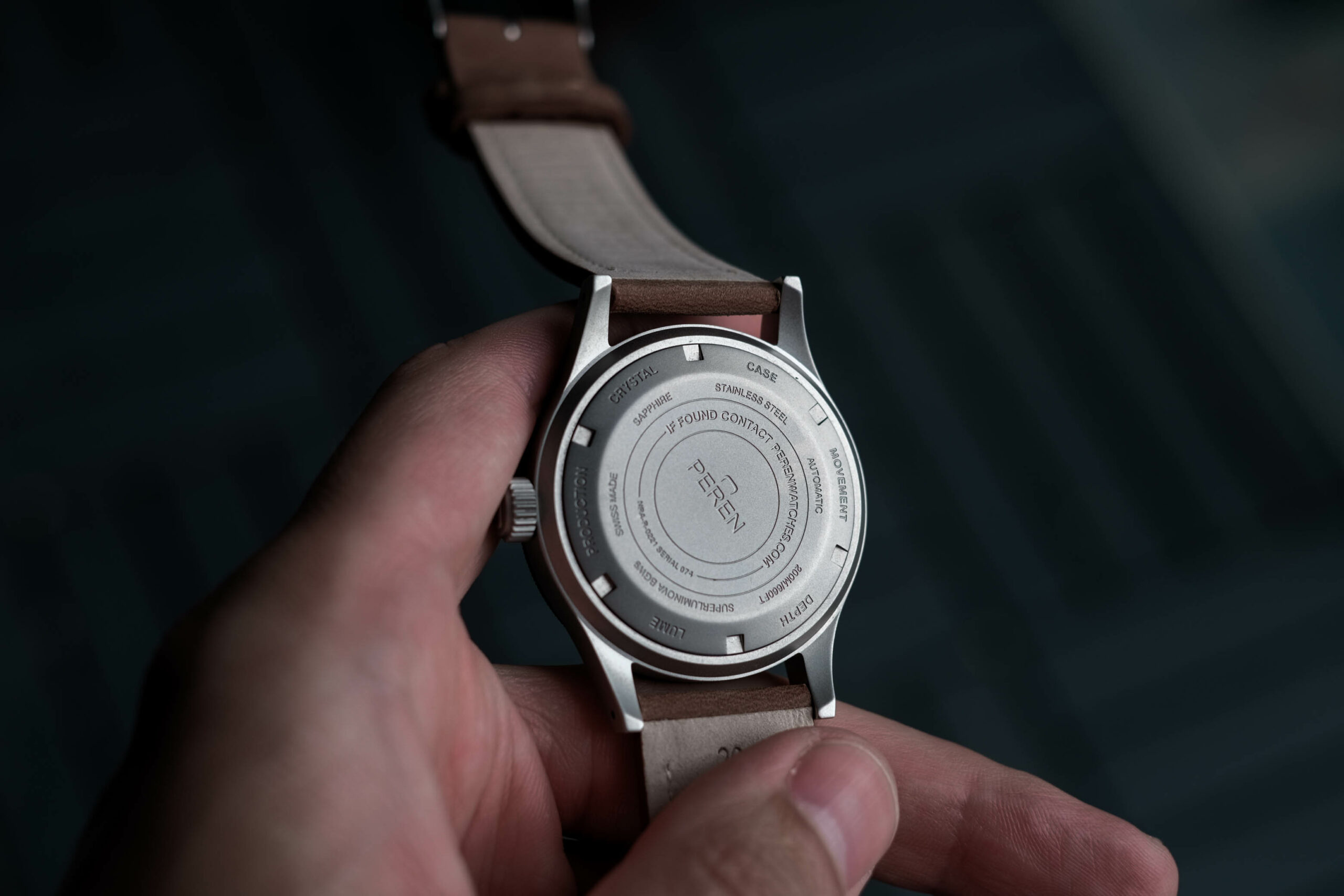 In 2014, Andy Bica registered Peren as a trademark, and started doing small-scale work. Today, he employs a team of watchmakers, producing limited runs of handmade watches. Despite Peren's short existence, the brand is already known for the high quality of its materials and workmanship.
I recently got my hands on the Peren Nera Rogue X. This is an elegant mechanical watch, with a production run limited to 100 serialized units. If you want to get your hands on one, they're currently still available; but do you want to own one in the first place? Here's my take on this new timepiece.
A Straightforward, No-Nonsense Build
The Peren Nera Rogue X's case has a round, Spartan design that's refreshingly elegant. It's constructed from a corrosion-resistant marine-grade stainless steel, with a bead-blasted bottom that's comfortable on your wrist. Meanwhile, the upper surface is brushed, which gives it a nice shine compared to the duller lower side. The 39mm design has a nice, medium wrist presence, with a longer lug-to-lug distance of 48.8mm. And at 12.8mm thick, it's not overly fat.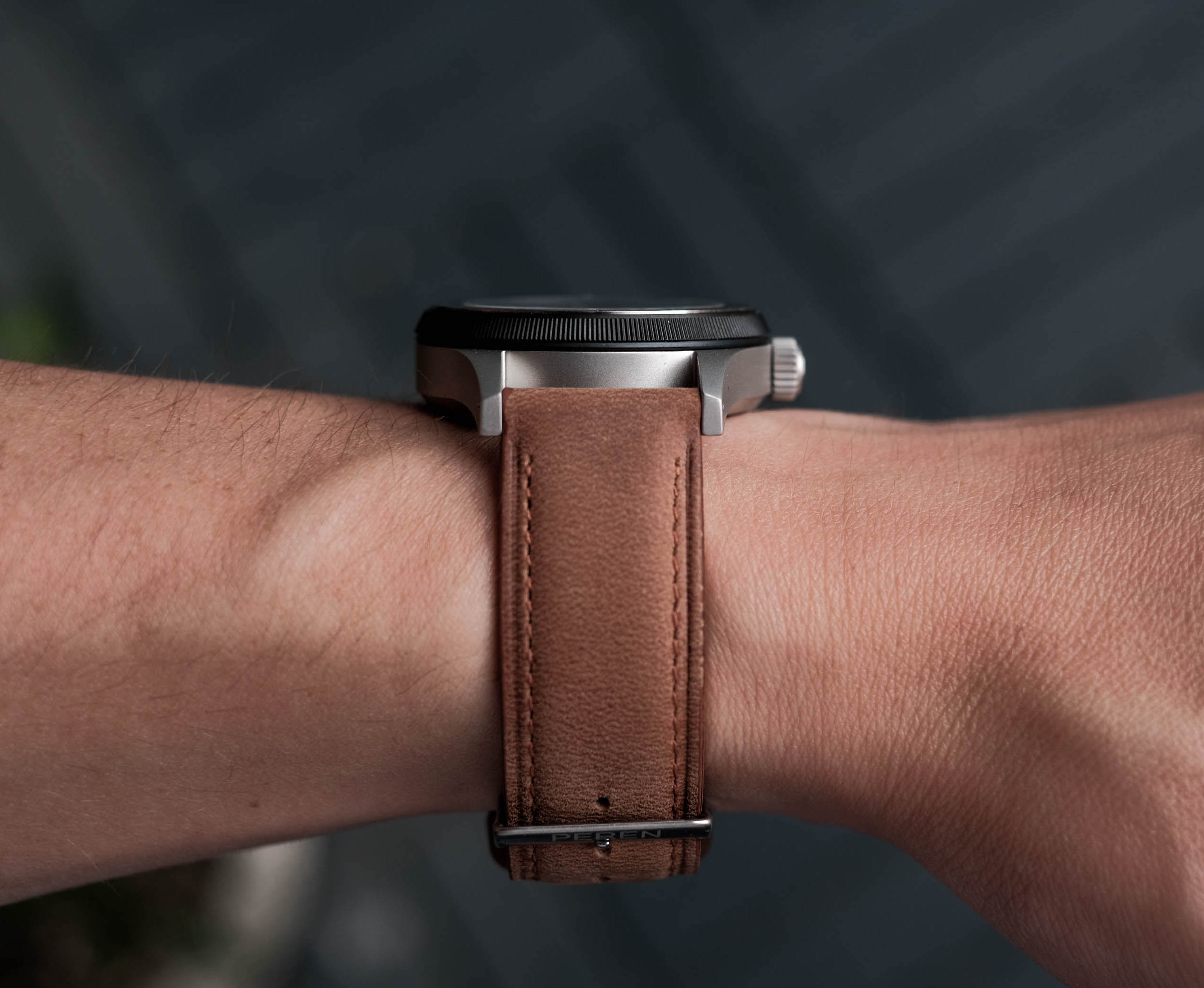 The bezel is constructed from PVD, a metalized plastic that's both lightweight and surprisingly durable. It's knurled on the sides, with a stainless steel insert on the top. The bezel has 12-hour marks, along with 120 clicks, which makes it serviceable as a GMT watch. Peren uses the word "diver," but the bezel isn't high-visibility, nor does it have a two-tone design. Then again, the Nera Rogue X is water-resistant to 200 meters, so taking it in the water is no concern.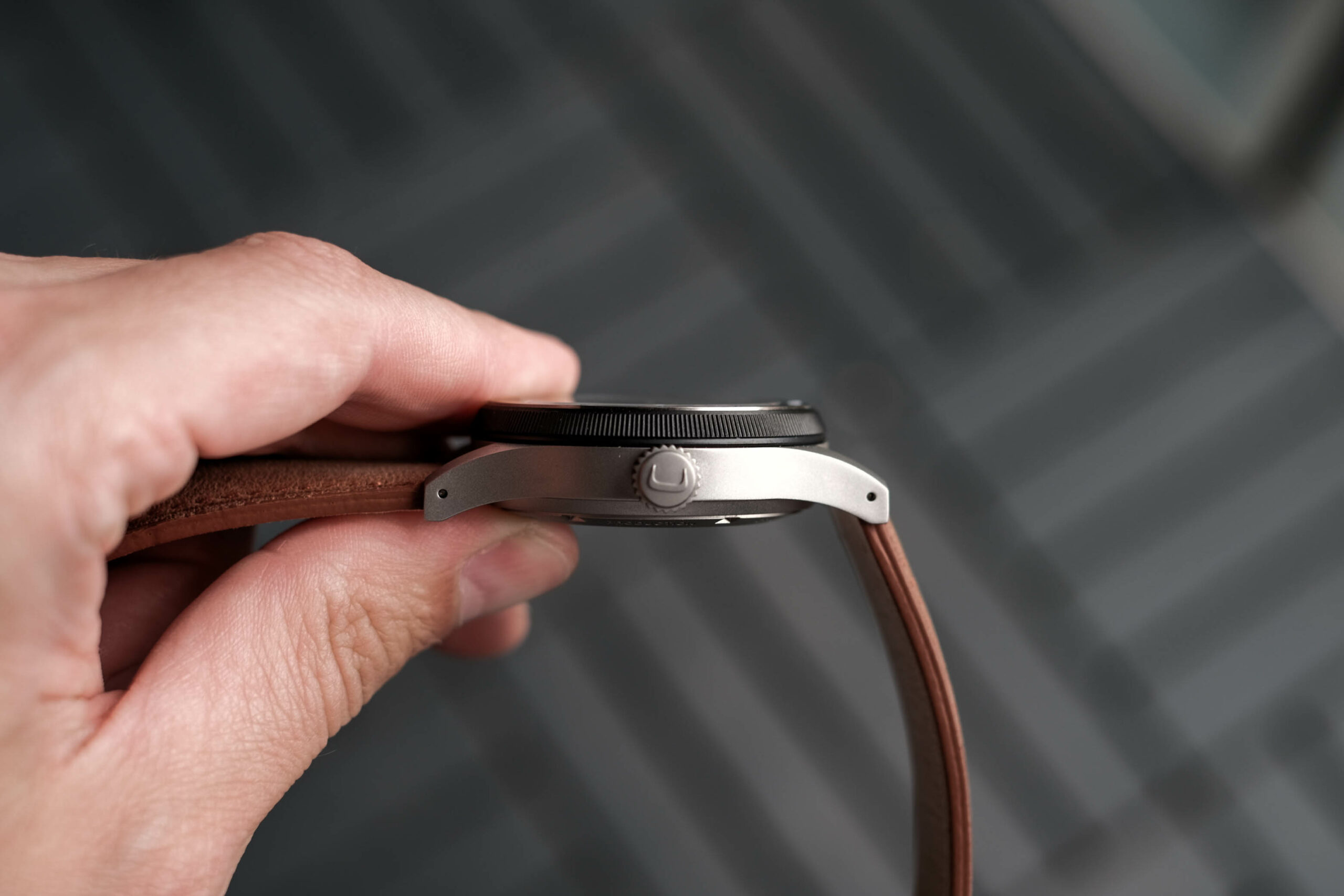 The crystal is a scratch-resistant sapphire, with three layers of anti-reflective coating. It's flat and smooth, and doesn't distract from the dial. On the back, you'll see your watch's individual serial number. On the side, at three o'clock, there's a screw-down crown, with an embossed Peren logo on the tip.
A Slick Aesthetic
The dial is a dark matte blue-green, with no complications or ornate decorations. Even the date window is colored to blend in. If you're not looking for it, you won't even notice it. The words "Peren Automatic" are printed at the top in fine white text, and the words "NERA 200m/660ft" at the bottom.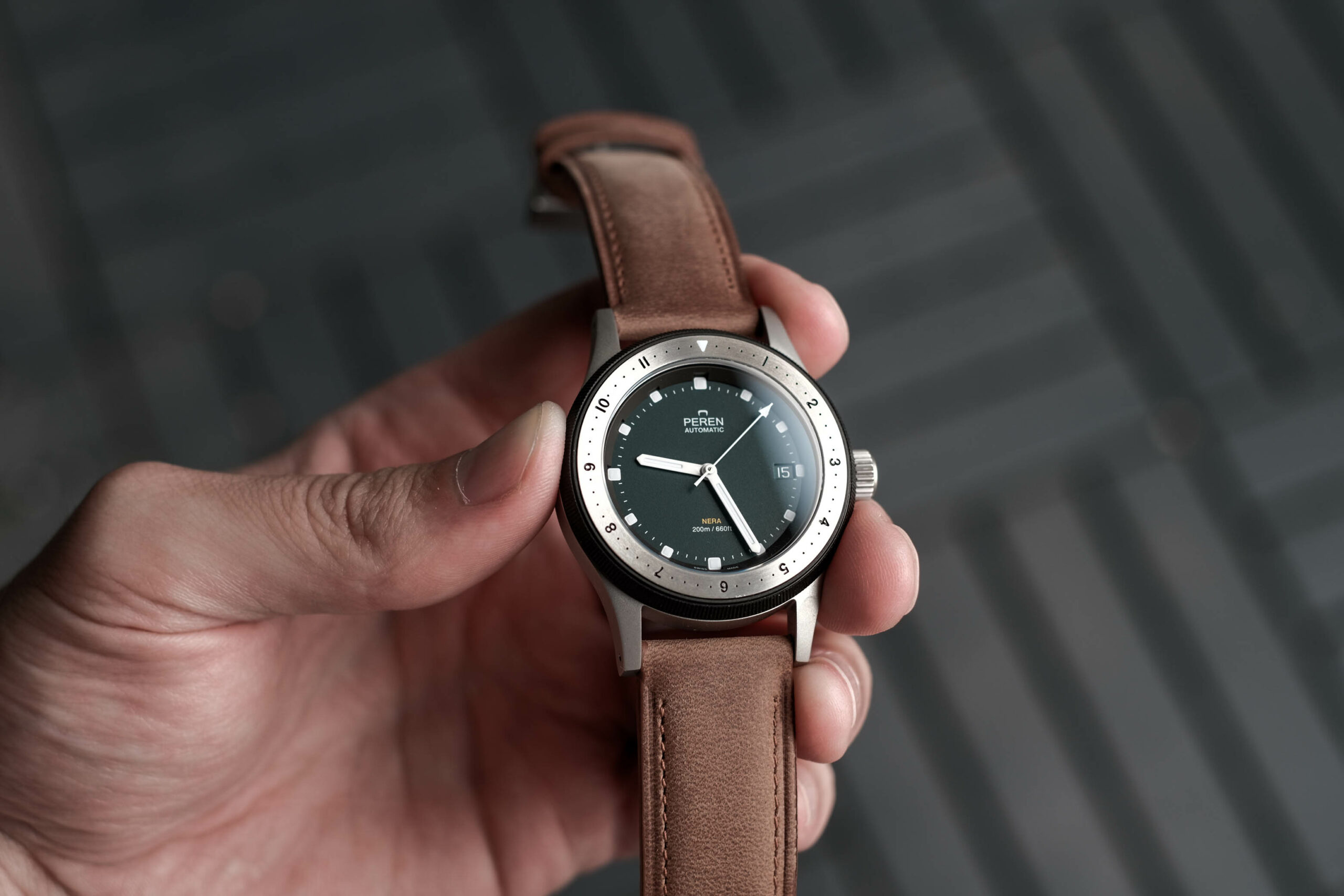 The index is also simple. There are no numerals or large, applied lugs. There's just a set of fine white hashes at the single minute positions, with larger white lume squares at the five-minute positions. The hour and minute hands are an elegant silver, with straight profiles and pointed tips. Down the center of each, there's a thin white lume stripe. The second hand is longer and thinner, with a little arrow at the tip, which is also filled in with a lume paint.
Reliability
This watch uses the Sellita SW200-1 movement. This is a popular Swiss-made movement that's based on the ubiquitous ETA 2824-2 movement. Each movement is regulated in house, so you can expect to get reasonable accuracy – somewhere in the range of +/-5 seconds per day. The movement beats 28,800 times per hour, and boasts a 38-hour power reserve.
Four Strap Options
You can order the Peren Nera Rogue X with your choice of four different straps. I opted for the vintage leather option. This is a finely-grained brown leather, with matching stitches on the side. Alternatively, you can order the Zulu leather version, which has a softer matte finish and no visible stitching. If you prefer a metal strap, there's a brushed stainless steel tri-link bracelet. For a more sporty look, you can order the NATO fabric strap. This is simple black nylon, with a sturdy stainless steel buckle.
For more information visit the official Peren website here.