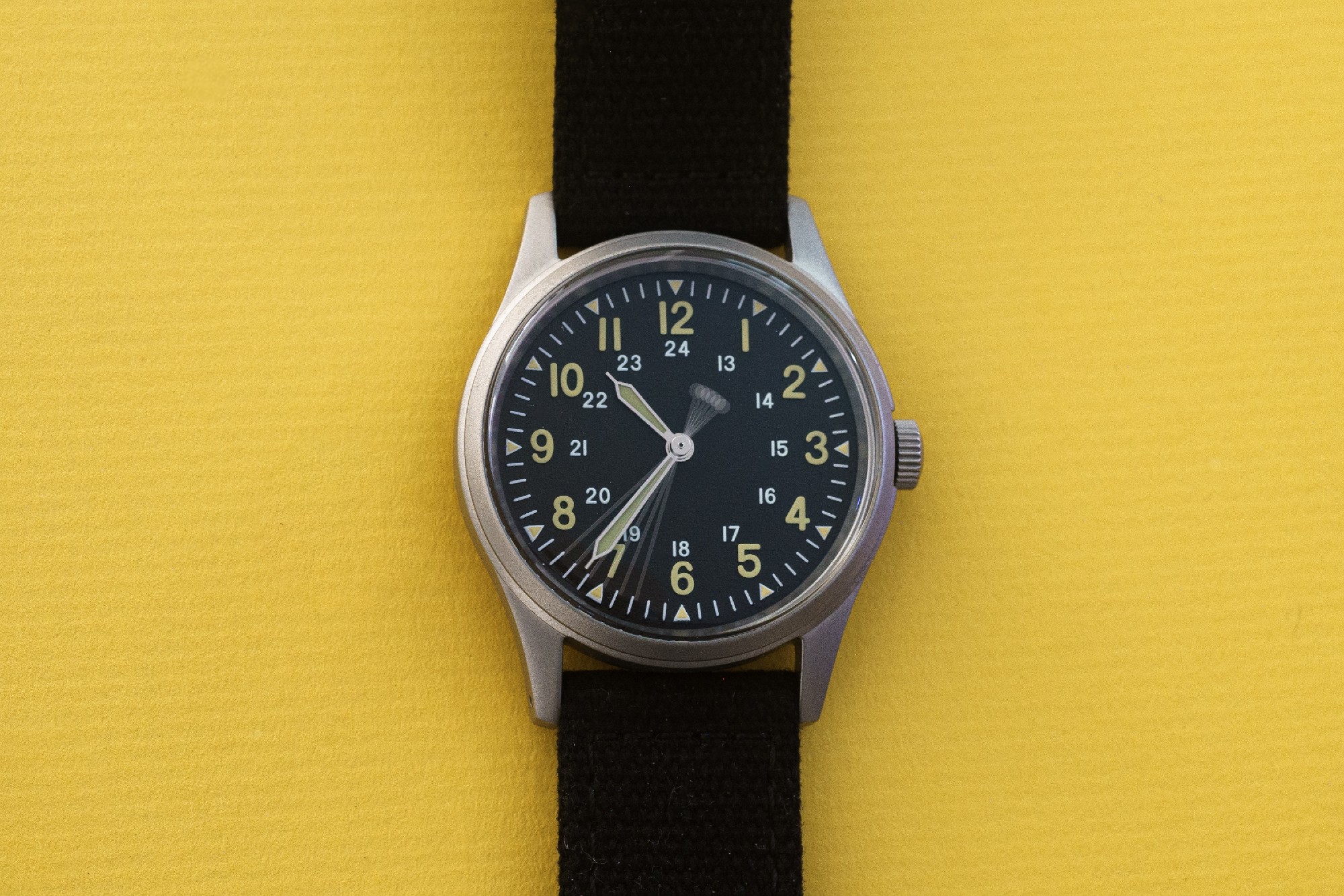 I have a confession to make. For all my love for old-fashioned technology like the one powering our watches, I'm a smartphone enthusiast too (not for timekeeping purposes, mind you). Ever since the golden days of Android Éclair, Froyo and Gingerbread, I've obsessed about specs, display technologies, kernels, and ROMs. I've followed the smartphone industry over the last 15 years, and even to this day, I still love to fool around and flash partitions just so I can tinker with the gamma settings of my Pixel 5. Lately, however, there has been an obnoxious trend in the market that has soured my experience with mobile technology: almost every device out there has steadily grown in size. Seriously, in the current landscape, no single high-end device exists that isn't seemingly designed for Slenderman. Not even the feeble attempts at "reachability" that the current mobile operating systems offer can counter the simple physics of the problem. As volume and mass both increase, ergonomics get thrown out the window. This is the new normal and you will like it, one-handed use be damned.
Furthermore, each passing year we get closer to the technological singularity thanks to marketing suits extolling the virtues of AI-this and AI-that. Did any of these folks ever watch Black Mirror? I don't know about them, but I don't want to end up living in a dystopian hellscape where reality has mingled with virtual mirages designed to soak up your soul in exchange for a dopamine hit. I just want a small phone with great battery life, a beautiful bright display, and a solid camera. Is it really that much to ask for?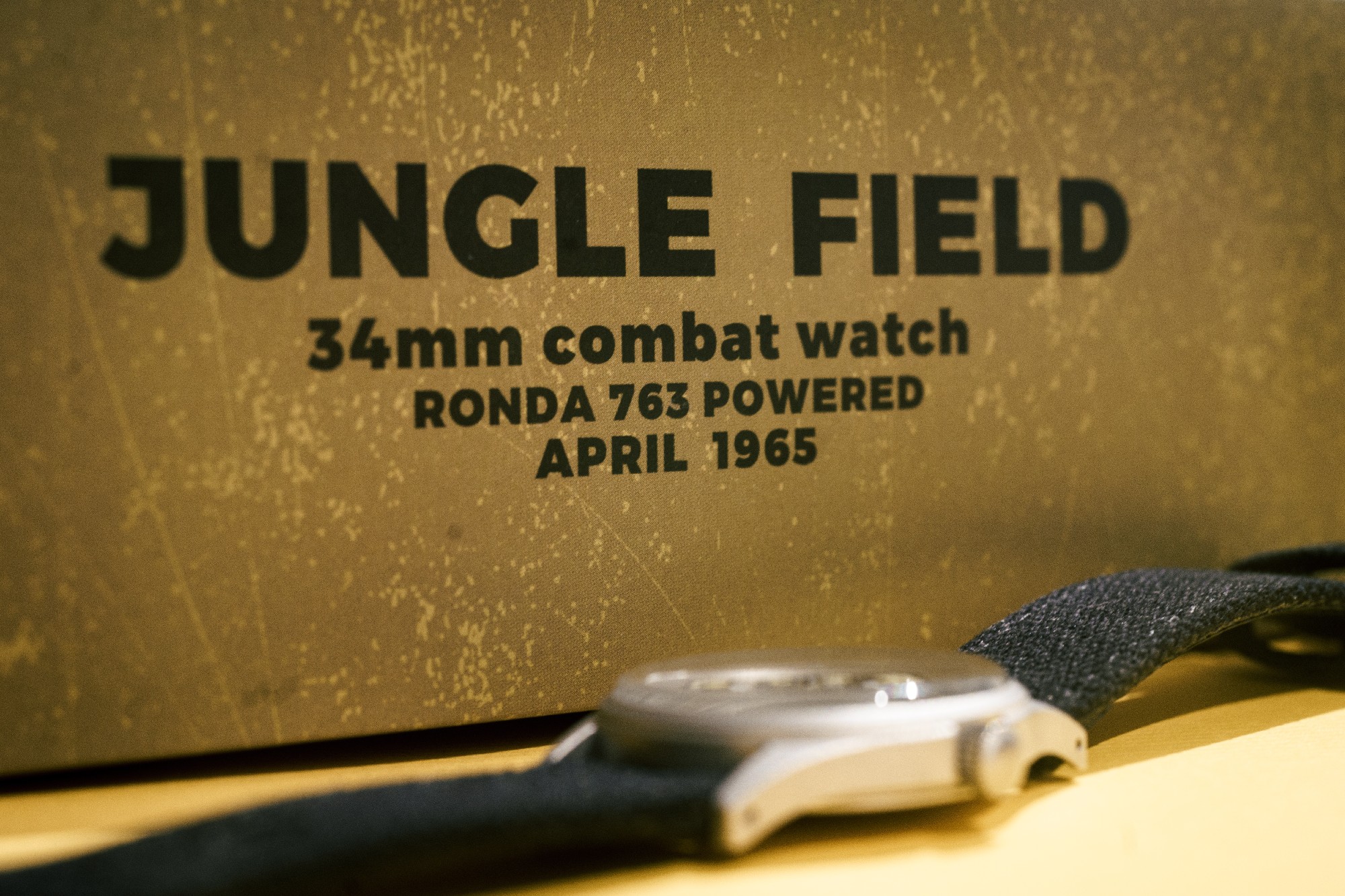 I'm prefacing today's review with this weird rant to contrast this situation with the current state of the watch industry. Since the 2000s, watch sizes have been gradually creeping up. Market taste is a factor, of course, but upgraded technology also plays a role. Movements have become more sophisticated, service intervals have increased in length, and watch cases have swollen to accommodate these technological improvements. Some other major brands, in a bid to stay up to date with the current trends, have only increased their size without improving the technology inside, which is even worse in my book. Thankfully, it seems that this trend has reversed for the last couple of years, especially in the microbrand tier. No surprise there, as smaller players tend to stick to a strong ethos and take consumer feedback much more seriously. Enter Praesidus Watch, an American brand with a well-defined military background.
Today we'll be taking a closer look at the Jungle Field, one of the most recent offerings of Praesidus. I've had the pleasure of actually wearing this piece for the last couple of weeks, and I have to say I'm quite elated with the experience. But first things first, let's see the specs we're dealing with:
Case material: Stainless steel
Case size: 34 mm
Caliber: Ronda 763 (Quartz)
Thickness: 9.4 mm
Lug width: 18 mm
Water resistance: 5 ATM
Case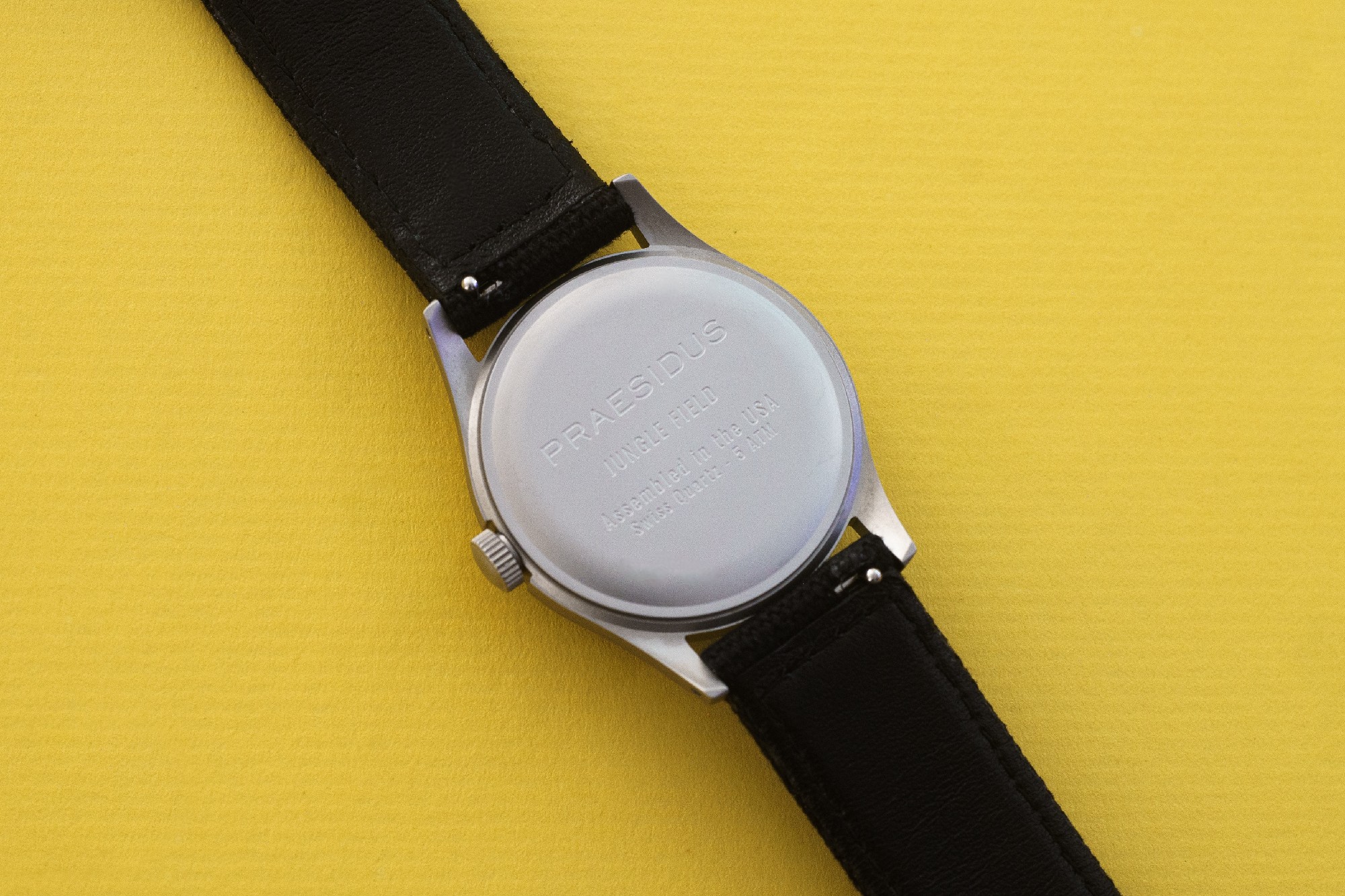 I'm going to go right ahead and start with my favorite component. If this case size was good enough for battle-hardened folks in the 60s, it ought to be good enough for modern sensibilities. This case, while simple at first glance, is all about wearability. At the risk of sounding like a broken record, smaller timepieces are simply superior in ergonomics and comfort.
The old saying "fits like a glove" sprung to my mind as soon as I tried the watch for the first time. Smaller case sizes have the obvious benefit of keeping the overall weight in check, making the Jungle Field all but disappear on the wrist. Of course, the quartz movement is a huge contributor, but I'll talk about that later. For now, I would also like to praise the sandblasted finish of the case, which enhances the tactical nature of this timepiece.
Dial
As with most field watches, the Jungle Field dial closely adheres to the GG-W-113 design spec set forth by the US government in the 60s. The face is sterile and prioritizes legibility. There is no additional information besides the arabic numerals and a 24-hour inner ring. My particular review unit is the Popcorn Patina variant, in which the numerals are coated with faux patina, or fauxtina, as it's affectionately called on online forums. I'm not crazy about this creative choice, since I think it decreases the contrast of the numerals against the background, weakening the visual impact of the dial. The popcorn texture, however, is an intriguing element. I have to say I'm really curious about a hypothetical popcorn Jungle Field with the original white numerals. In my mind's eye that looks amazing.
The syringe hands get the job done in style, and again, closely follow the GG-W-113 spec. They are generously filled with lume and there's no way to mistake them in the dark.
Glancing at the watch in the dark is a joy thanks to the applied lume in the numerals and markers. A quick flash of my UV light is more than enough to bring the dial to life. I wish the seconds hand was lumed, though. As it is, there's no way to tell if the battery died during the night, as improbable as that might seem.
Ronda 763 Movement
Powering this charming watch is the Ronda 763 quartz caliber. I must admit I was bracing myself for the disappointment of staring at a jumping seconds hand on such an iconic and historically accurate dial, but, amazingly, it works. Excuse me for blaspheming, but I think there's a unique, relaxing quality to quartz that has soothed the snob in me. Perhaps it's the hysteria of daily life that has made me appreciate the slow cadence of quartz a little bit more, as opposed to the frenzied ticking of mechanical movements which somehow reflect and amplify the neverending agitation of modern life.
Be that as it may, one thing is certain. The Ronda caliber helps in keeping this watch light enough to the point of making one forget it's on the wrist. I'm sure some will dislike this feeling, as we often like to be aware of the wonderful pieces ticking away at arm's length, but I contend there's nothing wrong with desiring a discreet and stylish timepiece. Bonus points are awarded for enhanced magnetic immunity and overall toughness.
Strap
I'm not a big fan of the current strap offerings by Praesidus. My particular review unit came in a black canvas strap, and while it was serviceable enough, it was much too long for my taste, especially considering the small size of the case. Also, even after two weeks of wearing it, I couldn't break it in properly. I wish a brown leather strap was offered, as I think it would match handsomely with the dial. Fortunately, this is a good problem to have, as the quick release pins make it a breeze to change straps, and it is always a blast to search for the perfect one.
Conclusion
Due to the current state of affairs in the world, I have intentionally refrained from commenting about the military origins of the watch. I salute the bravery and heroism of the thousands of souls lost in armed conflict, and at the same time I wish technology advancements mainly came from a collaborative mindset, not from a desire of obliterating the Other. It's a hypocritical stance, I know, since on a daily basis I reap the benefits of GPS, cellular data, and other quality-of-life improvements that have trickled down to the civilian level for decades. Today, nevertheless, I cherish the miniaturization of pocket watches brought forth by the need of synchronizing complex logistics on the field. Just like with the fairly unremarkable but trusty Pixel 5 radioing away in my right pocket, for the last couple of weeks I've enjoyed a simple, practical, robust, and iconic timepiece only concerned with measuring time in the most unobtrusive way possible.
For more information visit the official Praesidus Watches website here.