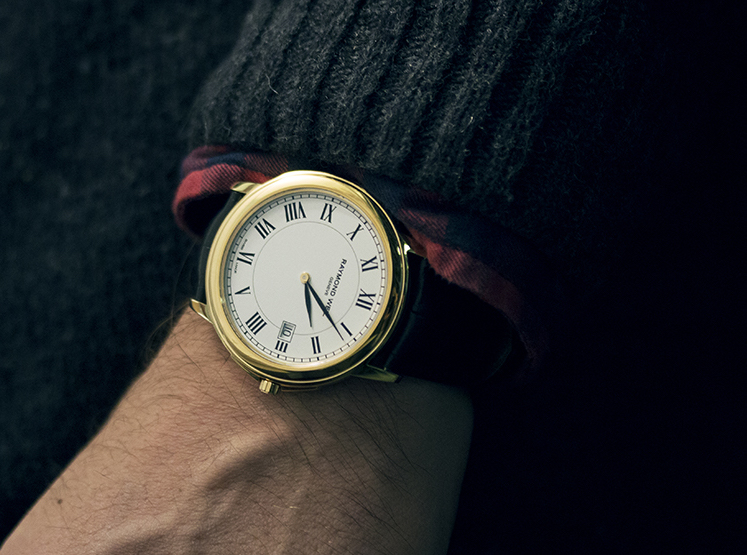 When Raymond Weil opened his watch-making business in 1976 he could've never hoped that the company's success will skyrocket beyond his wildest dreams. Especially during that period, when quartz movements were taking the world by storm and were gradually making their expensive mechanical rivals more and more obscure. However, the commitment Raymond had towards creating watches of outstanding quality singled the brand out as one of the finest providers of luxury timepieces.
The company's motto ''independence is a state of mind'' serves as a reminder that Raymond Weil watches are created with no creative limits and strive to fuse elegance, modernity and rigor of watchmaking, all at the same time. The 54661-Pc-00300 is no different. The watch originates from the Tradition collection and is a fantastic example of the brand's legacy – at a fraction of the price tag carried by models from the same house.
> > > Click here to see ratings, reviews, specifications and prices on Amazon < < <
The 54661-Pc-00300 Dial
Looking at the dial, there is nothing out of the ordinary. It's a simple, yet beautiful affair with every detail in the right place. The clean, white face carries nothing more than the words 'Raymond Weil', 'Geneve', and 'Swiss Made'. The large Roman numerals in black are perfectly aligned and interrupted only by the plain, rectangular day and date box at the three o'clock position. In my opinion, the 54661 sets a perfect example for what a clean dress watch should look like. Its utmost symmetry combined with excellent legibility and minimalism is what gives it a truly striking first impression.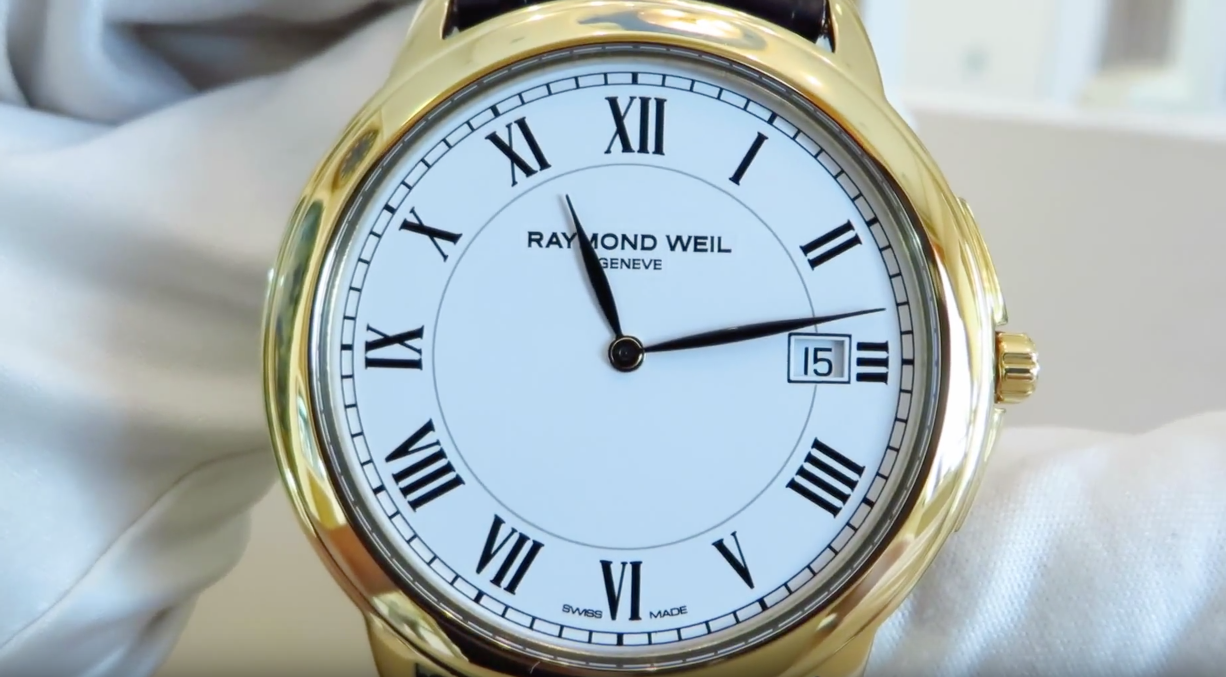 The bright white dial works perfectly with the black and gold of other elements and gives the watch a more of a vintage look. The leaf hands are in the black too and so is are the minute markers on the very edge. Wide in the middle and narrow at the tips and base, the hands come without their seconds companion but look elegant nonetheless. The base center comes in gold, matching the stainless-steel case finished in the same tone. It's details like this that often go unnoticed but make you appreciate your piece a little bit more when you spot them.
The Case
The case itself has a 40mm diameter, which, admittedly is probably on the large side when we talk about dress watches, but it shouldn't have massive wrist presence or look overpowering at all. This is partly because the dial isn't that large when you count in the thick, round bezel. All in all, a well-made, reflective case that is set to attract many compliments.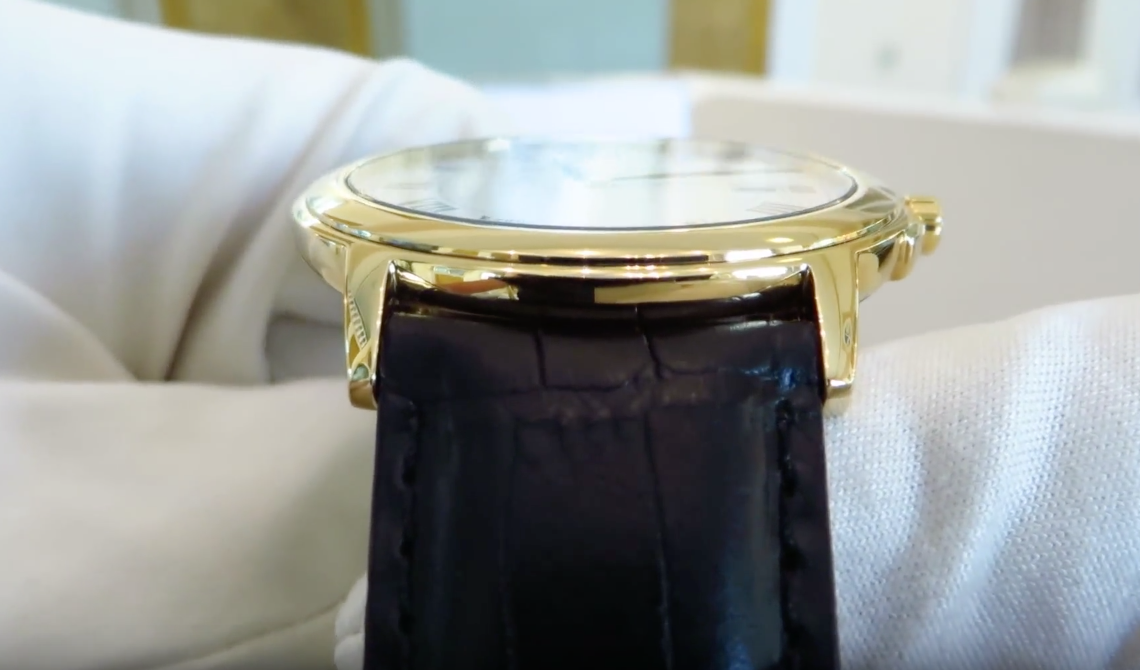 > > > Click here to see ratings, reviews, specifications and prices on Amazon < < <
Another plus is the sapphire crystal. With watches at this price point, you are almost certain to have mineral glass protection. However, it's nice to see this is not the case with this model.
On the back of the case, huge RW initials take up the center, with other inscriptions relating to the watch's origins and features listed around them.
Crown Guards
You may have noticed the 54661-Pc-00300 has a couple of extra parts above and beyond its crown. These are called crown guards and, although you don't see them very often, they've been around for quite a long while. Since 1959, to be precise, when Rolex (who else) produced first case-integrated crown guards to keep their Submariners functional for a long time. Watches with this feature are highly collectible as they were produced in such small numbers (some say less than a 100 models).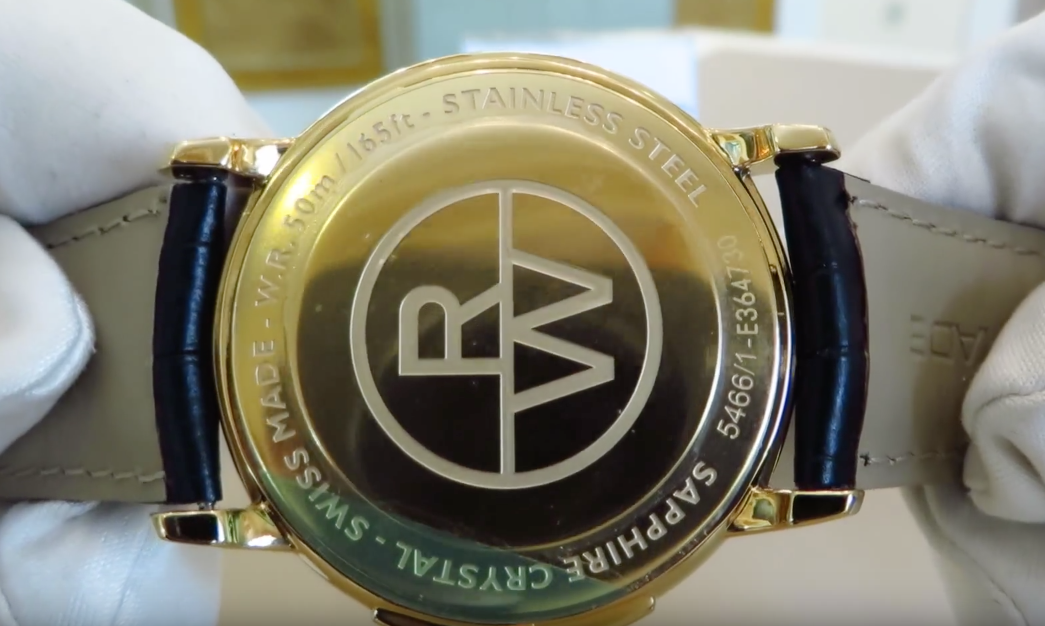 Why they weren't mass produced is attributed to the fact the guards did their job all too well. You see, owners of such models had a difficult time getting the finger on the crown at all, not to mention winding or setting the watch. The crown guards on 54661, aren't nearly as protruding as those early makes, and will allow you to fiddle with your functions seamlessly. Plus, you won't have to worry about knocking the crown off if you wander into the woods in the middle of your meeting. Seriously though, for a dress watch, the 54661 offers so much protection from scratches and wear and tear.
Crocodile Leather Strap
The watch comes with a croc leather strap, which at the price point, is phenomenal. Such straps could last you a long time (10+ years if handled with care) and provide great comfort. It may feel a bit solid at first, but give it some time before you break it in.
The Movement
The movement is Quartz and this doesn't come as a surprise at all. With the watch hitting the sweet spot in all categories, having an automatic movement would be simply too much to ask for, especially for under $300. Still, there is plenty to get excited about Quartz movements.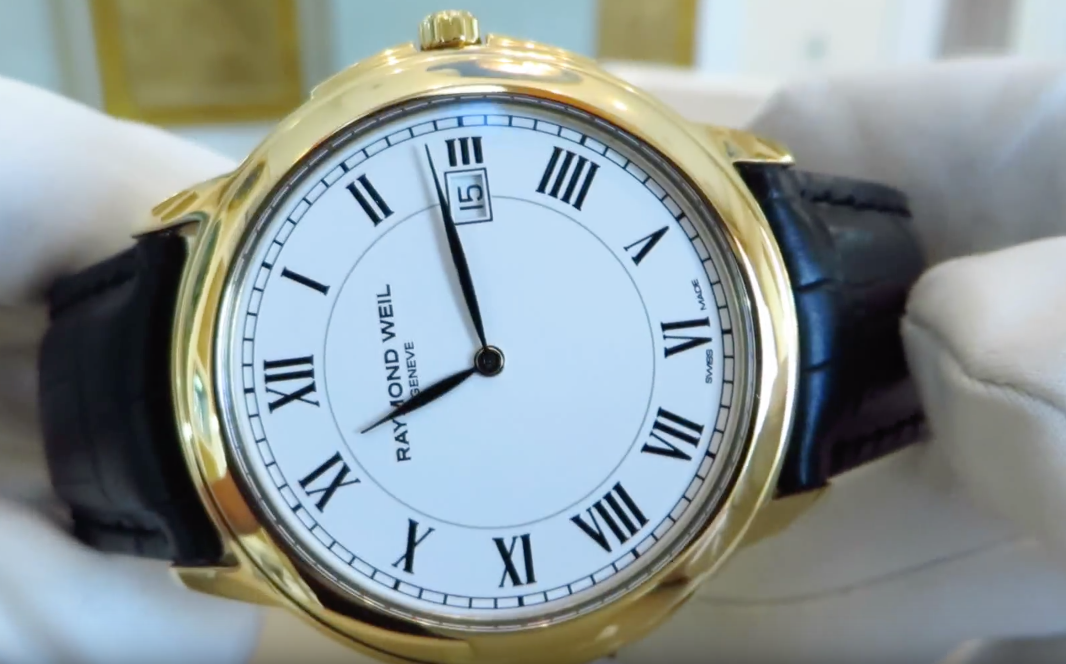 They are affordable, tiny… well, perhaps they lack the charm of automatic movements, but they keep great time and require minimal maintenance. It's all about practicality today.
Final Thoughts
All in all, the Raymond Weil 54661-Pc-00300 is a fantastic buy. For under $300 you're getting a well-known Swiss brand that has some serious luxury timepieces gracing its artillery. There's also added benefits of a sapphire crystal, croc leather strap and crown guards. If you can afford this watch, don't wait for another tick – it's a refined example of a dress watch that is set to compliment your any business attire for a long time to come.
> > > Click here to see ratings, reviews, specifications and prices on Amazon < < <