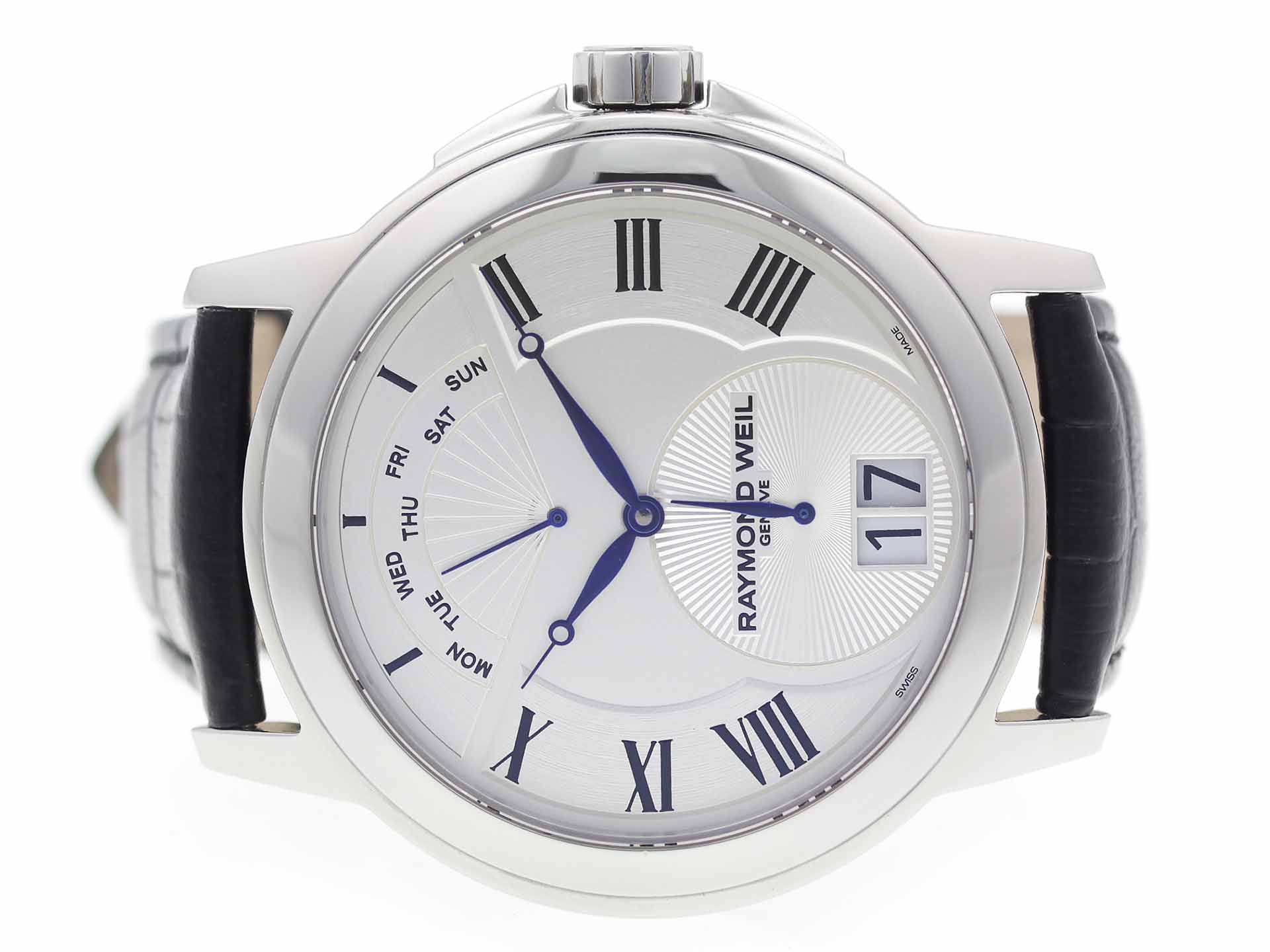 Did you know you don't have to be a multi-millionaire businessman to own a high-quality Swiss-made watch nowadays? Raymond Weil is a brand that serves as a perfect reminder that buying well-built, precise Swiss timepieces doesn't necessarily mean breaking your bank. Even after the founder, Mr Weil died in 2014, the company has remained family-run and operated by Elie Bernheim, his grandson, and the current CEO.
And though it's a highly respectable brand, watches from its production line often sell for under $500, even the ones with an automatic heart. Today, we're shining spotlight on the 9577-STC-00650 from the Traditional collection, one of the latest models to come out of this particular line. Let's have a closer look.
> > > Click here to see ratings, reviews, specifications and prices on Amazon < < <
Tradition Design
The first thing that strikes the eye when 9577 is on the wrist is its curious dial. This has become somewhat of a rare occurrence with the members of the Tradition collection.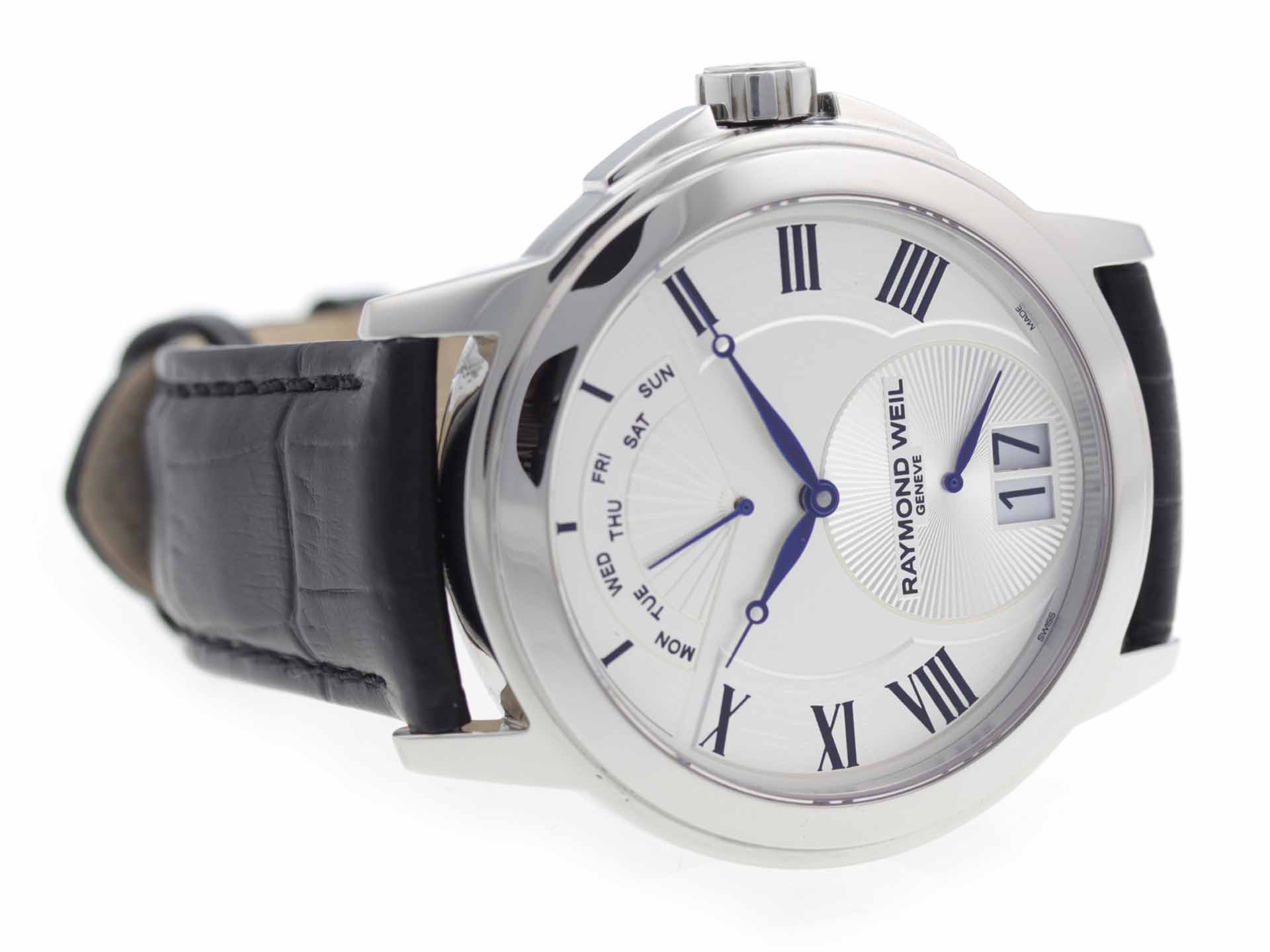 While some will argue they lack character and look very much like any other dress watch out there, the same can't be said about the 9577. This timepiece, much like its fellow 9579 model, features a unique retro approach when it comes to dial design.
Layout of Complications
What's so intriguing about the watch's face is the layout of complications on its crisp silver dial. The day of the week cutout adds a very cool, vintage touch to the whole design. That layer of depth is not something you see on watch faces of this price range. The polishing between the subdials and the watch's face differs and creates an attractive play of patterns. Also stunning is the 60-second subdial, which incorporates the company's standard, oversized date window at the 6 o'clock position and the 'Raymond Weil Geneve' inscription on a small brushed plate. The amount of detail put into this watch is outstanding and the interplay of surface finishes are the reason behind its appealing design.
Hands and Numerals
The pomme leaf hands on the dial come in Raymond Weil's distinctive royal blue and fit nicely within the color combination. The seconds and day of the week hands don't have a round hole near the tip but match the style nonetheless.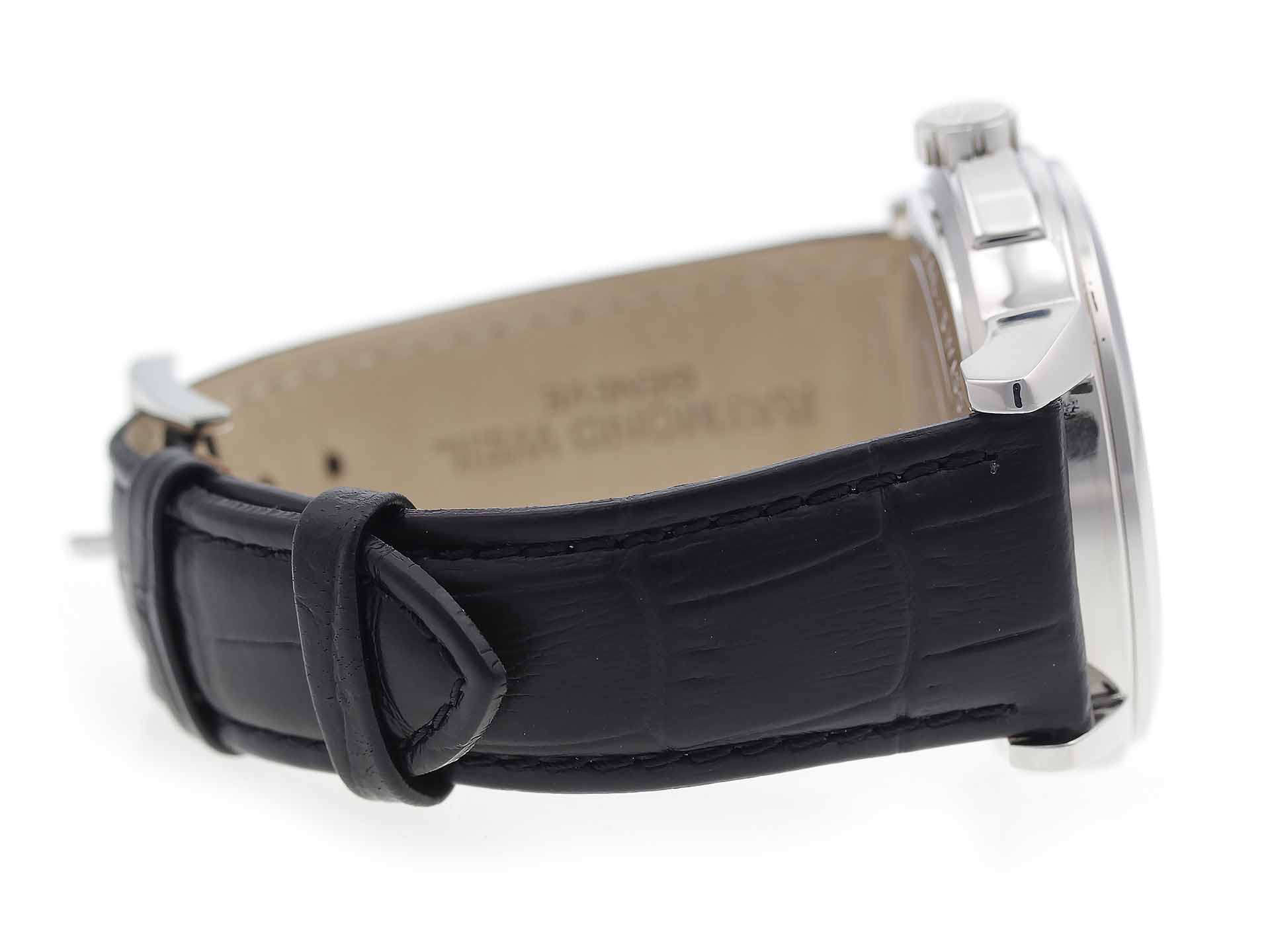 > > > Click here to see ratings, reviews, specifications and prices on Amazon < < <
There are no problems with the overall legibility – the black Roman numerals are clearly visible against the silver dial. The only thing to note is that there are 6 numbers missing from the face as subdials have replaced them.
9577-STC-00650 Thick Casing
The whole story is cased in a stainless-steel shell, with a solid case back. There is a logo engraved on the crown and on the back as with the majority of watches from this line. You may notice the fixed bezel appears rather thick, especially when combined with its base and the crown guards. For a dress watch, the 9577 is a peculiarly dense piece of jewelry, and I'm concerned about its ability to fit underneath a dress sleeve.
At staggering 12 mm, this watch is far from your standard dress watch, usually bulging out about 8mm from your wrist. At least, if you find yourself hitting this watch against every single doorway in your office, you'll be glad to know the glass is protected by sapphire crystal.
Leather Strap
Moving onto the strap, out of the box you will get a black, croc-patterned leather strap.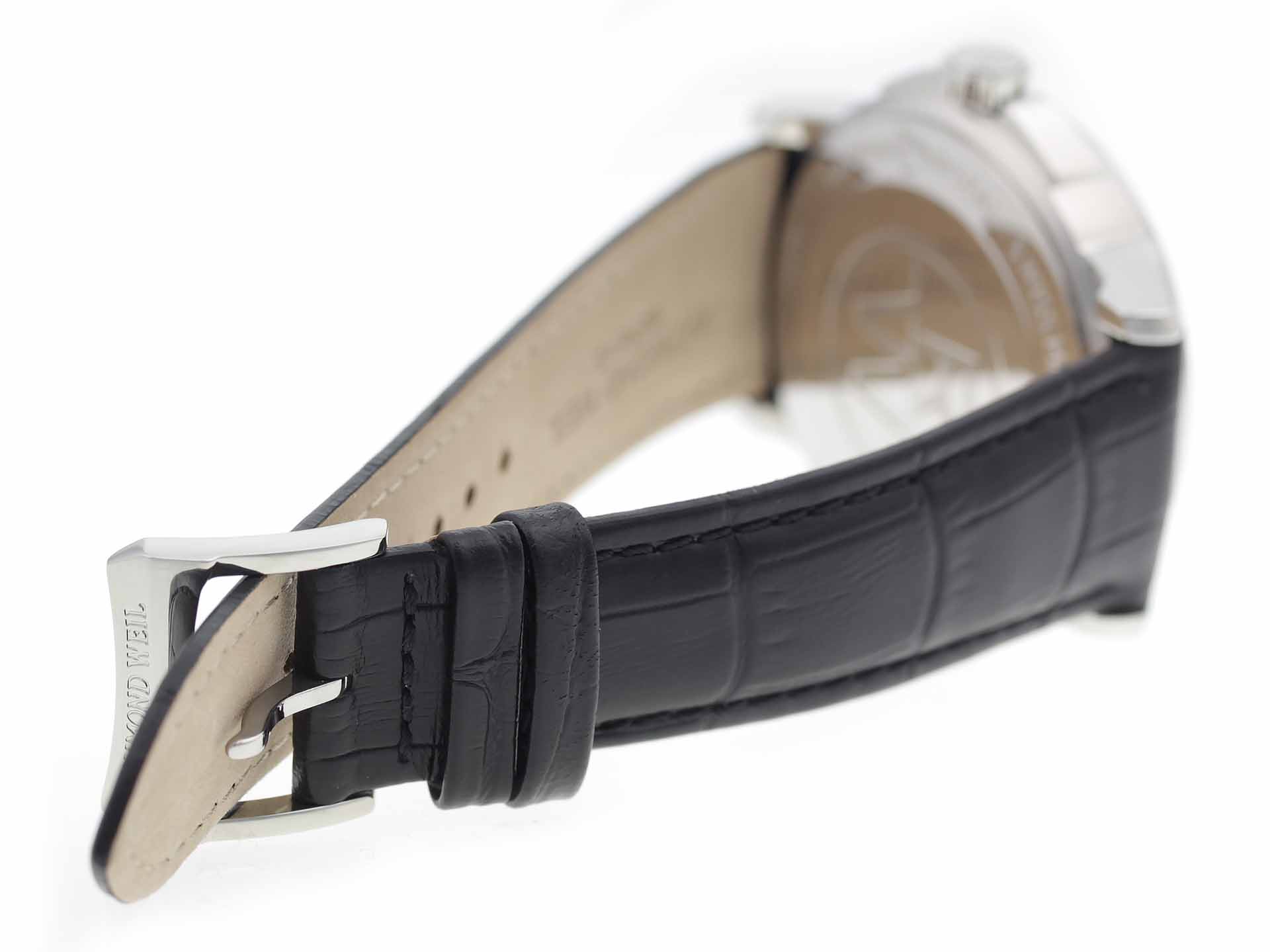 Some owners have reported that the length appears to be abnormally short. Just a thing to keep in mind in case you are bothered by wearing a watch on the last hole. You could always switch it out for a more luxurious hand-made leather strap to increase it's comfort and style.
Swiss Quartz Movement
Under the bonnet is a Swiss Quartz, Raymond Weil's biggest menace in the late 70's, when the mechanical watch market came under threat of the battery-powered newcomer. The company has since then adopted the simplistic and affordable heart into many of its models, including the Tradition 9577.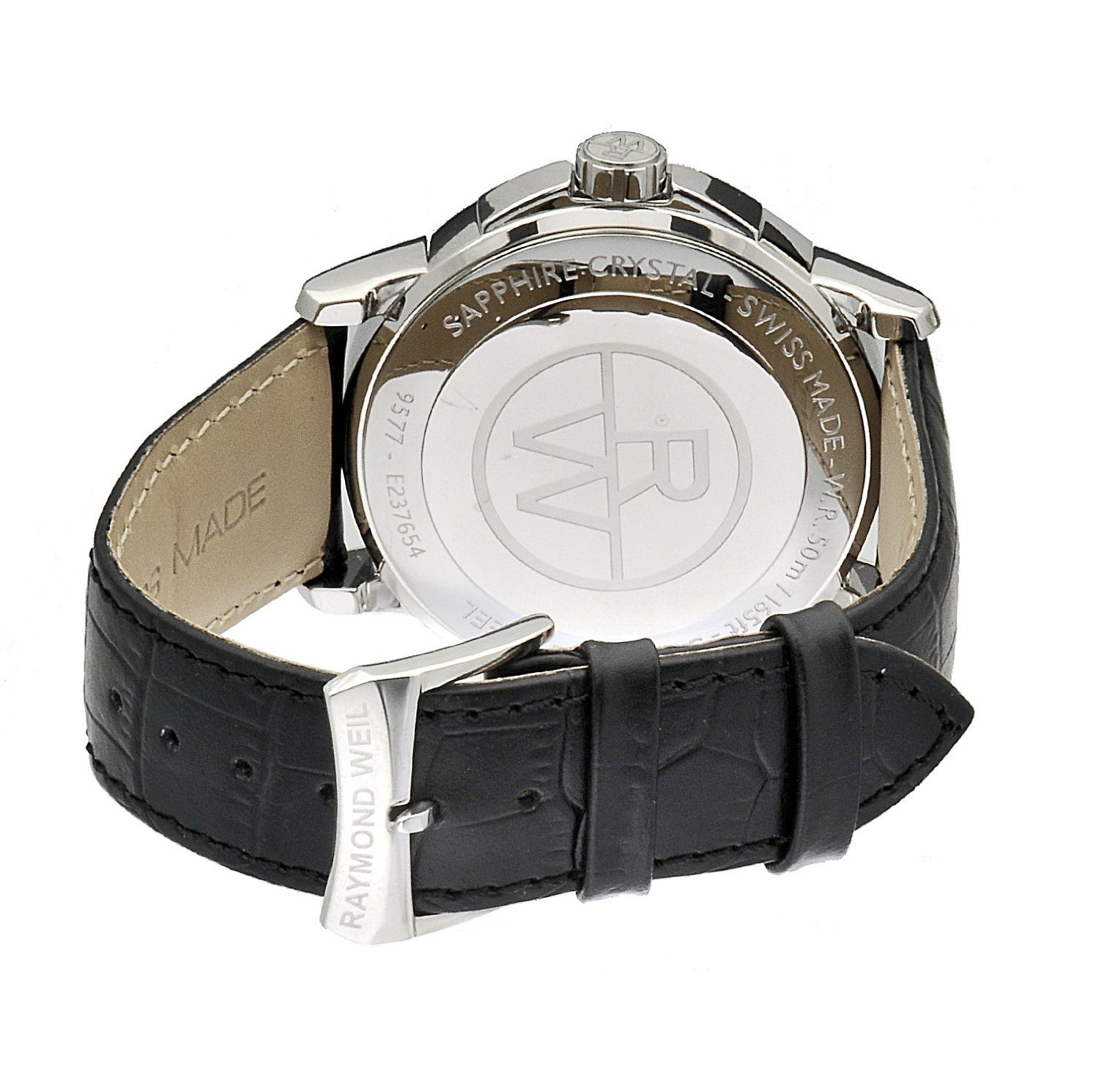 It won't make the watch so desirable as it loses its craftmanship factor. Quartz movements are also known to have fewer moving parts and to require less maintenance. This is what baffles me, though: Why did Raymond Weil produce such a chunky dress watch if it's not an automatic. A typical Quartz mechanism certainly doesn't require a 12mm-thick case.
Final Thoughts
In a nutshell, the Raymond Weil Tradition 9577-STC-00650 isn't a high-end watch but still offers a beautifully designed dial and a well-known Swiss name for under $500. However, with other watchmakers offering equally appealing automatic alternatives (think Oris or Seiko), at much lower prices, the purchase of this watch just doesn't make sense to me. Besides, the case of this watch is so deep you could almost fit another watch inside if it had a cover. It would be fair enough if the mechanism was mechanical and the designers were short of space, but the common Swiss Quartz inside is no excuse.
If you can get over the sheer heft of this watch and other slips, then it makes for a classy everyday dress timepiece. Its elegant, creative design is definitely set to complement your formal wear and attract plenty of compliments. Therefore, just think twice before you reach for your wallet.
> > > Click here to see ratings, reviews, specifications and prices on Amazon < < <