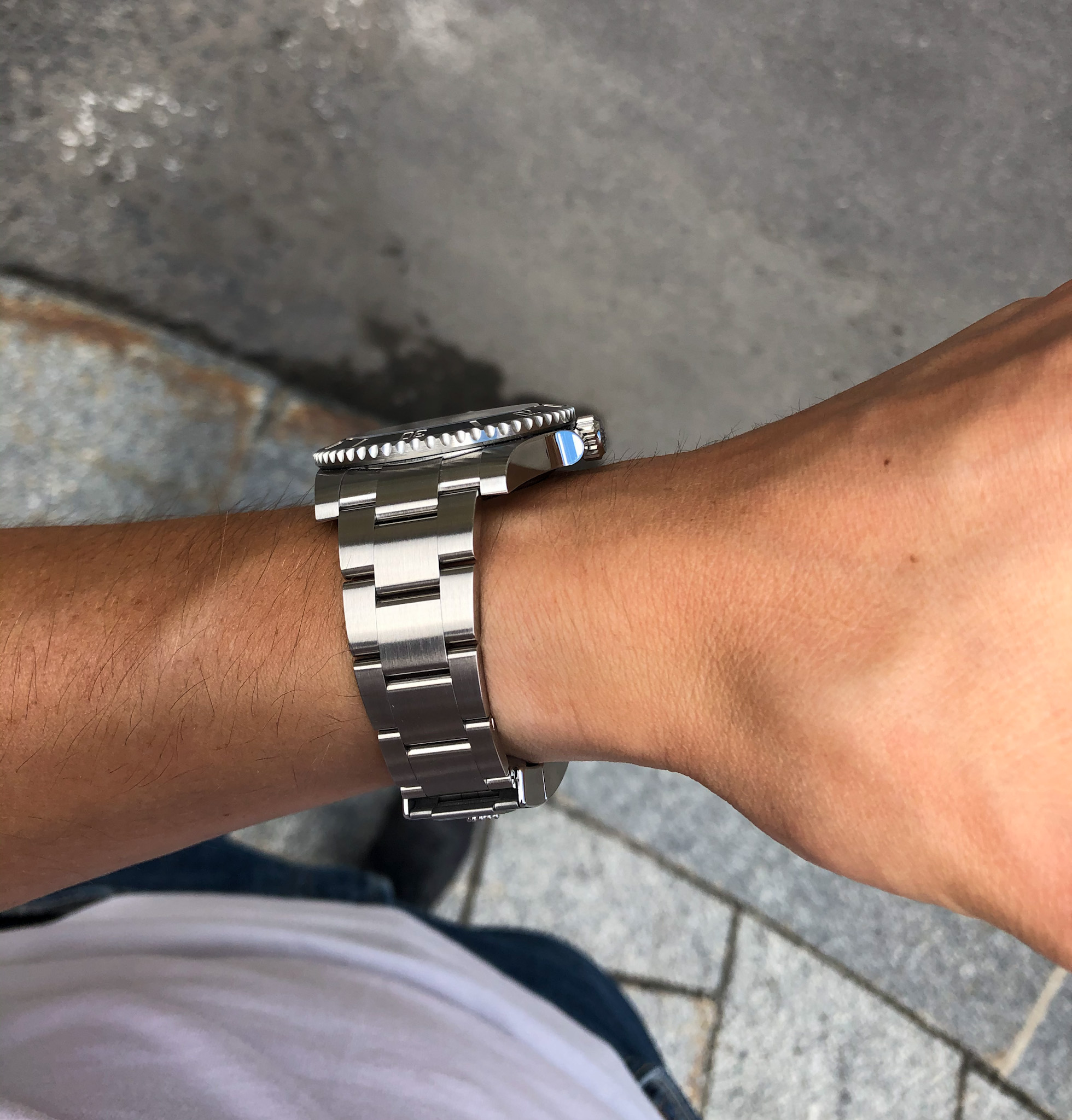 If you're considering buying a Rolex watch, you're no doubt doing a lot of research. During the course of that research, you've probably heard about solid end links, or SEL. What's the big deal?
Beginning in the early 2000s, Rolex made a change in their watch bracelet design; they changed the end links from hollow to solid. The end links, as their name implies, are the links on the end of the bracelet that attach to the lugs on your watch. The solid links are designed to be more sturdy, and are now standard on all modern Rolex watches.
But which is better? Let's take a look at Rolex' watch bracelets, and how they've evolved.
Rolex Bracelet Basics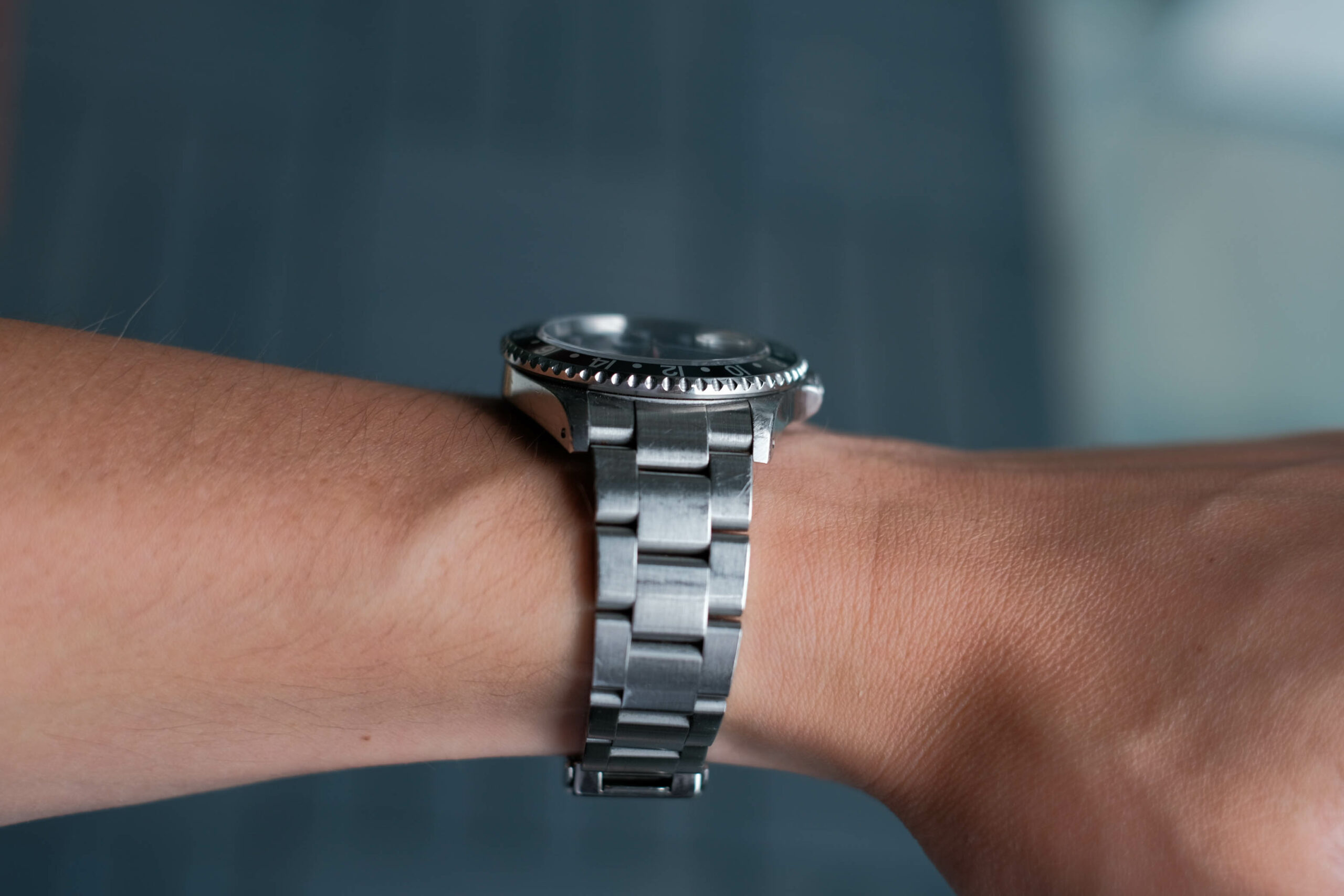 When people talk or write about Rolex, there's a lot of focus on their watches' various functions. We talk about the case, or the dial, or the complications, or this year's new and improved movement. All too often, it's easy to overlook the bracelet altogether. This is a shame, since the bracelet is an essential part of the watch, and Rolex makes one of the best watch bracelets in the industry.
Prior to 1947, Rolex used a traditional vintage watch bracelet. That year, they introduced the "Oyster" bracelet, made from stainless steel. This was already a huge improvement over a leather strap, since it could take more of a beating. Unfortunately, early Oyster bracelets were riveted together to form a continuous bracelet, like the earlier leather straps. Because of the riveting, they weren't as flexible as they could be, so links would flatten out with use, and the pins could get squished into place. An early-model Oyster bracelet is rare these days, since most Rolex owners have upgraded.
For their 1960s GMT watches, Rolex introduced their new Jubilee bracelet. These are 5-link bracelets, and they're not riveted together. Because of this design, they could be more flexible, which made them much more comfortable to wear. They still have some problems with wear, since there are more pivot points to wear out the pins. But even so, Jubilee bracelets remain popular. In the 1970s, the Oyster bracelet got its own facelift. Rolex designed a hollow, flexible design that didn't require rivets, improving both durability and comfort. This forms the foundation for the standard three-link design you'll find on many modern watches.
The weakest part of all these designs was the end links. These are the links that take the most abuse, and their hollow design causes them to wear out over time and start to rattle. Moreover, they introduce an ugly seam in a highly visible location.
What About Solid End Links?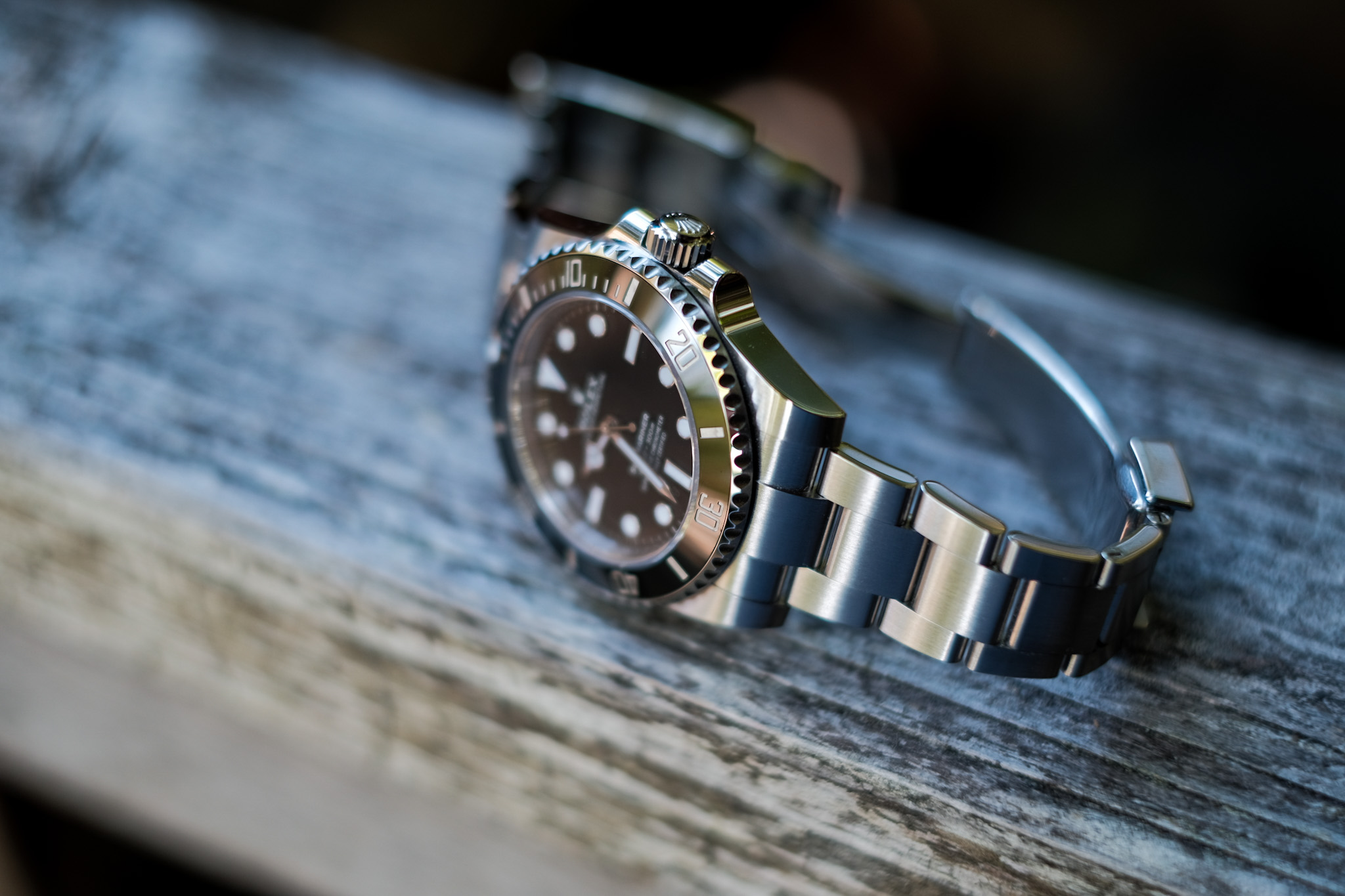 In the early 2000s, Rolex made a change to fix this problem. They introduced solid end links on both their Jubilee and Oyster bracelet. Incidentally, they also introduced solid center links, as well as dedicated springs, but that's a more minor concern. Solid links aren't technically solid. Obviously, there needs to be a channel for the pin to pass through. But they're a lot beefier than traditional hollow links. Hollow links are flexible enough to pinch shut with a pair of pliers, while solid links don't bend. In addition to being less damage-prone, solid links are also less prone to getting dirty, since there's less of an opening for dirt to get inside.
Another improvement on the newer Rolex bracelet is the upgraded clasps. The older, "tuna can" clasps were quite durable, but posed a number of challenges. Newer clasps don't rattle, and they don't squeak when they open, in fact they're engineered for diving, and to open and close quietly even underwater. This is an impressive accomplishment, and something that Rolex should take pride in. One minor complaint about the new clasps is that the solder sometimes lets go, but this is anecdotal. In practice, few actually fail, and you can easily have it serviced by Rolex if it does.
Final Verdict
As you can see, both the older hollow end links and the newer solid end links have their strengths and weaknesses. On the one hand, you can easily adjust folded end links to make them fit your case better when they start to rattle, by readjusting them. With a solid end link, if it's too tight, you need to file it down. On the other hand, hollow end links are liable to deform over time. In the best circumstances, there will be a little slop, and you'll hear some rattle. But in the worst case, your bracelet could fall out. Solid end links provide top quality performance, they fit more snugly, and they don't rattle. They can also last as long as the rest of your watch, without getting slowly bent out of place.
Another aspect people can overlook is comfort, with hollow end links providing a lighter fit on wrist and solid end links providing a heftier fit.