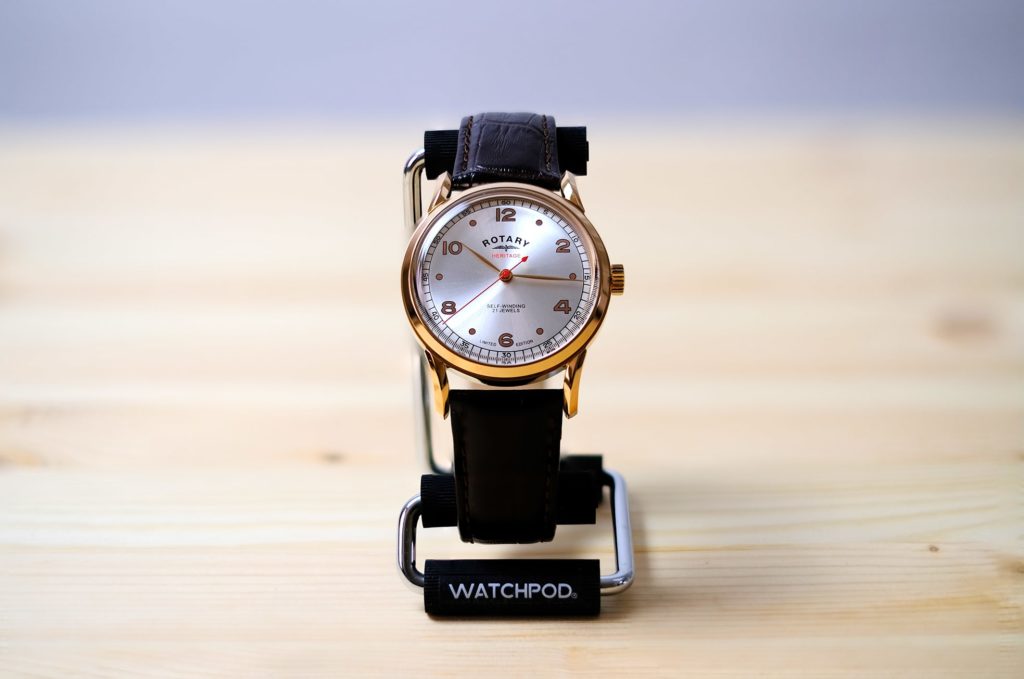 Rotary Watches has a long and storied history of producing well-engineered timepieces with a classic design at affordable price points. They were originally founded in 1895 in La Chaux de Fonds, Switzerland. Their founder was Moise Dreyfuss, the namesake founder of the Dreyfuss group, of which Rotary is still a part. Dreyfuss was well-known for producing elegant, minimalist watches that evoke memories of a simpler time.
He was also known for the industry's best customer service. This combination of gorgeous watches and top-tier service led to rapid growth for Rotary, which opened its UK office in 1905. Dreyfuss' son and grandson continued running the business, introducing Rotary's current logo in 1925, and developing new and improved watches before and after World War II. Today, Rotary's watches are sold in 65 countries, blending classic, elegant designs with improved modern technology.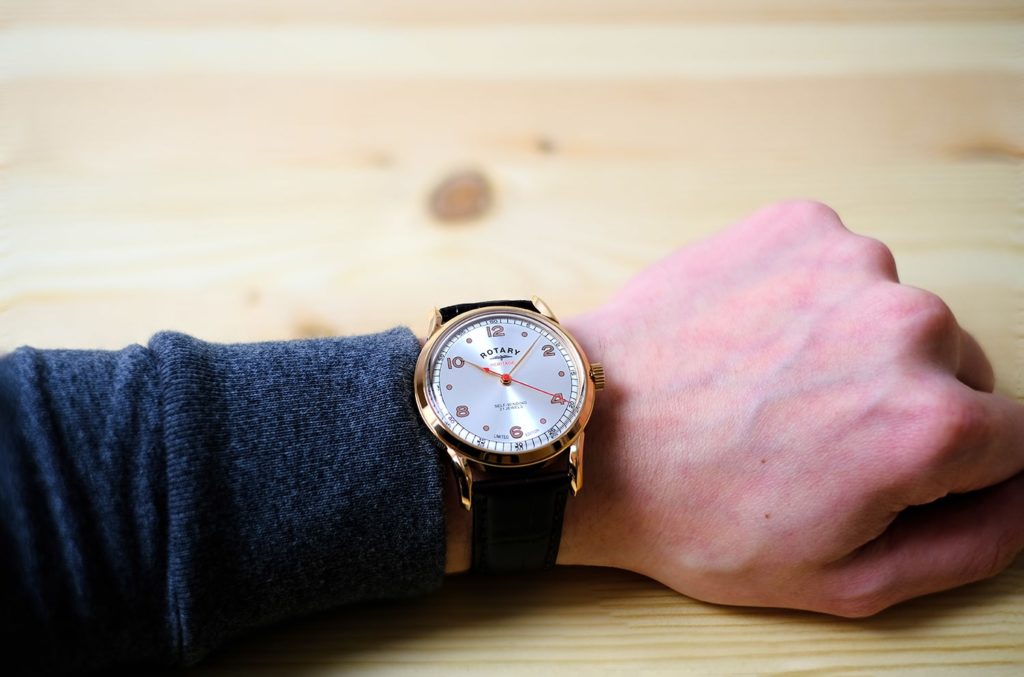 2020 is Rotary's 125th anniversary, and to celebrate, they've chosen to reissue three of their most popular classic watches. With newer, updated movements, these watches are limited to 300 pieces each, so collectors will only have a limited time to get their hands on one. I've gotten my hands on one of these timepieces, the Rotary Heritage Rose Gold PVD Limited Edition. My first impression was that it's a nice heritage watch at an affordable price. But there's a lot to look at here, both on the outside and under the hood. Let's get ticking!
Rose Gold Case
The defining feature of the Heritage Rose Gold PVD is in its name: the rose gold case. Now, I'll be upfront and say that I'm not a big fan of the color. A stainless steel case would have matched better with a wider variety of clothes. That said, this is just a matter of personal taste, and rose gold is a perfectly valid color for a watch case.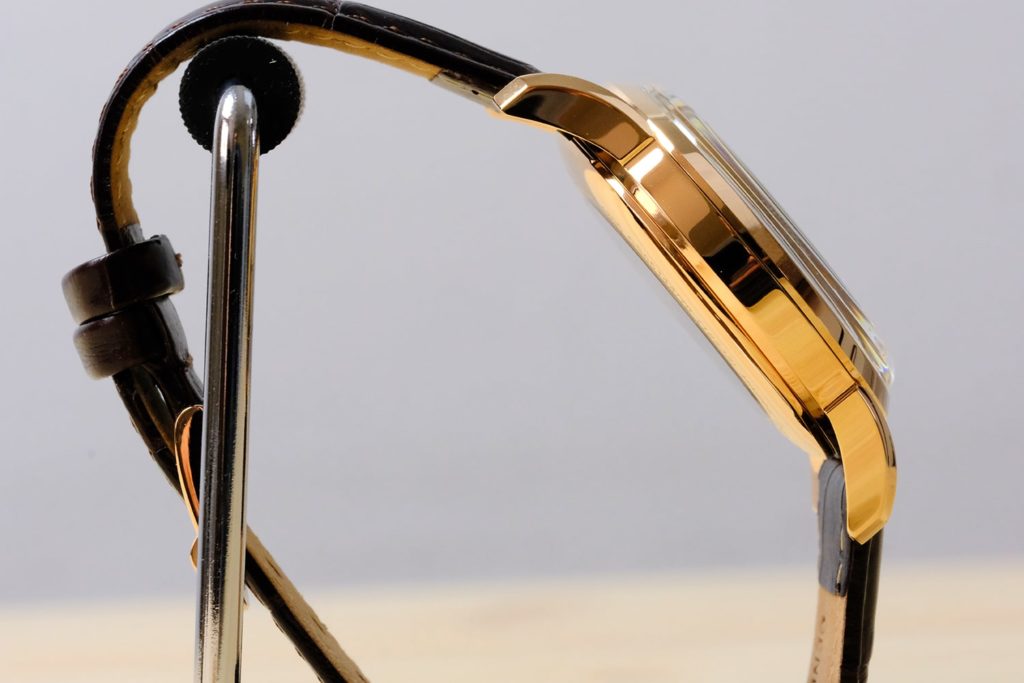 The width of the case is 40mm, with a depth of 12.5mm, which lends it a medium wrist presence that I appreciated very much. It's comfortable to wear, with elegant curved lugs that hug your wrist without digging in. The bezel is sloped, not curved, but there are no sharp edges that can snag or dig into your other hand when you're washing your hands. The crown is proportional to the case size, with a ribbed design that's easy to turn.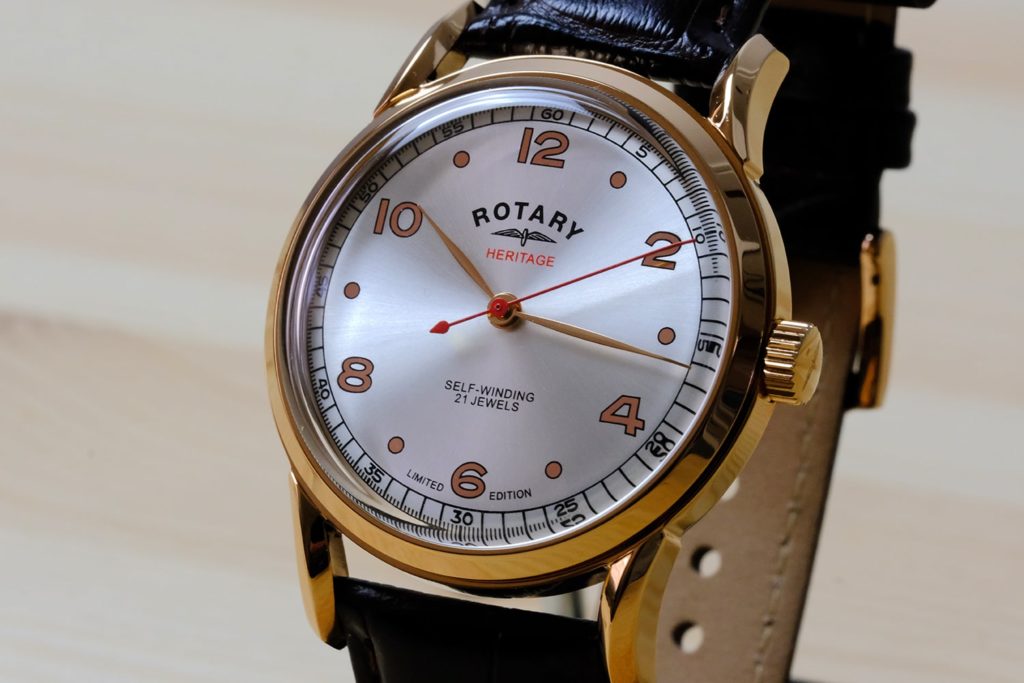 The Heritage Rose Gold PVD's crystal is flat on the top, so it won't distort the dial. However, it's curved where it meets the bezel, which creates an attractive mirrored effect on the outer ring of the dial. It's constructed from mineral glass, which is resistant to glare and scratches. The case and crystal are water-resistant to 50 meters. So you don't want to take it swimming, but it's okay to wear in the shower.
Vintage Dial
The thing I liked most about the Heritage Rose Gold PVD is the gorgeous brushed silver-white dial. It forms a beautiful contrast with the case, as well as with the matching rose gold hands and numerals.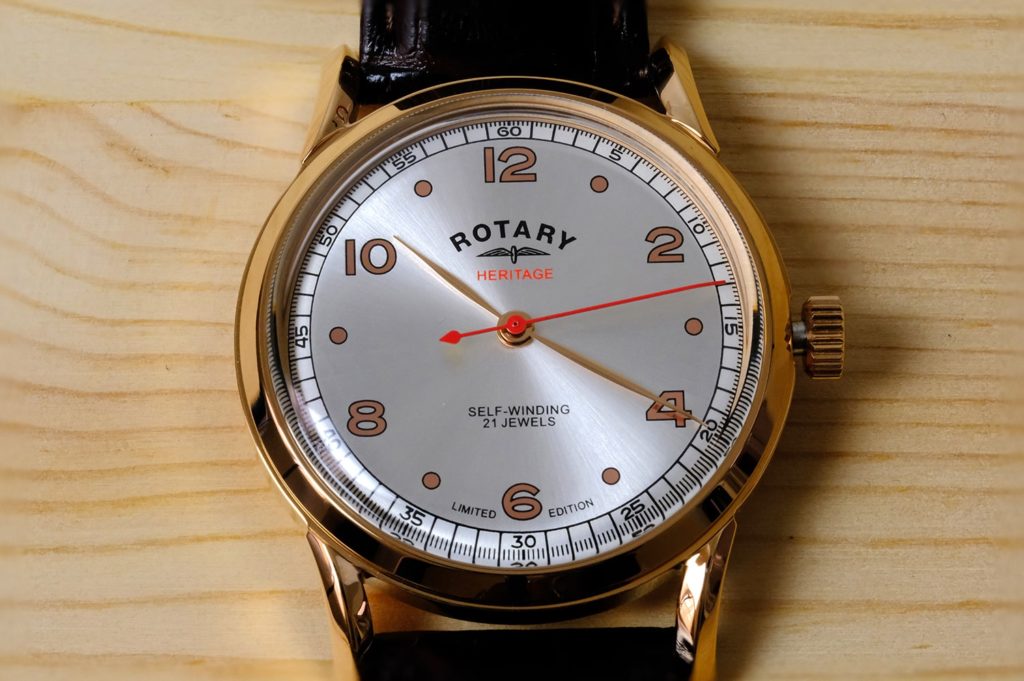 The hour and minute hands themselves are slender and elegant, with no lume finish. There's also a red second hand, with a needle-like profile that has a spade-shaped lug at the short end. On the top half of the dial, you'll see the words "Rotary Heritage", along with Rotary's classic winged logo. On the bottom half of the dial, the words "Self-winding 21 jewels" are printed in black text, with the words "Limited Edition" sandwiching the numeral at 6 o'clock.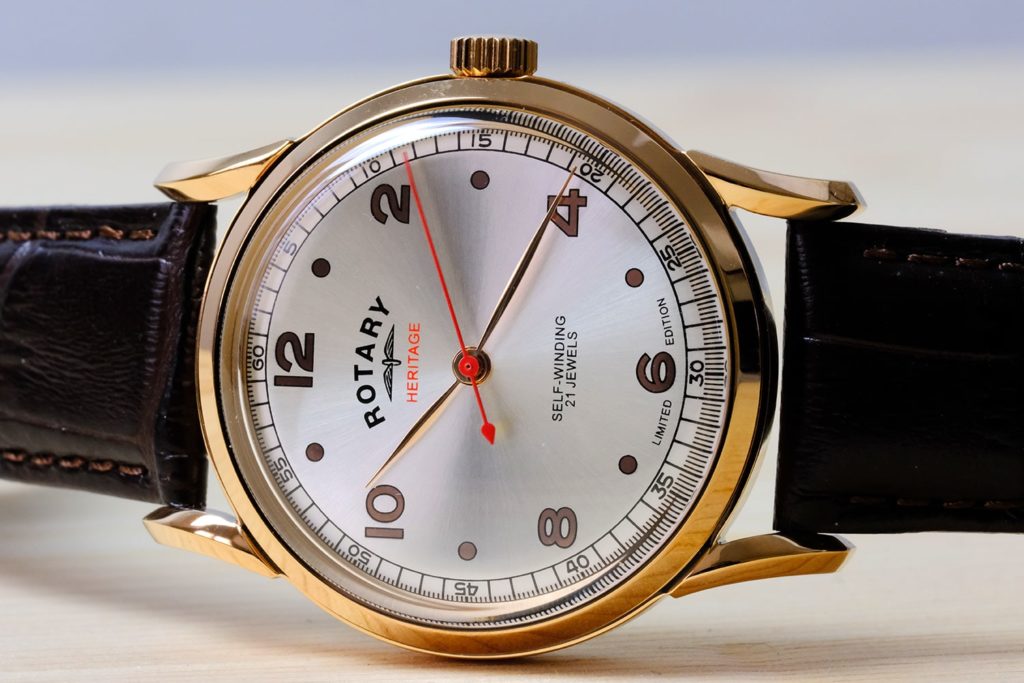 Even-numbered hour positions are indicated by Arabic numerals, with odd-numbered positions marked by rose gold dots. There are no hashes on the main dial to indicate individual minutes. However, on the outside of the dial, there's a separate scale to indicate minutes. On this scale, you'll see ladder-style markings for single-minute positions, with tiny hashes at 12-second positions. Every five minutes, there are fine black Arabic numerals, with the number 60 at the top.
21-Jewel Automatic
Rotary is using a Miyota 21 jewel automatic movement in this Heritage limited edition. Which is an upgrade from their earlier editions.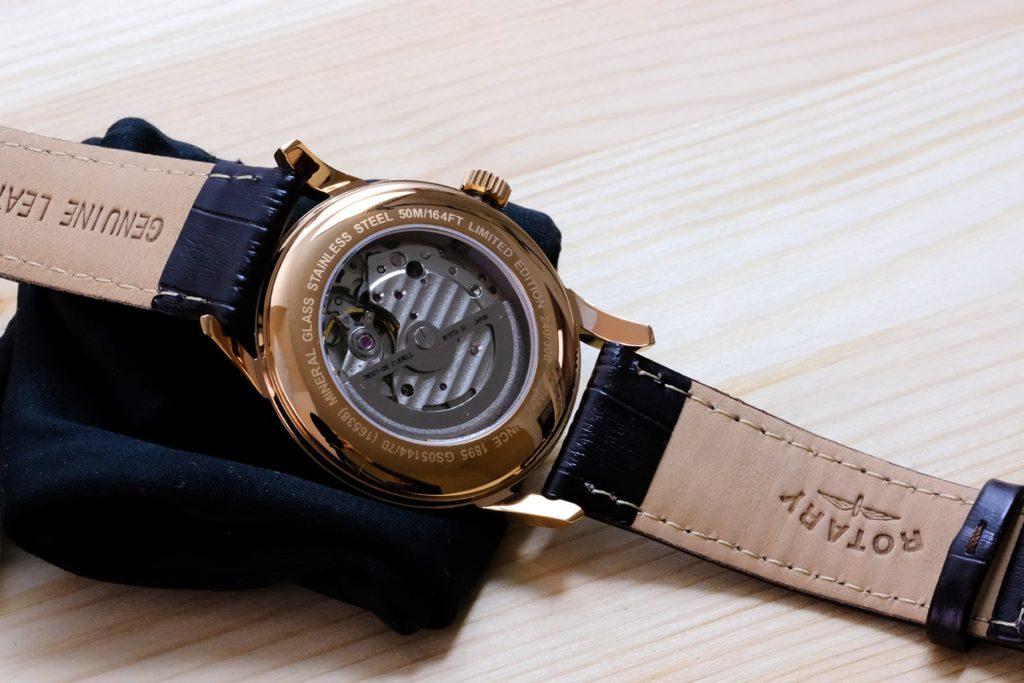 It's reasonably accurate for a mechanical movement, as well as being cost effective and reasonably easy to maintain. This is a movement that is very often seen in automatic watches at this price point. That said, the rotor is fairly loud. You can clearly hear it swinging about when it's on your wrist. If you're like me and prefer a quiet watch, you might have some issues with this movement.
Presentation and Extras
The Heritage Rose Gold PVD comes with a brown leather strap that has a classic alligator pattern. It also has a rotary buckle that's both secure and easy to open. In addition to the strap, you also get an official Rotary presentation box that allows you to display it proudly when it's not on your wrist. You also get Rotary's 2-year guarantee, which protects you from early failure.
To have a look at the full line of Rotary watches visit their official website here.