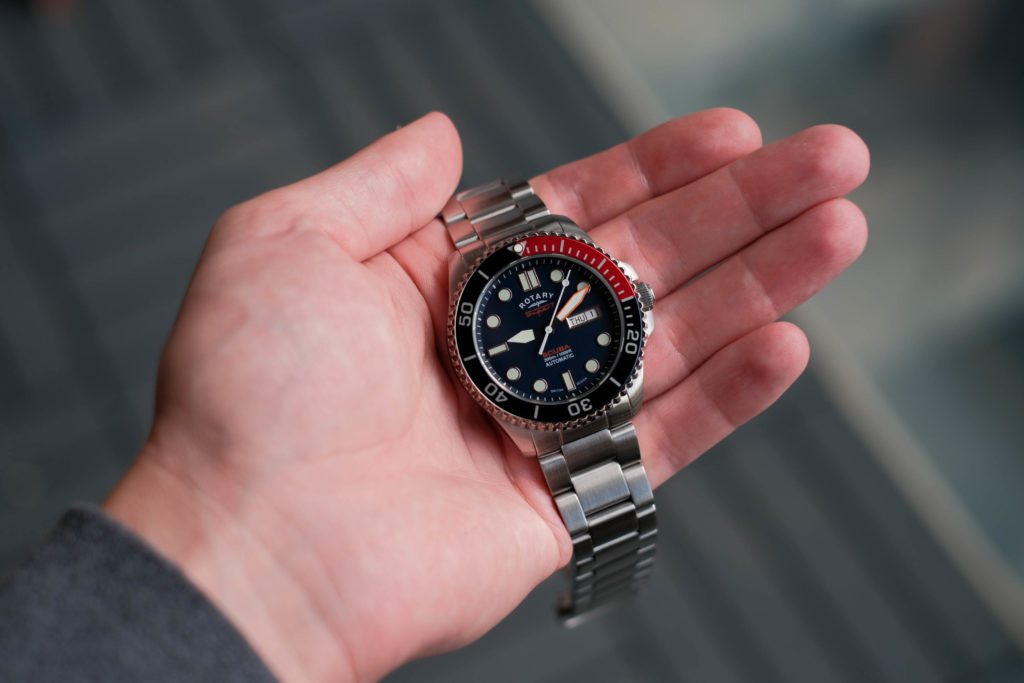 Founded by watchmaker Moise Dreyfuss in 1895, Rotary is one of many Swiss watchmakers to be founded during this time period. They came to international prominence in 1940, when Rotary became the official watch of the British Army for World War II. An entire generation of young British men received a Rotary watch during their service, and brought these watches home when the war was over. This introduced Rotary to the entire British public, and Rotary remains one of the most popular watch brands in the UK.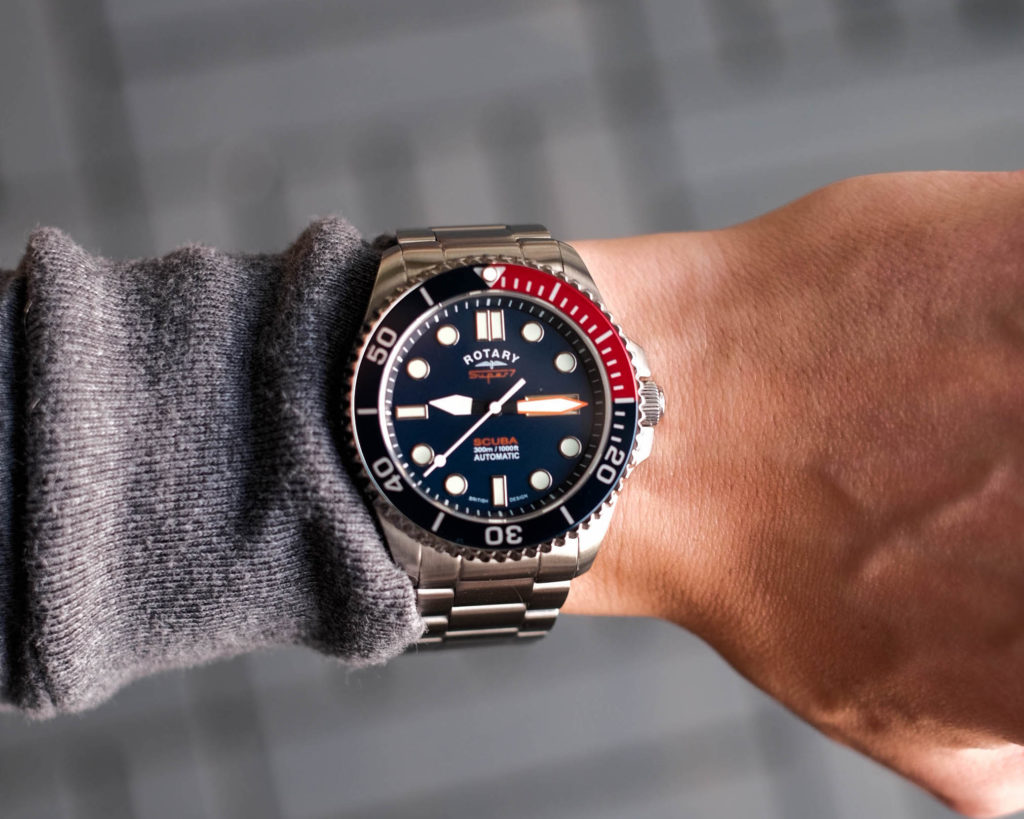 Today, I've had the pleasure of reviewing the Rotary Super 7 Scuba Pepsi Watch. Here's a quick overview of its features, along with my thoughts and impressions.
Classic Blue Dial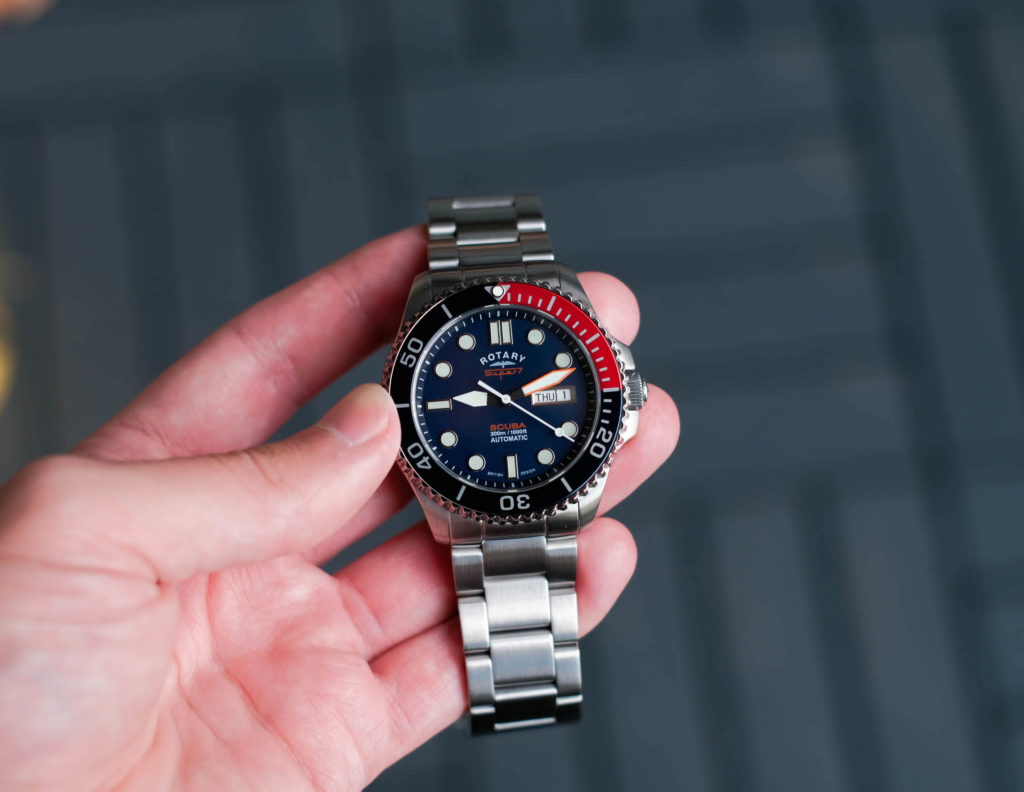 The Rotary Super 7's most noticeable feature is the high-visibility blue dial. An obvious homage to classic 1970s dive watches, the appearance is so iconic that you've probably seen several watches like it. There's a narrow index around the chapter ring with tiny minute hashes, but that's not really how the Super 7 is meant to be read. Instead, there are large lume dots at the five-minute positions, rectangular markers at the quarter hours, and a double rectangular marker at 12 o'clock. From the design, you can clearly see that the Super 7 isn't primarily designed for precision timekeeping. It's designed to be easily read at a glance, even in dark conditions.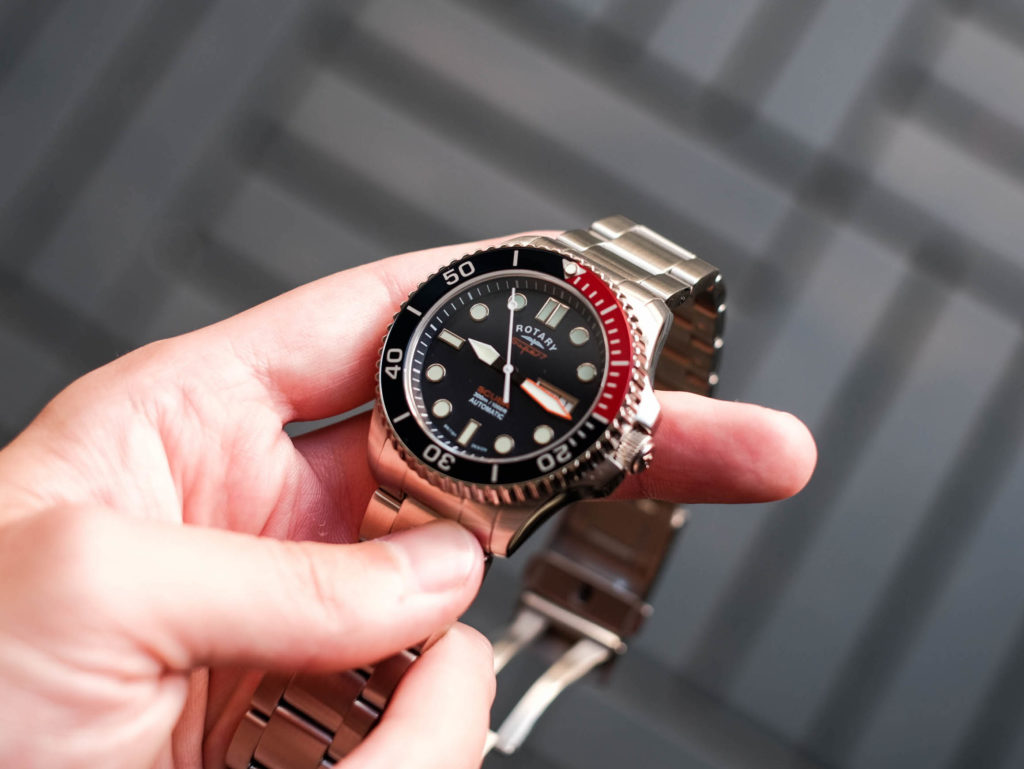 The hour and minute hands are both high-luminosity spear shapes. However, the hour hand is short and squat, while the minute hand has a more traditional, extended spear tip. The second hand is white, and is mostly slender and needle shaped, but there's a small circle towards the end that makes it easier to track as it jumps around the dial. At 3 o'clock, you'll see a small day and date window. The day is shown in red and the date is shown in black. That's the only complication, although a Rotary Super 7 logo at 12 o'clock and some other lettering at 6 o'clock add a little more decoration.
Beefy Case and Bezel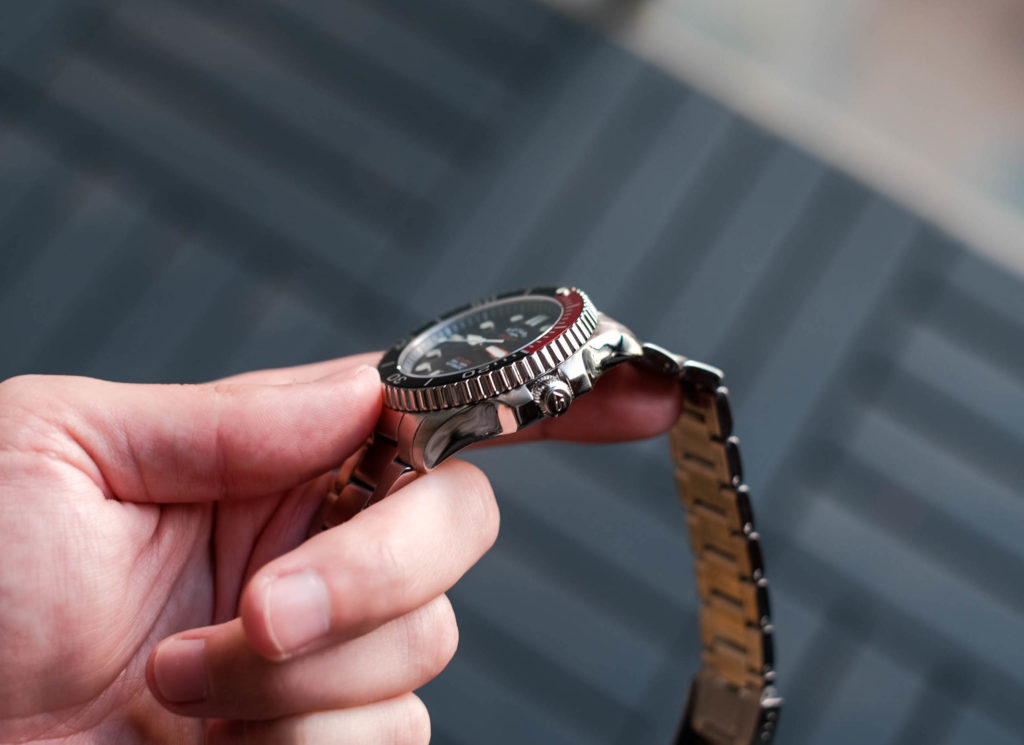 The Rotary Super 7 has a rugged stainless steel case that's designed to perform under demanding conditions. It's water-resistant to 300 meters, which is impressive for an automatic watch as affordable as this one. The back has a screw-down design, which not only helps provide this level of water-resistance, but also makes the Super 7 easy to service if and when that should become necessary.
The 42mm diameter lends the Super 7 a medium wrist presence, but it looks beefier than it actually is. Tapered crown guards and sturdy lugs offer plenty of protection from bumps and bangs, and a wide, raised Pepsi bezel beautifully highlights the dial.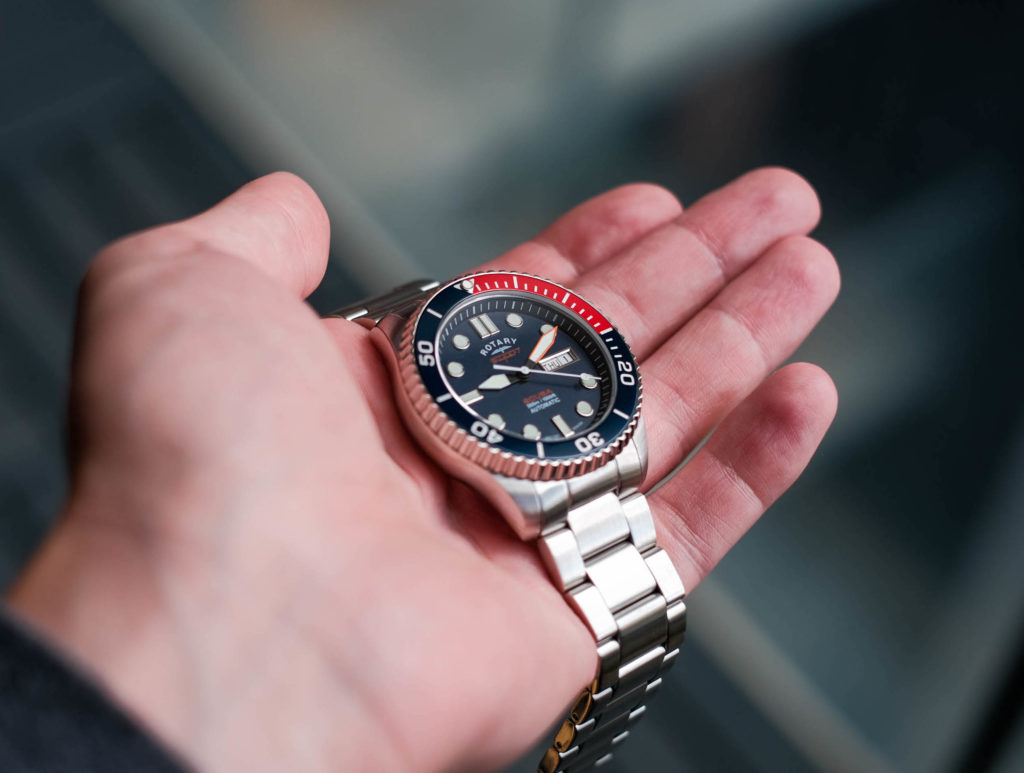 The bezel is functional as well as attractive. It has a 120-click unidirectional design that's more or less the standard for dive watches. For added visibility, there's a lume dot at the 12 o'clock position. The upper right quadrant is red, while the rest of the bezel is blue, and the hashes and Arabic numeral markings are an attractive white. Operation is smooth and simple, and the clicks are easy to feel. Whether or not you actually use the bezel for its intended purpose is up to you. But it's undeniably well-engineered.
The Movement
The Rotary Super 7 sports a Japanese-made Miyota 8205 movement. The 8205 is perhaps Miyota's most popular movement, and is only manufactured in their Japanese plant. With 21 jewels and a frequency of 21,600 beats per hour, it moves smoothly, and also offers a power reserve of 42 hours. If the Super 7 is your everyday watch, you won't need this. But if you switch between two or three watches, the power reserve will save you the trouble of constantly rewinding and resetting your watch.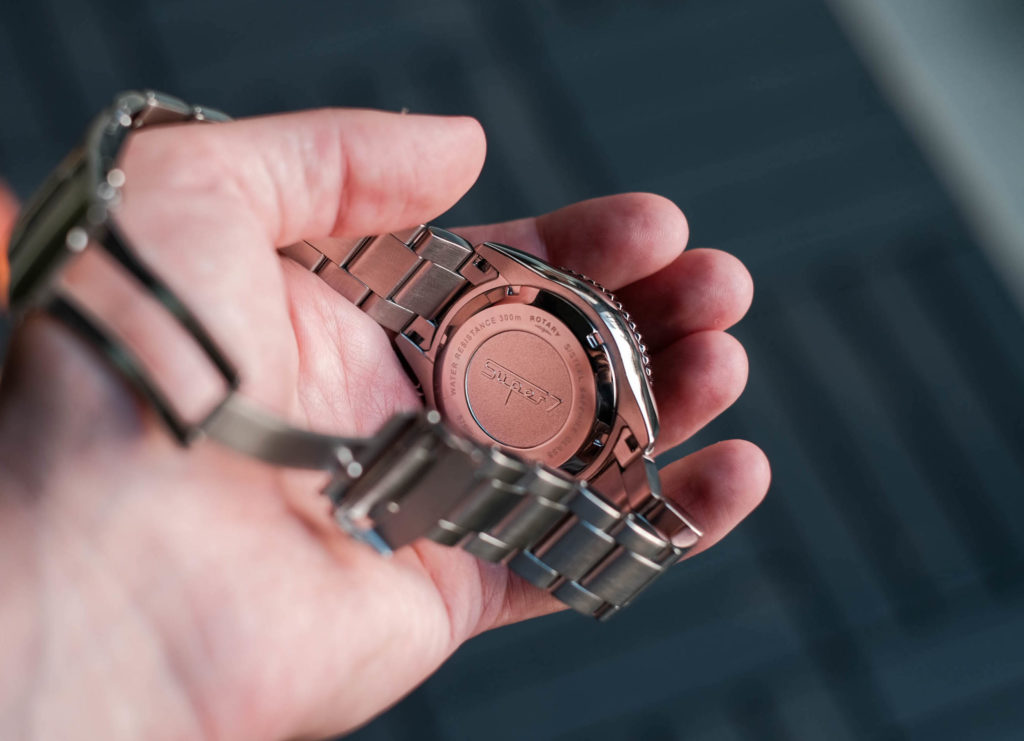 The Miyota 8205 does have one major drawback; it's only accurate to -20/+40 seconds per day. This means that at the end of a week, you can potentially be off by more than four minutes. On the other hand, the Super 7 is an affordably-priced watch. You can't reasonably expect a high-precision chronograph at this price point. Besides which, as I mentioned, the Super 7 is really meant for "at a glance" timekeeping, so down-to-the-second accuracy is less important than it would be for a precision timepiece.
The Strap
The Rotary Super 7 comes with a silicone strap that's more or less par for the course for dive watches. Silicone is comfortable, stretchable, waterproof, and durable. As such, it's well-suited for underwater use. Not only that, but the Super 7's strap will fit on most wrists. Its maximum length is 27 cm, so it will accommodate even very large wrists. It's also perforated, which makes it breathable enough that sweat is not a concern.
For more specs and information visit the Watchnation.com website here.