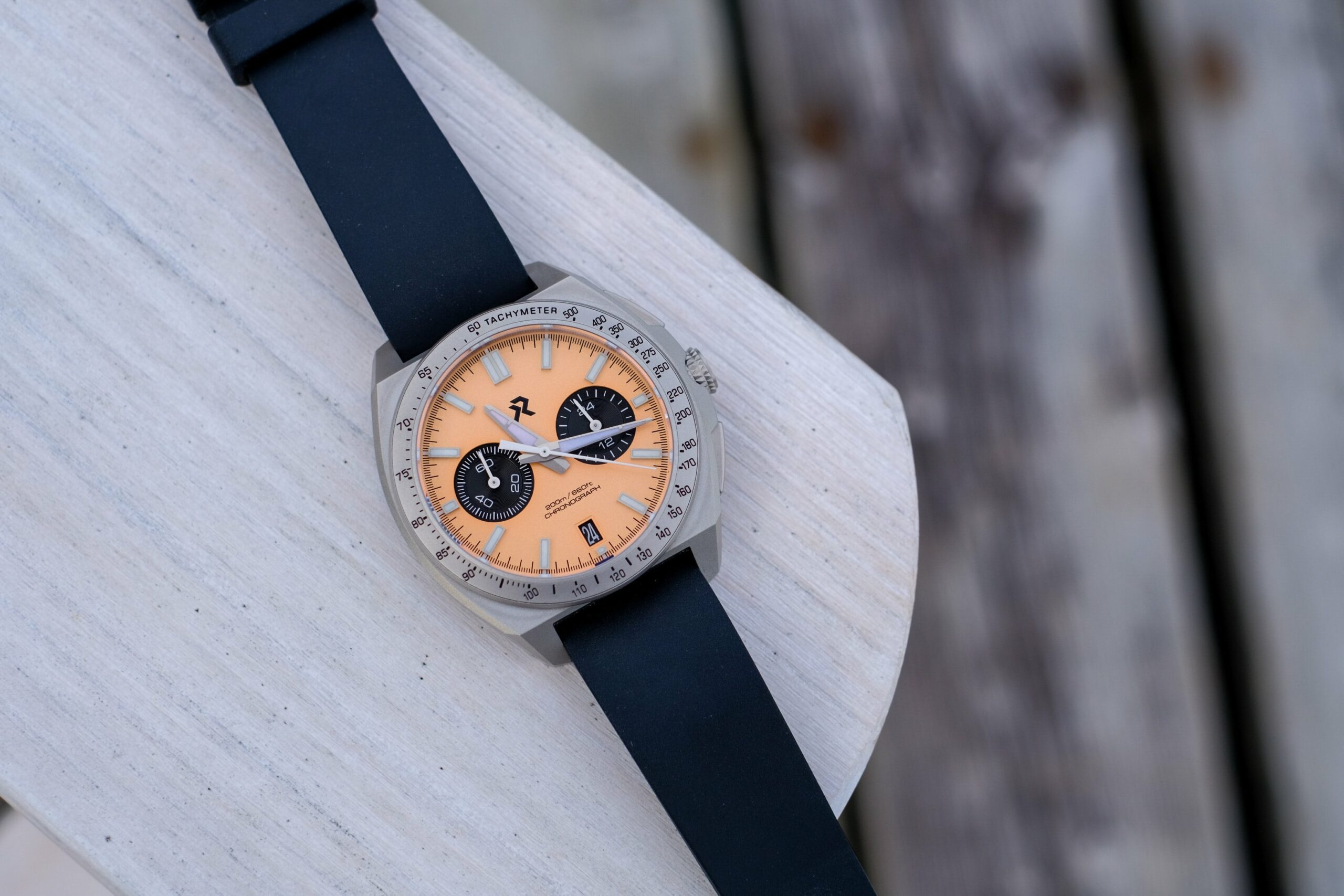 When most people think of a modern watch, they think of one of two things. The first is the kind of watch I usually review: luxury mechanical watches, designed first and foremost for enthusiast or those who enjoy the finer things in life. The second is a simple timepiece built for accuracy; think of the cheap Casio watches at Walmart. In point of fact, they're actually more accurate than mechanical watches.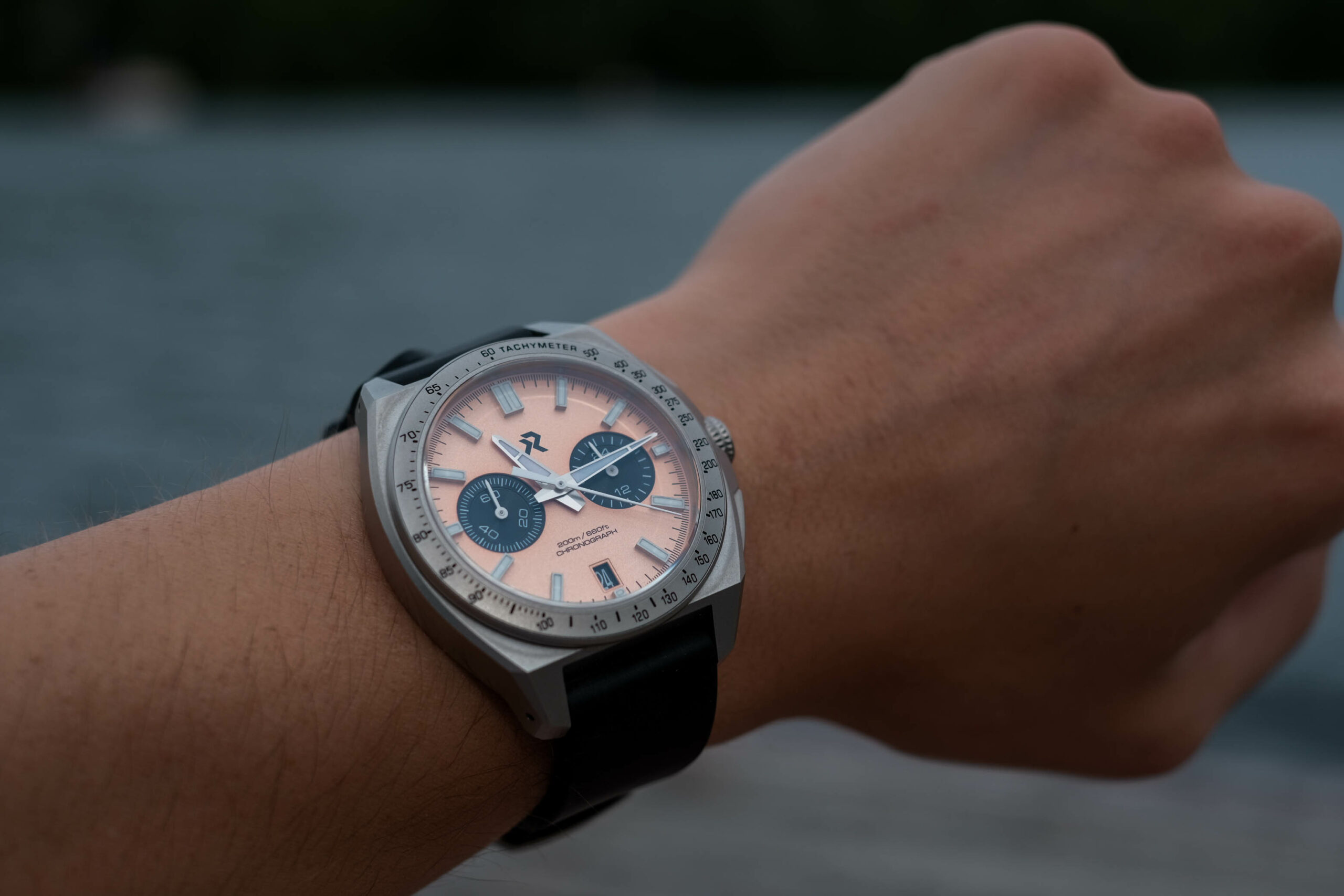 The RZE Valour represents the best of both worlds. The meca-quartz movement provides the accuracy of quartz, along with the timeless appeal of a mechanical chronometer. This isn't exactly a luxury watch. The rubber strap and workmanlike case keep it out of that category. It's a high-quality tool watch that's also appropriate for dressier occasions. You can wear it while you're driving at the track, and leave it on at a fancy restaurant that evening.
RZE watches are a relatively new brand, founded in Singapore only last year. Their tight-knit team has already released two successful collections: the Resolute and the Endeavour. The Valour is scheduled for release on July 31st, but I managed to get an early peek. Here's what I discovered.
Hybrid Meca-Quartz Movement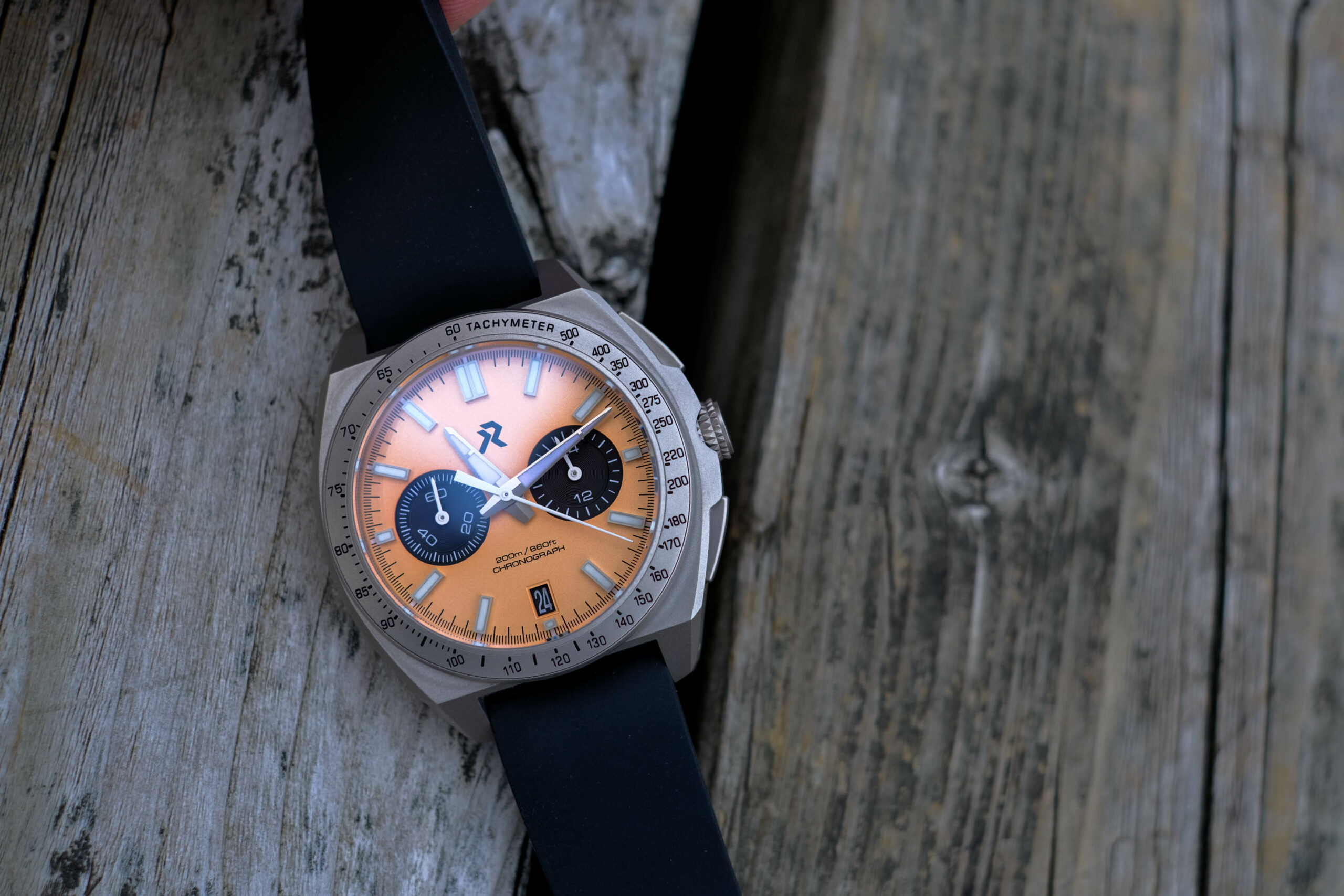 A meca-quartz movement is a movement that marries the functions of quartz and mechanical. For everyday operation, the quartz movement controls the timekeeping. This ensures maximum accuracy, without the need to reset the watch every few weeks as you do with a mechanical movement. It also allows for a much slimmer watch design while keeping production costs low, as well as better durability and reliability. Finally, quartz movements are much cheaper and easier to service than mechanical movements.
That said, a quartz movement lacks soul. That's why watch enthusiasts love mechanical movements to begin with, despite the fact that they're objectively less accurate. There's an element of craftsmanship involved, as well as the reassuring "tick-tick-tick" you won't hear from a quartz watch. A meca-quartz movement has a mechanical chronograph module that controls the stopwatch. This provides you with the feel of a mechanical chronograph without the drawbacks.
The RZE Valour is powered by a Seiko SII VK64 meca-quartz movement, which is exceptionally accurate when compared to any mechanical movement. You might need to reset your watch once a year. It's powered by a replaceable battery, which is rated for three years. Frequent use of the mechanical chronograph will shorten the battery life. But what's the point of owning a meca-quartz watch if you're not going to take advantage of it?
Rugged Titanium Case
Most watch cases are manufactured either from steel or gold. Both are corrosion-proof, and while steel is more affordable, gold is actually more affordable to machine. The RZE Valour's case is made from titanium, which is not only corrosion-proof, but stronger and lighter than either steel or gold. The case itself is in the medium-large range, with a 42mm diameter that provides a robust wrist presence. Despite its diameter and the large bezel, it's only 12.5mm thick, which is surprisingly slim. This is possible in large part due to the meca-quartz movement. The crystal is scratch-resistant sapphire, with an anti-glare layer on the inside.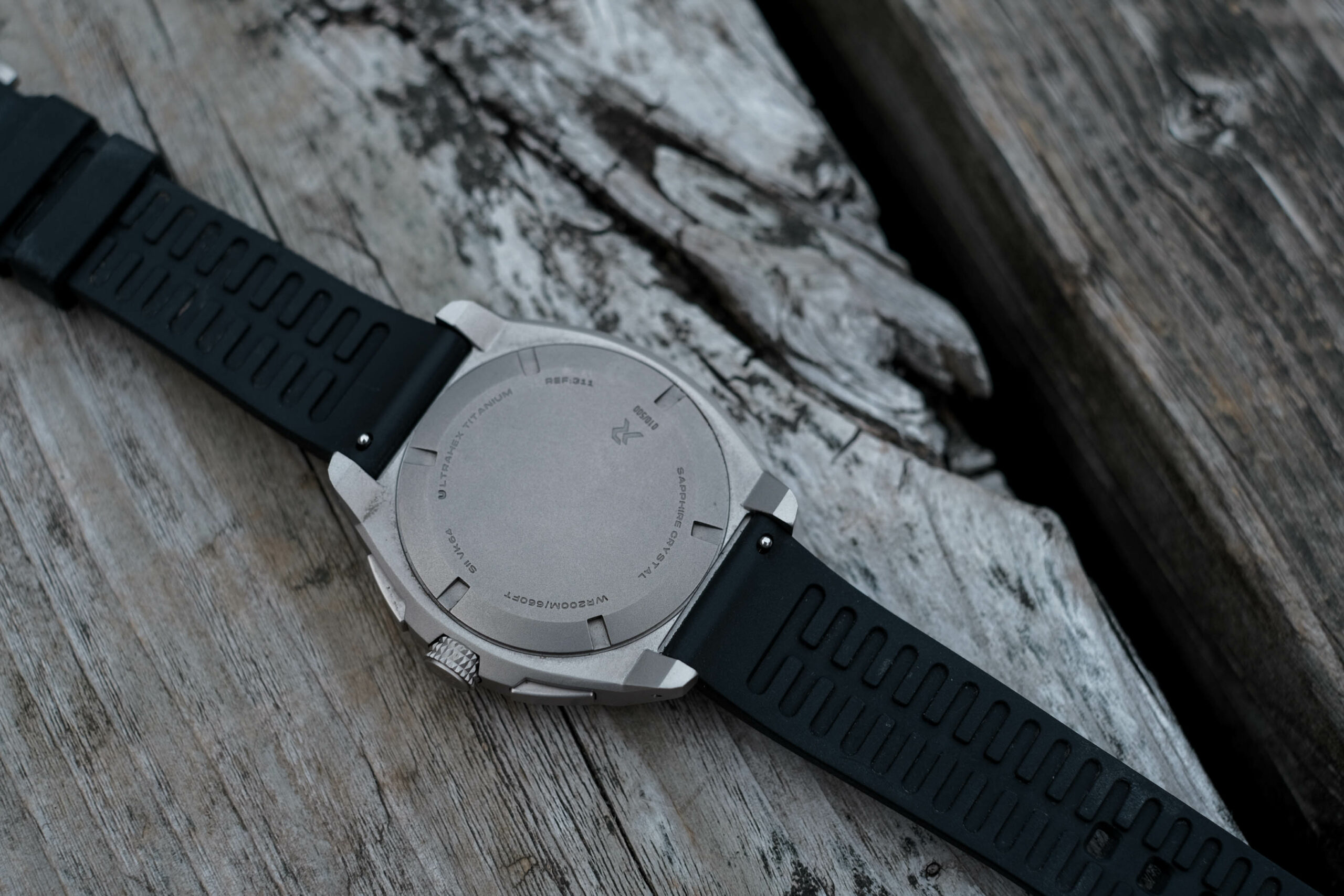 The case isn't just virtually indestructible. It's also water-resistant down to 200 meters. This technically makes it capable of diving, although it's not designed as a dive watch. The screw-down crown ensures that it won't pop open and admit water by mistake. And the screw-down case back isn't just easy to service; it's also easy to reinstall without compromising the seal.
Modern Salmon Dial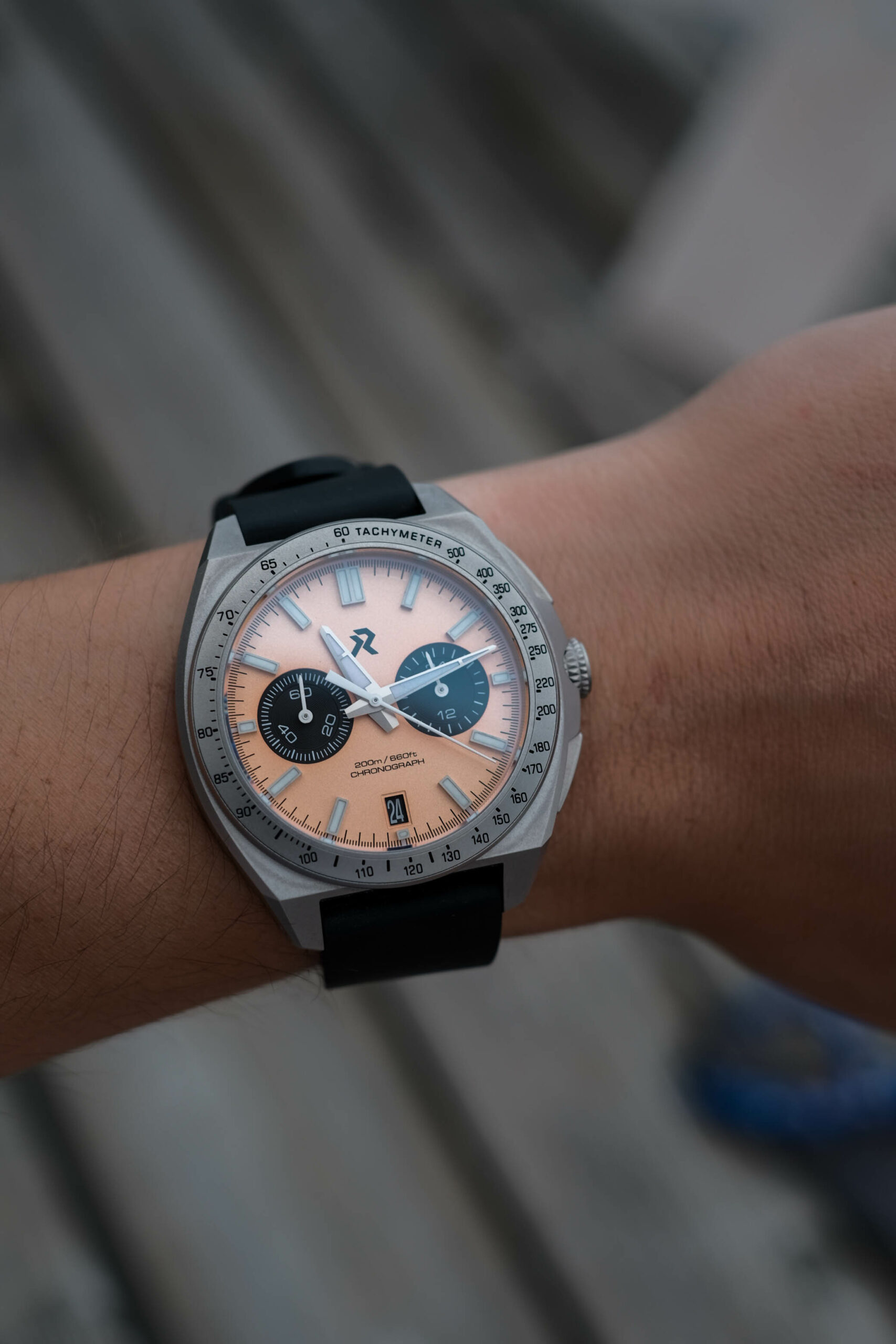 There are three versions of the RZE Valour: a salmon dial with a plain titanium case, a white dial with a black accented bezel, and a black dial with a black case and bezel. All three styles have black subdials, large applied indexes, and superluminova coating on both the indexes and the hands. All three also come with tachymeter markings on the bezel.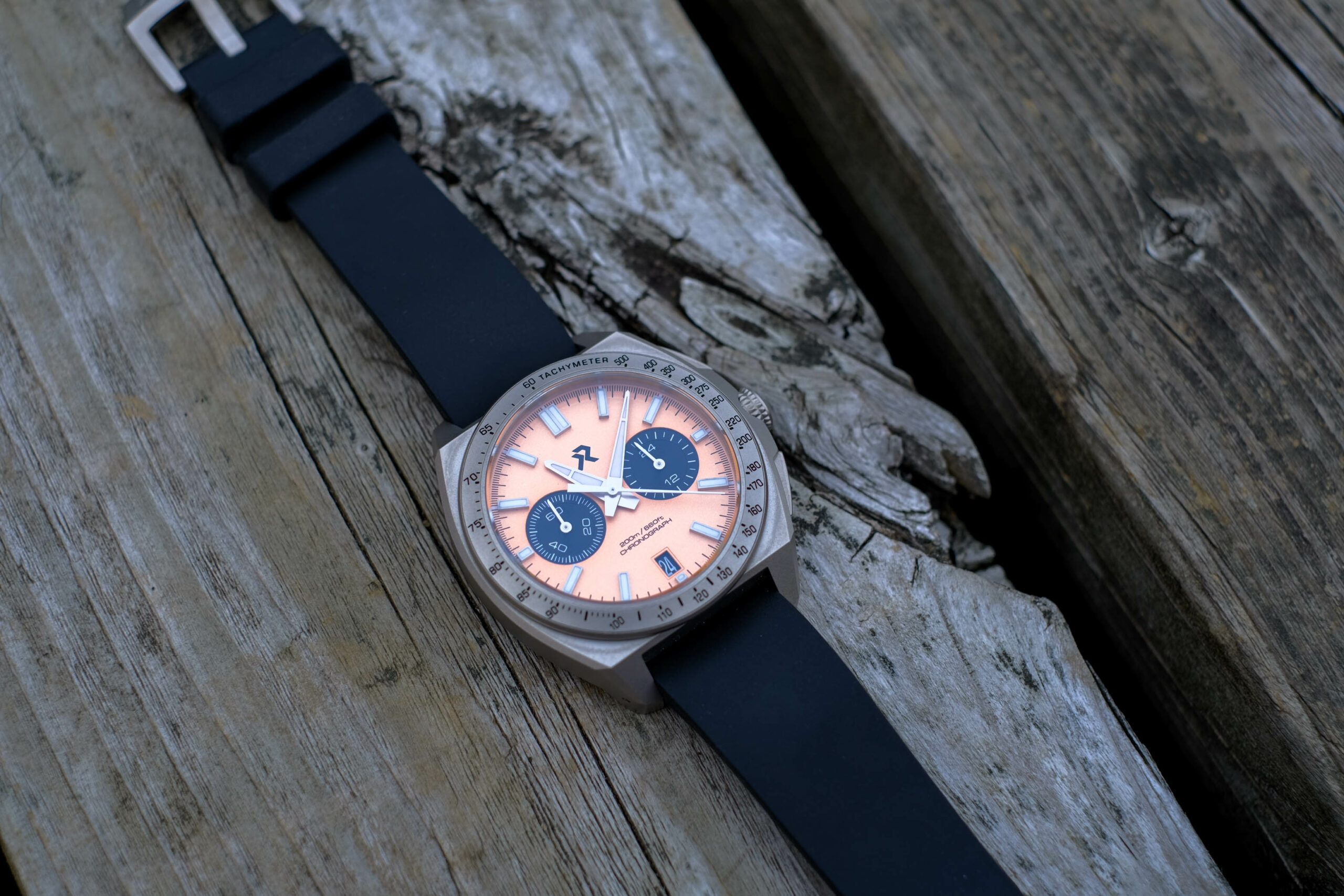 The two subdials assist with the chronograph function. There's a 24-hour subdial on the right, and a 60-minute subdial on the left. When the chronometer is activated, it simply co-opts the second hand from the main dial. In addition, you'll also find a date window at the six o'clock position. I liked this placement, since it didn't interfere with the subtidal placement and throw off the balance of the dial.
A Serviceable Strap
The watch strap is fairly plain, made from smooth rubber without any imprints or ribbing. It won't draw a ton of attention to itself, which is fine because it's not made for aesthetics. It's durable rubber that flexes when you need it to, and won't break or tear easily. You'd have to intentionally take a pair of clippers to it to do any damage. The buckle is similarly robust, constructed from the same grade 2 titanium as the case, so it's a lot sturdier than any steel buckle.
To sign up for the early release of the RZE Valour visit their official website here.