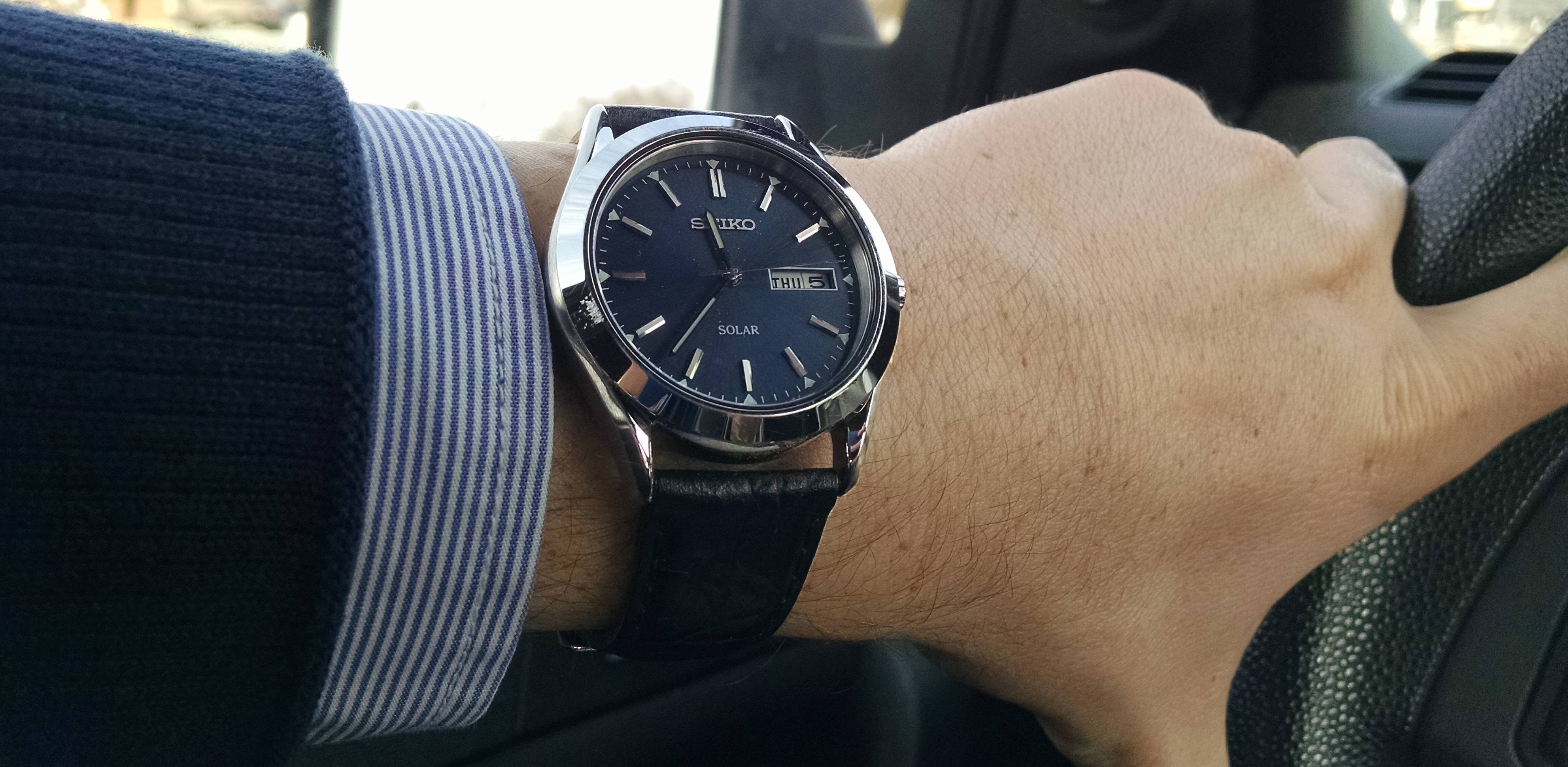 The Seiko men's SNE049 stainless steel solar watch may look very basic and common, but if you take a closer look it's actually very unique. If you're looking for a classy watch that can be worn with almost anything and also has the benefit of solar power, then this could be the one for you.
> > > Click here to see ratings, reviews, specifications and prices on Amazon < < <
Upon first glance, the SNE049 actually kind of looks a little boring, but it's not. You can see a strange blend of different watchmaking eras in one timepiece. Right off the bat, you can notice that it has a slight resemblance to vintage Rolex, like the 1950's and 60's Oyster Perpetual and Air King. I notice this in the hand markers, the red date, the small size of the case, the overall classy minimalist design, and of course, its topped off with the black leather band.
The SNE049 is a great little watch, and although it doesn't have a mechanical movement the solar powering will mimic this quite well, so of course, you don't have to worry about changing the battery or winding the timepiece.
SNE049 Design
The thing that stood out to me the most about this little Seiko watch is its size. It's rare these days to come across a watch that actually fits the wrist properly. You can blame this on the trend towards watches that look large and bulky, it's kind of the "in" thing now to have an oversized watch. If we rewind a few years into the early 2000's and all of the 1900's, having a small watch in the 34 mm to 37 mm range was considered perfect for a gentleman, and guess what, it still is! It looks great aesthetically, and it actually feels more comfortable on the wrist.
> > > Click here to see ratings, reviews, specifications and prices on Amazon < < <
Wearing an understated watch like this SNE049 will bring your attention, and a better kind of attention than a large bulky watch will. It shows that you have taste, and can piece together an elegant outfit that isn't screaming for attention. I settle my case on why I really love the design of this watch, although I'm aware it may not be everyone's view.
Features
Feature-wise, the SNE049 won't really live up to your expectations if you're looking for a multi-function watch. You would be best off looking at a digital watch or a modern type of analog watch. The whole point of this Seiko piece is not to pack it with features, but to have it fit into the understated fashion department.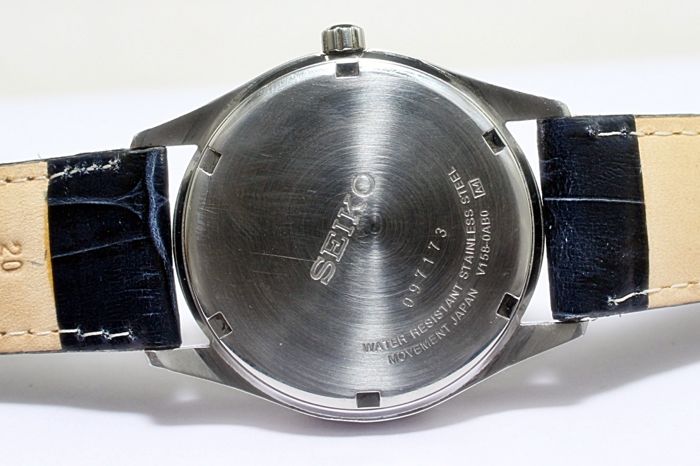 Some of the highlight specifications of this timepiece are that it's, of course, solar-powered, has a sunray dial, and is equipped with a day & date window (not magnified). The sunray dial is gorgeous, and when you're in a bright setting, like an office, or outside in the sun you can get a really magnificent glow coming off the dial which again is also another similarity to some of the older vintage Rolex's. It's only water resistant to 100 feet, so it's recommended to avoid full submersion, but you should be safe with splashing and maybe the occasional swim.
Overall for the price you can't really go wrong. I'm not a huge fan of the faux leather strap but that can always be swapped with a different one anyways!
> > > Click here to see ratings, reviews, specifications and prices on Amazon < < <