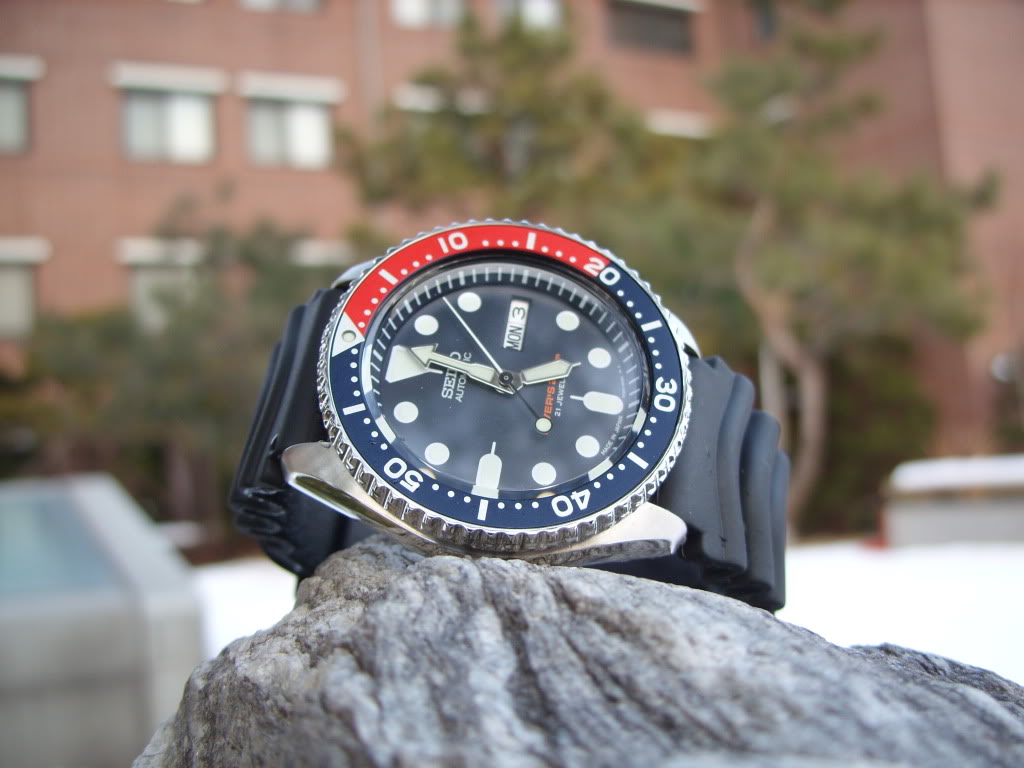 If you are serious about watch collecting you will know that an automatic watch is a starting point of your journey. However, with the decent models starting at around $1,000 it can be quite a pricey hobby. Today, we shine the spotlight on Seiko SKX009K1, the automatic driver of quite an unusual color combination; so unusual that the watch was dubbed a 'Pepsi Diver'.
Indeed, this blue and red-bezel timepiece ranks quite high in terms of quality and can even compete with its higher-priced rivals in lots of categories – for example, the 'Pepsi Bezel' Rolex sport's watch.
Resembling the famous Omega Seamaster, this watch is ideal for all those who seek a robust and vibrant companion for their sporting adventures – specifically diving, and at $200, is a reliable and bold piece of watchmaking. Seiko knows how to produce watches of respectable quality while still maintaining their cost efficiency, and this watch packs plenty of useful perks their owners will cherish.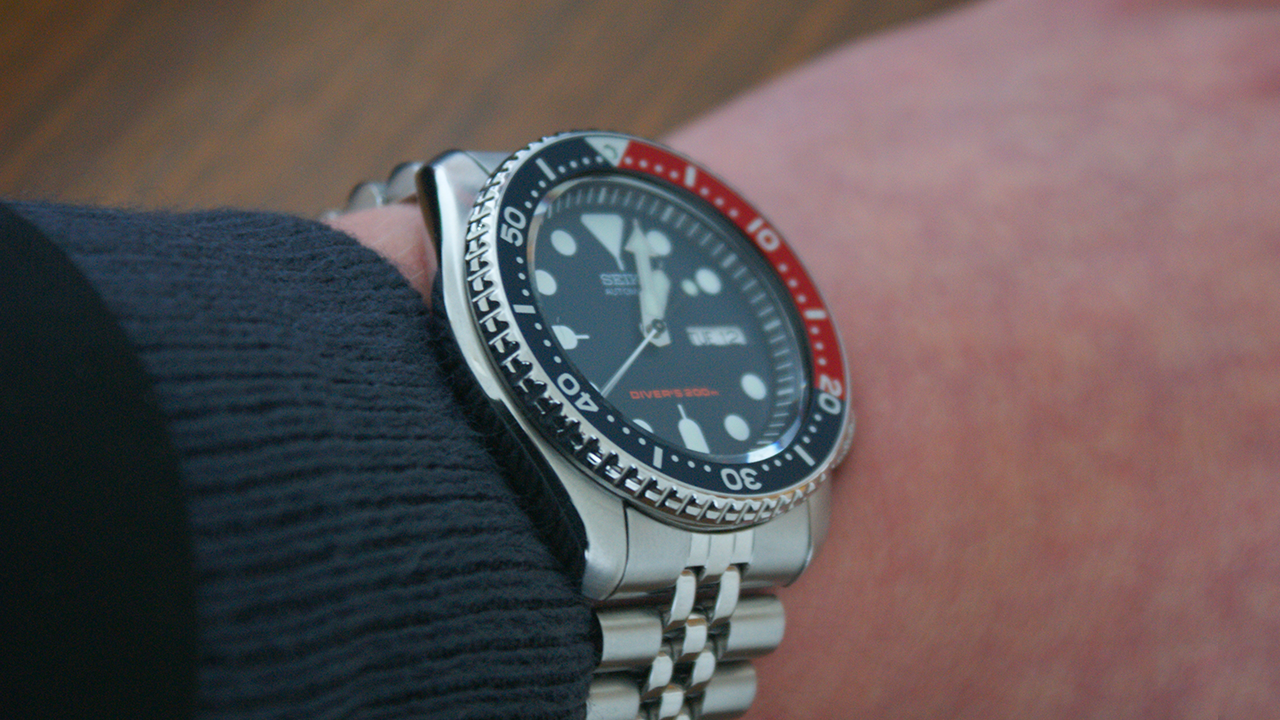 Made with a daily wearer in mind, the watch is created with professional divers in mind and because of this has many advantages when worn under the water surface. The incredibly strong lume, 200m water resistance, solid design with easily legible markers and large hands, alongside the functional and precise bezel are some of the features we will touch upon as we review this ultimate diving gem. Of course, as with any other watch, there will be shortcomings, and we will make sure to reflect on these as well. Dive in!
> > > Click here to see ratings, reviews, specifications and prices on Amazon < < <
The Design
The first word that comes to mind in describing this watch is chunky. It's not among the most elegant of diver watches, but then again, that is not its purpose. You may have heard of this watch being referred to as a ''Rolex of a working man''. Truly, it does carry some similarities of a high-end sport's watch, with the dotted, thick bezel; the beefy markers and hands, and a solid case back, all packed in-between a rather uncomfortable rubber strap. If you decide to replace the strap, however, we recommend you don't go with a thin one as it will look disproportionate to the case.
The dark blue dial is almost black in color and is a good fit for underwater activities as it makes the large, round indices even more legible. Between these, an inverted triangle is in place to indicate the 12 and a day and date window takes place of the 3 o'clock mark. The 316L brushed stainless-steel case is very distinct as with other timepieces from Seiko. Interestingly, the language of the date section can be changed to Spanish and the crown is peculiarly situated by the 4 'o clock mark.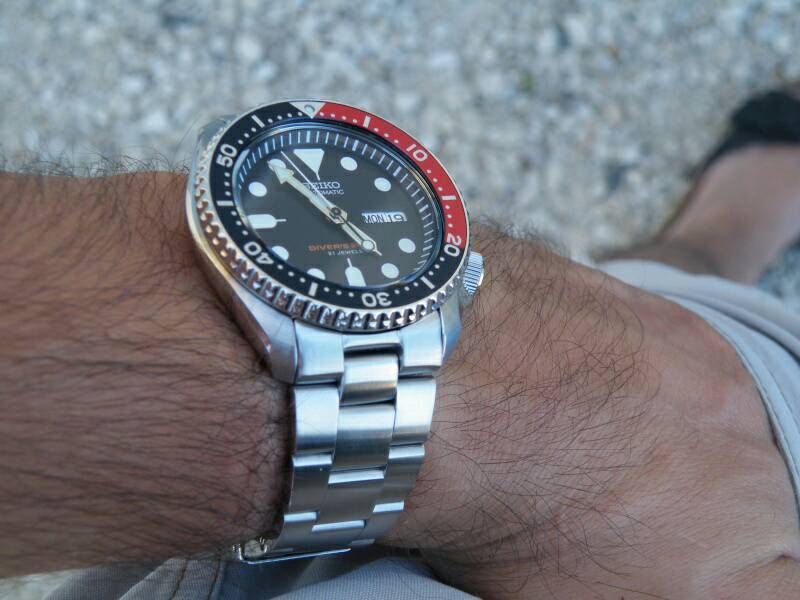 > > > Click here to see ratings, reviews, specifications and prices on Amazon < < <
On the back, a tsunami design sits in the middle of the circular plate and features a few inscriptions related to its scuba diving purpose and a serial number. It is always wise to check this number as it will let you know when exactly your watch was produced. The steel-made, uni-directional bezel rotates for 120 clicks for added precision, allowing you to measure time in small intervals. The striking red and navy blue color depends a lot on your taste but overall gives off quite a lovely impression, with the red representing a third of the SKX009K1's arc.
SKX009K1 Automatic Movement
Inside its hefty armor, an automatic movement will make sure your time and date are accurate. The downside is its lack of hacking capabilities or hand winding. You will have to rely on the in-house synchronization and on your frequent usage of the watch as it comes with a 40 hour battery reserve. The good side is that 7s26 is a decent automatic movement, beating at 21600 BHP and featuring 21 jewels.
The Sturdy Crystal
The case glass is made of Hardlex, a mineral crystal with improved impact resistance. It feels as if this was a right solution as sapphire is quite an expensive option and this watch really prioritizes its durability and sturdiness. A few light scratches on the screen are a given with any scuba-diving watch, anyway.
Bright Lume
All of the indices on the dial as well as some parts of the bezel are coated with Seiko's own Luminova-style paint called Lumibrite. This paint is the magic secret behind the incredible brightness of all Seiko's divers. Obviously, it comes in handy, especially as underwater conditions tend to include plenty of darkness.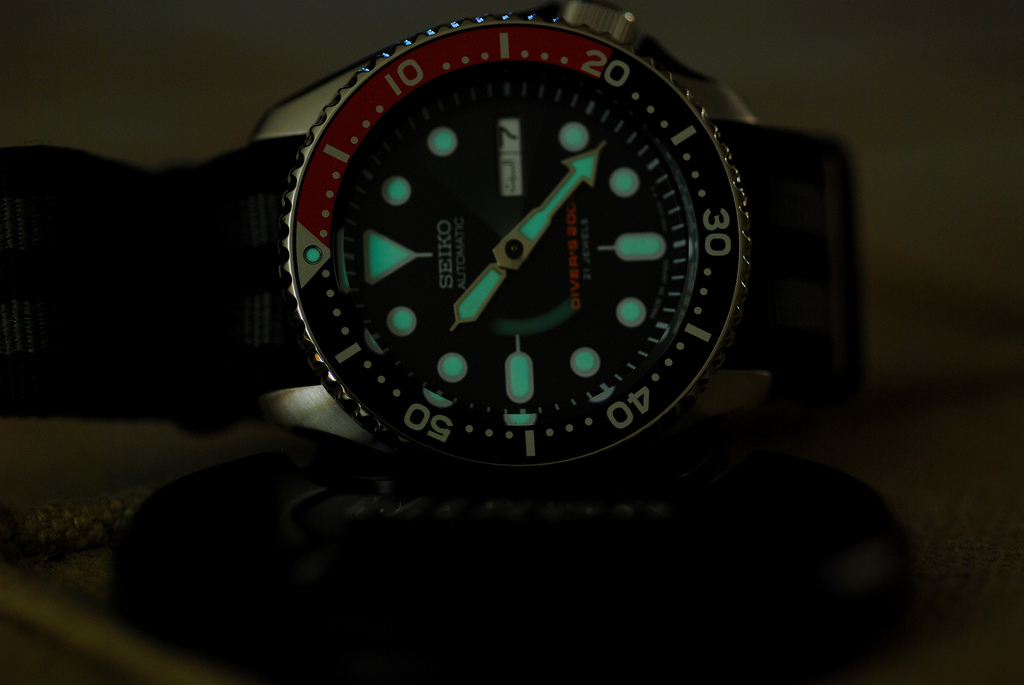 All in all, the Seiko SKX009K1 is a great example of an affordable, high-quality automatic diver. Yes, the movement lacks hand-winding and hacking capabilities, and Seiko uses a slightly pinching strap but still, at $200 – this watch hits the spot. It is a definite must-have companion for any diver who is passionate about their watches.
> > > Click here to see ratings, reviews, specifications and prices on Amazon < < <