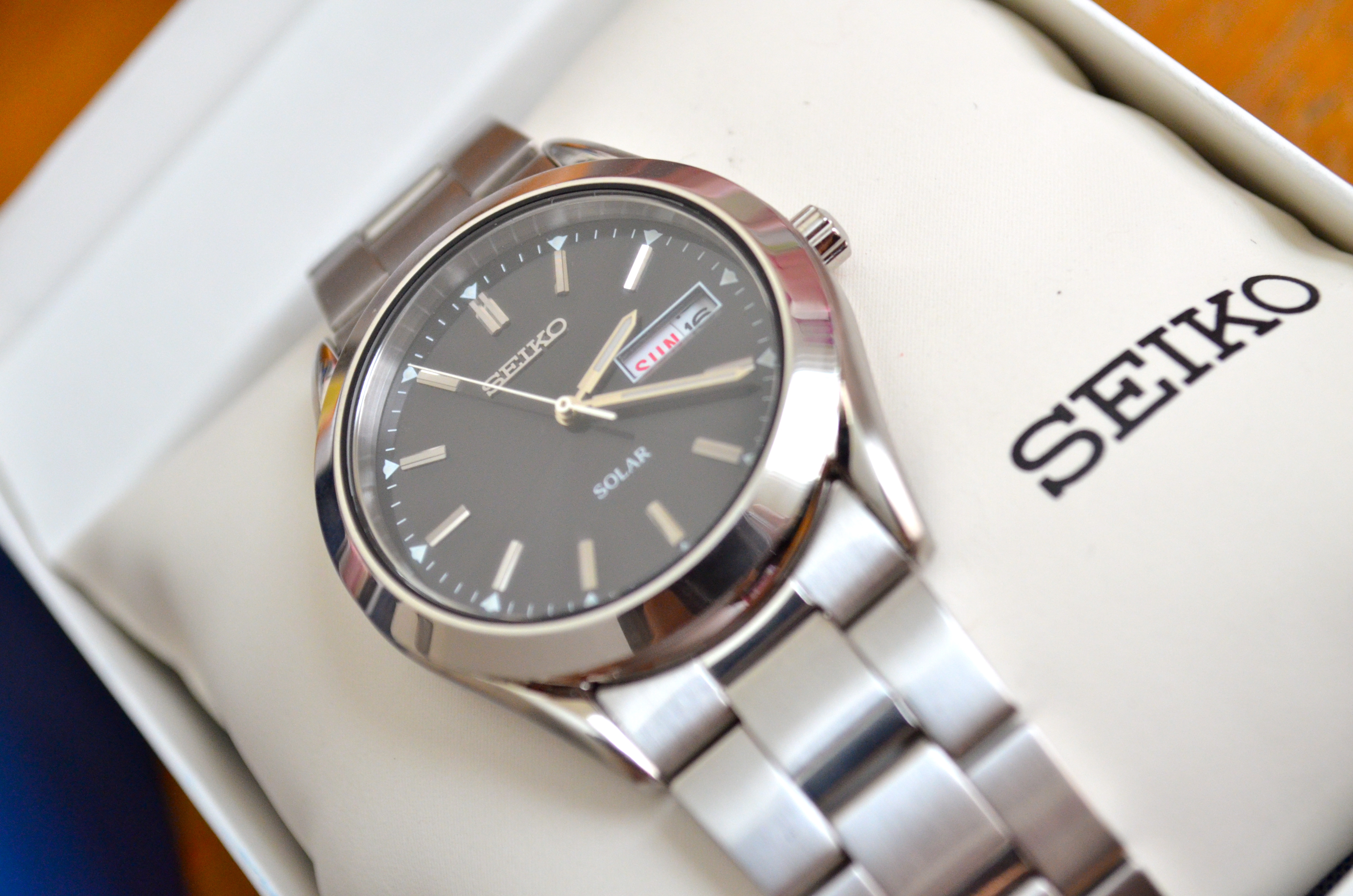 The SNE039 shares the bottom rung of Seiko's vast Core collection with a couple of other models. It is also one of the simplest designs in that collection, but I don't consider that a bad thing. Its clean design makes this is a sophisticated and elegant dress watch with more than a passing resemblance to the revered Rolex Datejust. No matter how old you are, this is the kind of watch your dad wore back in the day, when he was cool. Combine the sleek style with Seiko's reliable solar-powered quartz movement, and, at least on paper, this appears to be a very tempting purchase. Let's find out a little more about the SNE039 to see if it is indeed as good as it seems.
> > > Click here to see ratings, reviews, specifications and prices on Amazon < < <
Case
At 37 millimeter's wide, this case is on the smaller side, so if you are looking for one of those trendy large watches, keep looking. That said, it's not so small that it will appear tiny unless you have unusually large wrists. At around 9 millimeters top to bottom, this is a nice and thin case, so it will easily slide under your cuff without getting caught. The thick, unadorned bezel gives a slightly more solid, casual vibe to this otherwise dressy watch.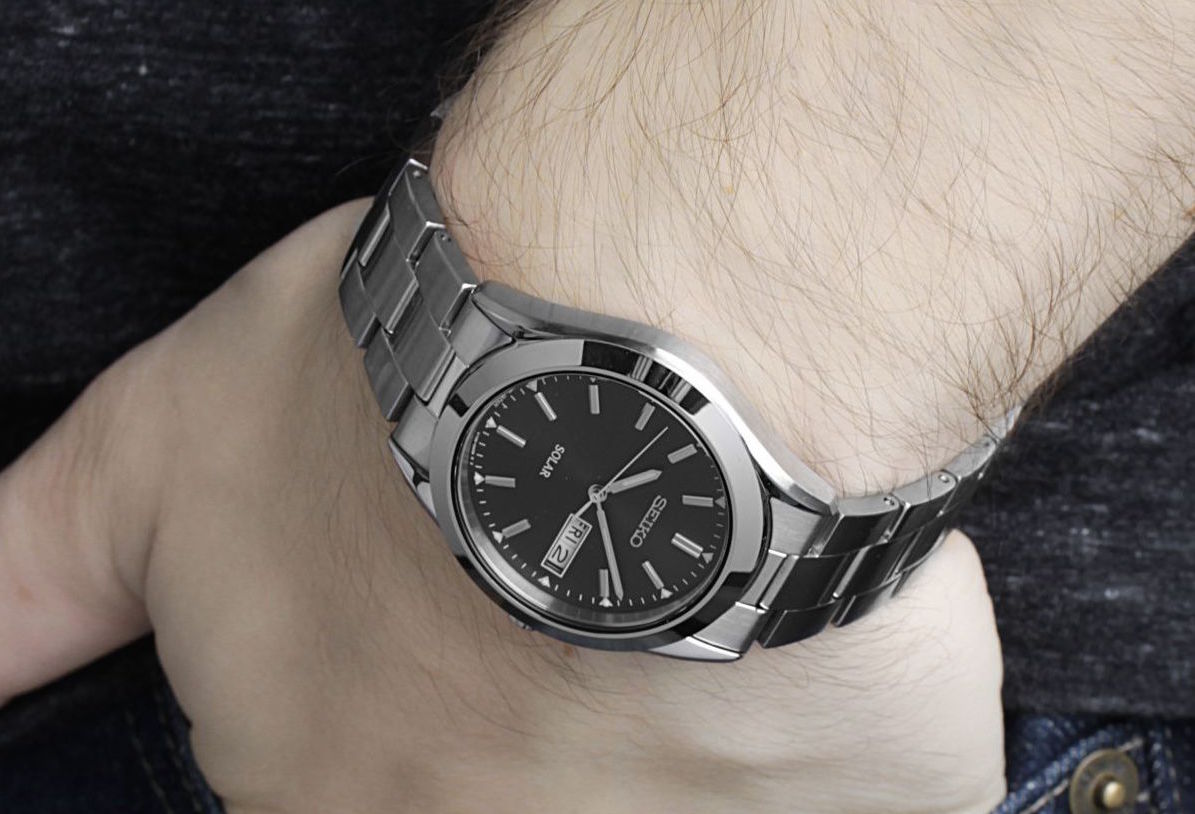 Water resistant to 30 meters, this case is best suited for dry activities, but can stand up to the occasional splashing. Rotating the crown to change the day (upwards) and date (downwards) produces a satisfying clicking sound. As is expected with a relatively inexpensive dress watch without much water resistance, the crown does not screw down.
Classy Dial
The striking black sunburst dial just looks so good on this watch. Take it out in the sun and it shimmers brilliantly. Covered by Seiko's proprietary Hardlex crystal, this is a simple, classy, no-nonsense dial design that has an ageless appeal. With stick hour markers, the only text on the watch (aside from the tiny movement information at the bottom) is the "Seiko" name printed under the 12 o'clock and "Solar" printed on the bottom half of the dial.

> > > Click here to see ratings, reviews, specifications and prices on Amazon < < <
The one glaring exception to the elegant design of the dial is the white day and date display at the 3 o'clock position. This white display stands our starkly from the black dial, making for an unpleasant distraction from the classy dial. Seiko offers plenty of similar designs without the white date field in their Core collection, but they all cost at least $100 more than this model, so if you are on a budget, you might just have to live with this design.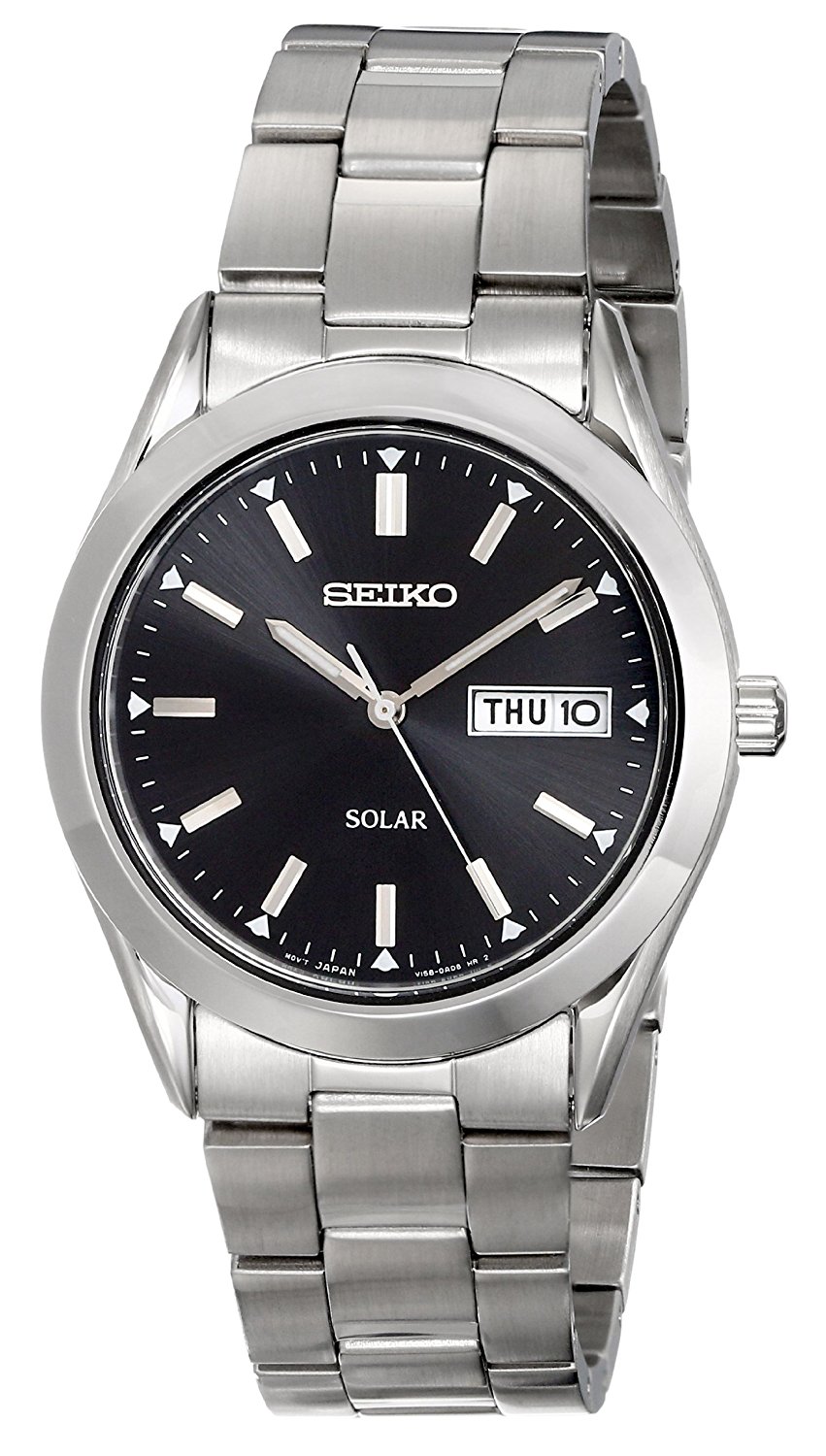 Another negative is the poor lume on this watch. Seiko must have skimped on the Lumibrite, applied to the hands and hour markers, as it lasts only a couple of hours before fading. Other Seiko products using Lumibrite perform much better than this, leading me to think this is a problem of quantity rather than quality of lume.
SNE039 Movement
The SNE039 houses Seiko's caliber V158 quartz movement, powered by solar or any other type of light energy. A 10-month power reserve means this watch does not need to be worn very often to retain its charge. One potential downside I see, although I acknowledge not everyone would agree, is the lack of an automatic movement.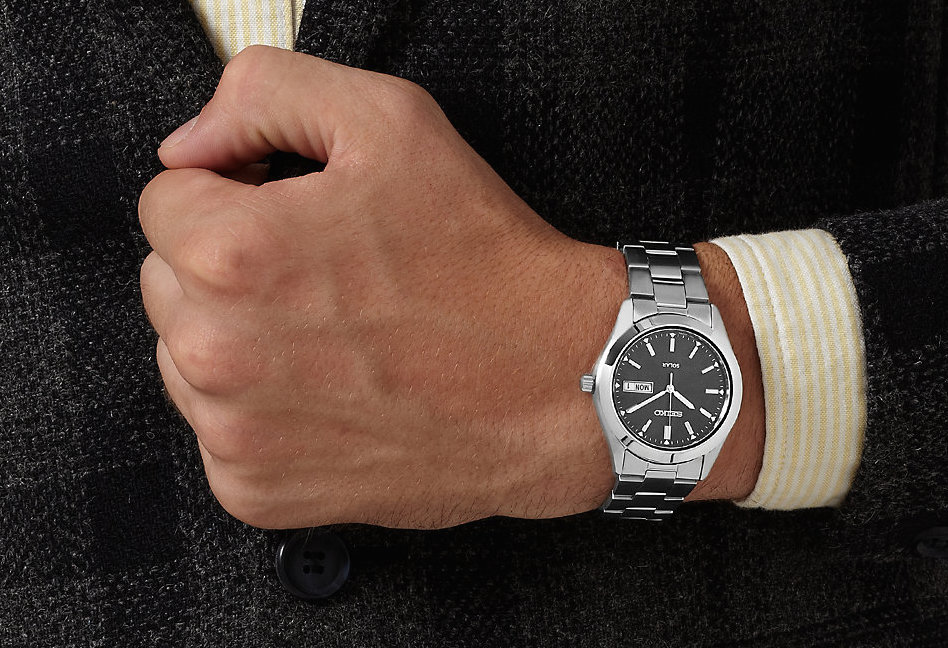 While the Japanese quartz movement found here is sure to be accurate and reliable, it lacks the sophistication and vintage appeal of a mechanical movement. I don't always prefer automatic movements, but on a dress watch in particular, I prefer the smooth, sweeping second hand motion that a quartz just can't provide.
Band
The stainless-steel bracelet with 3-across link design goes well with the overall appearance of this watch. A simple fold-over clasp with a two-button release holds things in place while the watch is on your wrist. This bracelet has a slightly cheap, jingly quality that doesn't quite hold up to the luxury appearance of the watch.
Final Thoughts
While a couple minor details prevent it from being a truly beautiful dress watch, I still really admire the aesthetic of the SNE039. With a timeless design that should never go out of style, Seiko's reliable quartz movement, and there is plenty to like about this timepiece.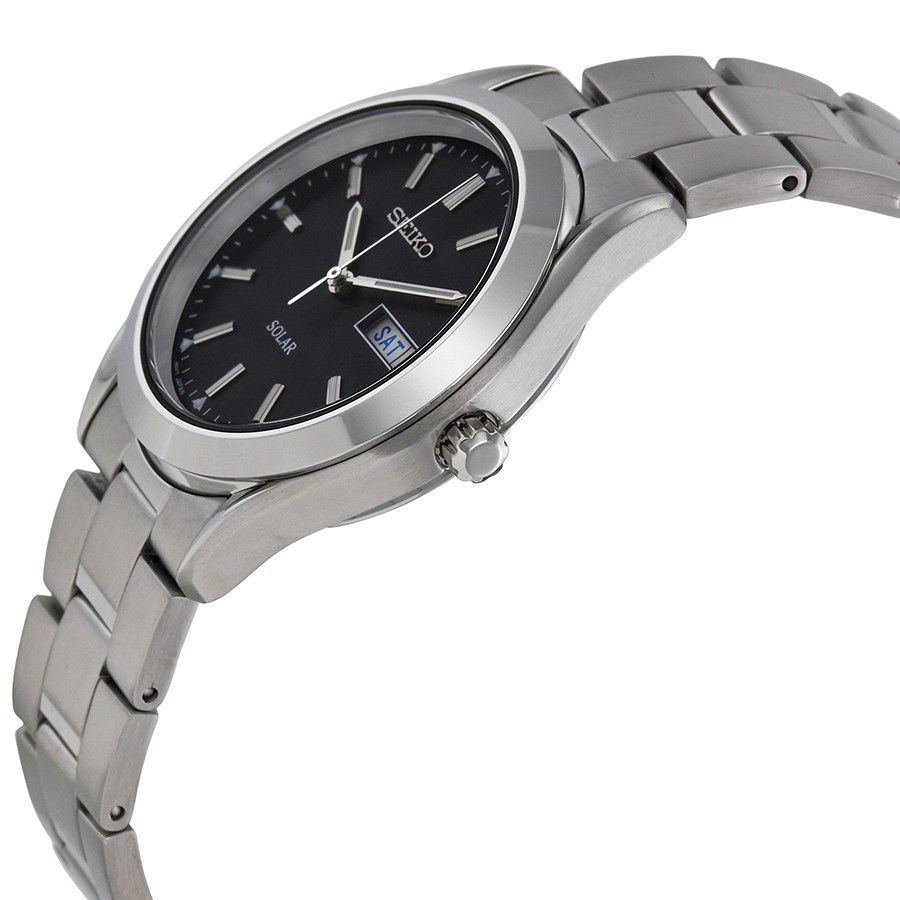 A few demerits are worth keeping in mind as you consider this watch. For example, the cheap-feeling bracelet, while it looks great, is disappointing on such a handsome watch. Next, the lack of an automatic movement may or may not be a problem for you. I know plenty of people prefer quartz movements for their simplicity, accuracy, and dependability, but most watch enthusiasts agree that an automatic movement represents the ultimate in luxury timekeeping. Finally, the weak lume makes this watch a poor choice if you need to use it in the dark very much. If this is something you are looking for you can't really go wrong at its current asking price!
> > > Click here to see ratings, reviews, specifications and prices on Amazon < < <