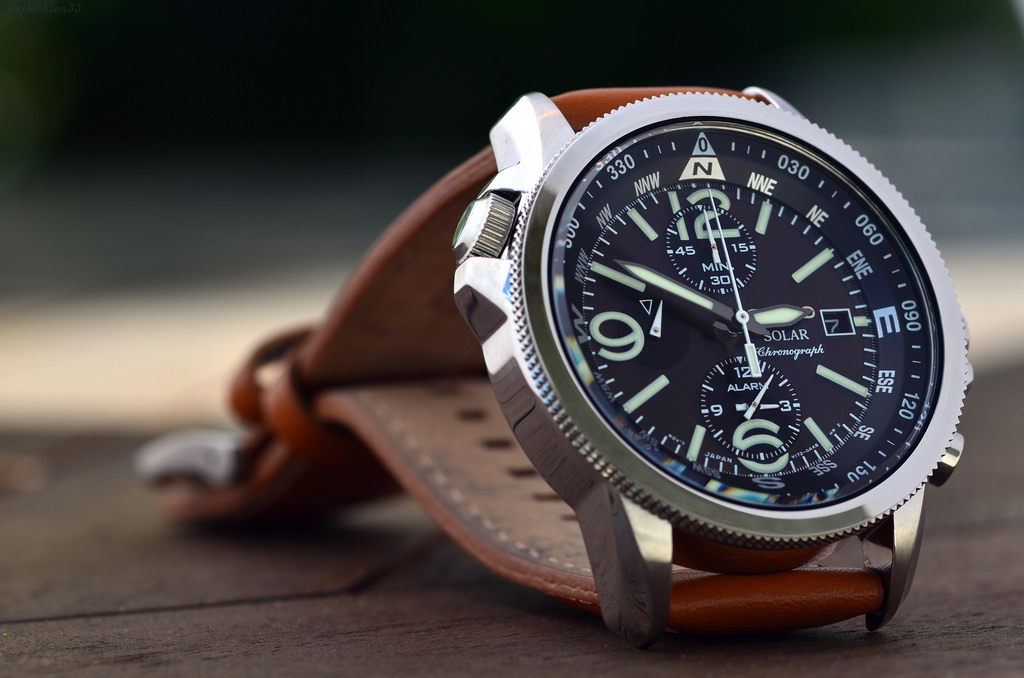 Today we have quite a special watch on display. The Seiko SSC081 Adventure Solar Classic is a high quality casual watch with a solar edge. Seiko has honed its skills over the past 120+ years and we have come to expect the very best from them. They have a dedication to moving with the times in terms of artistic design as well as technology and the fact that this piece features solar is testament to that.
At first glance the watch draws you in with its shiny stainless steel case and bezel. It looks like there is a fair amount happening on the watch so this would also ignite some curiosity. You will see a compass on the dial as well as two crowns. We will discuss these features in a bit more detail lower down. In fact quite a fair amount needs to be discussed so let's jump right in.
> > > Click here to see ratings, reviews, specifications and prices on Amazon < < <
Double Crown and Compass
The Solar Classic SSC081 engages its adventurous admirers with its compass feature. Before there is any confusion about this compass it is important to note that this is what the second crown is for. The compass isn't magnetic and self-rotating so it will be important for anybody that is planning on taking it out on a trip to use it that you are well versed in using it in connection with the position of the sun to determine true north. The second crown on the top left of the watch is used to rotate the compass accordingly. The second crown at 3 o'clock is for the usual setting of the date and time.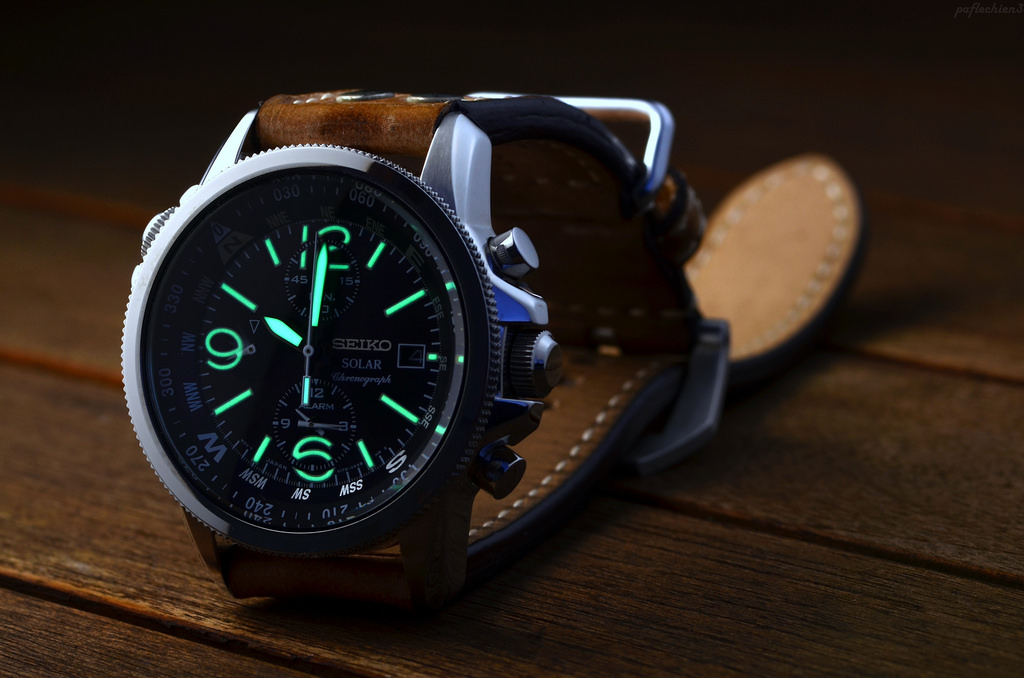 I find that the crown for the dial on the top left perhaps turns a little too easily which means if you aren't careful there is a good chance the compass would rotate a bit without you knowing it. That aside the compass is an exciting feature for the adventurous traveller. If, like me, all the adventuring you do is in the big city it still shouldn't rule this one out because it is a looker, at least you won't need to concern yourself over the technical use of the compass.
Black Dial
The matte black dial contrasts beautifully with the stainless steel case and the stitched brown leather strap. The 6, 9 and 12 are large Arabic numbers and the rest of the dial is embellished with various markers for the other hours and minutes. There is no 3 on display because this is where the date is found.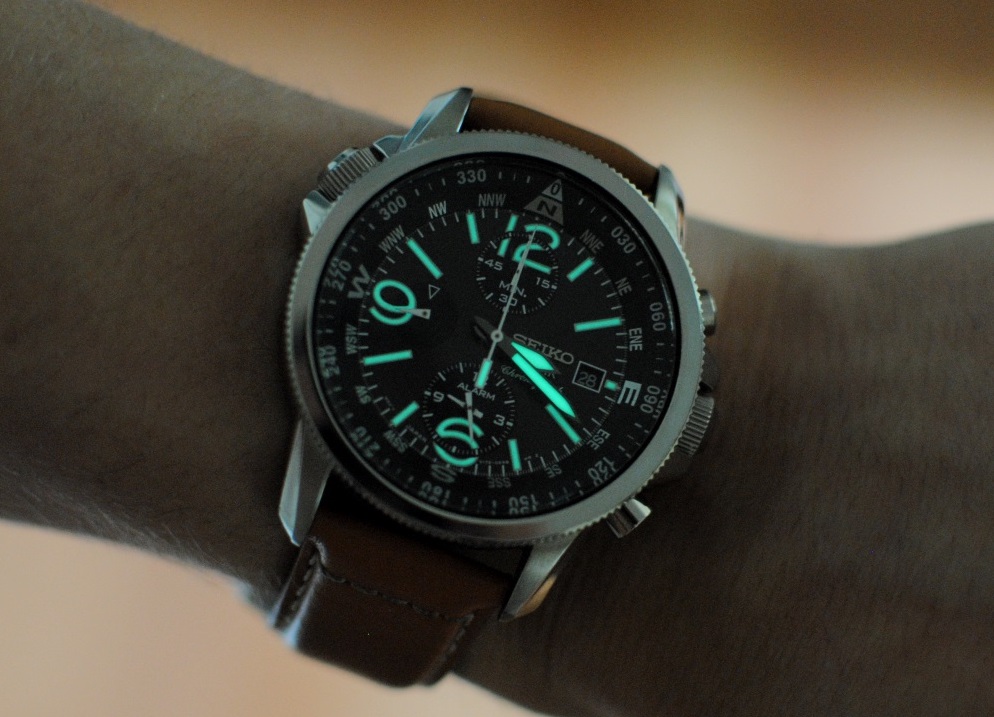 > > > Click here to see ratings, reviews, specifications and prices on Amazon < < <
The Solar Classic is casually sporty and features a chronograph with the timer overlapping the 12 o'clock numeral. You will see a second timer at the bottom which is used to set the alarm. A small note is that the alarm is something you will have to get attuned to but at least it doesn't scream at you. There is also a hardflex crystal over the watch face which isn't as tough as your sapphire crystal but well attuned to be able to take a bit of a knock.
LumiBrite technology is used to light up the features at night. The significance of using LumiBrite is that it doesn't need a lot of time to power up the luminous parts and also doesn't use any radioactive materials.
SSC081 Case
One of the most impressive aspects of this case is actually what is inside it. This piece is powered by a Japanese quartz v172 solar movement system. This solar quartz finds its power through sunlight and artificial light so it isn't a big deal if you find yourself indoors during the day. This battery will most likely not need replacing unless it is used for a few decades.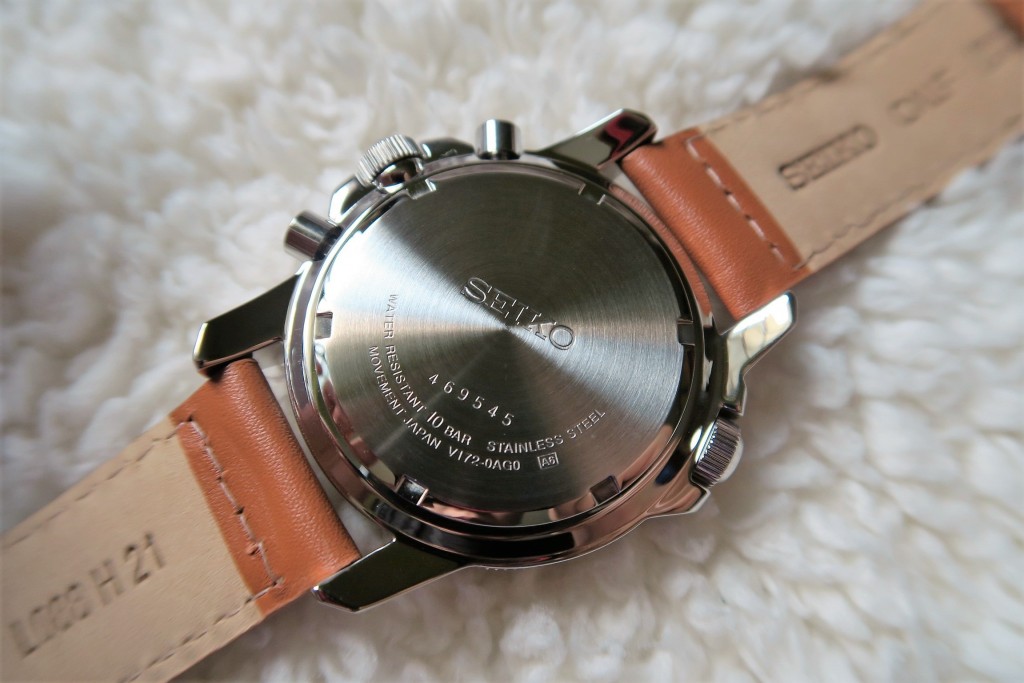 The case is a glossy stainless steel with a more brushed finish on the lugs. It commands attention due to its looks but at least not due to its size. The case is about 40mm with a thickness of 13mm. It is a little bit thicker than some of the other quartz watches but this doesn't cause any discomfort.
Final Thoughts
This is a fashionable piece and even though it is made for casual wear it can be worn as a dress watch if you are looking for a slightly down played yet stylish look. The stitching in the band and the glossy case is what makes it suit worthy in my opinion with the only concern being that there is a lot happening on the dial and around the watch. The technology powering this watch and the mind paid to keeping it aesthetically pleasing make the reasonable price tag seem very generous.
The Seiko SSC081 Adventure-Solar Classic can really go anywhere with you and for this reason I thought I would leave a little tip for those who don't already know how to find true north. Place 'South' between your hour hand and 12'clock then point your hour hand towards the sun. Now you're ready for some adventure or at least have a new party trick. The Solar Classic will be a good partner for either of those.
> > > Click here to see ratings, reviews, specifications and prices on Amazon < < <