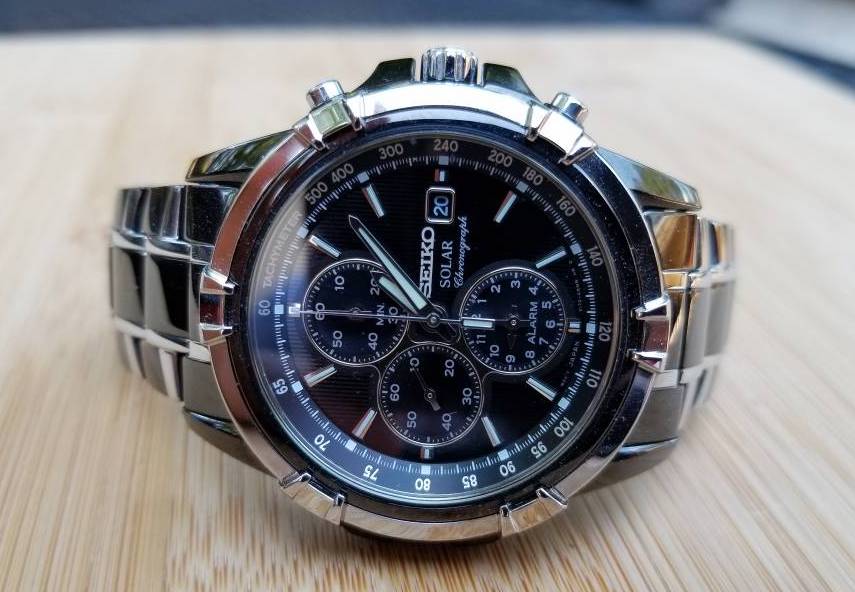 Seiko's SSC143 is a watch that will get noticed on your wrist, if not for the complex dial, then for the way the contrasting two-tone case and bracelet pop out at you. With a macho but cohesive design that incorporates some dressy and some technical elements, this is a versatile watch that would look great with just about any style of dress. This is a possible option for a go-to watch, as long as you don't mind a little flashiness on your daily wearer. There are some really interesting design elements here, so let's start by studying the dial and then move on to some other areas of interest.
> > > Click here to see ratings, reviews, specifications and prices on Amazon < < <
SSC143 Dial
Three sub-dials sitting at the 12, 6, and 9 o'clock positions on the SSC143's attractive black dial have a shiny and delicate silver outline that extends out to connect each dial at their closest point. The white-on-black date field sits at the 3 o'clock position, and while it is small, I have certainly seen less legible date displays than this one. The rest of the lettering and numerals on the watch are also white on black, with small-yet-crisp printing that ups the technical feel of this watch.
Interestingly, while the bezel features only a black-and-silver design, the outer chapter ring on the dial has a tachymeter for calculating speed and/or distance. Placing this function on the dial creates a more sophisticated look than if it were on the bezel. The chapter ring's steep angle down to the dial creates a nice depth to this watch, with the downside of making the case thicker than it otherwise has to be.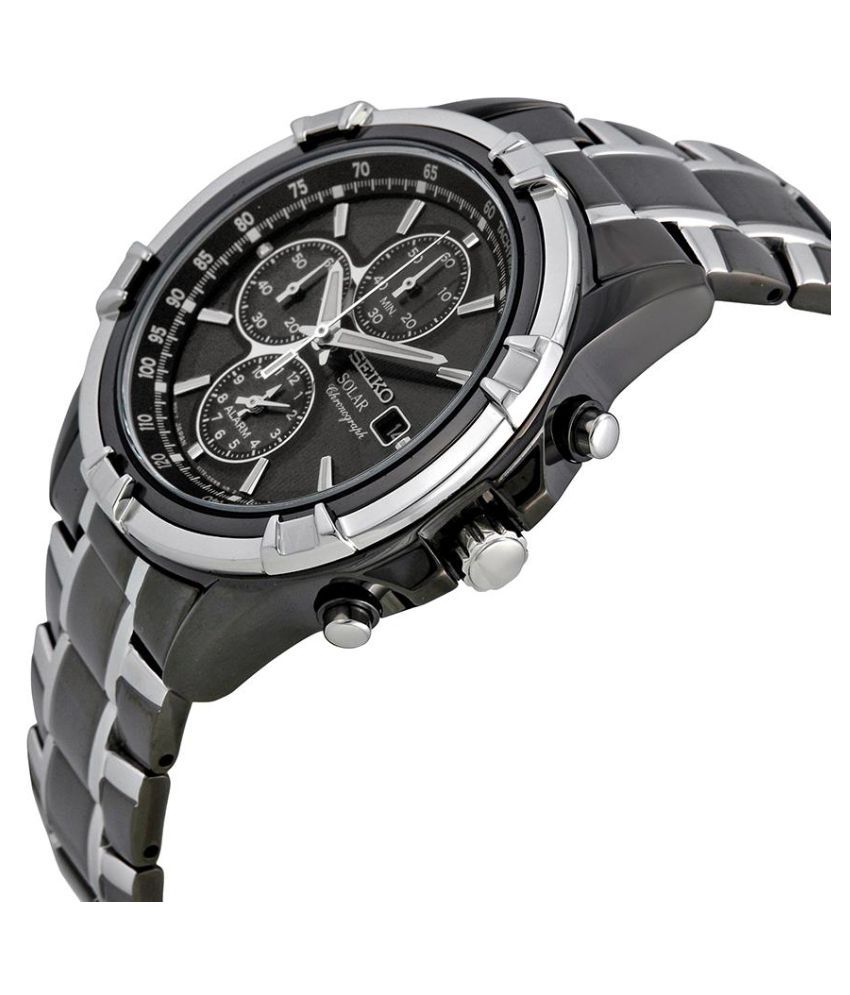 > > > Click here to see ratings, reviews, specifications and prices on Amazon < < <
The long, thin chronograph hand sits still at 12 o'clock unless it is actively being used. Meanwhile, the seconds are measured using the sub-dial at the 9 o'clock position. This arrangement could prove confusing or irritating if you are used to the long hand being a second hand, but it should be easy enough to get used to after a few wears. The hour and minute hands are index-shaped, with a silver outline surrounding the white Lumibrite center. I am a big fan of these hands on this particular dial, they are neither too big nor too small and match the style of the watch perfectly. The Hardlex dial window allows light reflections to obscure the dial fairly easily, but should prevent the crystal from scratching from all but the harshest of treatment.
Movement
The SSC143 uses Seiko's stalwart V172 quartz movement. Boasting a 6-month power reserve, this movement should prove reliable, even if you only occasionally wear this watch. Be warned, however, some owners have reported only intermittent success with the alarm function on this watch. So, while all of the other functions on the SSC143 should be rock-solid, maybe use a backup alarm, at least for the first few tries.
Case and bracelet
A stainless-steel bracelet and case continue the black and silver theme from the dial. The black ion finish is almost as shiny as the polished silver bits, making the watch sparkle brilliantly in the light. At 44-millimeters wide and 12 millimeters thick, this is a large case that could overwhelm smaller wrists. Water resistant to a respectable 100 meters, you won't have to bother removing it before swimming, but it's no dive watch either.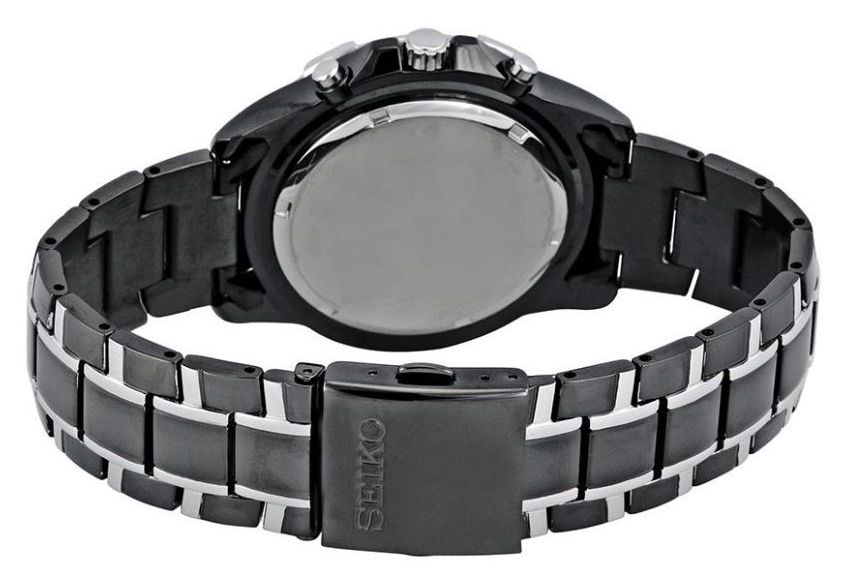 The fixed bezel has a silver ring around the outside, with a double tooth design that slightly overlaps the inner black ring at each even hour location. Only noticeable when viewing the watch from an angle, these teeth do not actually touch the rest of the bezel but hang over, leaving some space between. This is one of those unique elements on this watch that add a lot of interest. Because there is no chart or graph on the bezel such as a tachymeter or a rotating dive timer, this design keeps the watch from feeling overly technical. Black crown guards protect the silver-finished crown, while the back of the case is about as plain as it gets, with a brushed silver finish, the Seiko name, and a few details about the watch.
The bracelet design is essentially a series of black links with sideways silver Ts running along both sides. With such a complex dial and bezel, I would prefer a quieter bracelet, but I am sure this bold look that stands out from more ordinary bracelets will appeal to many people.
Final Thoughts
Aggressively masculine but elegant enough to wear to fancy soirees, the SSC143 is an adaptable watch. With a well-executed design that features many areas of interest plus a wide range of functions, there are few faults to find in this design. One possible demerit is that, even when taking into account all of the watch's functionality, Seiko's suggested retail price in the $400 range is a tad lofty. Luckily, plenty of retailers currently have the SSC143 for sale at well over $100 off, making it a much more reasonable proposition.
> > > Click here to see ratings, reviews, specifications and prices on Amazon < < <