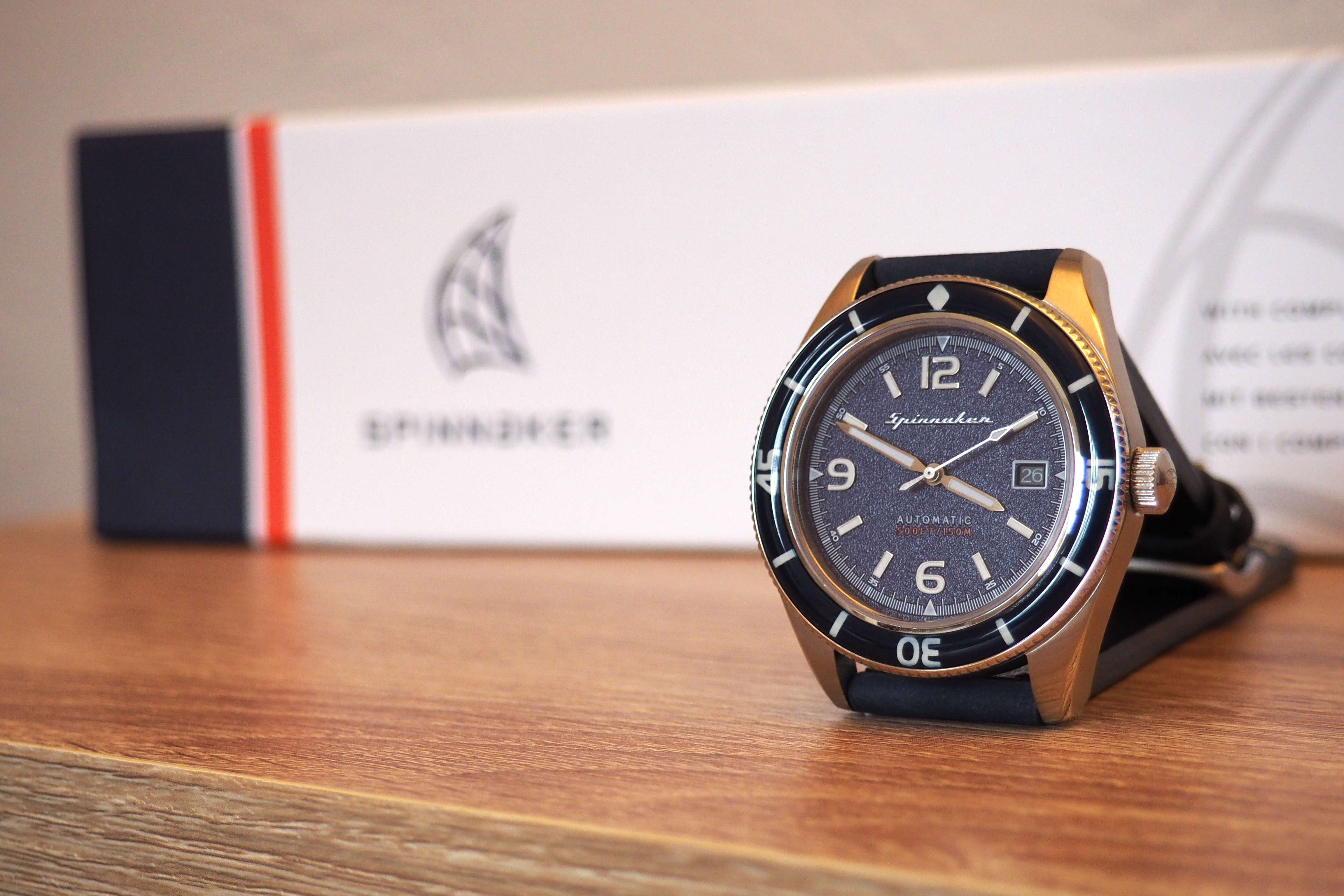 Henry Fleuss pioneered new scuba technology way back in 1878.  So, naturally, Spinnaker uses his name for their line of vintage, scuba-inspired watches. "A scuba-inspired watch? So, this is a dive watch," you would reply. Well, not exactly. Here is where things get a little murky with the Fluesses, including the 5056-03 reviewed here today. As you will see, while the design was inspired by old-fashioned dive watches and it has a respectable water resistance rating, it doesn't quite hold up to modern dive watch standards. That does not mean this watch doesn't have loads of appealing features, though, as you will find out.
Case Appearance & Size
The Fleuss' DLC-black case adheres to the vintage aesthetic used on the rest of the watch.  This is a nicely-sized case, coming in at 43mm wide and only 13mm thick; a good size for a daily-wearer.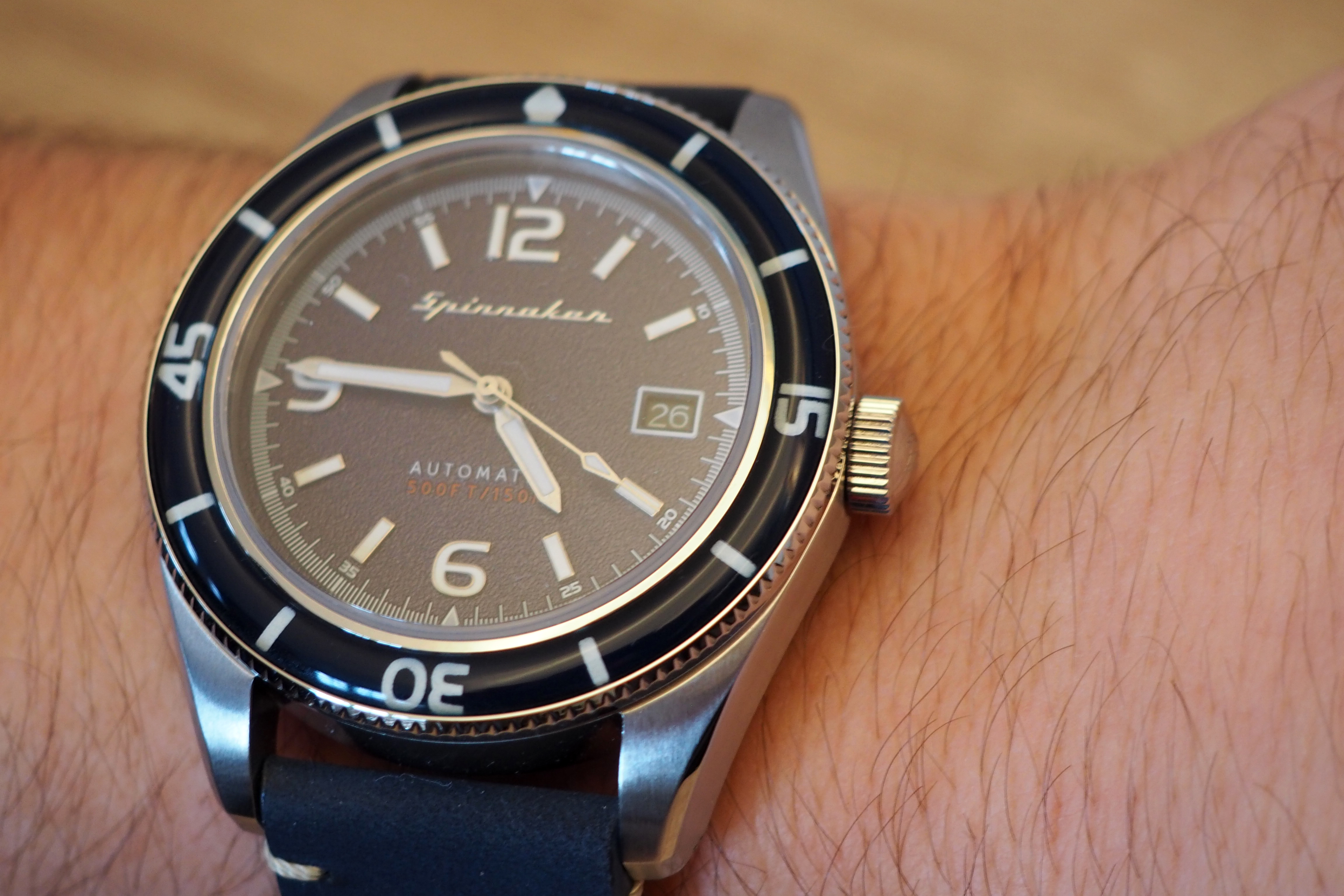 Now we come to the Fleuss' confused identity: water resistance is rated at 150 meters. I would have hoped for at least 50 more meters on that rating in order to achieve what is commonly considered the minimum rating for a "true" dive watch. Spinnaker rates this as an acceptable water resistance for free diving but not scuba diving, a curious thing indeed on a watch named after a scuba inventor.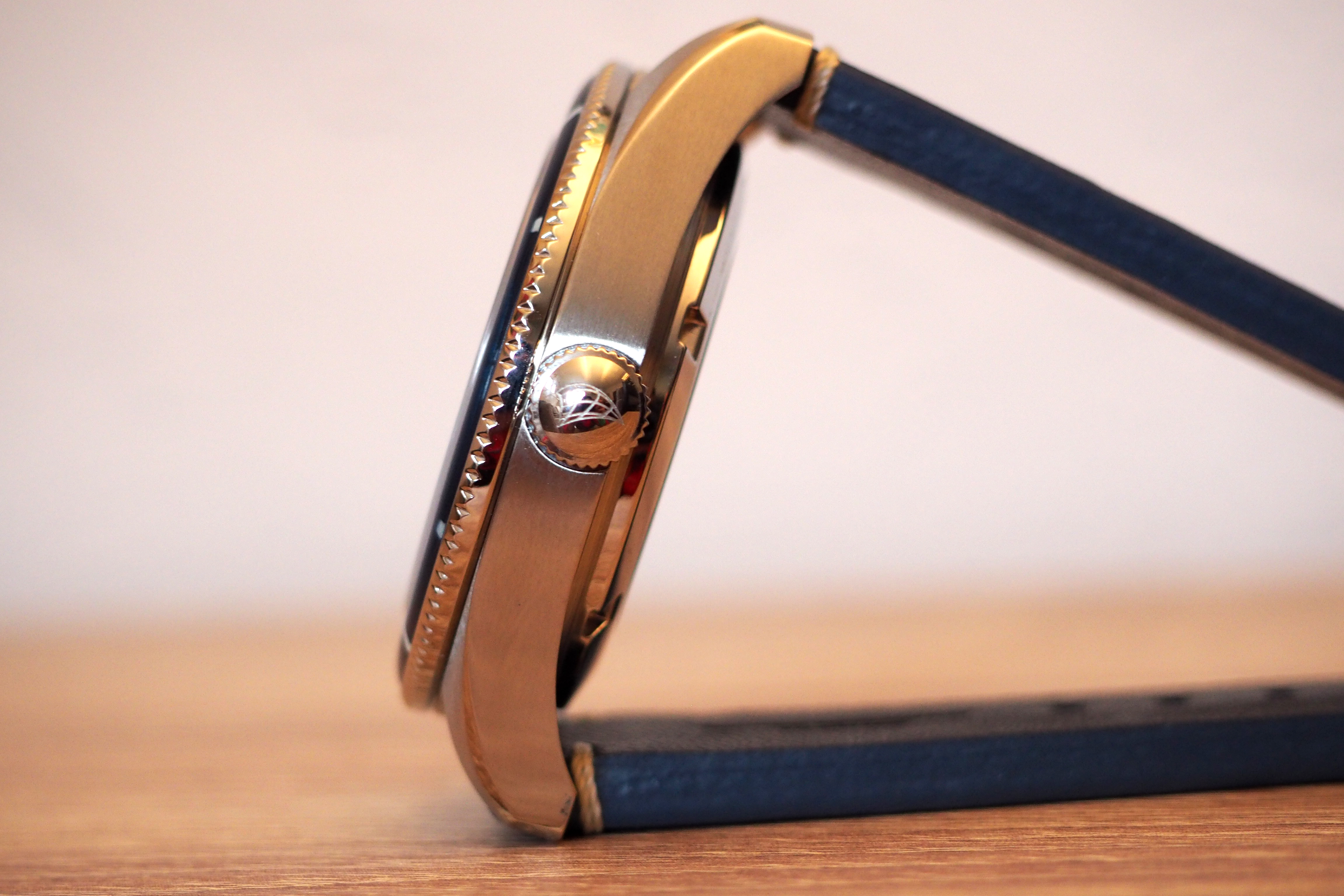 As I am sure Spinnaker is well aware, many dive watch enthusiasts never take their watches on actual scuba dives, so this shouldn't be a deal-breaker for too many of you, especially considering the 150 meter rating is still probably adequate for a good deal of recreational dives.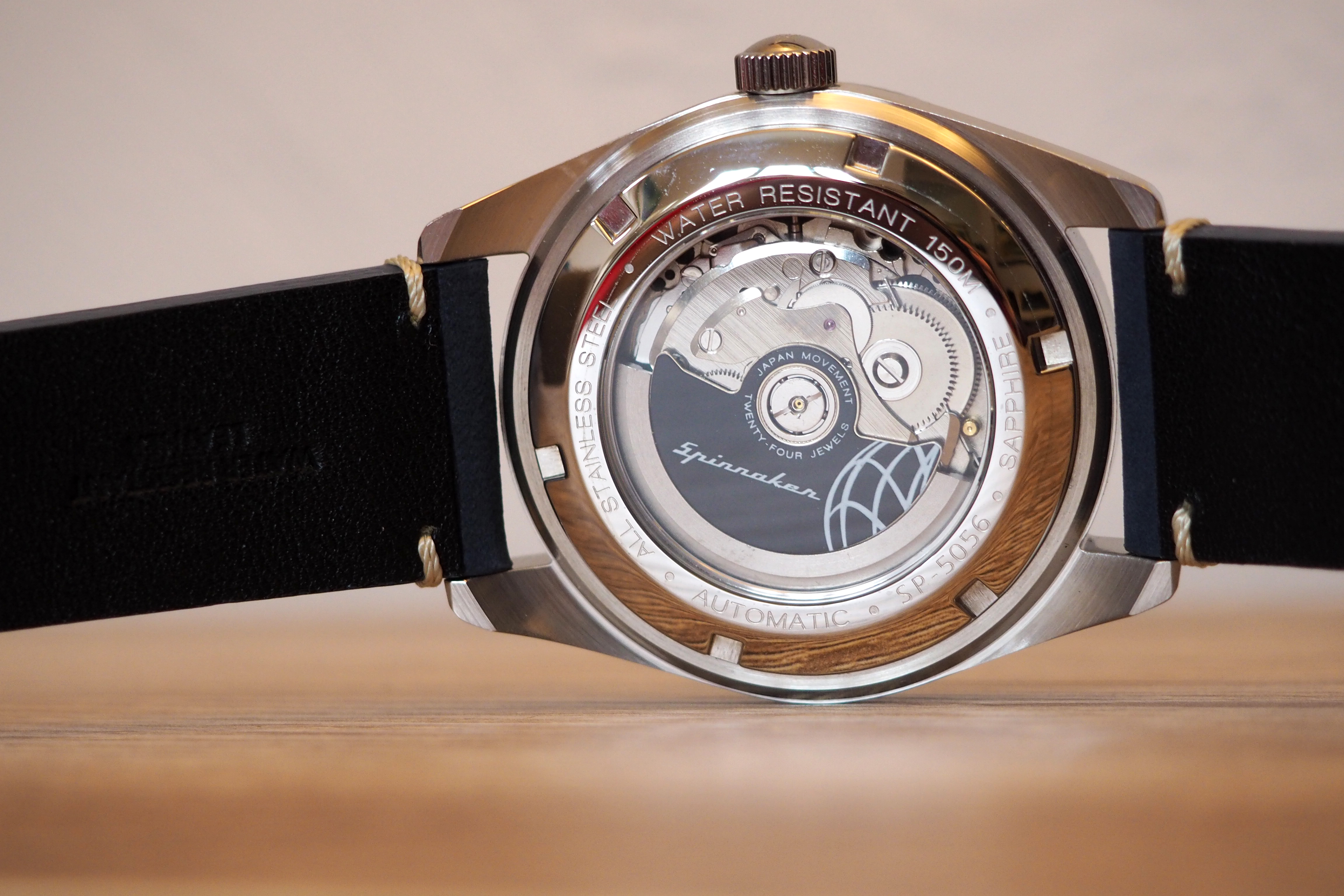 The handsome exhibition case back may be to blame for the disappointing water resistance, but in its defence, it looks great. Probably the most noteworthy aspect of the case is the transparent acrylic coating applied to the bezel. This is a very interesting touch, adding some glossiness to the face of the watch along with a slightly domed shape to the entire bezel. This is a really unique design you don't run across very often. Underneath, a retro font has been used for the luminous numerals. Looking like an air-filled ring, this bezel almost looks like it would keep the watch afloat in the water.
Texturized Dial
The dark blue dial color is reminiscent of my SKX009, only with a bit more texture added to the surface of the dial.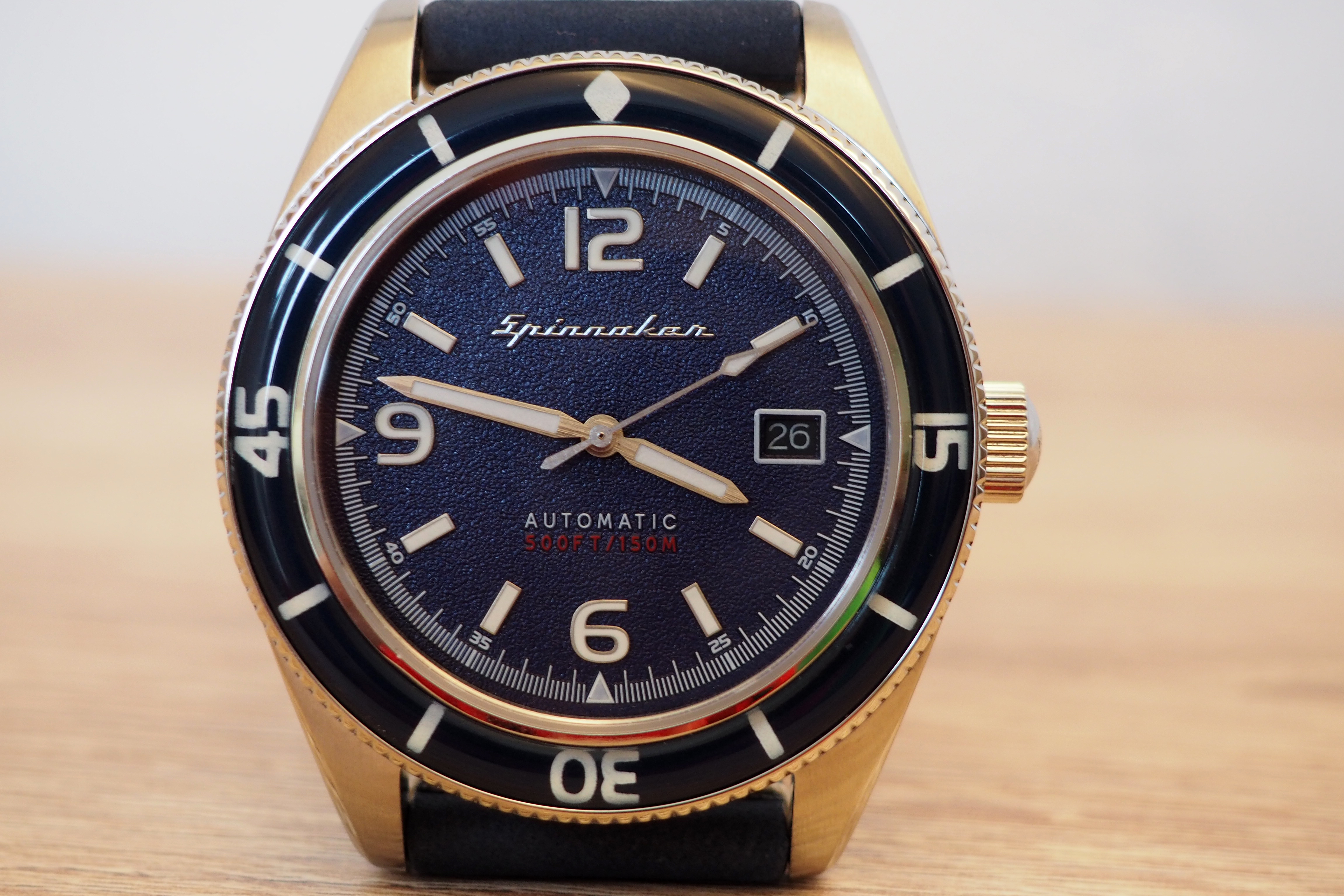 The simple layout is uncluttered and easily legible, with white-and-gray stick hour markers and a white-on-black date field. It is an attractive design, to be sure, although the sandpaper-like texture kind of cheapens the look of it. I would prefer a smoother finish on the dial, personally. The crystal is a scratch-resistant domed sapphire, a nice touch on a watch this price.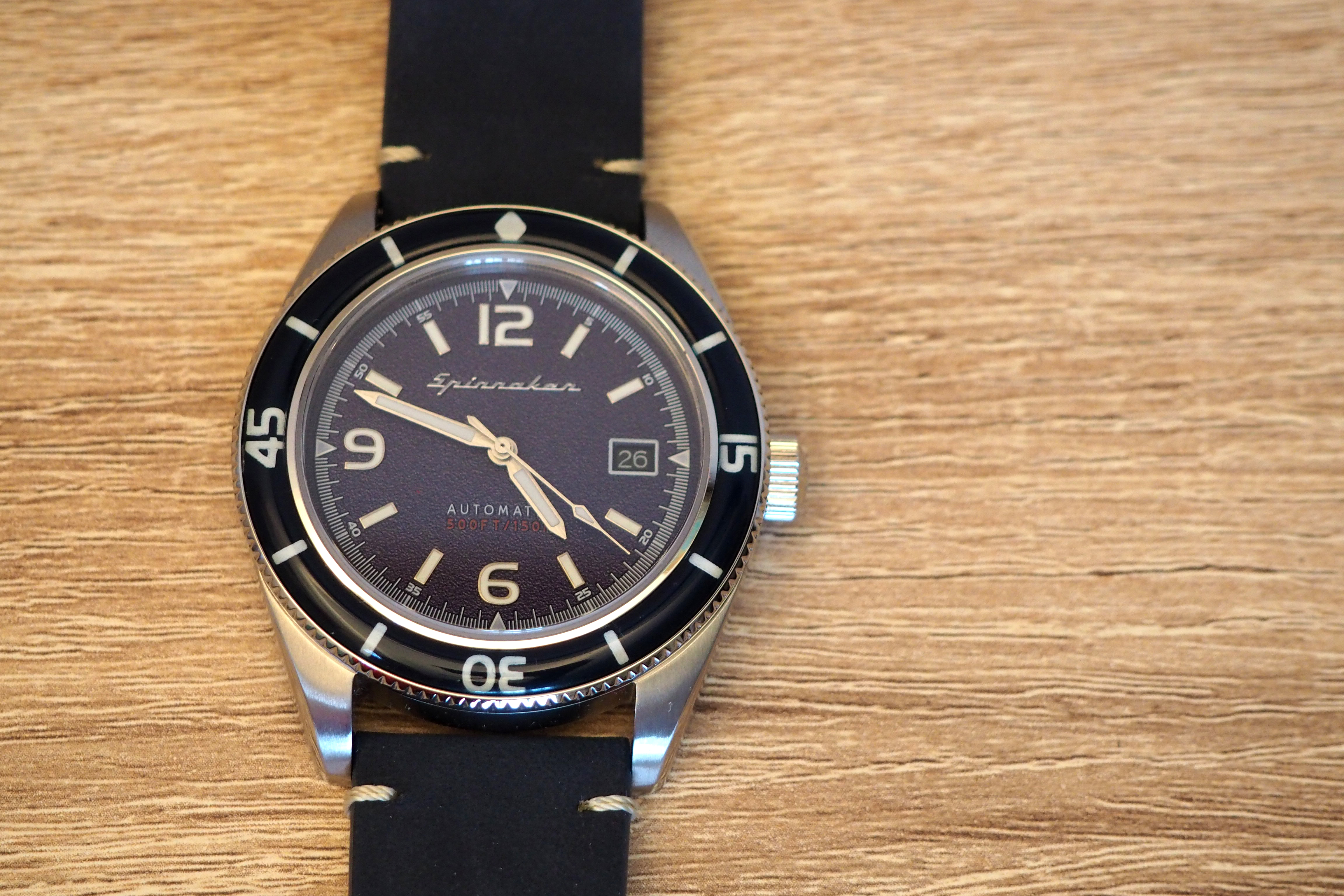 The hour and minute hands are simple and elegant triangles, coming to a sharp point at the tips. Even though they are rather small hands, the white-and-black design stands in stark contrast to the dark blue dial, so there is no problem finding them quickly. All functions on the dial are handled by the black crown situated at the 3 o'clock position. Note that the prominent crown has no crown guards to keep it from snagging on things; this is in keeping with the retro-dive watch look, but could cause some issues if you aren't careful.
Band
A smooth blue genuine leather band uses tan contrast stitches on either end. This band serves to dress up the otherwise sporty watch, but it is still casual enough to perfectly complement the watch.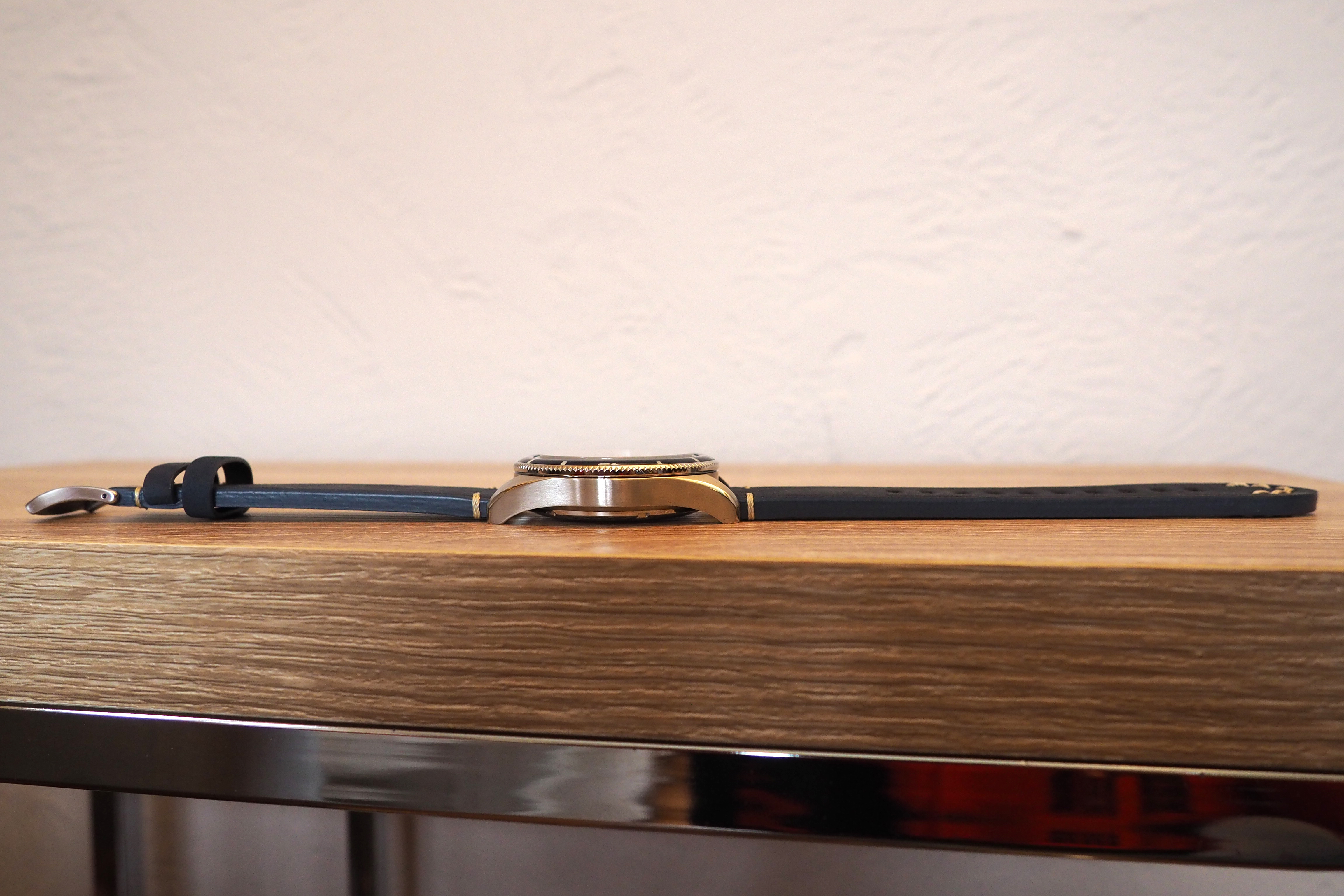 At 22mm wide, it is probably a little larger than what you would find on your average dive watch from a few decades ago, but the overall style remains true to the vintage theme.
SP-5056-03 Movement
Vibrating to the tune of 21,600 bph, the Seiko TMI NH35 automatic movement lies at the heart of the Fleuss. This isn't a surprising movement to find in a watch like this: the NH35 is very popular for smaller watchmakers to use, as it incorporates some slightly more upscale features like hacking and hand-winding while keeping costs low. The Spinnaker name and logo have been laser-etched into the rotor, as you can see through the caseback. I really like how the black case, silver case back, and black rotor work together; you can tell a lot of thought was put into the backside of this watch.
Final Thoughts
This almost-dive watch is an interesting proposition. The mix of modern and old-timey elements is pulled off well, but ultimately it seems that the Fleuss suffers from a confused identity. Why is a watch named after a suba diving legend if it isn't rated to go scuba diving with? Spinnaker is betting there is a large market of folks who crave a cool-looking dive watch, but who do not care if the watch can actually survive a scuba dive. If you are one of those people, I would imagine that this Fleuss is quite appealing. With an MSRP of $285, it could serve as a great beater watch, but it has enough high-end features to be shown off at just about any soiree you find yourself.
To view Spinnaker's entire range check out their official website here.