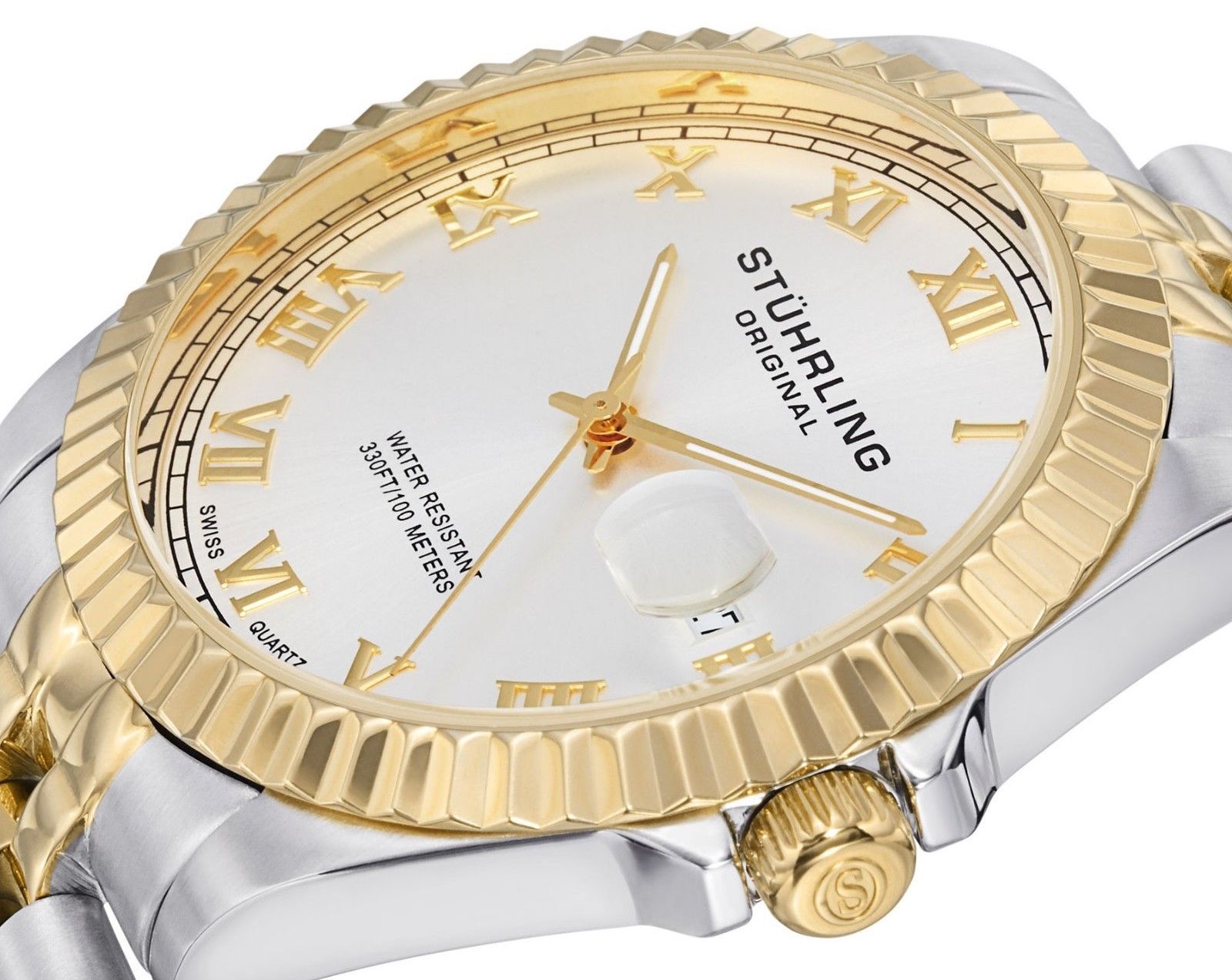 Finding a flashy watch that lacks pretension while retaining its grace is a tough task when it comes to searching the market for watches. While I do think the Stuhrling Original men's 599G.04 analog watch is a little too "bright" overall, it's obviously a classy device that I'm sure a lot of people will appreciate. The entire watch is essentially silver and gold colored, including the dial and characters. Basically, it's a watch that will have completely different ratings and opinions depending on who you ask. Overall I do think it's a great watch, so let's examine why.
> > > Click here to see ratings, reviews, specifications and prices on Amazon < < <
599G.04 Appearance & Build
Stuhrling is known for their intro to mid-level luxury dress watches, so the reasonable price tag is right on par with what I'm used to from them. The "actual" price is supposedly much more, but I have a pretty hard time believing that. Anyway, the 599G.04 has an overall nice look, though I do not like the contrast between the bright gold and bright silver, though it does look better depending on what light you're in. On a more positive note regarding its appearance, I do really like the style of the dial. Instead of black hands, this watch features hollow-body gold hands against a silver dial with gold characters. It not only looks great, but it's extremely convenient. Adding to the uncomplicated dial is the date window; it's nothing fancy, but it looks nice and it's easy to read.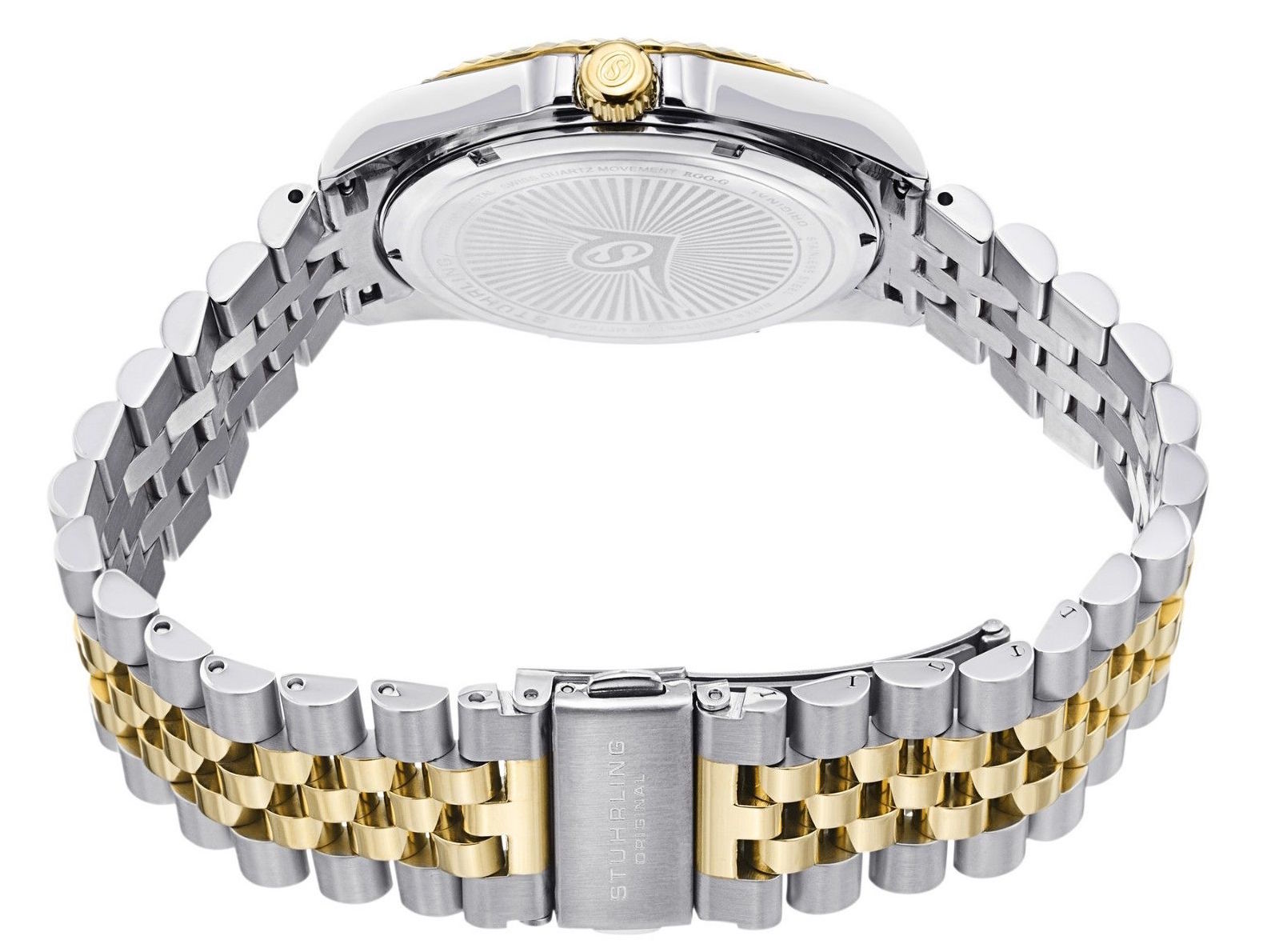 It's not a heavy watch, but it isn't too light either. Everything is stainless steel, so if you've had a stainless steel luxury watch before — especially a Stuhrling one — the 599G.04 is very similar to those in terms of weight and size. Oddly enough, I think the case looks a good but smaller than what the pictures initially made me think. Technically speaking, the diameter of the case is 42 millimeters, so it's nothing too drastic. I think it has to do with the way the case is attached to the band, along with the band size itself, that make the body appear bigger and rounder than it actually is. This isn't a huge deal and it's probably nit-picky, but it's something I saw.
Features & Overview
The features are pretty normal for a dress watch, so there's not a whole lot to report about them. Specifically, it has a Swiss quartz movement system, a 23K gold coin-edged bezel, a magnified date window, a double push-button safety clasp, and some other things. I don't have a problem with any of these, though I have had a couple issues getting the clasp undone because of the added double push-button mechanism. The Swiss quartz movement system was a nice feature that I didn't expect on a $88.95 watch. The timekeeping on the Stuhrling Original men's 599G.04 analog watch is fantastic as well and never goes off more than 5 sec +/- every couple days. Oh, and the watch is also water resistant to 100 m (330 ft) if you feel like taking your brand new luxury watch for a swim — which you shouldn't, incase you didn't know.
> > > Click here to see ratings, reviews, specifications and prices on Amazon < < <