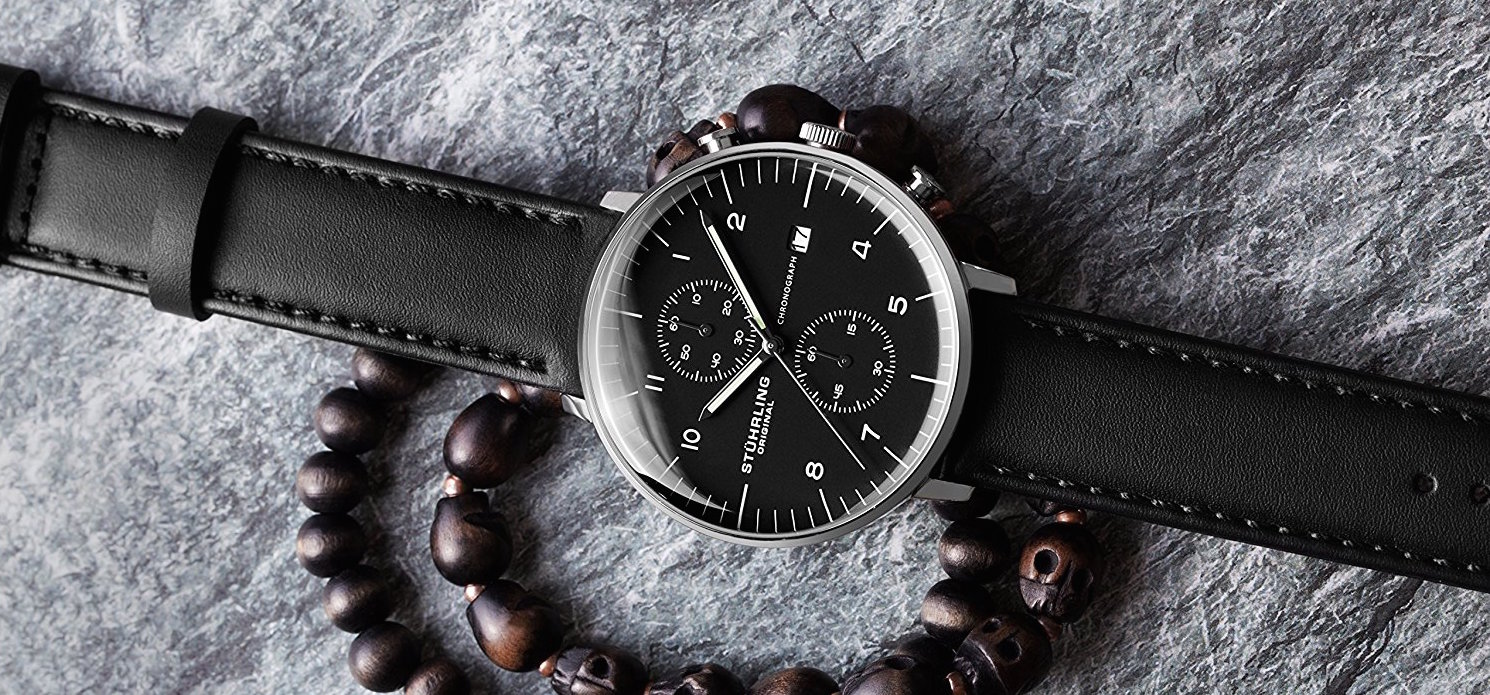 Have you been looking for a watch lately that would make you look classy without being too heavy on your pockets? Are you one of those watch-lovers who would never compromise on the looks of the watch while still making sure that it is not pricy? If the answers to the questions above are yes, then make sure to get your hands on the Stuhrling Original 'Monaco' 803.01 Dress Watch. This watch will fulfill all your desires of wearing an attractive watch with modern-day features, as it has an air of elegance around it which will definitely help you look classy and appealing, while at the same time not break the bank.
> > > Click here to see ratings, reviews, specifications and prices on Amazon < < <
Monaco – A Watch to Look Out For
You will fall in love the first time you set your eyes on the Monaco. The watch is overflowing with charm, and you will love the elegance that it portrays. It may seem like an expensive piece to buy but you will be surprised to see that a watch as good-looking as this Stuhrling model can be obtained without exceeding your budget. After you buy the watch, you may be compelled to flaunt it in every social and professional gathering that you attend.
> > > Click here to see ratings, reviews, specifications and prices on Amazon < < <
Needless to say, this watch is great if you want to make a strong positive first impression. Whether you are attending your first day at your new job or going on a date with a girl for the first time, the Stuhrling Monaco will never fail to awe onlookers. The watch has a black dial which radiates elegance, while the clear stainless steel case enhances the charisma of the watch even more. To complement the dial, the strap of the watch is made from dark-brown leather which looks stunning on the wrist. The dial of the watch is not huge either. With a diameter of 42 millimeters, the dial will fit perfectly on an average man's wrist and you will not have to worry about the dial being either too small or too big for your hand.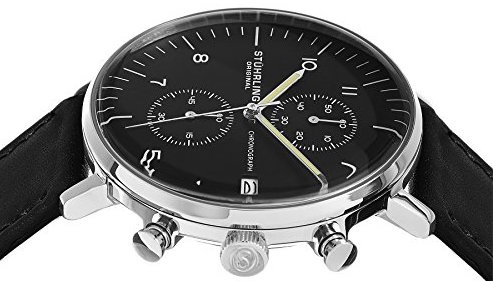 Quartz Powered
While all other features of this watch are nothing short of great, a few of you might be disappointed to hear that the Monaco runs on a quartz movement mechanism. While the technology may not be the most advanced technology available, it is still a reliable mechanism to keep the Monaco ticking. Quartz technology is in no way a letdown, but it is, in fact, a compromise that you will have to make to buy a classy watch with a reasonable price.
Specs
Buckle clasp
Genuine leather calfskin strap
Quality polished stainless steel bezel and case
Chronograph function
Second-hand movement
Average quartz movement

Special Features: Chronograph
While the quartz movement mechanism may not be so appealing to you, the chronograph feature makes up for this. The main dial of the watch is complemented by two chronograph dials of seconds and minutes which are both easy to use and extremely reliable. You will never have a hard time setting your time and date as the buttons are all smooth to use.
Affordable Good Looks
To conclude, the Stuhrling Original Men's 'Monaco' 803.01 Dress Watch is a great buy if you are looking to wear an elegant watch without focusing much on the mechanics. The watch resembles some of the more expensive and attractive watches on the market but can be obtained at a fraction of the price. Have a closer look by clicking the link below!
> > > Click here to see ratings, reviews, specifications and prices on Amazon < < <