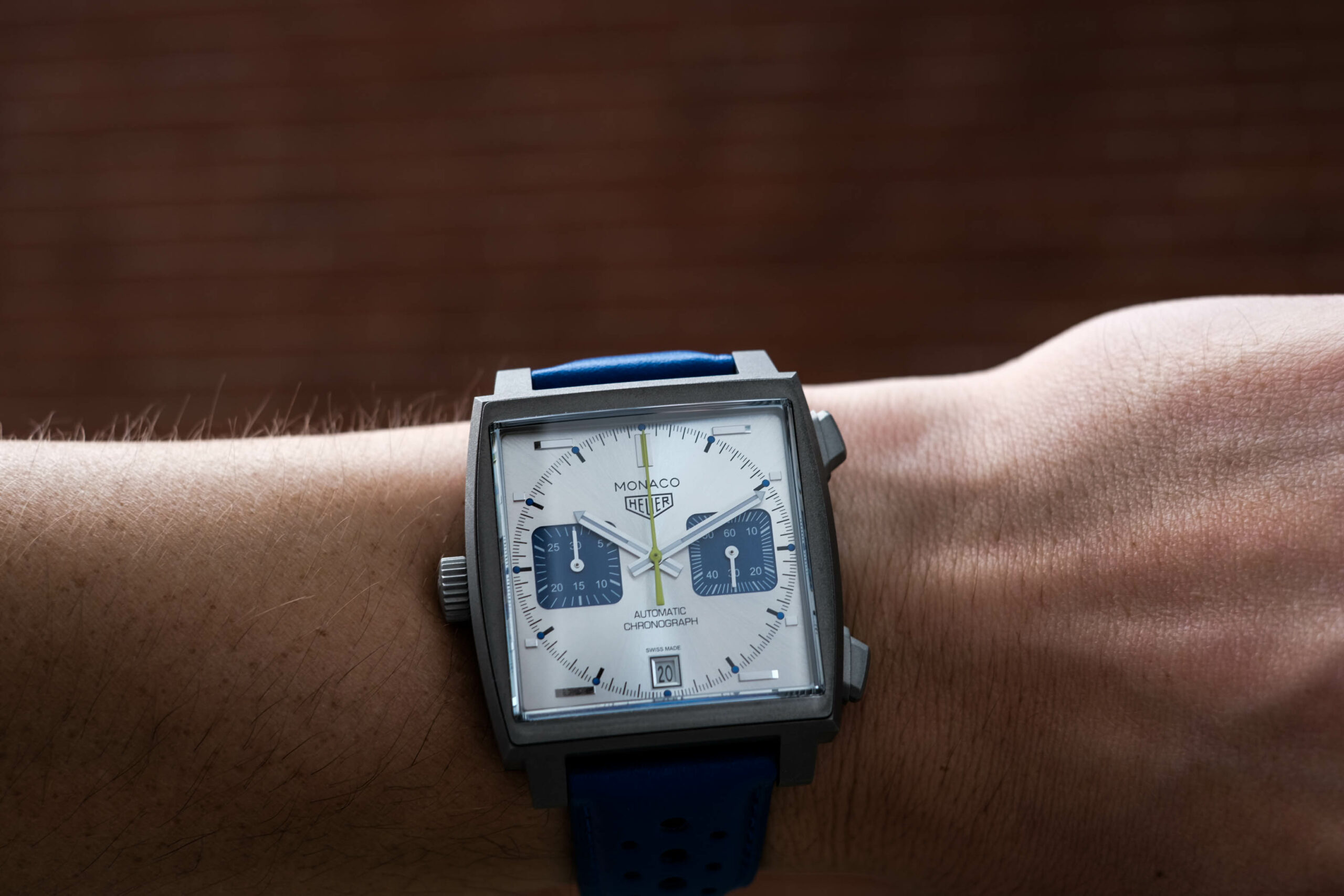 Worn by everyone from Steve McQueen to Walter White, the Tag Heuer Monaco is easily one of Tag's most interesting watches in its lineup. Over the years, the company has fed into its popularity by releasing a variety of limited-edition colorways inspired by various racing teams. And now, the 'Racing Blue' variant has been announced for July 2023.
Design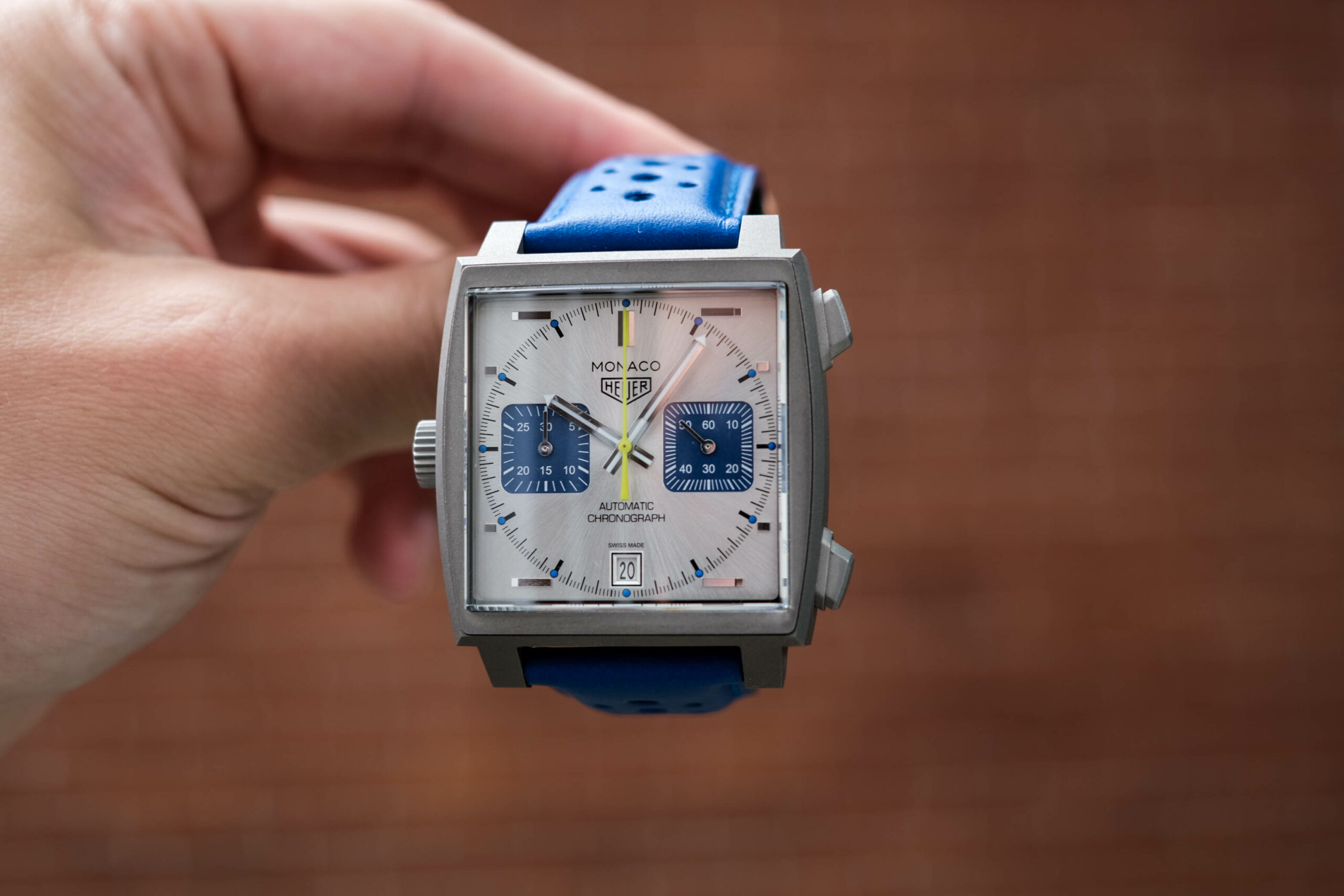 Of course, the most striking new feature of this model is the blue color, which can be seen on everything from the strap to the chronograph subdials. And Tag hasn't just gone with this specific shade for any reason- there's actually a lot of history behind this.
Back in the early days of motor racing, cars were distinguished by their national colors, instead of liveries and stickers. The French color was blue and was used on dozens of brands and cars, from Delage to the Bugatti Type 35. To pay homage to this history, the exact same shade of blue has been used on the Monaco. The blue works surprisingly well on the Monaco and gives it a completely fresh look. Blue straps aren't seen much either, and coupled with the big square face, this Monaco will definitely be a conversation starter.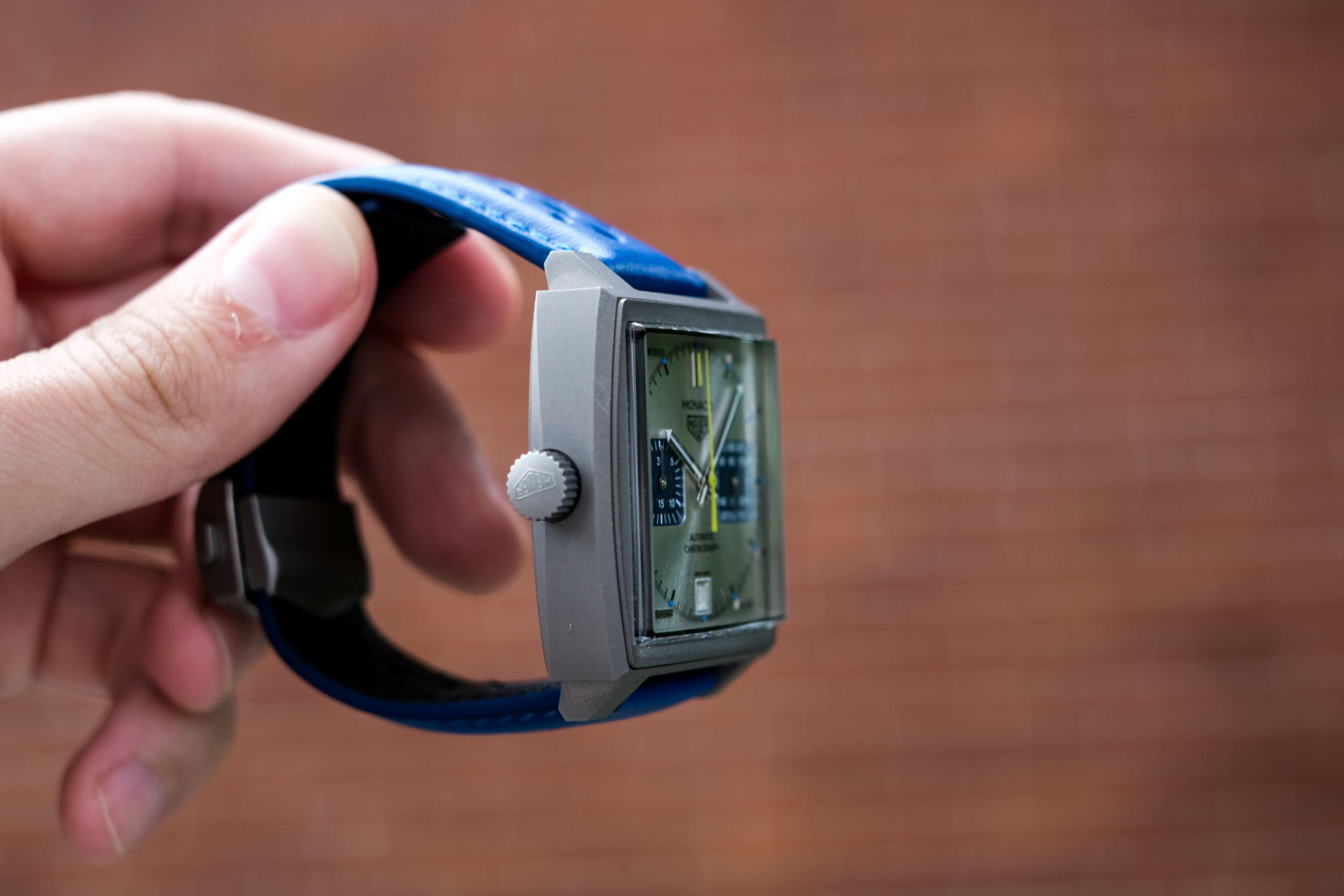 Aside from the new color, a few small changes have been made to the dial. Instead of the standard black, Tag has opted for a silvered sunray brushed dial, which they say is "reminiscent of the engine-turned dashboard seen in sports cars in the 1920s and 1930s". The silver color works absolutely beautifully with the blue chronograph subdials and strap, giving the watch a very retro feel.
For visibility, Tag has coated the hour and minute hands with blue Super-Luminova, which will help you tell the time at the cinema or when you wake up in the middle of the night. The second hand is also bright yellow, which adds to the overall visibility and marks a nice change from the heavily blue theme.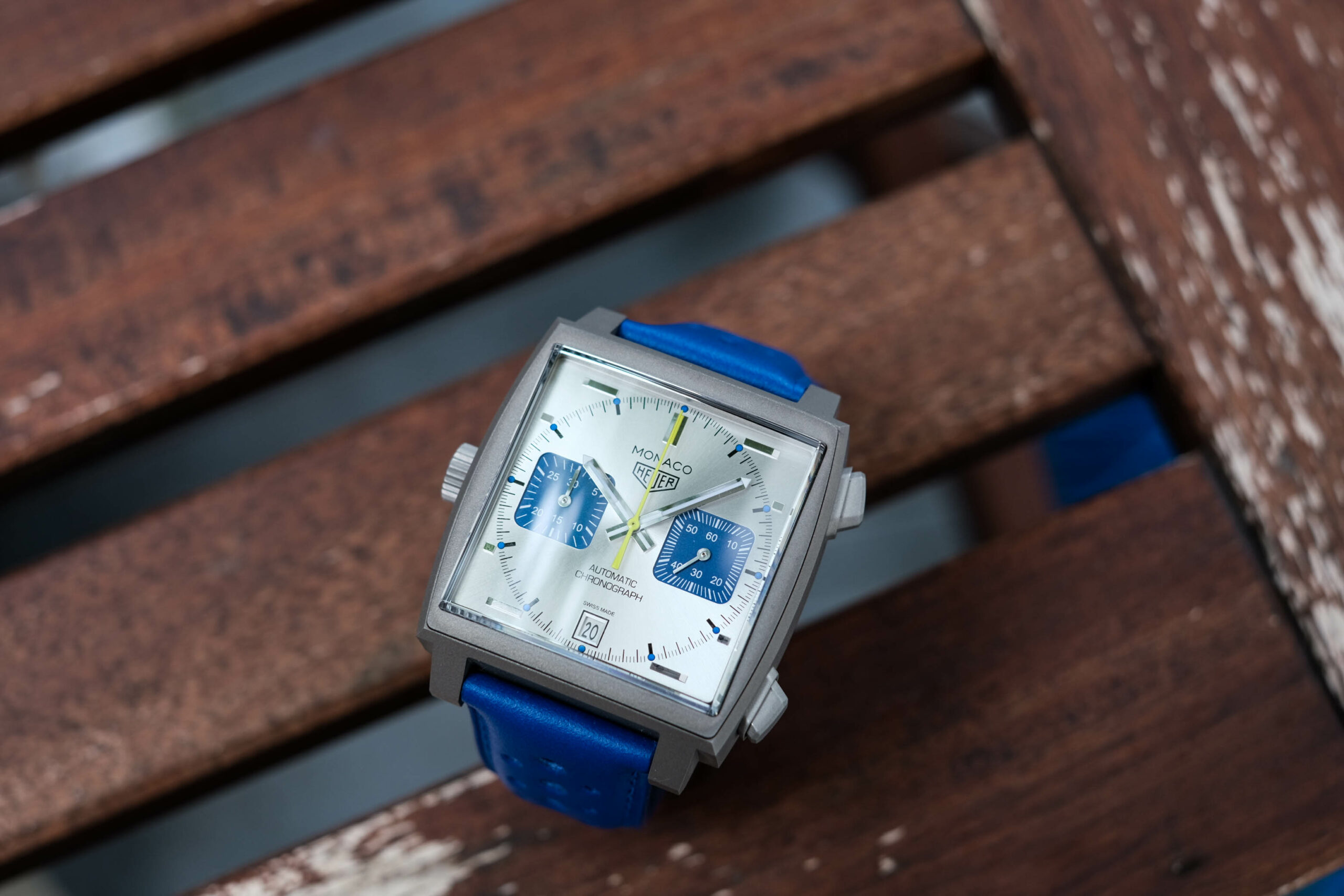 There's good news on the underside too, thanks to an open caseback which will allow you to see the automatic movement at work. The square back makes this movement look all the more interesting and unique. Each case back will also receive the engraving, "one of 1000."
Movement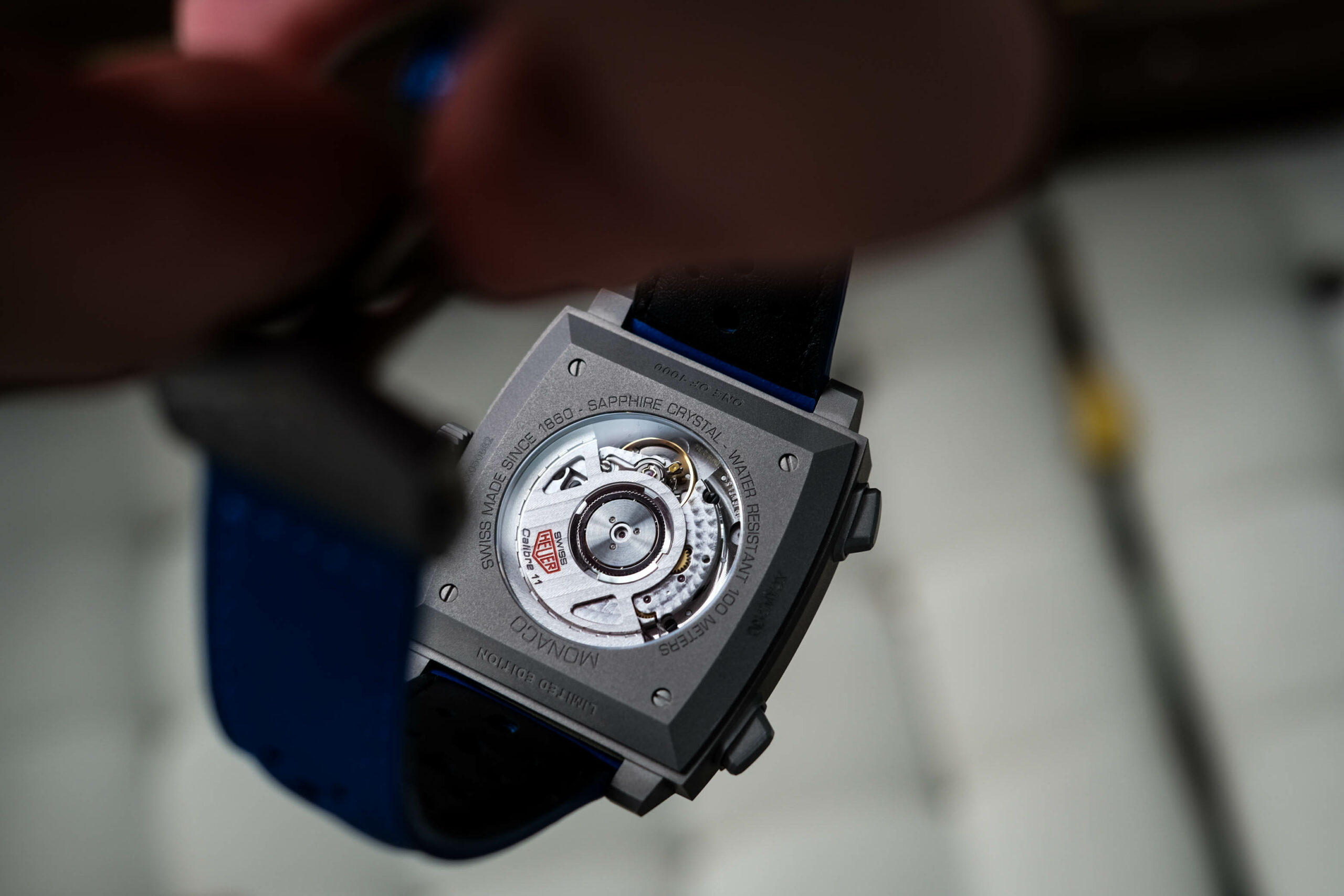 The Tag Heuer Monaco Racing Blue is powered by the company's own Caliber 11 Automatic movement. This movement isn't the most impressive on the market, but it's still solid nevertheless.
The Caliber 11 makes use of 59 jewels and creates 28,800 beats per hour. It has a slightly underwhelming power reserve of 40 hours, which can be beaten by watches at a quarter of the price of the Monaco. Nevertheless, it's still not bad considering that you'll probably only be wearing this watch on special occasions anyway.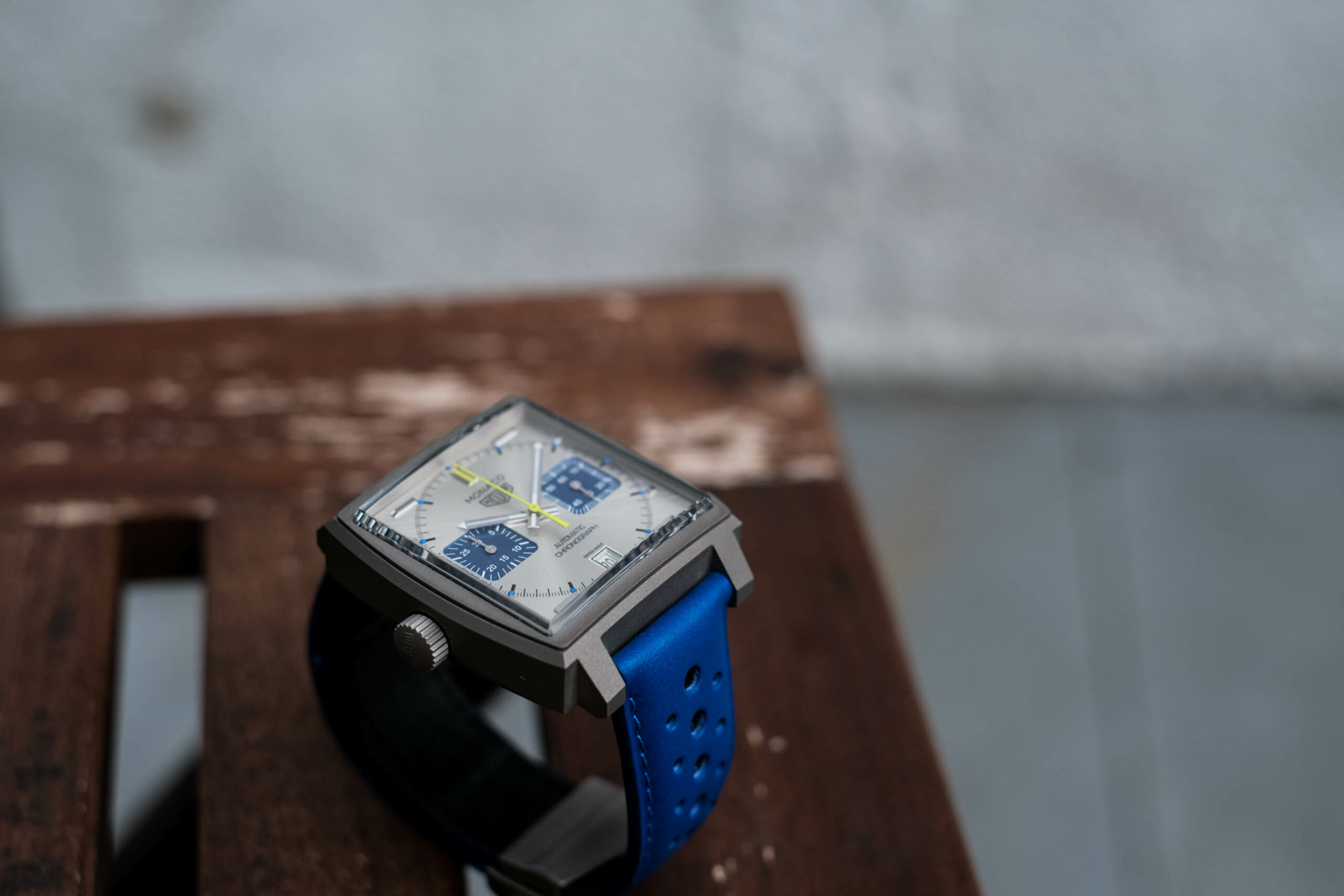 As a chronograph movement, you'll be able to use the Monaco as a stopwatch. Chronographs were generally used by racers before better technology took over, which adds to the heritage of the piece.
Price and Availability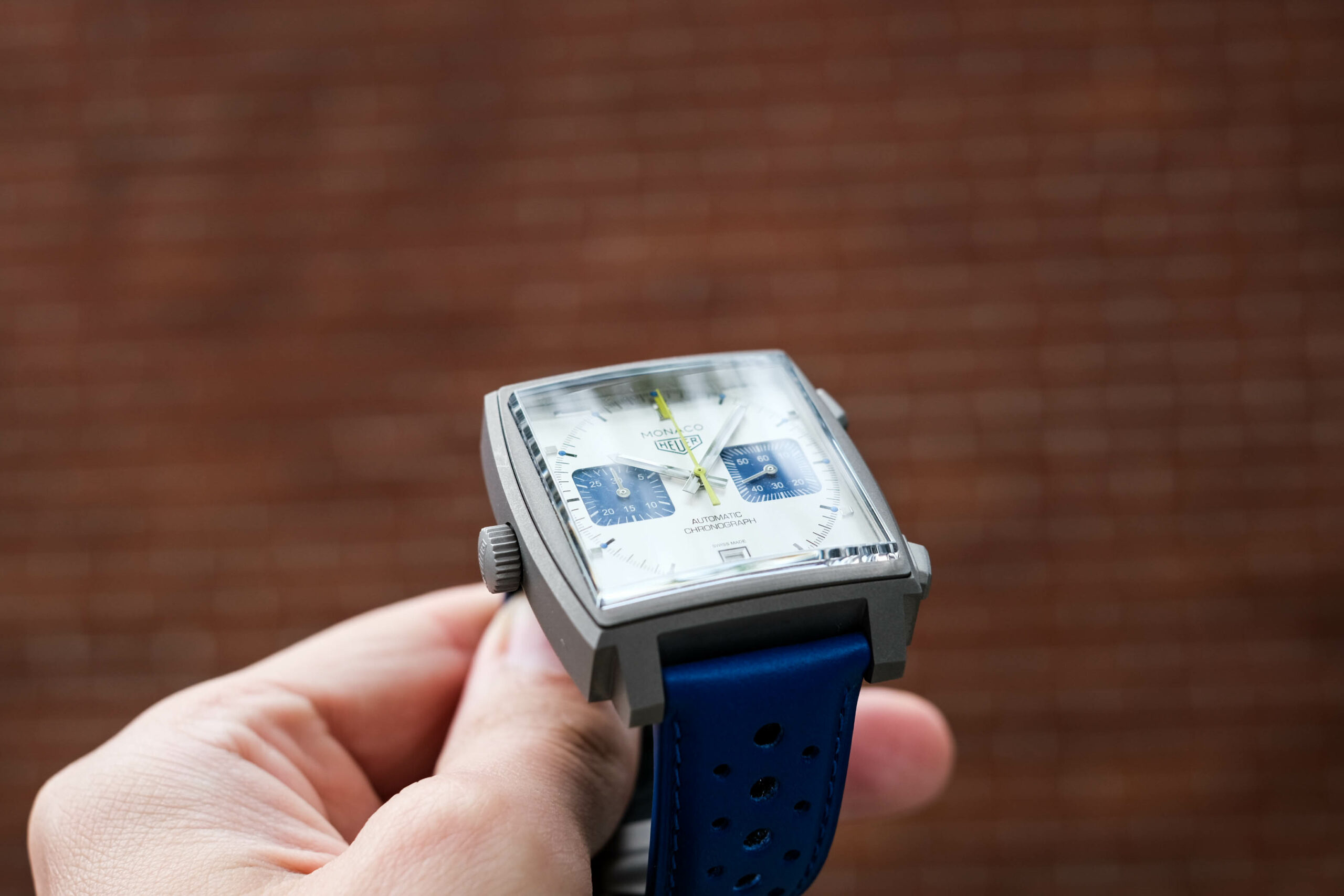 The Racing Blue Monaco hit the shelves in July 2023, at a retail price of $9,200. The watch is also limited to just 1,000 pieces. Previous limited editions just like this one have sold out extremely quickly in the past, so if you want to buy one, you should probably give your local boutique a call as soon as you can. You may also be able to find the Monaco on second-hand sites such as Watch Finder, but be prepared to pay more than retail, especially if the piece is unworn.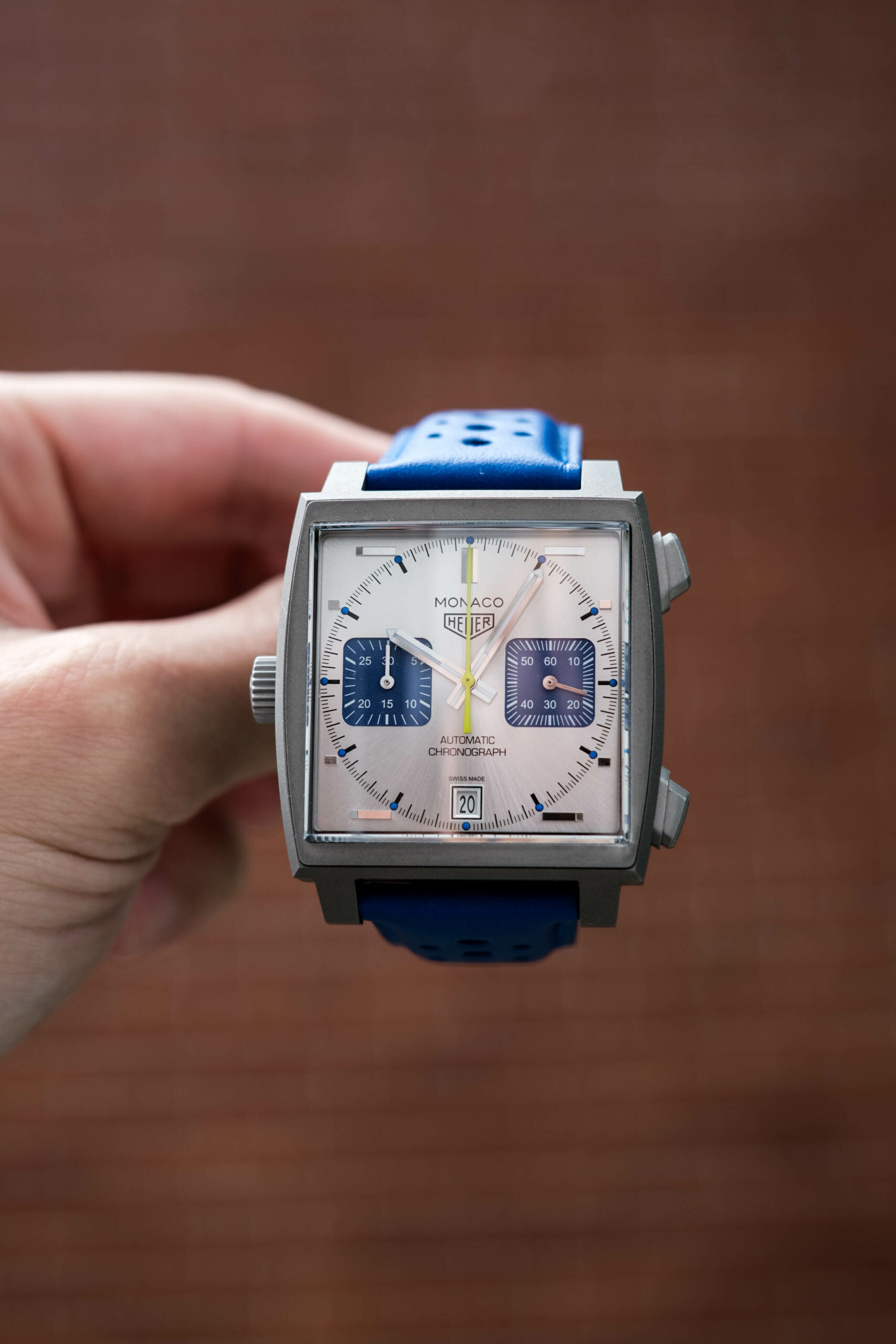 If you do manage to get your hands on this piece, you'll be pleasantly surprised by the box that it comes in. You're not exactly getting an Omega case here, but the Monaco does come packaged in a high-quality box bursting with that French blue color. You will also receive a travel case at no extra cost, which is a nice touch.
Final Thoughts
Ultimately, if you're a big fan of French racing heritage, then the Racing Blue Monaco might just be the perfect watch for you. That color scheme is extremely reminiscent of French Racing, and beyond this, looks absolutely awesome. This limited edition piece would also be a good option if you want a Monaco, but want to stick out a little and don't mind spending more money in order to do so.
However, if you just want a Monaco and aren't sold on the blue color, this one probably isn't for you. Unless you love the history and design behind this watch, there's no point in paying the higher price tag, and you'd be better off saving a few thousand dollars by buying a standard Monaco instead.
For more information visit the official Tag Heuer website here.