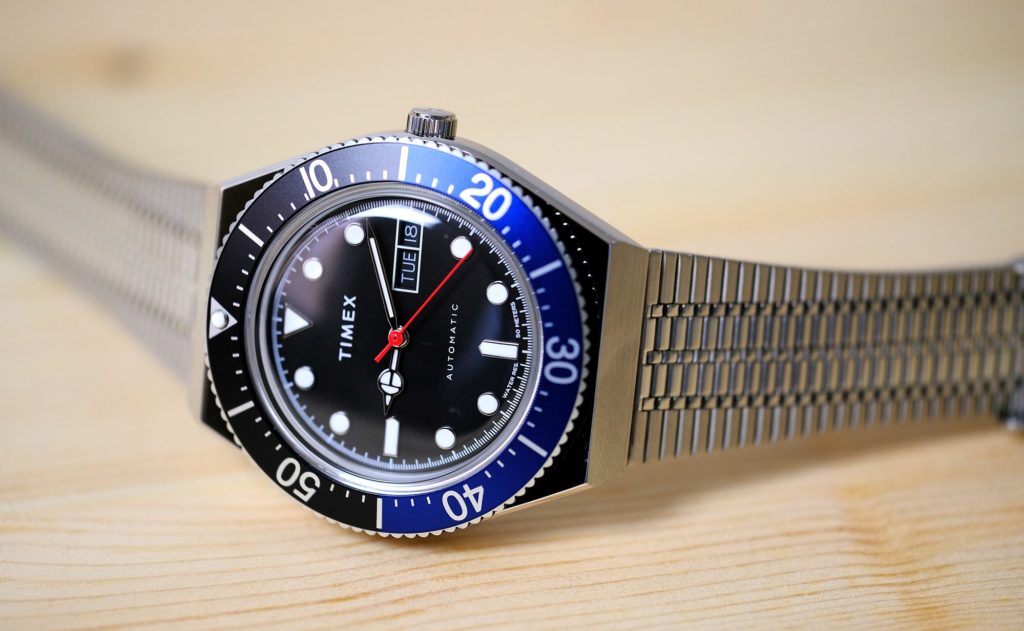 Last May, Timex re-released their Q Timex, one of their retro watches from the 1970s. This release was wildly popular, so much so that they decided to make another go of it. But this time, they decided to do something a little different. They announced the release of the M79 Automatic Batman, which just dropped on February 12th.
The M79 is, perhaps, even more retro; the "M" stands for "mechanical". Yes, that's right. Timex just released a mechanical watch, which has a lot to offer both inside and out.
Not Your Typical Timex
Before we go any further, you may be wondering; "What is Timex doing making a mechanical watch?" The answer is that Timex has always manufactured mechanical watches.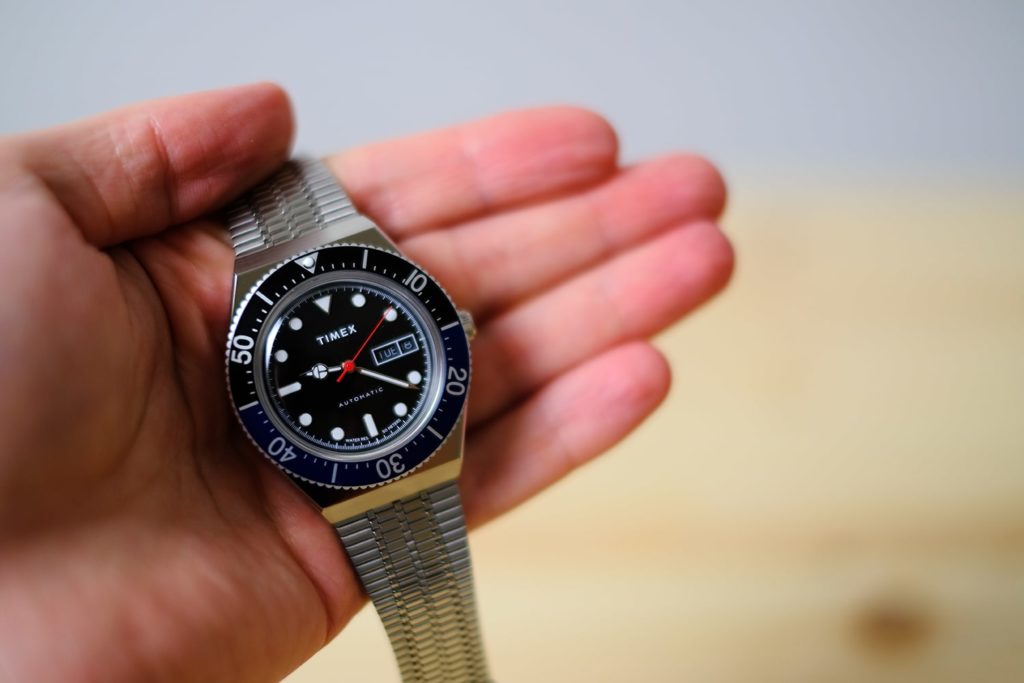 However, during the quartz crisis of the 1970s, they switched their focus to primarily market and manufacture quartz watches. This is why they're still a household name. Rolex took the opposite approach to stay relevant, aggressively raising prices and marketing their watches as luxury items. To this day, they're able to sell similar quality watches to Omega and other manufacturers, while charging 2, 3 or 4 times the price.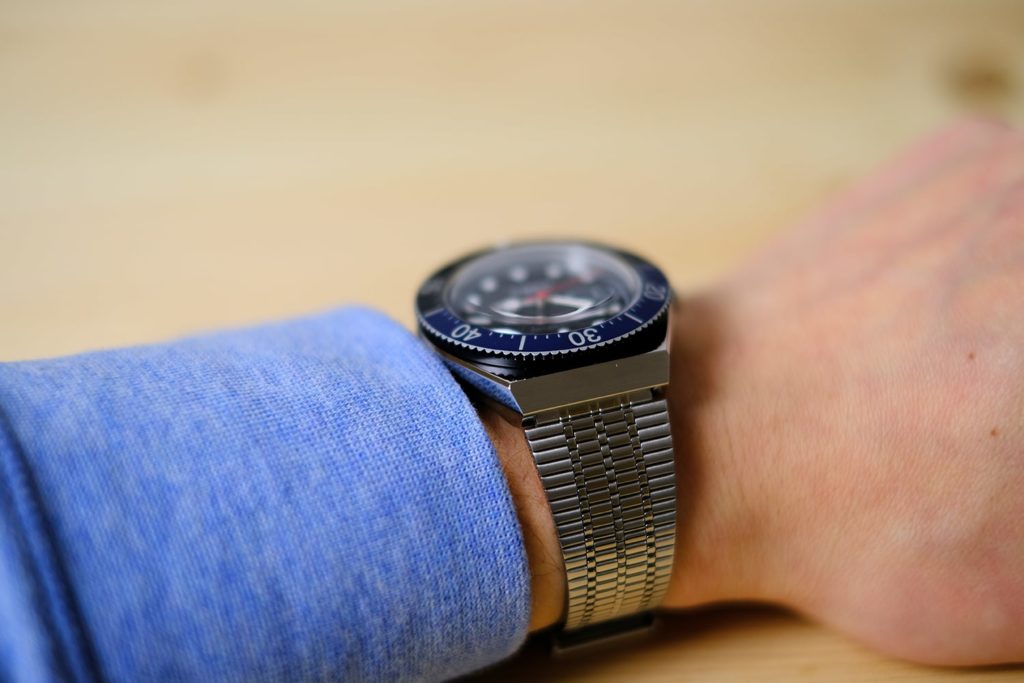 In 1979, Timex reduced their most well-known quartz watch, the "Q". It had a lot of features that are common on mechanical watches, such as a rotating bezel with a Pepsi pattern. Among people who liked mechanical watches but couldn't afford one, the Q became incredibly popular. As a result, it became an instant classic, which is why the re-release was so popular.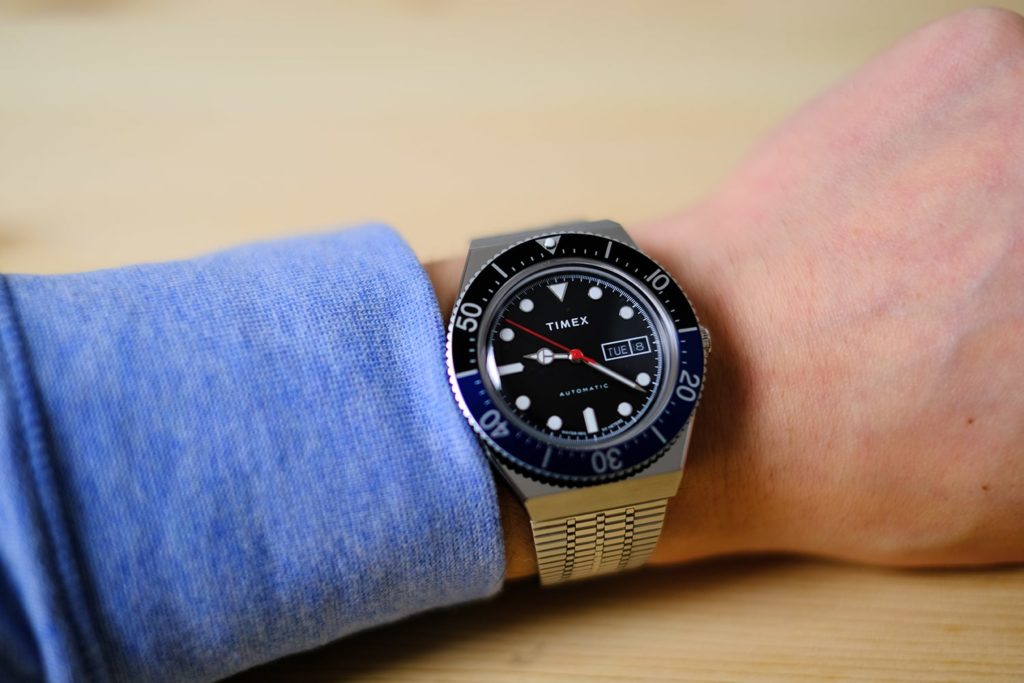 The "79" in the M79 comes from that year. In essence, the M79 is meant to be the best of both worlds. It has the classic look of the Q, with a proper mechanical movement.
The Miyota Movement
The beating heart of the M79 is the automatic Miyota movement. As with most mechanical watches, the Miyota is automatic, so it does not require any winding. It ticks at a rate of 21,600 beats per hour, or 3 ticks per second.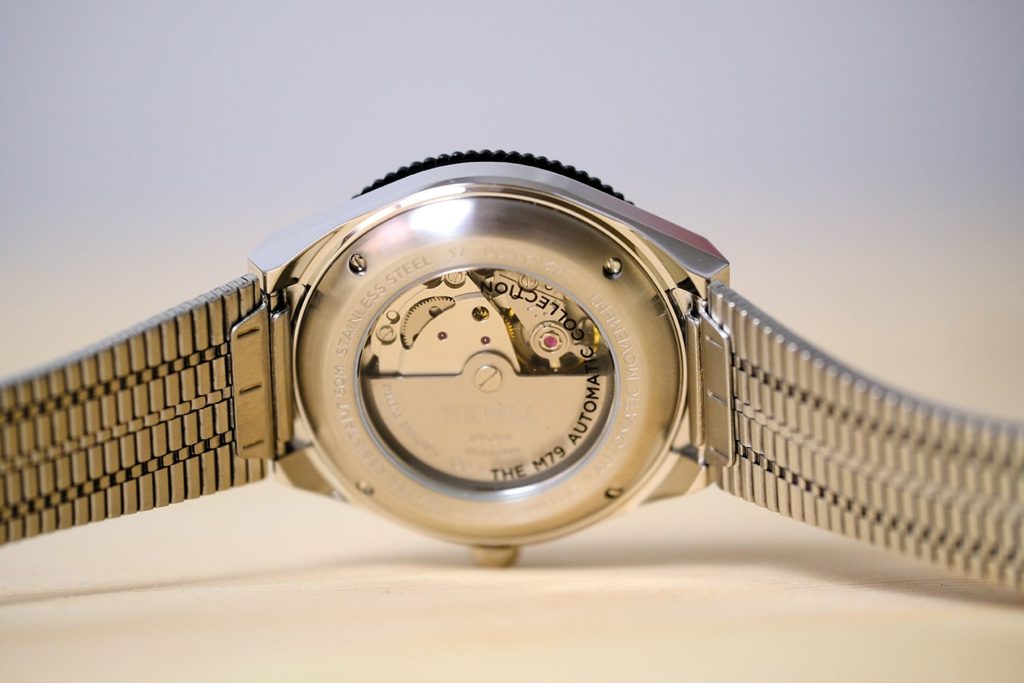 This makes the second hand skip quickly around the dial, looking almost completely smooth, but still with distinct, tiny jumps. The power reserve of the 21-jewel Miyota movement is 40 hours. This ensures that you can set the watch aside for a day and a half without needing to reset the time.
Sharp Dial and Batman Bezel
The M79 has a sharp, black and white dial that offers plenty of contrast and easy low-light visibility. The dial itself is black, with the word "Timex" at the top and "automatic" printed at the bottom.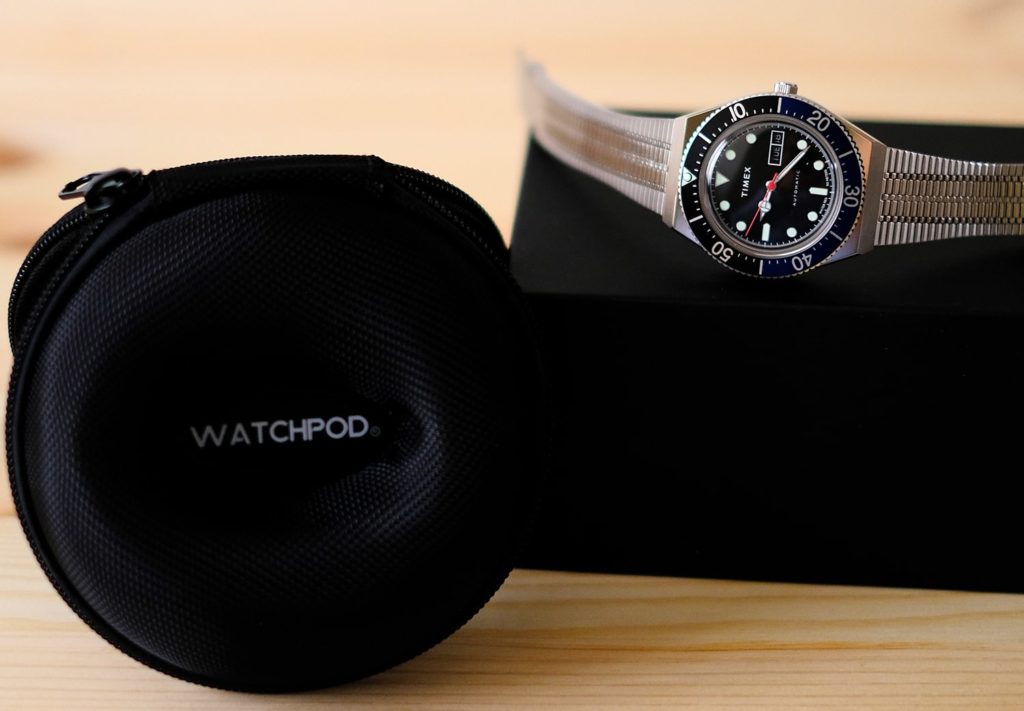 There are fine hashes at single second marks, with large white lume dots at 5-minute positions. Long hashes mark off the 6 and 9 o'clock position, while a broader arrow marks the 12 o'clock position. At 3 o'clock, you'll see a crisp, white day and date window.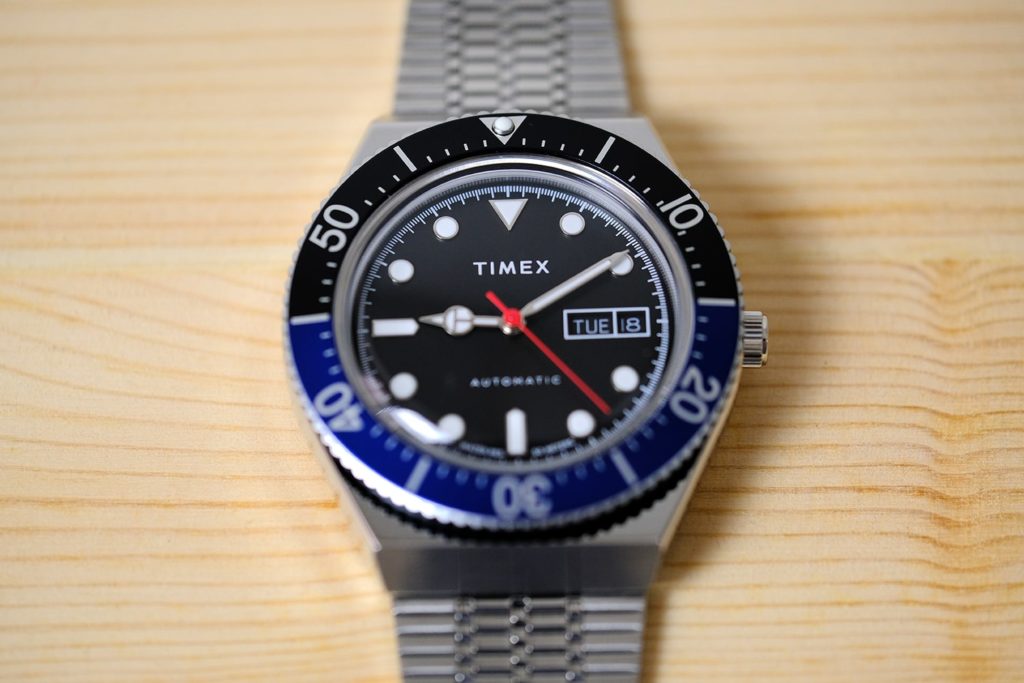 The minute hand is long and silver, with a wide, white lume stripe down the center. The hour hand is broader, with a circular spot in the middle very similar to the famous Mercedes hand, but it's marked with a tiny Timex logo instead. It too, is silver, with white lume paint. The second hand is long, slender, and bright red, the only part of the dial that isn't black or white.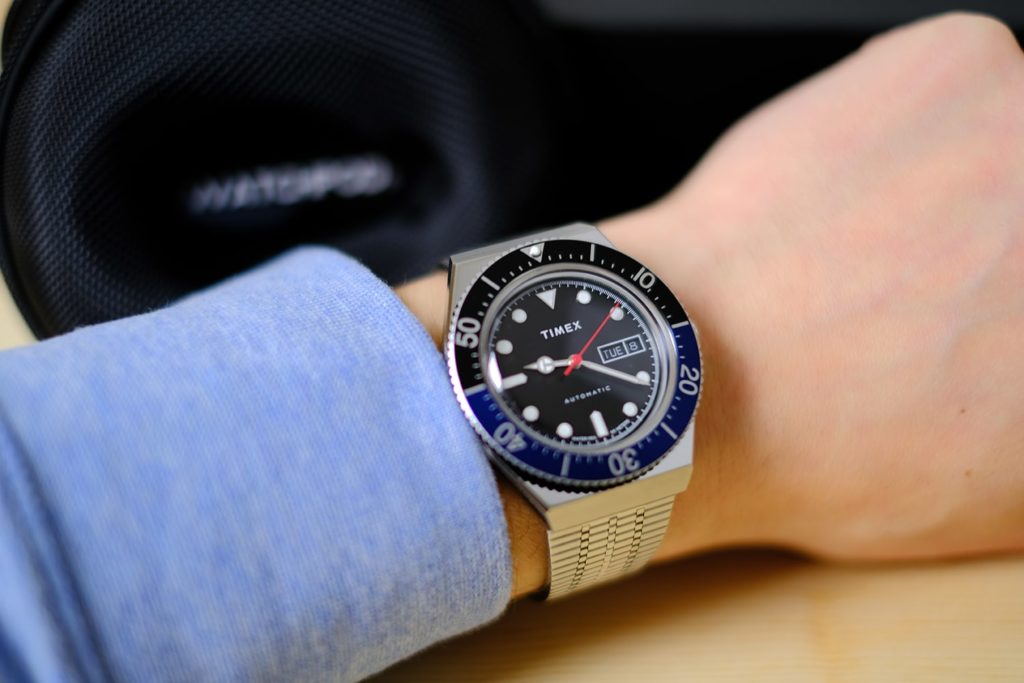 The M79 has a similar appearance to the original Q. However, one significant difference is the bezel, which is a nod to the Rolex GMT-Master II BLNR. Instead of the Q's Pepsi-style bezel, it has an iconic blue and black bezel. Ten-minute positions are marked by numerals, while single-minute positions are marked by small hashes, and 5-minute positions are indicated with longer hashes.
Sturdy Stainless Steel Case
The case itself is constructed from stainless steel, with a bright, glossy finish that looks like it belongs on a more expensive watch.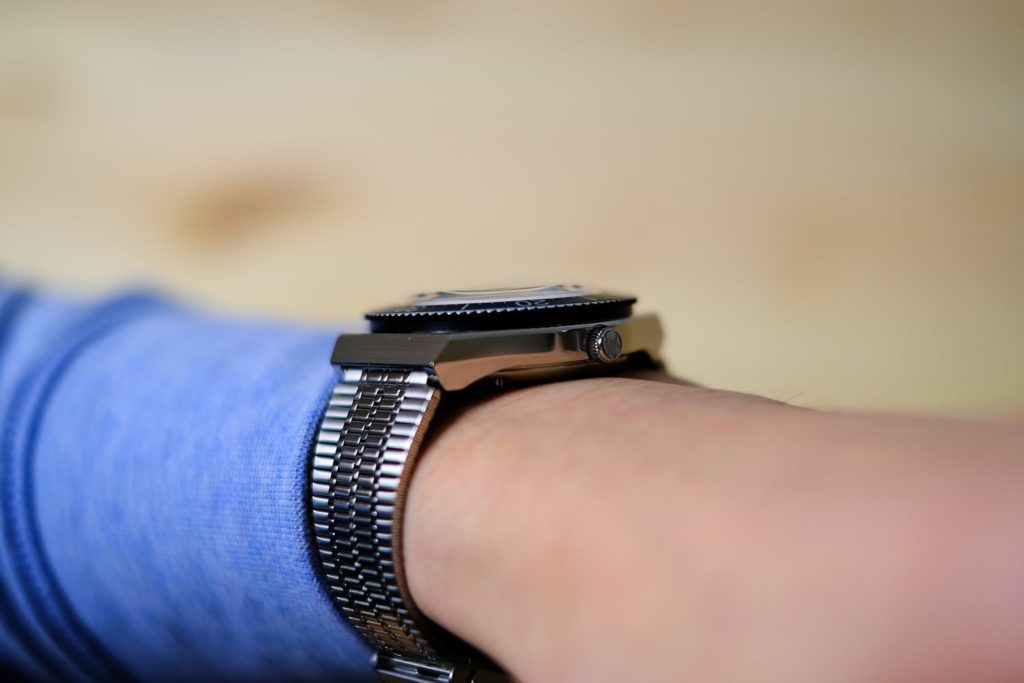 It measures 40mm in diameter, which lends it a medium wrist presence as you wear it. The thickness is 14.5mm, once again a fairly medium size. The bezel has a ribbed outer edge, and makes the watch look a bit larger than it actually is.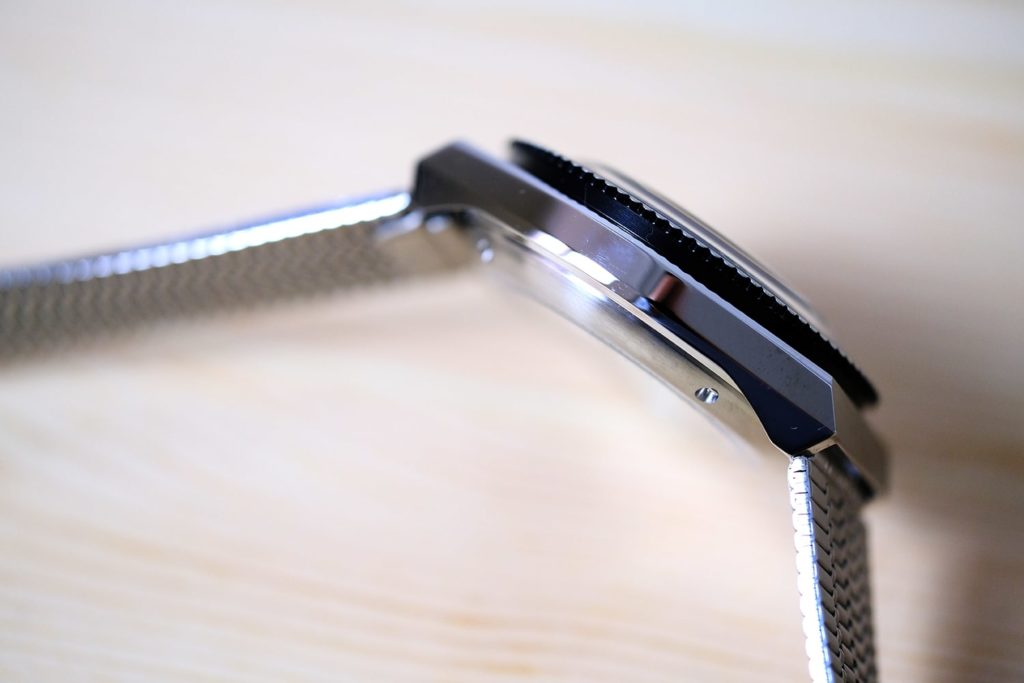 The case is water resistant to 50 meters, which essentially amounts to a rating of "splash proof". Take it in the shower, but you probably shouldn't take it swimming.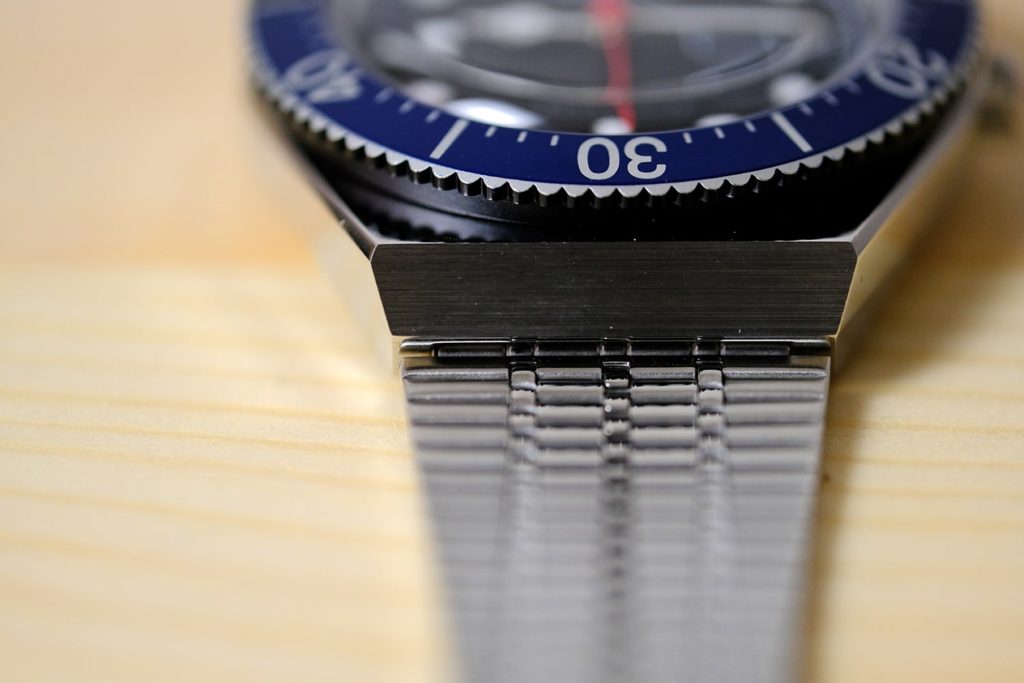 The crystal is made of acrylic, which means it's low-glare but vulnerable to scratching. On the one hand, this is a bit disappointing. On the other hand, it's a Timex. It costs half of what a typical automatic watch will run you. You're going to have to accept a few sacrifices. That said, there's an exhibition case back, which gives you a clear view of the Miyota movement.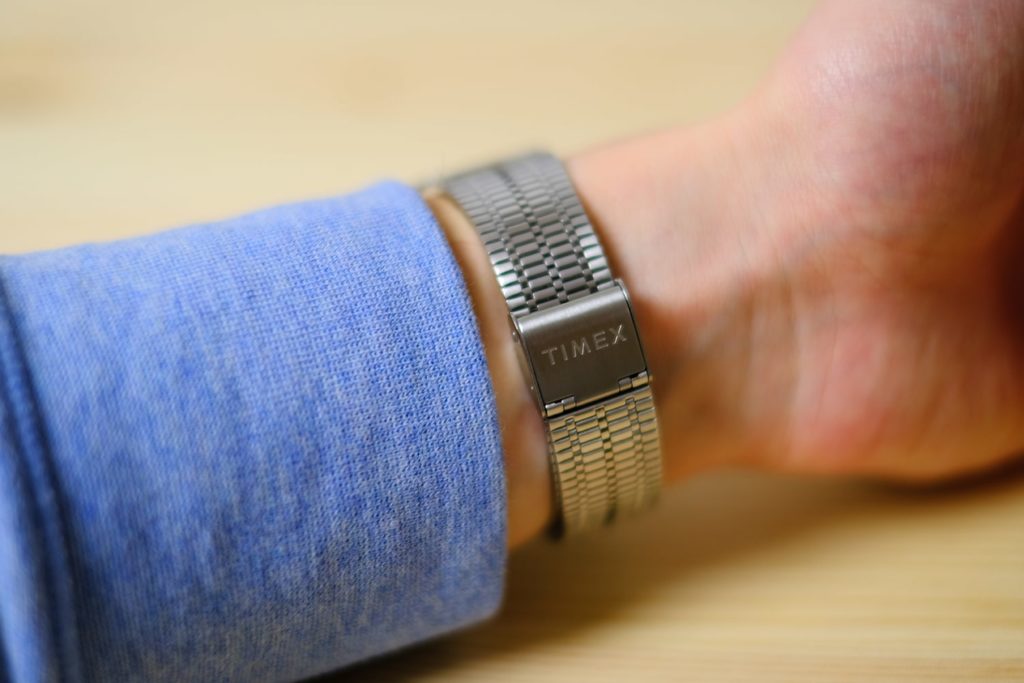 Timex rounds out the design with a 4-link steel band. This band is constructed of tiny links, which lets it wrap comfortably around your wrist. It also glistens as you move, adding an attractive touch.
To have a look at Timex's recent re-issue releases visit their official website here.