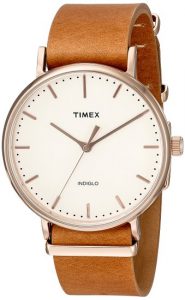 The Fairfield collection offers fantastic looking watches at affordable prices. Timex have worked hard to produce stylish, fun and simple pieces to suit everyone's needs. The Timex TW2P91700 Weekender Fairfield women's watch offers a simple yet elegant design at the affordable price point of around $40 – giving every day consumers the chance to look good. The "Weekender", which is part of the Fairfield collection – gives customers the chance to interchange straps and create unique and personal watches whenever they want.
> > > Click here to see ratings, reviews, specifications and prices on Amazon < < <
TW2P91700 Design & Features
When looking for a watch people usually assume that price is reflection on quality. This design will completely change your mind, as it comes with a genuine leather 37 mm NATO style strap and is
great for quickly slipping on and off whenever you please. The strap is designed from genuine leather and with a width of 20mm it will not feel too thick or heavy around your wrist. I would like to draw attention however to the idea that the strap may become uncomfortable to wear and with all genuine leather could cause skin irritation. The strap does a great job of blending well with the rest of the watch, creating a dynamic looking timepiece overall.
> > > Click here to see ratings, reviews, specifications and prices on Amazon < < <
The slip-thru strap found on the TW2P91700, gives ease of use and gives the option to interchange different types of straps to suit style and needs of the consumer – a great feature for a watch within this price range.
The 41 mm rose gold case gives the watch a real sense of prettiness, and is also wielding some great features. The TW2P91700 Weekender comes with fantastic Indiglo night light which offers easier reading in low light, a feature which for the price is outstanding and often not seen on higher priced watches. The case also has a water resistance of up to 30 metres which isn't the best but would certainly protect against any subtle splashes – it is not recommended to take this one swimming I'm afraid. The beating heart of the operations is the analog timepiece, which doesn't lend itself very well for modern day features and you will see there is a lack of any date and day function on these watches, but for the price you are paying, there shouldn't be any issues with this. The face contains a ticking second hand – providing detailed time keeping when you need it most.
Timex TW2P91700 Weekender Specifications:
Case: Brass
Size: 41mm
Strap: Genuine Leather
Strap Color: Brown
Water resistant up to 30 meters
Luminous face
Overview
Overall, the TW2P91700 Weekender offers great value for money when it comes to quality and dependability. It is genuinely a great looking watch with some fantastic little features such as the Indiglo light and genuine leather strap. I particularly like the simplistic and natural aura this watch provides, with the rose gold case and brown leather strap really attracting it's target audience well.
The watch itself is very good quality and does the job we all require a watch to do; tell the time and tell it well. The design on the watch is very well polished and does a great job of showcasing the stylish yet simplistic features. The only flaw in the design is the buckle, this tends to catch and is not the easiest way to get a watch on and off, a simple but important feature in my opinion.
If you are looking for an affordable, unique and stylish watch then the Timex Weekender TW2P91700, could definitely be what you are looking for.
> > > Click here to see ratings, reviews, specifications and prices on Amazon < < <