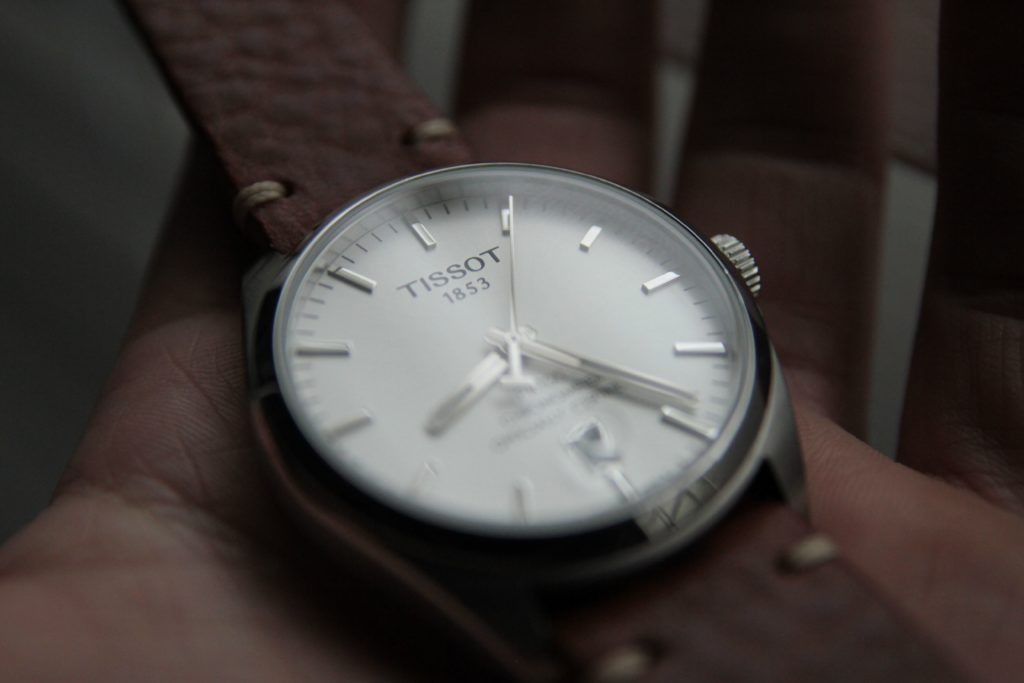 Seated at forest' gates and river's edge, a hint of sweet smoke circles upward from my pipe, purchased from a train station booth in Malaysia before our children were born. The indices of my watch glint with the setting sun's rays. I sit writing in my leather bound journal scribbling these words with a gifted pen from a dear friend. My wool sweater and field jacket keep me warm; I smile and am truly thankful for this simple moment. The sun now dipped bellow the horizon opens the door for the trees' long silhouettes to greet me on the glassy water; as the first star emerges I lift my wrist tilting it back and forth with little need for the time, I suppose I simply want to enjoy this moment to its fullest.
I'd imagine this is not where or how most watch reviews start. And that's exactly how I mean it to be. The average watch review is likely written at a desk behind a keyboard, the watch of the hour may or may not be present, it may or may not be owned by the author, and in place of stories and anecdotes a long list of specs is ready and waiting. The point I allude to is that there is something missing. It's that spark that draws us all to watches in the first place. Even the most stat inclined mind has senses and a soul. And in that vein I choose to tackle this watch review.
PR100 Perspective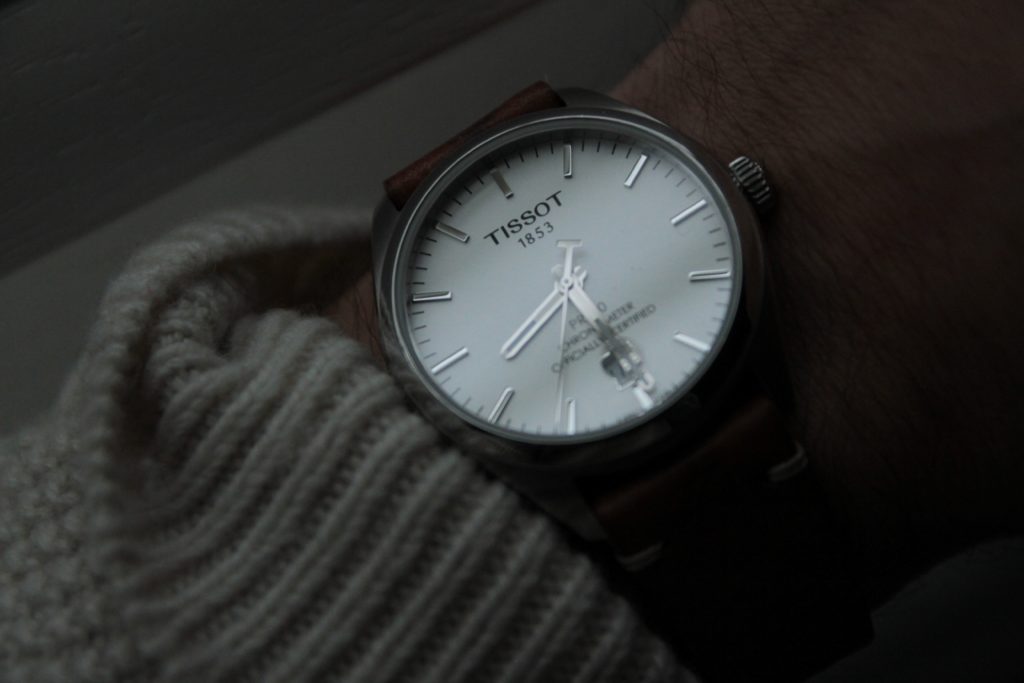 Returning to the watch in question, the watch on my wrist. This simple three handed Tissot is both understated and in some ways unremarkable. And, yet it is mine, part of my story, but maybe it has become more than that, maybe in some ways it has become like an extension of myself. What I mean is, that we suit each other in a manner of speaking. My story is one that has me feeling just as comfortable in boots and flannel as I do in wing tips and a suit. I'm comfortable in the city, at home in the country and at peace in nature.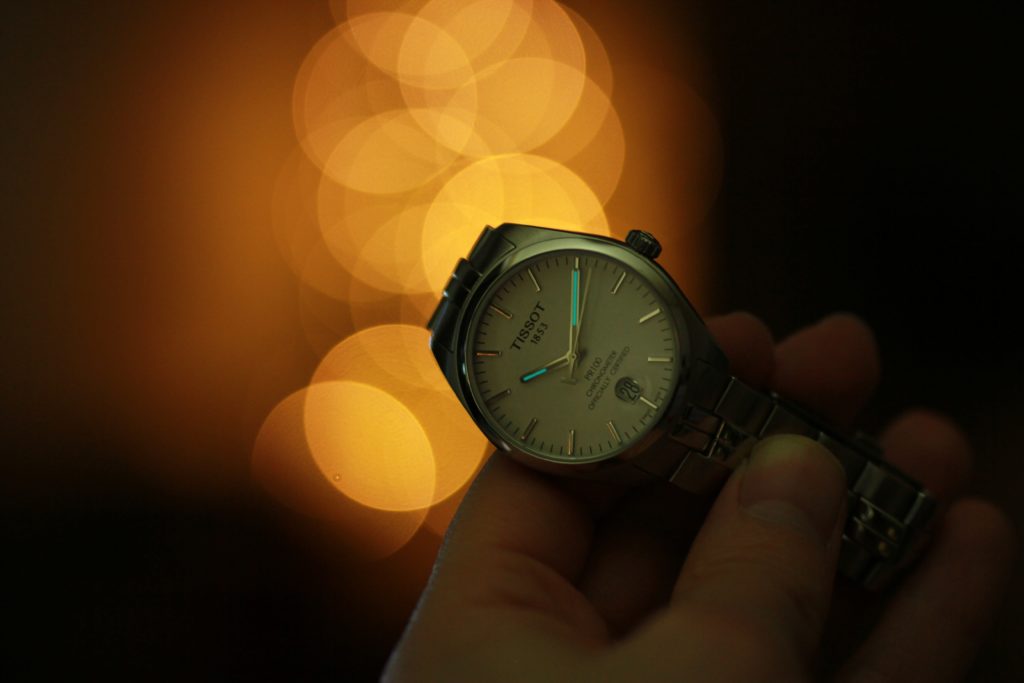 I've been a chef, a whitewater guide, a teacher, a pastor, and an auto technician among other things. A guy like me needs at least one watch that fits his lifestyle that meets him wherever he's at, a jack of all trades, a strap monster, always ready if the opportunity presents, a ride or die. And that's exactly what this Tissot PR100 automatic chronometer has been for me.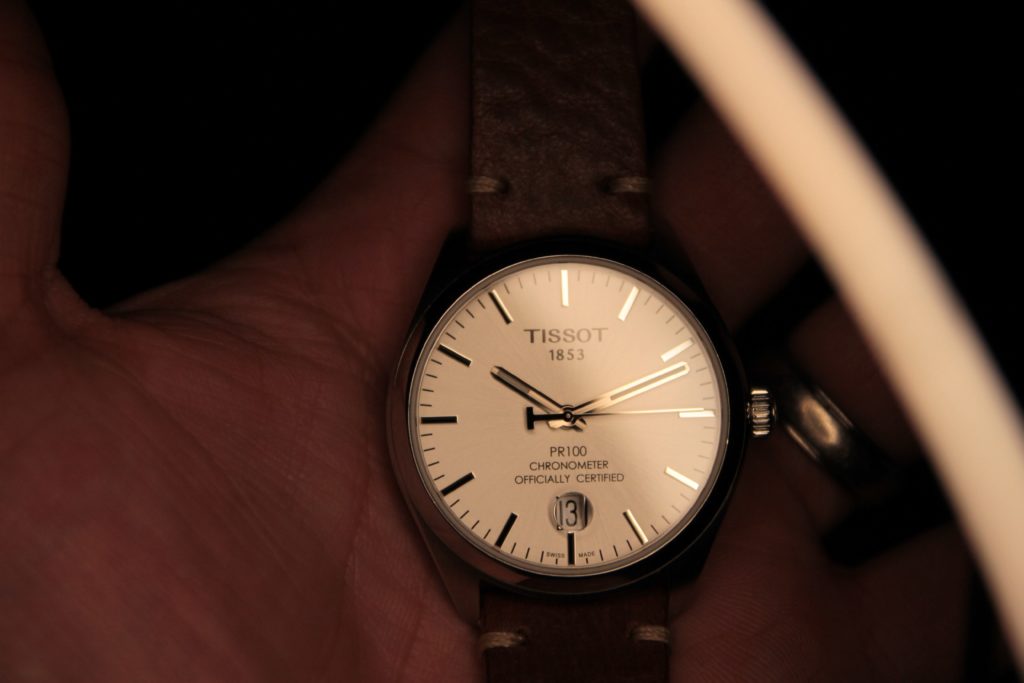 By this point most if not all of us are familiar with the luxury watch alternative videos or lists on such and such a forum or blog. While my memory is a bit hazy on this point, I believe that it was this type of search that ultimately lead me to this Tissot, but that's a story for another day. The long of the short of it is that I was looking for a watch that could be all those things mentioned in the previous paragraph, ticking the boxes not only in specs and design but also providing a great value for money and hopefully when all was said and done there would be enough of an x-factor to make the purchase a no brainer.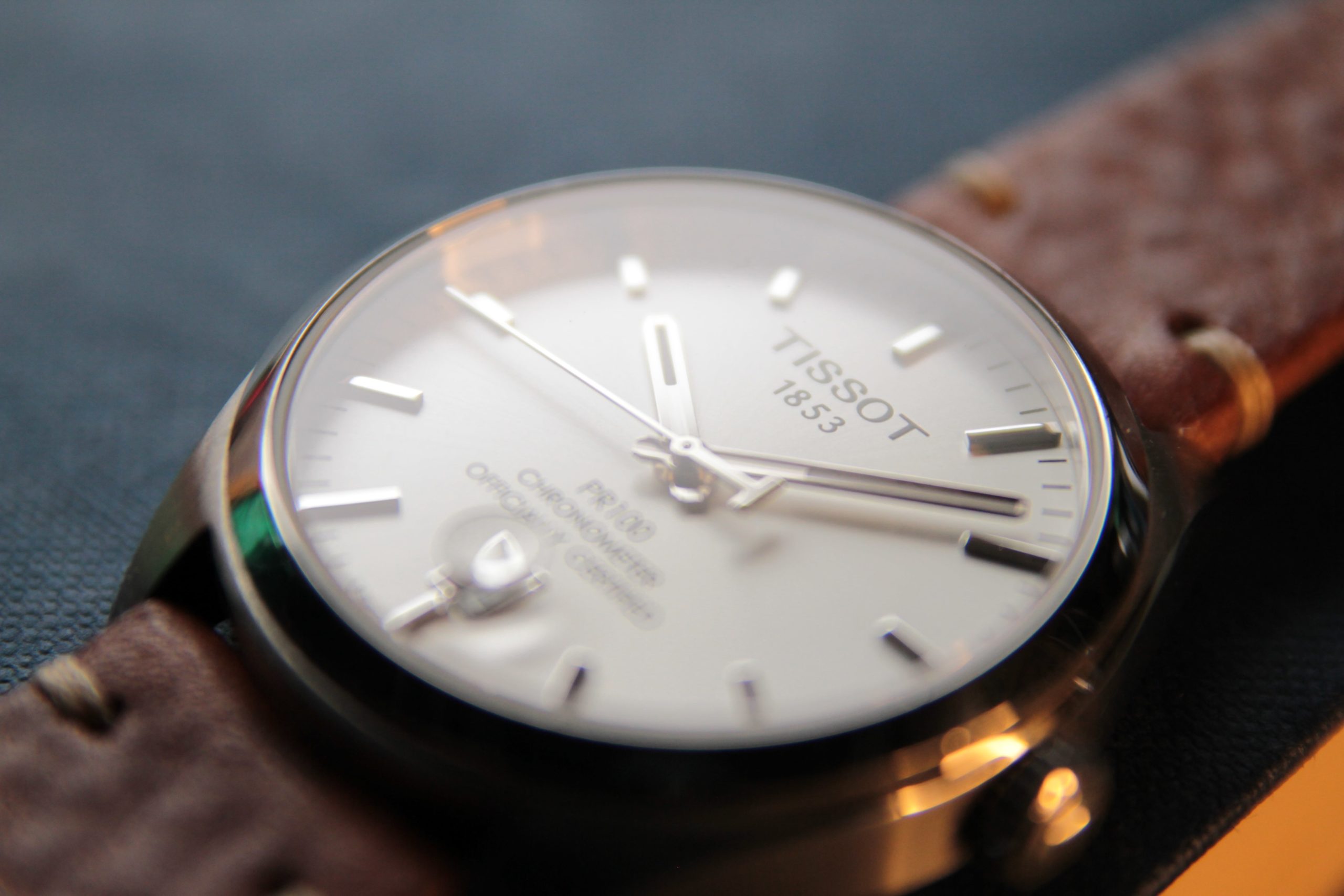 This Tissot PR100 did just that, and that could be the end of the story, but I'd prefer to bring you along through the journey a bit.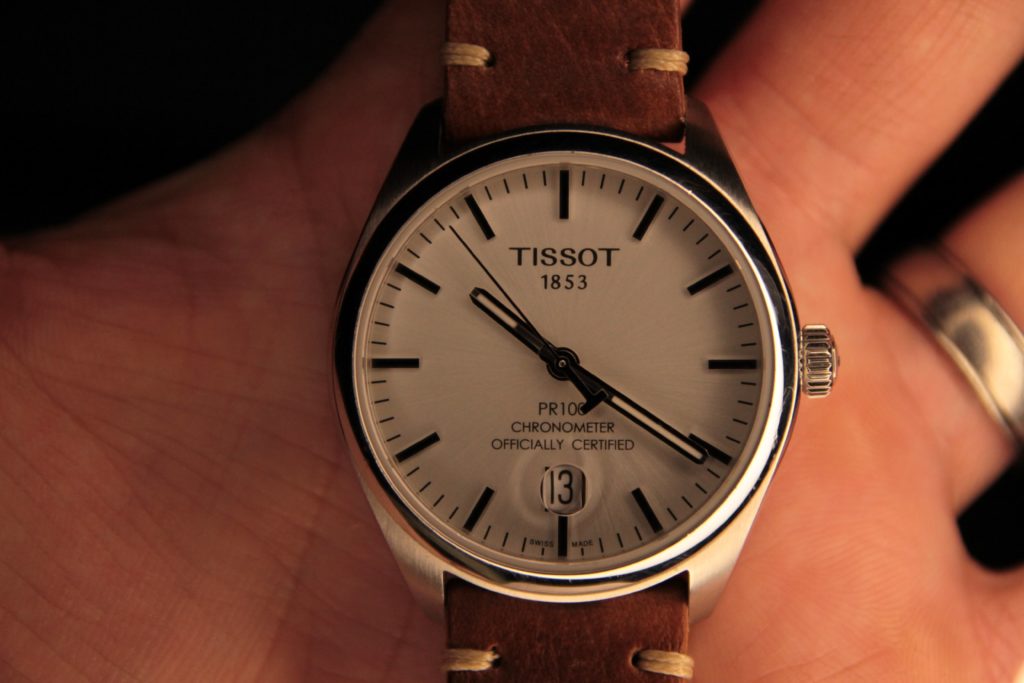 It had to be Swiss, and it had to impress at its price point. Tissot and chronometer certified, check and check. It needed to be a jack of all trades, meaning that it needed both the specs and the design to make that happen all while looking the part on a 7inch wrist. This Tissot's 39mm case, 100meter water resistance, and silver sunburst dial checked those boxes. The brushed silver dial is nearly white, making it extremely versatile, the applied polished indices and printed minute marks make it highly legible and its lumed hand-set is finished in a way that is refined yet masculine. More boxes ticked. The 6 o'clock date window is both quirky and questionable, in that while executed nicely is paired with an odd (yet interesting) internal circular cyclops. While an odd pairing I must say that despite my overly critical tendencies, I have never been bothered by it. The sapphire crystal lays flat and the internal cyclops for the most part presents the date both legibly and tastefully.
Important Details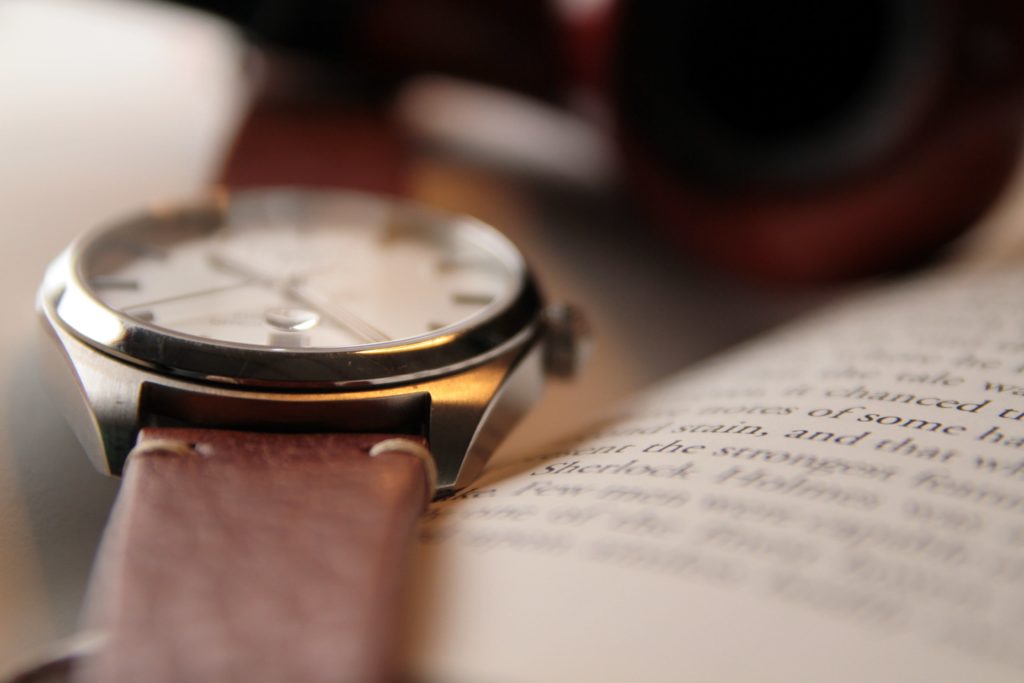 Moving to the case and crown in more detail: as you may have guessed it joins the ranks and is constructed of the nearly ubiquitous 316l stainless steal. While its finishing is in many regards simple it is again tastefully done. Its bezel is highly polished and the remainder of its brushed satin finishing is accented with polished chamfered edges. The crown is proportionally sized, knurled and marked with the tissot "t" giving it an overall understated but refined appearance. More checks…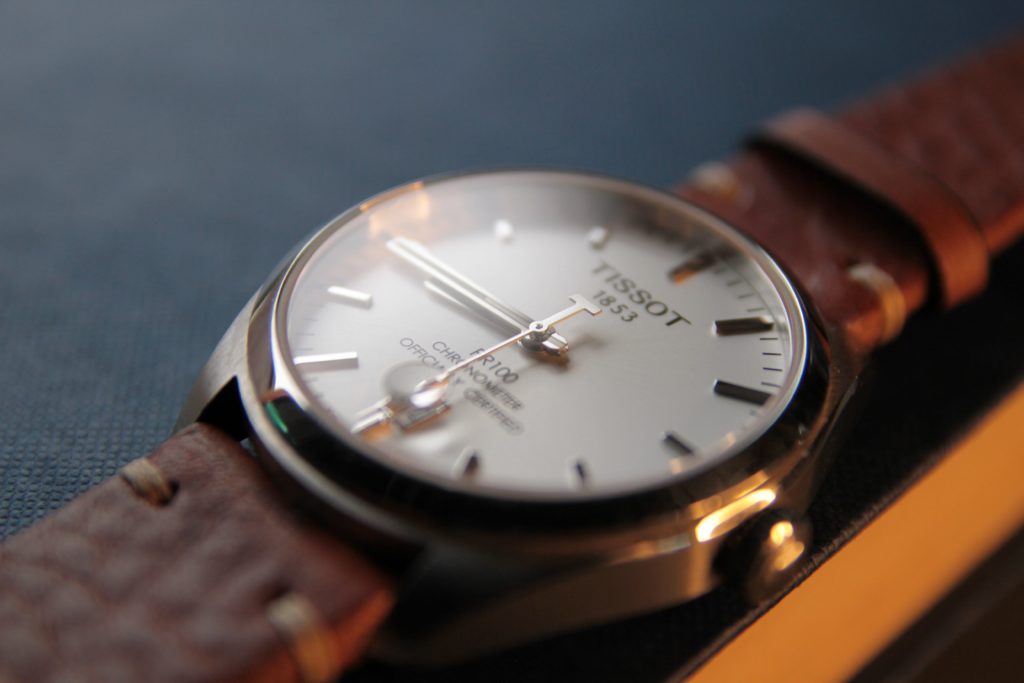 Appearance isn't everything though we can not have fashion without function. Thankfully the push crown smoothly operates this eta based movement. The Swatch Group's Powermatic 80 movement is a solid and reliable work horse. The 80 hours of power reserve comes standard, but the chronometer certification really sets it apart. While the powermatic 80 movement and the pr100 series from Tissot joins ranks the Bambinos, QS and 5s of the world by sheer volume. This particular reference is discontinued and may require a hunt. Tissot's pr100 automatic chronometer was a short lived reference, that retailed for $950 usd and came in a small handful of color ways. In the last few years (at the time of purchase) they could be found new on reputable gray market sites for an average of $350 usd, currently at the time of writing this silver dial reference has become more difficult to find as supplies have depleted and now goes for closer to $650 usd new (old stock) on the gray market.
Final Thoughts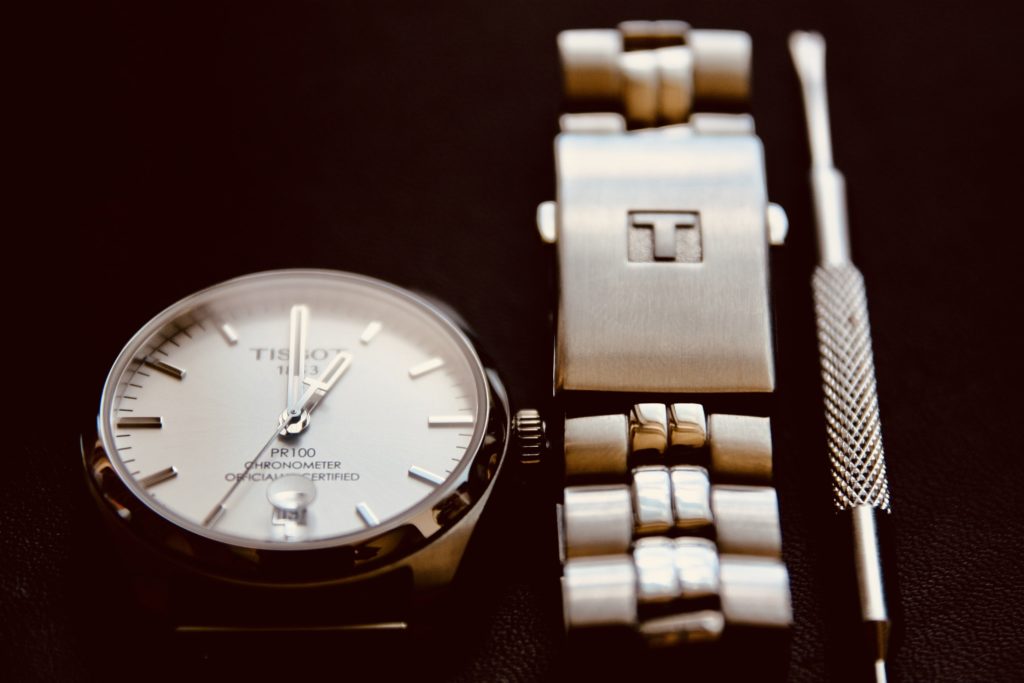 In the end purchasing a watch at any price point should be deeply personal. You could drown in both facts and opinions in the horological world, and so you'll need to put your proverbial work clothes on and get to work. Sort it out for yourself. Find out what you value, what you need and what you want. Do a cost benefit analysis, take a realistic look at your budget, you may even draw up a venn diagram.
And that's where I'll bring this to a close; if I were to draw up a venn diagram I would have 3 sets (circles) comprised of the following categories: dress watch, sports watch & daily where (aka every day watch) In the union (that overlapping bit) you'd find a number of watches that might fit the bill. On the higher end you might find the likes of a Rolex Oyster Perpetual or Daydate, maybe a Longines spirit the list could go on, but somewhere in that union a little bit further down the latter is the Tissot pr100 automatic chronometer. Tissot doesn't wear that Rolex Crown, but for a swiss made watch made by a brand that easily predates the crown wearer, is cosc certified, and checks the boxes you need checked all for a small fraction of the cost… I think you're left with just one question, at least I was: "why not?" you know how my story ends, but yours is yet to be written.
To view all of Tissot's offerings visit their official website here.