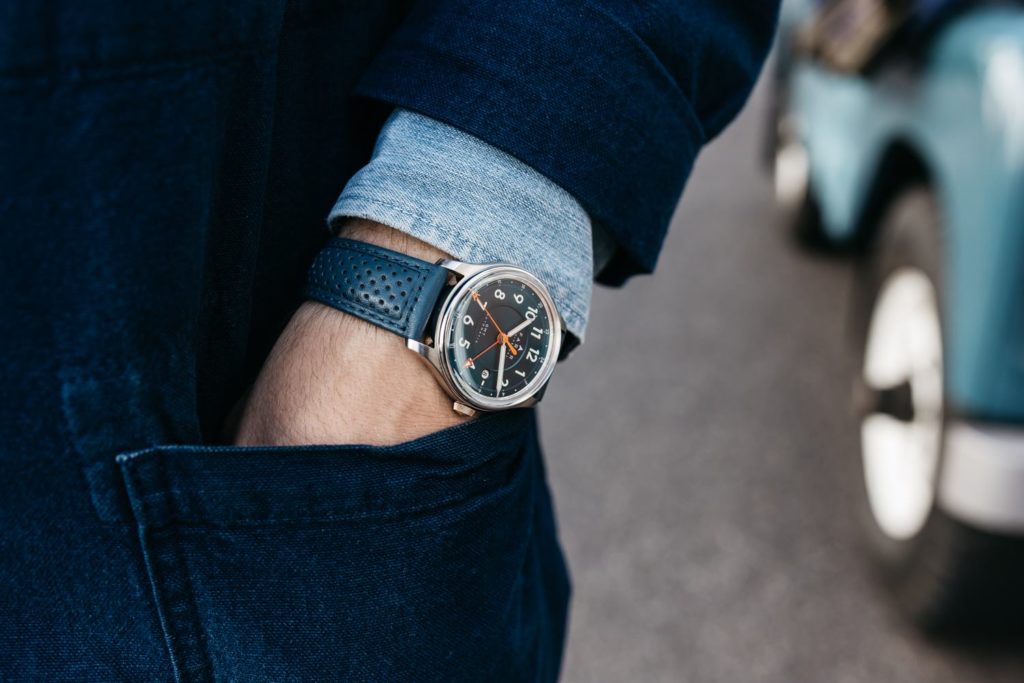 As today's world becomes ever more connected, more people than ever are becoming world travelers. And with this travel comes the need to switch between time zones. For watch enthusiasts like us, that means using a GMT watch.
A GMT watch allows you to set a secondary time for an additional time zone. These watches were traditionally used by pilots, who use Greenwich Mean Time (GMT). Hence the term "GMT watch". But in reality, you can set the secondary dial to whatever time you choose. If you live in New York, for example, you can travel the world over without ever forgetting what time your partner is using back home. Here, I'll be providing an overview of five of the best GMT watches in the $1,000 price range.
Glycine Airman Double Twelve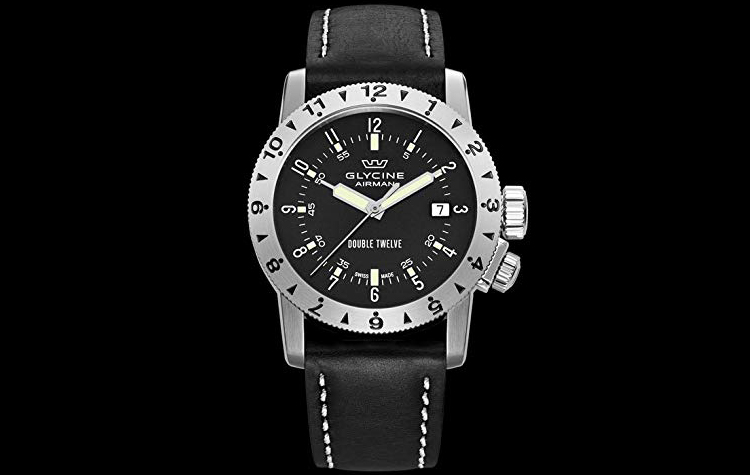 Taking its name from the traditional aviators who first used GMT watches, the Glycine Airman Double Twelve is exceedingly accurate for an automatic watch. It boasts a GL224 Swiss automatic movement, with 25 jewels and a 38-hour power reserve. It ticks at a brisk 28,800 beats per hour, which allows for smooth movement. Not that you'll even notice; the Airman Double Twelve doesn't have a second hand.
Instead, what looks like a second hand is actually your secondary time zone indicator. The bezel serves as a time index. It's wide and flat, with etched numerals that scale from 1 to 12. You'll still need to keep track of AM versus PM, which is a bit disappointing, but the slick, workmanlike design makes up for this.
The case measures 44mm in diameter, and is a relatively compact 12.4mm in thickness. The screw-down display back is made of mineral glass, which is highly resistant to scratches. It provides for a clear view of the movement, complete with the decorative rotor that's designed specifically to be looked at. The top crystal is equally exquisite. It has a domed design, with smooth edges, but without so much of a curve that it obscures the dial, and 3 layers of anti-reflective coating prevent glare.
The case and crystal are waterproof to 100 meters, sufficient for almost any purpose. The primary time is set by a 3 o'clock crown, with a 4 o'clock crown for setting the GMT dial. Both crowns are screw-downs, so they won't accidentally get pulled out. Glycine completes the package with a soft, calf leather watch band.
The primary index is equally attractive. Fine white hashes mark off the minutes, and form a nice contrast to the navy blue dial. Larger hashes indicate the five-minute marks, with fine numerals marking off the hours. The wide, beveled hands have bright lume stripes down the center, and have slim, metallic tips that extend all the way to the outer hash marks. A small date window completes the picture.
Christopher Ward C60 Trident 600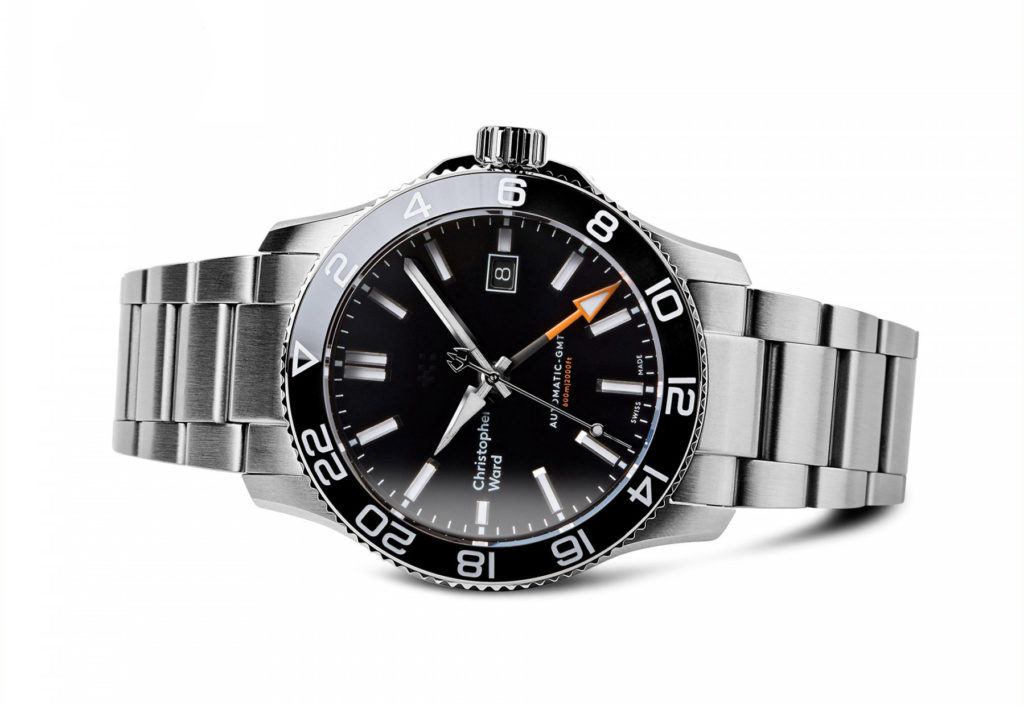 The Christopher Ward C60 Trident 600 comes in several variants, so you can customize your experience. Your first choice will be whether to use the ETA 2893-2 movement or the Sellita SW330. Each has its own unique benefits. The first offers a 38-hour power reserve, and can also be hand-wound if you need. The second offers a more substantial 42 hours, although it's not hand-windable. Both are hacking, which allows you to easily keep the time accurate right down to the second.
The case is constructed from stainless steel, and is also available in different variants. You can choose between a 38, 40, or 42mm diameter depending on how much wrist presence you desire. One thing all variants of the C60 Trident 600 is an almost unheard-of 600 meters of water-resistance. If you spend a lot of time in the water, this is the watch for you.
The wide unidirectional bezel serves two purposes. Primarily, it serves as your secondary time index, with markings from 1 to 24 hours. As a secondary function, it also serves as a dive meter. Although it comes in 4 different colors, all of them are two-tone, which allows for easy oxygen tracking on your scuba tank.
For more conventional users — people who won't be using the watch underwater — the C60 is still highly functional. Besides the outer, 24-hour index, the inner index is also very elegant. It has tiny hashes to indicate the minutes, with wider hashes to indicate the 5-minute marks. The hour and minute hands are painted with a white lume finish. The minute hand is long and flat, while the hour hand has a squat profile with a widened tip. The second hand and the GMT hand are both slender and long. However, the GMT hand has a high-contrast finish for easy readability.
Farer Lander II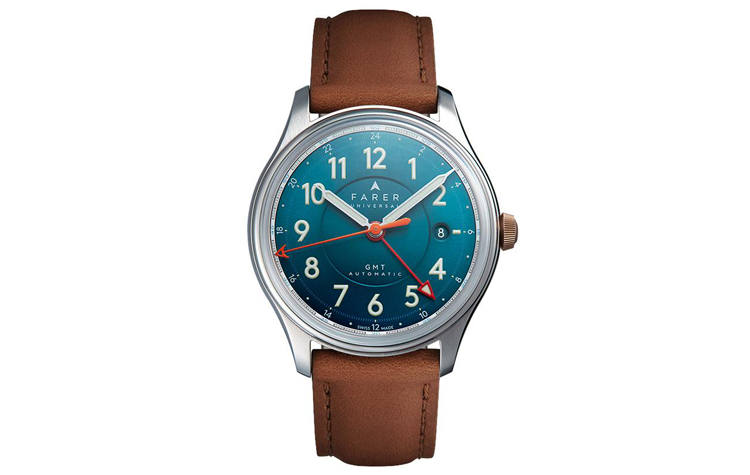 The Farer Lander II is another GMT watch that gets its name from its origins in aviation. The overall design is elegant, without any modern-looking, mechanical accoutrements. It utilizes an ETA 2893-2 "top grade" movement, which features 21 jewels and a serviceable 42-hour power reserve.
The Lander II's overall appearance is relatively minimalist, and at first glance it could be easily confused with a more mundane watch. The case measures 39.5mm in diameter, providing a medium wrist presence with a round profile and a smooth, curved bezel. The bezel leads seamlessly into a domed crystal that's made of sapphire, with an anti-reflective coating to ensure a clear, unobstructed view.
Even at its highest point, the case and crystal have a total thickness of 10mm, slim enough to slide under a shirt cuff, even a relatively tight one. And the watch is waterproof to 100 meters, sufficient for showering and swimming without any concerns. It's secured to your wrist with a Barenia bridle leather band that has a smooth, clean finish.
The dial is a bright aquamarine color, without any obstructing, cluttering complications. Even the date window is understated, a small circle that bucks the trend of today's square date windows. The primary index is easy to read, with large, white lume numerals at every hour position. There are no hashes for individual minutes, but the white lume hands are easy enough to read without them.
Meanwhile, the outer index is almost invisible at first glance. The hashes are truly tiny, and even the 1-24-hour numerals don't stand out much. But the GMT hand is highly visible, thanks to a high-contrast red finish that really pops. All in all, the Lander II is an elegant, minimalist watch that doesn't sacrifice functionality.
Orient Polaris GMT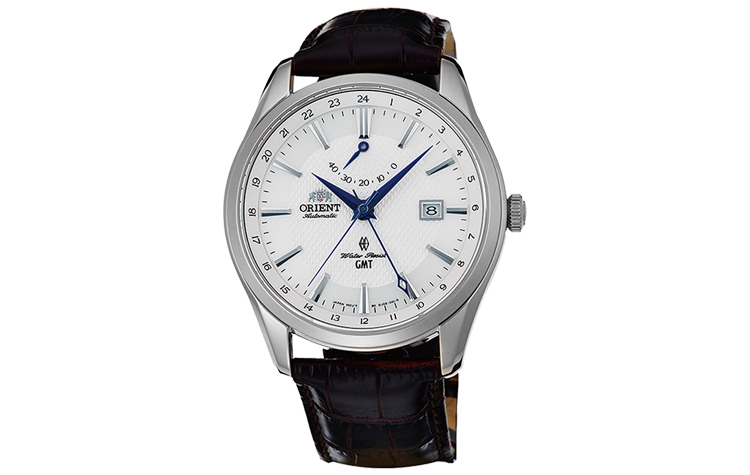 The Orient Polaris GMT is another elegant watch that doesn't look like anything special at first glance. It has a plain, white dial without a lot of adornment. However, there are two complications worth noting. The first is a small date window in the 3 o'clock position. The second is a power reserve meter, positioned just under the 12 o'clock marker. It tracks the Polaris' 42-hour power reserve, so you always know how much longer your watch can keep running. The Caliber 40P51 movement operates at a relatively slow — but still accurate — 21,600 beats per hour, and is both hacking and hand-windable. This ensures that you can keep accurate time, right down to the second, and you'll never be more than a few twists away from a powered movement.
The case measures 42mm in diameter, and is 11.98mm thick, providing a medium-sized wrist presence that's suitable for most occasions. It has a flat, scratch-resistant sapphire crystal that provides a clear view of the dial, with a utilitarian, sloped bevel that doesn't have any sharp edges. The watch is water-resistant to 50 meters, so it's not going to die on you in the shower, but you shouldn't take it swimming. The band is stitched from brown leather, with an alligator scale pattern that's attractive to the eye, despite being artificial.
Hamilton Jazzmaster Traveler GMT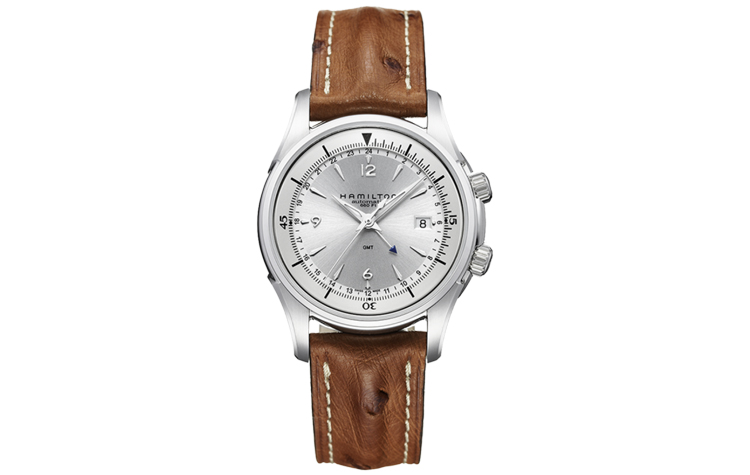 The Hamilton Jazzmaster Traveler GMT uses a Caliber 2893-2 movement. One of the most popular movements on the market, the 2893-2 has 21 jewels, as well as a 38-hour power reserve for longevity. It's both hacking and hand-windable, which ensures accuracy as well as a consistent power supply.
The case measures 42mm in diameter, with dual crowns. The primary crown is located at the 4 o'clock position, with a secondary crown at the 2 o'clock position to operate the 24-hour GMT hand. A sapphire crystal tops off the package, with a flat profile and an anti-glare finish. The case and crystal are rated for 200 meters of depth, making this a true dive watch. Meanwhile, a brown leather watch band adds a touch of class and formality.
The Jazzmaster is an unusual GMT watch, because there are no hour markings on the outer index. Instead, it's marked with standard 60-minute numerals, which can be confusing until you're used to it. That said, the GMT hand is easy to read, with a black, arrow-shaped tip that stands out against the silver dial.
A small, square date window adorns the 3 o'clock position, while 12, 6, and 9 o'clock numerals mark off the rest of the primary index. The hour and minute hands are sharp and spear-shaped, with a white lume finish that's easy to read in the dark.