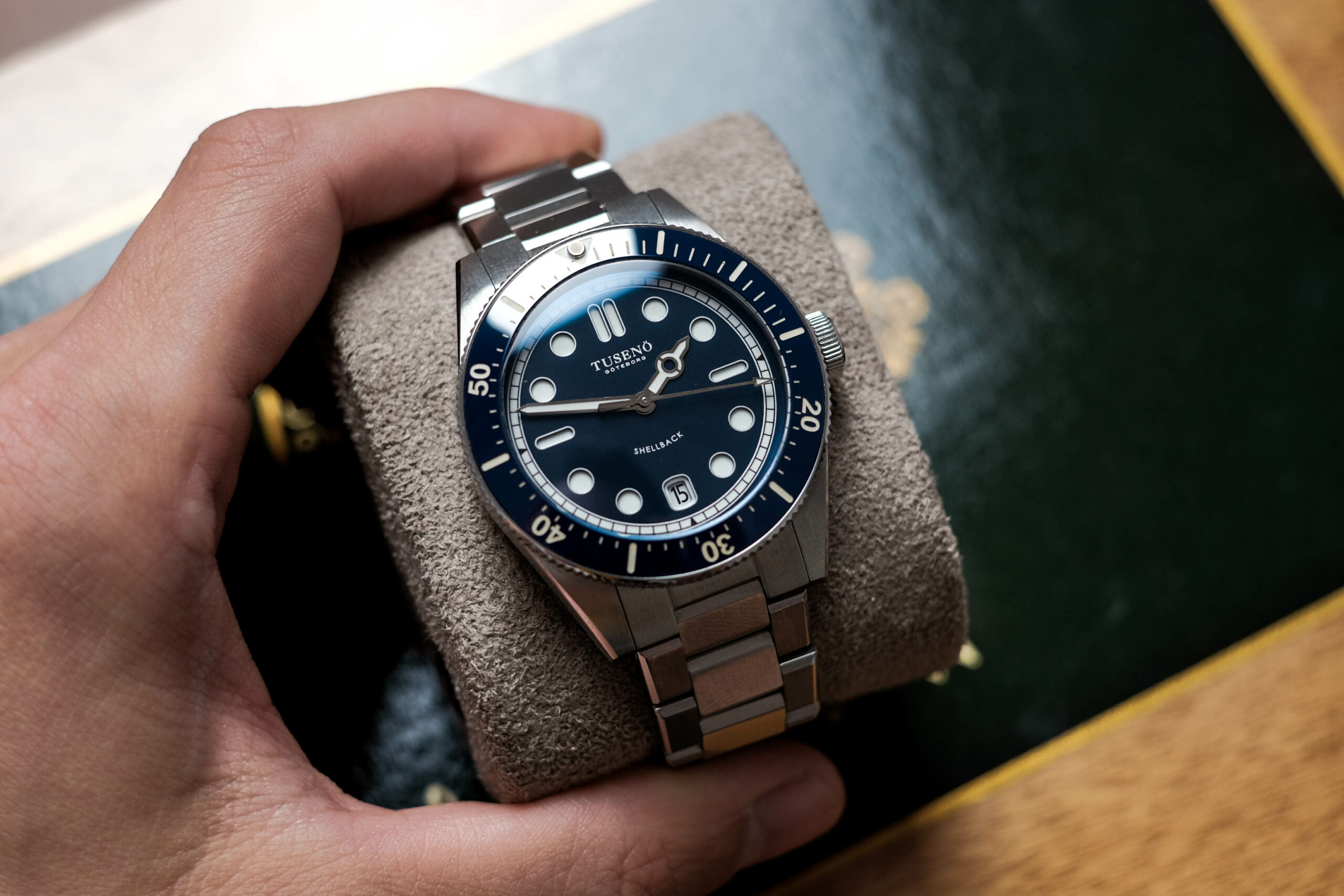 For more than a hundred years, watchmaking has been synonymous with Switzerland. But following the quartz revolution in the 70s, the mechanical watch industry experienced a shakeup. Since then, smaller watchmakers from around the world have been using Swiss technology to create their own unique designs.
I'm always interested in a good microbrand, and Tusenö is a great example. This Swedish brand was launched in 2015 via a crowdfunding campaign. At the time, it was the most successful watch crowdfunding campaign in Swedish history, and Tusenö built on that success. Over the past seven years, they've grown their international presence to over 70 countries, an incredible rate of expansion.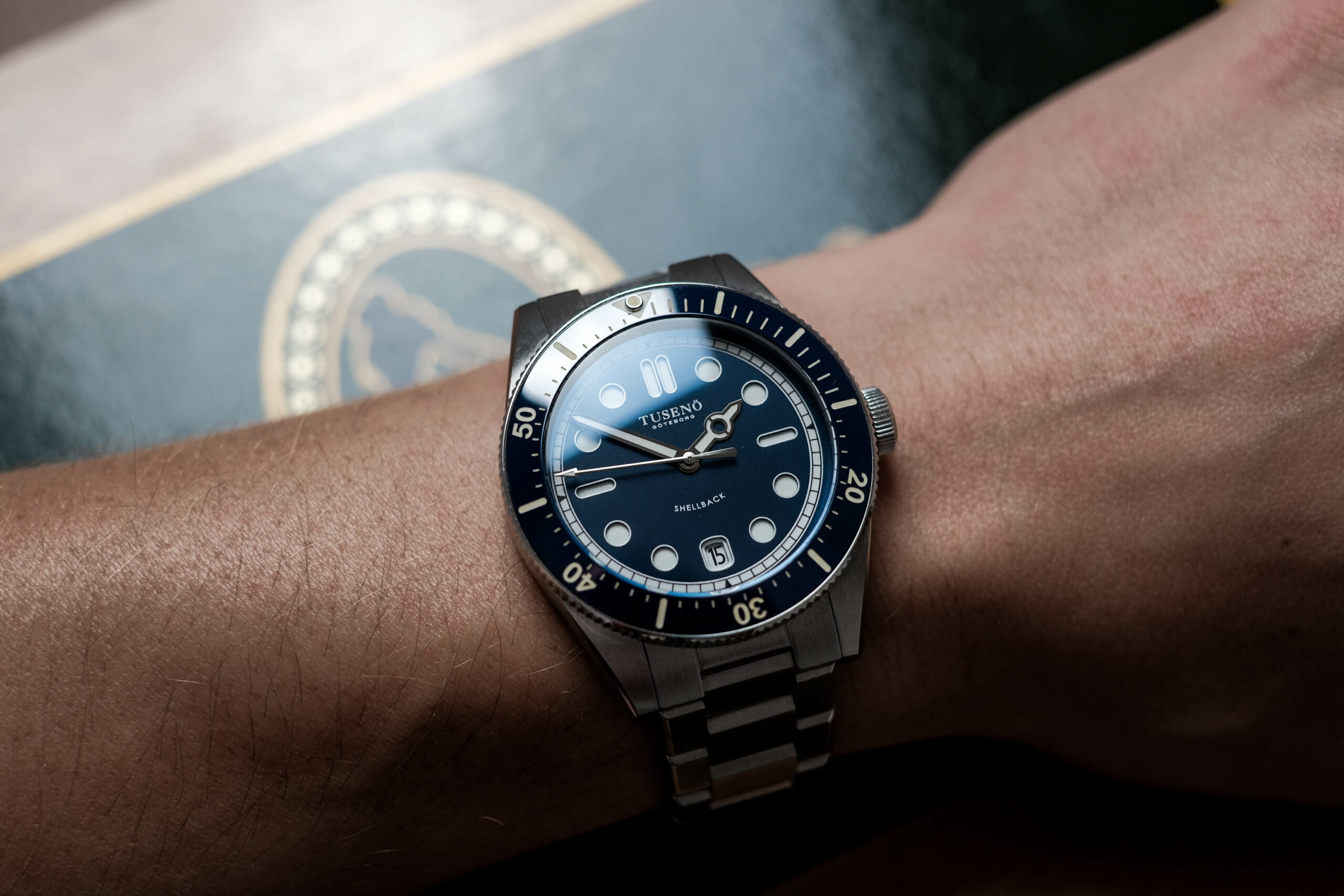 Most of Tusenö's production is done in Switzerland, although some off their handmade watches are also made in Sweden. A few models are produced in Asia.
At the same time, they've maintained their uniquely Swedish character. Their watches are all designed in Switzerland, a central showroom that opened in Gothenburg in 2020. This is also where Tusenö does all of their product testing and quality control. Plans are ongoing to move more production to Sweden as more qualified watchmakers are trained.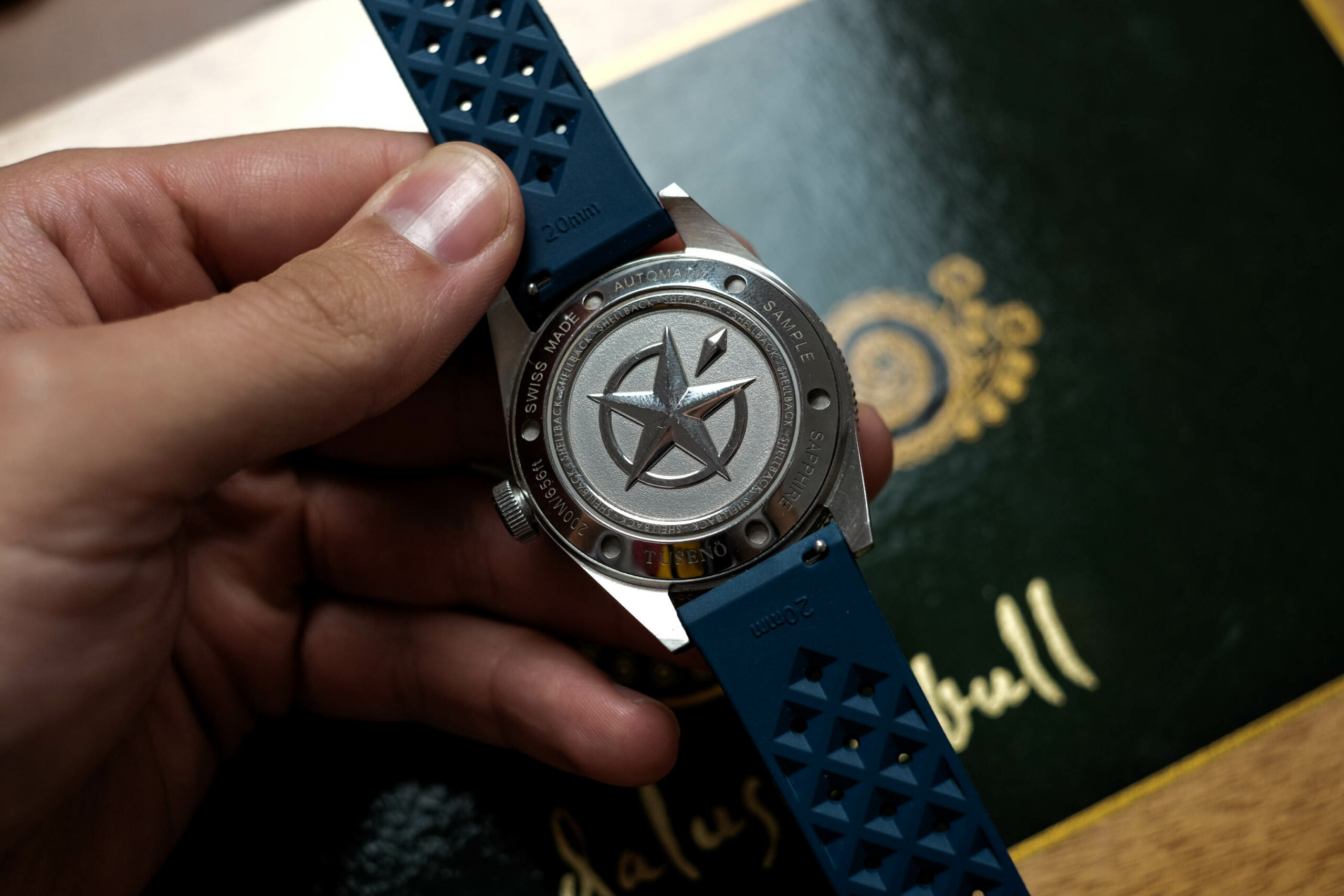 Incidentally, Tusenö is an old cartographic abbreviation for "kusten med de tusen öarna," which means "the coast with the thousand islands." It's a reference to Sweden's west coast, and you'll notice that many of their designs have a subtle nautical inspiration.
Today, I'm going to talk about one of their latest offerings, the Tusenö Shellback Blue. Here's what I thought about this new Tusenö timepiece.
A Sandwich Dial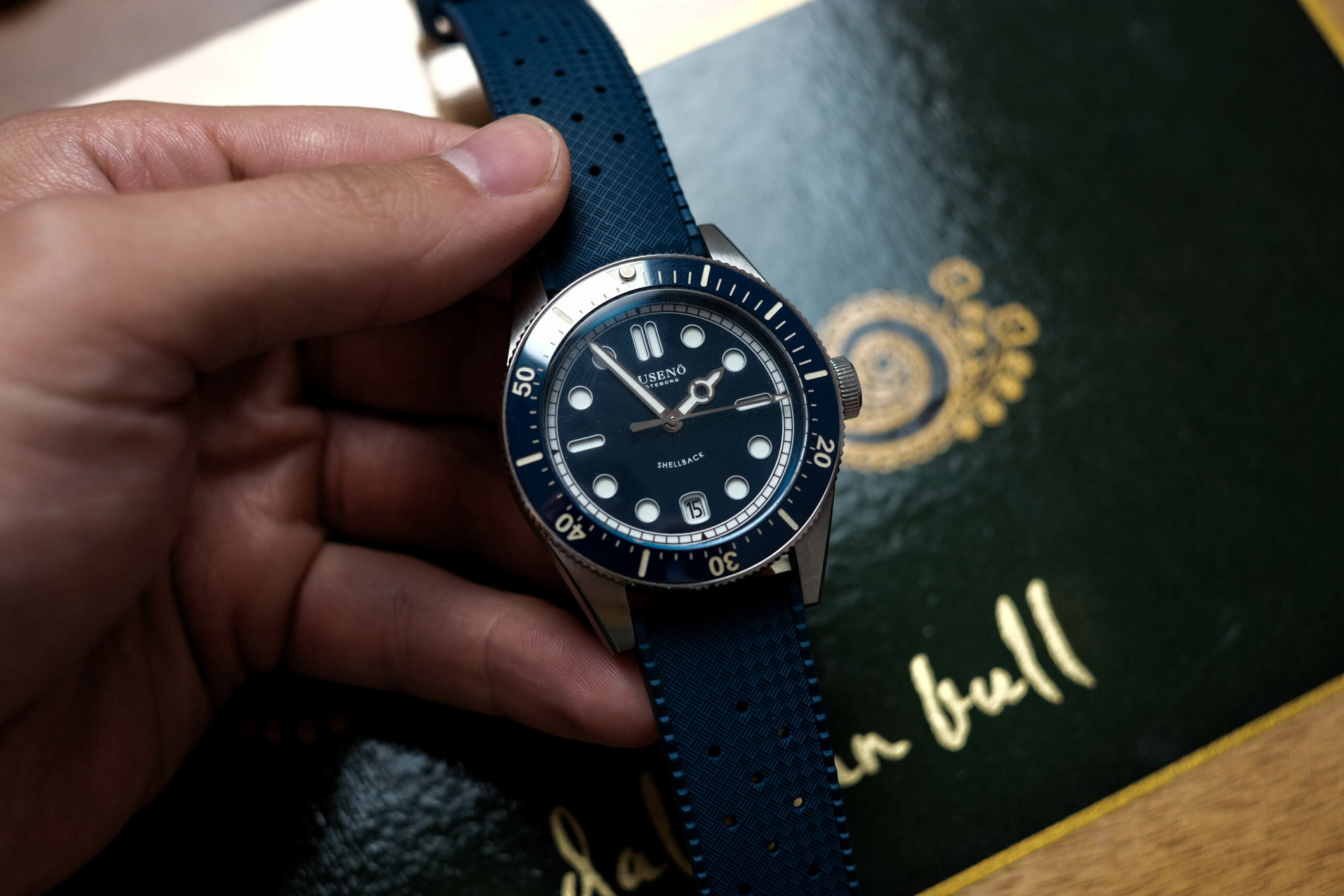 The Tusenö Shellback Blue has a sandwich dial, which means it's made from two layers. The base layer is entirely coated with Super LumiNova. The top layer has cutouts where the lower layer is visible through the dial. The top layer in this case is a bright royal blue, although you can also order the Shellback in black.
The pattern that makes up the main index is quite attractive, with circular cutouts at the 5-minute marks, oval cutouts at the 15-minute marks, and a double-oval cutout at 12 o'clock. At 6 o'clock, there's a square cutout, which also serves as a date window. This window sports black Arabic numerals on a flat white background.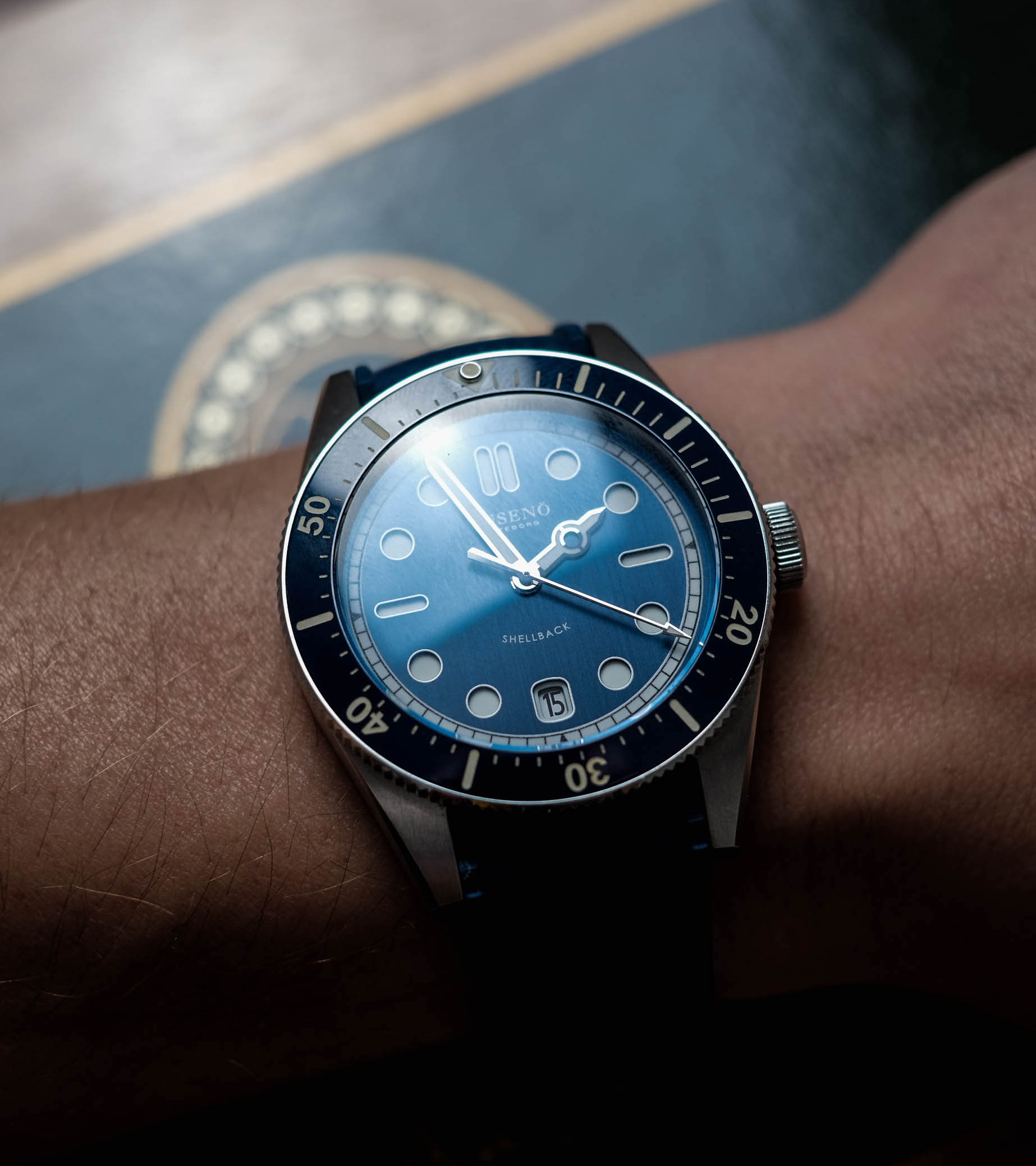 Outside of the main index is a ladder index, which runs around the outside of the dial. It's a narrow white band, with fine black hashes at the minute marks and slightly fatter hashes at the five-minute marks.
The hands are broad and silver, but are mostly covered in a white Super LumiNova finish. Both are straight and narrow, and taper to a tip at the end. The hour hand is shorter, but looks fatter thanks to a wide circular window towards the tip. As the hand moves, the window moves over the word "Shellback," which is printed on the dial. The second hand is very fine, but has a small white lume tip for better visibility.
Stainless Steel Elegance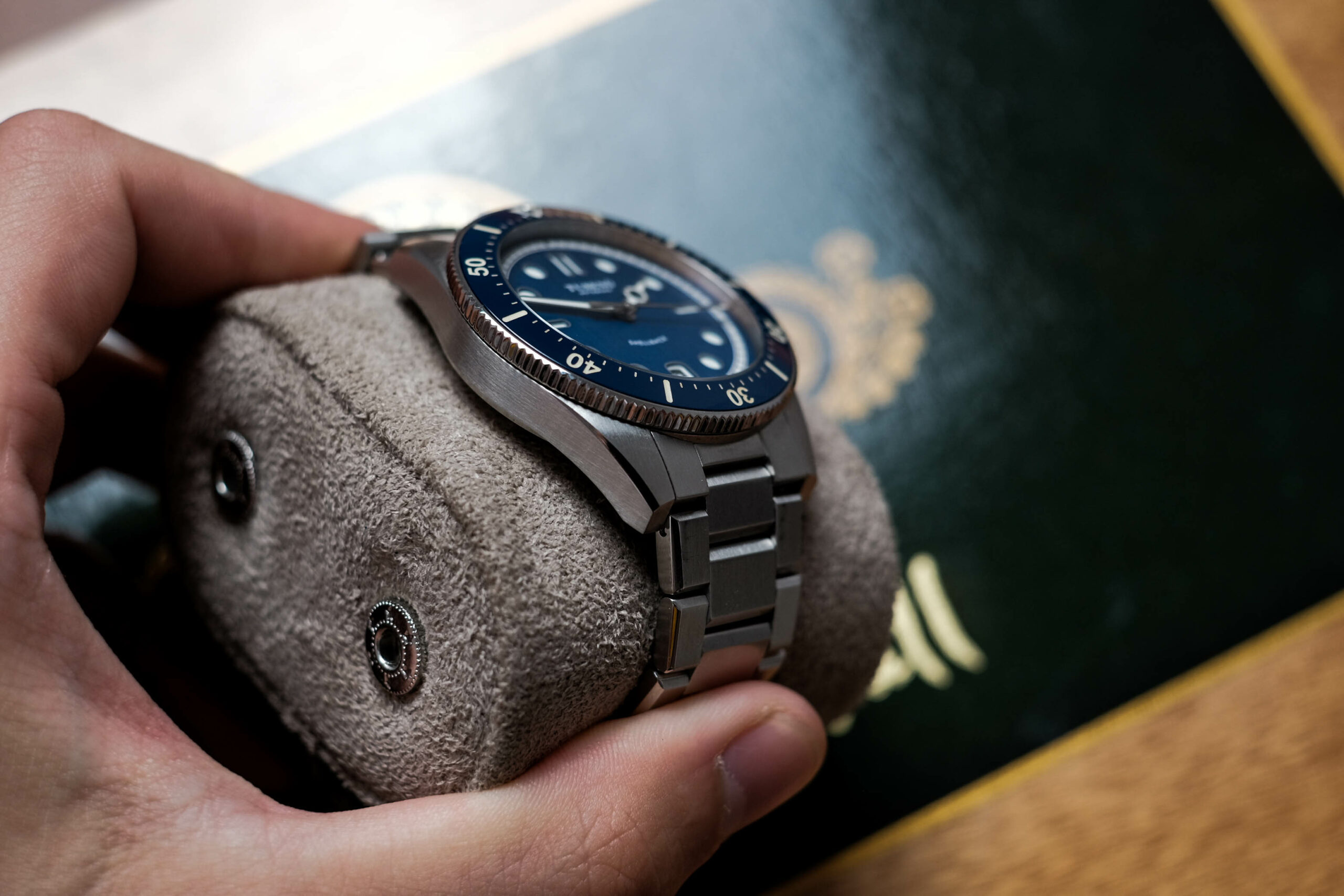 The words "elegant" and "stainless steel" don't often belong in the same sentence, but Tusenö has combined them both. This slim case has a diameter of 40mm, with a medium wrist presence and a rugged, 316L stainless steel construction. There's nothing overcomplicated about it, and the sides extend naturally out to the lugs with a graceful flow.
At the 3 o'clock position, you'll find a large screw-down crown with an embossed Tusenö logo. The screw-down design prevents it from pulling out accidentally, and helps support a water-resistance rating of 200 meters. This is a qualified dive watch and can be used at depths that most people like you and I will not be venturing to, that is unless you're a professional diver.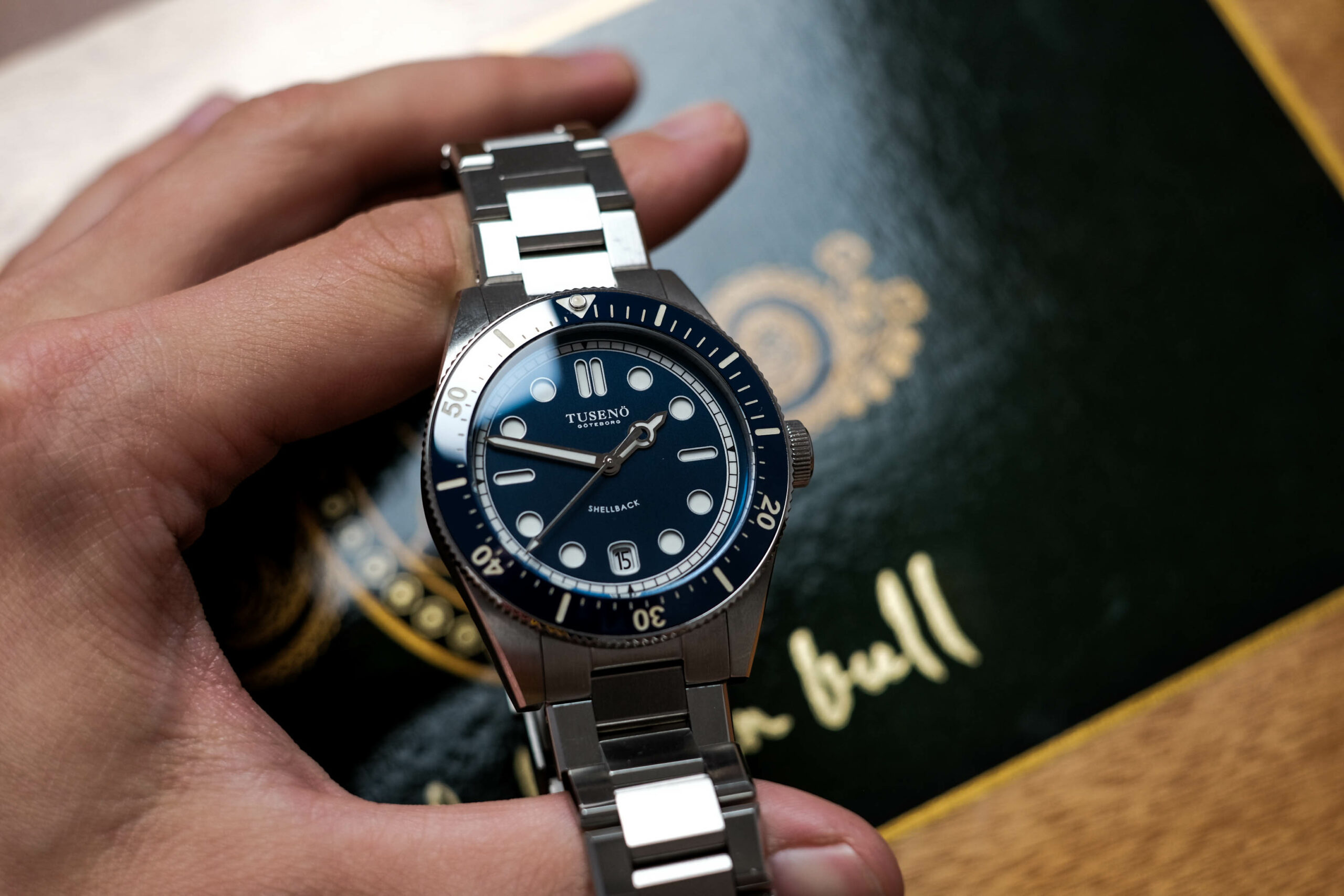 At the top, there's a flat bezel, with a blue ceramic inlay that matches the color of the dial. It has fine hashes at the minute marks, larger hashes at the five-minute marks, and Arabic numerals at the 10-minute marks. The 120-click uni-directional rotating design makes it suitable for use as a GMT watch, or as a rudimentary timer.
The bezel surround a tough sapphire crystal with an anti-reflective coating. It's slightly domed, so it magnifies the center of the dial. But it doesn't distort the outer edges, so you can read the time easily from any angle.
Movement and Extras
The Shellback utilizes a Ronda Mecano Calibre R150 automatic movement, which beats 28,800 times per hour. It's accurate to 12 seconds a day when properly tuned, although a badly tuned variant can run as fast or as slow as 30 seconds. That said, it's a hacking movement, which makes it easier to set. And with a 40-hour power reserve, it won't die if you take it off for a day.
The 20mm tri-link bracelet is a perfect match for the case. It's elegant and angular, with flat tops on all of the links. The links are well-fitted, and won't pinch when you're adjusting the watch. Pre-orders also get a bonus blue NATO strap and a matching blue rubber strap.
To view all of Tuseno's offering visit their official website here.