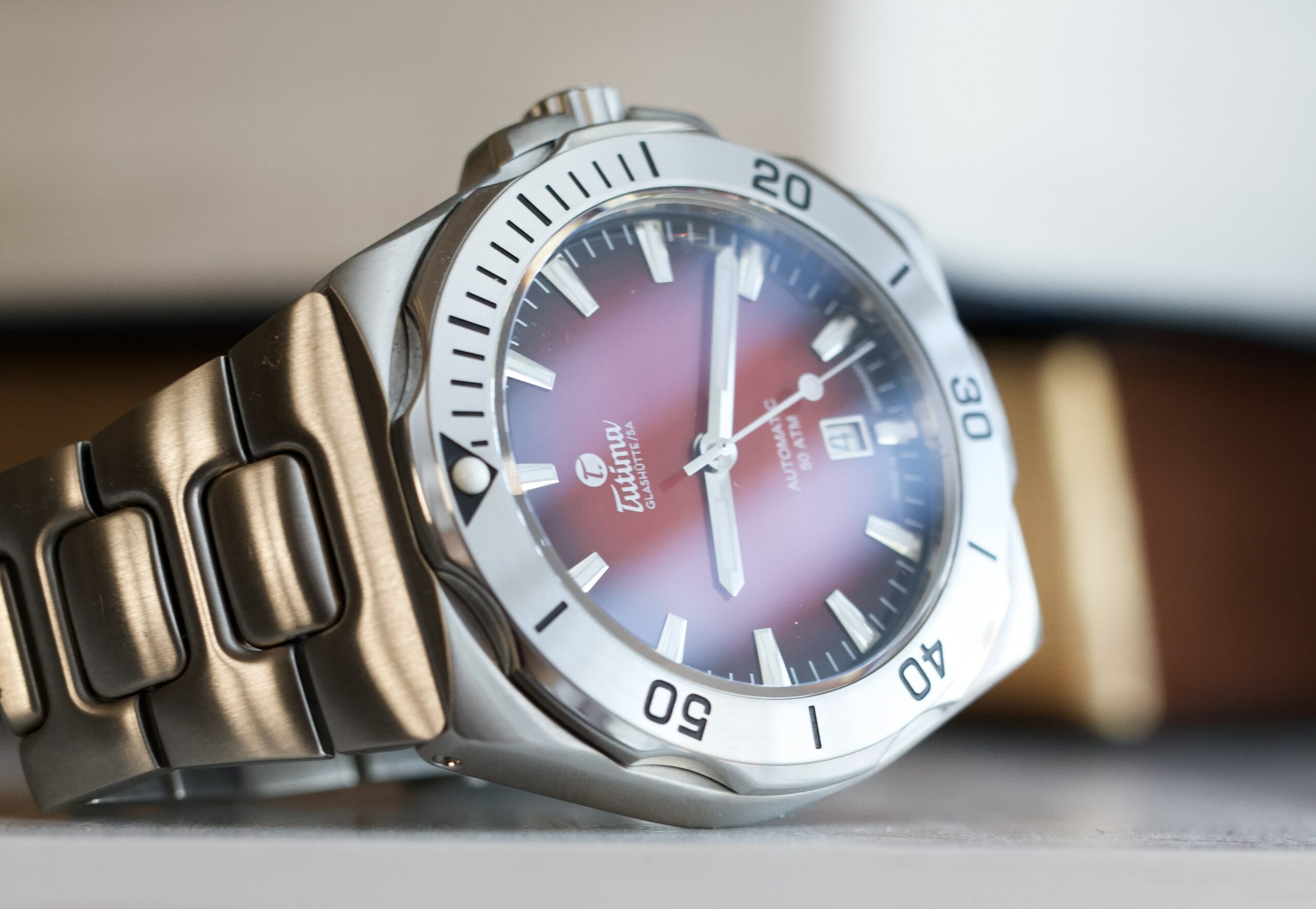 If the summer heat has you feverishly dreaming of a Monta and Sinn collaboration, look no further than Tutima's new Seven Seas S – not to be confused with the older variation M2 Seven Seas we've reviewed here. This thing is a vibe, any way you cut it. That's my take anyway. So let's get into into it. Tutima, a brand you've likely heard of is fast approaching 100 years in business. Neither "mainstream" or "micro-brand" they're blazing their own trail, and in my opinion that alone is a great reason to take a look.
Unique Take: The Seven Seas S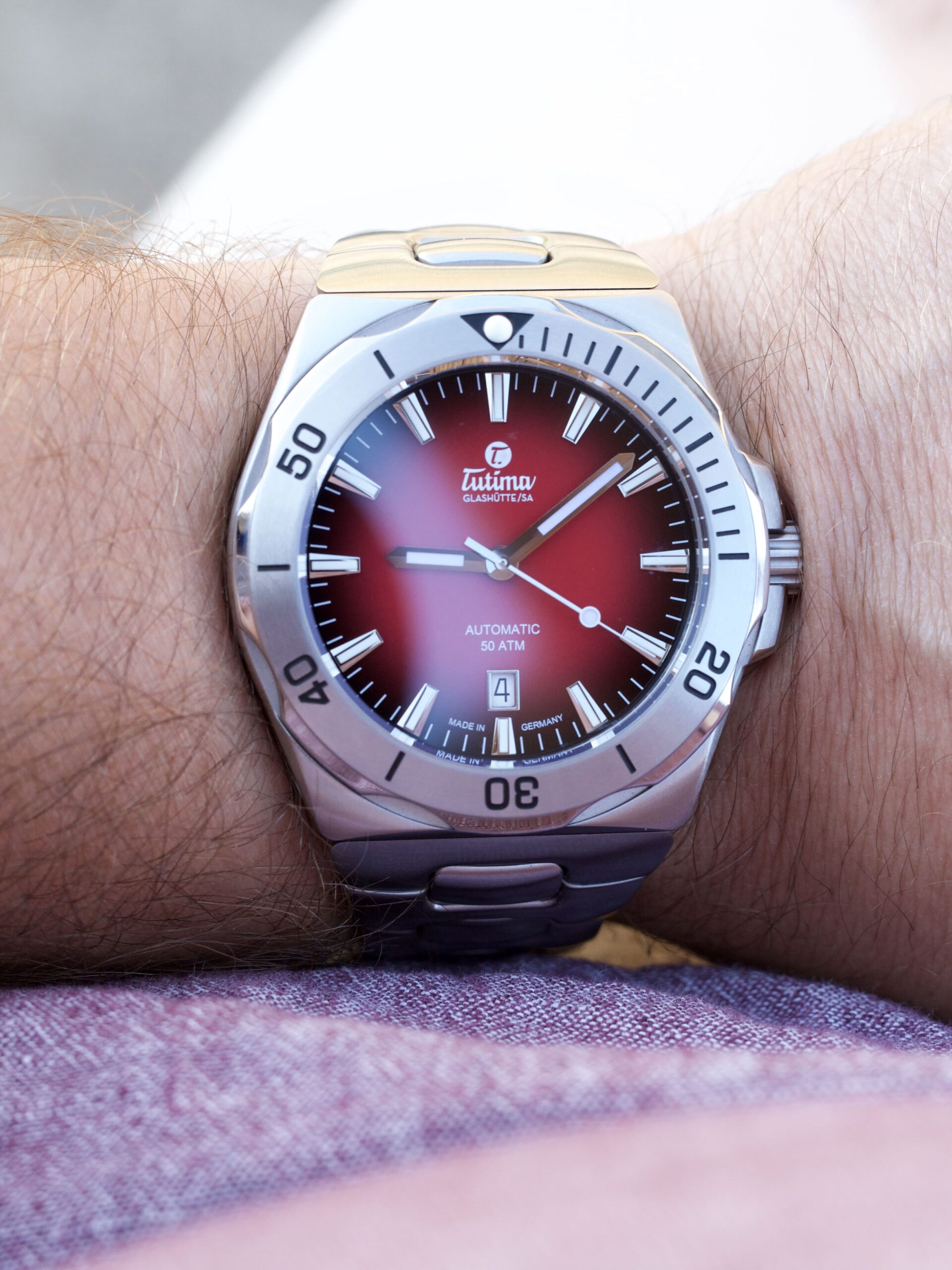 Tutima's M2 Seven Seas S lies in the M2 line of watches born out of military use chronographs from Tutima back in the 80's. While it's siblings more obviously hold a military tool watch aesthetic the Seven Seas S diverges. As I said, it's a vibe. Like it or hate it, it stands out in a crowd. While it comes in a total of 16 variants with a range of dial colors, bezels, straps and bracelets. I was sent the fully stainless steel version with the "Red Dégradé" dial.
The "red" dial, which I'd personally call raspberry was not my first pick from their line up, and yet it did not disappoint. In fact it rather grew on me. Something about the tone was captivating yet relaxing. Not "put you to sleep" relaxing but rather like a nice summer vacation (relaxing) vibe. It manages to simultaneously calm and energize. The stress falls away and you're ready to have some fun.
Summer Perfection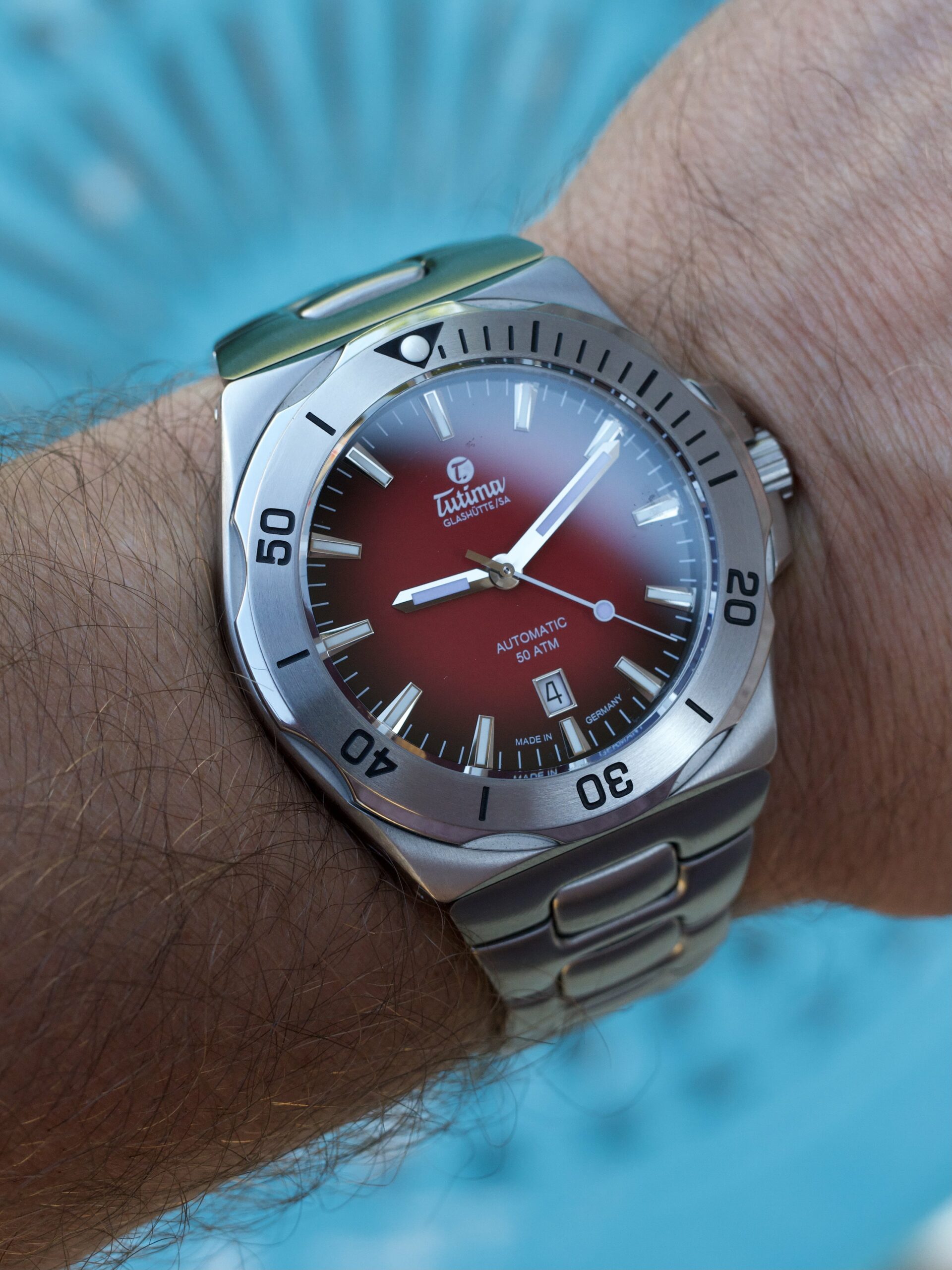 While I don't think the Seven Seas S should be monopolized by summer vacations, I'm pretty sure if I owned one it would be my go to. And why not? It's built for it. On bracelet this thing is going to look great paired with linen or a t-shirt. It's ready for a dive or a dinner out, a day on boat or an evening around a camp fire. The Seven Seas S is as ready as you are, and quite possibly a little more.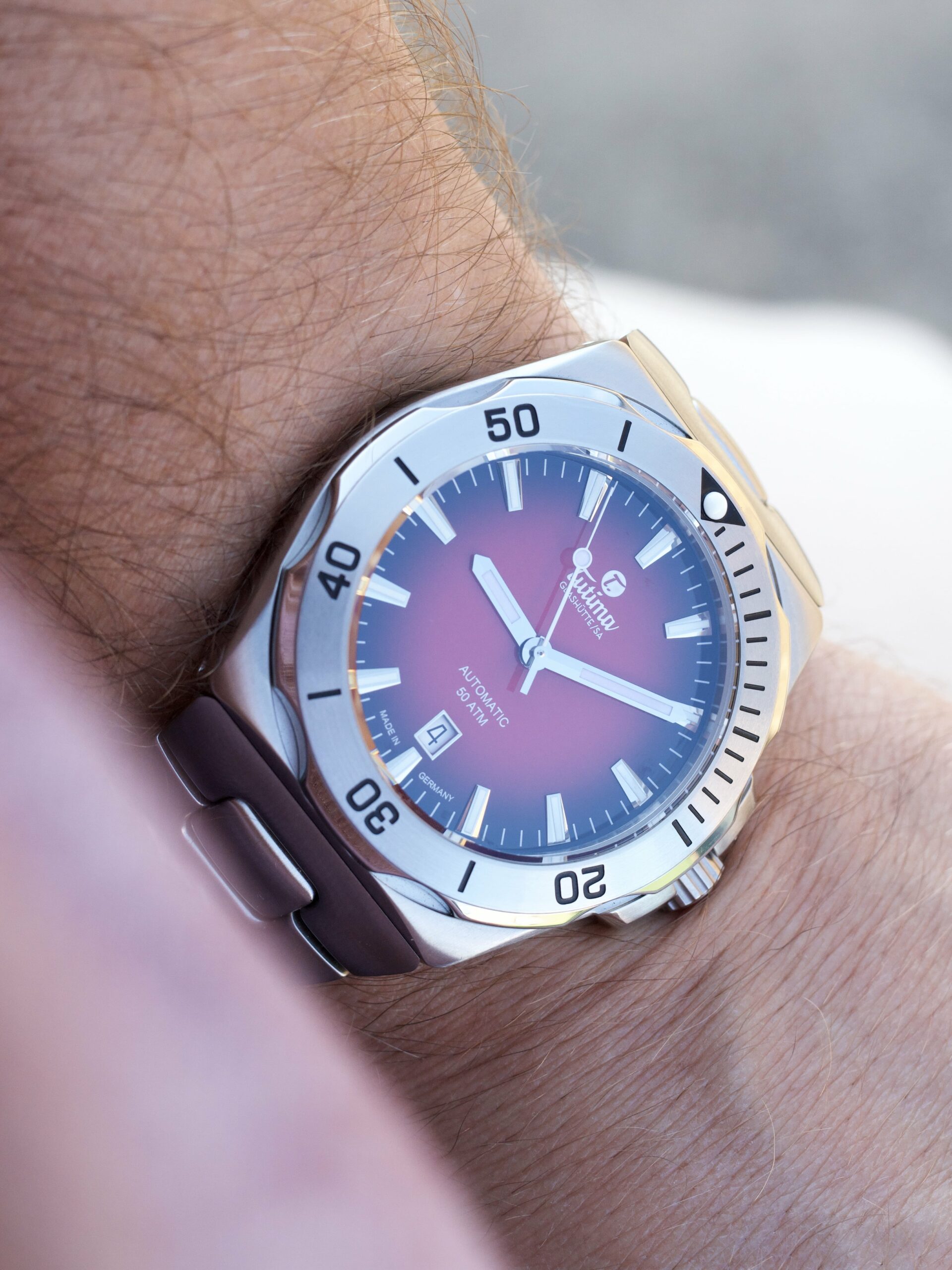 Don't let the 44mm case dimensions get in your head, this lug-less integrated bracelet adjacent design wears much closer to a 41 or 42. It's well suited for a variety of wrist sizes, though I'd guess 7.25inches might be a sweet spot. While it never felt oversized on my 7 inch wrist, being both visually appealing and physically comfortable, I'd be remiss if I didn't include at least some of it's weaknesses along with it's strengths.
Build Quality & Design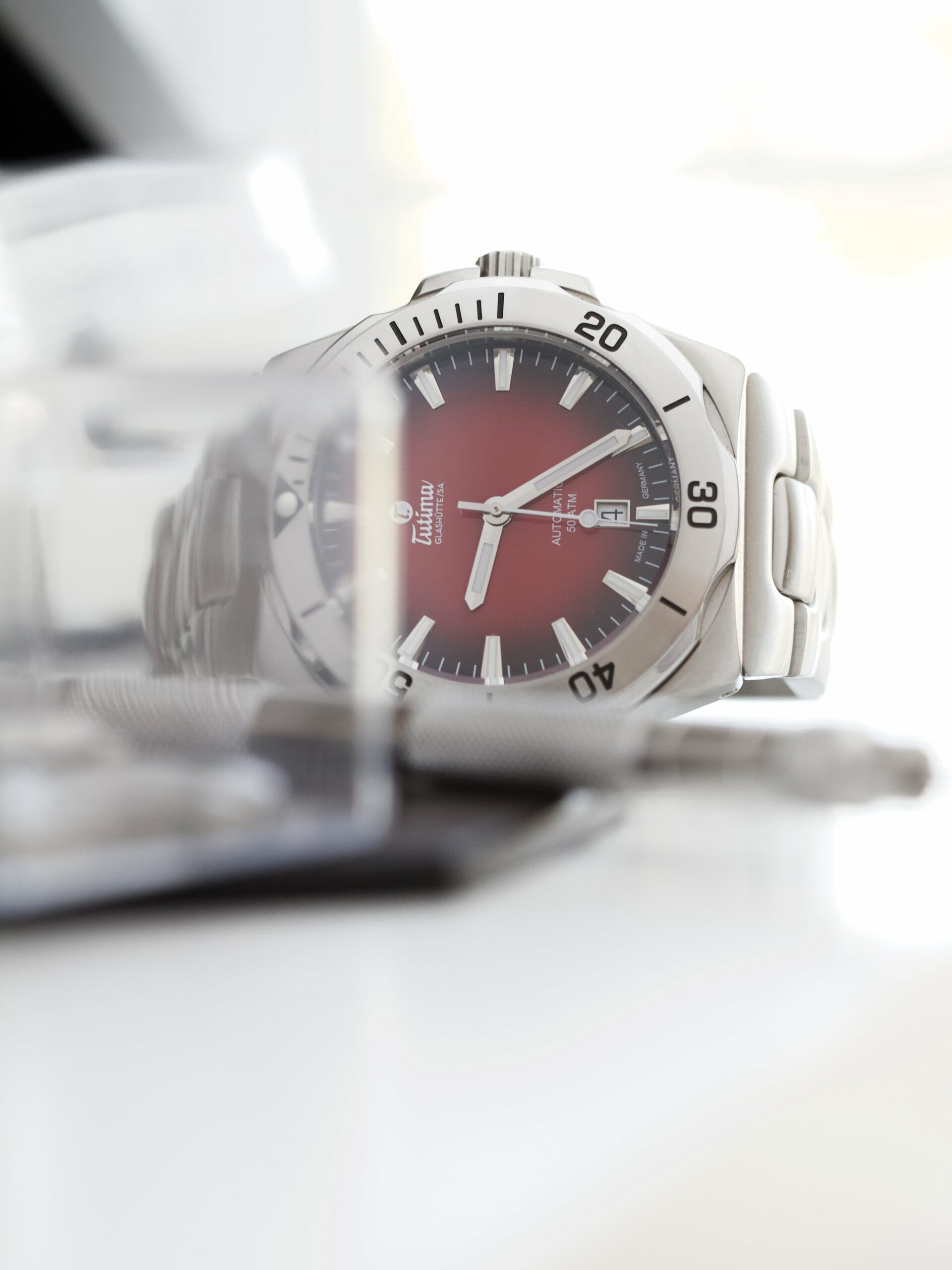 The Seven Seas S feels both solid and comfortable. While I'd like to see a higher level of articulation in the H-link bracelet, on wrist I can't say it's a noticeable factor. The bracelet feels well made, and the milled clasp stands out in both quality and its inclusion of a dive extension. With four micro adjustments you'll likely find a comfortable fit without much trouble, and the inclusion of screwed links is an appropriate addition at the price point. With little question about the quality of the bracelet itself I am left slightly surprised by the lack of a taper in the bracelet. It's no deal breaker, but a little taper can go a long way in the wearability of a watch.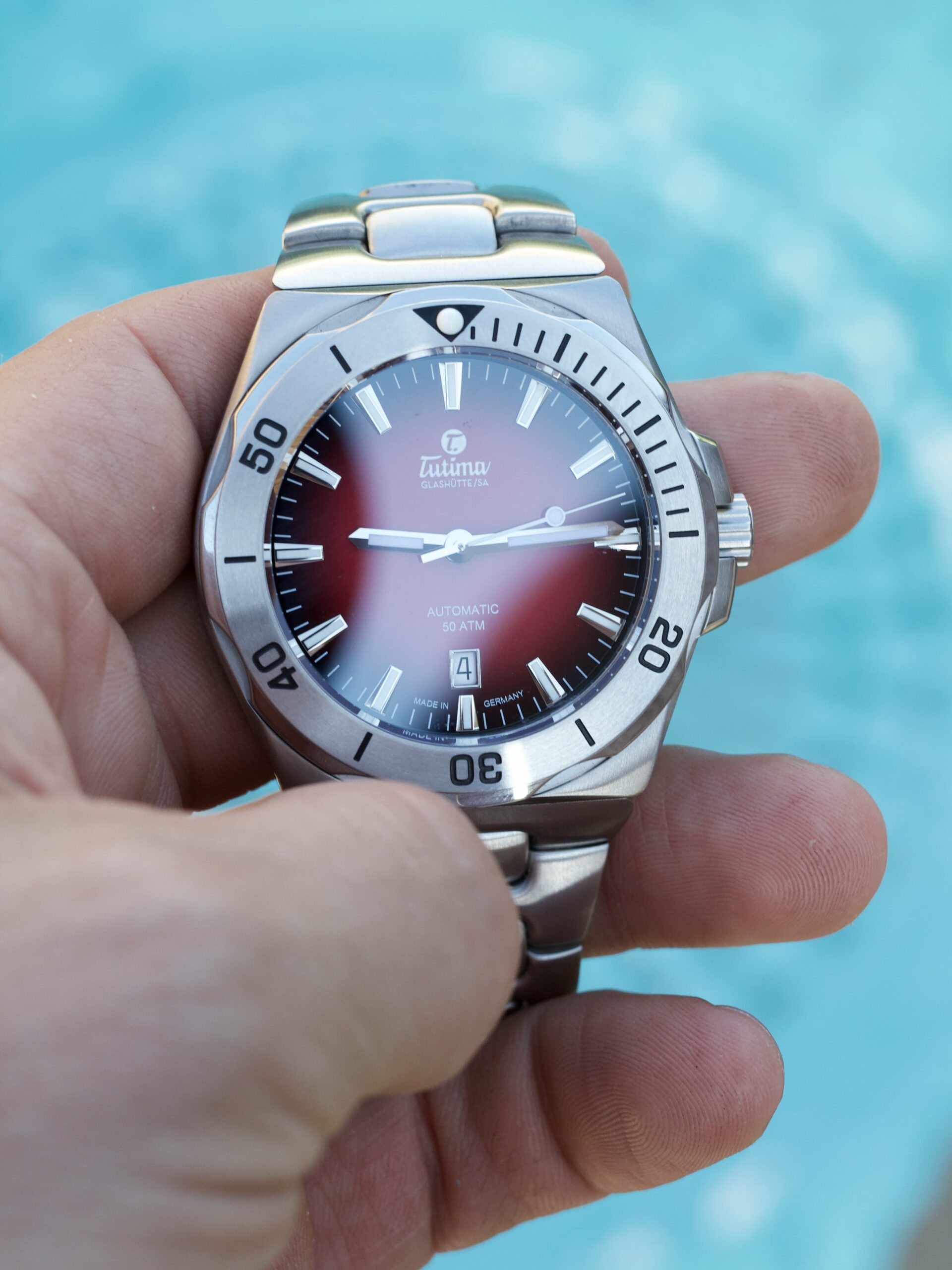 Though equipped with a 60 click bezel, lume pip and 15 minute countdown markers it's hardly a dive watch. With average at best lume, the Seven Seas S more than makes up for its short comings with 500 meters of water resistance, highly legible indices and handset, paired with incredible multi layer antireflective coating.
At the end of the day if you've been dreaming of a Sinn, Monta mashup that you just can't shake. Take a look at Tutima's M2 Seven Seas S. A handsome, highly capable tool watch, with a vibe that won't quit. My guess is you'll like it as much as I did.
Specs:
Case: 44mm x 13mm
Crown: Screw Down
Crystal: Sapphire (with anti-reflective coating)
Caseback: Screw Down
Movement: Tutima Caliber 330
Power Reserve: 38 hours
*Press Model: Kept time within COSC standards per day
Bracelet: Integrated End Link Connects to H-Links
Clasp: Milled + Double Push Button Folding
For more information visit the official Tutima website here.