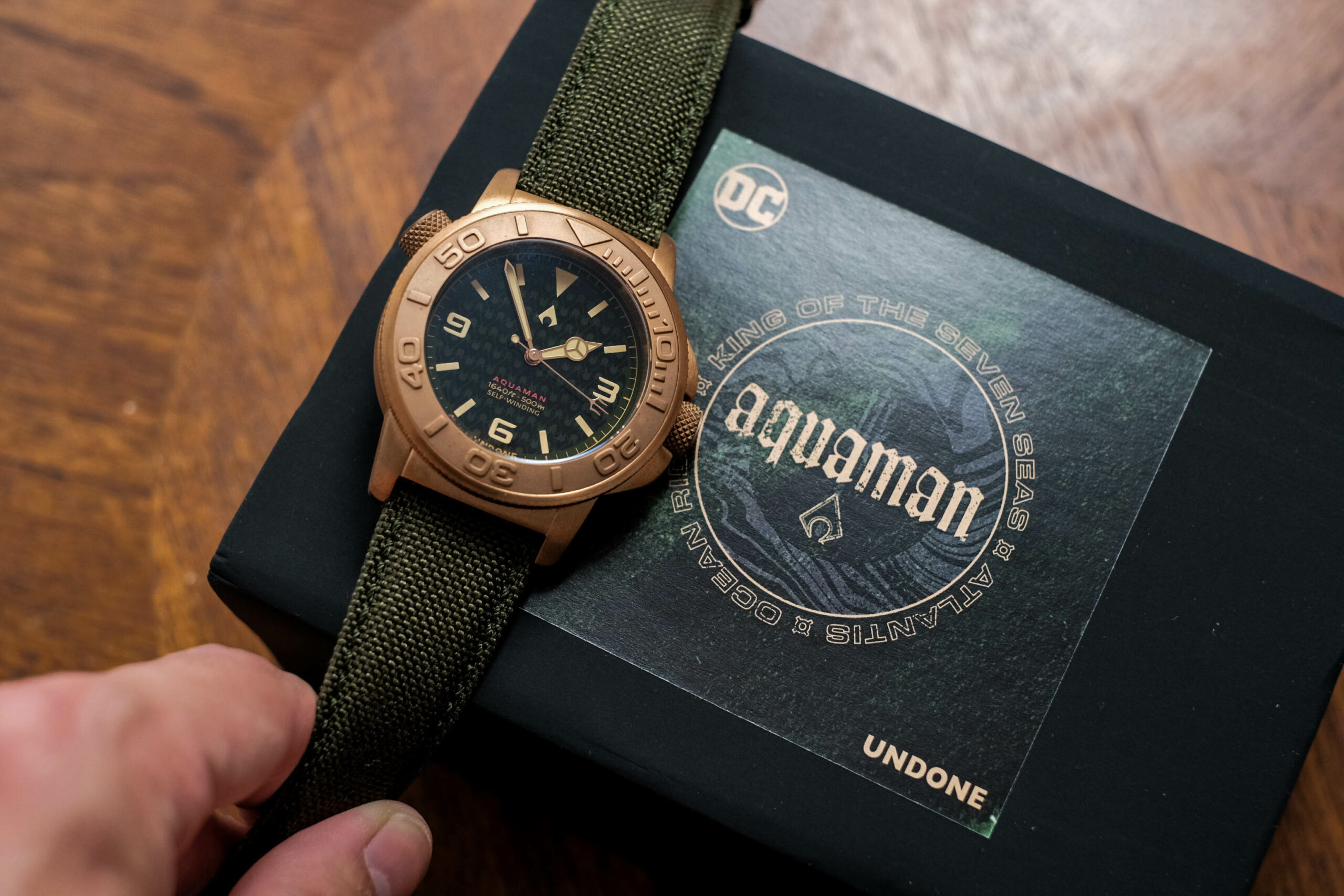 Undone originally became famous for their custom watches. And they're still a major player in that market. But they've also created a number of very well-received collaborative watches, including their Popeye limited edition and Disney Collection.
Now Undone is releasing the Aquaman Watch, which is a tribute to everyone's favorite undersea superhero. This is a limited edition, with only 300 watches available. It has a bold look, and I was interested enough to ask Undone for a sample. Here's what I found.
A Stunning Bronze Case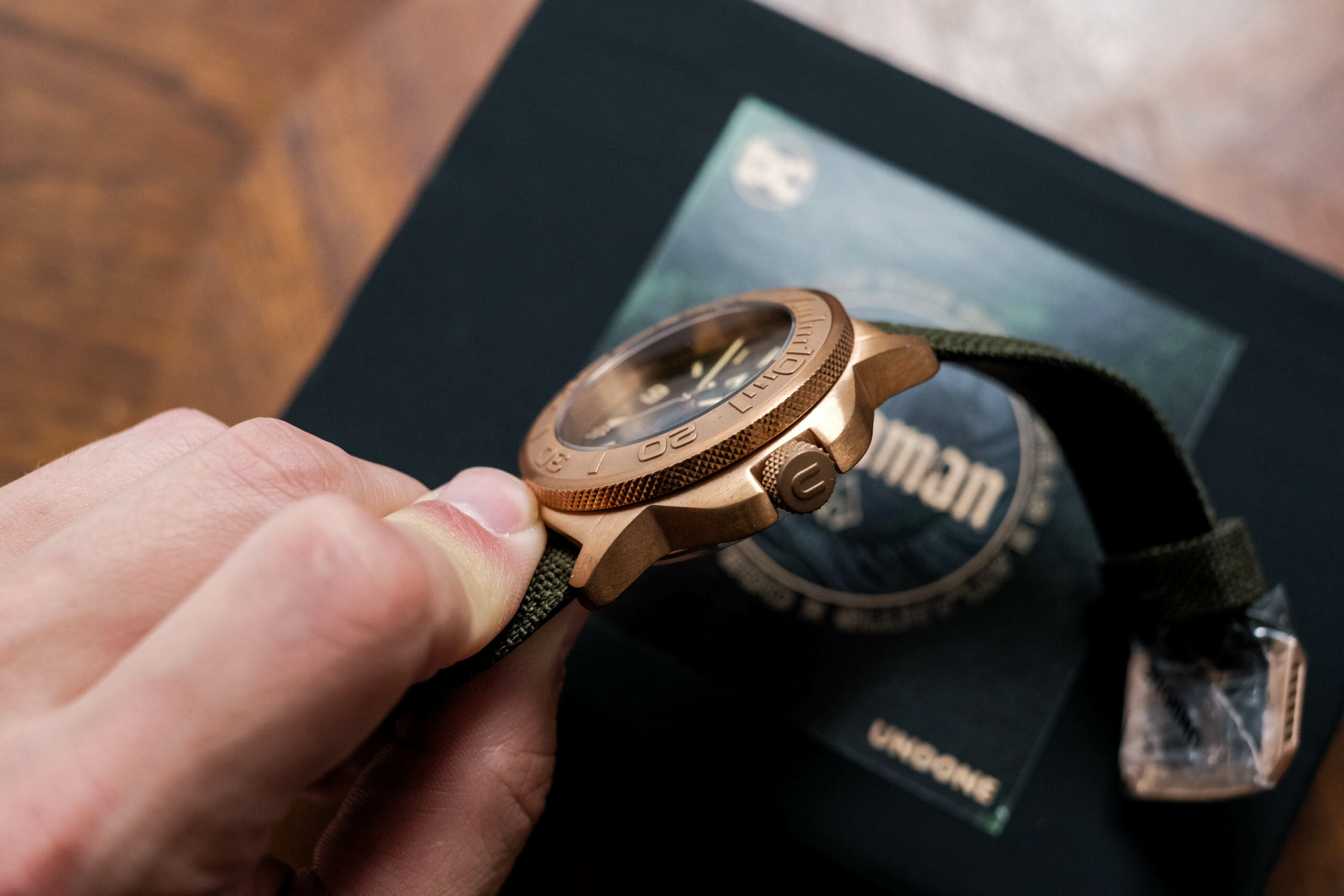 The first thing you'll notice about the Undone Aquaman Watch is the beefy case. It's milled from a solid hunk of bronze, which has a high phosphor level. High-phosphor bronze is harder than traditional bronze, and can stand up to more abuse. That said, it's also more prone to oxidation. Over time, the case will develop a patina. The case actually comes "patinated," which means it's been pre-oxidized to a certain extent. As a result, each watch is already unique, with its own pattern.
The bezel is unusually wide, with embossed hashes every minute up to the 15 minute mark, and 5-minute hashes after that. There are also Arabic numerals at 10, 20, 30, 40, and 50 minutes, and a triangle at 12 o'clock. Inside the bezel is a double-domed sapphire crystal, which is very durable and produces no distortion.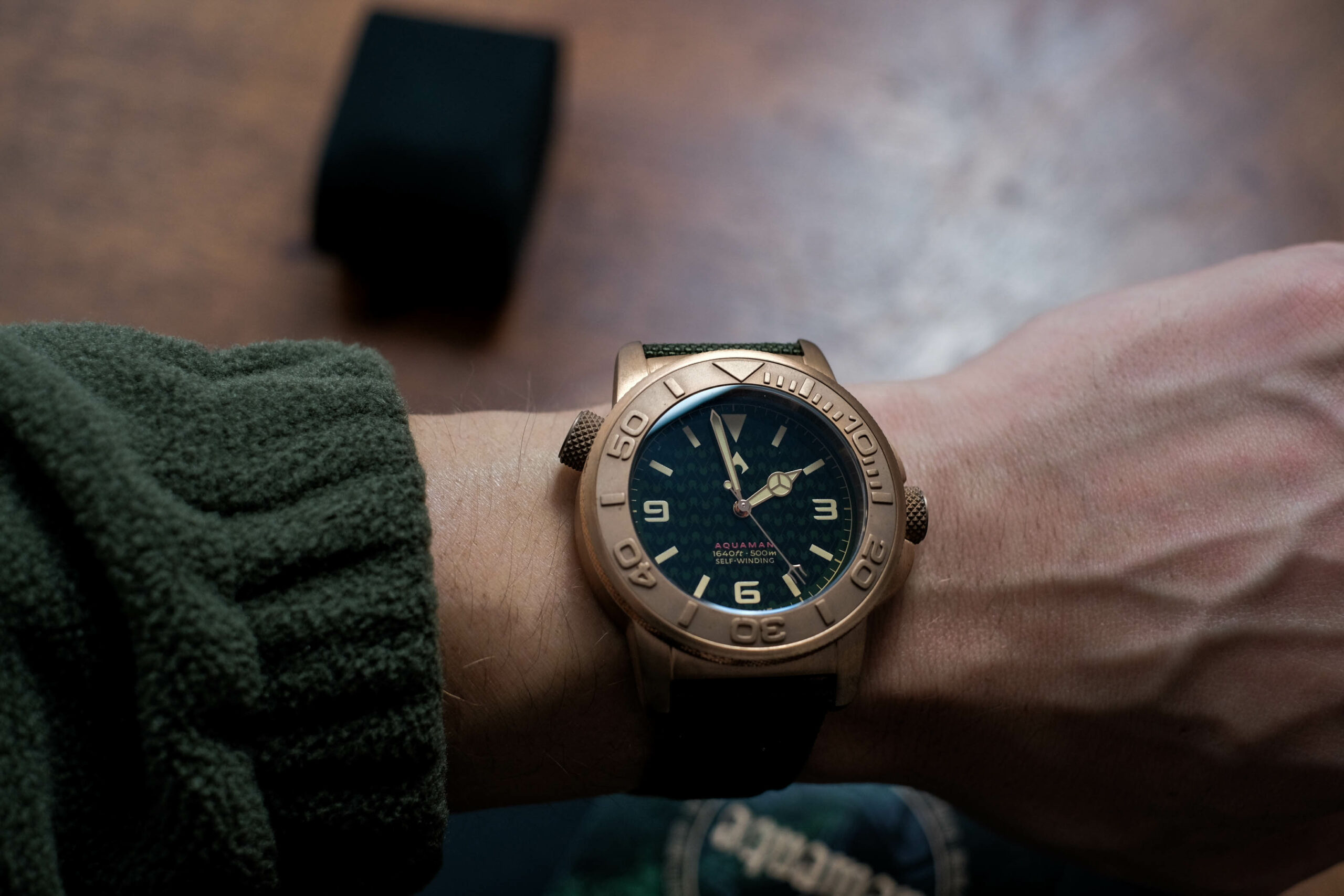 The Aquaman Watch has a water-resistance rating befitting its namesake. It can withstand submersion down to 500 meters, which is far deeper than you're ever going to go. If Aquaman needed a watch, he'd probably choose this one for its water-resistance alone. There's also a manual helium escape valve, located at 10 o'clock. This is an essential dive feature, since it prevents damage to your watch during resurfacing.
The crown is located at 3 o'clock. It's fat and knurled, which makes it easy to operate even with gloves if necessary. It's also protected by the flared side of the case, which keeps you from twisting it by mistake.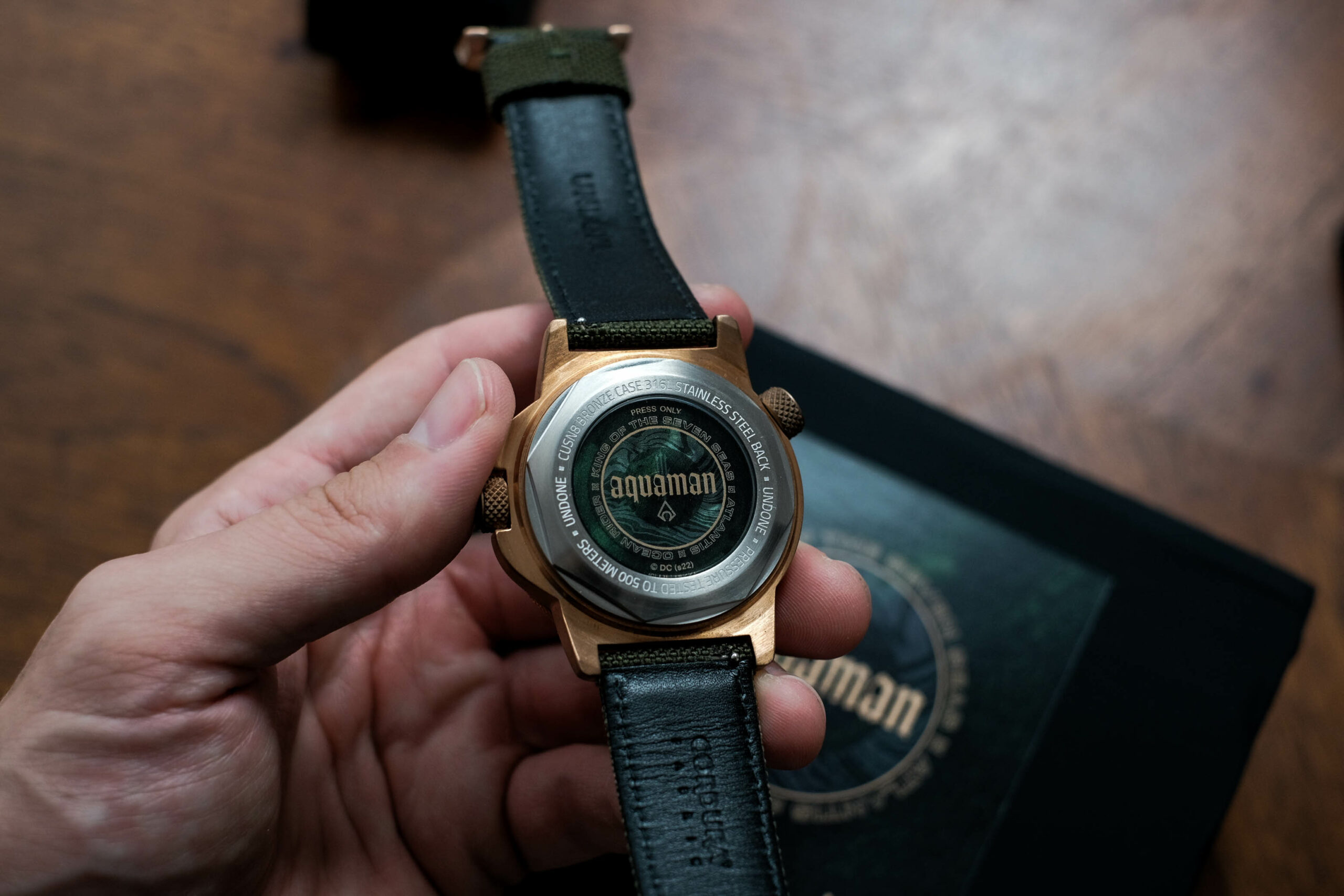 The case back is octagonal, which makes it easy to remove with the proper tools. It's crafted from 316L stainless steel, which contrasts with the rest of the case and is virtually corrosion-proof. There's a circular indent in the middle of the case back, with green Aquaman branding. The word "Aquaman" is printed across the center in big copper lettering, with smaller writing around the outside. There's also a limited edition number at the top, ranging from 1 to 300 out of 300.
An Aquaman-Themed Dial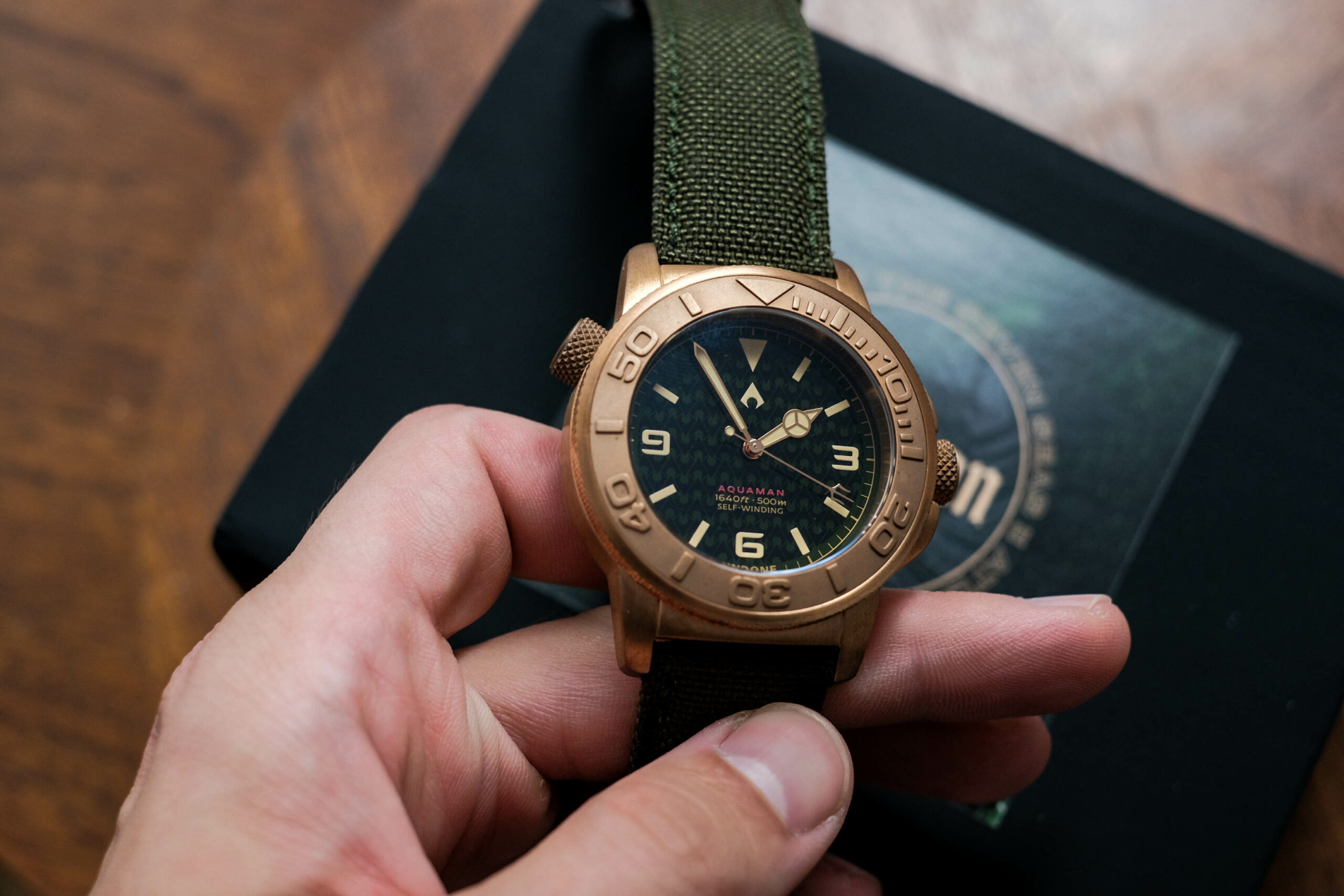 As you might expect, everything about the dial has an Aquaman-related twist to it. To begin with, look at the light green pattern on the dark green background. It's a set of Aquaman logos, arranged in staggered columns facing different directions to look like scales.
A bronze ladder index wraps around the circumference of the dial, with a hash at each minute mark. Inside of this ladder index is a much larger index with fat, long hashes and Arabic numerals at 3, 6, and 9 o'clock. At the 12 o'clock position, there's an inverted triangle, with an Aquaman logo underneath it. All of these markings have a bronze tone that matches the case.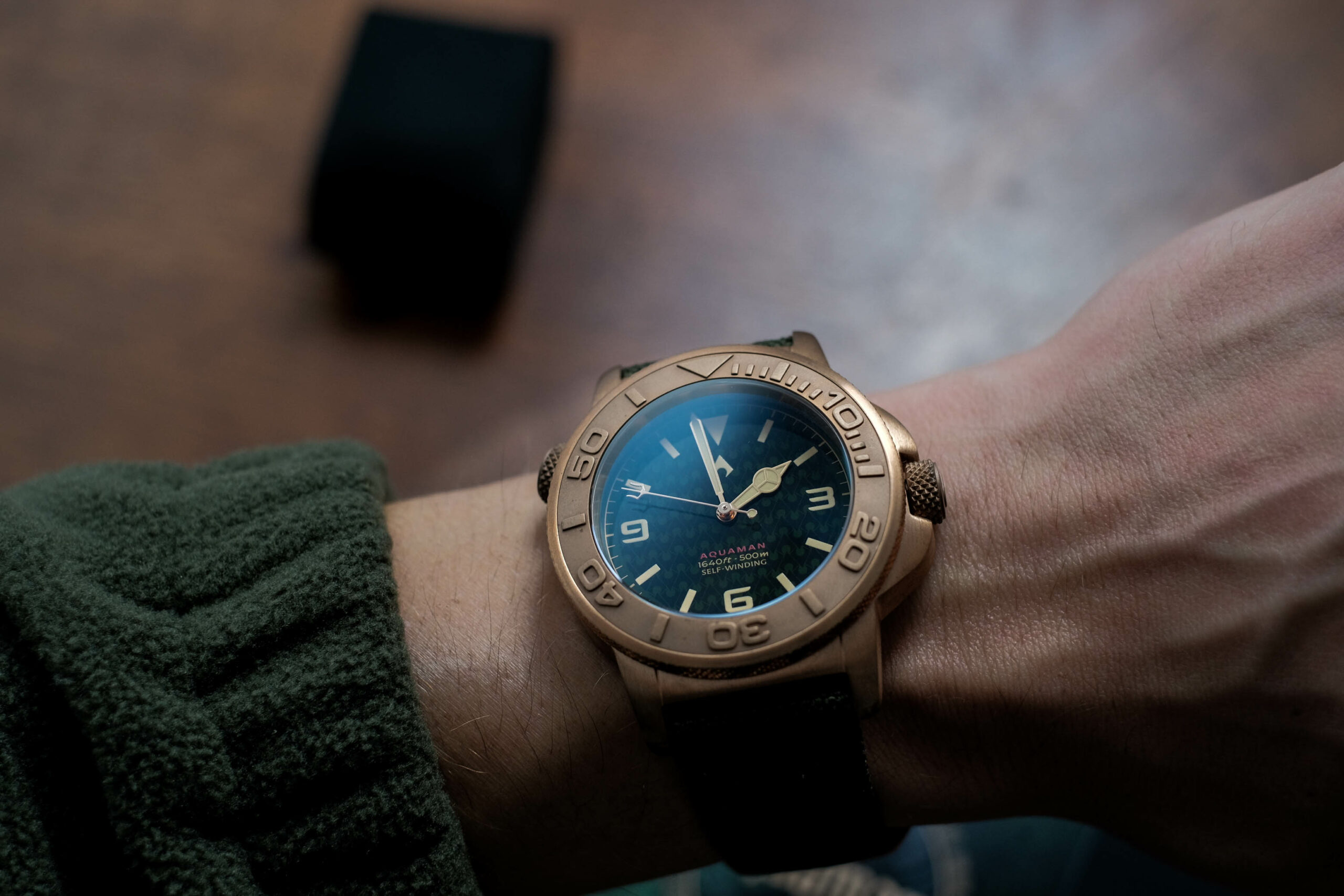 The hour hand is short, with a circular segment partway along its length, marked with a three-pointed star. The minute hand is longer and broadsword-shaped, and both are made from bronze with a lume filling. The second hand is slender, and tipped with a trident.
At night, the index, minute hand, and hour hand glow bright green. This is another great touch that fits with the Aquaman theme.
The Technical Stuff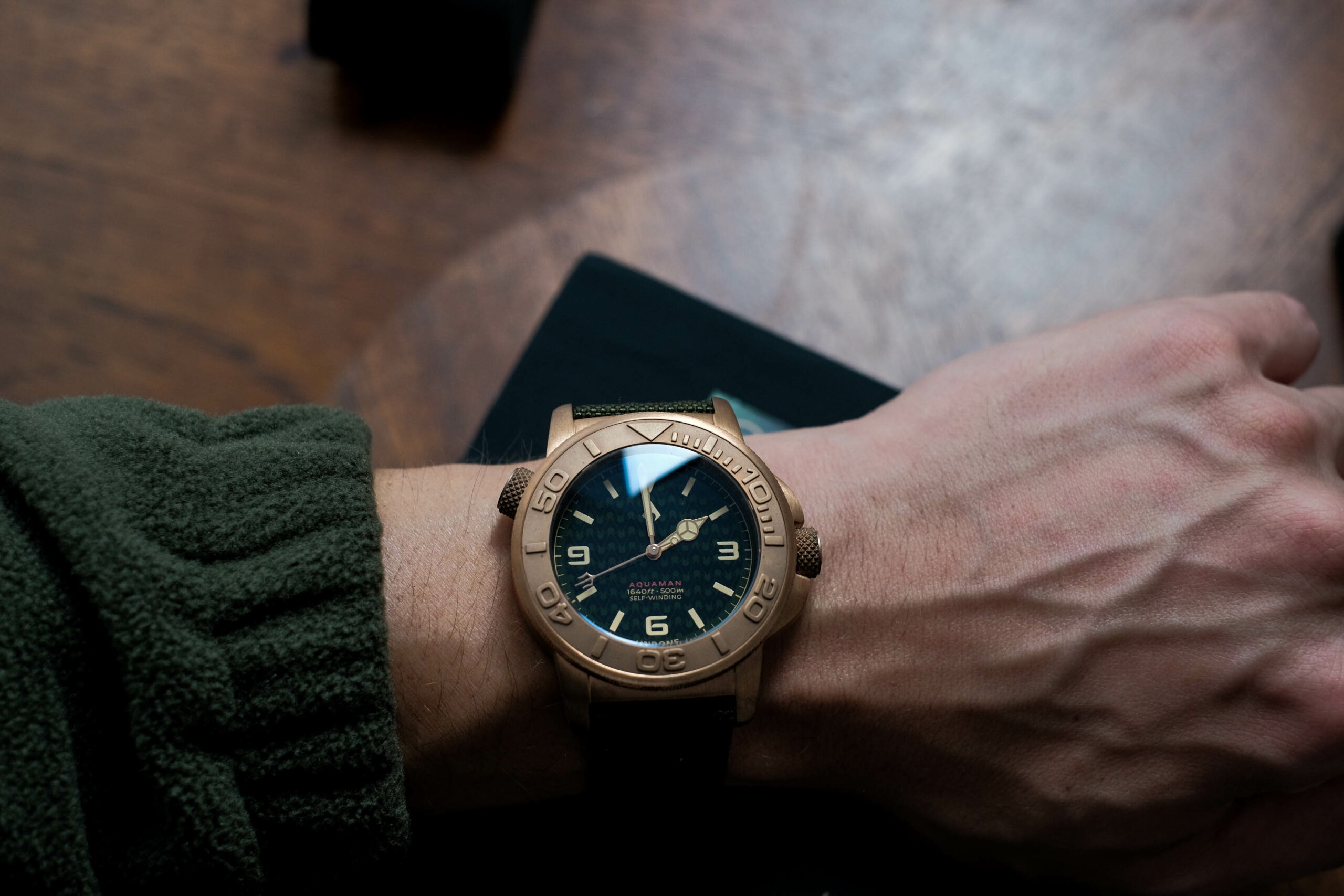 The Undone Aquaman Watch is powered by a Seiko TMI NH35A movement. This movement is automatic, and beats 21,600 times per hour. It's reasonably accurate as automatic movements go, but I did have a minor complaint. It's non-hacking, which makes it a little bit trickier to set.
This watch is 43mm across, not including the crown. The crown adds about 3mm, and the crown guards are quite wide. This gives the watch a wide wrist presence, although a lot of that is bezel. At 17mm thick, the case isn't overly fat. That said, bronze is heavy, and you'll definitely feel its weight when you're wearing it.
Along with the Aquaman Watch itself, you get a beautiful, functional strap. It's brown, so it goes well with the bronze, and it's made of two materials. The outer surface is made from a dense nylon weave, which makes it tough enough to take a lot of abuse. Meanwhile, the inside is lined with Cordura leather. This material is smooth, soft, and comfortable. It flexes easily, and is adjustable enough to fit on almost any wrist.
Undone backs this watch with a 12-month manufacturer's warranty. If it fails prematurely, they'll repair it at no cost to you.
For more information visit the official Undone website here.