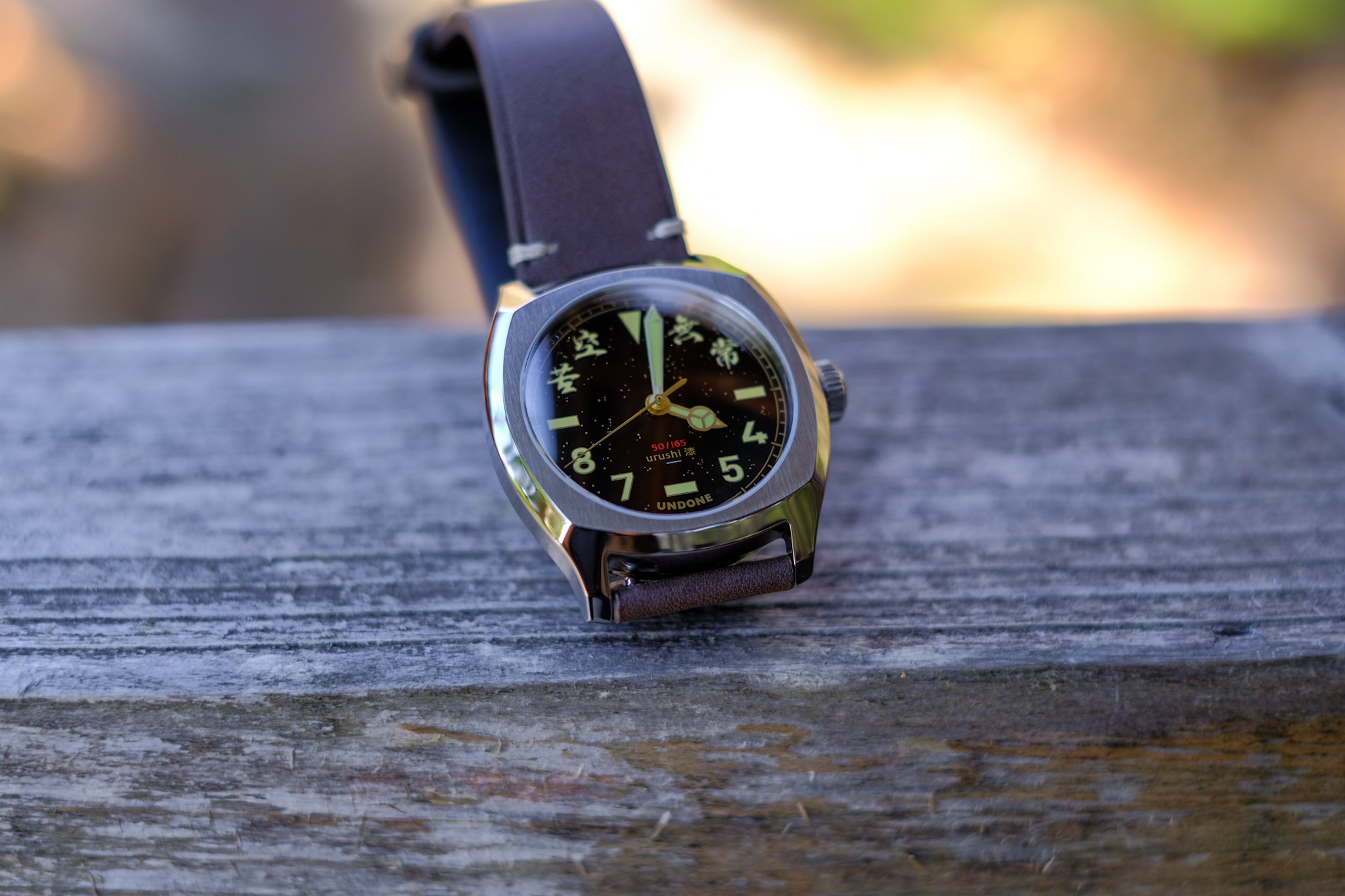 On April 28th, up-and-coming watchmaker Undone announced the third in a series of collaborations with Japanese craft house Simple Union. This began in 2019 with a focus on the Japanese concept of Wabi-Sabi (impermanence and imperfection). In 2020, their second collaboration, a 300-watch limited edition, sold out within two days of its launch. And as a big fan of Undone's previous offerings, I was eagerly waiting to see if 2021 would bring a third collaboration.
I was not to be disappointed. This year, Undone has continued to explore Wabi-Sabi philosophy, this time using the traditional Japanese characters for existence. These are positioned around a truly unique dial that fuses Arabic numerals and Japanese Kanji characters. There are two different variants: the Sometsuke and the Urushi. The Sometsuke has a blue and white porcelain finish, and comes with a patterned cloth strap. The Urushi has a black and gold finish, comes with a black leather strap, and it's the version I reviewed. Other than the cosmetic differences, the two are functionally the same, with an identical case and movement.
The Urushi Dial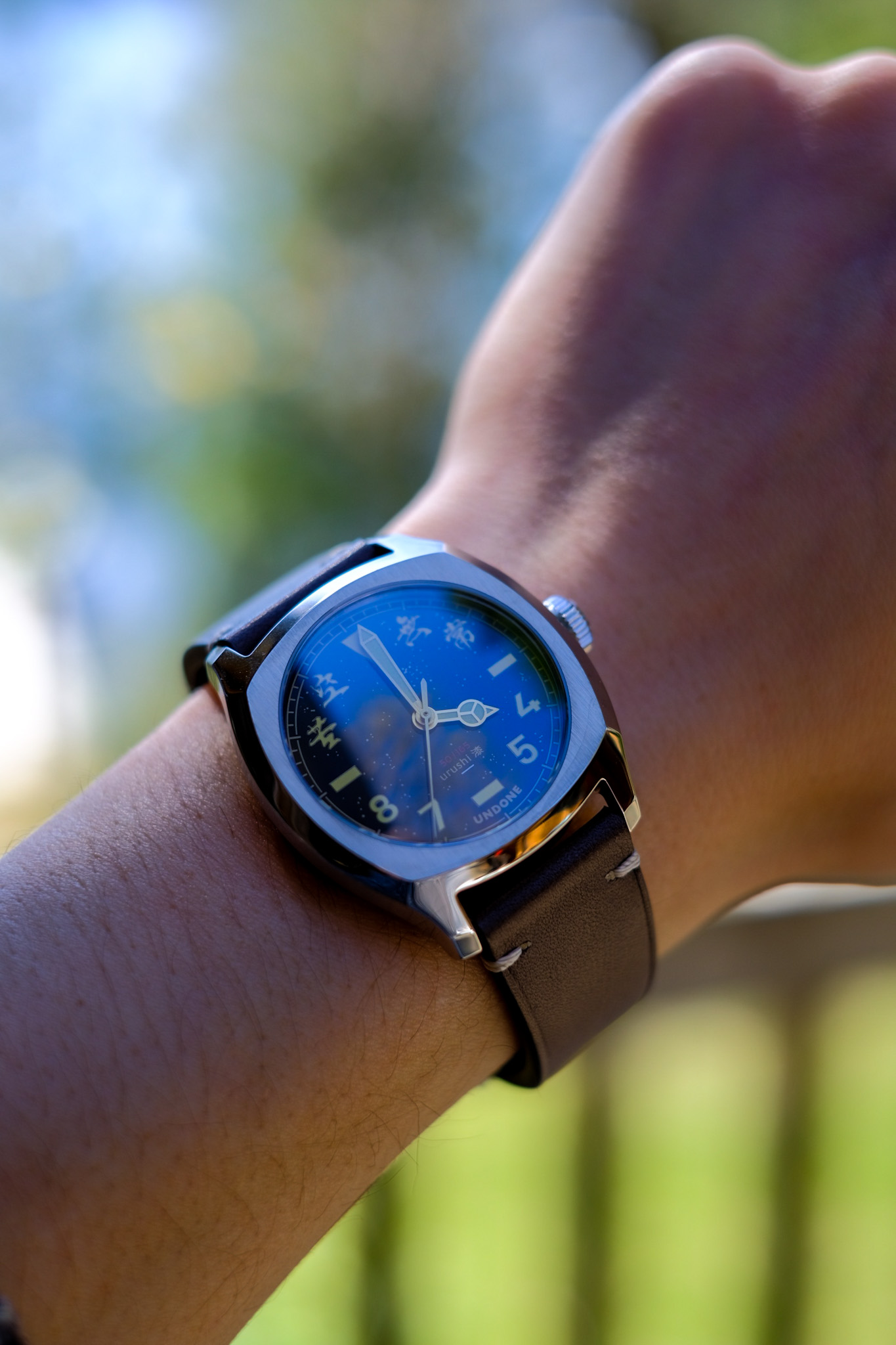 Urushi is a type of Japanese lacquerware that dates back to the middle ages. Back then, some of the most committed Buddhist monks would undergo a living mummification to truly let go of their material selves and achieve nirvana. As part of this process, they would drink a tea made from the Urushi tree, a plant which is toxic if not prepared correctly. When dried, the sap from this tree forms a durable lacquer that's analogous to the toughest of modern polymers. As a result, it became a popular material for finishing pottery and other ceramics.
The black Urushi dial is speckled with gold, which is a fusion with the Japanese art of Maki-e. This art involves sprinkling precious metal dust into the drying finish to give it a speckled, shimmery look. This is the same technique used for traditional Japanese tea cups. On the top of the dial, you'll notice that the gold 10, 11, 1, and 2 o'clock markers have been replaced with the Japanese characters 法, 常, 苦, and 空. These correspond to the philosophical concepts of existence, impermanence, suffering, and self-denial. These concepts are central to the Wabi-Sabi philosophy, around which this watch is based.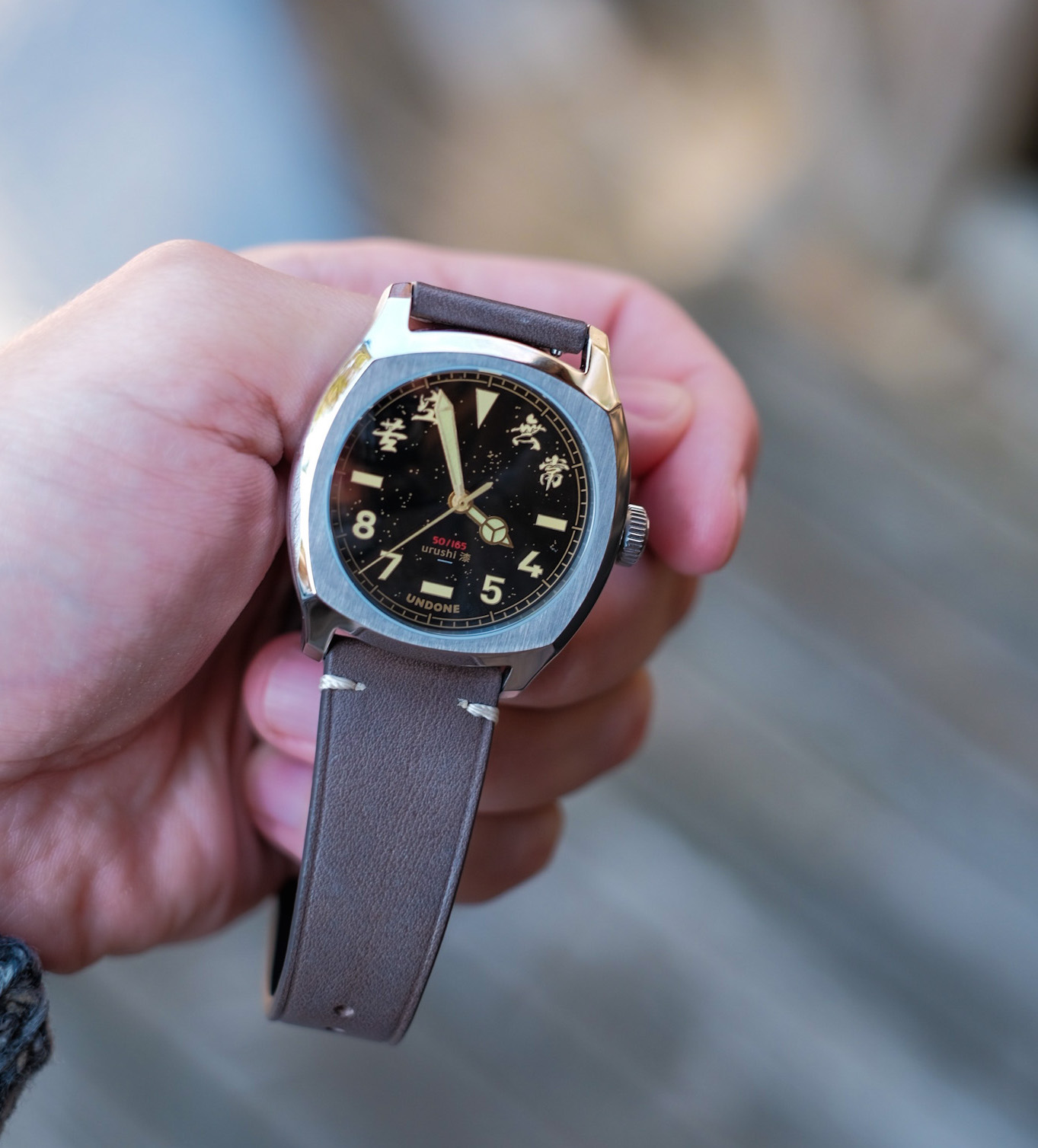 While the top half of the dial hearkens to Japanese tradition, the bottom half is more contemporary. The 4, 5, 7, and 8 o'clock positions are indicated with gold Arabic numerals, with the 3, 6, and 9 o'clock positions marked by dashes. As with many watches, there's a triangle marker at 12 o'clock for added emphasis.
The hour and minute hands both have a faux skeletonized design, with a broad, lume-filled shape edged with delicate gold borders. The minute hand is angular, with a triangular tip and sharply slanted sides. The hour hand is shorter and more squat, with a round pendant and skeletonized peace sign towards the tip. You won't find any date window or other modern complications on the dial. Everything is elegant and minimalist.
A Reliable Case and Crystal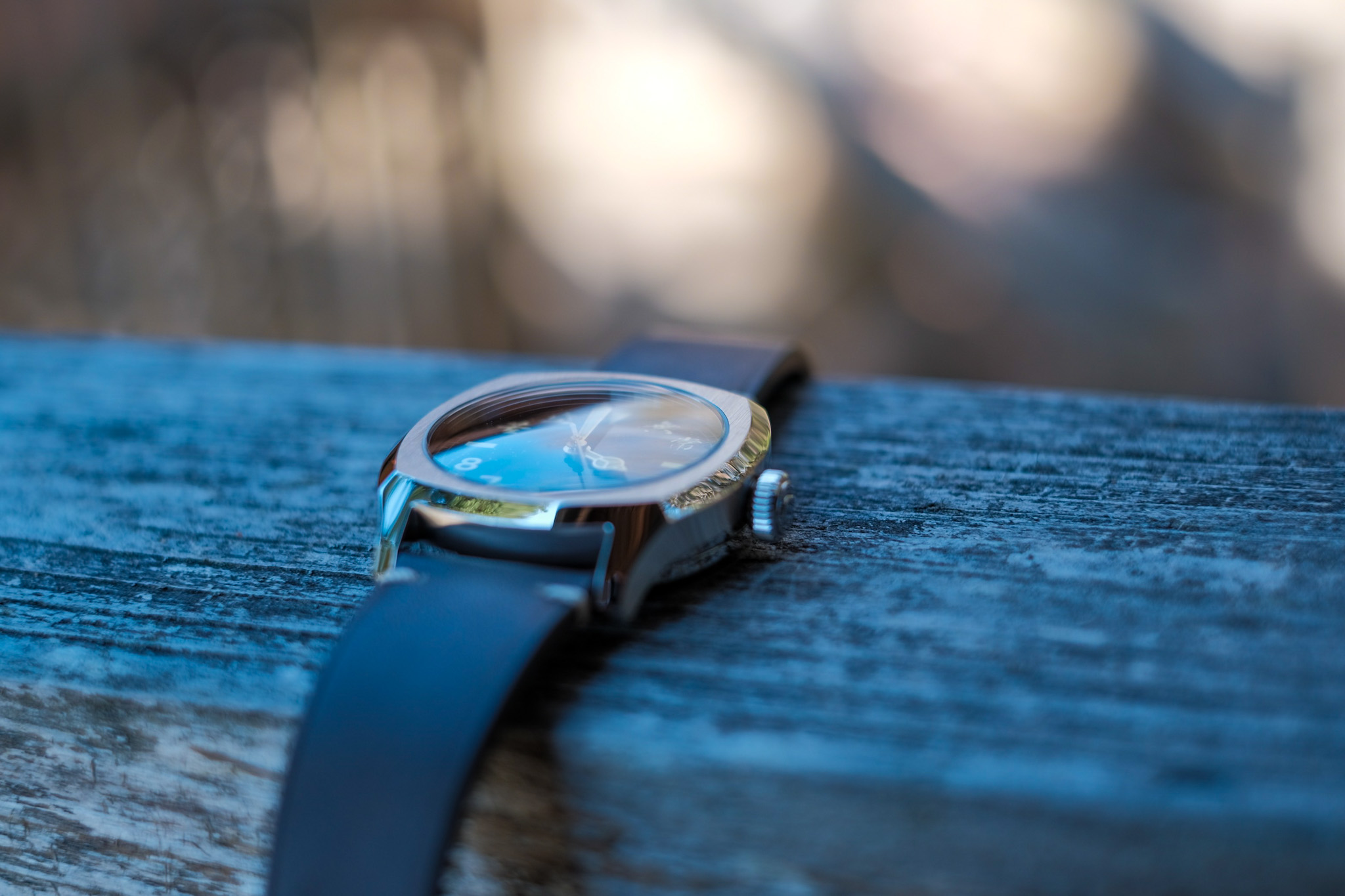 The Urushi is engineered with a durable stainless steel case that's mid-sized and comfortable on both men's and women's wrists. With a diameter of 37mm, a lug-to-lug measurement of 43.3mm, and a thickness of only 12.8mm, it's both elegant and lightweight. In fact, it's actually a bit slimmer than the specifications make it sound. At least a millimeter of this thickness comes from the domed sapphire crystal, which is treated for glare-resistance.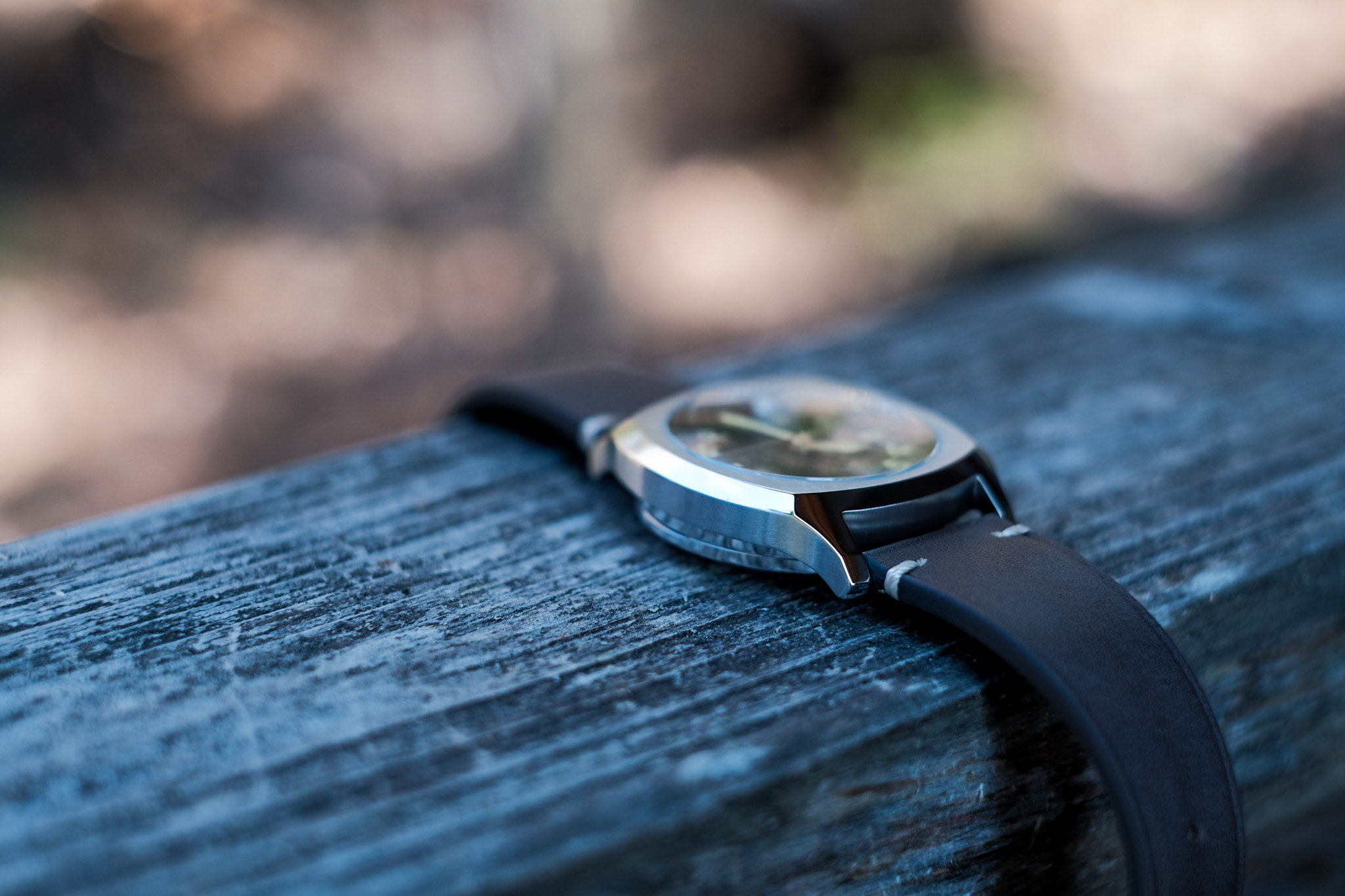 The side of the case sports a ribbed, button-style crown, which screws down to provide a water resistance of 50 meters. With this rating, you should avoid swimming or prolonged submersion, but you don't have to worry about the case leaking in the shower or the rain.
The strap is crafted from smooth brown leather, with fine stitching down the sides for reinforcement. It feels soft and comfortable on the wrist, and its stainless steel buckle is both easy to open and easy to close.
A Tried and True Automatic Movement
The beating heart of the Urushi is a SEIKO NH35A movement. This is a relatively new movement, initially released in February of 2011. However, it's not actually a brand new design. It's an upgraded variant of the older NH25A movement, one of SEIKO's previous most popular movements. Now, the NH35A has mostly taken its place. As far as performance goes, it's as accurate and reliable as the older NH24A. However, it's now hand-winding and hackable as well as functioning as a pure automatic. In addition to many watches from flagship brands, it's also available in many microbrand watches.
This movement beats at a smooth 21,600 beats per hour, and has an accuracy of +/- 15 seconds per day, in line with most affordable modern automatics. It also boasts a 42-hour power reserve.
To view the full range of Undone watches visit their official website here.