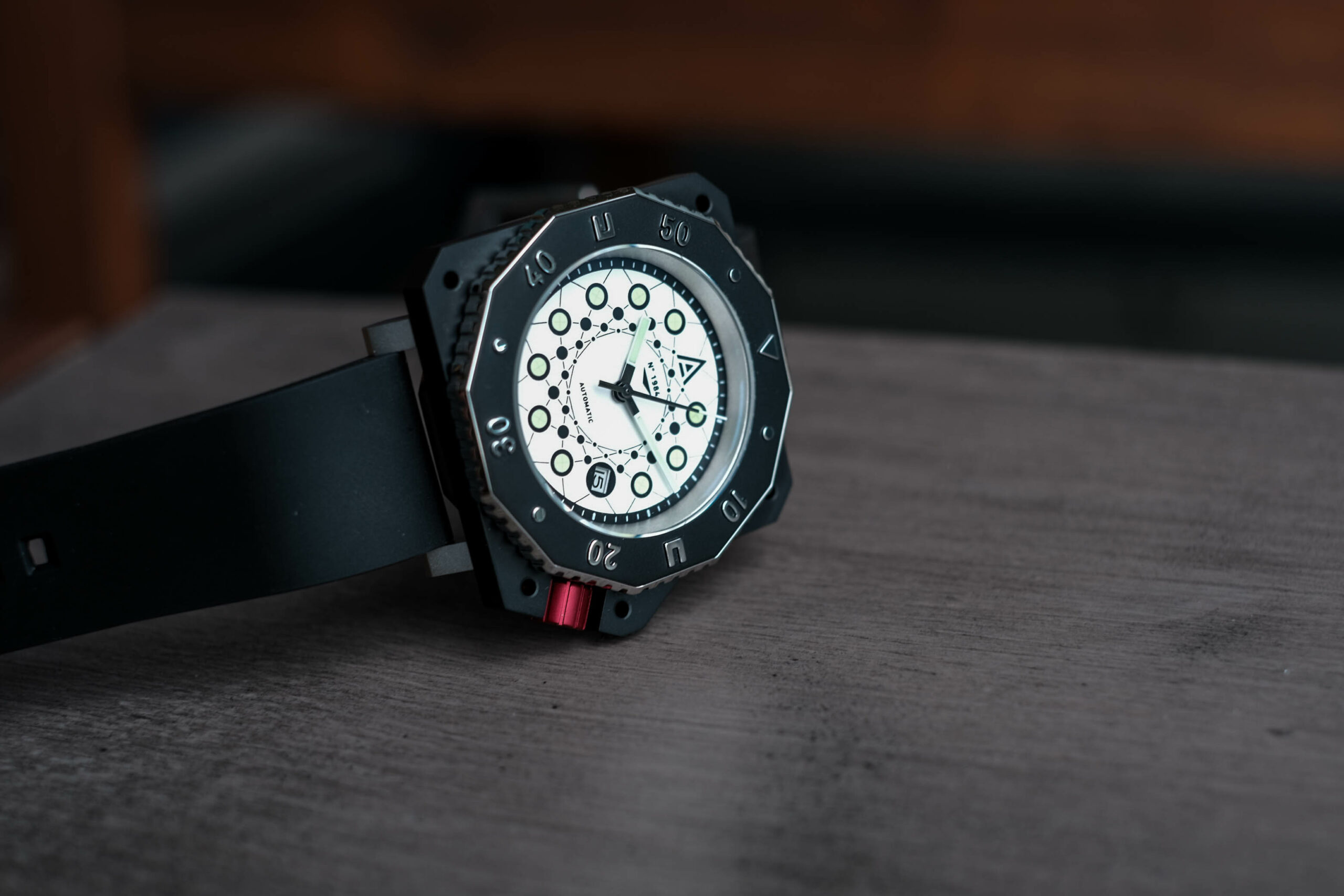 Despite being a newer watchmaker, WT Author is quickly becoming one of my favorite brands. They've made a name for themselves developing unique watches with bright, colorful designs. Even their more formal, monochrome watches use quirky dial symbols and other striking visual elements. Whenever you're looking at one of their timepieces, you're going to see something you've never see before.
Recently, they've announced the release of a new watch, available for pre-order on their website, and as of June 10th, 2022, there are several discounted "early bird" pieces still available on Indiegogo.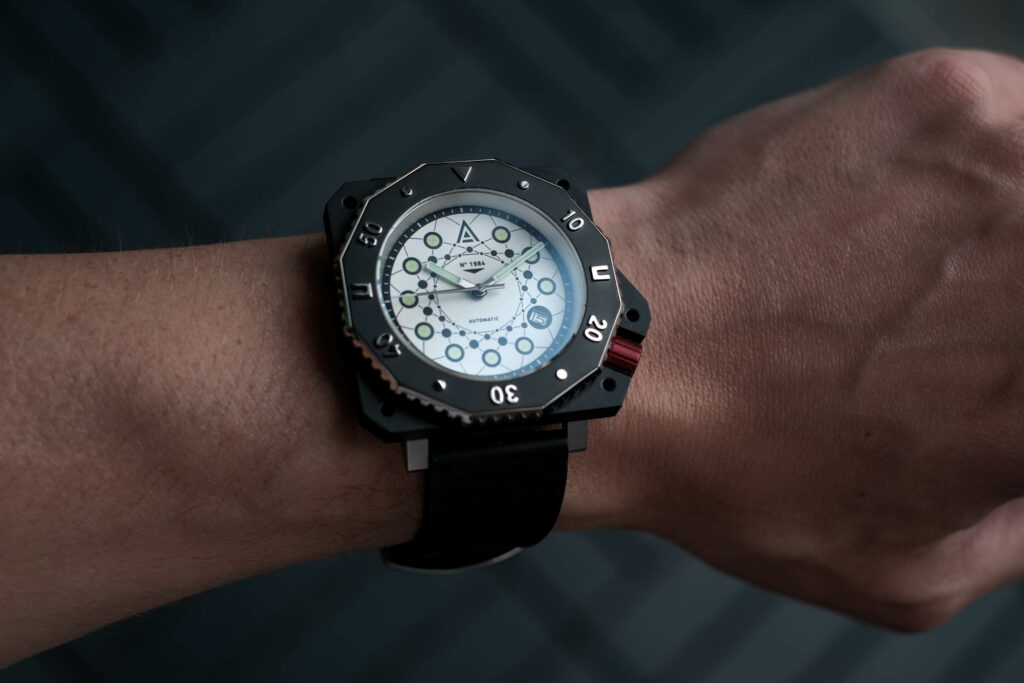 This new watch, the 1984, is a military-styled design that's meant to look like a radar display. There are 10 different designs in total, although I've personally evaluated the 1984 White Orbit version. Each of the 10 variants is being released in a limited run with 50 serial numbers each, for a total of 500 FINAL COUNTDOWN watches. Let's take a closer look.
A Big, Blocky Design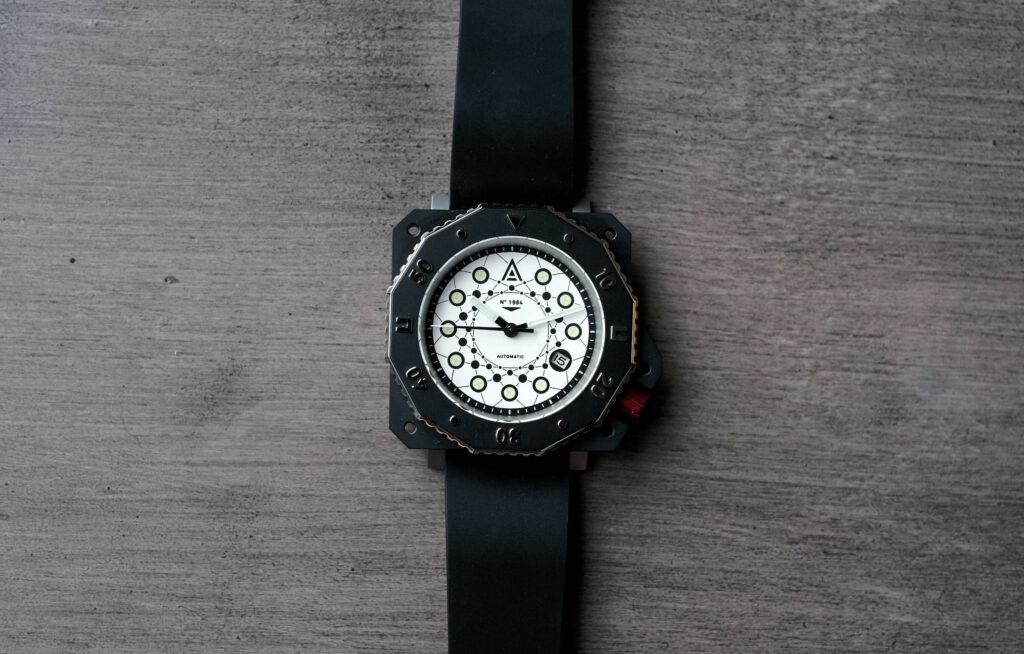 The first thing you'll notice about the 1984 is the blocky design. There are plenty of rectangular and octangular watches out there, but not many that are this angular. To begin with, the bottom of the stainless steel case is big and square, measuring 44mm to a side. The steel has a matte finish, but in different colors depending on the variant of the watch. On the 1984 White Orbit, the case is black to provide a sharper contrast. The lug to lug distance is 49mm, and the thickness, including the bezel is 13.4mm.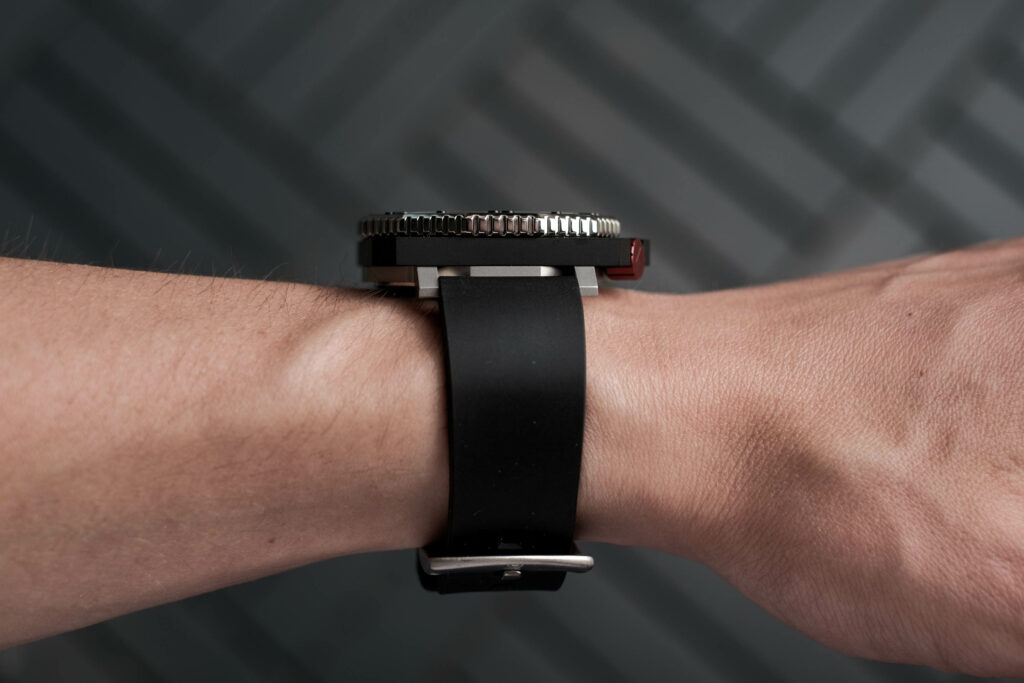 One of the more striking visual features is the crown. It's located at 4 o'clock, or the bottom right corner of the bottom case, and it's made from a bright red anodized aluminum. This location actually serves to make the overall profile of the watch smaller, since the crown isn't jutting out from the side.
The top half of the case is 12-sided, with a flat edge outside of each hour position. The bezel is grey on the outside and black on top, with silver numerals at the 10, 20, 30, 40, and 50-minute positions. There are smaller pips at the 5, 25, 35, and 55-minute positions. At the 15 and 45-minute positions, there are little Perun logos, with an arrow at 12 o'clock.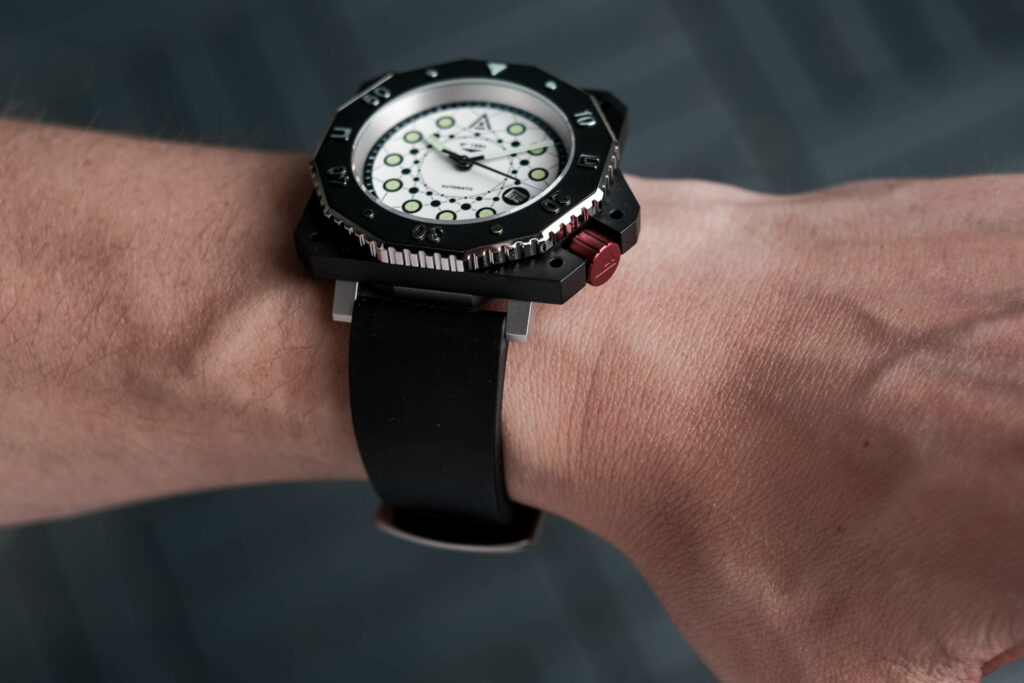 The screw down case back is easy to service, and has an exhibition-style crystal. This crystal has a WT Author logo etched into it, along with the watch's serial number. Despite the screw-down design, the case is still water-resistant to 100 meters, so it's safe to take in the shower or swimming pool. It secures with a black rubber strap, which has a smooth finish that goes with any attire.
A Miyota Movement
The 1984 White Orbit utilizes the Miyota Caliber No 9015 movement. This is a tried-and-true movement with a reasonable degree of accuracy. It has 24 jewels, and beats 28,800 times per hour. It also has a 42-hour power reserve, so you won't have to re-set it every time you take it off for a little bit.
10 Dial Variants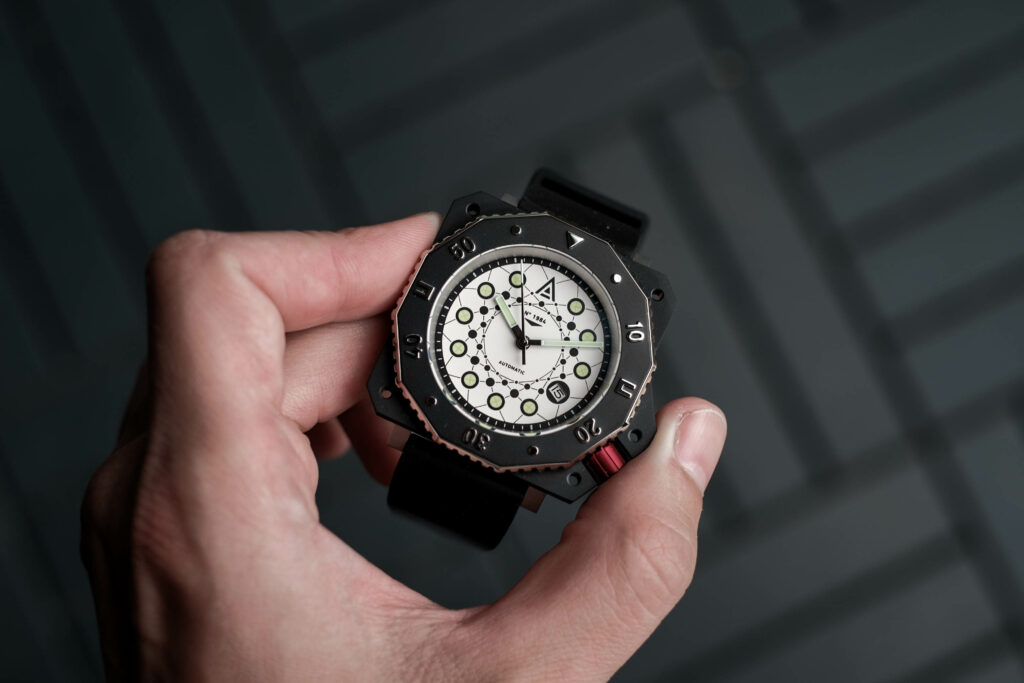 The dial is wildly different, depending on which version you buy. On the 1984 White Orbit, the background is white, with a series of black circles marking off the hour positions, and a triangle at 12 o'clock, mirroring the triangle on the bezel. The 4 o'clock date window is neatly embedded in the 4 o'clock circle.
Inside of the index are several smaller, solid circles that are arrayed in a complex geometric pattern. Between these circles, there's a web of fine black lines, which form a complex web. This is meant to represent the Strategic Defense Initiative (SDI), sometimes called the "Star Wars" program, which was started in 1984.
Other variants include:
1980 Green Invincible – A green design with a green-tinted crystal, inspired by an aircraft carrier radar display.
1981 Black Stealth – A blacked-out design with bright white hands, inspired by the F-117 stealth fighter.
1982 Grey Squadron – A two-tone dial that looks like an attitude indicator, inspired by the RAF's Tornado GR1.
1983 Red Altitude – A red design with a red-tinted crystal, inspired by high-altitude radar monitoring displays.
1985 Blue Bird of Prey – A blue dial with a red bullseye, replicating the insignia of the Harrier II STOVL fighter jet.
1986 Yellow Doomsday – A yellow dial with high-contrast black markings, representing a dangerous year in world history.
1987 Orange Vanguard – Black with a red radial gradient, just like a submarine display.
1988 Phantom Eagle – A grey design with green highlights, and an homage to the F-15E Strike Eagle.
1989 Khaki Guardian – Olive green and grey, like the tactical camouflage on the AH-64 Apache helicopter.
Collectible Extras
Along with the watch itself, you get a few collectible bonus items. These won't appeal to everybody, but for hardcore collectors, they're worth talking about.
To begin with, you get a large charcoal sketch of the watch, which is numbered and autographed. You also get a serialized blueprint, as well as a series of assembly photographs. To wrap things up, there's a little booklet, with the story of the watch's design and a ton of cool photos.
For more information or to secure yourself a watch visit the Indiegogo page here, or the official WT Author website here.