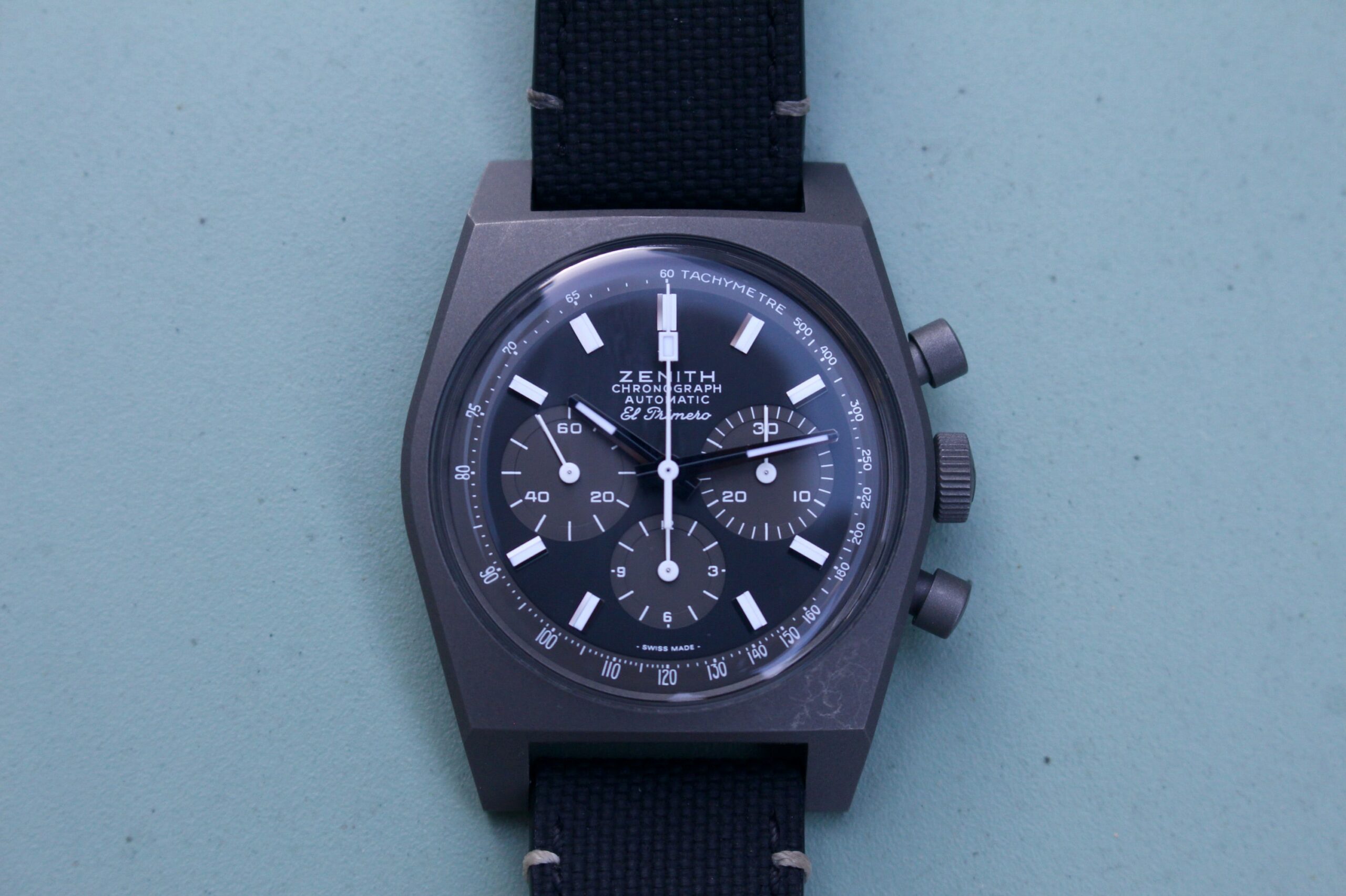 In today's watch landscape, you can find vintage-inspired designs in nearly every brand's lineup. Often, these include patina (or 'fauxtina'), a smaller case size, or elements from a watch popular decades ago. For the record, I actually like this trend. Zenith, however, digs deeper. The Chronomaster Revival Shadow doesn't take just cues from Zenith watches of the 1970s, it takes their core DNA.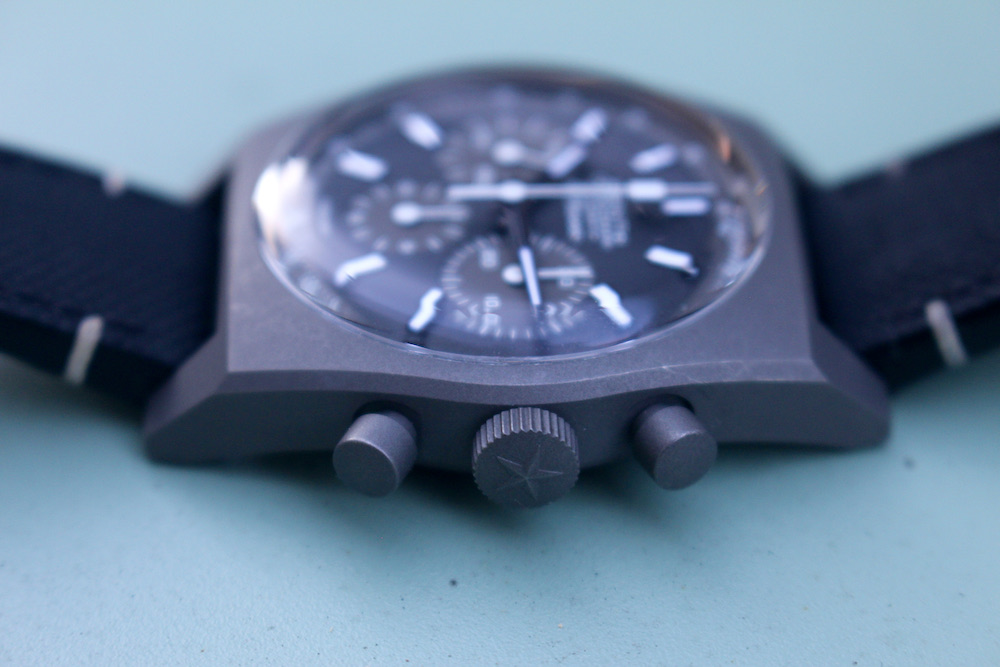 First released in 1969, the Shadow's A384 case remains immediately recognizable and unique. Inside the angular case is Zenith's legendary El Primero movement, which (depending on who you ask) was the world's first automatic chronograph movement. The Shadow's most notable feature is its color, or lack thereof. This, too, has a direct connection to Zenith watches of the early '70s but, as I mentioned, it's a deep cut. In 1971, Zenith built a prototype of a hand-wound chronograph with a PVD-coated case. At a glance, it may seem like the new Shadow uses the same coating technique to achieve its signature blacked-out appearance, but this is where Zenith brings the watch firmly into the current era.
Wearing the Revival Shadow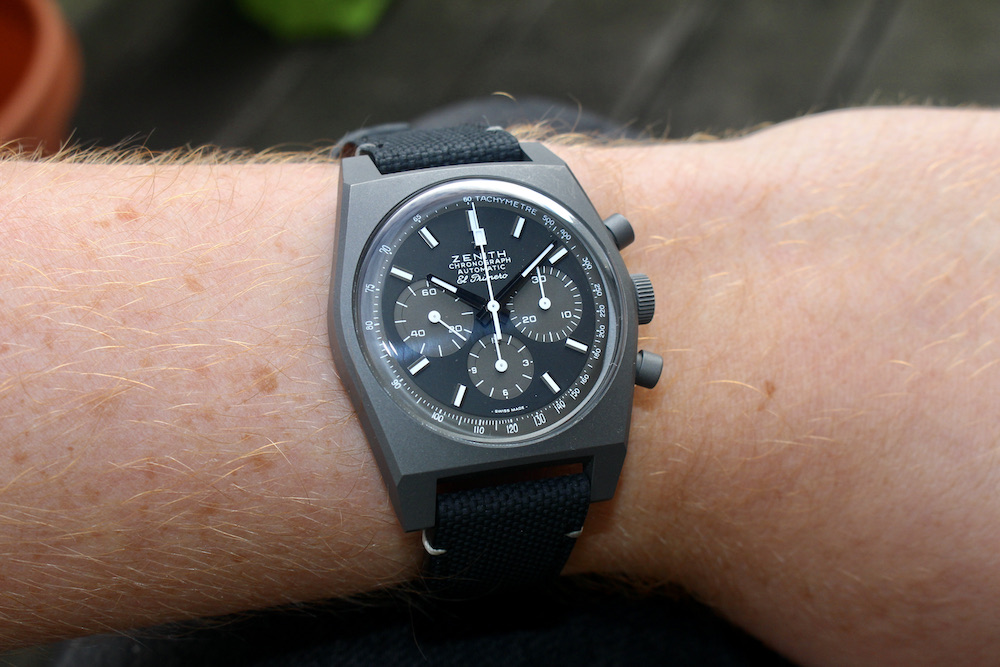 Instead of a PVC-coated steel watch, the Chronomaster Revival Shadow's case is made from natural titanium. The case is then microblasted, giving it a fine texture that prevents it from reflecting most light. Despite the angular appearance, the case wears very nicely, with curved lugs that hug my wrist. At 37mm, it's a relatively small watch but the case shape makes it wear slightly bigger, which I don't mind.
Since the case is titanium, the Shadow is very light, especially for an automatic chronograph. I sometimes lean away from titanium watches as I like watches that feel very 'solid'. However, the incredible finishing of the case and its high-quality rubber strap ensures the watch never feels cheap, a sensation some titanium bracelets can impart. After a few days of wearing it I came to appreciate the weight, especially given the watch's purpose.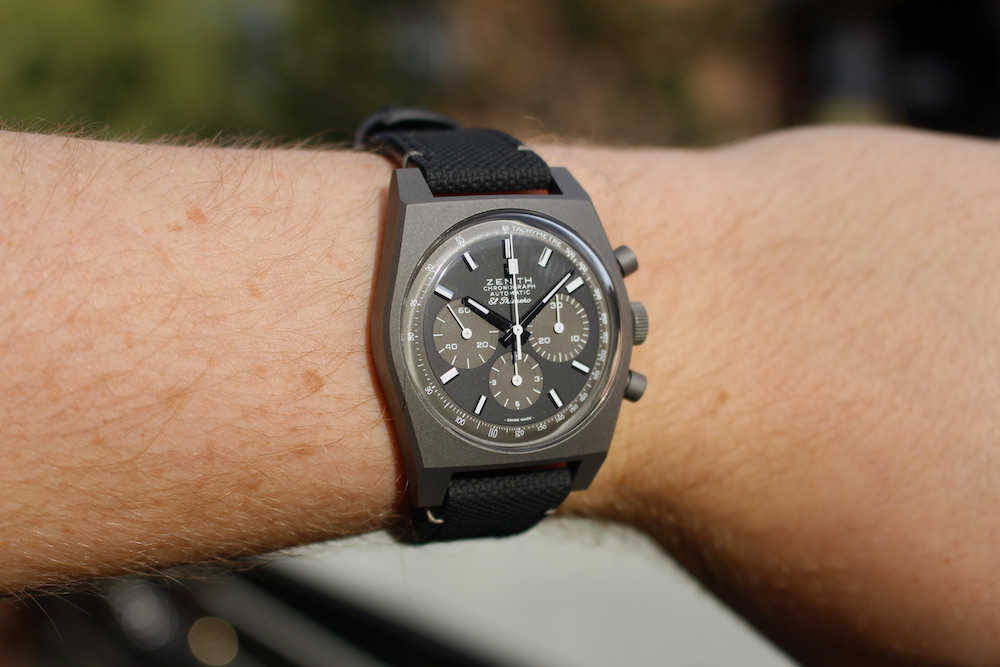 The blacked-out design may appear extreme until you realize it isn't actually black. In most settings, the case is a dark gray but it can appear even lighter in the sun. The color of the dial and subdials are differing shades of dark gray. If you wear a lot of black clothing (or even if you don't), this watch could be the perfect complement.
Movement and Dial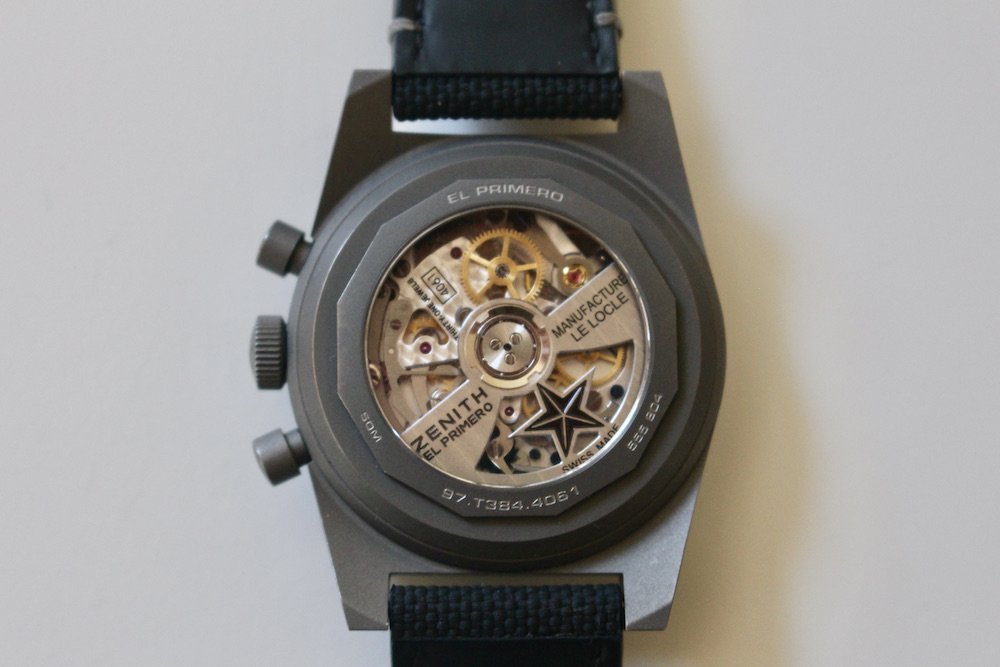 Inside the Chronomaster Revival Shadow is the El Primero 4061 automatic chronograph movement. Thanks to a sapphire caseback, the legendary movement is visible and a joy to watch, especially when activating the chronograph function. The high-frequency movement beats at 36,000bph and has a 50 hour power reserve. Operating the chronograph with the titanium pushers feels smooth and precise.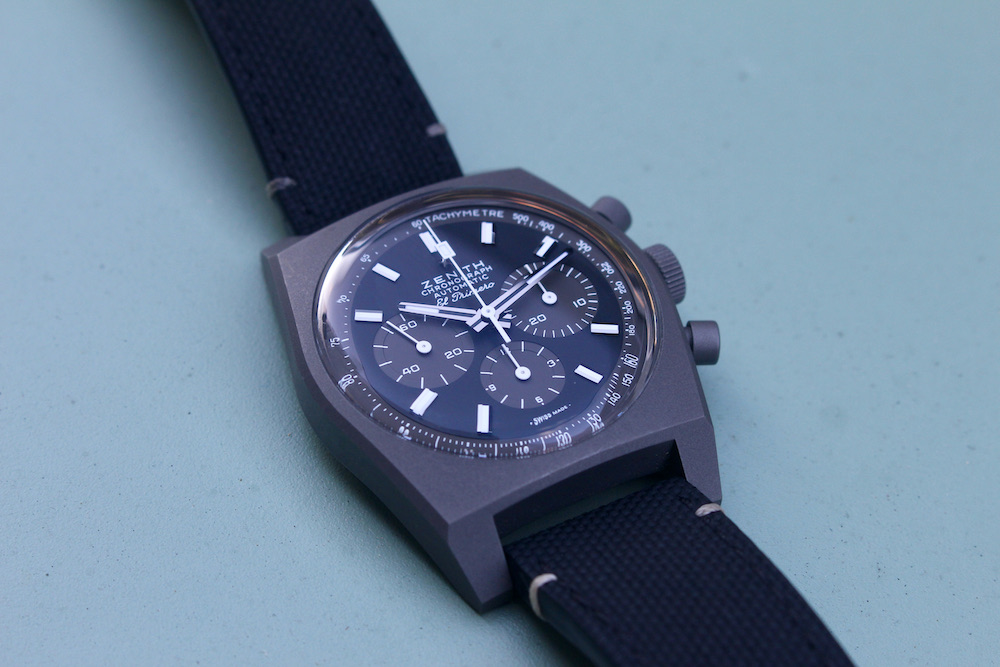 The dial is relatively minimalist for a three-dial chronograph, giving the Shadow its clean appearance. The 4:30 date window has been removed and even though I can usually appreciate Zenith's polarizing date placement, I'm glad it's absent on the Shadow. Perhaps more importantly, there is no seconds track on the dial. This significantly reduces clutter but does affect precision when setting the time or using the chronograph.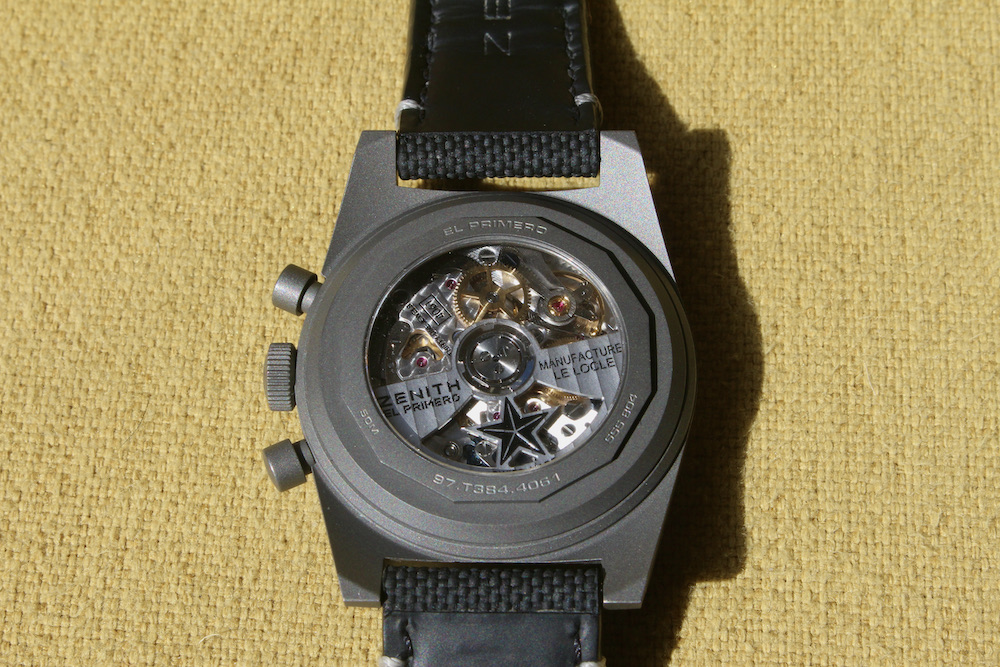 In combination with a lack of screw-down crown and 50M water resistance, these features place the Shadow somewhere between a purely style-forward watch and a sport-focused chronograph. One thing that is certain is that the Shadow undeniably lives up to the quality and attention to detail that is expected of Zenith.
Price and Final Thoughts
At $9,000 USD, the Chronomaster Revival Shadow is expensive but backs it up with build quality, an amazing in-house movement, and an advanced titanium case. The price also makes sense within the context of Zenith's chronograph line-up.
After wearing the Shadow for a week, I was most surprised by its versatility. On one hand, it's a fun watch. At the same time, it's a seriously impressive package that will never be mistaken for a toy. I was able to dress it both up and down very easily and always cracked a smile looking at it. I'm sure that many people will rule it out based on its color but for those of you that are intrigued and want to experience life in the shadows, I promise that you won't be disappointed.
For more information and specs visit the official Zenith website here.