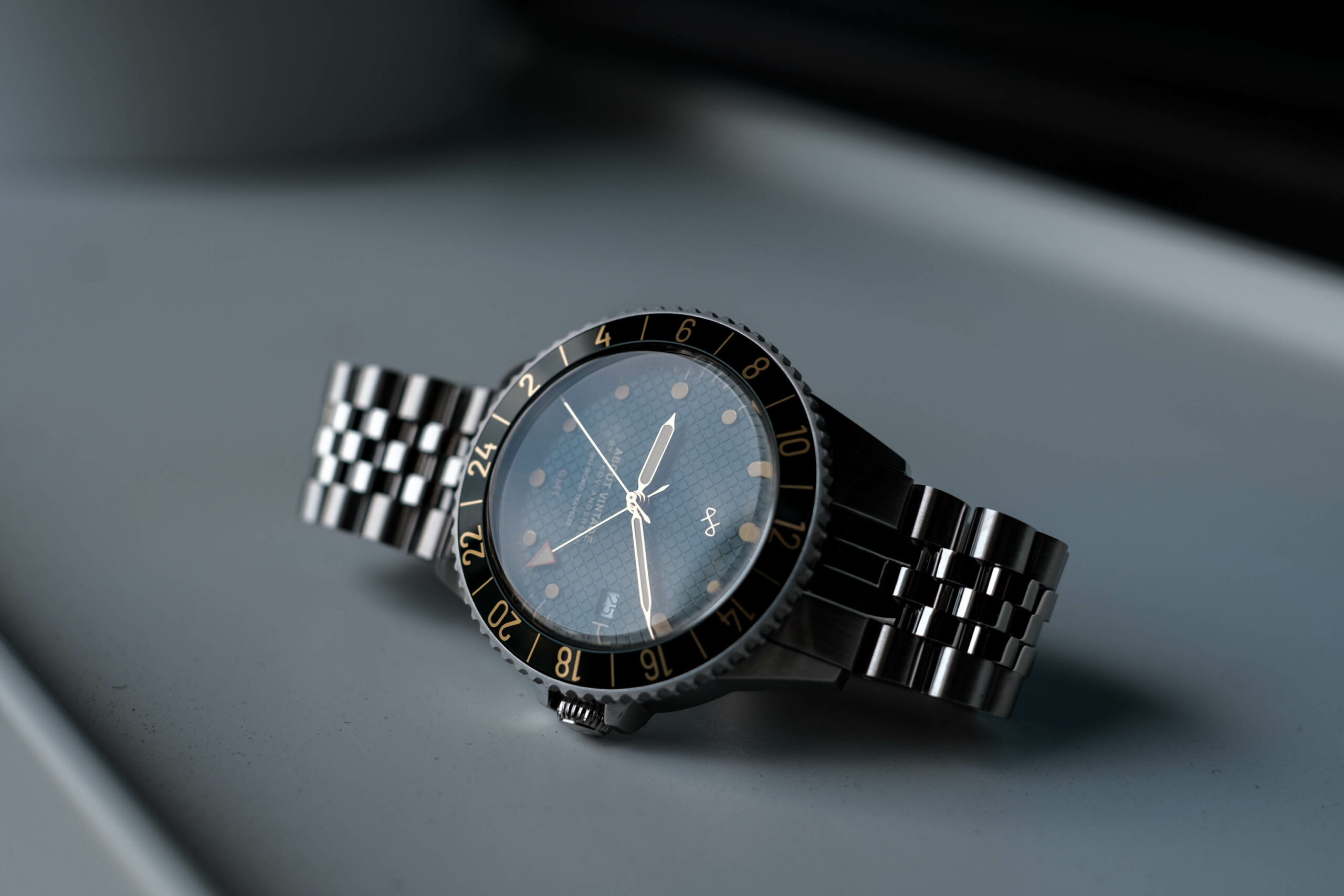 Five years ago, two childhood friends named Thomas and Sebastian decided to start a watch company. Their goal was to create a product that was environmentally-friendly, without making any sacrifices in quality. The result is About Vintage, a new Danish watchmaker that's already making an impressive 77 watch models.
About Vintage produces affordable watches that are manufactured in a carbon-neutral fashion. Obviously, the watchmaking operation itself produces some carbon emissions. But About Vintage offsets that with donations to UN-approved solar and wind power projects throughout the world. For every watch they sell, they offset 125kg of carbon emissions, which is actually more than the manufacturing process produces.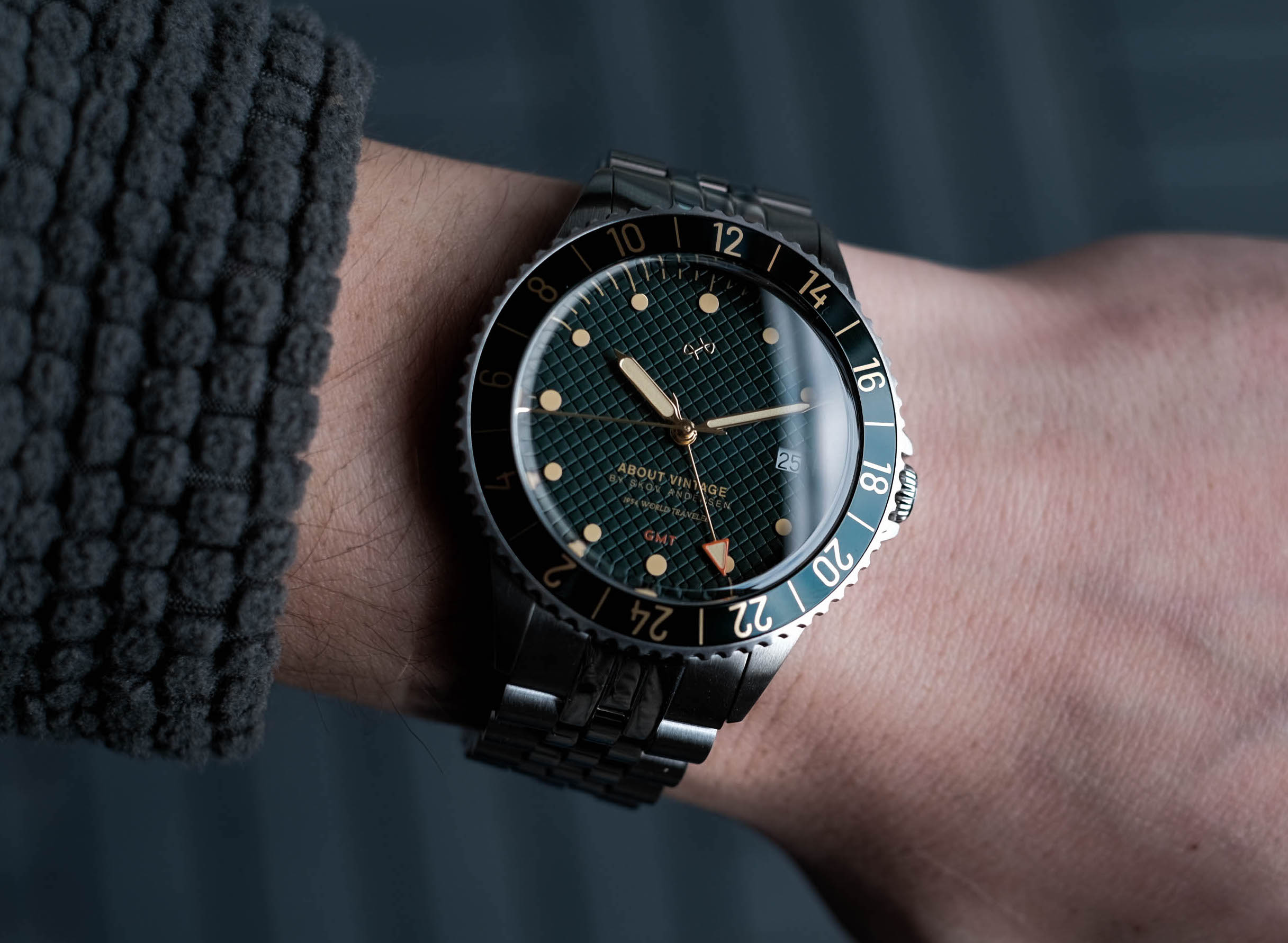 Today, I'll be reviewing the About Vintage 1954 GMT Green Turtle. All of About Vintage's watches are named for a moment in watchmaking history, and "1954" is a reference to the year the first GMT watch was released. Let's take a closer look at this watch, from the dial to the strap.
A Durable, Stainless Steel Case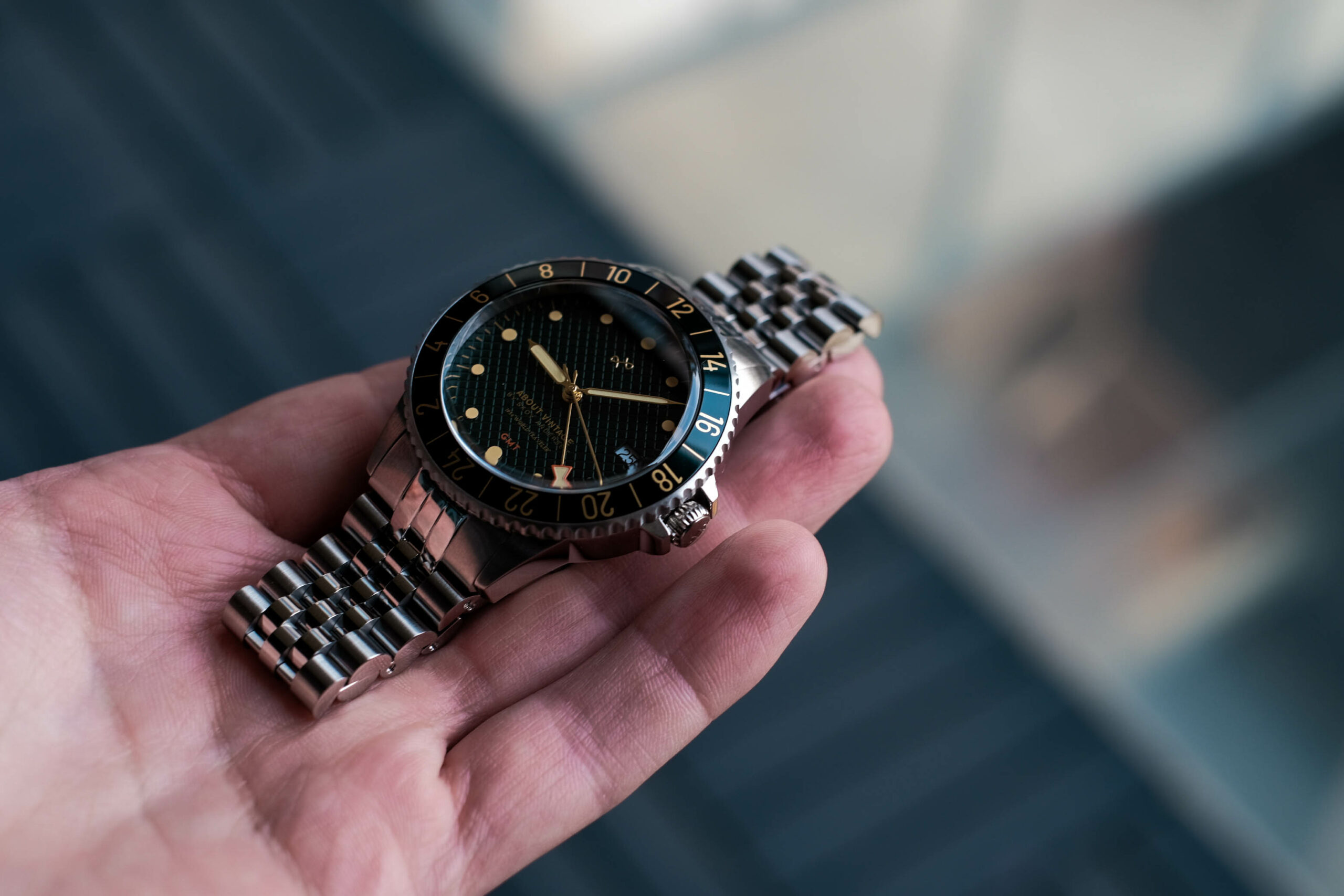 The About Vintage 1954 GMT Green Turtle has a 41mm case, which puts it squarely in the realm of medium-sized watches. The case is constructed from 316L stainless steel, which is one of the most corrosion-resistant metals that money can buy. It sports a rotating bezel, with a knurled circumference and a green ceramic inlay that matches the dial. The inlay is marked in 24-hour time, with gold Arabic numerals at the even-numbered positions, and gold bars at the odd-numbered positions. The crown is located at the 3-o'clock position, with protective arched flanges at its edges.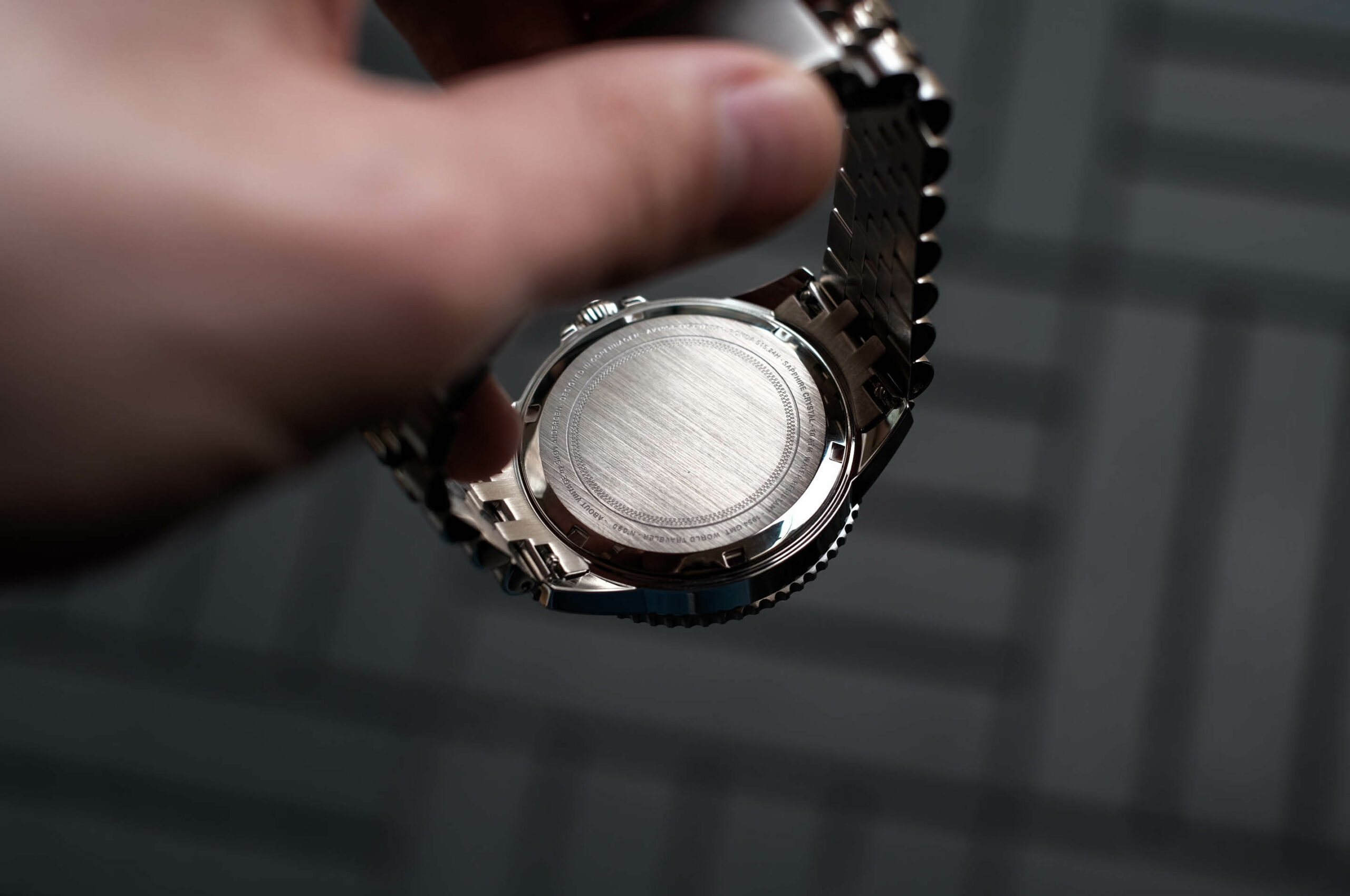 The screw-down caseback is easy to service, should that ever be necessary. In practice, it should not, thanks to the Ronda 515-24H GMT quartz movement. Yes, it lacks the charm of a mechanical movement. But it's far more accurate and reliable. Instead of setting your watch once a week or even once a month, you'll set the 1954 GMT Green Turtle once a year or less. Also on the back of the watch, you'll find a unique serial number engraved into the metal.
The crystal is made of a rock-solid sapphire, with a powerful anti-reflective coating. It's slightly domed, but the edges are flush with the bezel, so there's no distortion or awkward angle.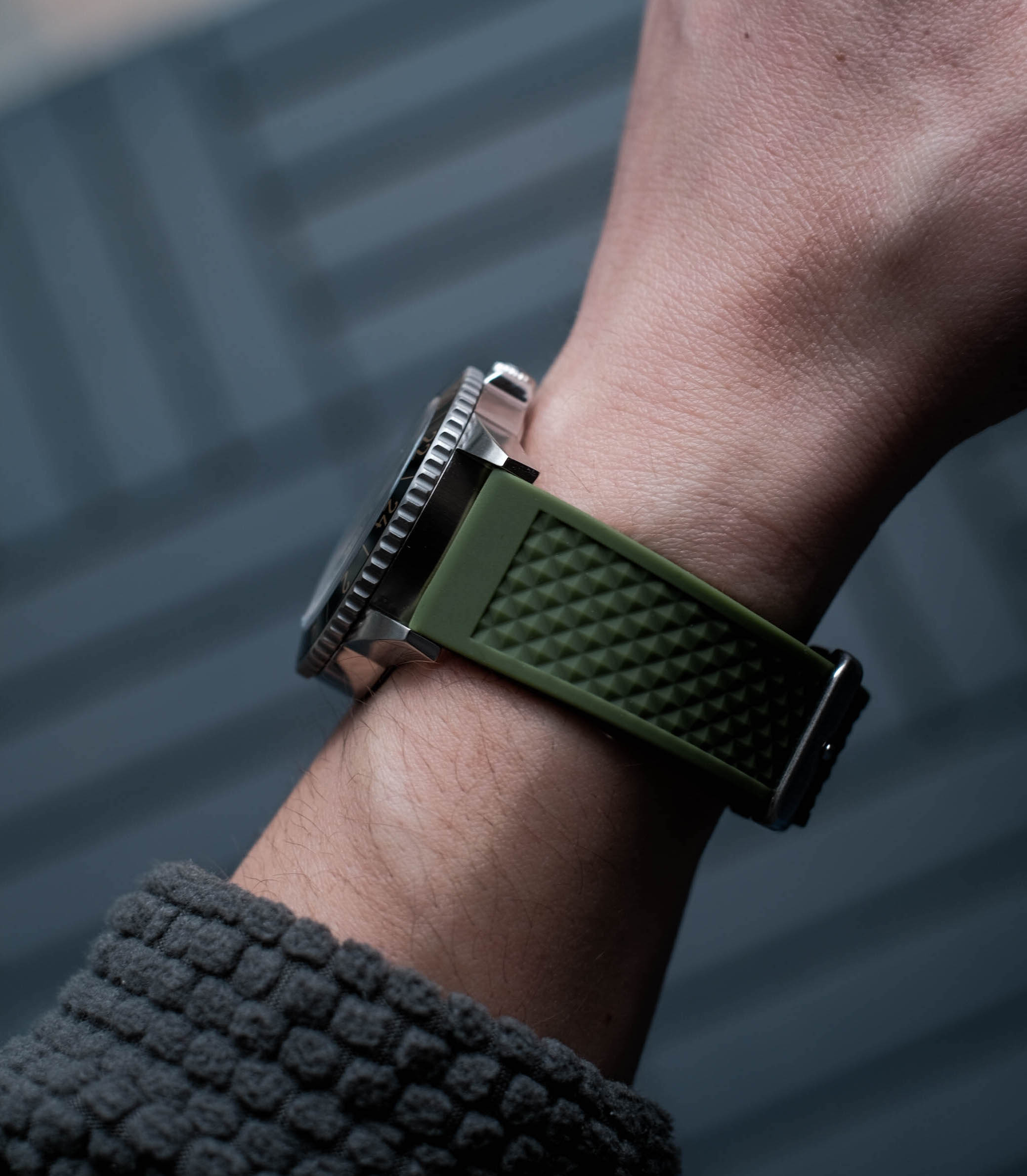 This watch has a water-resistance of 10 ATM, or 100 meters of depth. You can wear it in the shower, take it swimming, go water skiing, or engage in other aquatic activities. As long as you keep in mind that it's not a dive watch, you'll never have issues with water.
To back that up, About Vintage provides a 2-year manufacturer's warranty. If the watch fails due to a manufacturer's defect, you'll get a full refund or a free replacement.
The Green Turtle Dial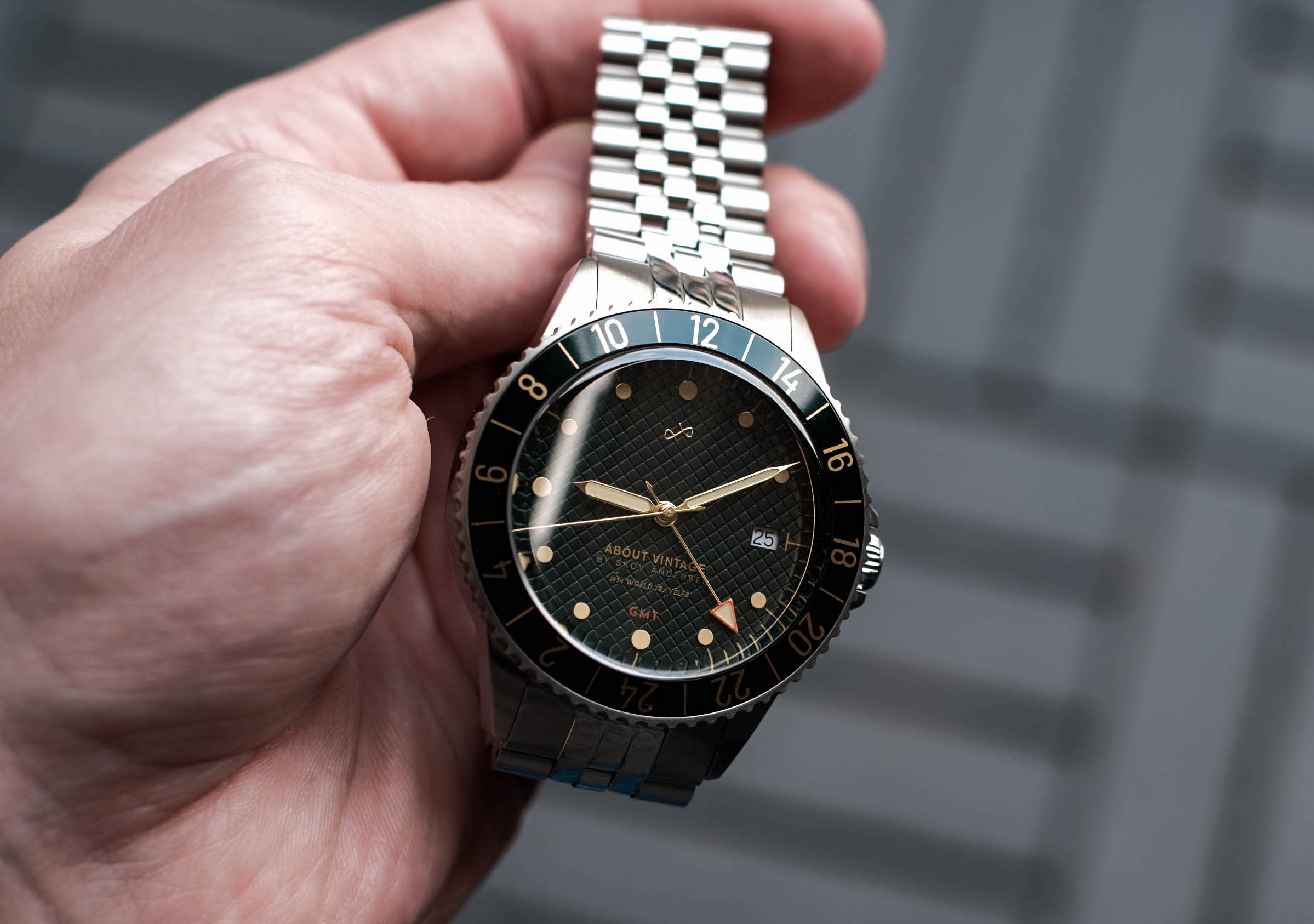 The dial is what gives the 1954 GMT Green Turtle the second half of its name. Inspired by the shell of a sea turtle, the main surface is a metallic green, with checkered hashes that mimic the lumps on a turtle's shell. It's relatively uncomplicated, with a gold About Vintage logo on the top half. In the bottom half, you'll see the following words, printed in tiny gold letters "About Vintage by Skov Andersen – 1954 World Traveler." At the very bottom, just above the 3 o'clock position, the letters "GMT" are printed in orange.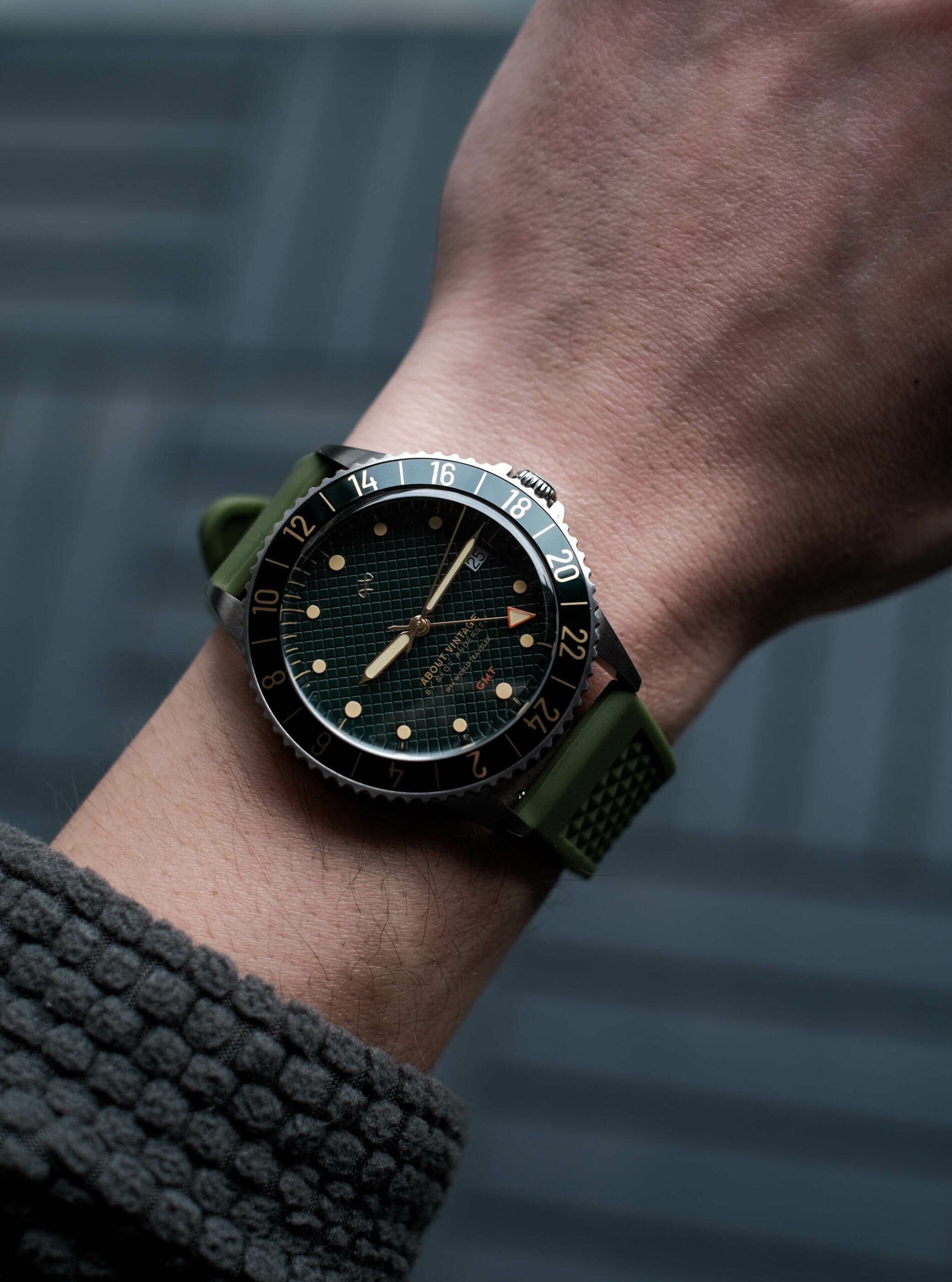 As you might expect, this is a GMT watch. There's a fine gold second hand, as well as sword-shaped minute and hour hands with lume striping. But there's also a GMT hand, which sports an orange arrow at the tip, which is filled in with a lume finish.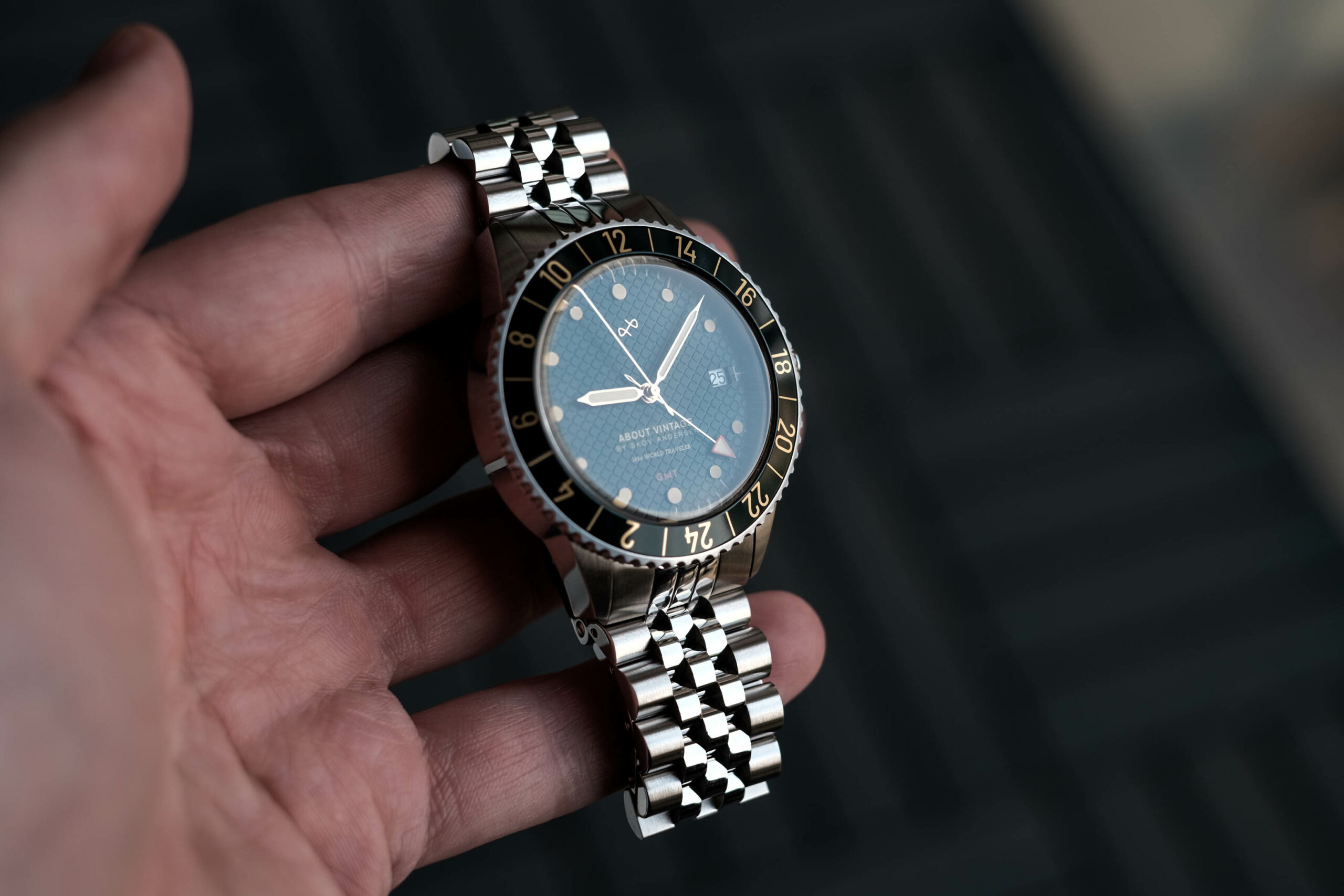 The indexes are simple and Spartan. There are fine gold hashes around the outer perimeter of the dial, with slightly longer hashes at the five-minute positions. Inside of this, there are larger applied lume dots at the individual hour positions. The even-numbered dots are slightly larger than the ones at odd-numbered positions, and the dot at 3 o'clock has been replaced by a small date window.
Multiple Strap Options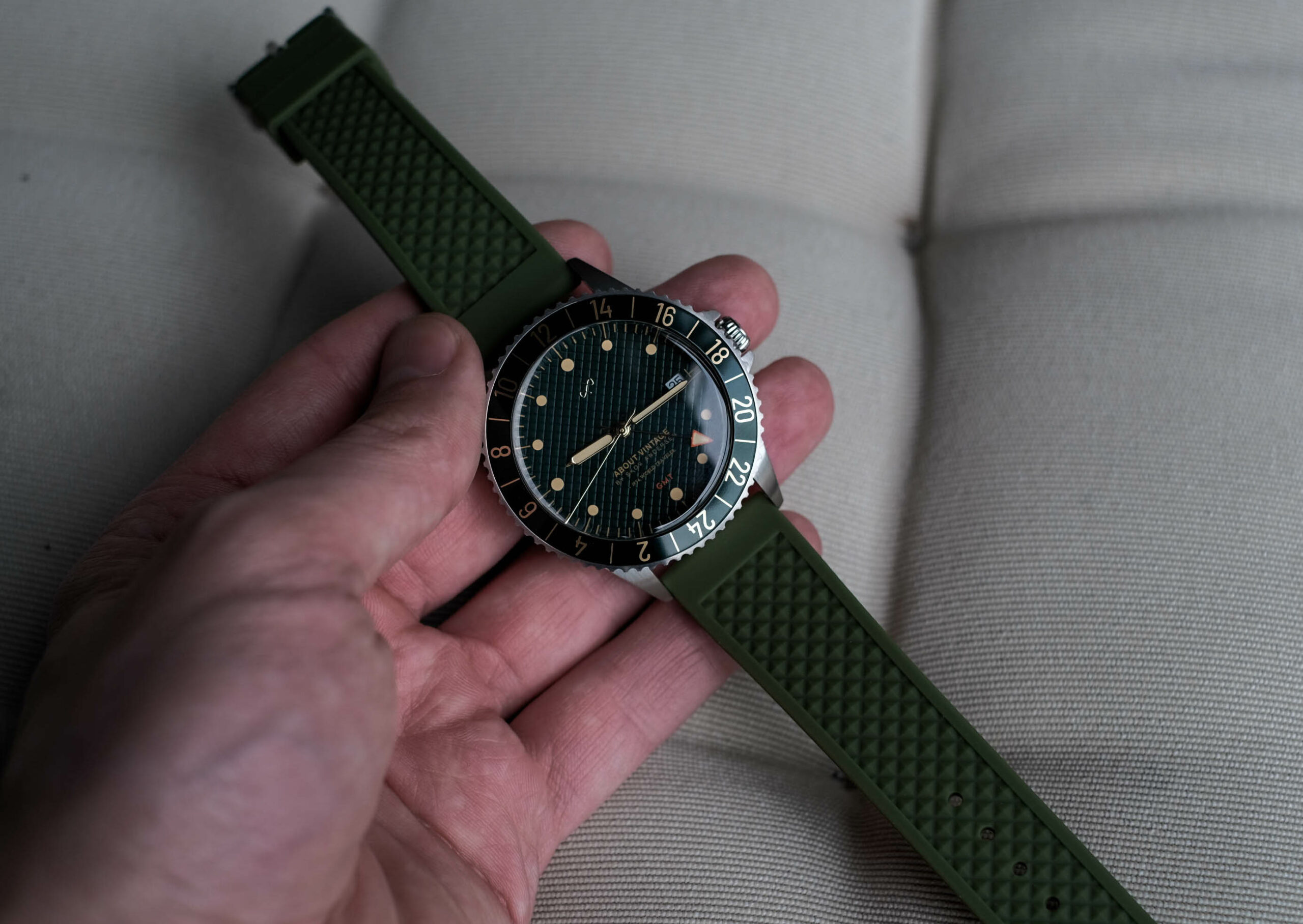 This watch ships with a 5-link stainless steel bracelet that's very well-designed. The closure is easy to operate, and it won't pinch your skin or snag on your arm hairs. Meanwhile, the 5-link design allows for more flexibility than an ordinary 3-link bracelet. Also in the box is a simple black silicone strap, if you prefer a more athletic look.
If you don't like either of these options, you can swap out the silicone strap for another option. The 5-link bracelet will still be installed on arrival. However, your watch can be accompanied by a strap in green silicone, black NATO weave, tri-link steel, or smooth brown leather.
All of this comes in a beautiful dark wood box, with an About Vintage logo engraved in the top of the lid.
To view all of About Vintage's watch offerings visit their official website here.