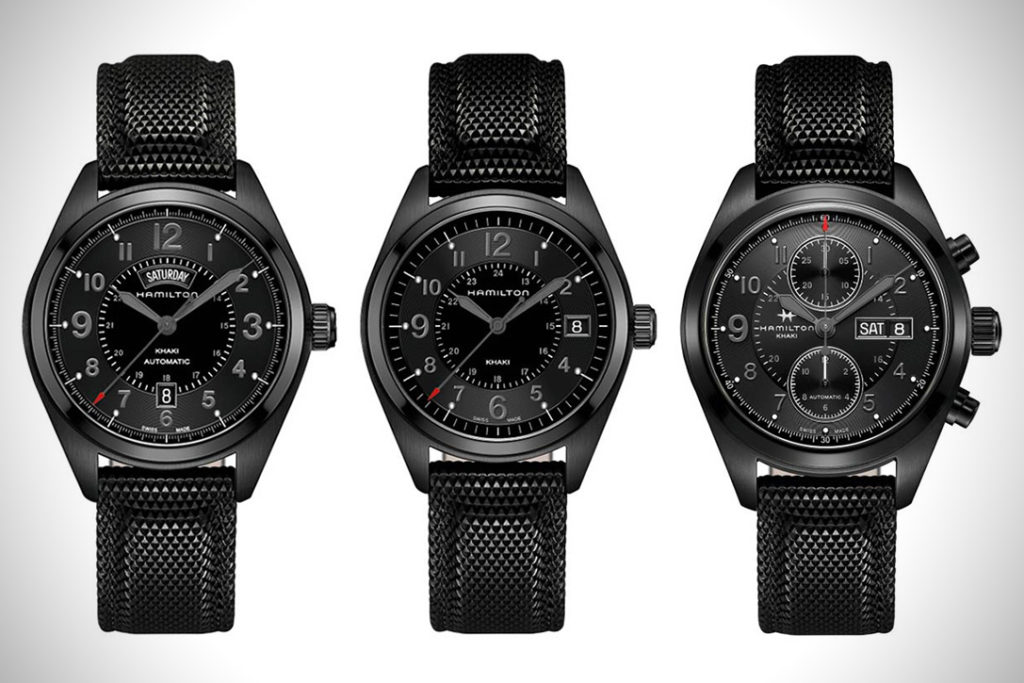 Black always had an allure to it. It represents class. Mystery and occasionally, wealth. In fact, most huge events are always represented with some kind of black. Black tie events for example. This is true for watches as well. At least aesthetically. However, this color is also associated with power, and that is what some of these watches will give you. However, elegance and power does not come cheap. In some cases, they are costly. That is why some people shy away from them because of this misconception.
However, that should not be the case and if you are interested, below are some of the best black coated timepieces you might want to consider for purchase.
Quick Compare
Watch
Size
Movement
Bracelet/Band
Price Point
Hamilton Khaki Field

Check Price
42 mm
Swiss Automatic
Fabric
$$$$
Orient ER27001B

Check Price
41 mm
Japanese Automatic
Leather
$
Seiko Prospex SRPB55K1

Check Price

44 mm
Japanese Automatic
Silicone
$$$
Victorinox Maverick

Check Price
43 mm
Quartz
Leather
$$
Bulova 98A180

Check Price
49 mm
Japanese Automatic
Stainless Steel
$$
Hamilton Khaki Field HML-H70575733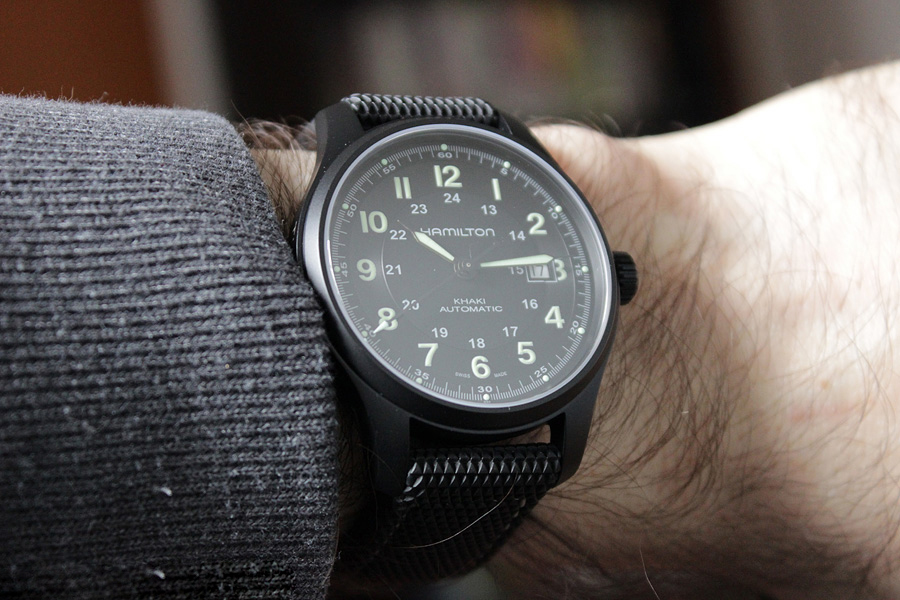 Hamilton watches offers this neatly designed timepiece that catches your attention due to the gold/yellow hue of the hour markers that are largely printed around the dial, including their corresponding military time equivalent in smaller texts just underneath it. In addition, its band stand out because of the pattern imprint on it which also secures around your wrist with a buckle clasp. However, it is made of fabric which does not promise much durability. This rings true for the casing material as well because it is made of titanium. On the other hand, they offset this by making sure the dial window is made of sapphire which is the highest-grade material a company can use for a timepiece.
Aesthetically, as mentioned, it is neatly designed with properly spaced markers and indices. It has a complication at the three o'clock demarcation dedicated for the date, and its hands are imbued with lumination to have it clearly indicate the time in spite the dark.
The wristwatch is powered by Swiss automatic movement and has been rated to with a water resistance of 330 feet which means it can be used during snorkeling and swimming. However, ensure that you do not use the push down crown while underneath the water, otherwise, this rating would be pointless.
Orient ER27001B Automatic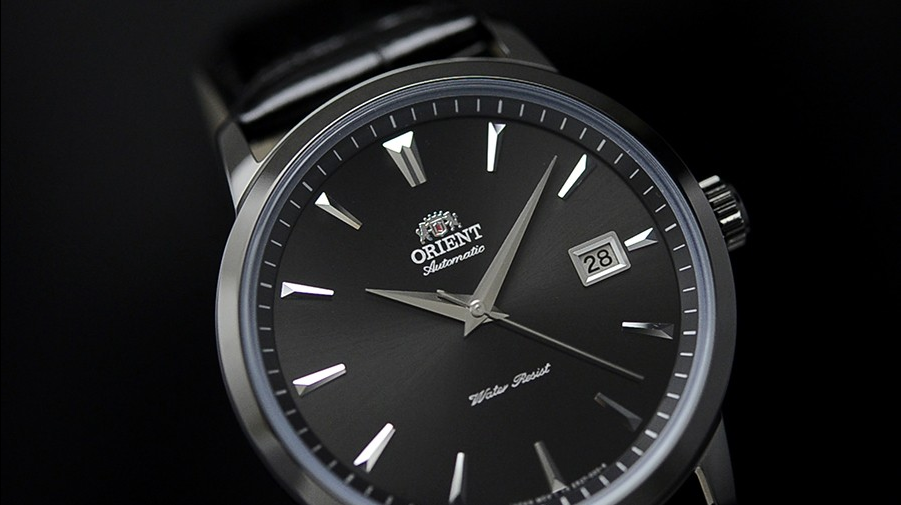 This black Orient timepiece is as simple as it gets. It has a black dial riddled with small minute markers paired with large silver colored hour markers, but not large enough to become a distraction to its neat design. In addition, its hands are designed to look like needles giving it tools to be pinpoint in telling the time.
The case is made out of stainless steel along with its bezel. So, unlike the wristwatch mentioned above, this one highlights durability. However, the dial window is made out of mineral. Although, it is not the best of materials that can be used, it was built to at least resist scratches on its surface. Moreover, its band is made of leather, which is durable in itself, but it is not stainless steel. On the other hand, this is more comfortable secures the timepiece around your wrist with a buckle clasp.
The Orient ER27001B is powered by a Swiss Automatic movement, and it has a water resistance rating of 99feet which generally resists damage caused by moisture and splash from water. That means, this is not a timepiece to be used when you plan on regularly swimming, or for events that there are risks that this could happen. So, avoid those pool or beach parties if you can if you are wearing this timepiece.
Seiko Prospex SRPB55K1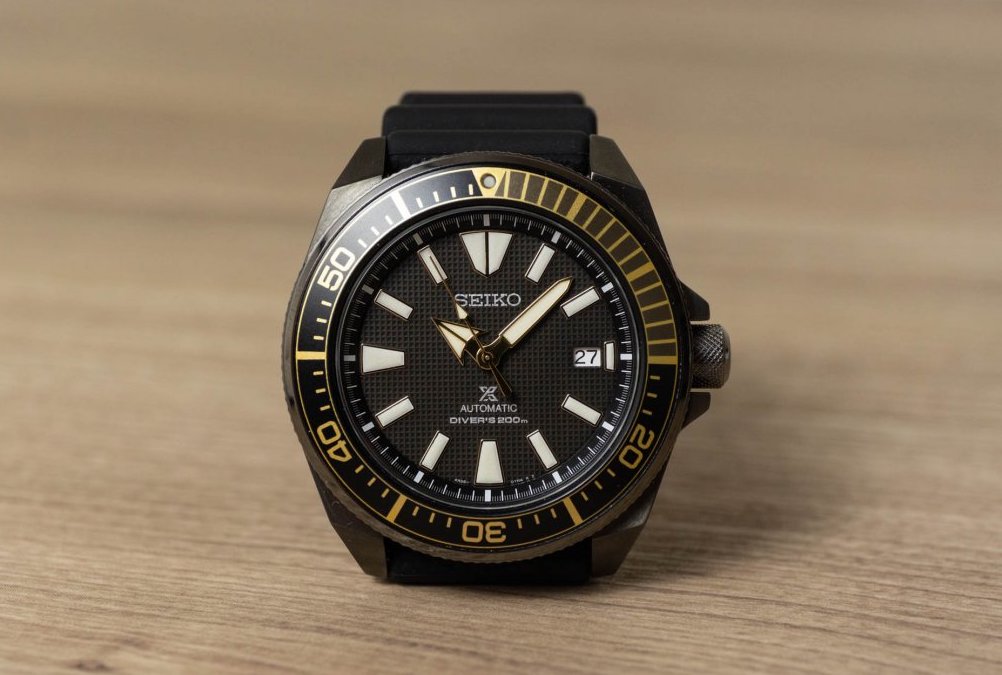 Among the wristwatches that has been mentioned so far, the Seiko Prospex SRPB55K1 with black coated case has to be the most robust looking timepiece. This can be attributed to the stainless steel material used for the casing and the bezel, although, unlike most stainless steel which is commonly used for watches, this one is infused with black ion which gives the gray/black color. In addition, Seiko opted to use Hardlex, which is a material exclusive to the company which has been put up against sapphire in debates regarding the highest grade material that can be used, which is proof of the material's durability.
On the other hand, the timepiece is not as aesthetically pleasing as we would have preferred. The hands can be awkwardly large for the small dial window that it features, especially with the large arrowhead looking hour hand. However, it tries to make up for it when they installed LumiBrite markers into them which gives the wearer the ability to still see the time even when it is dark. In addition, it also looks cramped because of the largely designed hour markers.
Its bezel on the other hand adds a certain elegance especially with the gold in the first quarter of the bezel. The markers are also elegantly engraved into the bezel which only rotates in one direction.
The timepiece is powered with an automatic movement, and it has been given a water resistance rating of 200m which is allows for diving, which should, especially that it is a diver's watch.
Victorinox Maverick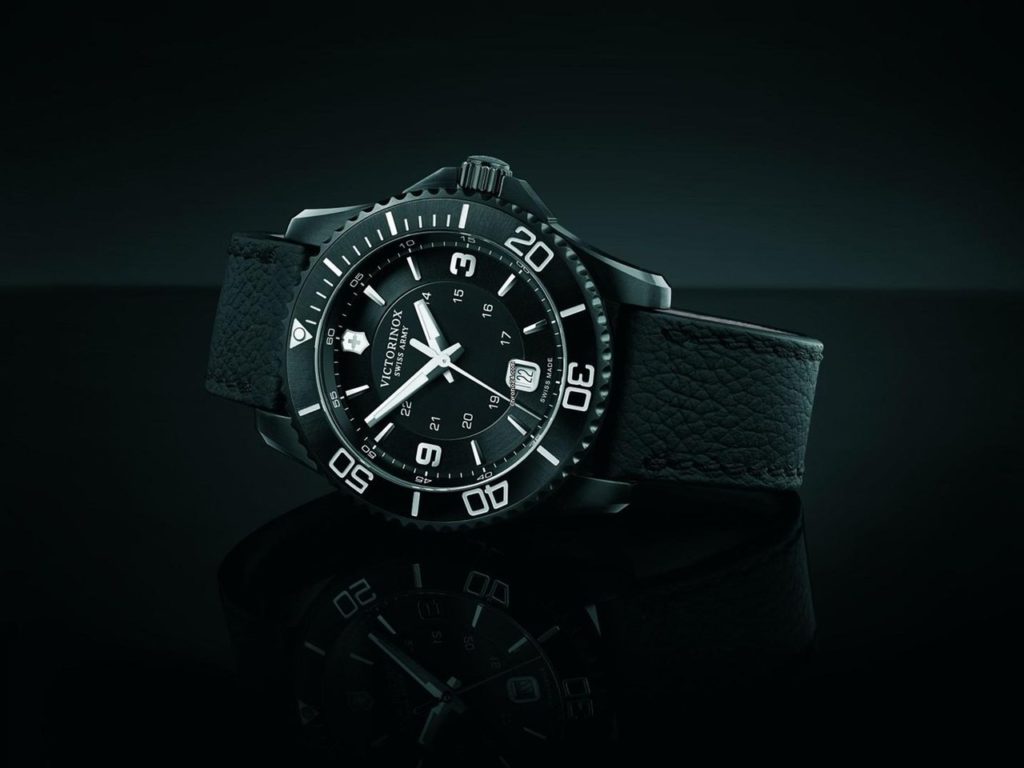 The Maverick from Victorinox, in spite how bulky it is, it is elegantly designed. It starts off with the matte black which is evident in the entire design of the case. Although, you can see hints of sheen, especially around the bevel where the leather band connects to the case which the company claims to be stronger than your usual leather band. In addition, the hour markers are generally indicated by larger indices, highlighting the three, the nine, and the 12 demarcation where the company's logo is placed, which is a nice touch. Numbers that they want highlighted are printed in large number and it is never more evident than in the numbers engraved on the unidirectional bezel.
You may have noticed that the six o'clock demarcation was not mentioned, and this is mainly because in its place is the date window.
To protect all that are in the dial is an anti-reflective sapphire crystal which is not only the best material you can use as a dial window, but the added anti-reflective properties makes the legibility experience better. With this added feature, regardless how bad the glare is on your watch, you can continue to see the time clearly.
The watch is powered by a Japanese quartz movement, and its water resistance rating is at 330 feet, which cannot withstand deep dives, unfortunately. However, you will be able to do snorkeling and swimming with it on as long as you do not use the push down crown when you are under water.
Bulova 98A180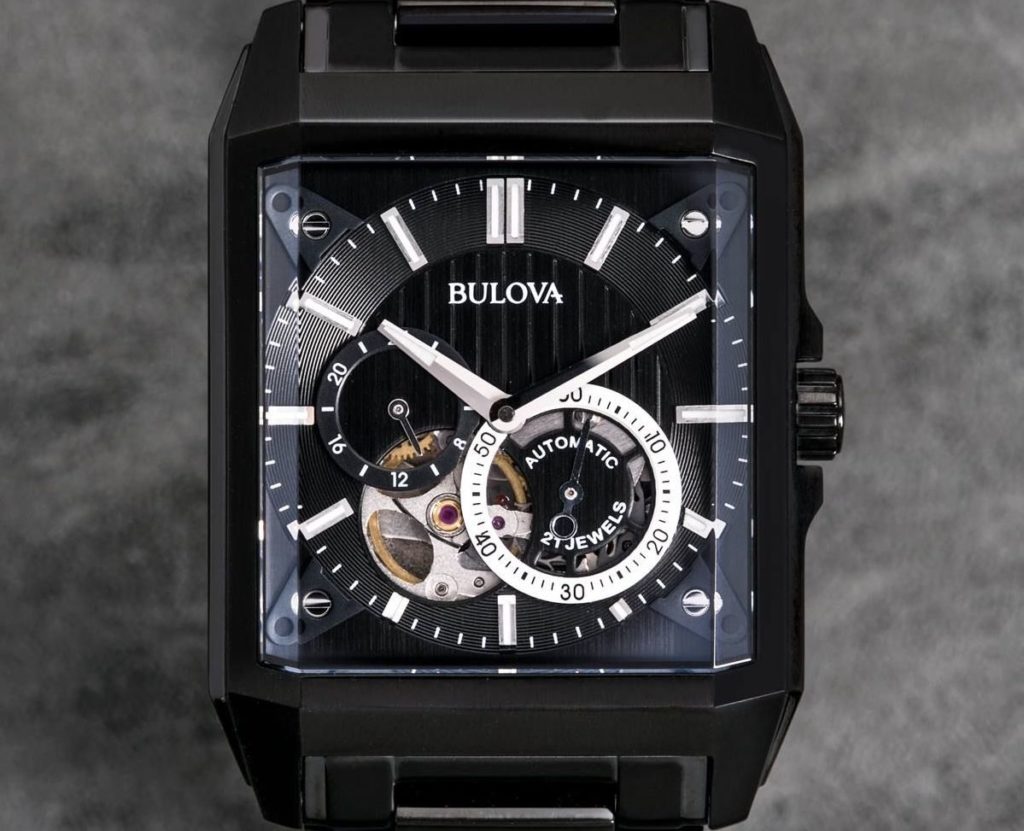 The most unique watch in this selection, the Bulova has a mostly rectangular shape which the synthetically-sapphire made dial window contours itself to. This gives the watch an overall look of a gem.
Speaking of aesthetics, the 98A180 model features two complications on its dial. These two tells us the specific seconds and the military-time reading that in some of the timepieces mentioned are engraved just below the hour markers. However, another ring can be noted overlapping underneath both of them creating an illusion of a third complication, but in actuality, it is just a window that gives you a peek at the gears that are making your wristwatch move. Moreover, the indices for the hour markers are clearly engraved into the dial and it has a classic look and the hands are fully capable of efficiently giving you the time.
The entire watch is made of stainless steel from the case to the band which secures itself around your wrist with a push button for easy release. On the other hand, unlike most of the timepieces in the list, this one does not have a moving bezel which only means, this is not suitable for deep dives, and that it is why, this model from Bulova only allows its wearer a water resistance rating of 100 feet, which means that you are only allowed for a light swim, but the watch should never be dipped in the water.
This timepiece is powered by a Swiss automatic movement, which, more or less mean that it does not need a battery to run. The push down crown just needs to be turned to a point that it can run, although, its power reserve was not highlighted by the company.
Final Thoughts
Black has always been the color of exclusivity and class, and for some reason, this has always been two descriptions that is associated with wealth. That is why, it comes to no one's surprise why some would think that these would be expensive, which is not true. As showed by the list above, there are affordable black coated watches, and these are just the best ones available in the market. There might be more out there, but these are tier one.