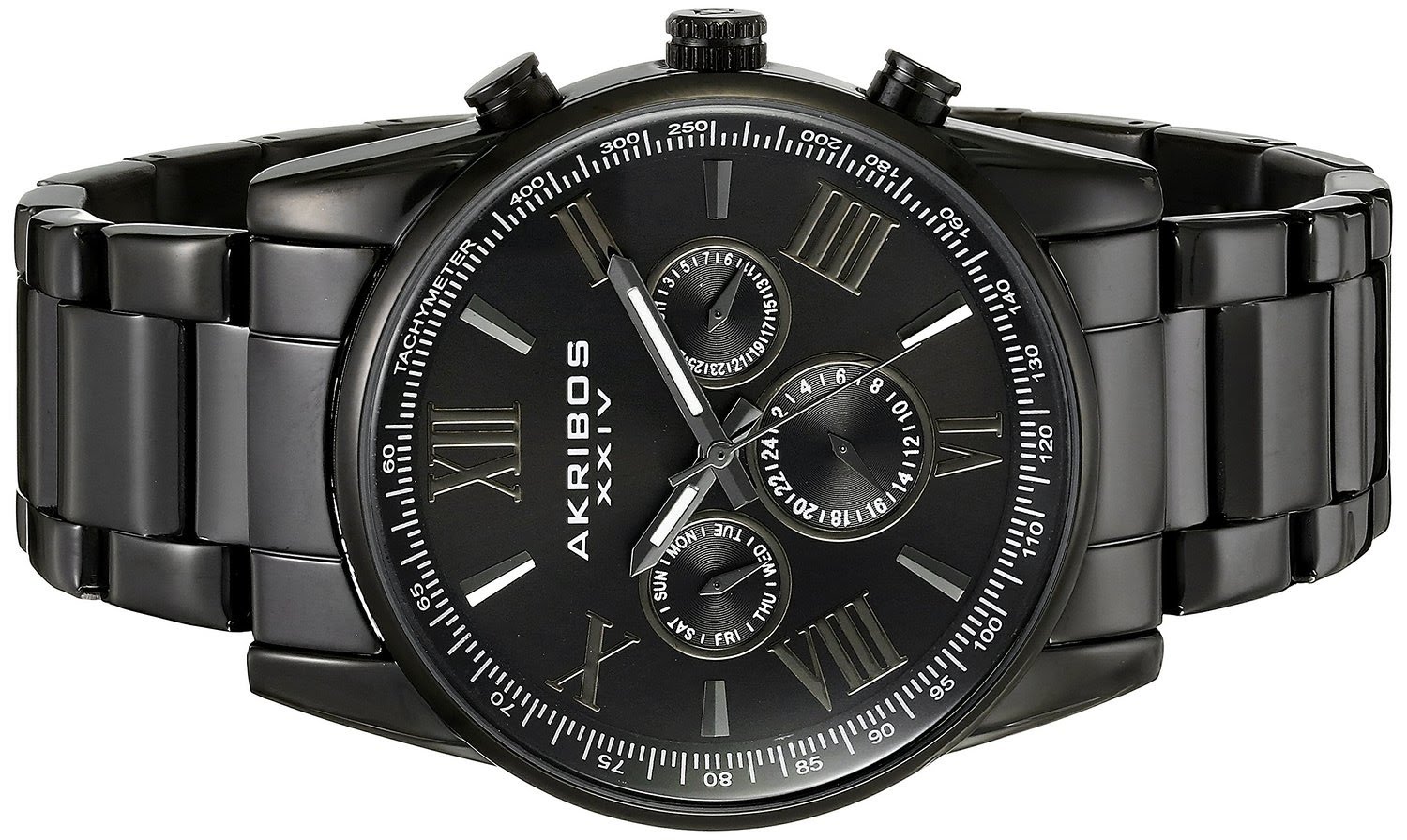 I've got to admit, the first time I put this watch on, I didn't quite know how to expect. It gave me that 'neither fish nor fowl' feeling. Now, don't get me wrong. I'm not saying that feeling is a negative one. It's just unusual. The Akribos XXIV AK736BK Round Watch doesn't readily fit a lot of the neatly categorized watches I've had the pleasure of checking out over the years. Still, the more I wore this watch, the more I grew to like it. What appealed to me? The same feature that made me feel a bit awkward about it in the first place-its unpredictability.
> > > Click here to see ratings, reviews, specifications and prices on Amazon < < <
Functional On Budget
Given its many features like three hand movement, dual time zones, tachymeter (complete with subdials for date and day), Roman numerals in silver tones, and baton type minute and hour hands, you'd think this watch is a mix between a semi-luxury watch and an activewear watch. Again, that whole 'neither fish nor foul' impression hits you. Hard. Still, when you look at its sleek black polish, its tight compact form factor and overall elegance, you can't help but be impressed.
As a veteran of countless activewear, formalwear, casual, and sports watches (and all points in between), it's easy to conveniently typecast watches. You get into the mindset where you're mentally filing away a particular watch model based on the social settings you'll wear that timepiece in. At the very least, you're mindful of the kinds of outfits a particular watch would look great in.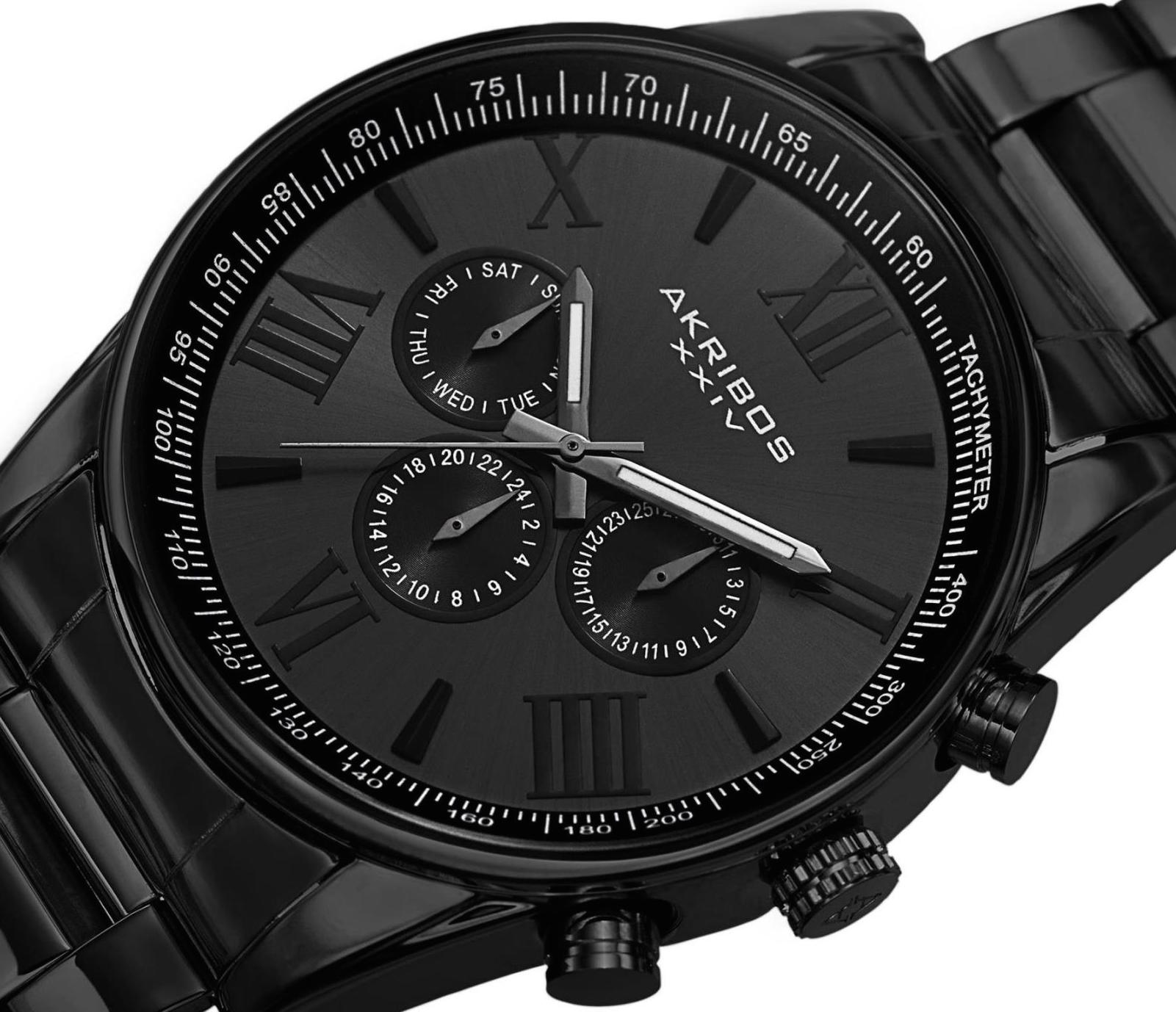 I'm happy to report that I had difficulty 'typecasting' this timepiece. That is precisely its appeal. Since it defies easy (or should I say lazy?) categorization, this watch's aesthetic unpredictability is a sight for sore eyes. In a fashion world filled with formulas and lazy pairings of apparel and accessories, the AK736BK poses a challenge. Not an uncomfortable one, mind you. You are challenged to be more imaginative regarding the outfits you'll choose as well as the social settings you'll use this watch in.
> > > Click here to see ratings, reviews, specifications and prices on Amazon < < <
Given its sleek look (complete with a dial window coated with sapphire crystal), you can pull off a distinctive look with this watch in a wide range of social settings and ambiances. Best of all, you stand out as one of the few people in the crowd who's wearing something that's truly distinctive.
AK736BK Battery Powered
This black polished unit is powered by a quartz movement mechanism. I can't say this is surprising at all. First, this model is fairly cheap to buy. Second, this timepiece features elements that would normally fetch more money if paired with an automatic movement. Quartz movements, after all, have been the 'price equalizer' of many watch designs and watchmaker companies. I'm not at all surprised that this unit is quartz-powered.
In light of the fact that the AK736BK can give any typical wardrobe a much-needed shot in the arm as far as unpredictability is concerned, its quartz movement is a small price to 'pay.' You get a versatile watch designed to make you stand out a bit.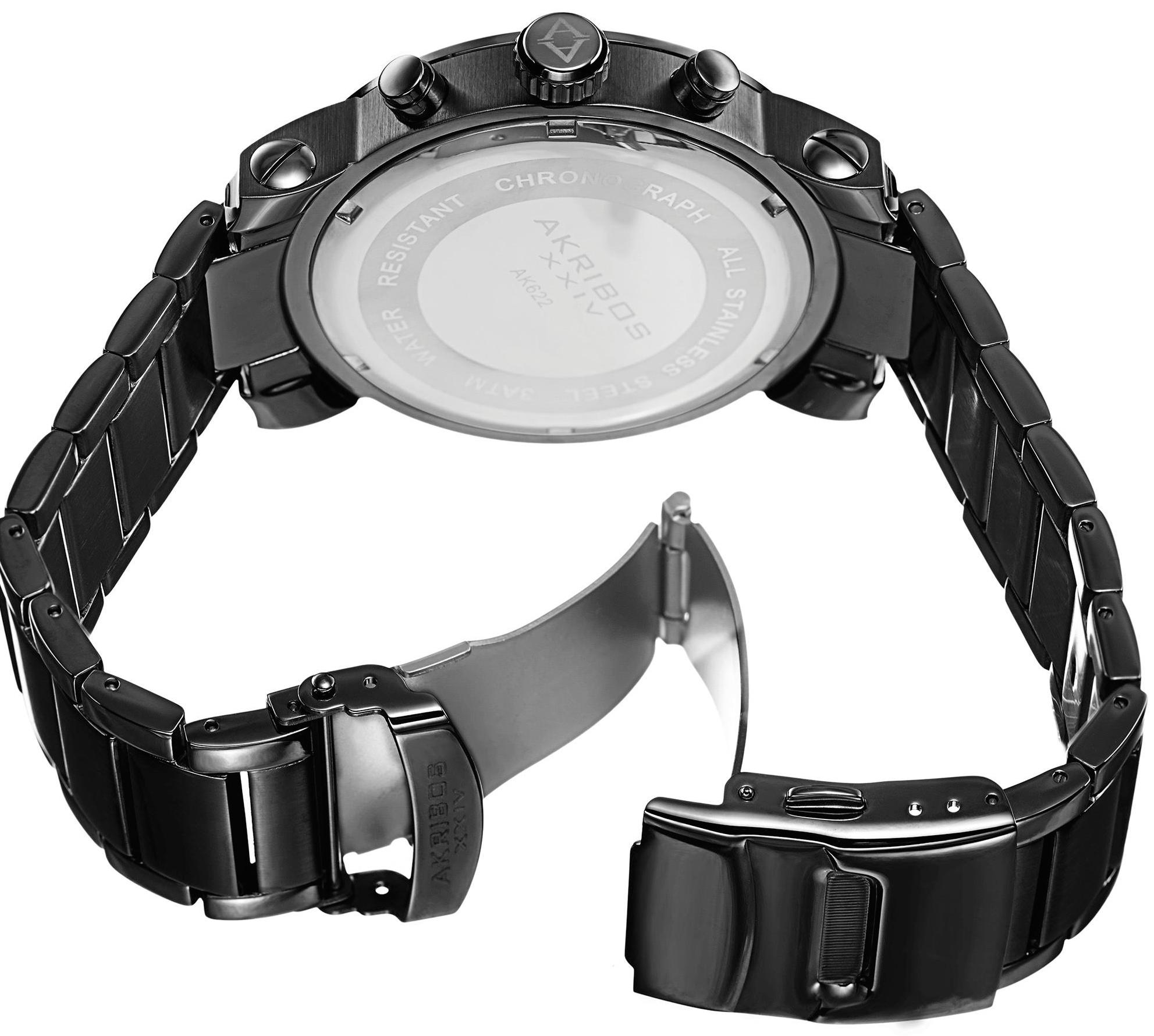 Special Features: Chronograph
Looking through the manufacturer specifications of this watch, I was quite surprised that its manufacturer mentioned its chronograph as a 'special feature.' Since this watch is also water resistant to a depth of 10 meters, I naturally expected that to be the special feature. But after looking at all the other features this watch brings to the table, it makes a lot of sense to view its chronograph as its special feature.
This model is a compelling timepiece precisely because its chronograph throws you off balance and gives it a distinctive look. If anything, this watch's chronograph element ensures that it defies easy categorization.
Great bargain head turner
Putting together its low price, great chronograph, sleek design, color, and overall attitude, the Akribos XXIV Men's AK736BK Round Watch makes for a great addition to any watch collection. If you're the type of person who likes to wear something different or something that distinguishes you from the crowd, take a long hard look at this timepiece.
> > > Click here to see ratings, reviews, specifications and prices on Amazon < < <