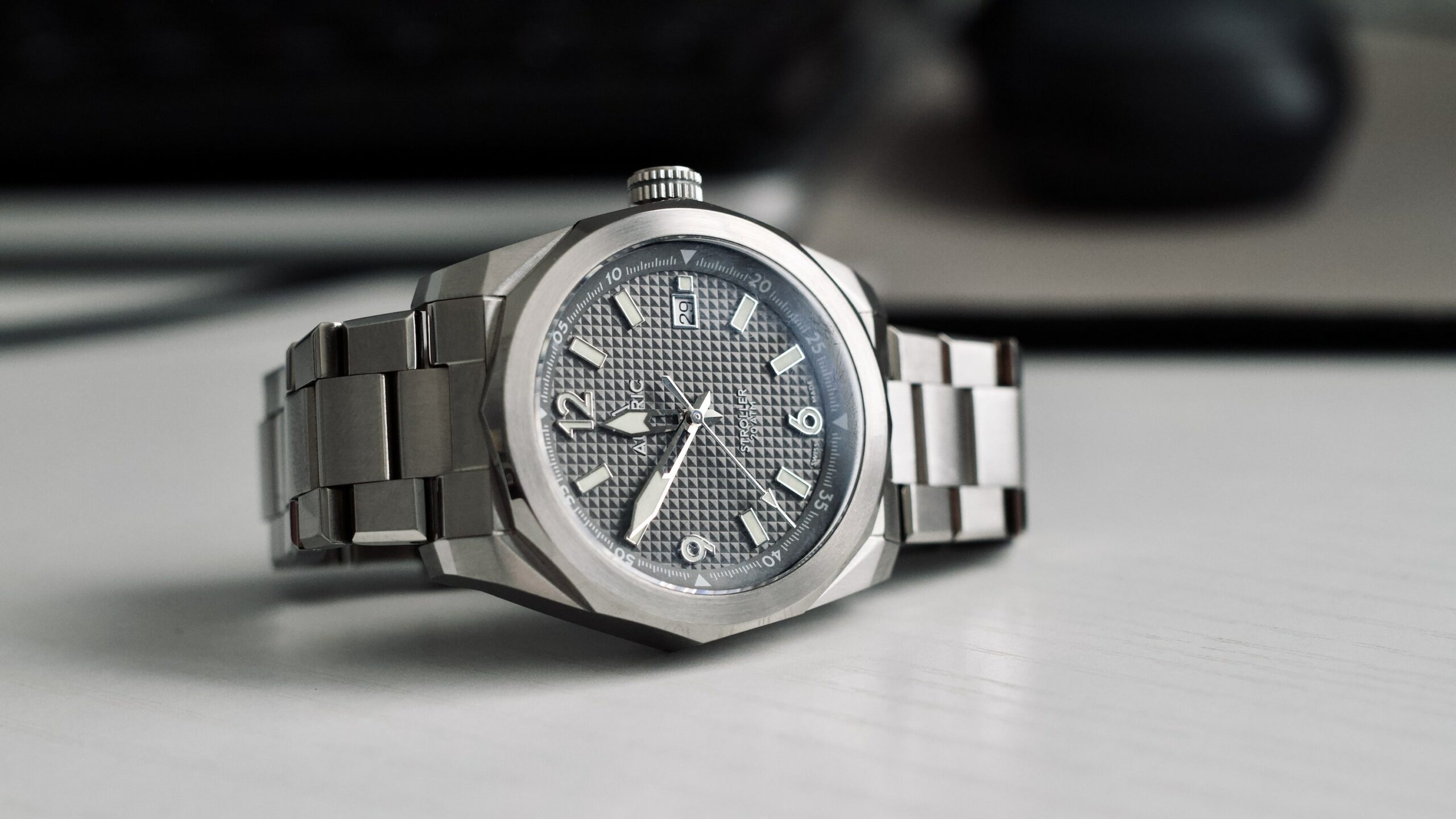 In a fever pitched market, everyone wants in on the action. With a short list of iconic but nearly unobtainable sports watches you are left with a room full of other options that range from tastefully inspired pieces to less than savory doppelgängers. And, at this party while most eyes are on the "elites," and most others clamor for attention a quiet handful of outliers contentedly exchange stories at the periphery of the room, the Strider amongst them.
While the Singaporean based Audric may not yet be on your radar, it's hard to believe the Strider wouldn't at least slow your Instagram scroll or pique your interest should you happen upon one "in the wild." And, while looks aren't everything, the Strider's familiar yet fresh appearance will likely have people wondering: "What's under the hood?" "How much?" & "Does it come in blue?"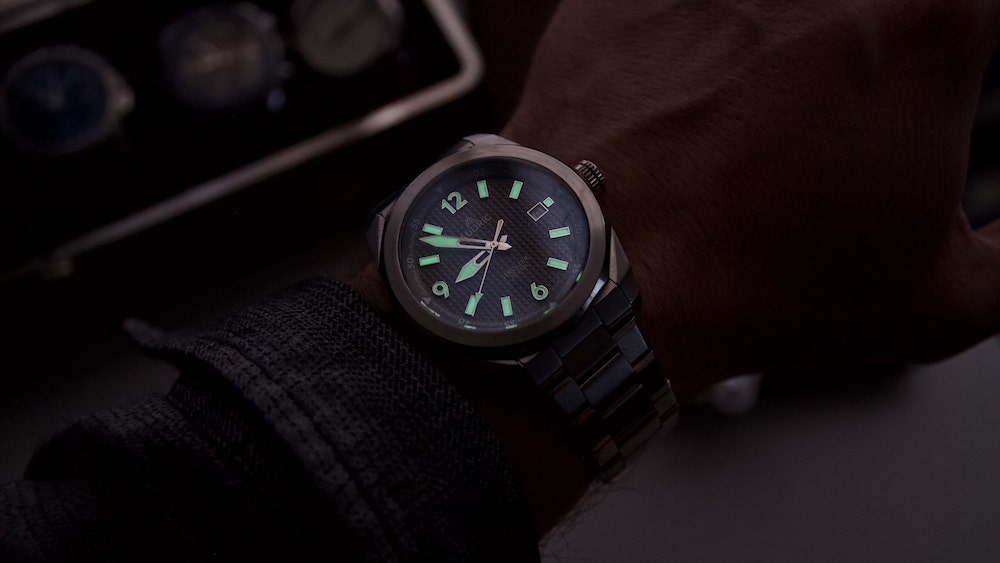 Let's start with latter. Yes, it comes in blue; "Ocean Blue" to be precise. And, while blue dialed sports watches have fueled a certain kind of mania in recent years, they're not everyone's cup of tea (milk tea for my Singaporean friends.) Thankfully the Strider also comes in "Alpine White," "Forest Green," "Granite Gray," "Double Cream" and "Carbon Black" each sporting a tastefully textured dial. While I'm personally becoming less and less enamored with date functions in general, preferring both the simplicity and aesthetic of time only sports watches, Audric managed to do a great job with the Strider's date window. Well integrated and framed, the aperture blends almost seamlessly into the dial's landscape easily matching the applied numerals and indices.
Dial Design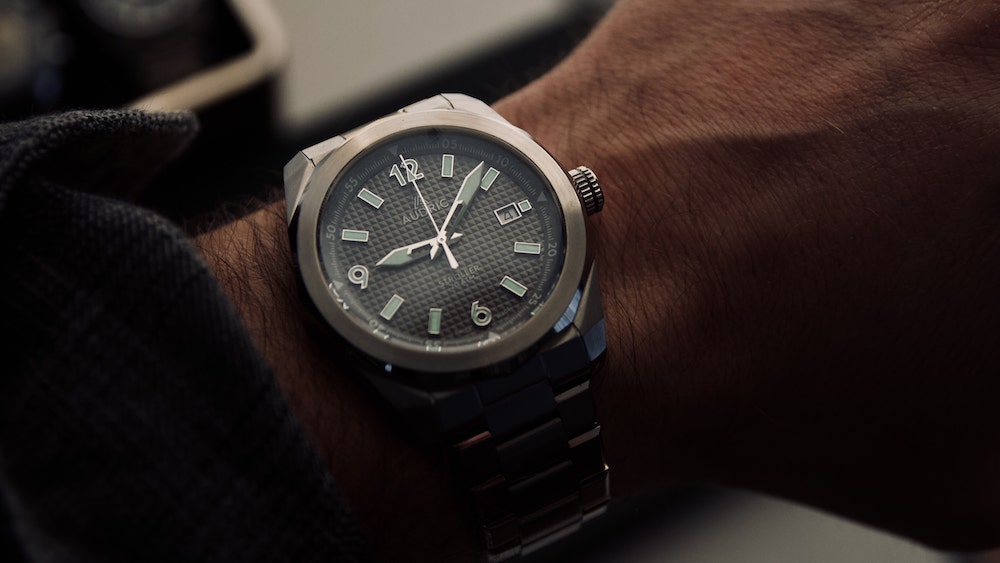 The Sword style handset is partially skeletonized incredibly well lumed and along with the other applied markings catch the light beautifully. While the choice of numeral font and style of handset is not my personal favorite, it most definitely suits the overall design cues of the Strider and more importantly are highly legible. Further where legibility is concerned, I'd mentioned it is "well lumed," to be honest that may be an understatement. Though the BGW9 and C3X1 Super-LumiNova adorning the Strider line are by now somewhat commonplace; in this case it's the application of said lume that truly stands out. During daylight hours the applied markings and handset never struggle to catch our suns warm rays, but truly there is no escaping the "lume monster" that emerges as darkness falls.
Angled Case & Construction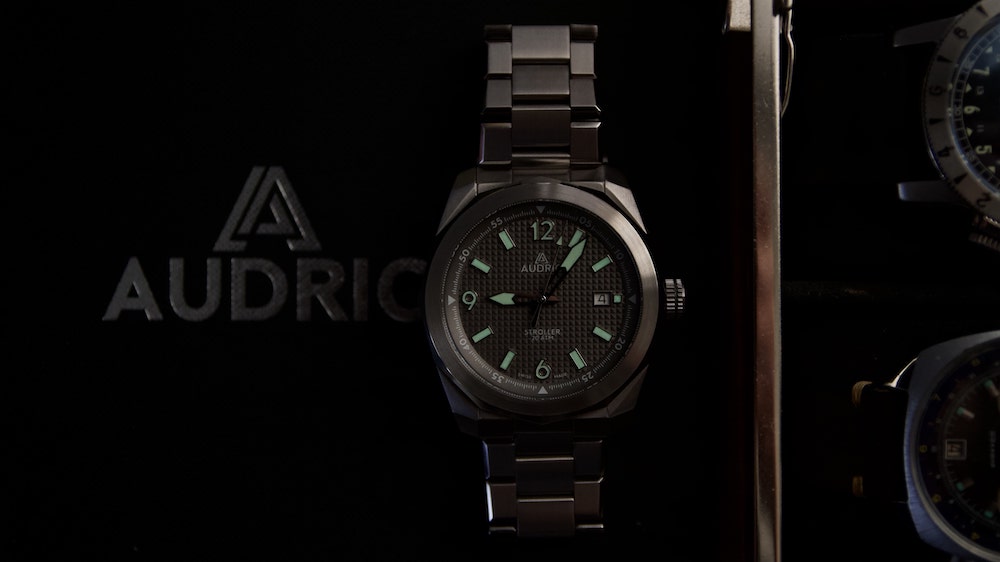 In true sports watch form the Strider dons a fixed bezel. Though it's dodecagonal bezel separates itself from the crowd, and its hexagonal case shape may seem jarring on paper, in the metal the ample sided case and bezel fade into something nearly classic. I say this not to detract from the intended "extreme sidedness" of this watch but rather to applaud the design in that its features stand out in an arguably quirky yet intriguing way when focused on, yet pleasantly fade to the familiar during real life wear. It's in the real life wear, in hand and on wrist,"in the metal" as it were that this Strider is most impressive.
A sports watch of course needs to be competent; with great legibility, lume for days and 200 meters of water resistance the Strider easily checks those boxes. Its ETA 2824-2 and Sellita equivalent are the tried and true work horse movements that power this heavy hitter. And while I can only speak for the Strider I've spent the last few weeks with, it has easily outperformed expectations, consistently running at only 3 seconds fast over multiple 24 hour tests, both on and off wrist. As a pre-release press piece that has been amply shipped and handled, having performed so well in real world tests gives me significant confidence in Audric's forthcoming Strider line.
So far we've covered with some commentary those things that you'd be able find yourself with 5-10 minutes of simple searches. Though, what I can only try to express in writing is really something that you'll need to experience yourself. In short it's what it feels like "in the metal," in hand and on wrist, and not just the physical feeling but the emotional interface. As soon as you pick up this watch, you can feel a sense of quality. It's in the weight, wearability and finishing. It not only feels like you have something of value on your wrist but between the weight and the comfort it has an x-factor that I can only describe as pleasantly nostalgic. Somehow it conjures up the good feelings of my teenage years around the turn of the century, I'm not sure if it's the vaguely 90's esque style or the weight that feels hefty like an old Fossil Blue Sports watch gifted to me at graduation? Or maybe it just feels good, feels like I know it, feels like an old friend or a warm memory of simpler times, before social media, before raising children? However you cut it this watch stands out, it's really something to experience. From Bezel to Bracelet, Crown to Clasp the Strider is well imagined, and well manufactured.
Final Thoughts
Audric has brought us something special with it's Strider; something akin to meeting someone new that you feel you've known forever. And, for me it's that feeling, the feeling of nostalgia, of comfort and dependability that is the magic behind this watch. Without reservation I can say I have genuinely enjoyed spending time with this Strider; it puts a smile on my face and is fantastic on wrist.
At the end of the day Audric's "left of center" design language may not have much "mass market" appeal, but it doesn't need to. If you like what you see, and the specs check your boxes, this really is a watch that you need to experience for yourself. It really is, just that good.
Quick Facts:
Case: 42mm x 11.5
Lug to Lug: 48mm
Lug Width: 22mm
Crown: Screw Down
Crystal: Sapphire (Dial and Exhibition)
Bezel: Fixed
Dial: Textured (Hobnail) 6 Color ways available
Numerals/Indices: Applied
Handset: Sword Type Hour & Minute
Lume: Super-LumiNova
Movement: ETA 2824-2 or Sellita SW200-1
Water Resistance: 200m
Bracelet & Clasp Adjust: Screws and Micro Adjust
Pricing: Kickstarter 550 USD / MSRP 850 USD
To view more on the Strider visit the Audric official website here.