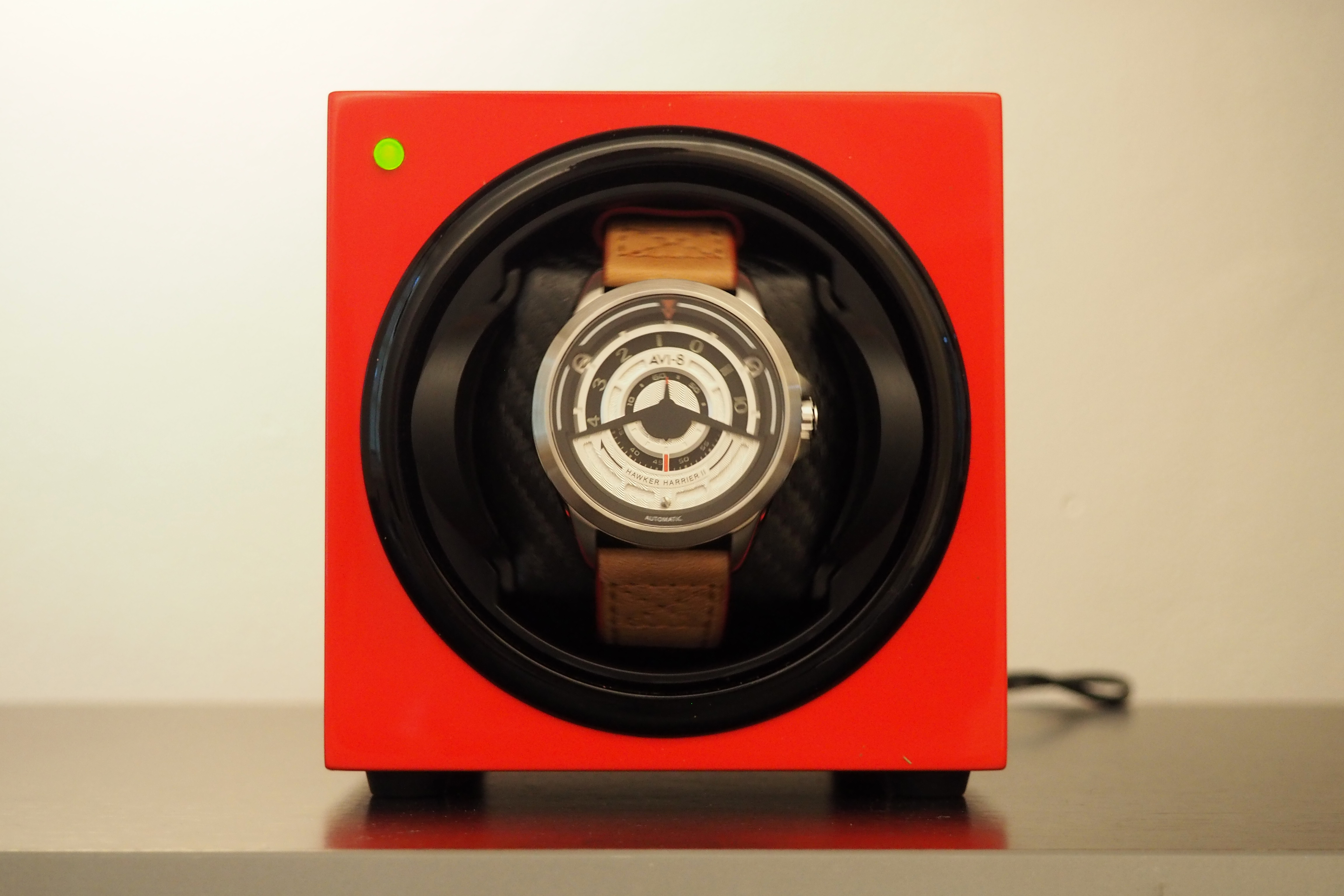 This Barrington Watch Winder is available in a wonderful crimson red colour which will look perfect on show in anyone's household. It has a very sleek and slim appearance which makes it even more attractive. You can purchase your own Barrington Winder for just $179 which is very affordable while keeping hold of those all important features.
Design/Size
This Barrington Single Watch Winder has a perfectly minimalist style. It has a very sleek appearance with the main block colour being red with black accents and the brand 'Barrington' engraved on the side in white. This Watch Winder is incredibly non-bulky and certainly is not something you would want to tuck or hide away in a drawer, instead you would happily have it on display in a living area, bedroom or office.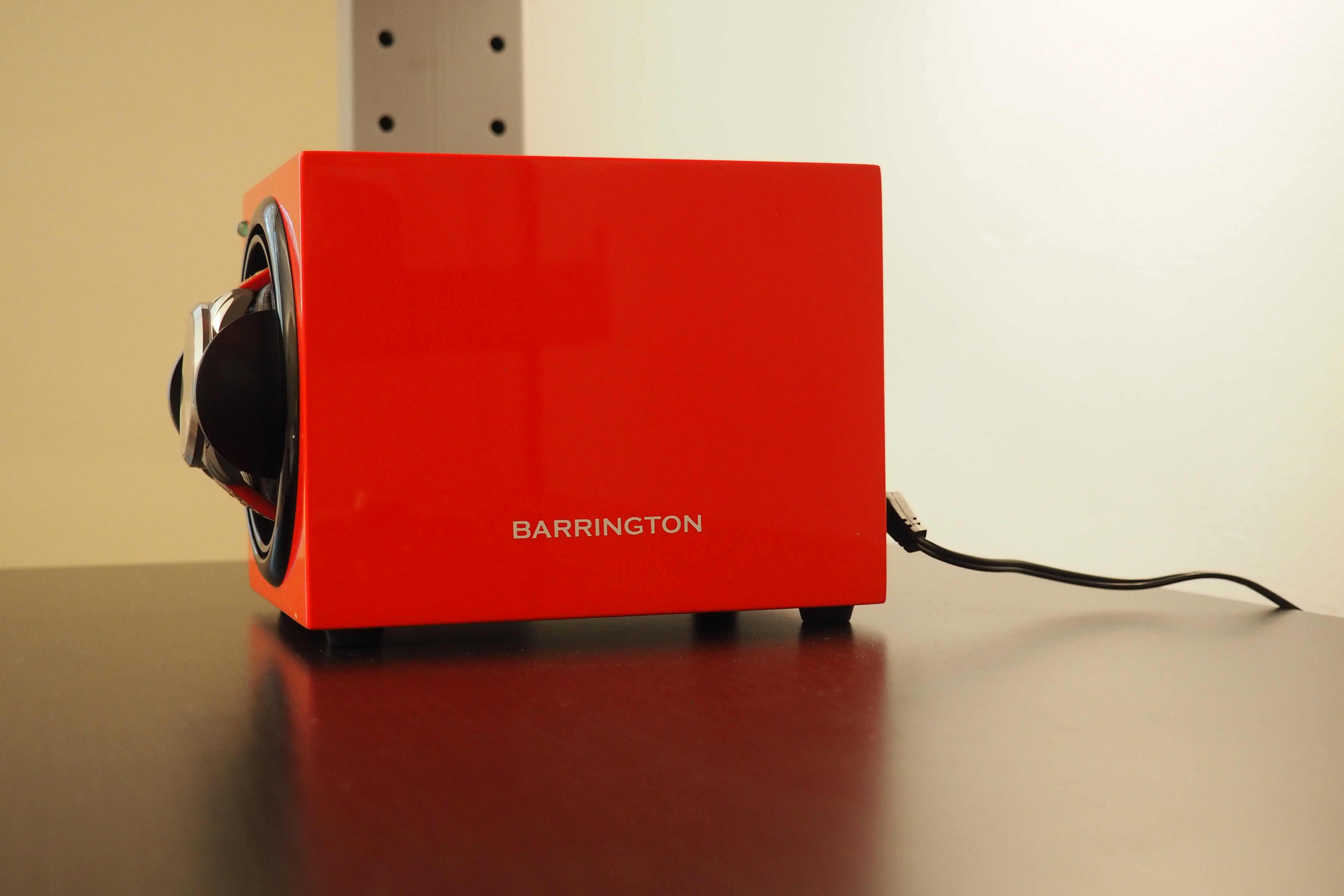 The measurements of this Watch Winder are just 11cm x 11cm x 15cm, making it easy to find somewhere to store or keep it thanks to its compact size. You also never have to worry about any noise annoyance coming from this machine as it has been built with an ultra-quiet Japanese motor.
Features
Barrington have successfully created the perfect watch winder that is in no way a cheap item but equally is not an expensive high-end watch winder either, which makes it perfectly affordable for most people. This amazingly affordable Barrington Watch Winder offers you all of the features that you can expect to see from a high-end luxury winder. Despite not being expensive, they have certainly not negotiated on the quality which is quite rare to find within the watch winder market.
This watch winder features multiple rotation settings which are clockwise, counter clockwise and alternating as well as multiple Turns Per Day (TPD). The Turns Per Day settings are available from 650, 750, 850, 1,000 or 1,950 which will suit absolutely any weight of watch.
What makes this watch winder different is that it operates on gentle rotation to wind watches instead of rotating without a pause like older generation watch winders out there. While rotating without pausing is around because it aims to wind the watch as quickly as possible, this can lead to over-winding as well as damage to the main spring. Gentle rotation is much better for your watch as there is no risk of over-winding.
When you first turn on the rotor it will turn continuously for one minute before pausing, the length of this pause period will be determined by the TPD setting. If you have a lower TPD setting then there will be a longer pause. Once the watch winder has completed it will turn again for just one minute and this cycle will continue for 12 hours before resting for 12 hours and so on until you decide to turn the winder off.
This Barrington Watch Winder can be operated by two AA batteries or through the AC mains adapter which is supplied with the machine. You can also connect multiple winders together using the 'Jump' feature, which means that they are then powered through one simple AC power source.
Don't worry if you have a smaller watch as a flex cushion is available for purchase that will then allow for watches of around 14cm. Although, typically the adjustable cushion will allow for watches with a bracelet or strap circumference of between 19cm to 24cm.
This excellent Barrington Watch Winder will come with a British 3 pin power adapter however if you order your watch winder from the US or Europe then you will automatically receive the correct power adapter for your area.
To view Barringtons full range of products, head over to their official website here.