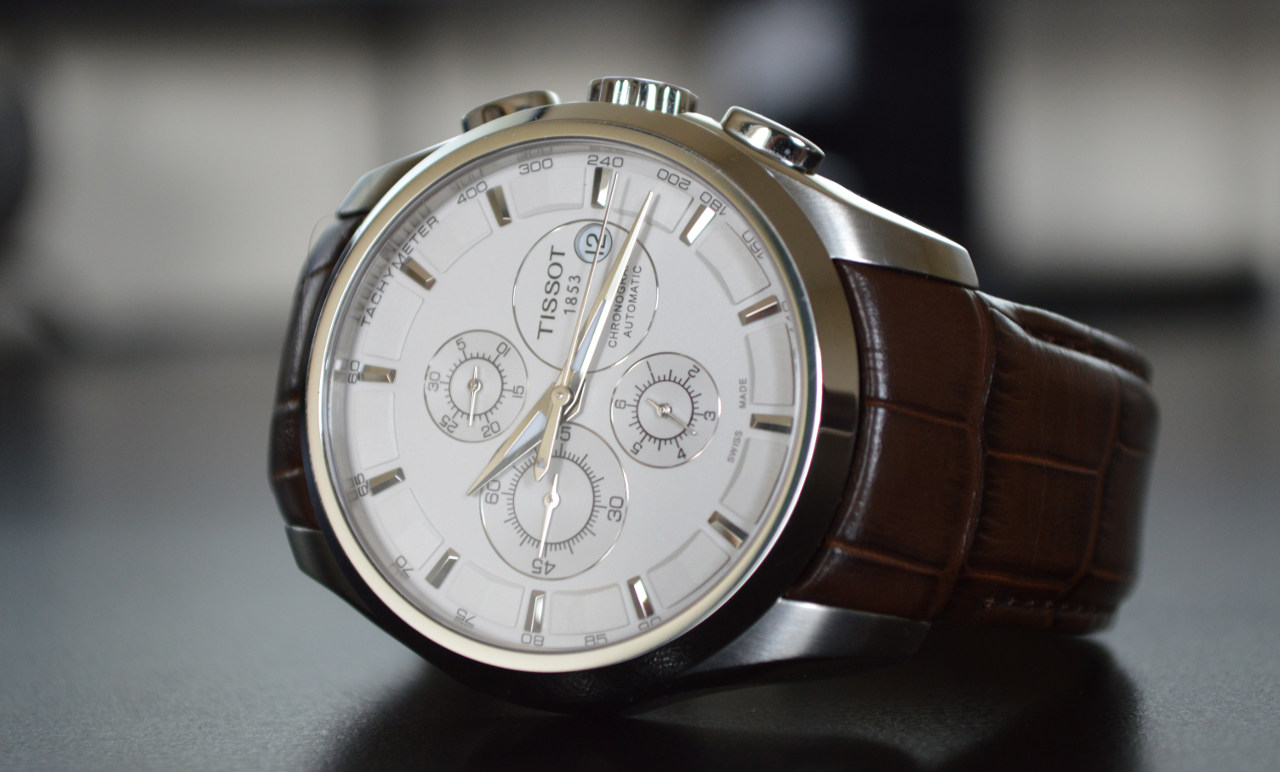 The Tissot Men's Couturier T0356171603100 immediately draws us in as a fantastic example of the craftsmanship that goes into each Tissot watch. Tissot have an extensive history as a company within several different sporting fields, and because of that every single watch that they create has to be highly durable.
It is worth noting that this watch does have a rather large diameter when compared to other watches, so it simply is not suitable for all wrist sizes. Unless you enjoy wearing a watch that really stands out. From certain angles this watch also looks larger than it actually is, which adds to the effect of it being too large for certain wrist sizes.
There is also another feature that makes this watch appear to be larger than it actually is, but here at the WatchReviewBlog we would consider it to be a highly beneficial feature. There are small contours on the left side of the case, and while they do affect the size of the watch, they also add an extra layer of class to the timepiece.
The minimal nature of this watch does not necessarily suit the size of the watch, but it is perfectly paired with an incredibly monochrome colour scheme. The timepiece relies on the facial features of the dial to break-up the monochrome appearance.
Overall the Couturier appears to have the appearance of a classic timepiece, and paired with the crocodile embossed leather band it holds a strong, sophisticated appearance.
> > > Click here to see ratings, reviews, specifications and prices on Amazon < < <
Couturier Style & Design
As we have previously mentioned, this particular watch has an entirely monochrome appearance. The timepiece directly relies upon angled hour markers and the prominent features on the face to make the dial stand out. The dial itself is white, and the majority of the features on the watch are silver-toned.
To match the features of the watch perfectly, this watch has a mostly highly polished stainless steel case. The actual contours of the case are brushed, creating a wonderful layer of contrast. There is also the additional detail of a brushed finish directly on top of the lugs, adding to that contrast in a very minimal way. The fixed stainless steel bezel on the Couturier adds to the overall look of class.
The durability that Tissot are known to offer to consumers is obviously apparent in the design and structure of this watch, as it features a durable Sapphire crystal. Sapphire crystal is known to be highly scratch resistant, and it is much more durable than other materials that used within watch manufacturing environments. The scratch resistance alone can keep a watch looking new for long time periods, and the anti-glare paint means that you will be able to read this watch in direct sunlight. You do get exactly what you would expect given the actual price range of this watch.
You should be aware that there is actually a tiny groove between the Sapphire crystal and the case of this timepiece. Unfortunately, from time to time small particles of dust and other materials can get trapped directly within the groove. This will not affect the aesthetic appeal of the watch, but it is something that would bother anyone hyper aware of small particles of dirt. For example, the particles that get trapped around the main button of most smartphones.
One of our favourite things about a number of Tissot timepieces is that they feature very small details that show an excellent level of craftsmanship. Directly on the second hand of this timepiece you will be able to spot an incredibly small Tissot 'T', although you will have to look closely. There are also fine grooves on the 6, 9, and 12 o'clock subdials, and the grooves alone make the subtle tonal subdials stand out among the face of the timepiece.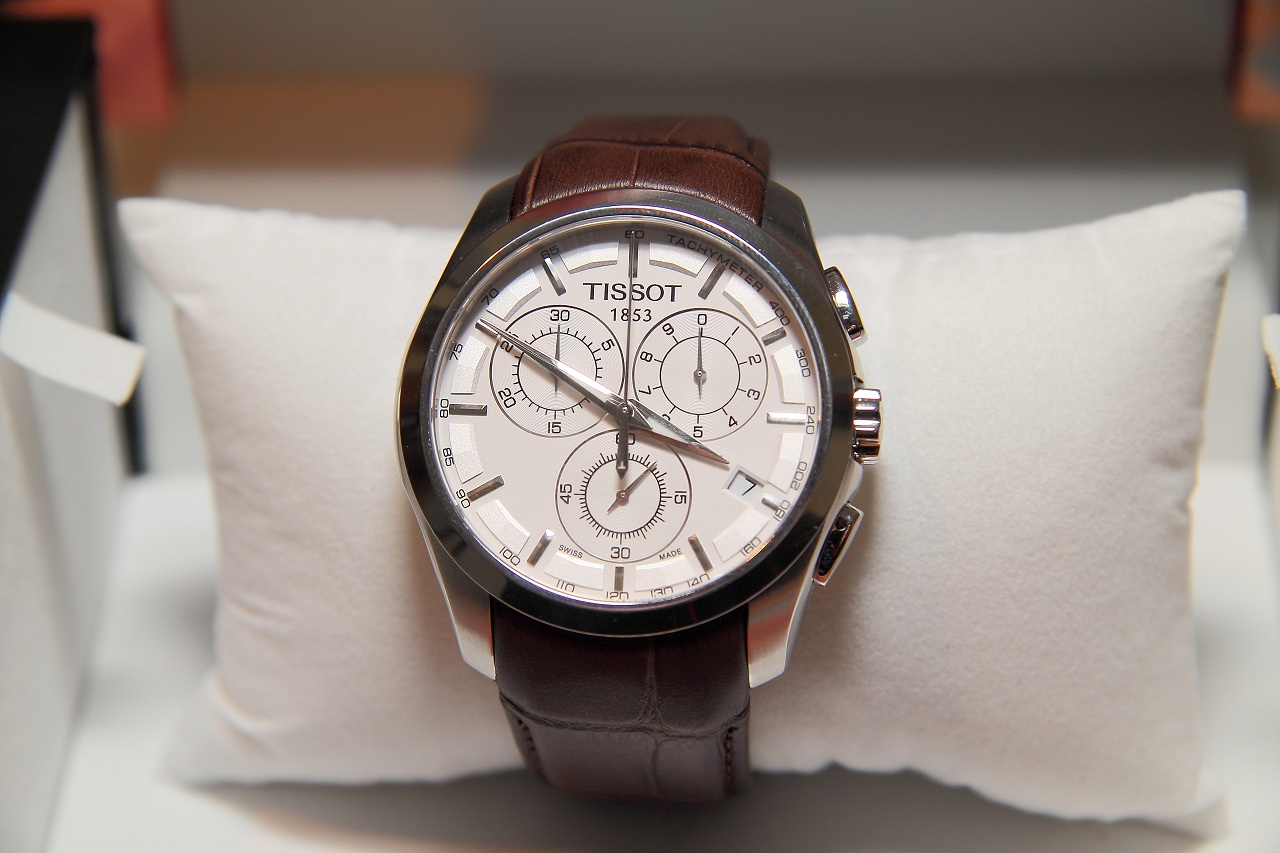 > > > Click here to see ratings, reviews, specifications and prices on Amazon < < <
Features
This Tissot Couturier watch features an automatic C01.211 movement, which is a type of movement that debuted quite recently, in 2008. It was initially met by some disgruntled opinions, as it does feature the use of several plastic parts, opposed to being completely metal. We have done a lot of research into this particular type of movement, and we have not been able to find any evidence that the use of plastic parts compromises the reliability of the movement at all.
Operating the chronograph is incredibly easy, as all you have to do to activate the chronograph is press the button that is situated directly above the crown. Simply press it again to stop it. If you would like to reset the chronograph, then you just have to press the button that is situated below the crown. All of the buttons on this timepiece operate with a highly satisfying clicking noise, so you do not have to worry about whether or not you have pressed it properly!
One of the most sophisticated features of this watch, in our opinion, would have to be the brown-coloured crocodile embossed leather band, which features a highly durable deployment buckle closure. The actual closure itself is known to last, and the appearance of the strap makes this watch a highly desirable purchase.
With a 45-hour power reserve you will not have to worry about the Couturier running out, and with a water resistance level of up to 100m you will be able to wear it in either the shower, or the bath without worrying at all. Although you probably should not go scuba diving with it!
Overview
If you are looking for a timepiece that has a classic and sophisticated appearance, then we believe that you should really consider this watch. It has a minimalistic appearance that somehow stands out more than it would initially be thought to. Although stainless steel is known to be quite heavy, this particular watch is rather comfortable whilst being worn, and it is also exceptionally secure. That security is down to the exceptional deployment clasp that it features on the strap, it would be highly unlikely to fall off!
Overall, the Tissot Men's Couturier T0356171603100 Watch is a fantastic example of the exceptional levels of durability that Tissot are famed for producing. It will look new for years, and even scratching it would be quite the challenge.
> > > Click here to see ratings, reviews, specifications and prices on Amazon < < <