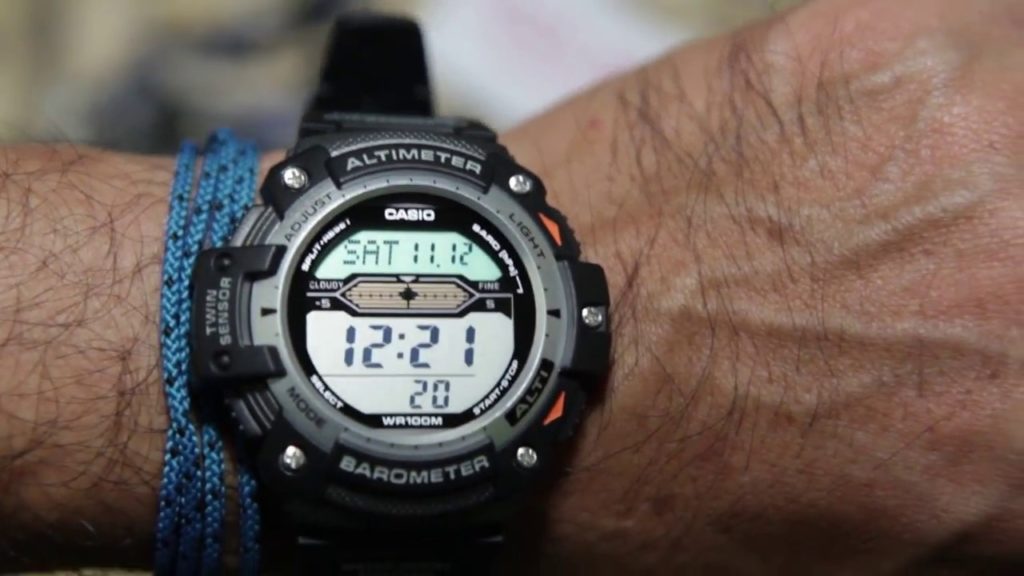 If you love hiking or you´re a ski fanatic, and are looking for something to jazz up your next trip, then an affordable altimeter watch can be a fun way to see your adventures charted out, as well as an additional resource to help you keep on track with your route.
Altimeter watches often tend to be quite expensive though, as they´re often targeted at serious adventurers who need to know their altitude, pressure, temperature, and GPS coordinates to stay safe. However, there are a few cheaper models, targeted at the casual enthusiast, and so today we´re going to take a look and see which ones measure up and which of the top-rated altimeter watches aren´t really up to the job.
If you´re thinking of getting a GPS watch, then chances are, you´ll want a few other features to go along with it. Not everyone will care about all of these things, but they´re worth bearing in mind to help narrow your choices down:
Weight
Case size
Band material
Barometer
Thermometer
Compass
Alarms
Water resistance
Storm alarm
GPS
Low-light illumination
Readability
Ready? You should be, because it´s time to go explore the options.
Quick Comparison
Watch
Size
Band
Water Resistance
Price Point
Casio SGW300HB-3AVCF

Check Price
50 mm
Nylon
330 feet
$
Suunto Core Wrist-Top

Check Price
Very large
Rubber
98 feet
$$$$
Lad Weather Outdoor

Check Price
45 mm
Rubber
98 feet
$$
Garmin Fenix GPS

Check Price
Very large
Rubber
No
$$
Pyle Digital Multifunction

Check Price
Very large
Rubber
98 feet
$
Pulsar PS7001 Tech Gear

Check Price
46 mm
Calfskin
330 feet
$$$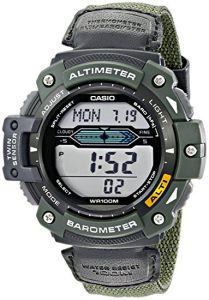 Beginning with a well-known brand that has a history of outdoor watches, we have Casio and the SGW300HB-3AVCF.
If we´re honest, the screws exposed on the bezel in attempt to create a rugged appearance look more cheap than hardy, and the woven, green nylon band reminds us of a cheaply constructed watch. It´s not bad looking, but it´s definitely not the best looker on our list. The 50mm case is very large, and is mostly filled with the over-sized plastic bezel.
Moving on to the technical front though, the watch keeps up with its competition. The altimeter is not entirely accurate, maybe around 10 meters out on average, but this is true of anything under $200 and it´s close enough for most amateurs to rely on. There is also a barometer, as well as a fairly accurate thermometer (if you remove it from your wrist for a few minutes.) The 1/100-second stopwatch is easy to set and use, as is the countdown timer, and the watch can be set to 12 or 24-hour format or to use world time. The 100-meter water resistance sounds good, though avoid using any of the buttons underwater. Last but not least, the LED light is good, and the 5 alarms are more than enough-even if they´re a bit quiet.
There´s no compass, or alarm vibrate option, and the screen scratches fairly easily, but it's reliable and at this price we´d say it's a great option for teenagers or young adults going camping who don´t mind the somewhat cheap appearance.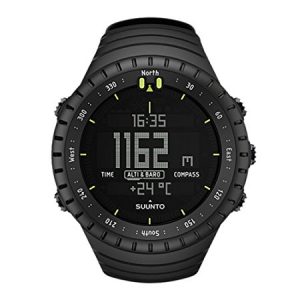 Suunto are well-known for their outdoors watches, and the SS016788000 is one of their reasonably-priced offerings. The all-black stainless-steel design looks much cleaner than the Casio, and the tapering band (35-25mm) is thick enough to keep this firmly on your wrist.
Alongside the altimeter, barometer, compass, alarms and timers, this model has a few additional features. The temperature and storm alarm sound useful, although we wouldn´t rely on them at this price-range. More fun is the automatic 7-day altimeter and barometer memory, so you can compare your daily climbs throughout the trip, and the predicted times for sunrise and sunset which are a useful reminder if you need to find somewhere to pitch up before dark. There is also an ability to set this watch into German, French or Spanish.
Moving onto its weaker points, the low-light illumination seems designed to be weak- good for camouflage or hunting, but bad for general readability. Similarly, the watch is only resistant to 30-meters, though that´s enough for a brief shower or swim.
Earlier models of the Suunto Core were dogged with reliability issues, and we´d advise any readers interested to check that they´re buying a recent model. Even still, it seems as if the main flaw of this watch is its life expectancy, if subjected to heavy use, as the buttons are all quite small and are more prone to go wrong than those of some rivals. That said, the altimeter is more accurate than the others except the Garmin, the memory feature and temperature alarms are good, and the watch itself looks good. If you have a bit more money and want a good-looking, quite reliable, altimeter watch that you can expose to danger and afford to replace, this is a nice choice.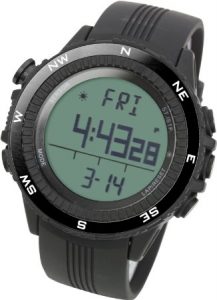 If looks are not your thing, then the Lad Weather Outdoor Altimeter Watch has many of the same functions as the Suunto in a much cheaper design.
The watch comes with an altimeter, barometer, thermometer, digital compass, and alarm and countdown timers. It also has a weather forecast, although this only has 4 options (sunny/ cloudy with sun/ cloudy/ rainy) and it´s only based on the barometer so it´s not overly reliable though it can be a nice reminder to be alert.
The acrylic display will scratch easily, and the plastic band is stiff at first and the vertical-line design doesn´t stop it from looking cheap. The display itself is clean and easy to read however, and the large print is good for bad weather conditions, aided by the decent backlighting. The 45mm case is large, but the 13mm thickness is particularly notable. There is a power-saving mode, which disables most of the functions, but this is only really necessary because the watch uses up its batteries faster than most alternatives.
It looks cheap, but it´s good alternative to Suunto if you don't want to pay as much, and if you don´t want to risk a refurbished Garmin Fenix.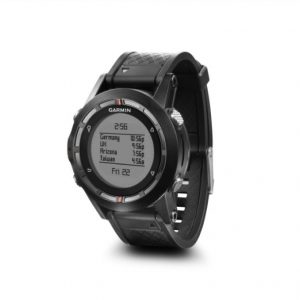 First of all, it´s important to note that any model of the Garmin Fenix for sale is likely to be refurbished, as this model is 4 years old and has been replaced by the Garmin Fenix 3. However, the Fenix 3 is too expensive for our $60 -$200 dollar price range, and so we´ve decided to review its older brother for those of you who might wish to risk a refurbished watch in order to get some added functionalities.
Alongside the altimeter, barometer, compass and thermometer we´ve seen so far, this watch also comes with a GPS navigator and smartphone and computer integration. Using the affiliated smartphone or computer software (Garmin Connect, Bootcamp) it´s possible to plan a route with up to 10,000 waymarkers, as well as to review your data afterwads to see where you travelled, how long and often you stopped, and what your average moving speed was. If you also buy the enhanced model, you can track your heart rate too.
Despite the age, if your model is correctly functioning then this is the most accurate altitude meter that we tested, and the additional GPS features are useful if you plan on using this watch for hiking or climbing. The 50-m waterproofing is weak, but acceptable for splashes.
The main negative here is that this model is discontinued, and that any refurbished watches for sale are likely to be 4 or 5 years old by now, so it´s unclear how long they will last before becoming unreliable and you would need to buy 3rd-party warranty if you wanted to have a guarantee.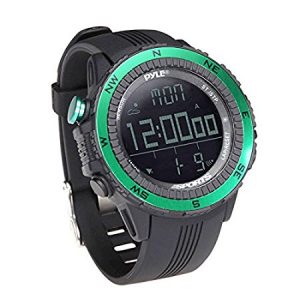 With an all-black design that´s eerily reminiscent of the Suunto Core, it´s easy to see where the inspiration for this cheaper alternative came from.
Like its inspiration, the Pyle Digital Multifunction Sports watch has an altimeter, barometer, compass and thermometer, as well as a daily alarm and stopwatch. It also has a weather forecast with 4 symbols, like the Lad outdoors watch. The 34-hr history of altitude, temperature, pressure and temperature is not as good as Suunto´s 7 day option, but it´s better than nothing, which is what most of the cheapest options have.
It scratches easily, but the screen is easy to read, and the all-black design with a colored bezel is more attractive than the Suunto Core (although the vertically-striped rubber band resembles that of the Lad watch, and somewhat cheapens the look.) Life expectancy is the main downside- the watch doesn´t seem to be very shockproof and we´ve heard reports that a few hard knocks can damage the compass and altimeter. If you can´t afford the Suunto Core, then this is a pretty good homage for half the price.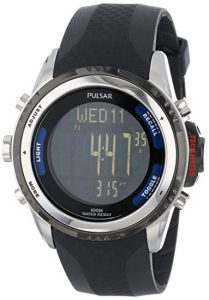 Last but not least, we have the Seiko Pulsar PS7001. The 46.3-mm stainless-steel case leaves this a bit heavy, and the basket-weave-textured band doesn´t look that great, but if you´re looking for something reliable and long-lasting then it´s a decent choice.
The watch comes with an altimeter, barometer and thermometer, as well as a stopwatch with 50-lap memory recall. There´s no compass, but the 100-meter water resistance is better than most of its rivals and leaves this watch more practical for generally-active users. The illumination isn´t that strong, but that´s a general problem across all of the watches reviewed here, and it´s still readable.
This doesn´t look as good as some of the other options, but Seiko are known for their reliable watches and the quality of the parts is better than most of the similarly-priced options. If you´re an all-round active person, then this is a good choice as the water resistance outweighs the value of a compass and the design is quite shock resistant.
Our thoughts
At the end of the day, you get what you pay for. None of these watches are going to be accurate to 1 meter, but they all offer a fairly close (c. max +/-15m) estimate of your altitude, which can be fun to chart and useful to know when you´re hiking or camping. Which one you chose depends on what your priorities and finances are- and whether you´re willing to take a risk on an old Garmin (we´re tempted.) On a safety note before we leave though- however good your watch is, never leave your real compass at home: there´s only so much trust you can ever put in a digital compass, and it´s definitely not worth risking your life to find out!