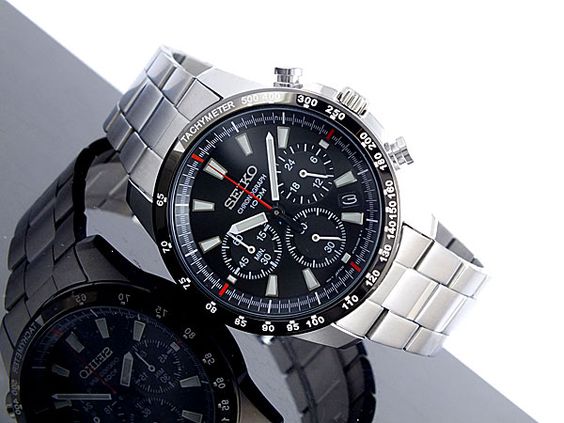 Chronograph watches just look good. Or, to be more exact, chronographs look good. Whether you intend to use the timers, or if you just like the touch of interest that they can bring to a dial, many of the most attractive watches out there are chronographs.
Unfortunately, many of the most attractive watches out there are also very expensive. Whilst it´s possible to find an unattractive watch with timer facilities for under $30, we wanted to focus on the aesthetics too, and so today we´re going to give a round-up of some of the most appealing chronographs out there for under $200.
Aside from the chronographs, there are also a few other features that you might want to put on your wish list. To help you figure out which of our options look best for you, we know that we keep an eye on the following details when picking our own next buy:
Case size
Band material
Color scheme
Water resistance
Style
Quick Comparison
Watch
Size
Band
Water Resistance
Price Point
Seiko SSB031

Check Price
40 mm
Stainless steel
330 Feet
$$$
Fossil FS4552

Check Price
45 mm
Stainless steel
165 Feet
$$
Casio EF-527D-1AVEF

Check Price
45 mm
Stainless steel
656 Feet
$$
Ferrari 0830077

Check Price
44 mm
Silicone
165 Feet
$$$
Timex T2N700

Check Price
43 mm
Genuine leather
330 Feet
$$
Seiko SSB031 Men's Chronograph Watch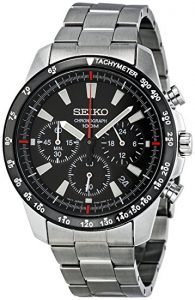 Seiko are known for their reliable, reasonably-priced timepieces, and first up is one of their mid-range models: the Seiko SSB031.
Based around a racing-inspired design, this chronograph is classy without being too showy. The black, red, and white color scheme is simple but effective, and the 40mm case is large enough to dominate your wrist and to show off your chronograph sub-dials without being ridiculously over-sized. The chronograph sub dials are easy to use and to read, and they can be reset mechanically after use, like in luxury models. The hour markers are somewhat over-sized though, which doesn't really appeal to us, though it may make the dial easier to read if you are short of sight.
Meanwhile, the stainless-steel bracelet is very robust, although somewhat clunky, but we think it gives a nice contrast to the detailed dial. The date display between the 4 and 5 o'clock position is useful, if standard.
As you'd expect, the SSB031 is powered by one of Seiko's Japanese quartz movements, and so you can expect it to keep reliably-good time. Less positive is the touted 100-meter water resistance, which we aren´t convinced by as the watch lacks a screw-down crown; we´d keep this one away from deep water or regular swimming if it was ours.
Overall, this is a nice first chronograph, or a nice additional chronograph for any man who is looking for a classic, but conventional, option.
Fossil Men's FS4552 Machine Black Chronograph Watch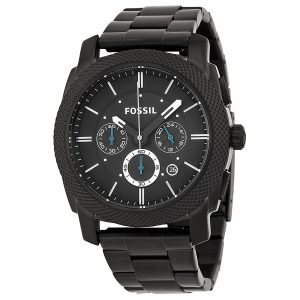 Next up is Fossil's FS4552 chronograph. With its all-black design, there couldn´t be a more striking contrast to our previous offering, and its minimalistic look is one that you will love or hate.
The simple design leaves the vaguely aeronautically-inspired white and blue details of the chronograph dials easy to read. The largeness of the dial also helps – the case itself is 45mm. If you´re into large watches then it´s undoubtedly masculine, but if it´s your first watch then we´d advise you that this trend can´t last forever and may look brash in a few years.
The 50-m water resistance could be better termed splash resistance as, like our previous offering, it does not have a screw-down crown. The date window between the 4 and 5 o´clock position is subtle, but useful.
To be honest, the big selling point of the FS4552 is its elegantly masculine all-black design, encapsulated in the strikingly-black stainless-steel band. Whilst the textured bezel adds some welcome interest and stops it looking boring, it does not detract from the dominant monochrome appearance.
If you don´t want something overly sporty, but you´re looking for an understated, modern design that could look at home with a suit or dressed down, then check it out.
Casio EF-527D-1AVEF Mens Edifice Watch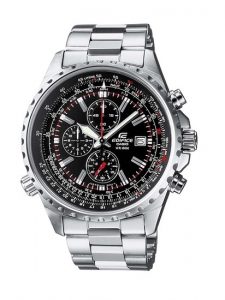 On the other hand, if you like lots of complicated detail and interest in your watch, then you might prefer our next pick, the Casio EF-527D-1AVEF. The oversized 51mm case and the chunky, polished, stainless-steel band leave this watch looking anything but subtle, however if you like a watch that draws attention then read on.
The biggest feature of this Casio watch is the incredibly complicated dial, which is ringed by three different groups of markers which operate as a sort of slide rule function that can be used to calculate various aeronautical measurements such as the speed, fuel consumption or flight route of a plane. Most readers won´t ever plan on using these, but they´re a feature of the aviator watches that this chronograph seeks to channel, and they definitely lend a unique interest to the dial.
Moving on, the chronograph sub dials are easy to use and read, and the main dial is readable although the hands do get slightly lost in the detailed background. The stainless-steel band is solid, and the lack of detail is a welcome contrast to the busy dial. The screw-down back and crown help keep this watch more water resistant than our previous options, although it is only resistant to 100 meters, so it´s good for swimming but not diving.
If you´re looking for a watch that's showy and classy, but still retains an element of originality, then the Casio EF-527D-1AVEF is a nice option. Admittedly some readers will find the inclusion of the aviation dials pretentious, but they are definitely a talking point, and this watch ends up looking far more expensive than it really is. Best if you want a watch that sparks conversation, or if you've already got a large collection and are looking for something different.
Ferrari Men's 0830077 Race Day Chronograph
Staying with the showy theme, next up is the Ferrari 0830077 Race Day Chronograph.
The distinctive black and red color scheme, and textured black band that is designed to recall the wheels of a f1 car, immediately make this watch stand out from the competition. As if the theme wasn´t clear enough, the dial is emblazoned with the name of the Ferrari 166 Inter Corsa and the sub dials are designed to recall those from the iconic car. The Ferrari shield is also clearly visible, to the left of the date window at the 3 o´clock position.
The bezel is stationary, though it has tachymeter markings, and the 44-mm case is large but not ridiculous- although the 13mm case is on the thick side. The silicone band is comfortable, although the tire design leaves this unsuitable for formal wear- you may need to purchase an additional band if you want to dress it up. Finally, the 50-meter water resistance is okay for washing your hands or splashing under the shower, but the lack of screw-down crown makes swimming riskier and we wouldn´t want to try.
If you love sports cars, and want a watch that is going to get comments, then this is for you. It´s not subtle, and the band is unsuitable for formal wear unless you change it, but it´s eye catching and youthful.
Timex T2N700 Intelligent Quartz Fly-Back Watch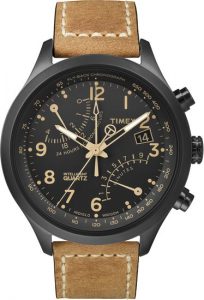 If the previous option was youthful, then the Timex T2N700 screams of an old-school, explorer vibe.
The leather band, cartographically-inspired dial, and color scheme all leave this chronograph channeling old maps and exploration into terra incognita. But rest assured, the watch itself is still fitted with some nice modern innovation: Timex´s indiglo luminescence is a nice plus, as is the fourth hand which forms part of the flyback chronograph.
In keeping with the unusual design, the 24-hour and 1-minute chronographs are unusually designed, not as circles but semi circles, and are set at an angle, as is the date window at the 3´o clock position. This leaves them looking less sporty, and more like old-fashioned measuring devices, but it may also be a pain if you actually plan on using the chronographs regularly.
The leather band has a deployment catch, so it shouldn´t come off by accident, and the 43-mm case is large but not excessive. The 100-meter water resistance sounds good, but is let down by the lack of screw-down crown – as before, we would be wary about taking any watches without one on a watery adventure.
Overall, the T2N700 looks unusual, and if you´re looking for something with an old-world class then its explorer vibe is certainly appealing, and the leather strap allows you to get away with wearing this with anything from casual clothes to office wear.
Our Thoughts
Whether you´re looking for a watch with some old-school adventure, harkening back to the aviation, or combining the idea of a classic car with some seriously modern details, we´ve got a chronograph for everyone. Even if action and adventure are not your thing, Seiko´s classic option, and Fossil´s monochromatic modern model are masculine without being overly-macho.
We don´t really know which one to recommend most, as we´d love to buy them all! But, whether it´s for you or for someone special, Christmas time is the perfect time to think about treating yourself to an enduring gift, and we think that most men would be happy to wake up to one of these chronographs.