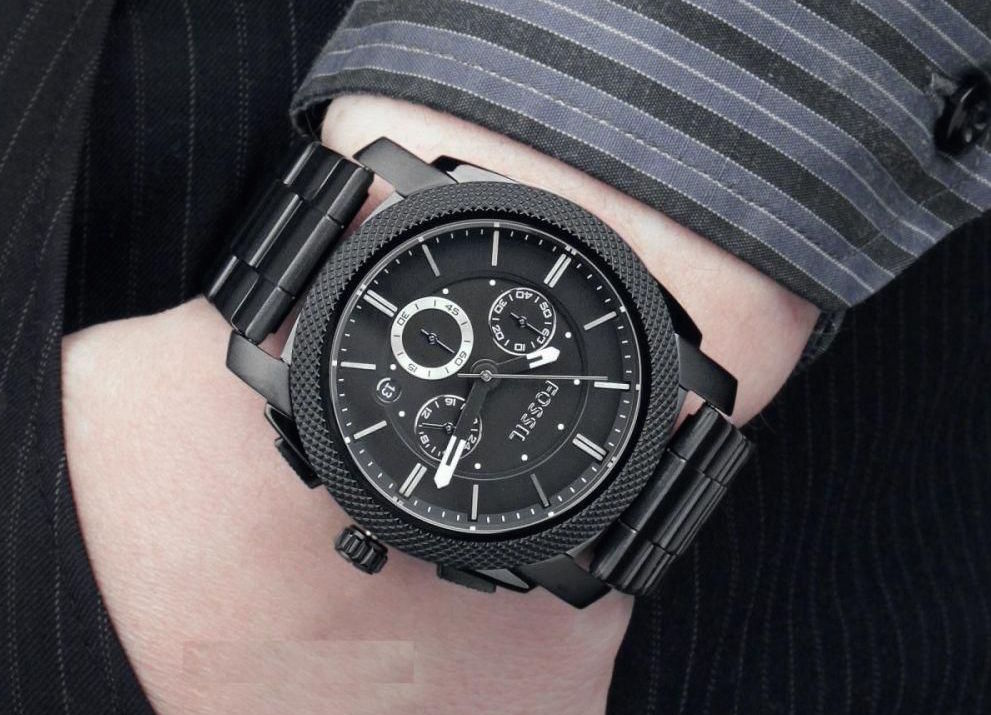 Coming in a muted shade of ion-plated black steel, but sporting an over-sized dial (45mm) and chunky band (24 mm,) the Fossil FS4552 Machine Black Chronograph Watch is designed to give off an air of latent masculinity with a touch of show. Not that the emphasis on style should come as a surprise in a product from Fossil, otherwise known for manufacturing products for brands such as Armani and Marc Jacobs.
> > > Click here to see ratings, reviews, specifications and prices on Amazon < < <
Returning to this watch, the design is best described as simple but not basic and the color scheme is suitably under-stated: an all-black band and black dial with steel blue and white-tipped hands. The manufacturer suggests that this was inspired to give an aeronautical feel, and whilst that is undoubtedly marketing spiel, the watch does look streamlined.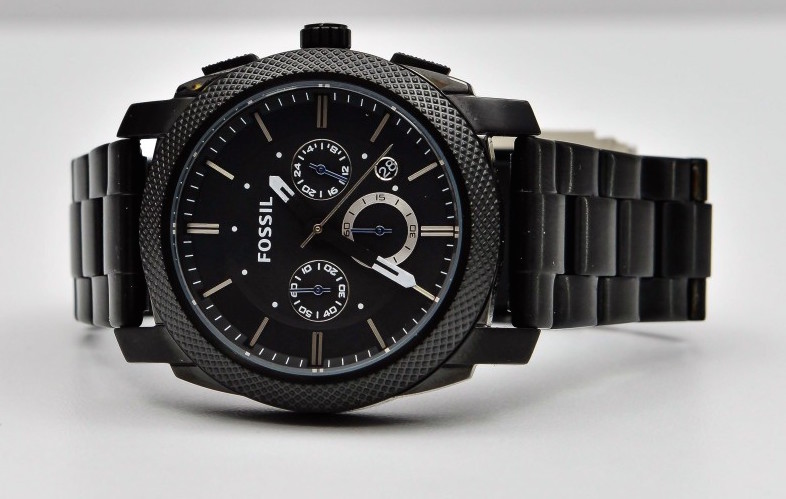 FS4552 Wearability
Don´t get too carried away with dreams of aeronautics and action men though: whilst sturdy, it is by no means designed for adventures and although the watch is wearable up to a depth of 5 atmospheres, or 50 meters, the manufacturers note that it is not appropriate for bathing. It is therefore unclear, in lieu of more thorough testing, how well it would hold up whilst swimming, though it is advertised as suitable for shallow water. We would advise you to look elsewhere if swimming (or any water-related activity) is a regular pursuit, as this feature is not one of the watch´s key selling points and there are other products on the market that are more targeted for this use and which offer better protection. The FS4552 is better for looking like an action hero than for being one.
> > > Click here to see ratings, reviews, specifications and prices on Amazon < < <
Technical Details
The remainder of the technical details are all fairly standard, as one might expect from a trusted brand like Fossil. The FS4552 timepiece comes, as do most, with a triple chronograph (timer) function (1 second, 60 seconds, 24 hours) and this is situated on the dial. The watch uses a quartz movement, but we were not provided with further information of its provenance or caliber. Based on Fossil´s reputation, and on similar watches, it will likely be reliable but by no means the high-accuracy quartz of luxury brands and it is likely not Swiss-made. For the average man, this is not a concern though, as one would have to be ten times as much for anything more advanced. The band is extra-large, and most men will need to remove a link or two to ensure a good fit, but this guarantees the watch should fit even larger wrists.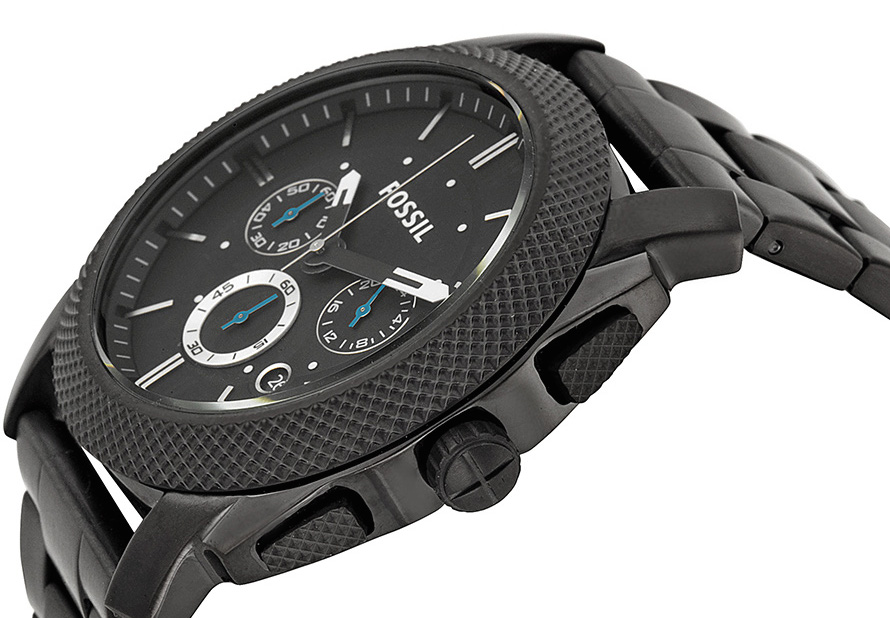 Is it for you?
The Fossil men's FS4552 machine black chronograph watch is designed for those who want a watch that complements, instead of overshadowing, their outfit, and the design delivers. It doesn´t have any technical traits that set it apart from its rivals, but it is an attractive watch that goes from day to evening without being distractingly flashy. If you´re not an action man, and style is your primary motivation, then this watch is a good choice. Be wary on the waterproofing advice though: despite the claims, this watch is not made for adventures.
> > > Click here to see ratings, reviews, specifications and prices on Amazon < < <