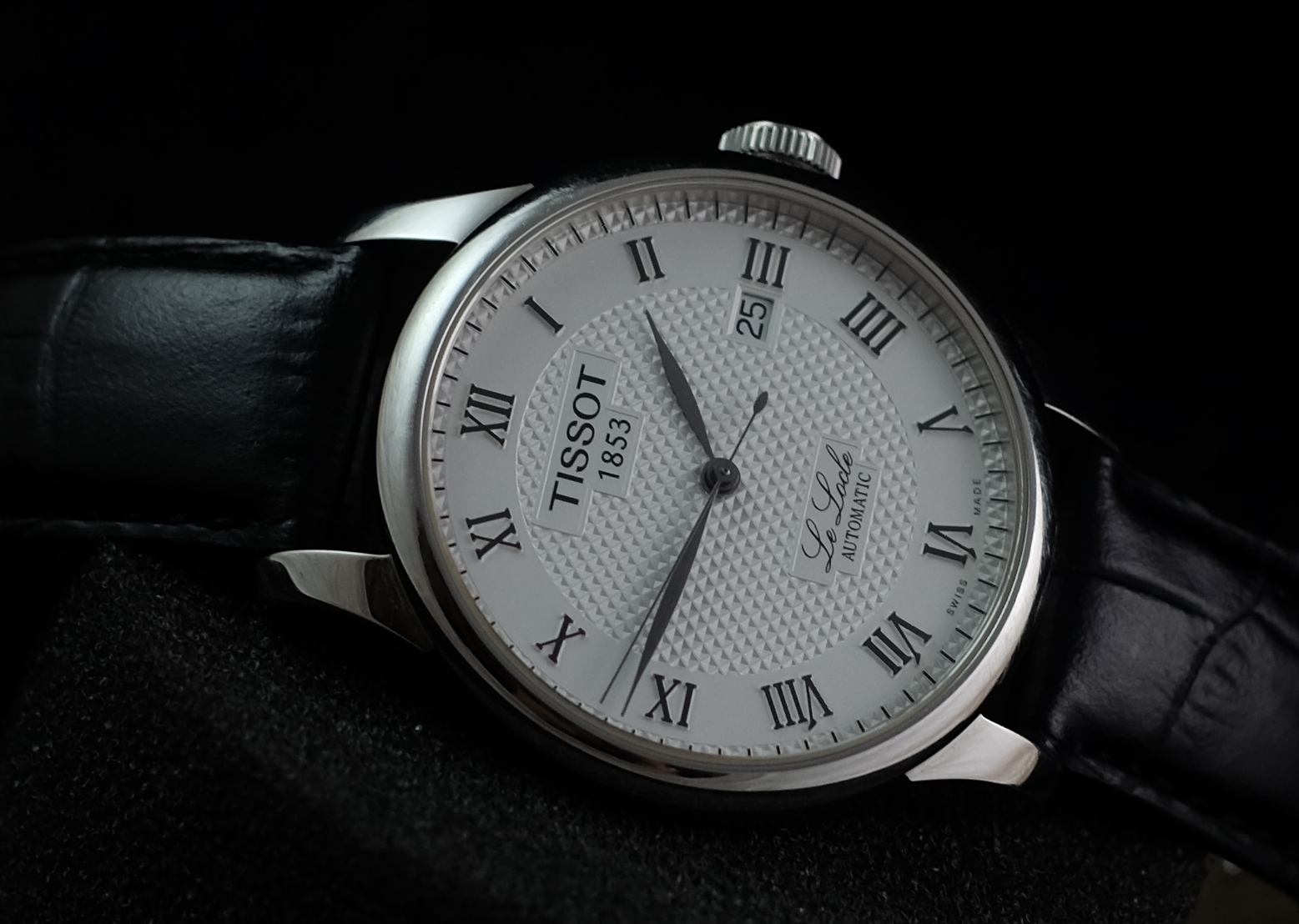 The Roman numeric system originated in ancient Rome and remained the customary way of writing numbers throughout Europe well into the Late Middle Ages. Roman numerals were used to record numbers in stone, art and coins. Today, Roman numerals are typically used for listing items, chapter headings, copyright dates, and on clocks and watches. The numbers in the Roman numeric system are represented by combinations of letters from the Latin alphabet. The numbers are formed by combining symbols and adding the values.
Interestingly, there was never a Roman number 'zero.' The ancient Greeks were aware of the concept of zero, but didn't think of it as a number. And, the Romans never used their numerals for arithmetic, therefore avoiding any need to keep a column empty with a zero symbol. Initially, just a dot was used to express '0,' eventually evolving into the '0' we know today.
Today, Roman numerals are based on seven symbols. If you have a clock or watch with Roman numbers, or know someone who does, you may have realized that the number four is written as IIII instead of IV. This is because it adds symmetry to the clock face.
Roman numerals are undoubtedly here to stay. Even though we struggle to remember numbers past 10 or fifteen, we enjoy their classic style and elegance.
Our top 5 affordable watches with classy Roman numerals are as follows:
Comparison Chart
Watch
Size
Date Feature
Water Resistance
Price Point
Tissot TIST41142333

Check Price
39mm
Yes
99 Feet
$$$$
Bulova 96A133

Check Price
38mm
No
99 Feet
$$
Citizen AW1236-03A

Check Price
40mm
Yes
99 Feet
$$
Orient FER24008B0

Check Price
40mm
Yes
99 Feet
$$$
Stuhrling 599G.04

Check Price
42mm
Yes
330 Feet
$
Tissot TIST41142333 Le Locle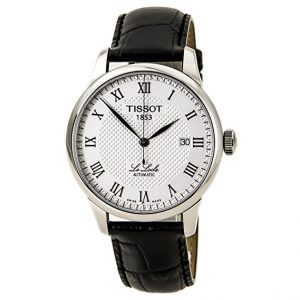 First on our list is the Tissot TIST41142333. It's both casual but classic. Since 1853, this Swiss brand has embodied everything simplistic while maintaining an elegance that is not overstated. This watch features a 39mm stainless steel case that's brushed with polished bezel making the watch very pleasing to look at. The silver guilloche dial of this watch is elegantly textured adding character and aesthetic. An anti-reflective sapphire crystal covers the watch's dial. Black Roman numeral hour markers affix the silver dial adding contrast for easy reading. The black hour and minute hands against the silver dial make for a very easy to read watch. The TIST41142333 won't disappoint you in the function area. This watch features a day chronogram at the three o'clock position that is understated but still easy to read. Black second measures are found on the very outside of the dial. This watch has an ETA caliber, which is a mid-range movement that is visible from the back end of the watch. The 15mm black calfskin band on this watch allows for everyday use while being comfortable. The watch has a butterfly fold over clasp however, if you prefer the stainless steel clasp on the band can be replaced for a buckle without purchasing a new band. You would just need access to a buckle from an old band.
For the price, this Swiss made timepiece has components one would expect from a higher-priced automatic. If you're in the market for an affordable watch with Roman numerals that's not too sophisticated to wear every day. The TIST41142333 is an excellent option.
Bulova 96A133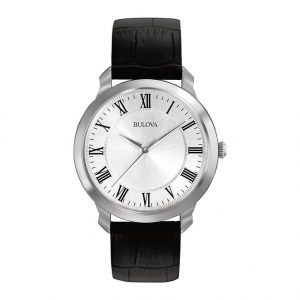 The Bulova 96A133 Looks pricier than you would expect and is a truly timeless and elegant watch. Known for their skill in keeping up with cutting edge trends, Bulova has been making watches since 1875. Their reputation for creating quality watches with classic character is unwavering. In 2008, Citizen purchased Bulova Watch Company, and together, they represent the world's largest watchmaker.
The 96A133 is American made with uncomplicated and clean lines making it a piece you can easily wear to the office, out to dinner, or for a special occasion. This watch has a moderately large 41mm stainless steel case. Black Roman numerals are displayed on a soft silver dial encased with a protective mineral crystal window. The stainless steel hour, minute, and second hands are an attractive contrast the slightly textured silver dial making it a pleasingly easy watch to read. The band is premium quality black leather with an understated stainless steel buckle and is comfortable on the wrist. One of my favorite details on this watch is the beautifully polished stainless steel bezel that adds an understated elegance to this timepiece. And, with Japanese quartz movement, this watch it keeps meticulous time.
Detail is everything. The 96A133 displays the classic Bulova tuning fork on the crown as well as on the buckle. This watch is water resistant only to 99 feet (30M), so you will want remove it for any activities that involve water. The 96A133 is a timepiece you will be proud to wear on your wrist. This watch is a truly stunning timepiece that won't set your budget astray.
Citizen Eco-Drive AW1236-03A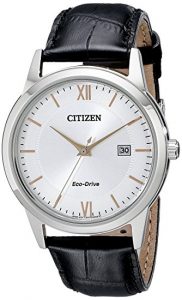 One of the most handsome watches on our list is the Citizen Eco-Drive AW1236-03A. This watch is both functional and affordable. It has a 40mm stainless steel case with a 9mm thickness protected by a mineral dial window. The dial on this watch is silver with modest texture. A unique feature of the AW1236-03A is the subtle gold-tone Roman numerals that stand out beautifully against the silver dial. The hands of this watch are also a subtle gold-tone creating a pleasing and easy to read dial. This watch features black stick hour markers around the outside of the dial, and a date display sits at three o'clock. This watch keeps impeccable time with Japanese quartz movement. The classically black band is nicely stitched and made from leather with a buckle closure. This is a watch that will go well with a variety of colored bands, so if you wanted or needed to change it in the future, you could. Water resistant to 30M (90ft), this is not a watch for water activities. This watch is built to run forever. Another likable feature of this watch is the Eco-Drive technology that uses any kind of light source to recharge itself so batteries are a thing of the past. The AW1236-03A is attractive and light enough to wear every day. It weighs only 1.6 ounces. Whether you're purchasing this watch for yourself or perhaps want to impress your father with a great timepiece that's also affordable, this is the perfect watch.
Orient FER24008B0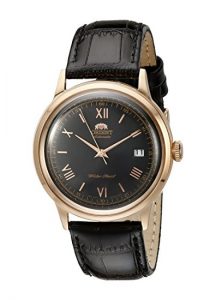 Next on our list is Orient FER24008B0. The cost of this watch is slightly higher than the previous watches, but well worth the few extra dollars for its unique style. Known for their classic but unique looking timepieces, Orient doesn't disappoint with the FER24008B0. It has a sophisticated 1950s vintage look that stands out from many watches with Roman numerals. It features a round black dial contrasted with gold-tone Roman numeral and partial Roman numeral indices including IIII at four o'clock. The date window located at three o'clock is easy to read. It has a white background with black letters. This watch has a 40.5mm stainless steel gold case with a 12mm thickness protected by a domed mineral dial window that add a level of sophistication and somewhat retro feel. The front of the case is polished while the sides are matt, creating a combination of texture and depth to the watch. It is the domed dial that defined Orient's popular Bambino series. With Japanese automatic movement that's manufactured in-house, this watch is trustworthy and keeps precise time. This watch features a black 20mm wide croco-textured leather band with gold-tone buckle closure. A watch this sharp should never be worn in the water. It is water resistant to 30M (99 feet). If you're looking to put your money toward an exclusive looking watch with Roman numerals that has sophisticated style but is still affordable, you've found it. It's the Orient FER24008B0.
Stuhrling Original 599G.04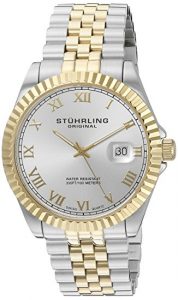 If you're in the market for a more substantial watch with Roman numerals that will stand up to endless activity, but also sharp looking and affordable, consider the Stuhrling 599G.04. Dating back to the 1800s, Stuhrling has been creating timepieces with traditional appeal that uphold the standards of Swiss watchmaking. The company's creator, Max Stuhrling, is said to have been the master of complicated watches.
This timepiece is simply stunning. It's hard to believe you can purchase a watch of this caliber under $400. The 599G.04 operates with Swiss quartz movement. It has a round 42mm stainless steel case with a 10mm thickness. Unique to Stuhrling timepieces is the Krysterna crystal protecting the case. The Krysterna crystal was developed in partnership with the eyewear industry to obtain clarity and durability. Krysterna crystals are more shatter-resistant than sapphire crystals, making them less susceptible to breaks and cracks from impact. Reminiscent in character to a Rolex, the case of this watch is a stand out for sure. It features a polished, 23K yellow gold layered coin edged bezel. The back side of the case features specialized Stuhrling decoration. Gold-tone Roman numerals sit against a silver dial. The baton style hands of the watch are gold with luminous fill and stand out beautifully against the silver dial. A magnifying date window with black numbers is well situated at three o'clock making it easy to read. The 599G.04 has a two-tone bracelet of this watch is substantial but not overbearing. It is 22mm wide with a fold-over clasp and double push-button safety. Rest assure, this watch isn't going anywhere. Water resistant to 100M (330 ft), you can maintain your active lifestyle, whether it be lounging on the beach or swimming.
If you're considering purchasing a watch with Roman numerals that is affordable, but need solid construction and function, give this the 599G.04 a try. It's not a watch that disappoints.