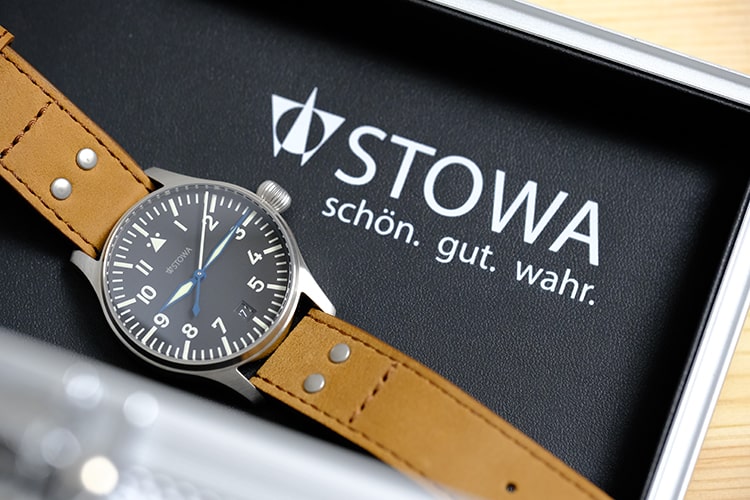 In the world of automatic watches, Swiss manufacturers get a lot of attention. This is to be expected. After all, Switzerland is the world capital of watchmaking, and most of the best movements are manufactured there. Going over my past reviews, I'd estimate that 80 percent or more are manufactured in Switzerland, and even more of them use a Swiss movement. To be fair, this is also often the case with German watches.
However, German engineering is world-famous, and for good reason. This is the country that gave us BMW, Mercedes-Benz, and some of the world's greatest scientists. So, when you think about it, it shouldn't be surprising that Germany produces more than its share of quality watches. Today, I'll be looking at five of those choices, all of them priced in the neighborhood of $1,000. Each one of these timepieces is an excellent choice. However, they're all unique, and have their own particular aesthetic. Let's take a closer look.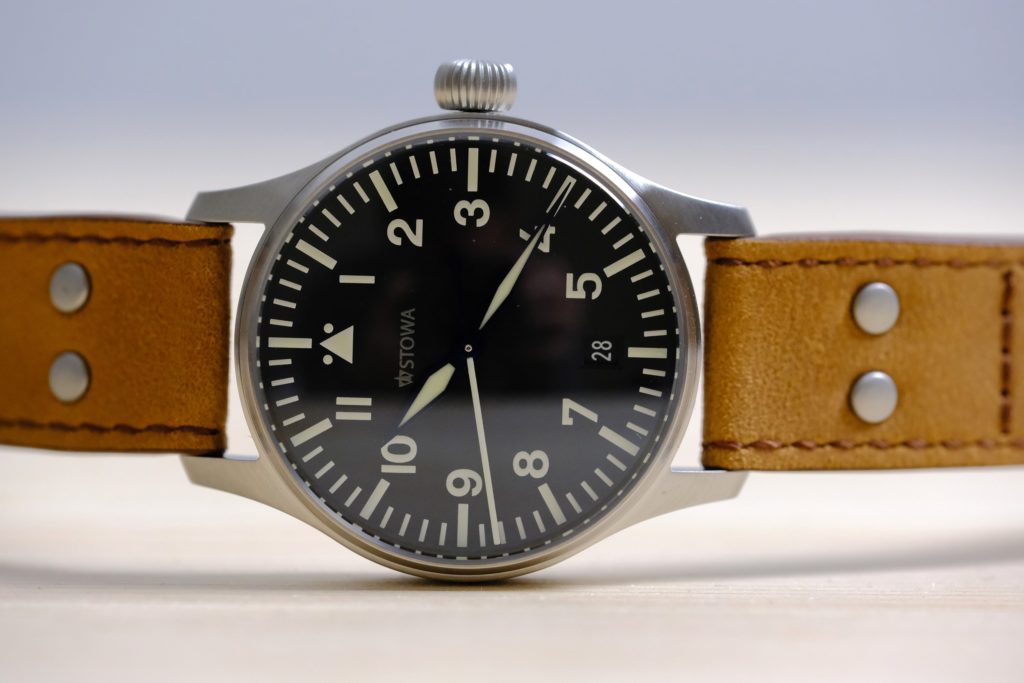 The Stowa Flieger Classic 36 Automatic is crafted from stainless steel, with a 36mm diameter that lends it a relatively minimalist wrist present while still being large enough to read. It's 10.2mm thick, which is about average for such a small watch, but it's still lightweight and comfortable to wear. The bezel is raised at a sharp angle, with a flat, glare-resistant sapphire crystal both on the front and the back of the watch.
The hour and minute hands are spearhead-shaped, with green lume stripes down the center, and the second hand is slender and straight, with a similar lume finish. The black dial is relatively Spartan, with no complications other than a small date window at the 6 o'clock position. The index has small hashes at the single minute marks, with fatter hashes at the 5-minute marks. There are also numerals at all positions, save for the 6 and 12 o'clock position. At the 12 o'clock position, there's a wide arrow, while the 6 o'clock position is occupied by the aforementioned date window.
The movement is an ETA 2824-2, which will be familiar to most aficionados of fine watchmaking. It's a self-winding, automatic movement that's accurate to +/- 12-30 seconds per day. This is about par for the course for an automatic watch, as is the 38-hour power reserve. It's clearly visible through the display case, so horology enthusiasts can enjoy a view of this classic movement.
The Flieger Classic is water-resistant to 50 meters, so it's sufficient for showering and splashing, but not for continuous immersion. The watch is fastened with a brown leather strap, with steel rivets near the lugs for reinforcement and adornment. If you want to learn more, read my full Stowa Flieger Classic 36 Automatic review, where I looked at this watch in much more detail.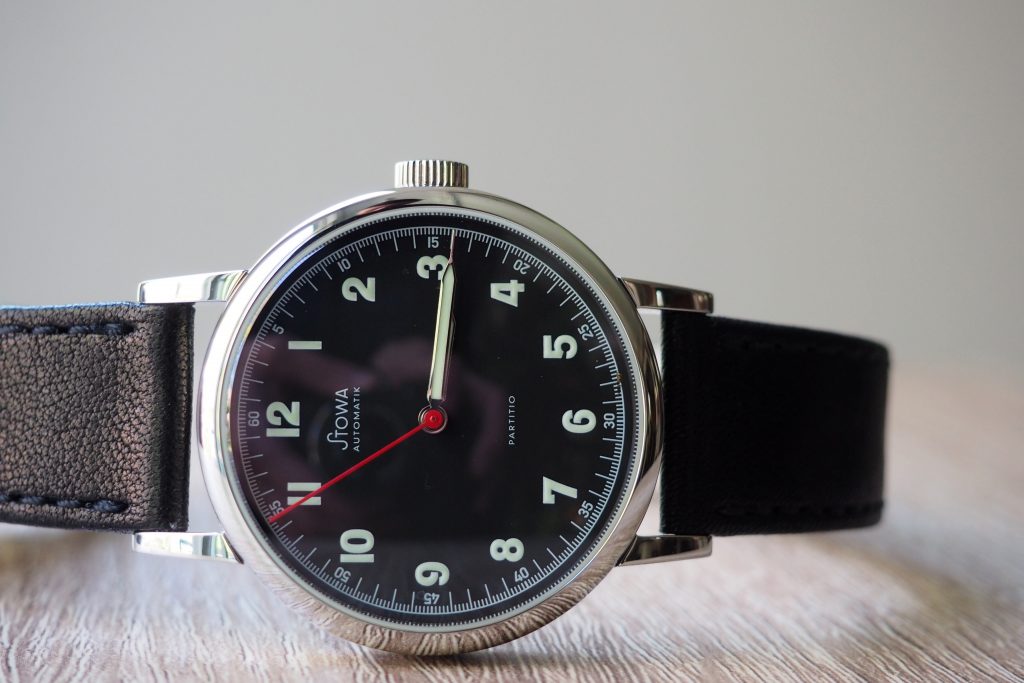 The Stowa Partitio is a stainless steel watch that measures 37mm in diameter. This provides a medium wrist presence, as does the 10.2mm thickness. The thickness allows for enough space for the Swiss automatic movement, without being excessive. The Partitio has a narrow, rounded bezel, which maximizes the diameter to allow for a large, high-visibility dial.
The dial itself is a flat black, with no complications and few adornments. The only thing that interrupts the clean look is an elegant Stowa logotype. Both the hour and the minute hands are broad, with lume striping for easy night visibility. They taper towards the ends, adding to the Partitio's elegant appearance. There are large 1-12 numerals at each hour position, located just inside of the index. On the index, there are ultra-fine hashes at the 12-second marks, with larger hashes at the single-minute marks, and small numerals at the 5-minute positions. Those tiny hashes are hard to see without a magnifying glass, but they're a nice adornment on an otherwise plain dial.
The movement is a Swiss automatic, and is accurate to within a few seconds a day. It's available in two variants. One is hand-winding, while the other is not. For my money, I'd choose the hand-winding version, if only because it allows for more options. That said, either one is a perfectly viable, functional choice.
The Partitio is rated for 50 meters of water resistance, which is splash-resistant, but not recommended for extended periods of swimming. It does have a screw-down crown, which is atypical of a sub-100-meter watch, but keeps the crown from getting snagged by mistake. And the glossy black leather band is minimalist, but easy on the eyes. For more information about the Partitio, read my full review.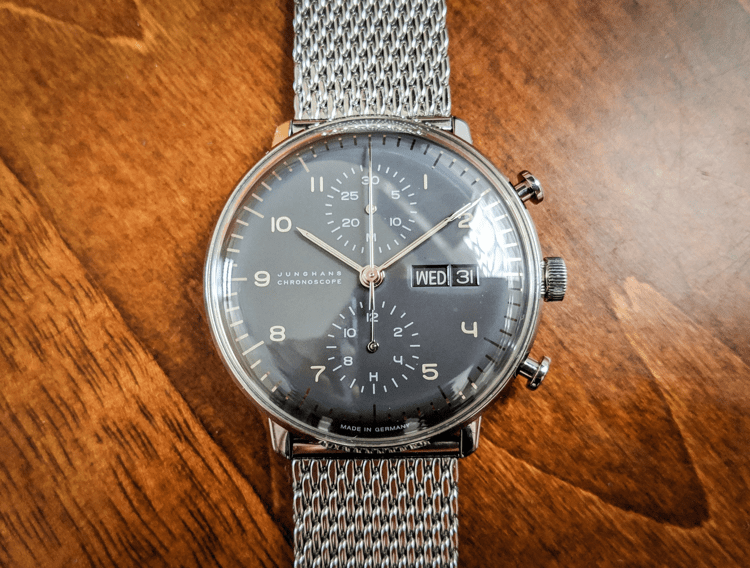 The Junghans Max Bill Chronoscope is a wide, 40mm watch with a stainless steel case. It has a very narrow bezel, which lends it even more wrist presence than your typical 40mm watch. It's also unusually thick for its size, at 14.4mm. This is mostly due to the acrylic crystal, which has a very tall dome. It distorts the dial considerably unless you look at it head-on, which adds to the overall aesthetic.
The dial itself is elegant, but somewhat busy. There's a day and date window at 3 o'clock, a 30minute subdial at 12 o'clock, and a 12-hour subdial at 6 o'clock. The gold hands are slender, with lume stripes, and form a sharp contrast against the black dial. The second hand is even more slender, to the point that it can be hard to read if you're not looking for it. The index has fine, elegant hashes, with similarly fine numerals at each hour position.
The Caliber J880.2 movement is fairly pedestrian. It's based on the earlier Valjoux 7750 chronograph, so it's not the most accurate, although it does have a 48-hour power reserve. That said, it's unusually loud. Personally, I'm not a big fan of very loud movements, since they can attract unwanted attention if you're in a meeting or another setting where you're expected to be quiet. That said, if you like to hear your watch tick, there's a lot to like here.
The Max Bill Chronoscope is not water-resistant. Don't get me wrong, it's a great timepiece and a strong fashion statement; you just don't want to take it into the shower or out swimming. It comes with a brown leather strap, which has decorative stitching around the outer edge. For more on the Max Bill Chronoscope, read my long-form review, where I go into significantly more detail than I did here.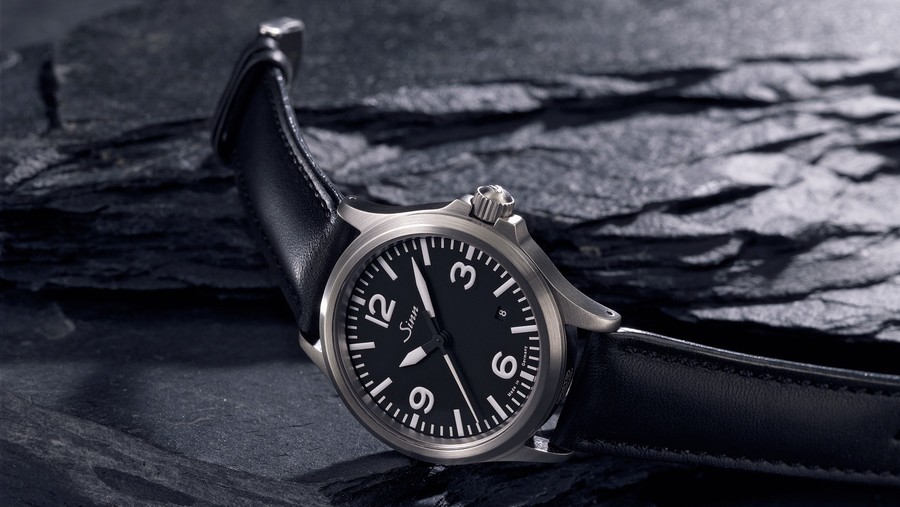 The Sinn 556 A is a workmanlike watch, with a 38.5mm stainless steel case that has an understated, brushed finish. It's 11mm in tickness, which allows for a proportional look and a clean, medium wrist presence. It has a sapphire display case back, so you can see the movement clearly if you so desire. The primary crystal is also sapphire, with an anti-reflective coating on both the front and the back.
The dial is flat black, with a white Sinn logo as the only adornment. There's also a date window at the 4:30 position, but it's so small that it's almost impossible to read. The index consists of bold white hashes, with fat, bright hashes at the 5-minute marks and large numerals at the 3, 6, 9, and 12 o'clock positions. The hands are also white, with broad, sharp hour and minute hands and a narrower second hand.
The movement is a Caliber SW200-1 automatic, which has a frequency of 28,800 beats per hour. This is a fairly brisk pace, but it's about standard for automatic movements. With 26 jewels, it's fairly accurate, and when you need to set it, it's easy to get back on track. It allows for hacking, so the second hand will stop ticking when the crown is pulled all the way out.
The 556 A offers the best water resistance of any of these German watches. It's rated for 200 meters of depth, more than enough for swimming or even diving. If you're an aquatic enthusiast, you should take a closer look at this timepiece. It also has a tri-link satin steel band, which is comfortable, flexible, and secure.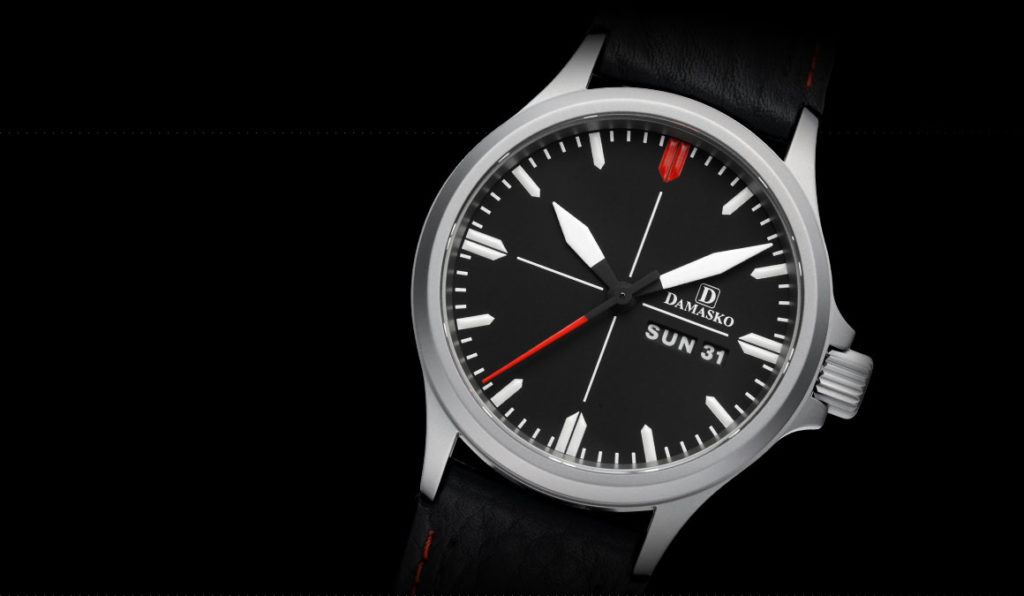 The Damasko DA34 has unique, ice-hardened stainless steel case, which has an unusual finish that strikes a balance between a polished and brushed finish. It has a screwed in case back, which allows for easy maintenance and tuning should you so desire. The bezel is completely flat, and the crystal has a concave curve, which doesn't distort the dial, but which definitely looks unique. The overall dimensions are 40mm in diameter and 10mm in thickness, providing a medium-sized wrist presence.
The glossy black dial is fairly plain, although there's a day and date window at the 3 o'clock position. The minute and second hands are a bold white, with a speartip shape that gives them a sharp, high-contrast appearance. The second hand is a bright red, and draws your eye as it flicks around the dial. Fine white hashes mark off individual minutes, with fatter hashes at the five-minute marks. Double hashes accent the 15-minute positions, with a bold, red double hash at 12 o'clock.
The ETA 2836-2 Elabore movement is accurate to about 12 seconds a day, give or take some predictable variation. It also offers a 38-hour power reserve, enough to set it aside for a day without needing to reset it. The DA34 is water resistant to 100 meters, which is sufficient for swimming, showering, and other everyday water contact. The crown is a screw-down, which means it won't get snagged and allow water infiltration. This watch has a black leather band, with red stitching that provides a sharp, highly-visible accent on an otherwise understated piece.