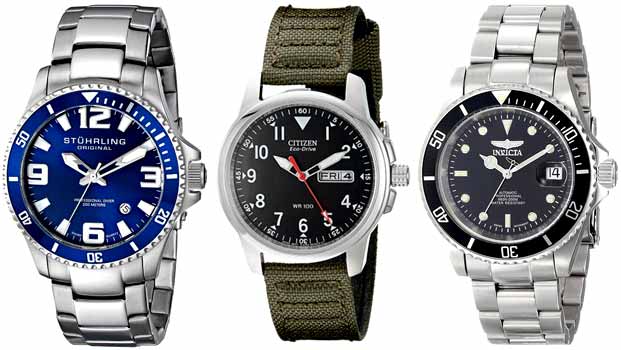 Buying a new watch doesn't have to be unnecessarily expensive. Sure, brands like Louis Monet, Breguet, and Rolex make beautiful timepieces, but the cost alone simply makes them unavailable to the vast majority of consumers in the world. Wouldn't it be great to find a quartz watch under $200 that looks beautiful, keeps accurate and precise time, and has enough features to ensure it suits your lifestyle? Well, I've compiled a list of 10 quartz watches for men under $200 that range from dive watches to dress watches, so there's at least one or two here that you will undoubtedly want to explore and look into for yourself.
Quick Compare
Watch
Size
Water Resistance
Style
Price Point
Seiko SNE098

Check Price
38mm
330 Feet
Fashion/Dress
$$
Citizen AT0200-05E

Check Price
41mm
330 Feet
Field/Casual
$$$
Seiko SGG711

Check Price
37mm
165 Feet
Dress/Casual
$$$
Bulova Marine Star

Check Price
44mm
330 Feet
Dive/Casual
$$$$
Orient FUG1R003W0

Check Price
40.5mm
99 Feet
Dress
$$$
Victorinox 241679

Check Price
43mm
330 Feet
Chronograph/Sport
$$$$$
Stuhrling "Specialty Grand Regatta"

Check Price
45mm
660 Feet
Dive/Casual
$$
Tissot T033.410.11.053.01

Check Price
38mm
99 Feet
Dress/Fashion
$$$
Skagen SKW6078 Titanium

Check Price
38mm
165 Feet
Casual/Fashion
$$$
Seiko Men's SSC007

Check Price
43mm
330 Feet
Chronograph/Casual
$$$$
Seiko SNE098 Solar Analog Watch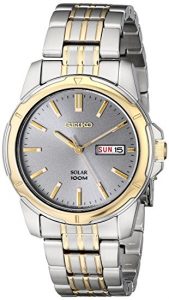 Seiko's SNE098 is a fantastic budget dress watch that continues Seiko's tradition of high-quality and affordable devices. The SNE098 features an overtly silver and subtly gold-toned stainless steel design that looks absolutely gorgeous. There aren't a ton of nifty features on this watch, but it checks every single box you can imagine for being a phenomenal dress piece.
The silver and gold design is beautiful, and the gold is applied in a subtle enough way to make the silver really stand out and give this watch its overall aesthetic. The gold trim used along the band, bezel, and on the hands is very sleek and makes the accents "pop" while also retaining a certain level of modesty, so it's not pretentious by any means. The characters on the dial are extremely easy to see given that the dial is silver and everything on it is either gold, black, or red.
It's a heavy watch, and this reflects the amount of time and construction that has gone into creating it. Everything — the band, the case, the hardlex window — feels top-notch in terms of build quality. As I've mentioned in my previous review, I've dropped this watch on my kitchen floor on accident a couple times and it has shown zero signs of damage on the case or anywhere else. This is easily one of the best quartz watches on the market under $200.
Citizen AT0200-05E Eco-Drive Watch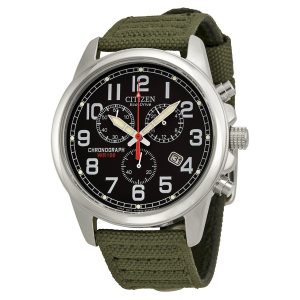 If you need a reliable timepiece that can keep up with your active lifestyle, look no further than Citizen's AT0200-05E Eco-Drive watch. This military-inspired watch is a rugged piece of equipment for those who enjoy things like rock climbing, running, biking, or other outdoor activities. That said, it's also a perfect fit for those who simply want a durable watch to wear to work everyday or those who prefer a more basic watch that focuses on utility and functionality over a flashy appearance.
As you might guess, the construction on this watch is probably the best you can get in this price range. Its stainless steel body and heavy-duty canvas band are built to handle all sorts of activities, and the Japanese quartz-powered analog display is covered with a tough protective mineral crystal window to ensure its safety. As I said, this watch is designed with utility at the most important feature. This is perfectly illustrated by a clear, simple, and easy-to-read black dial with bright white numbers and hands that are the perfect size to be able to see from virtually any angle. There's also a chronograph that features the same design and it's just as easy to use and read. Citizen's Eco-Drive technology is present in the construction of this watch and is used to charge it in even the most dim of lights without issue, and it works precisely as advertised.
Citizen did a phenomenal job on this watch and it's easily the best active watch on the market under $200. If you're even thinking about getting a watch similar to this and are comparing the two, I think you'd be hard-pressed to choose another one over the AT0200-05E. I've used watches that are $500+ and very few are as good as this one. The fact that this watch is found at this price point makes it an absolute steal.
Seiko SGG711 Titanium Watch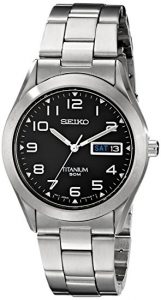 Seiko's SGG711 is a titanium watch that combines powerful construction, weight, and design in a way that few watches in this price range can. The case, bezel, and band are all crafted from titanium and have a very special appearance and feel that you won't get from stainless steel watches. Additionally, the SGG711 maintains Seiko's reputation for its precise quartz movement system that aids in both a slim design and unparalleled functionality.
Regarding its functions and practicality, it's virtually flawless. This piece keeps time just as good, if not better, than higher-end and more expensive watches. The mechanics inside this watch also allows the case to maintain a slim appearance, and this is evident in its 8.3mm thickness. Additionally, because the entire watch is titanium and not stainless steel, it won't feel super cold when you put it on.
This watch is basically the full package when it comes to affordable dress watches. It looks gorgeous and, because of the titanium construction, it's a lighter black than other similar watches and looks fantastic in contrast with the full-black dial. It's versatile, gorgeous, and easy to use. There's not much else to say about this watch, but you should absolutely check it out if you're curious about getting a new dress watch.
Bulova Marine Star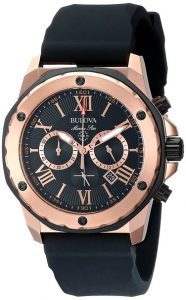 Bulova's Marine Star is a beautifully sophisticated watch that functions just as well as it looks. It features a chronograph, a creatively-designed guilloche dial, a high-quality rubber-based band, and a stainless steel case. It's a watch that looks great as a dress piece, but it also feels comfortable enough to be worn daily and during various activities. It's one of the only watches I've seen that can merge these two functionality purposes together and actually do it well.
I was sort of hesitant about the band being rubber, but it truly feels high quality and comfortable to wear. It makes the watch heavier than others that use stainless steel bands (oddly enough), but it doesn't feel annoying or heavy to wear; instead, it allows the watch to truly be durable and completely comfortable. The case and dial are what make the watch really stand out in terms of beauty. The rose gold-toned case looks stunning against the black guilloche dial and band. The dial itself is equally as beautiful and every accent on it is the same rose-gold color as the case, making it look extremely legible and classy. Everything on the dial feels as though it has a purpose and wasn't blindly thrown in "just because".
The chronograph is functional and does what you'd expect, though I particularly like the simplistic design of the second hand — no numbers, no incremental marks, nothing; it just looks great in the context of the overall watch design and adds a subtle dash of pragmatism. This is a phenomenal watch and its unique design has earned it a top spot on this list.
Orient FUG1R003W0 Capital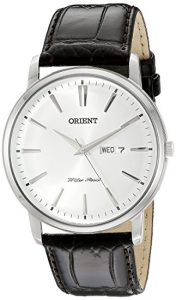 To be frank, for the price, you won't find a better-looking dress-style watch than this one from Orient. In fact, you probably won't find one that even comes close to touching this timepiece. It features a black/silver color scheme, a slim profiled case and bezel, fantastic build quality, and precise quartz timing. You really can't get much better then the FUG1R003W0 Capital.
Everything about this watch screams quality. In particular, the dial crystal, croc strap, and crown feel extremely beefy and damage-resistant. The bezel is very low profile and high-polished, and emits a sense of sophistication and class. The appearance of the watch is equal in quality to its construction. The Orient Capital maintains the traditional style of dress watches while also adding its own flare and individuality.
With a phenomenal and sturdy build quality, coupled with its unparalleled mechanics and functionality, the FUG1R003W0 Capital is easily one of the best quartz powered dress-style watches available at the time of this mini-review. It's extremely versatile and can be used as a full formal watch, but will also suit a fashionable smart-casual setting when out on the weekend with friends.
Victorinox 241679 Chronograph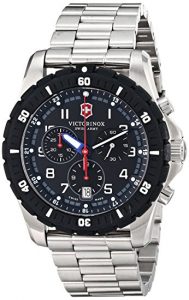 The Victorinox 241679 is probably the flashiest watch on this list, featuring a unidirectional bezel, a detailed dial with an equally detailed chronograph, and a unique black, silver, and blue color scheme. It's one of the few fancier watches that I actually think functions just as well as it looks, if not better. While I wouldn't necessarily consider using it as a dress watch, I think it's a fantastic-looking "Jack of all trades" watch that can be used in a wide-array of scenarios.
This is an extremely handsome and masculine watch. The stainless steel polished band and case, coupled with the black bezel and dark blue dial, make this a very sporty watch. It's big, heavy, and looks awesome. When the chronograph is in use, the watch is a pleasure to look at — it almost looks like there's a small city working inside the watch because of how technical it appears. While it's big, it's also comfortable if you enjoy feeling some "umph" in your watches.
This watch is the definition of technical prowess on a budget. The bezel is slick, the band is solid, the quartz keeps near-perfect time, and the dial color palette tops it all off to create an incredibly beautiful and intelligently-designed timepiece that is a quite a bargain, and could easily be priced much higher.
Stuhrling Original "
Specialty Grand Regatta"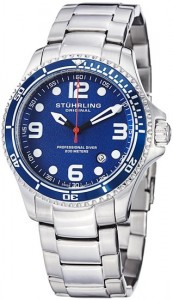 Here we have the Stuhrling's "Specialty Grand Regatta", featuring a stainless steel case and steel triple row-link bracelet, and a unidirectional bezel around a dark blue dial. This is a charming timepiece that has the weight, feel, and design of a top-notch watch without costing thousands of dollars.
The construction of this watch is extremely high-quality and, though it is a bit on the heavy side, it feels very comfortable to wear. The white numbers against a deep, dark blue dial also make the watch very easy to read while also being a pleasure to look at. The unidirectional bezel moves smoothly and doesn't feel stiff or stuck like other diving watches, and the same can be said for the crown.
This is a piece that can be worn as a casual, business, or even dress watch. At 15oz, this watch is a beast to wear and can handle a ton of different situations, and the blue dial and stainless steel construction make it a beauty to look at. This is one of the best Swiss quartz watches on the market, so it's only fitting it begins our list.
Tissot T033.410.11.053.01 Swiss Quartz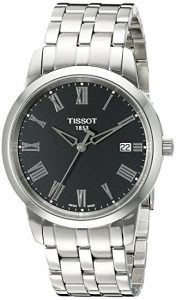 Taking the a prominent spot on our list is this Swiss-made quartz watch from Tissot — model T033.410.11.053.01. This timepiece absolutely emanates class, featuring a slim profile, a comfortable stainless steel band, and all of the quality you've come to expect from an exceptional brand like Tissot.
This watch is absolutely gorgeous and has one of the most simplistically elegant and classy dial designs on the market. The contrast of the dark silver-toned hands and roman-numeral numbers against a solid black dial create an exquisite and subtle style. The slim stainless steel band only serves to add to this appearance with a width of just 19 mm. The watch functions perfectly and comes equipped with a high-end precise movement — a rarity to find in this price range. The watch is very well-made and the stainless steel features aren't as heavy as you'd expect, so it's very comfortable to wear.
Tissot is a phenomenal brand with a phenomenal reputation, and this watch is something they should absolutely be proud of. The classy and simplistic design make this watch one of the best-looking on the market, and it could easily be priced much higher if Tissot wanted to do so.
Skagen SKW6078 Titanium Mesh Watch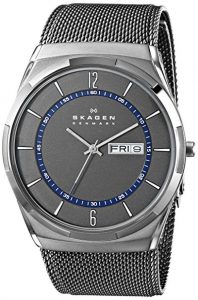 This unique Skagen watch, while minimalistic, is very bold and expresses a certain level of sophistication and quality. It's a timepiece that will undoubtedly draw attention from those around you, so keep that in mind. The mesh band makes this watch arguably the most comfortable watch on this list and there's been times where I've even forgot that I'm wearing it.
This watch has quite a different design than traditional watches. It's extremely thin and features a high-quality mesh band with a round titanium body. These things added together make this one of the lightest watches on the market today. The blue-accented circle around the dial inside the case is used to measure seconds and creates an elegant contrast with the metal-silvertone that the rest of the watch has. The date window, like the dial it lies in, is extremely easy to read and doesn't stick out like a lot of dial windows on other watches tend to. The analog-quartz movement ensures precision and accuracy when keeping time, and it's protected by a surprisingly sturdy-feeling mineral glass window.
If you want a unique-looking watch that goes against the current design trend while also being extremely comfortable and easy to use, the Skagen SKW6078 is a fantastic option. It's extremely low-profile and light because of the titanium and mesh construction, but it's still as durable as any other watch on this list, so it has certainly earned its spot on the list.
Seiko SSC007 Stainless Steel Watch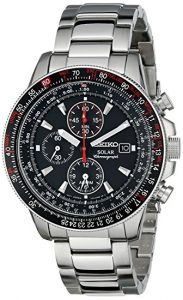 If you want a watch that looks and functions like it's straight out of a James Bond movie, Seiko's model SSC007 might be for you. It features a jam-packed dial with a slide-rule bezel, a chronograph, a stainless steel band and case, and a durable hardlex dial window. This watch is obviously designed with a certain target audience in mind, but it looks neat and functional enough to appeal to almost anyone.
Though the dial looks complicated, it's extremely easy to read because the white numbers contrast well against the black dial. The bezel is absolutely phenomenal and rotates smoothly while also remaining firm and unmovable whilst set, which is extremely important for a watch like this since it can be used to make mathematical calculations. The chronograph is well-designed and the second hand actually ticks 5 time/second, so it appears as though it's moving at a relatively smooth pace mimicking an automatic movement.
Overall, this is a great watch that functions just as well as it looks. If you have no idea why it looks the way it does or the reasoning behind the style, it might seem a bit overwhelming. That said, if you need a watch that has such a wide-array of utility and functionality, the SSC007 would be perfect for you. And hey, you could also just get it because it looks awesome and you'd be satisfied. At any rate, it's an absolute bargain for the price.