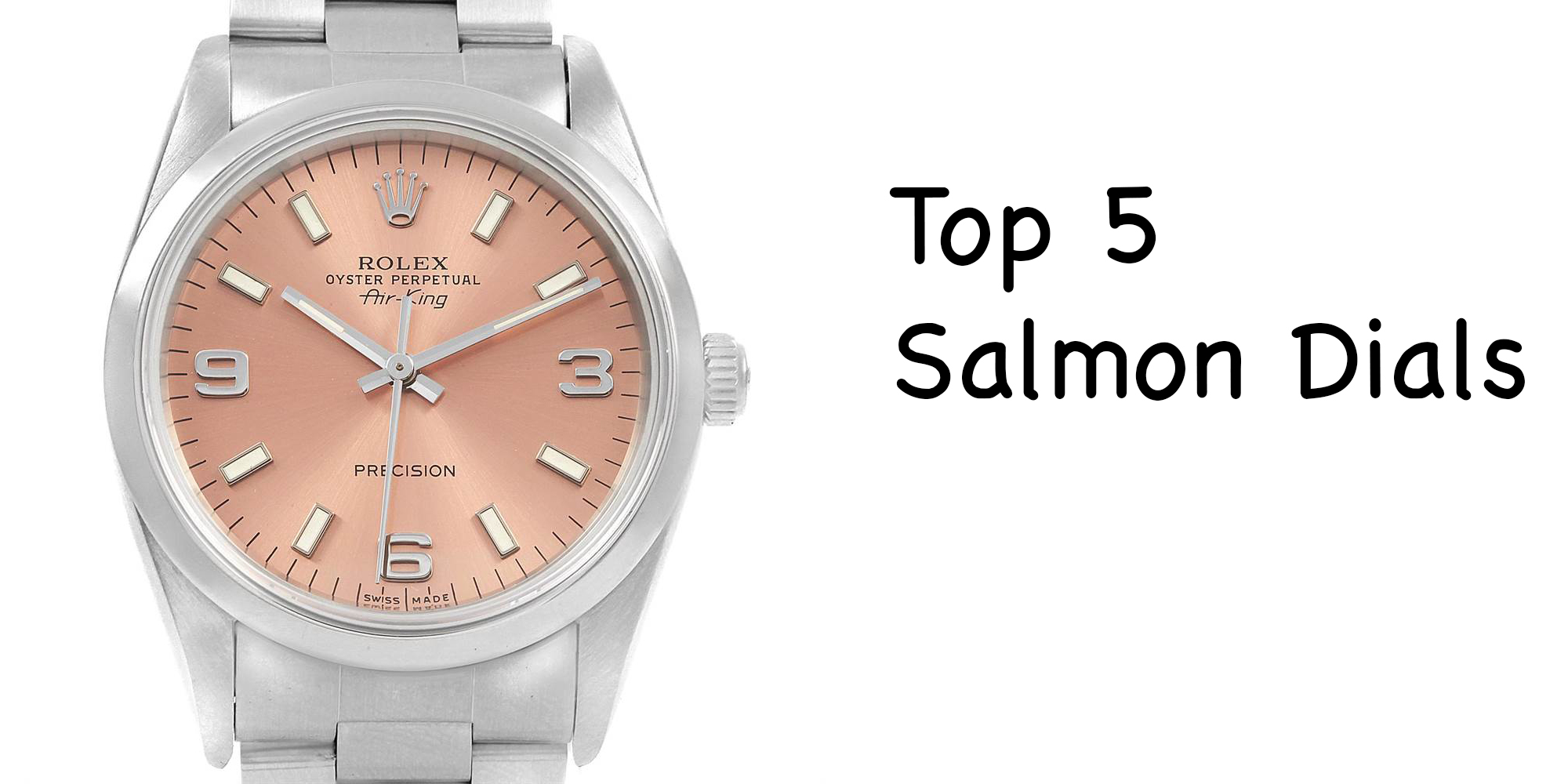 The history of wristwatches is long and rich enough that few things are truly unique. From intricate complications to display cases, everything has already bee done. But there are some features uncommon enough that while they're not truly unique, they'll still catch your eye. One of those features is a salmon dial.
Today, I'm going to discuss five of the sharpest-looking salmon dial watches on today's market. Unlike a lot of the watches I review, these are fairly pricey. But if you've got the budget for a top-tier timepiece, any one of these will be a worthy addition to your collection. Let's take a closer look!
Daniel Roth Small Seconds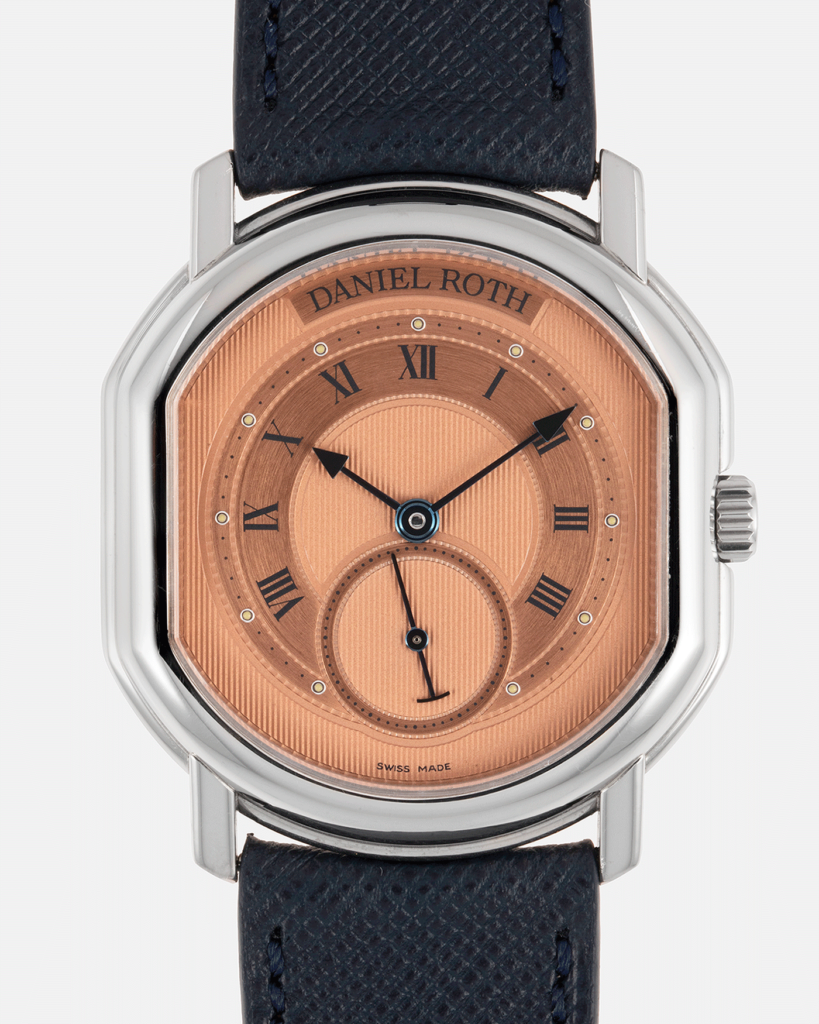 The Daniel Roth Small Seconds Salmon Dial is a watch that stands out even if you're viewing it in silhouette. It has a truly unusual dial shape, like an oval with the sides cut off to form vertical edge. It's crafted from stainless steel, and measures 41mm long and 38mm wide. This gives it a medium-large wrist presence, a good fit for most men and women alike.
The case has a display back, which gives you a clear view of the movement on the inside. Both the rear and front crystals are a scratch-resistant sapphire, and the front has an anti-glare coating on the inside. The bezel is rounded and slightly elevated above the crystal, with a narrow profile that doesn't take up a ton of real estate.
The dial itself is formal, with a vertical striped texture that's evocative of a royal seal. The main dial is marked with black Roman numerals, with small Rhodium applied indices at the five-minute positions. There are no markings for individual minutes, although the index is decorated with a narrow scalloped pattern. The hands are made from blued steel, and are mostly slender with triangular lume tips.
At the bottom of the dial, there's a gap where the V, VI, and VII numerals should be. There, you'll see a small subdial with its own slender blued steel hand. This is a simple 60-minute subdial, and it's more decorative than anything else. There are no other complications, lending the dial a simple appearance that many owners will appreciate.
Rolex Air-King 14000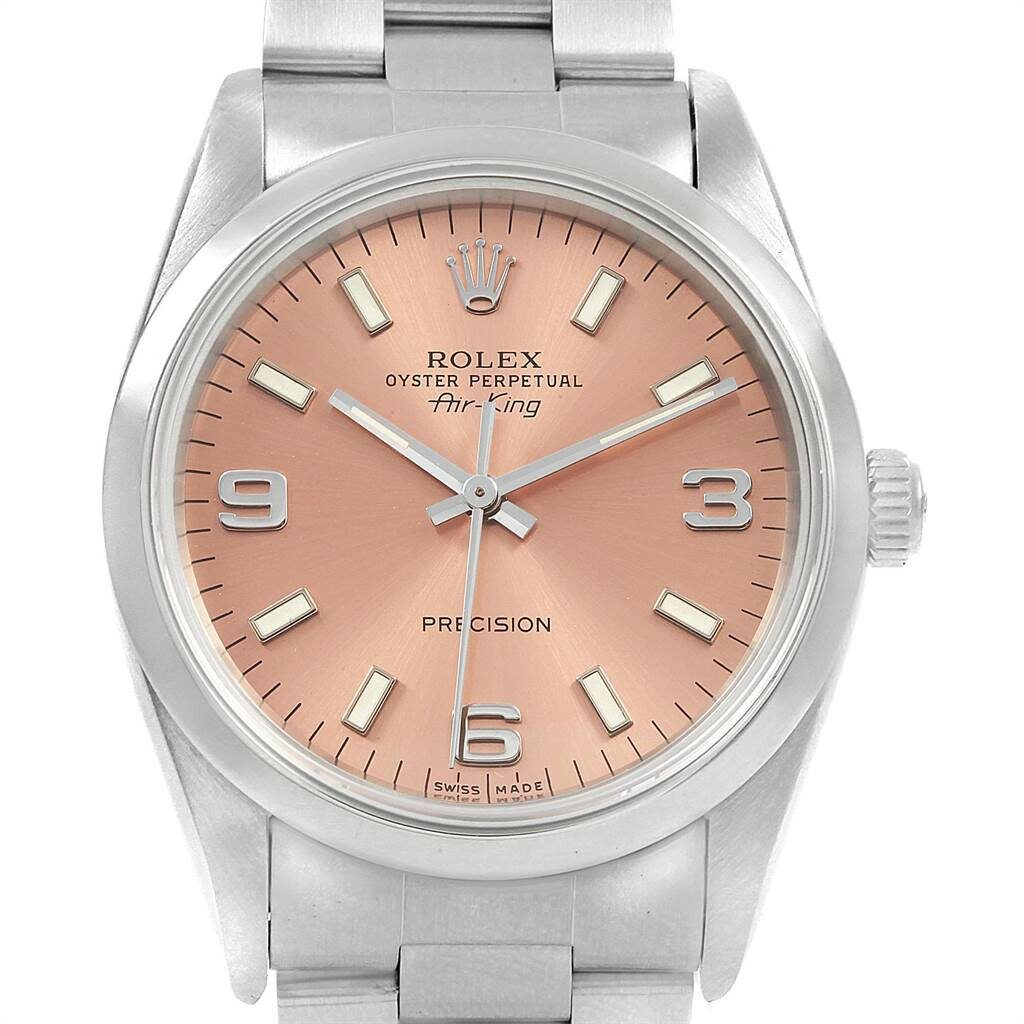 The Rolex Air-King 14000 Salmon Dial is another stainless steel watch, which shouldn't be surprising. Salmon doesn't pair well with gold or rose gold, so any decent salmon dial watch is either gong to be stainless or platinum. This is a ladies' watch, with a diameter of only 34mm. That said, with watches trending smaller in general in recent years, there's no reason this can't be a small men's watch as well. It has a contemporary look, with a tri-link stainless steel band. The band comes pre-fit for 6 ¼ to 6 ½-inch wrists, although you can request extra links for no extra charge.
The bezel is smooth and slightly angled, and doesn't draw a tone of attention to itself. The same is true for the sapphire crystal, which is scratch and glare-resistant. It's ever so slightly raised, but not enough that it would actually obscure the dial. There's no display back, although the Caliber 3000 movement works as well as any other modern automatic.
The dial itself is fairly plain, with an un-textured, metallic salmon background. The five-minute positions on the index are marked with white Super Luminova hashes, while the single-minute marks are smaller, black hashes. Larger, black Arabic numerals indicate the 3, 6, and 9 o'clock positions, with Rolex' signature crown at 12 o'clock. That's all there is to it. There are no complications of any kind.
Montblanc Heritage GMT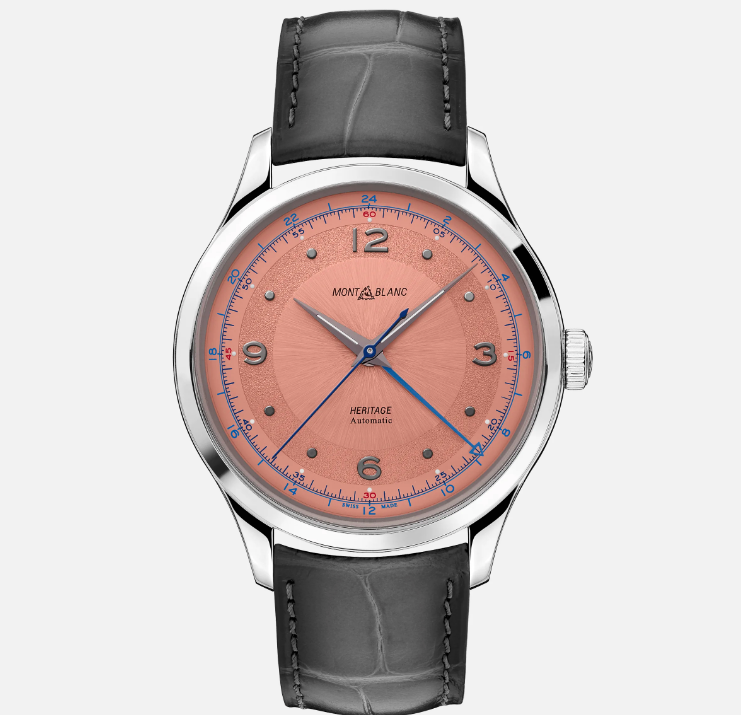 The Montblanc Heritage GMT Salmon Dial is a bigger, bolder watch with a larger wrist presence. The stainless steel case measures 40mm in diameter, and the sapphire crystal is domed, which gives the watch a bit of heft. There's an anti-reflective and anti-scratch coating, so you don't have to worry about the crystal being curved, or exposed above the bezel. Inside, the Heritage GMT is powered by a Caliber MB 42.05 movement, with a 42-hour power reserve and a reliable frequency of 28,800 beats per hour.
This is a dual-index watch, although it's designed so that both indexes occupy the same main dial. There are no subdials, complications, or little windows. The primary index consists of rhodium dots at the five-minute positions, and applied rhodium-coated Arabic numerals at the 3, 6, 9, and 12 o'clock positions. The hour and minute hands are sword-shaped, with narrow lume stripes down the centers. The second hand is far more slender, and reaches all the way to the edge of the dial.
The secondary index is a 24-hour index, which can be set to a different time zone. It consists of a blue ring outside the main index, with small hashes at the hour marks. Even-numbered hours are also marked with small Arabic numerals, to make the 24-hour dial easier to read. This index uses a single, very slender, blue steel hand with a skeletonized, arrow-shaped tip.
Gronefeld 1941 REMONTOIRE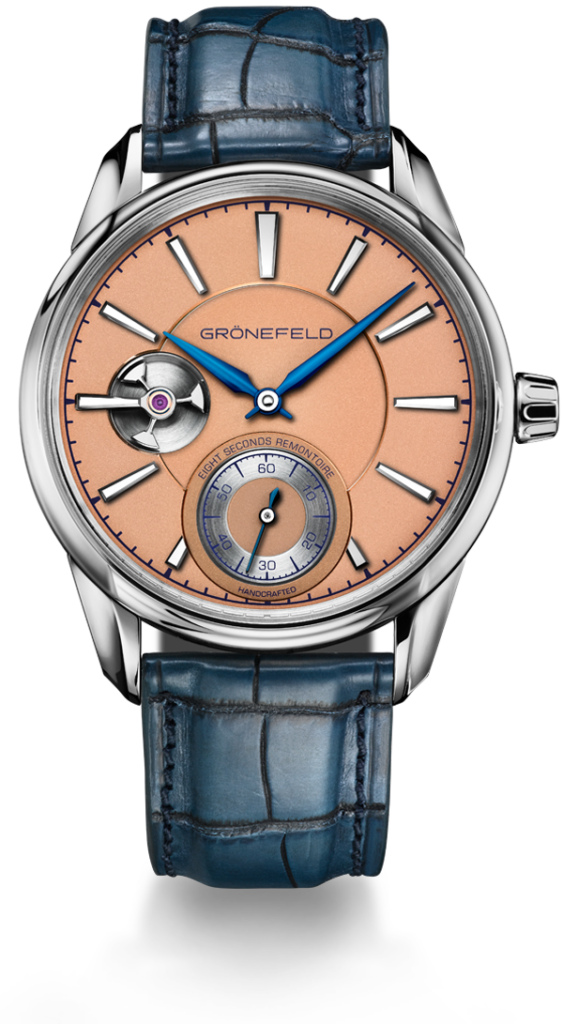 The Gronefeld 1941 REMONTOIRE Salmon Dial is a 39.5mm watch that's a mid-sized 10.5mm in thickness. It's available in both stainless steel and white gold variants, but other than the case material, both are identical. The front sports a domed sapphire crystal, with an ultra-hard coating on both sides. There's also a display back, which has a flatter sapphire crystal with its own hardened anti-reflective coating.
The dial itself is slick and ultra-modern, with no numerals. Instead, there are large polished, stainless steel applied indices at the five-minute positions. The hour and minute hands are made of a sharp-looking blued steel, with a flared shape that looks similar to a medieval lance.
You won't find a seconds hand on the main dial, instead, the small, slender seconds hand is located in a 60-second subdial at the 6 o'clock position. At 9 o'clock, you'll see a speed regulator. This is part of the movement, and it really only shows for decoration. That said, it spins while the watch is running, and the motion is somewhat hypnotic.
Breguet Type XX Transatlantique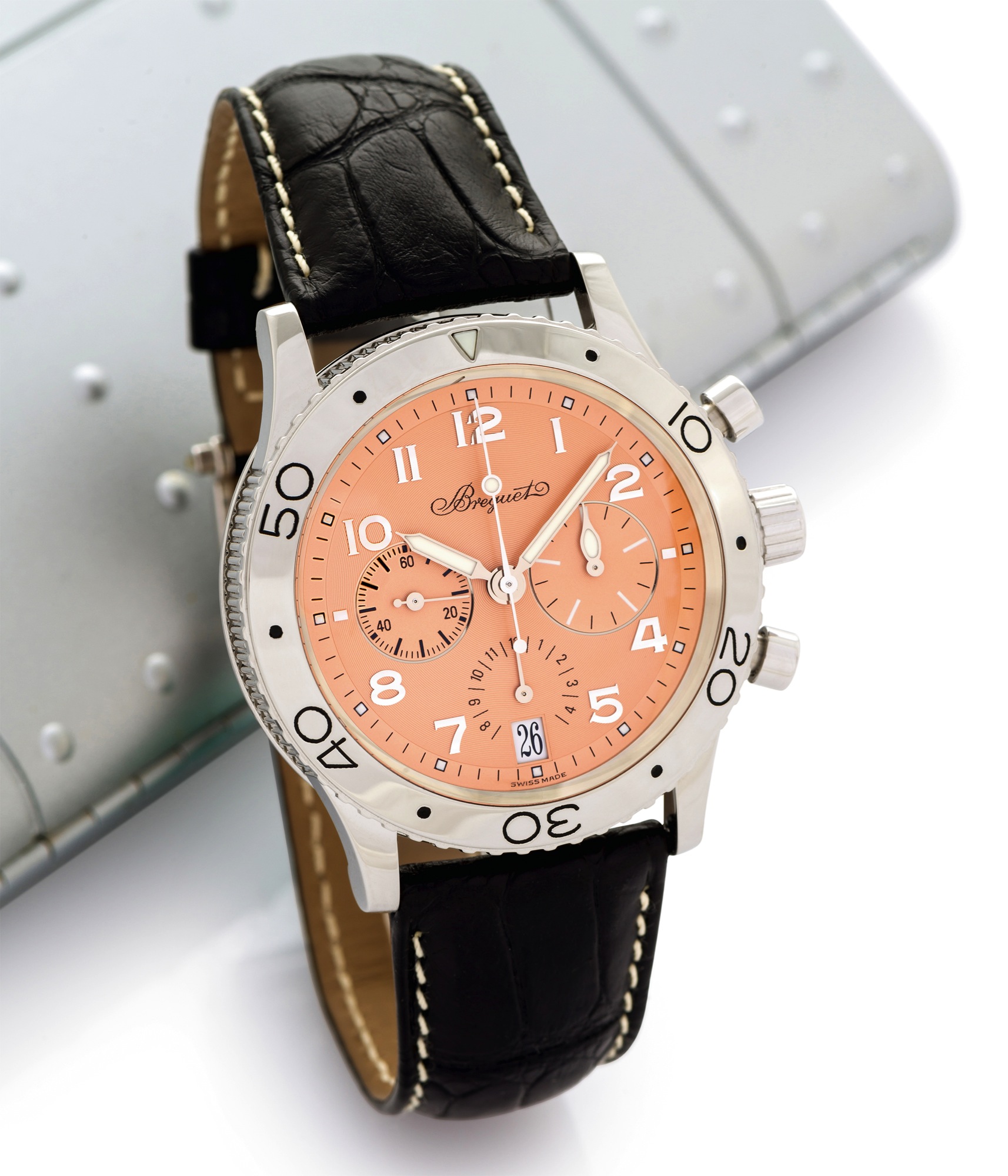 If you're looking for a unique look, the Breguet Type XX Transatlantique Salmon Dial is certainly an eye-catching design. Its sapphire case measures 39mm in diameter, and sports a pair of chronograph buttons along with the crown. All three controls are big and fat, which makes the Transatlantique look like a cross between a dress watch and a tool watch. Dressy it is, with a platinum case and a metallic salmon dial with three subdials. And for function, you get a rotating bezel with markings every five minutes.
The main index consists of small black hashes at the single-minute marks, with medium-sized white squares at the five-minute marks. Inside of that, there are also gold Arabic numerals, at all positions except 3, 6, and 9 o'clock. The hour and minute hands are broad and sword-shaped, with wide lume stripes. The second hand is skinny and steel, with a lume dot near the end.
The three subdials are located at the 3, 6, and 9 o'clock positions. They consist of a 3-minute, 24-hour, and 12-hour register respectively. The 24-hour subdial can be set independently, and is designed to be used as a second time zone.
For more information, specs, and pricing visit Chrono24.com