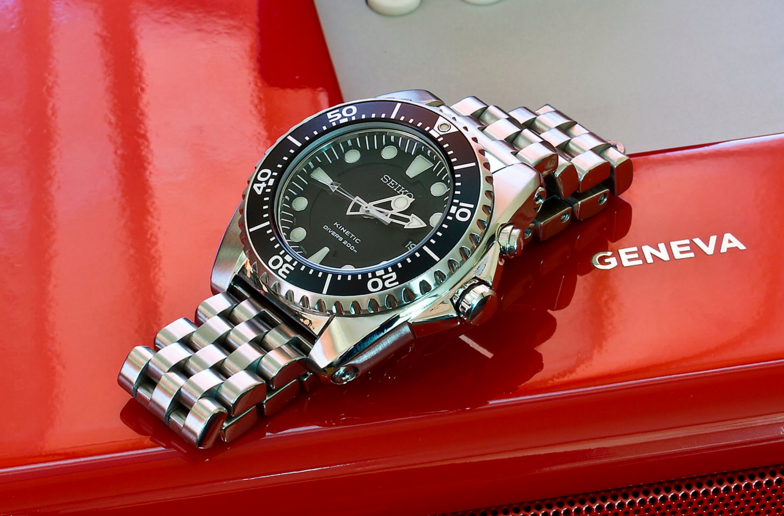 If you're in the market for elegant, durable watches that are equally suited to both the hiking trail and the boardroom, Seiko may be the brand for you. Innovation and craftsmanship are the hallmarks of these Japanese timepieces—after all, the name Seiko itself derives from a Japanese phrase for exquisite workmanship.
Kinetic watches are a popular, low-maintenance alternative to traditional automatic watches. No more winding or changing batteries. The everyday movements of the wearer—from the swing of your arms as you walk to a simple handshake—power the watch movement.
From outdoorsmen to businessmen, there's a Seiko for everyone. Here are our top 5 Seiko kinetic watches, combining more than a century of craftsmanship with 21st-century innovation.
Comparison Chart
Watch
Size
Type
Strap
Price
Seiko SKA371

Check Price
42 mm
Diver
Stainless Steel Bracelet
$$$$
SKA705 Recraft

Check Price
42 mm
Sporty
Nylon Band
$$$
Seiko SKA413

Check Price
45 mm
Diver
Ruber Band
$$$
Seiko SRN066

Check Price
43 mm
Dress/Fashion
Stainless Steel
$$$$$
Prospex SUN023P1

Check Price
48 mm
Diver
Rubber Band
$$$$$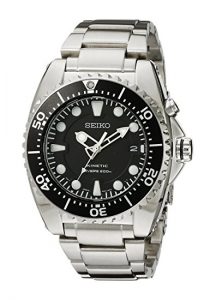 First on our list is the SKA371 Dive Watch. If you're a scuba diver, you'll be glad to know this timepiece is water-resistant to 200 meters. But you don't have to wear a wetsuit to love this watch. 
The SKA371 features a stylish stainless steel band and case. Of course, you can take the watch to a jeweler to adjust the band for a better fit, but if you have the tools at home you can do it yourself. Just be warned that the band does not use the typical tension rods found in many other watches. Instead, it features straight rods that couple with a female-end cylinder. The parts are tiny and can be difficult to wrangle, especially if you're not ready for them to pop loose.
The clasp itself is a fold-over with a double push-button safety. This increases the band size slightly: if you're a diver, it will help the watch to fit over a wetsuit. The downside? The spring pins can be difficult to open with your bare hands. If you're not underwater and worried about your watch sinking to the bottom of the ocean, the secondary clasp might be a bit of a bother.
The dial window is made of proprietary Hardlex, so cracks and scratches are no concern. The bezel is also stainless steel and unidirectional, as is typical of most dive watches. On the face you'll find a date display, but nothing for the month or day of the week. The counter ranges from 1 to 31, so if you're in a month with 30 days (or February), you'll need to manually reset the day to 1 at the beginning of the new month.
This is a large, heavy watch; it has some heft to it. You'll feel it on your arm. If you're looking for a durable, accurate watch that looks great anywhere, the SKA371 may be right for you.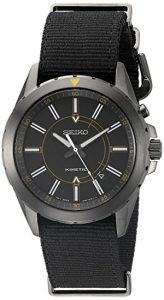 Next, we have the SKA705 Recraft Kinetic. This is a water-resistant watch, but unlike the SKA371, it is only resistant to 100 meters. Suitable for swimming and snorkeling, but not for scuba-diving.
The SKA705 is sleek and masculine, with a black ion finish and a gear-edge bezel. The band is a NATO-style nylon braid with a buckle closure. This might be a plus if you dislike tinkering with the pins and rods of a segmented metal band.
Underneath the Hardlex dial window is a modern, minimalist face with stick indices and luminous hands. Curious about what makes your watch tick? The back panel is transparent so you can see the internal mechanisms.
A neat feature of this watch is the button at the two o' clock position. This is the power reserve indicator. When you press it, the second hand will advance a certain number of degrees—the farther it progresses, the more energy the watch has in reserve. The kinetic winding mechanism can build up a charge to last for as long as six months.
One possible downside to this watch is the noise. For some—perhaps those unaccustomed to kinetic watches—the winding mechanism may seem loud, especially in quiet places such as an office or classroom. Still, this may just be something you get used to with this type of watch.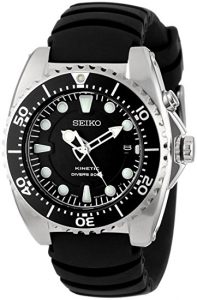 Like the SKA371, the rugged SKA413 "Adventure" is a true dive watch, water-resistant to 200 meters. Whether you're tooling around in your swimming pool or exploring sunken ships, this watch will hold up.
With a stainless steel case and gear-edged bezel, the "Adventure" has a slightly more mechanized look than the other watches on our list. The bezel rotates in one direction, anti-clockwise. This is an important safety feature for a dive watch: it prevents the bezel being bumped in the wrong direction and allowing the diver to believe he has spent less time underwater than is really the case. The bezel can track elapsed time for up to sixty minutes. The indices and the stylish skeleton hands glow in the dark, too.
The ribbed band is rubber and chunky-looking, but you may be surprised how light it feels on your wrist compared with a steel band. If the ribbed band isn't your style, no problem—drilled lugs allow the band to be popped off with ease and swapped for something different, perhaps a leather band or NATO strap. The "Adventure" is not only tough and versatile; it's accurate, too—after months of use it will only gain or lose a few seconds.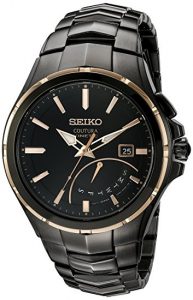 Looking for something a little different? If you're not trolling the depths of the ocean and simply want a precision timepiece that's dripping with style, not saltwater, look no further. The Coutura Kinetic Retrograde is gorgeous but never gaudy.
The Coutura line gives you two options, the SRN066 and the SRN063. They're quite similar; the differences are mainly cosmetic. The SRN066 features a matte black ion band with a rose gold-finish bezel. The SRN063, on the other hand, has a silver band and white face. Interestingly, the dial windows of the two models are made of different materials—the SRN066 has a synthetic sapphire window, while the SRN063 has a simple mineral window.
Otherwise, the two models are nearly identical. These are not scuba-rated watches, but they are water-resistant to 100 meters—so while you won't be diving with this watch, if you fall off your yacht, the watch will survive.
The Coutura shows you not only the date but the day as well—a feature absent from the other watches on our list. One downside is that only the watch hands are luminous, not the numerals, so telling time in the dark can still be a bit of a challenge. Still, if you're going for a polished look without a lot of unnecessary features, you can't go wrong with Coutura.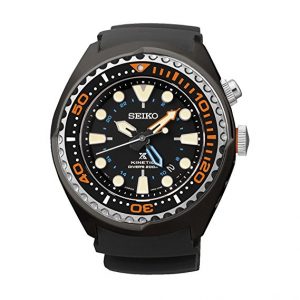 Finally, let's take a look at the SUN023P1 Prospex Kinetic. This is a diver's dive watch. It's big—47 mm without the crown—and has a protective shroud. This is one of Seiko's "tuna can" watches, made to withstand the rigors of professional diving. The band is polyurethane and, judging from its size, is clearly designed for wetsuits. Fortunately for non-divers, you can easily swap out the 24 mm strap for another one of your choice.
Like the other watches on this list, the SUN023P1 has a handy power reserve indicator. When you press the button at the two o' clock position, the second hand will advance to indicate the amount of charge left—thirty seconds indicates six months of charge. This watch also has a fourth hand, a blue one, which shows the twenty-four-hour time…perfect for military types or those who just have trouble with AM and PM.
The lume on this watch, as you'll find with all Seiko watches, is excellent, although you may find yourself wishing for a larger lume on the bezel. The bezel lume is a small dot and may be difficult to see if you're wearing this watch on a dive.
Because of its size and splashy colors, this may not be a watch to wear with a suit and tie, but if you're swimming, hiking, or even just working in the backyard, the SUN023 is a great choice.
So which watch is right for me?
There's a reason Seiko has been the official timekeeper for the Olympic Games. Their reputation for accurate timekeeping is almost unmatched. Seiko watches are durable and stylish; practical and luxuriant. The quality and craftsmanship is comparable to a Rolex, but at a fraction of the price. They're an investment, and they're made to last. And, when you invest in a low-maintenance kinetic watch, you'll want to wear it all the time.
So consider your style. Do you want a watch that looks more at home outdoors or in the office? Or maybe a little of both? When you buy a Seiko, you're buying fashion and functionality, backed by a long tradition of exquisite workmanship.
When the quality of each timepiece is so high, it can be difficult to pick a favorite. The decision will come down to your personal fancy. Fortunately, with so many options available, there's a Seiko for everyone. We hope this article helps you narrow down a favorite.