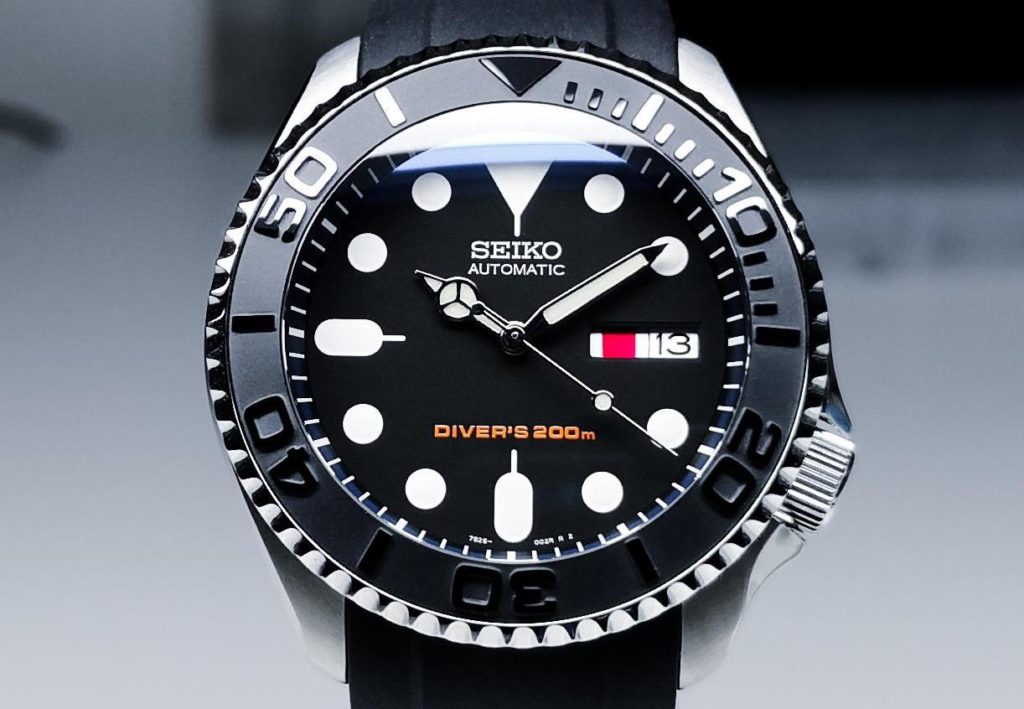 If you're looking for a moddable watch, it's not enough to simply find a good watch. That's not to say there aren't good, moddable watches out there — I'm about to be talking about some of them — but it is to say that not every good watch is moddable.
For example, I spend a lot of my time writing about microbrands and Kickstarter-funded startups. While these companies produce some fantastic watches at very reasonable prices, they're not generally moddable. Why would they be? The brands are just too small to justify a wide variety of options.
For a watch to be easily moddable, there need to be widely-available aftermarket parts. It also helps if the watch is part of a line of similar watches, since you can oftentimes mix-and-match bezels, dials, and other features provided the case and movement are the same. As a result, Seiko is a great brand for modders. Today, I'll be looking at five of their best moddable watches, to give you a better idea of what's what.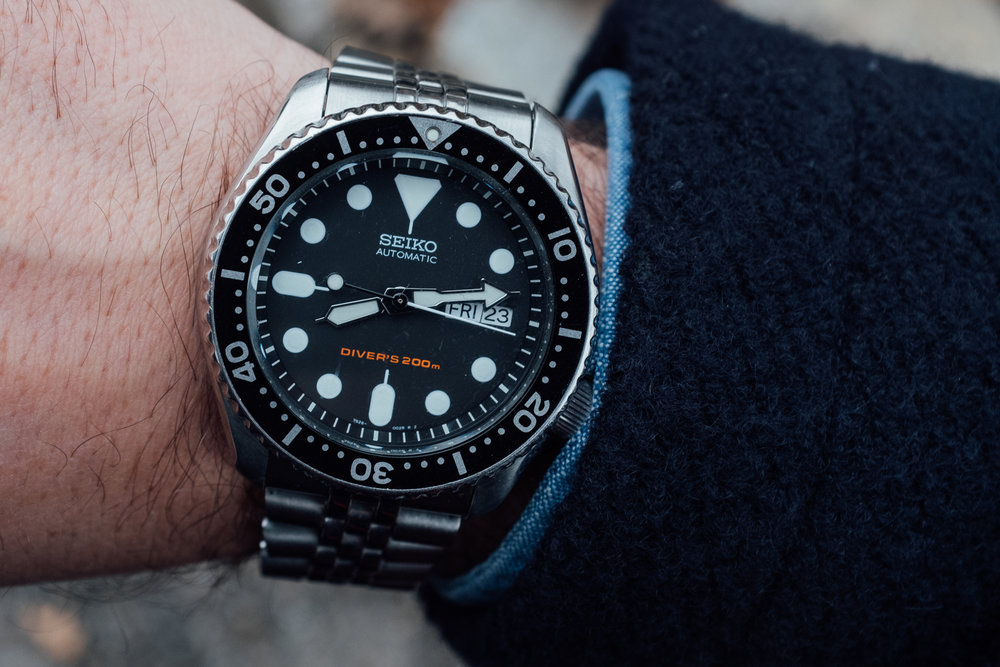 Designed as an upgraded, modernized version of their classic 1960s Seiko 5 dive watch, Seiko launched the SKX007 in 1996. While it went out of production for several years in the 2000s, it's been back in production since 2011.
With this pedigree, the SKX007 is one of the most recognizable dive watches on the market, provided you don't get it confused with any of the other, similar watches that have been based on Seiko's 5. It's reasonably priced for the quality, just as you'd expect from Seiko.
This watch has few frills, but the dial is still nice and full, with large dots marking the 5-minute marks and smaller outer scala. The 6 and 9 o'clock positions are marked by longer ovals, with a day and date window conveniently marking the 3 o'clock position. 12 o'clock is marked by an inverted triangle. The hands are both fat, although the minute hand is significantly longer, with an arrow at the tip. All in all, it's great for high visibility, with a bright lux finish on all necessary surfaces.
The watch case is constructed from stainless steel, and measures 42.5mm wide, with a lug-to-lug length of 46mm. This puts it on the large side, although not too big for comfort on most people. That said, at 13.25mm, the case is fairly thick, which is common on Seiko cases. I was pleasantly surprised by the fact that it weighs in at just under 10 ounces, a light weight that's enabled by the minimalist 7S26 movement.
The SKX007's case features a slight bevel between the case and the bezel, and the bezel extends out over the lugs, which simultaneously maximizes the visible size of the dial and minimizes the overall profile. On the bezel itself, you'll find a complete 60-minute scale, with a large triangle further emphasizing the 12 o'clock position. The crystal is constructed from Seiko Hardlex, a mineralized glass that's very difficult to shatter.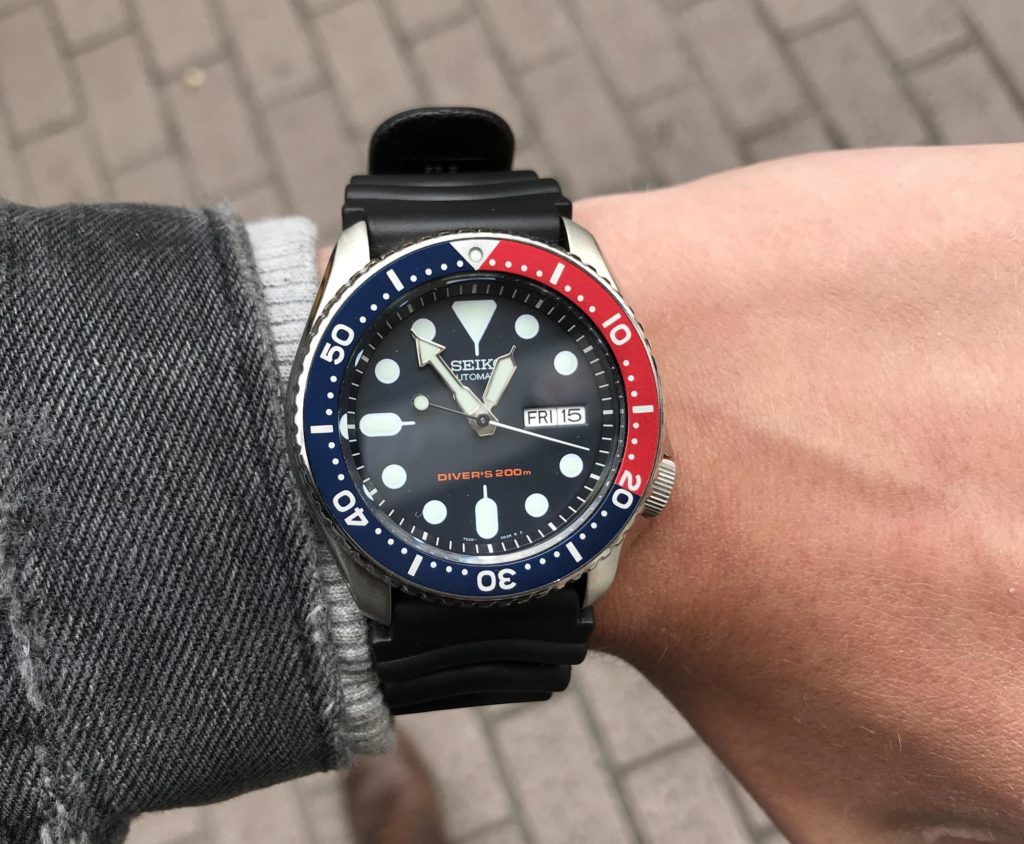 The SKX009 is a variation on the SKX007 we just looked at. It's a virtually identical watch, also based on the 1960s-era 5-series. It also came out in 1996, and there's only one significant difference. The bezel is Seiko's famous "Pepsi-style", which is deep blue from 4 o'clock to 12, and red from noon to 4 o'clock.
Rather than beat you over the head with all the other features – the 009 really is almost identical to the 007 – I thought I'd give a quick explanation of what makes a good dive watch. You'll often see watches advertise 200-meter water resistance, but not all of them are ISO 6425-rated for diving.
This watch, and all the Seiko watches on our list, all meet this standard, so it's important to understand what you're getting. In addition to water resistance of at least 150 meters, an ISO-rated dive watch also needs to meet several other minimum standards. These include:
A unidirectional bezel, with markings at least every 5 minutes and at least one pre-select marking. This design allows you to easily keep track of your time underwater, and the unidirectional bezel ensures that if it does get accidentally rotated, you'll be returning to the surface sooner rather than later.
Visibility at a distance of 25cm in pitch darkness, which ensures you'll actually be able to read the watch underwater.
A luminous second hand, or any other feature that allows you to tell at a glance whether or not the watch has stopped running.
Resistance to magnetism. Even after exposure to an intense magnetic field, the watch must maintain accuracy within 30 seconds of what was measured before the test. This is an important feature, considering the fact that a lot of dive gear and nautical equipment is magnetized.
There are also several other requirements, including specific shock resistance tests, corrosion resistance, and a minimum break force of 45 foot-pounds on both the band and attach points. As you can see, an ISO dive rating is about much more than just water resistance.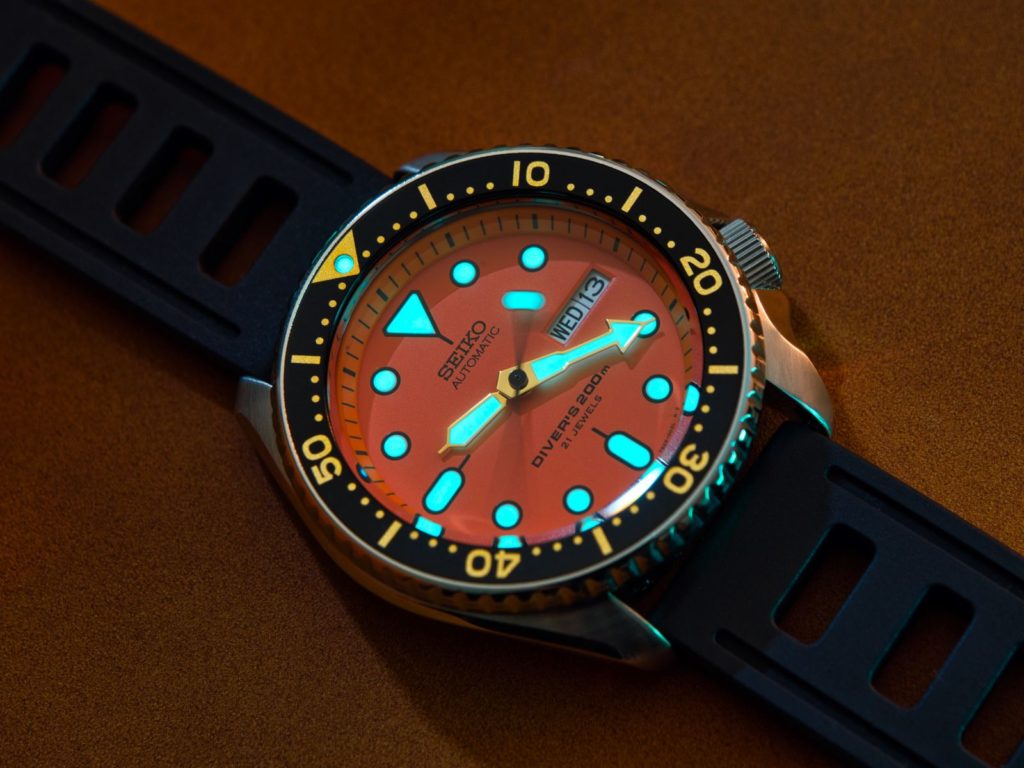 The SKX011 was originally launched in 1996, alongside the 007 and the 009. This watch was actually released in two variants: the SKX011J, which was manufactured in Japan, and the SKX011K, a specialized Korean variant. The K has not been available for several years, so I'll be talking specifically about the J.
This watch uses the same 7S26 movement as the SKX007 and the SKX009. This is a workhorse movement, which offers a rather humdrum accuracy of +20/-40 seconds a day, and is non-hacking and non-winding. Needless to say, it's not going to win any awards, but it's a commonly-used movement that's easy to replace, and is more than accurate enough for the needs of the vast majority of people. It also offers a power reserve of 42 hours, which is plenty for leaving it your dresser drawer for a day or two.
The SKX011 case measures 42mm in diameter, and has a lug-to-lug length of 45.5mm. It's slightly slimmer than the 007 and the 009, at a thickness of only 12.7mm. That said, it's significantly lighter, weighing only 3.68 ounces, so it's a solid choice if you prefer a more lightweight watch. It's still ISO-rated for diving, and features a screw-down crown at 4 o'clock.
The dial is very attractive, with a pumpkin orange face and large white dots at 5-minute marks. It has the same beefy hands as the rest of the SKX series, with a needle-like second hand that has a bright dot at the back end for visibility. You'll find a day and date window at 3 o'clock, just like other SKX series watches.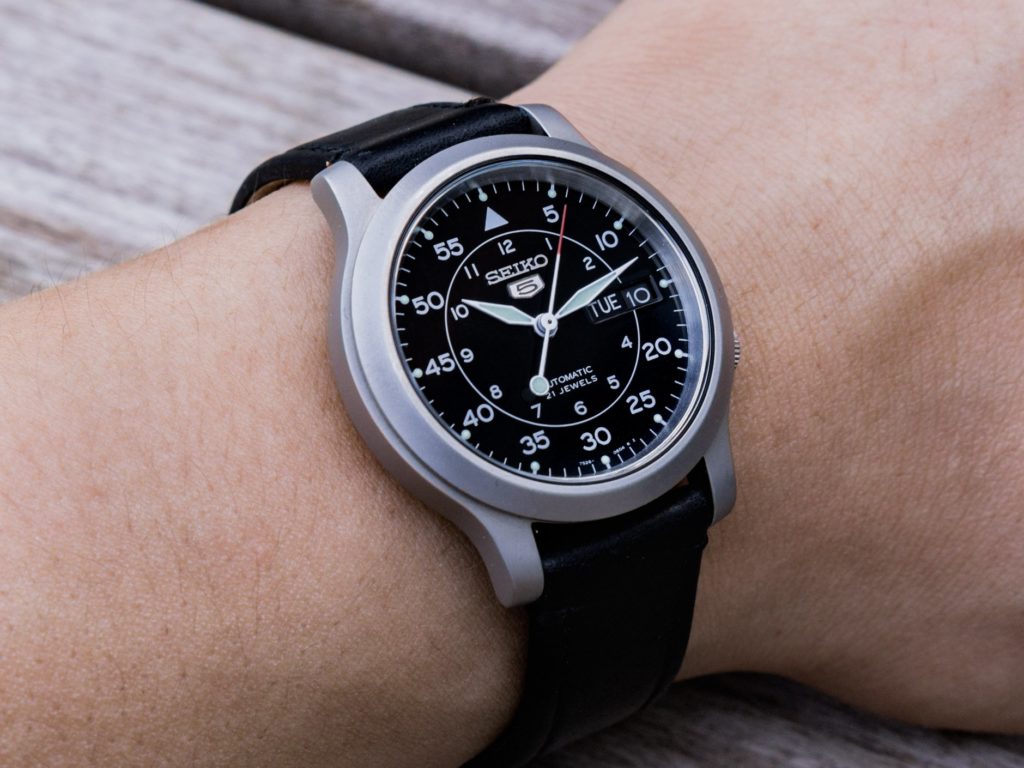 The Seiko 5 SNK809 isn't just an homage to the original Seiko 5, it's the latest version, since these watches have been in continuous production since the 1960s with minor variations. The original design was engineered to meet five criteria: an automatic movement, good water resistance, a day and date window, a 4-o'clock crown, and a rugged design. You'll still find all of these features on today's Seiko 5 watches.
The main difference between the SNK809 and the SKX series is in the face. Rather than the SKX's bold scala, the SNK809 has a more elegant dial. There's an inner ring with understated Arabic numerals at the hour positions, and an outer ring with 60-minute scala and a 5-minute readout. The hands are shaped like elongated diamonds, with a bright lume finish that's easily visible in the dark. The scala and numerals are also illuminated, and are surprisingly easy to see given their small size. Meanwhile, the second hand is also highly visible, with a red tip that's easy to follow around the dial. You'll find a day and date window at the 3 o'clock position that completes the picture.
Like other watches with the 7S26 movement, this one features a 4 o'clock crown. While this can be off-putting at first to some people, I like it. It doesn't dig into your wrist when you flex your arm the way a 3 o'clock crown will.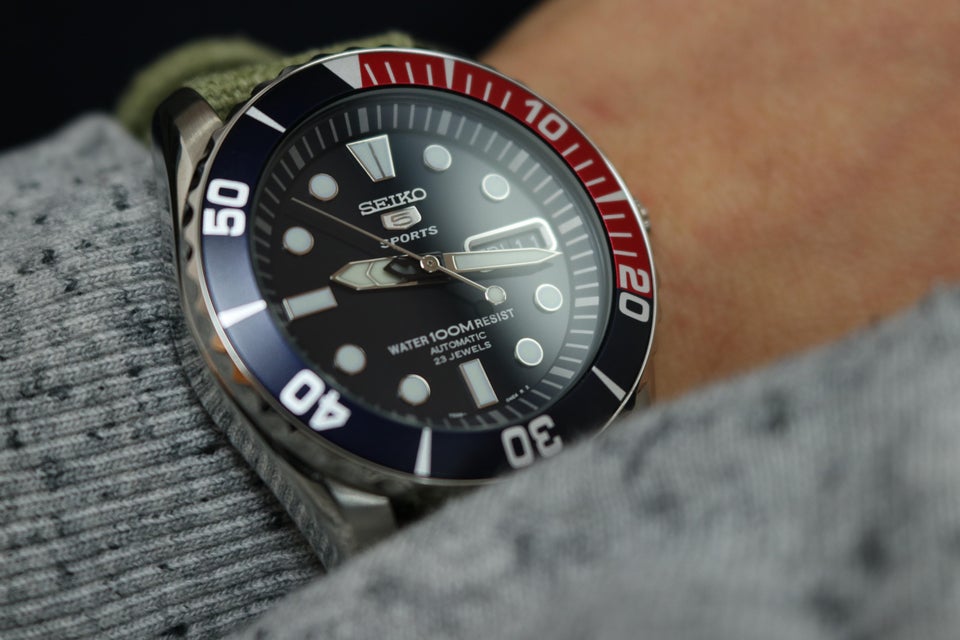 The Seiko 5 SNZF15 is another variant of the traditional Seiko 5, but it utilizes an upgraded 7S36 movement instead of the original 7S26. This is a traditional movement with a 3 o'clock crown, and is rated for +40/-20 seconds per day. However, it's a bit finicky, and can be off by more than a minute per day at the outset. Seiko recommends wearing it for a few days, then letting it sit still until the 40-hour battery is completely depleted. Once you wind it up again, it should operate normally. Speaking of winding, this movement is very easy to wind; it features a "magic lever", which allows you to wind the crown in either direction.
The watch face itself is very similar to the SKX009 we already looked at, complete with a "Pepsi style" bevel that's not just attractive, but also allows for an easy 20-minute timer. While the uni-directional bevel is a great feature for a dive watch, be careful; the SNZF15 is not dive rated like the other Seikos I've talked about today. It's only rated for 100 meters of depth, so it's not a good choice for diving. That said, it has large, high-visibility dots at 5-minute marks, and wide, easy-to-follow minute and hour hands.
The case measures 42mm in diameter and 13mm thick, and features a Hardlex mineral crystal that's resistant to both scratching and shattering.