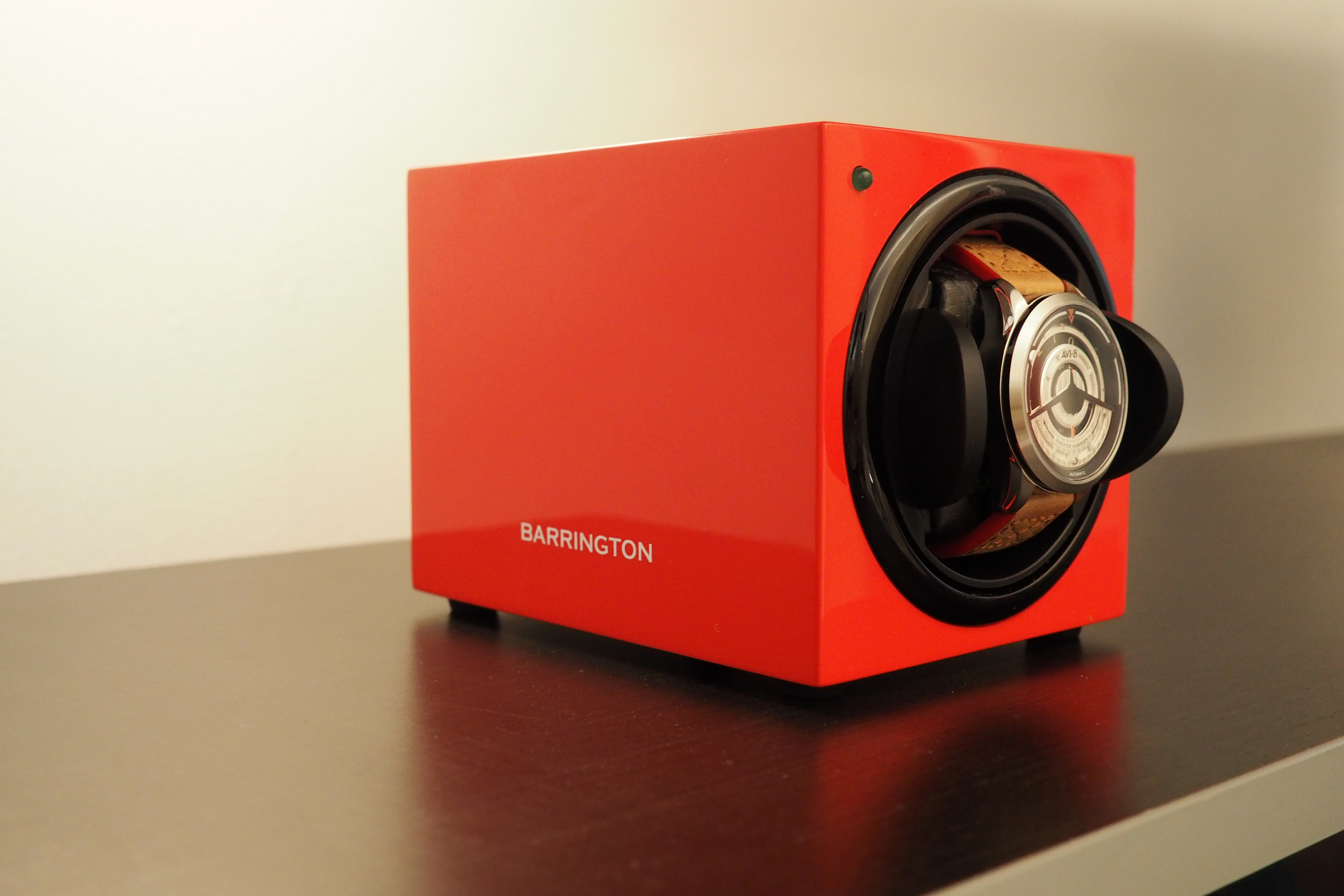 Watch winders are a luxury accessory for mechanical timepieces, they make the lives of automatic watch owners just a little bit easier to manage. Although they are not a necessary accessory to have, it's nice to be able to grab your watch in hurry and not have to hand wind it yourself. Winders also allow you to store your watch while displaying it, so if you're tired of wearing your watch but you still want to admire its beauty, put it in a winder! This list is for those of you who only have one automatic watch. We took our time to test and use a large variety of single watch winders, and here is our conclusive top 5 best list so you can make an intelligent choice without having to scour the internet for hours.
Brand
Wind Direction
Material
Color
Price
Barrington Single

Check Price
Clockwise
Counter-clockwise
Alternating
Quality plastic
Cherry red
$$$$
WOLF Heritage

Check Price
Clockwise
Counter-clockwise
Bidirectional
Faux leather & glass
Black
$$$$
Versa

Check Price
Clockwise
Counter-clockwise
Alternating
Plastic
Black
$$
WOLF Cub

Check Price
Bidirectional
Leatherette
Black
$$$
CHIYODA

Check Price
Clockwise
Counter-clockwise
Alternating
Varnished wood
Wood finish
$
Barrington Single Watch Winder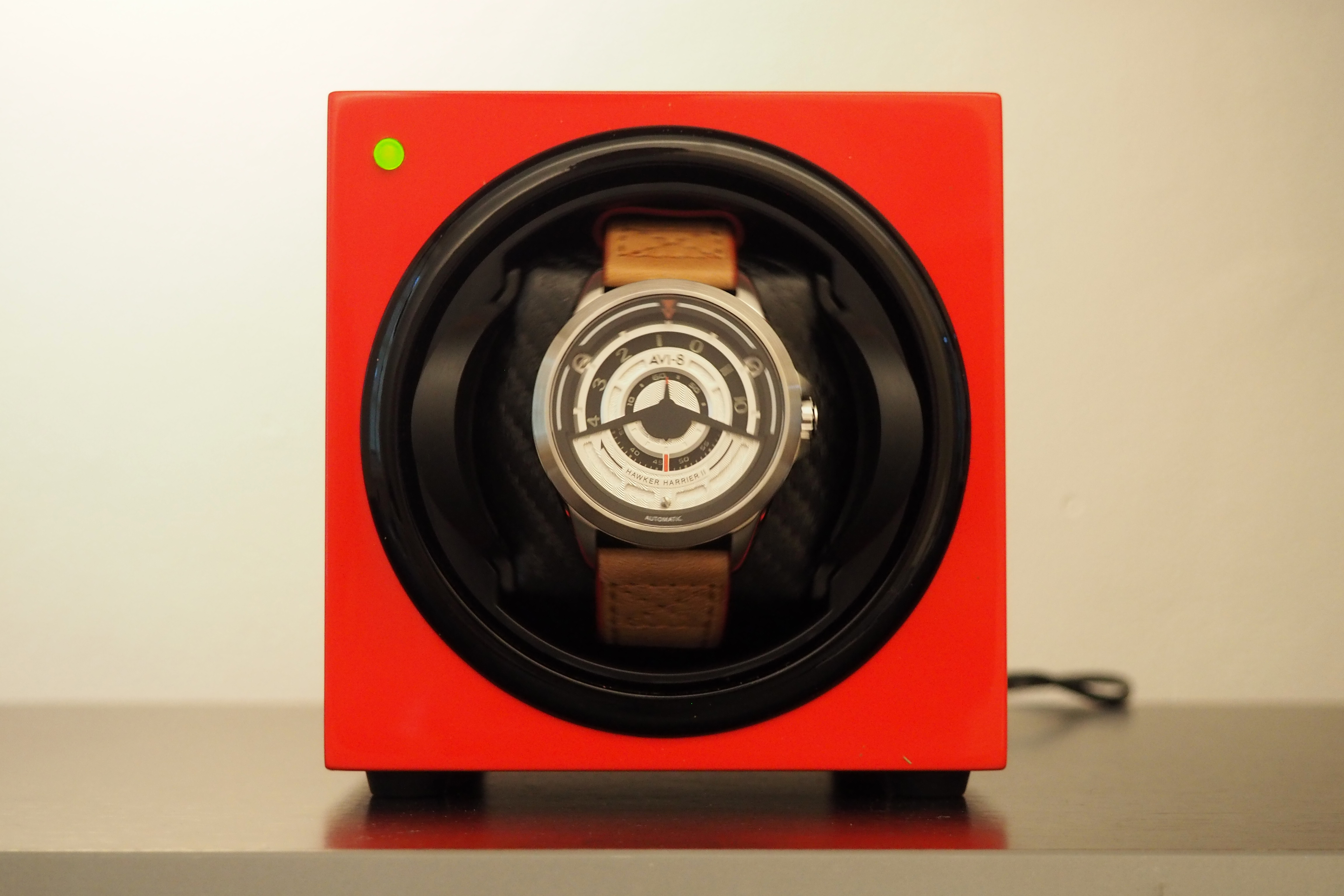 The Barrington watch winders are among the best in the industry and I think this is largely due to the fact that they only specialise in winders and don't branch out to making watches as well. This allows them to put forward some really good looking, high quality winders at a reasonable price point. Their variety is endless but today I am focusing specifically on the single watch winder I had the pleasure of using. Before we get into the nuts and bolts it is important to briefly mention the variety that Barrington has on offer, including 7 different colours as well as some vintage wooden singe winders.
The look is functional and pleasing to the eye even though they haven't gone for an elaborate design. The measurements are not too big and are well suited to any office desk or bedroom counter at 11.5cm (W) x 12cm (H) x 16cm (D). The Japanese motor that keeps the timepiece turning is so quiet that you would have to really try to hear it. It can be powered through the AC connection or by two AA batteries in case you find yourself away from a power source. This single winder setting starts off from Turns Per Day of 650 all the way up to 1950 so it is suitable for almost every timepiece.
The winder can be programmed to turn clockwise, counter-clockwise or alternating. This ensures that you make the most out of your turns and don't use up unnecessary time on winding your watch. The winder works on a 12 hour cycle so you can set it to suit your day.
There is more choice with the cushion where you can go for the standard size of 19cm to 24cm which would suit a large majority of wrists or you can opt for the Flex which is for smaller wrists at 14cm to 20cm. My only gripe here is the material used is not the most attractive but that could just be a personal preference.
WOLF 270002 Heritage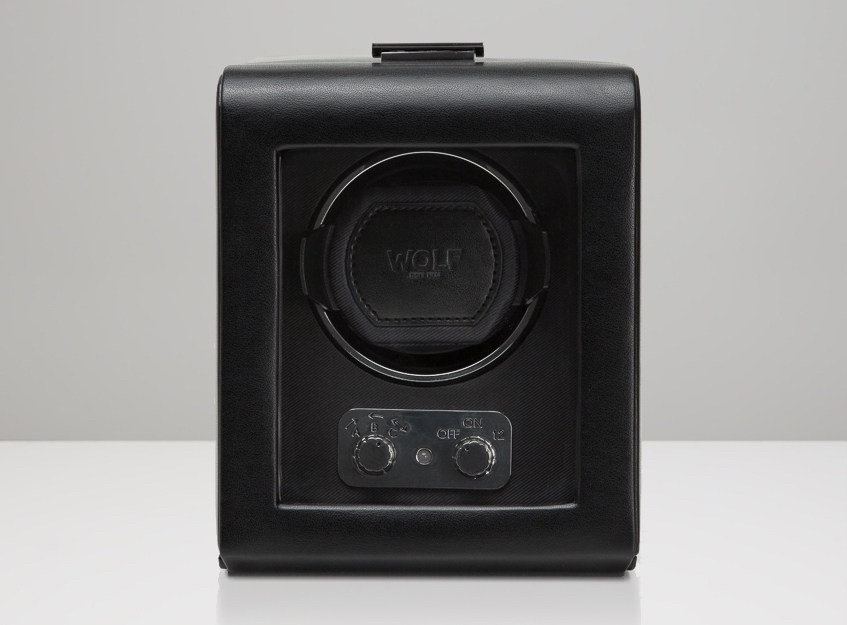 Wolf is quite an established brand with quite an incredible variety of accessories. The Heritage single winder has some handsome looking features but for the price point there might be some push back. It was designed with watches on the larger end of the spectrum in mind with enough space for a 52mm sized case. It only sports one turning module which turns at 900 turns per day. This can be problematic if you intend on building up a large collection of timepieces that vary with the amount of turns needed to wind them completely.
WOLF have a patented rotation program that counts the exact amount of rotations made as opposed to the estimate provided by other winders. The rotation is multi-functional and allows for a choice between clockwise, anti-clockwise and bi-directional. The rotation can also be set to a 12 hour cycle if you wish to use that instead of the WOLF rotational cycle. There is a choice of AC adapter for power or a lithium battery for those unlikely events of needing a mobile winder.
The exterior is covered in faux leather which looks great but might bother some purists. Using faux leather would assist in keeping the already seemingly high price point down and making the winder more affordable. There is a clasp on the top of the case that fastens the watch in to the drum. The glass cover is a classy addition and the dials are coated in a chrome finish but they feel a bit cheap to the touch, almost like a shiny plastic.
It is reasonably small in size and is quite lightweight. The Heritage winder is both reliable and aesthetically pleasing but for the price you would expect some more genuine looking finishes.
Versa Automatic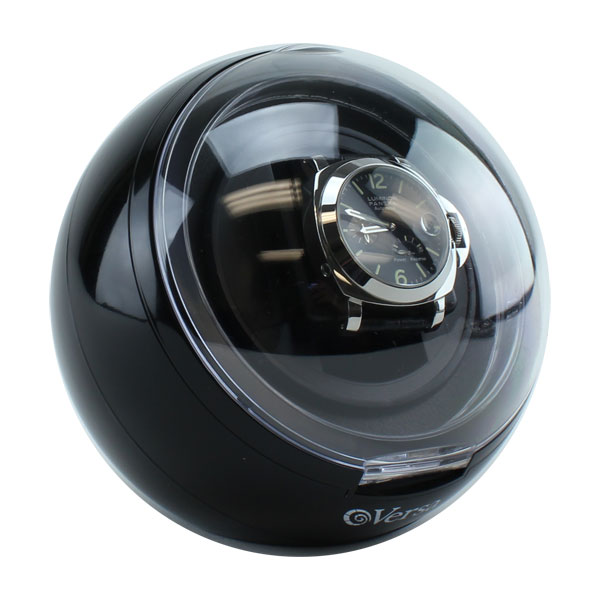 The designers had a clear mandate when planning the Versa and that is affordability. This winder comes in a fair deal more affordable than most of the single winders out there. The round shape gives the winder a good aesthetic look although it does seem quite large. For a winder at the price of the Versa you would expect that it would not be of a high standard but the team has really done well here.
The Japanese motor that turns this winder is soundless and has a variety of programmable settings. The turns per day ranges from 350 to 1050 with all three direction settings available. The winder functions in 5 minute intervals and rest time depends on the setting you choose. This single winder is made for your high end watches and the winding is restricted so that your valuable timepieces aren't overwound.
There is no rotation schedule mentioned and the instructions say that the winder should not be left on. This seems to be one of the steps taken to keep the cost down and puts the onus on the user to remember to unplug the winder to avoid the motor wearing out I would guess. Overall it could take up a lot of space if you have a collection to look after but if it is kept on an office desk or bedside table for regular use then it is the perfect piece.
WOLF Cub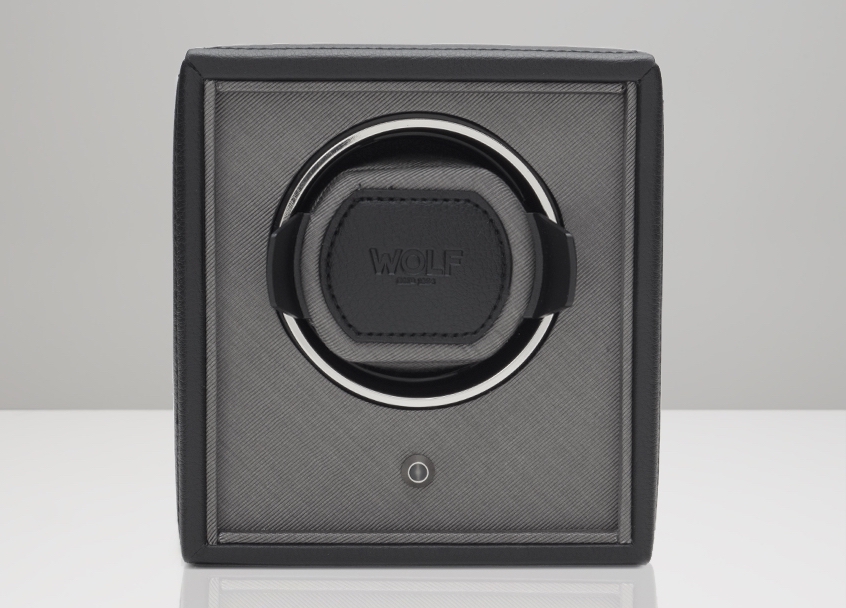 The WOLF Cub winder is designed for simple usability with no flashy features or controls. The wooden case helps control the sound and is covered in a faux leather. The frame and square shape is both aesthetically pleasing and functional because even though this is a single winder it can be stacked to form a part of a larger display. There are different colours available for anybody that is looking to add some more colour although I feel the black faux leather has a refined look.
The winder is pre-programmed to 900 turns per day and is bidirectional. All the accents are chrome finished which compliments the black faux leather even though, as with the Heritage model, I find the hardware feel to be substandard. The chrome coated decal at the bottom end of the winder is a light that will flash to indicate the winder is running. The WOLF logo on the leather patch is an attractive touch and the material used on the front of the winder and on the cushion creates a subtle contrast of colour from the colour of the faux leather.
There are sleep phases programmed in so that it isn't constantly turning if you have left it plugged in to the power, don't want your batteries to drain too quickly or are concerned about over winding your timepiece. This Cub winder is a simple, attractive and functional winder that can run well as a lone wolf or form a part of the greater pack!
CHIYODA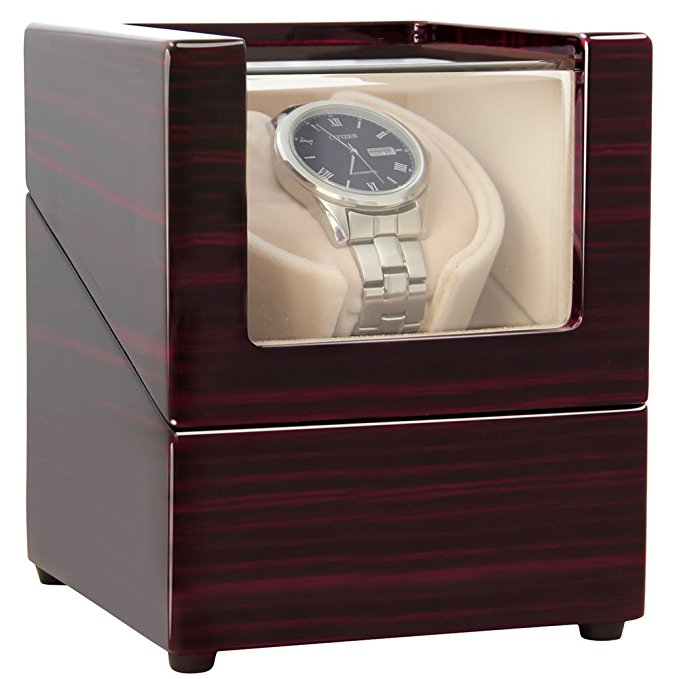 This Chiyoda watch winder is incredibly impressive in terms of design and attention to detail. The velvet cloth on the inside of the case and around the cushion has a vintage look to it. The velvet comes together with the wooden exterior to give this winder a sophisticated look that shoots well above its price point.
The wooden exterior is finished in a deluxe piano baking varnish which gives it the smooth surface texture and shine. The gold coated hardware sits well on the wooden surface and combines to give the compact winder a luxurious look. The Japanese Mabuchi motor is designed for silent running but just like most things you want to last still needs to be cared for. The dials and hardware on the back are also coated in gold and have 4 different turn per day settings and has the option to use all three directional settings. The Chiyoda brand name is placed on the hardware at the back with the logo just above it.
This winder is powered by AC cable or if need be batteries. The batteries will be under long sustained use so it would be good to keep in mind so I would not recommend them for preferred use. Your rotating timepiece is displayed through an acrylic glass that is less fragile than if made from real glass but is a bit of a detour from the otherwise completely classy winder.
Conclusion
I am a big advocate for choice when it comes to something like a winder that you will use for a long time but when you are looking at single winders it is more down to personal preference. I say this because with more choice you often find an increase in the cost and as you saw above there are some high quality single winders available at a low price that hold their own in terms of quality and longevity. A quality winder is important because you don't want something making a loud noise or over-winding your watch due to a malfunction and the winders above will give you that reliability.