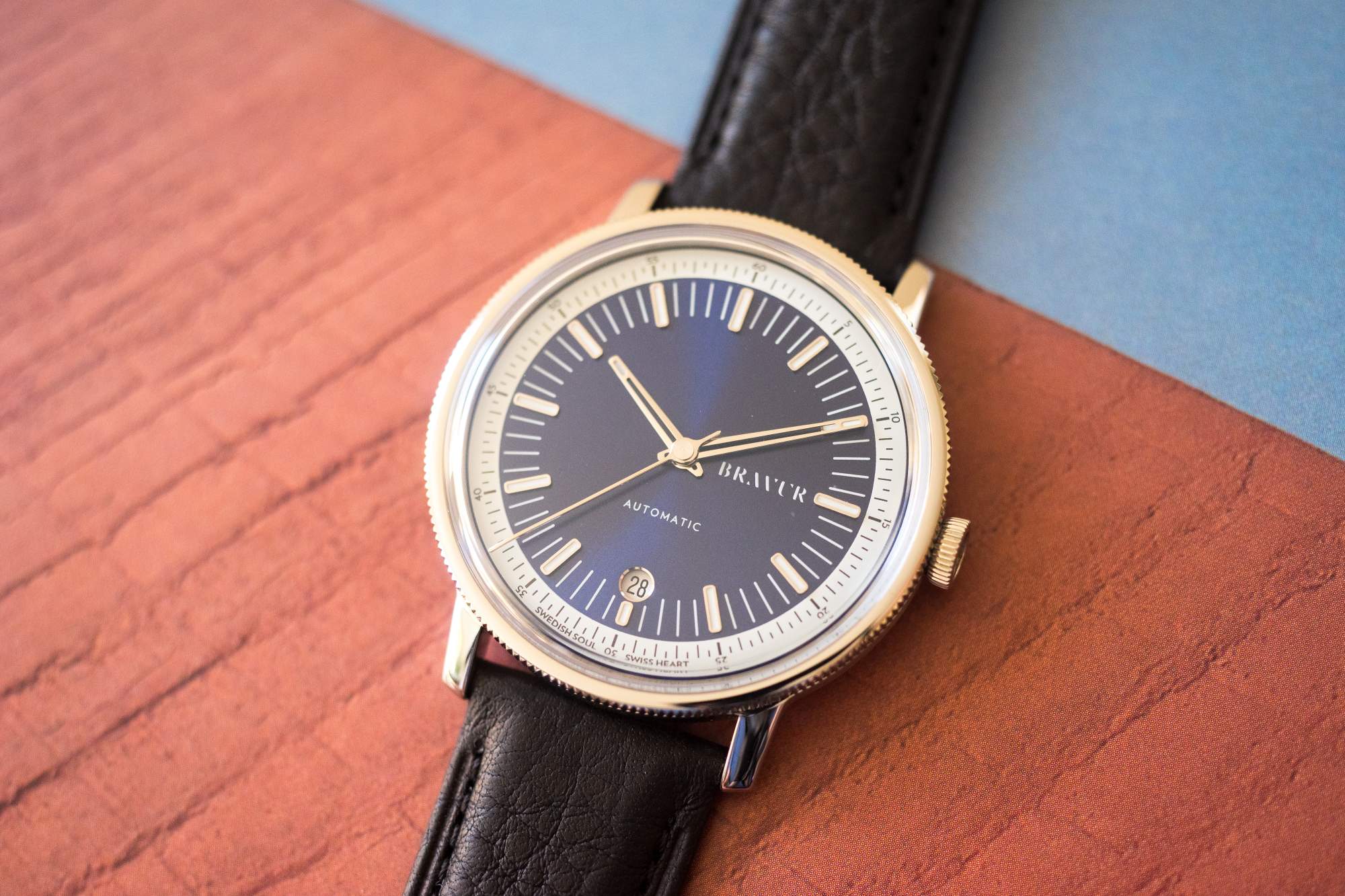 It is always a delight to find new and interesting brands in the horology landscape, even more so when they provide real value by taking care of the small details while manifesting a strong personality of their own. Today I have the pleasure of examining the midnight blue variant of the BW003, released in 2017 as the first automatic watch of the Bravur brand.
Here is a list of the specs:
Full reference number: BW003
Case material: Stainless steel
Case diameter: 39 mm
Lug width: 20 mm
Lug-to-lug length: 44.5 mm
Thickness: 10.3 mm
Water resistance: 5 ATM
Movement: Sellita SW300-1
Frequency: 4 Hz (28,800 bph)
Power reserve: 42 hours
Founded in 2011, Bravur is a small, independent brand based in Sweden which specializes in high-quality everyday watches. Previously scoffed at for their quartz offerings (quite a snobbish thing to do as quartz is a technical marvel in its own right), they have expanded their automatic line with discreet yet beautiful models since 2017.
Design Philosophy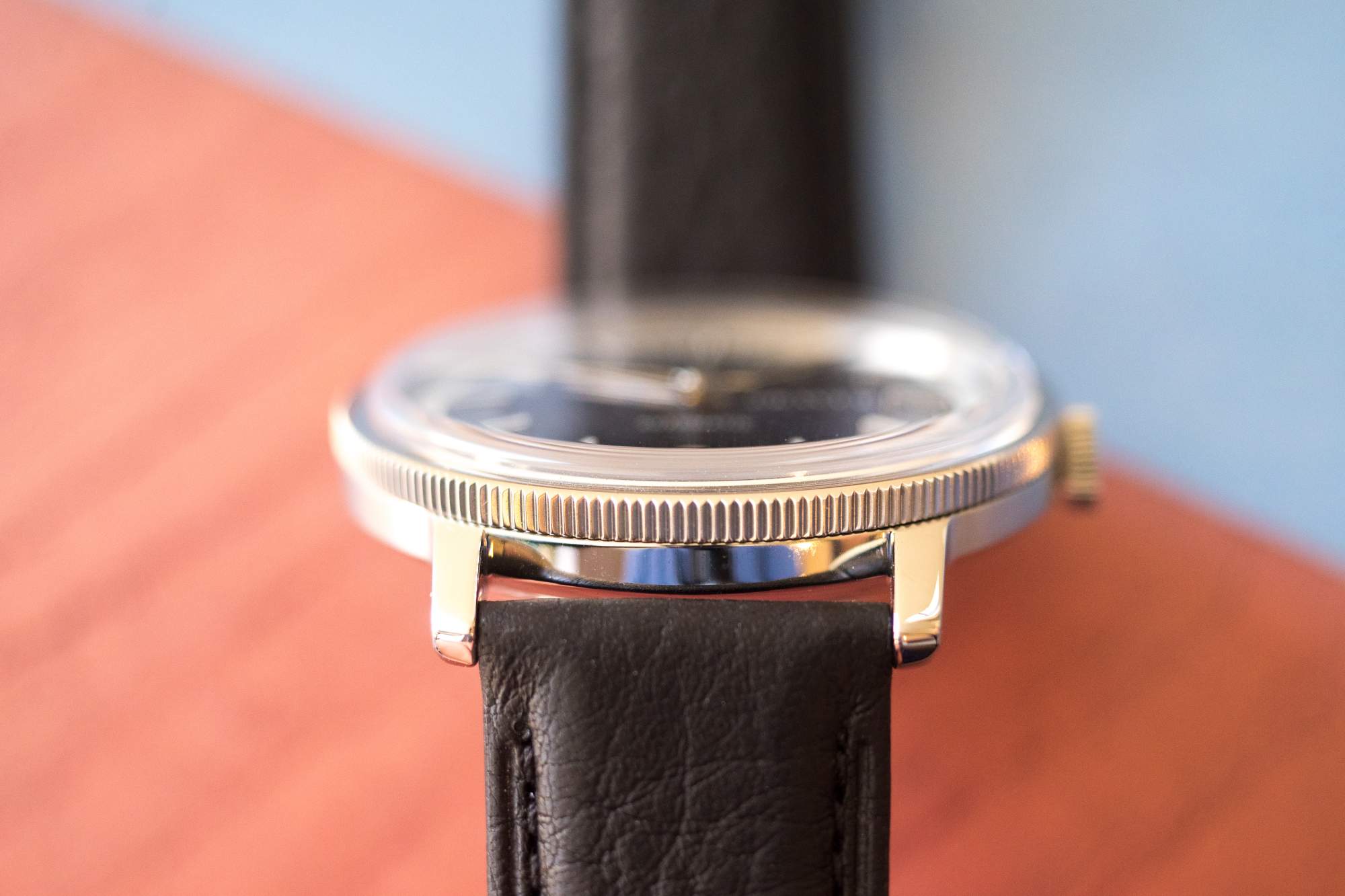 The BW003 looks right at home in the 21st century. Distinctly refined, contemporary, and exciting are words that come to mind to describe it. The Solitär case is unique, and its smart layered design managed to disorient me at first. Was I looking at a vintage diver's watch? Then, just for a split second, I was terribly reminded of the Moonwatch case. Of course neither was the case, but I was grateful for the momentary confusion. I foolishly tried to categorize this timepiece in my compartmentalized mind, but not every watch is made to withstand the crushing depths of the ocean, or to boldly travel to space and beyond. That said, this watch oozes personality and I'd be more than glad to wear it in most situations. The sapphire dome crystal is gorgeous and, along with the wonderful coin edged bezel, imbues the watch with that vintage aesthetic that threw me off-guard at first. The case is slim enough to wear under the cuff and, most importantly, the lug-to-lug length is just perfect. Seriously, I cannot overstate the importance of a sensible lug-to-lug measurement. Dozens of 39 mm watches out there feature lugs as long as a hotdog, defeating the purpose of a reasonably sized watch. One of Bravur's main tenets goes: "Great design isn't gender specific", and it definitely shows here. Not every men's watch needs to be the size of a dinner plate, and not every ladies' watch has to hulk around a hundred diamonds in a cramped 24 mm case. I can picture the BW003 being worn by both men and women just fine, and for that, I tip my hat to Bravur.
BW003 Dial & Caseback
The dial is, for a lack of a better word,​ energetic.​ Something about the sunburst dial along with the white applied markers makes the dial explode right before your eyes without overwhelming the senses. Meanwhile, the chapter ring increases the overall contrast of the dial. I suspect this is exclusive to the midnight blue and black variants, but maybe the white and green versions have their own personality, who knows. At any rate, I'm absolutely sold on this dial and I think it's a pleasure to stare at in different lighting conditions.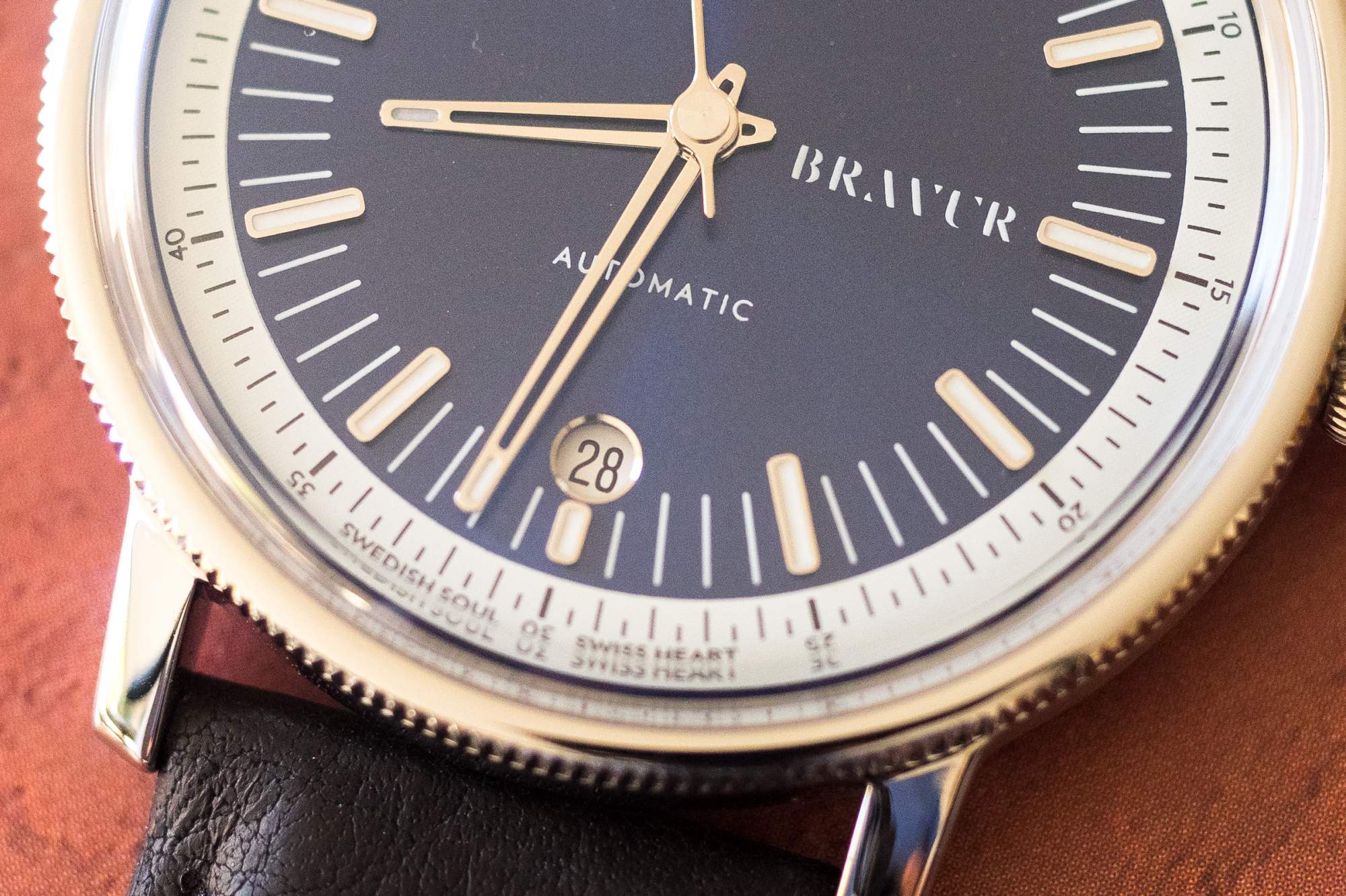 The skeletonized hands harmonize quite well with the applied indices and the date window at 6 o'clock looks right at home down to the typeface. I don't think I'm a fan of the text below 6 o'clock, though. The "Swedish soul, Swiss heart" motto is already engraved in the back, so it's basically redundant here. Besides, it's asymmetric in length, which, compounded with the Bravur branding already being off-center at 3 o'clock, throws the whole balance off. However, this is really a minor issue, already made up for by the overall beauty of the dial.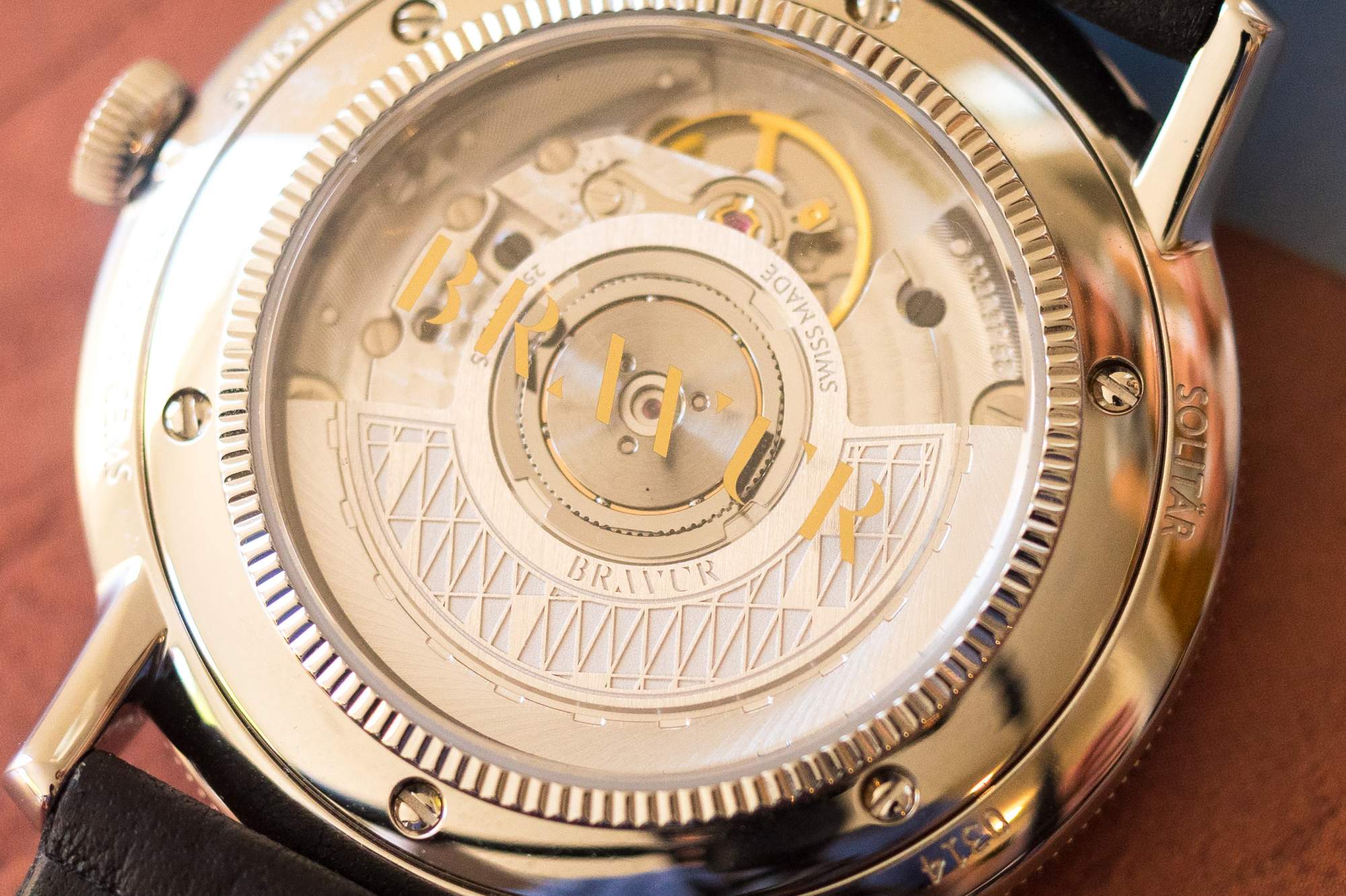 Speaking of the back, there is thankfully an option to order a sapphire case back. Taking a closer look at the movement inside is something all watch aficionados love, and I believe all brands should opt for a see-through caseback if possible. The Sellita SW300-1 inside the BW003 is an almost 1:1 clone of the legendary ETA 2892, so accuracy and reliability is guaranteed. The rotor is beautifully engraved and the fluting around the sapphire crystal is lovely. However, I'm not entirely sold on the branding across the crystal. I think it gets in the way and it's even made redundant by the Bravur logo on the rotor.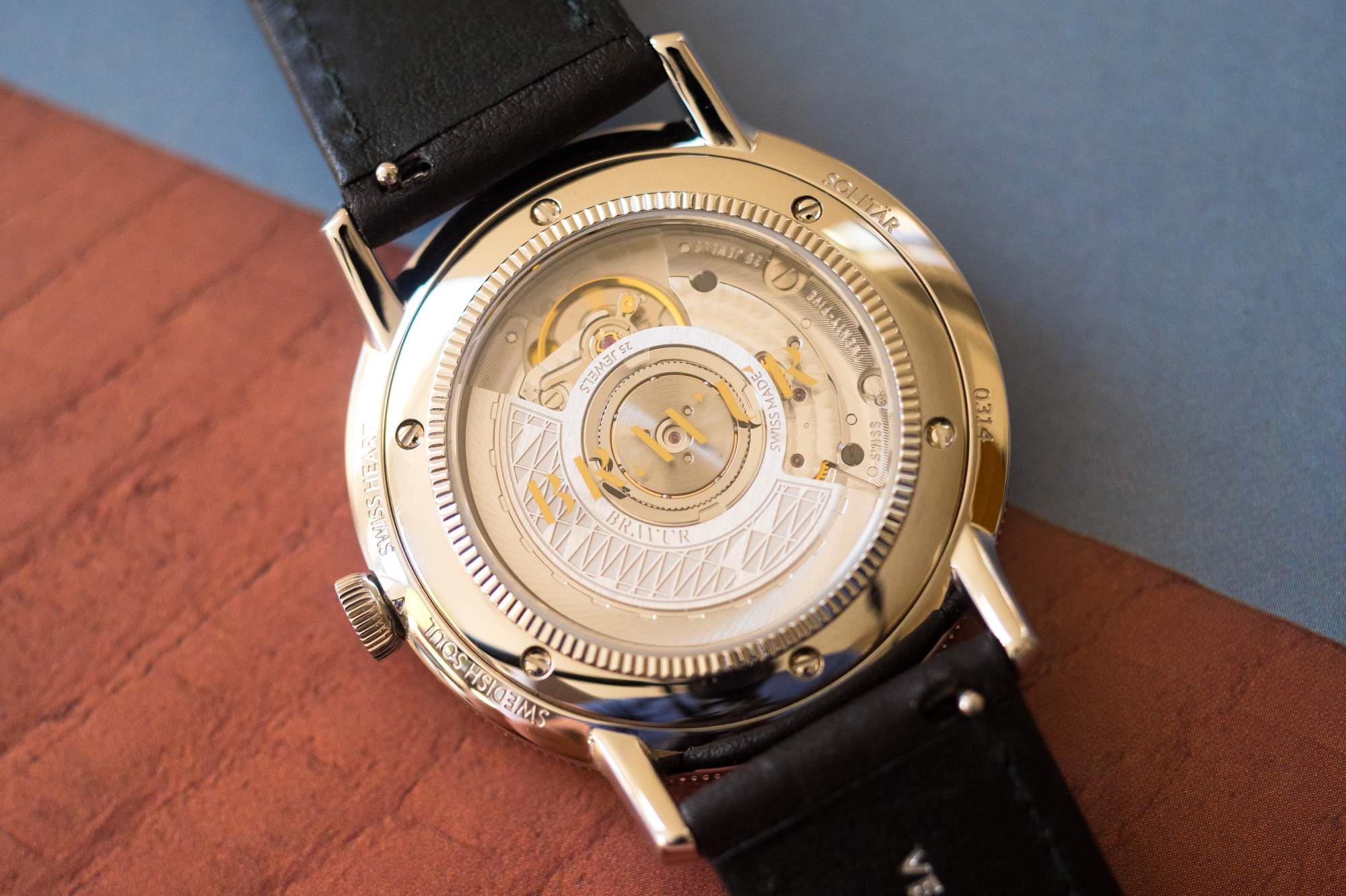 Conclusion
The strap is made from vegetable tanned leather, and feels great on the wrist. The deployant clasp works pretty well, although I must admit I prefer classic styled buckles. Those of you who like to switch straps every now and then will be happy to know there's a quick release mechanism to do so without risking damaging the lugs. Small details like this should be made standard. Few things are more frustrating than sending a springbar flying across the room every month or so, never to be seen again.
Bravur's first foray into automatic watches is absolutely fantastic. The fact that each Bravur timepiece is built upon customer order only adds to the allure of the brand. I think their design language is quite sophisticated, and I sincerely hope that their future offerings continue down this path.
To have a look at all of Bravur's offerings visit their official website here.