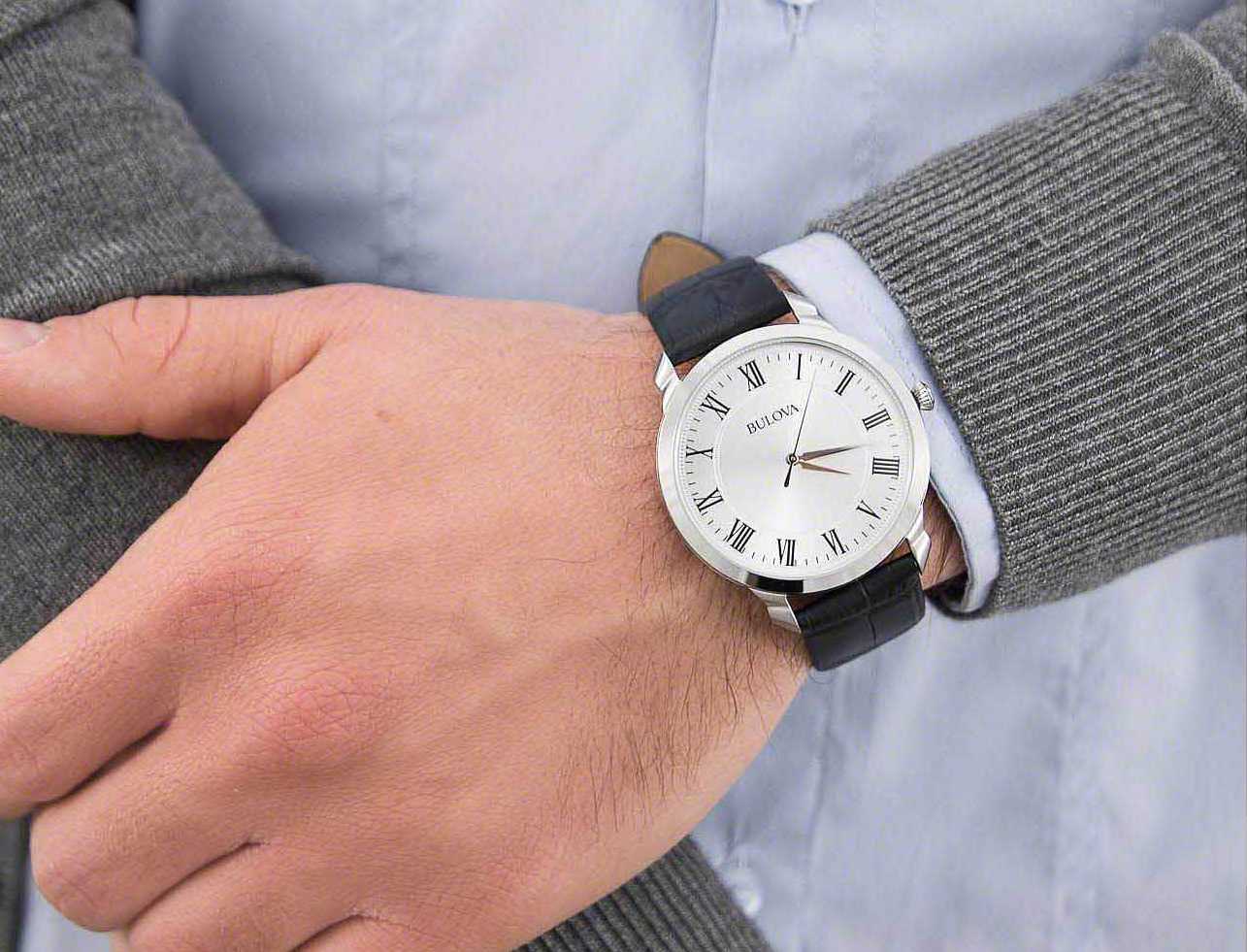 When it comes to refined watchmaking at an affordable price, Bulova has been leading the game for more than a century. Watches from this American brand represent innovation alongside elegant design, and the 96A133 from the Classic collection is no different. This timepiece reflects the long-standing legacy Bulova fosters at a fraction of a price its famed Swiss rivals carry. Let's have a look at the watch in more detail.
> > > Click here to see ratings, reviews, specifications and prices on Amazon < < <
Classic Dress Watch Dial Look
The 96A133 is constructed following a classic dress watch formula –an elegant, shiny case with a sharp, clean dial matched with a black leather strap. It would be wrong to say, however, that this handsome piece lacks character or originality. On the contrary, the shiny sunray dial works brilliantly with the oversized Roman numerals to make a stylish statement in a manner only Bulova can deliver. On its surface, not much is happening, but everything is in the right place. Numerals and markers are very legible in black, consistent with the strap color. Keep in mind, though, that the Bulova tuning fork logo isn't in the 12 o'clock position anymore, due to the brand's redesign.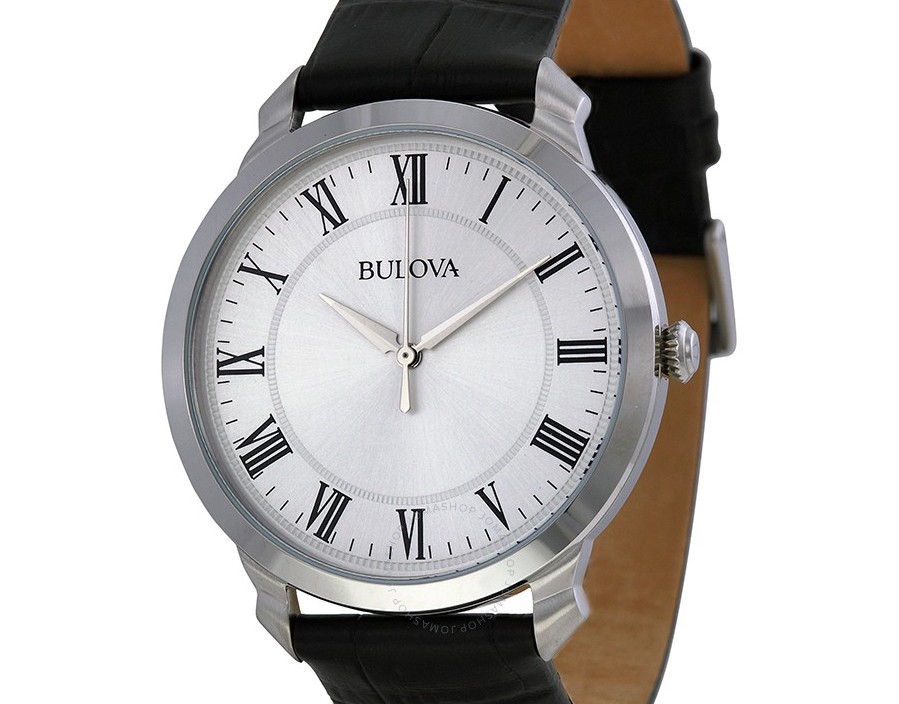 The rather large sword hands hit the target, too, fitting right into the story of sharpness and simplicity. They match the stainless-steel case and are polished in a different shade from the dial for improved legibility. I really appreciate that seconds hand hits the minute markers on the nose. This is not something you see very often in watches in this price tier. Yet everything on the watch's face looks so sharp and refined that its price will leave you rubbing your eyes in disbelief.
Sharp Case
The whole affair is cased in a slightly large stainless-steel case. At 41mm, the watch will give you plenty of confidence during your business and formal occasions, but on a smaller wrist might feel a bit overpowering. The case comes with its bezel polished and sides brushed, featuring a tuning fork logo on the crown and a plain closed case back.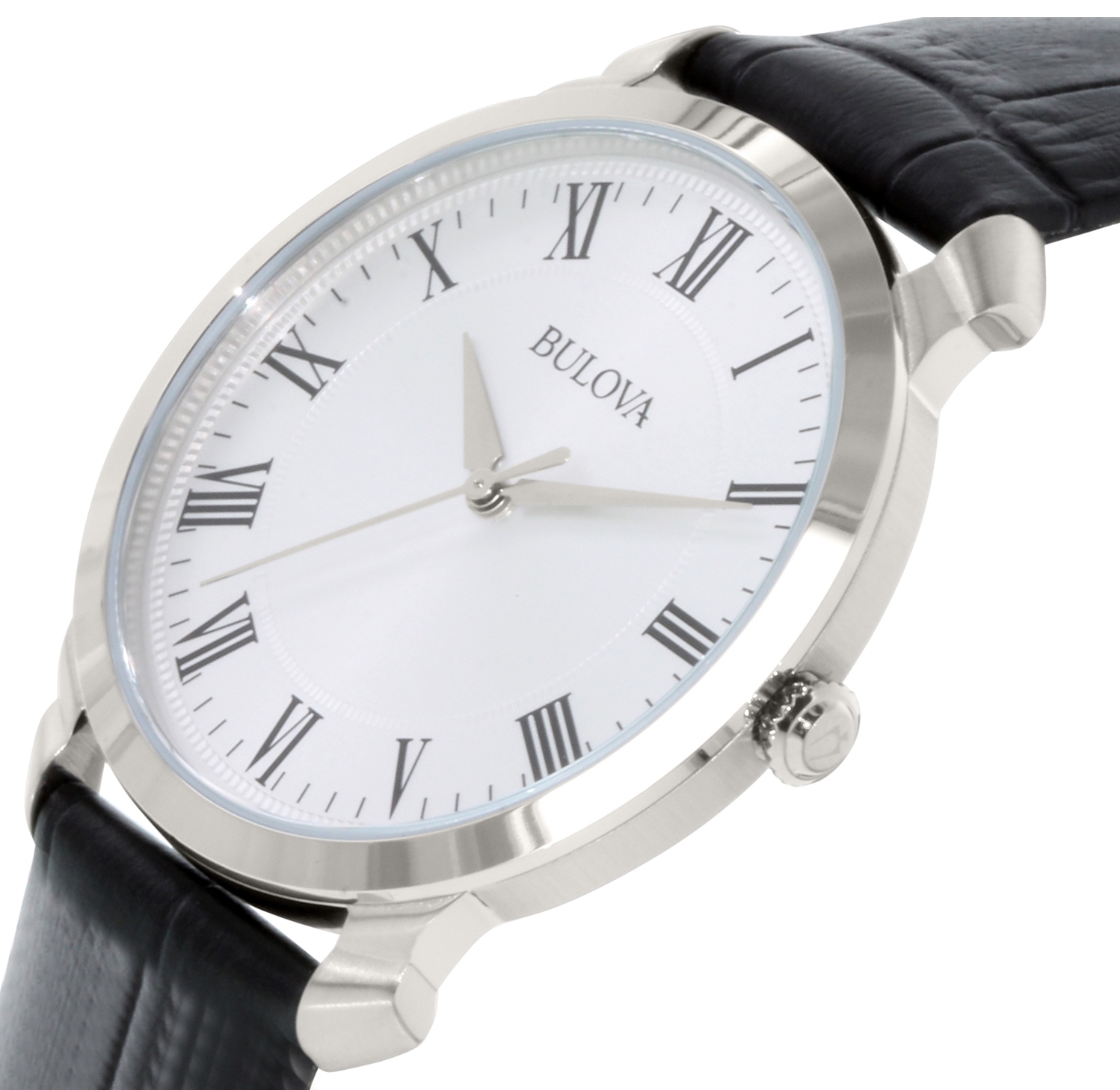 > > > Click here to see ratings, reviews, specifications and prices on Amazon < < <
There is little not to love about the entire case and dial synergy – it makes it look so crisp and clean. Arguably, the absence of the date complication and the tuning fork logo on the face count towards disadvantages, but in my opinion, these would only disturb the harmony of the face. Another drawback is the mineral glass which has weaker impact-resisting properties than sapphire crystal. However, for under $150, this is only to be expected.
The Strap
There is no denying that the strap is comfortable – it's made of calfskin which is a very popular pick among watchmakers as it provides good flexibility and durability. The 96A133 also features an embossed tuning fork logo on its stainless-steel buckle. However, the strap that comes with this watch is a little longer than the standard size. If you feel like you want to replace it, give it a go. Any black leather strap will do, and I can even see the faux croc-patterned one matching the case and dial well. There is nothing wrong with the strap per say, but the case and dial look so classy that you could think of a nicer model to go along them.
Japanese Quartz-Powered
The movement is, as you have probably guessed already, Japanese Quartz. Used in countless watches ever since its invention in 1969, the Quartz movement is a reliable and affordable alternative to the automatic mechanisms. It doesn't require winding as it runs on a battery and a piece of crystal quartz. The battery sends a signal through the quartz, which vibrates in a pulsating manner, moving the watch hands consistently and accurately.
With Quartz, you can rest assured your watch will keep correct time without your intervention. The smaller amount of moving parts also means less maintenance. The only thing you'll need to keep an eye on is the battery, which must be replaced approximately every two years.
Its smaller size also means a thinner case, which will enable you to fit the watch under your sleeve cuffs without it getting caught. It also won't get stuck on the edge of your pockets when you reach for your keys or the phone. It's easy to forget little details like these but they all count towards a more seamless and stylish wear.
Final Thoughts
All in all, the Bulova 96A133 is a great watch to start or compliment your watch collection. As a dress piece, it doesn't fall short in any of the categories. It features a striking dial design and a well-built stainless-steel case that guards it. There are some shortfalls with the strap, and the date listing is absent which some might find annoying. However, I believe this is still one of the cleanest looking dress watches on the market for the price. Plus, Bulova tends to make watches that last. With proper maintenance, you could have your 96A133 ticking for years to come.
> > > Click here to see ratings, reviews, specifications and prices on Amazon < < <