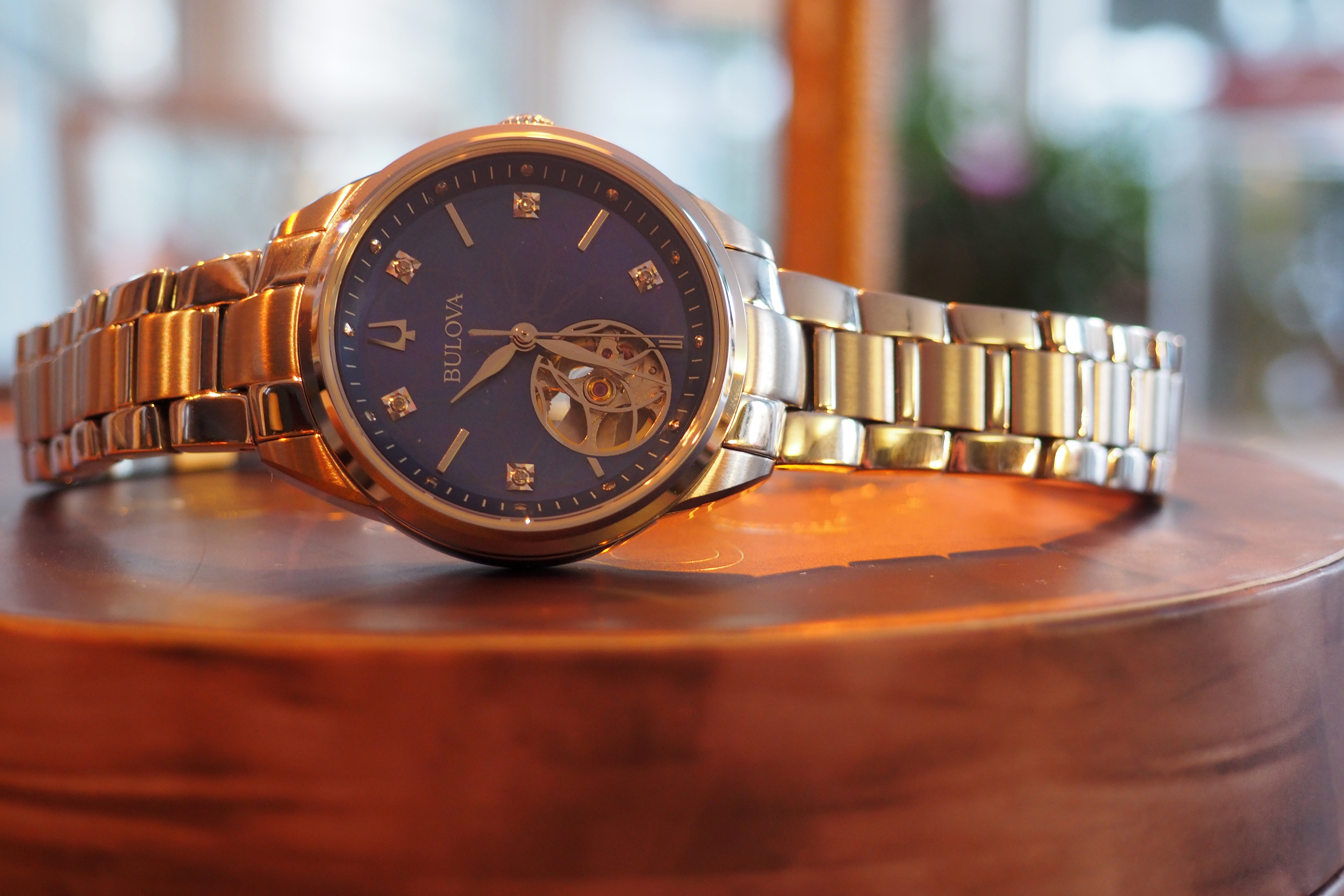 Bulova has established itself as a brand of firsts. There is a true commitment to risk-taking in order to stay ahead in a constantly evolving society. Quality was embedded in the values of Bulova from the very beginning by the pioneer, Joseph Bulova. Bulova is also renowned for its accuracy over the years so their clients would not be bothered by lost time. Their commitment to innovation has made it possible for them to lead the pack for an incredible 143 years and the timepiece that we are looking at today encompasses all of this.
Bulova do their best to not appear as normal and do not toe the line. They make their own roads and blaze new trails in terms of design. When you look at todays featured watch, the 96P191 Classic Automatic, you can sometimes forget that its actual purpose is to tell the time.
> > > Click here to see ratings, reviews, specifications and prices on Amazon < < <
Mother of Pearl!
The dial of the 96P191 is a marvel to look at. The blue mother-of-pearl dial demands your attention initially but the more time you spend looking at it the more your appreciation for the craftsmanship will grow. There are a number of overlapping circles worked on to the dial that give it a strikingly feminine feel. There are then 5 small diamonds positioned at different hour points on the dial that create a contrast off the blue surface.
> > > Click here to see ratings, reviews, specifications and prices on Amazon < < <
The familiar silver Bulova logo is embossed at 12 o'clock and silver line markers are embossed at the remaining hour points. There is an open heart on the bottom left of the dial that gives us a look at the automatic heart-beat movement that powers the stainless steel watch hands. The mechanical calibre used in this watch can be expected due to the Bulova love for craftsmanship. The mechanical engine is supported by a quartz crystal and features a 40 hour power reserve.
96P191 Case
The case and bracelet are made from stainless steel with a domed sapphire glass showcasing the dial. The case is 34.5mm in diameter so small enough to comfortably fit a lady's wrist and is 10.85mm thick that doesn't sit to bulky on the wrist. What would craftsmanship be if you weren't able to appreciate it? The case features an exhibition case back so that you can have a look into the impeccable design and handy-work of the mechanical system.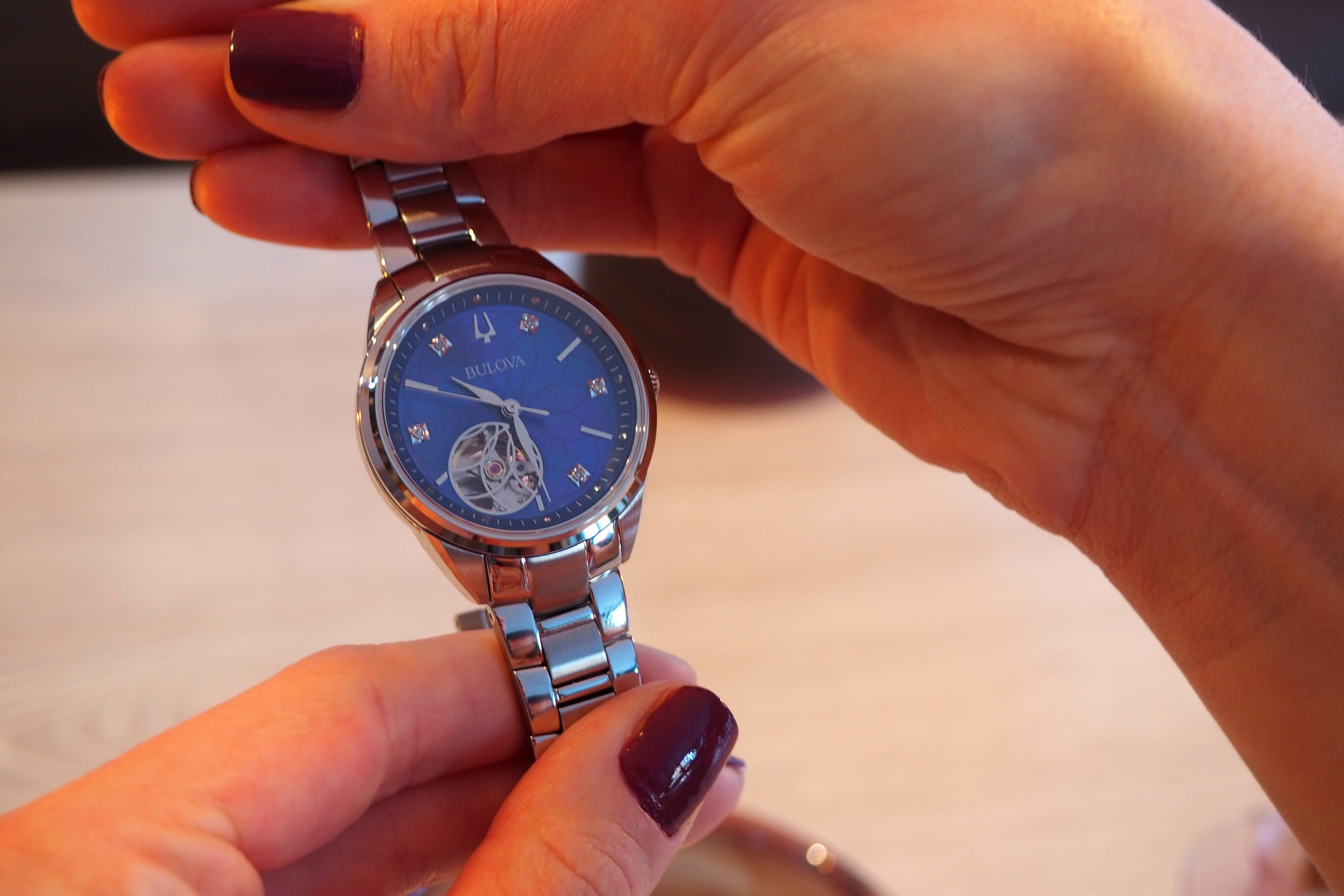 The bracelet is fastened by a double-clasp with a deployant closure. This makes the connection on the bracelet look natural and unassuming. The case is water resistant to 30 meters to avoid any water damage but this watch is not designed for active use or water training. This is a dress watch that is made for formal occasions and will be a genuinely classy addition to your look.
Crown
The 96P191 is from the classic collection and this watch features an antique looking crown. The antique crown is a nice touch on a polished final product and doesn't stand out as much as some of the crowns on other models. On the top of the crown we see the Bulova logo making another subtle appearance and finishing off the aesthetically artful design.
Comfort
Due to the size I am sure this watch will be comfortable but with a stainless steel bracelet and case I don't believe that it was designed to be worn for extended hours. The bracelet is at least adjustable so you will not be forced to get a new band or bracelet but instead adjust the size.
If you are planning to use the watch for regular daily activities then it would be best to replace the bracelet but I fear that doing so will take away from the intentional design style and craftsmanship of the Bulova design team.
Final Thoughts
At It's current price the Bulova 96P191 Classic is a bit more on the expensive side but not without any merit. It is truly a work of art and nothing has been spared in making certain this timepiece will carry the Bulova name high. It isn't necessarily going to be an everyday accessory for a number of reasons; you would possibly lose your appreciation for it if you end up looking at it every day, it isn't made for active use and even though it is still quite a sturdy piece you wouldn't want to risk damage by wearing it too often. This would be best suited to accompany formal evening dress events or important business meetings.
I have a special appreciation for the design on the dial. The overlapping circles are pleasing to the eye and are intentionally placed to create a flowery or feminine appeal. It is also well known that diamonds are a girl's best friend and the beauty and appeal of the diamonds here will make this timepiece from Bulova a lady's best friend.
> > > Click here to see ratings, reviews, specifications and prices on Amazon < < <