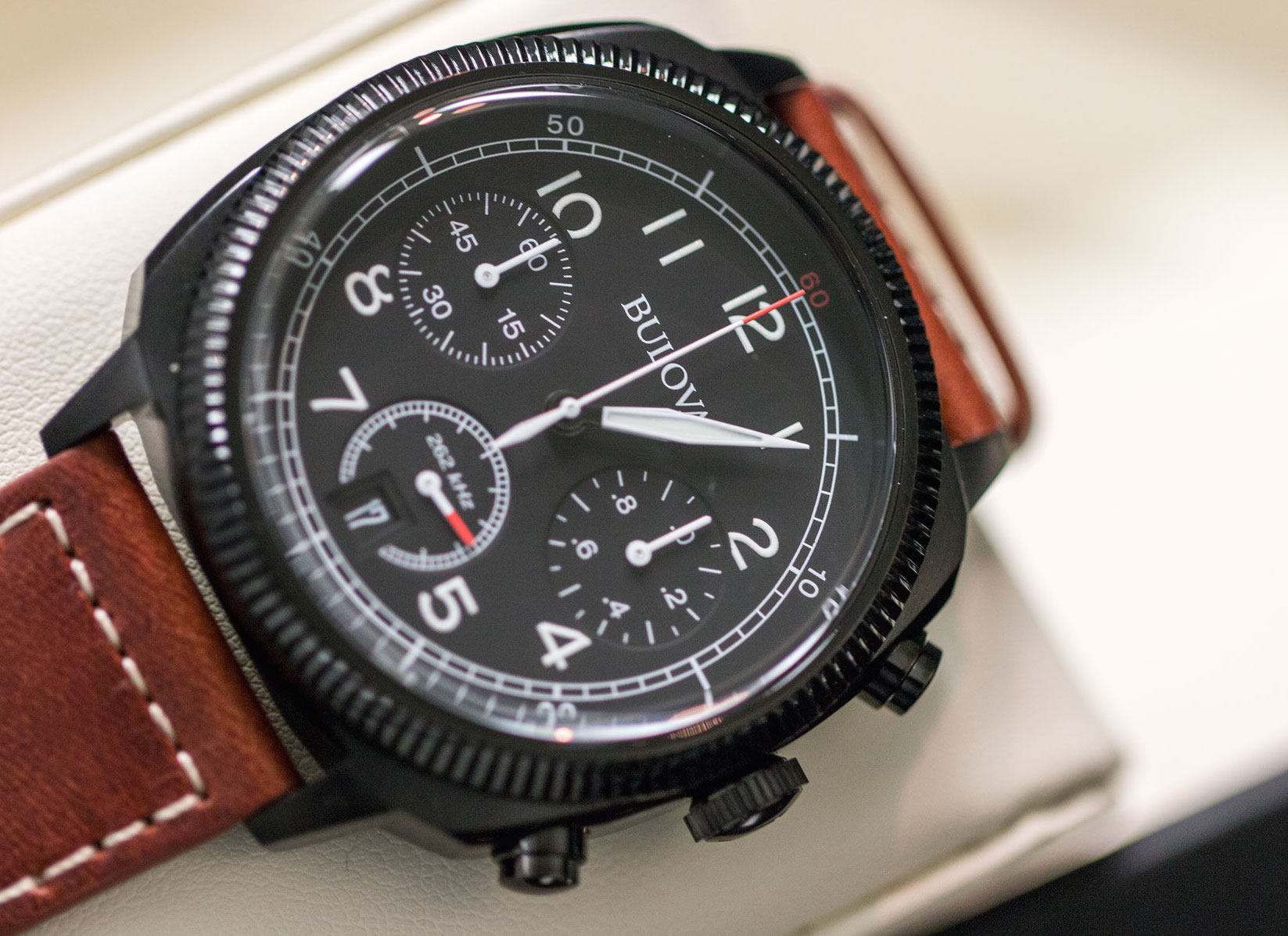 Bulova are well known for producing fantastic looking watches at affordable prices. The Bulova 98B245 Classic Quartz watch falls into this category and has all the makings of a unique and stylish piece. Bulova continue in the footsteps of founder Joseph Bulova, providing high-quality watches and this piece stands out as a great looking option to add to the collection.
> > > Click here to see ratings, reviews, specifications and prices on Amazon < < <
98B245 Aesthetics & Functionality
This Classic Quartz watch doesn't really look classic at all – but that isn't a bad thing. The black dial with white and red hands gives it an almost sporty look, and the Japanese quartz movement which powers this one certainly isn't a feature you would have seen years ago. The design within the dial itself features carbon fibre fabric giving it a leather look, very appealing to the eye in my opinion.
The sporty feel continues with the chronograph functions inside the 41mm case, showing off 60 seconds, 60 minutes and 1/10 of a second sub-dials with a smaller date window added in for extra measure. The accuracy within the 98B245 watch is second to none and is reported to be as good as 1/1,000-second precision over twelve hours. The positioning of these dials works well, sitting in a triangular pattern making it easier to distinguish each individual dial.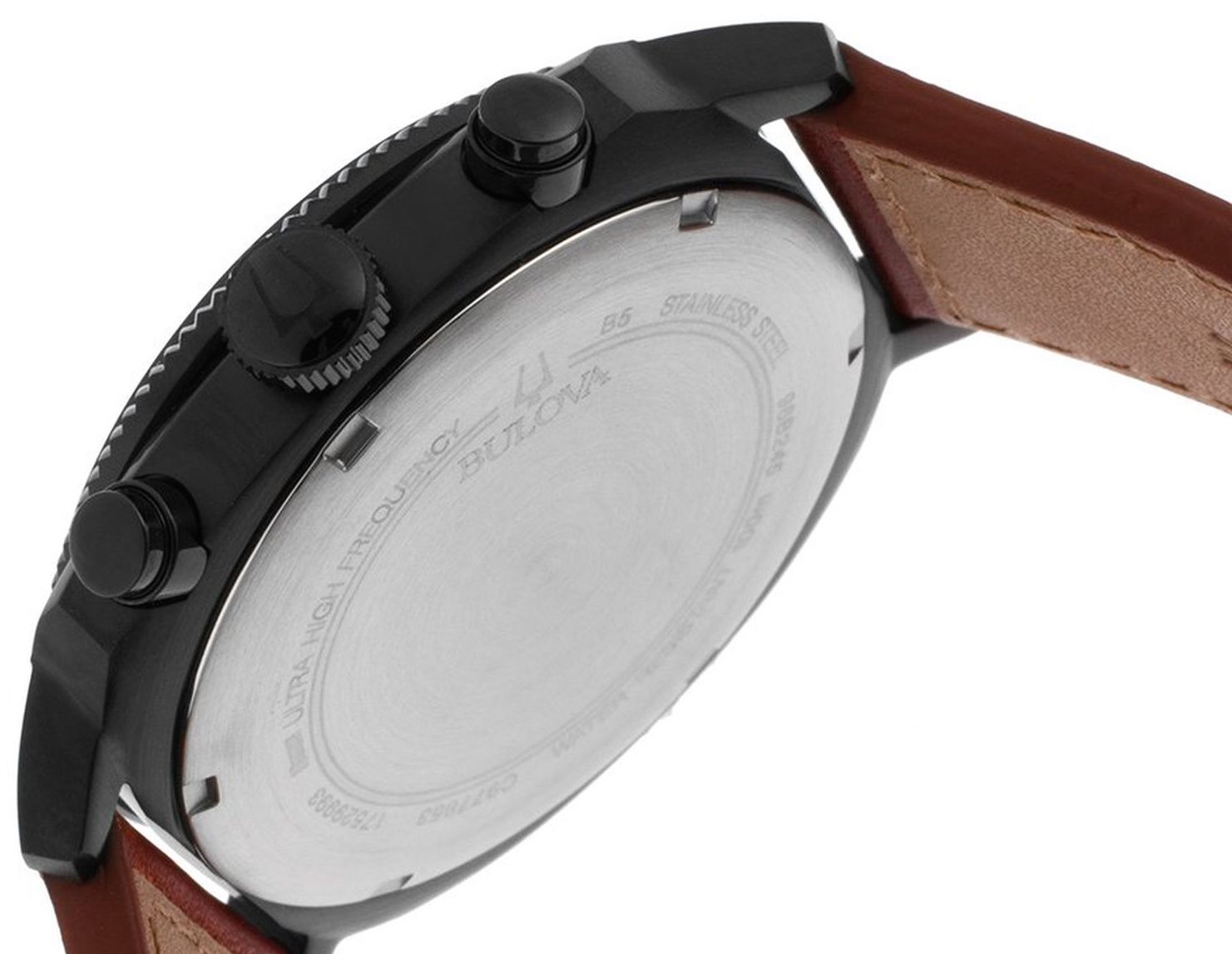 > > > Click here to see ratings, reviews, specifications and prices on Amazon < < <
Bulova have opted for an Ion-plated stainless steel case for this model, providing stability and sturdiness throughout. Backing up the strength is the mineral crystal face and water resistance feature of up to 100m or 330ft. These features would be sufficient for anything other than rigorous use so a splash and a bash here and there won't do any harm to this piece.
Moving onto the strap; the brown strap is made from calfskin leather, an unusual choice and not one you usually associate with a sporty looking style. Nonetheless, the brown leather strap features contrast stitching which stands out and catches the eye without it being off-putting and still appealing to the male consumer. This strap is durable and comfortable to wear, especially useful if you wear this Bulova 98B245 timepiece on an everyday basis.
Wearability & Final Thoughts
This watch combines style, comfort, and affordability and although I feel that it clashes between classical and sporty, it does look and work great.
With a current selling price of around $120 (at the time of this review), I would consider the 98B245 "Classic" to be a bargain. The stylish face gives a stark contrast between the black dial and white luminous sweeping hands, making it even easier to see in different lighting. The Japanese- Quartz movement which works out to be three times more accurate than the standard Quartz, provides excellent timekeeping and with the addition of the three subdials within the face, there is no reason to ever be late again.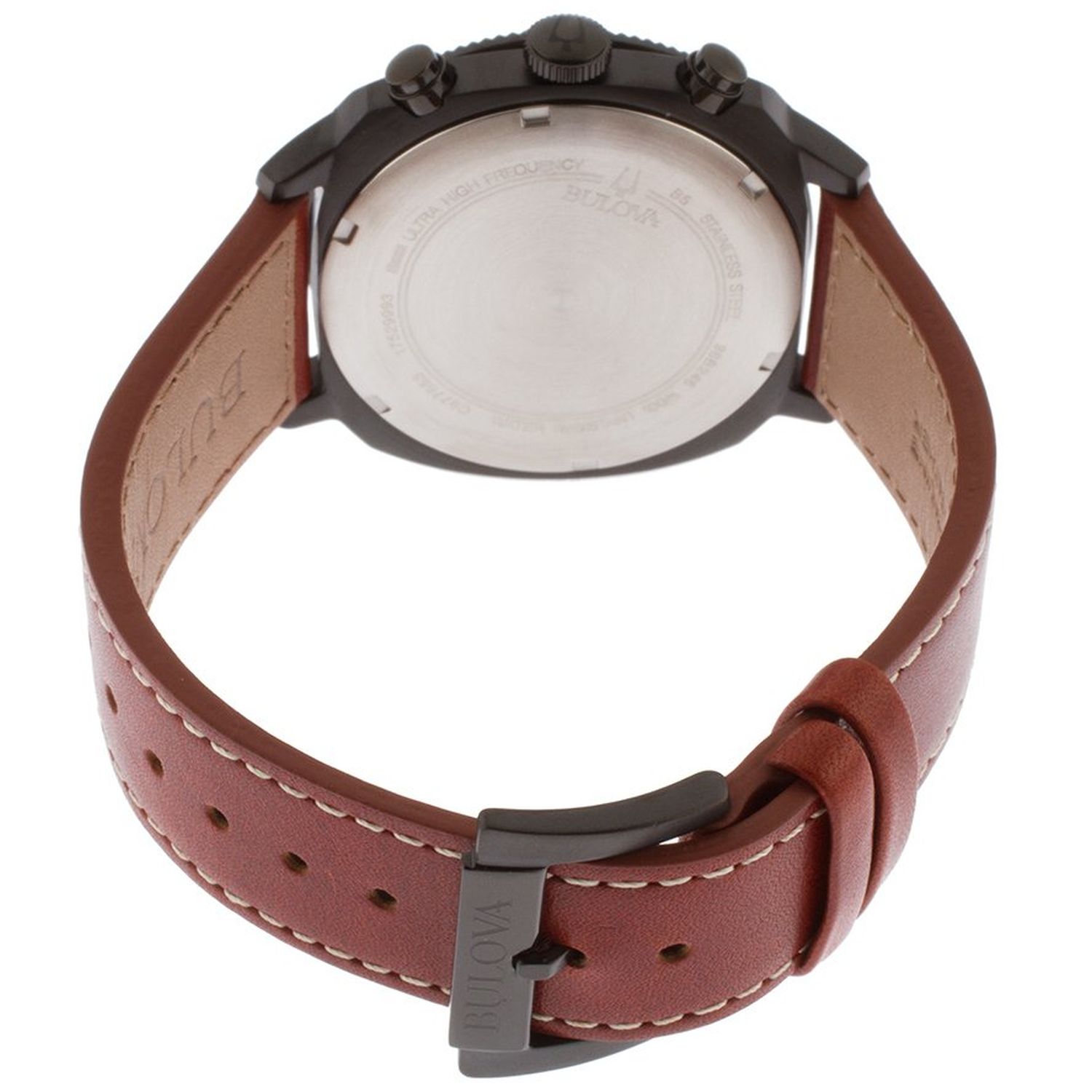 The calfskin leather strap works well with the rest of the watch and although the color difference is noticeable, I feel that it is a refreshing change from the watches which are the same color throughout. The ease of use and comfort offered with this strap out rivals others at a higher price range and also provides durability and strength, a testament to the quality and detail put into this watch by Bulova.
Bulova have brought a 'Classical' timepiece into modern society and fortunately doesn't miss out the style and detail we know and love from Bulova. The value for money is great and certainly a watch that I would love to keep for my collection and be proud to show it off.
The Bulova Men's 98B245 'Classic' Quartz watch provides everything and more than you need and with the current reasonable price it would be one you wouldn't want to miss out on.
> > > Click here to see ratings, reviews, specifications and prices on Amazon < < <