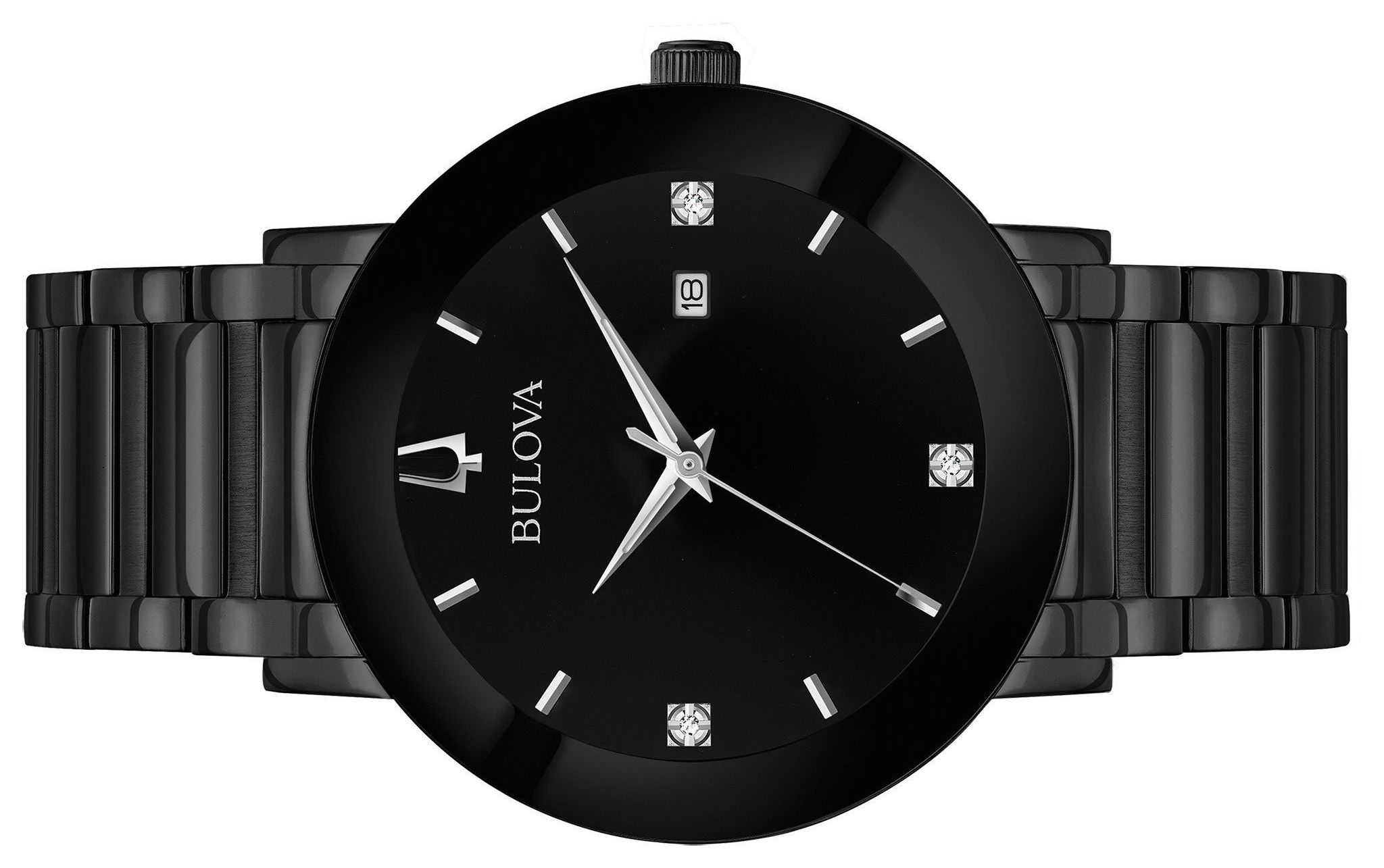 Bulova – an American founded company based in New York, provides a variety of watches aiming to capture a wide audience, varying from the classical watch to the newest and trendiest sporty watches. This Ion-Plated Men's 98C121 Sport Analog watch seems to show that Bulova are still on their A-game with this stylish timepiece.
> > > Click here to see ratings, reviews, specifications and prices on Amazon < < <
98C121 Design & Specs
Although Bulova is not the worlds most recognised watch maker, they do offer affordable and stylish watches, and the 98C121 is no different. Powered by Japanese quartz movement, although not the best and most accurate way to tell the time it does come with the advantage of being cheaper than its Swiss counterparts.
On the other hand the Bulova 98C121 does look really great and fits well with the latest trends and style of today's market. The smartly designed face has an almost fabric looking interior and is surrounded by an ion-plated 10.3mm stainless steel case. The addition of the Ion-plated case is unusual and something which is unique to see in a watch at this price range, however it adds to the style and quality presented throughout this piece.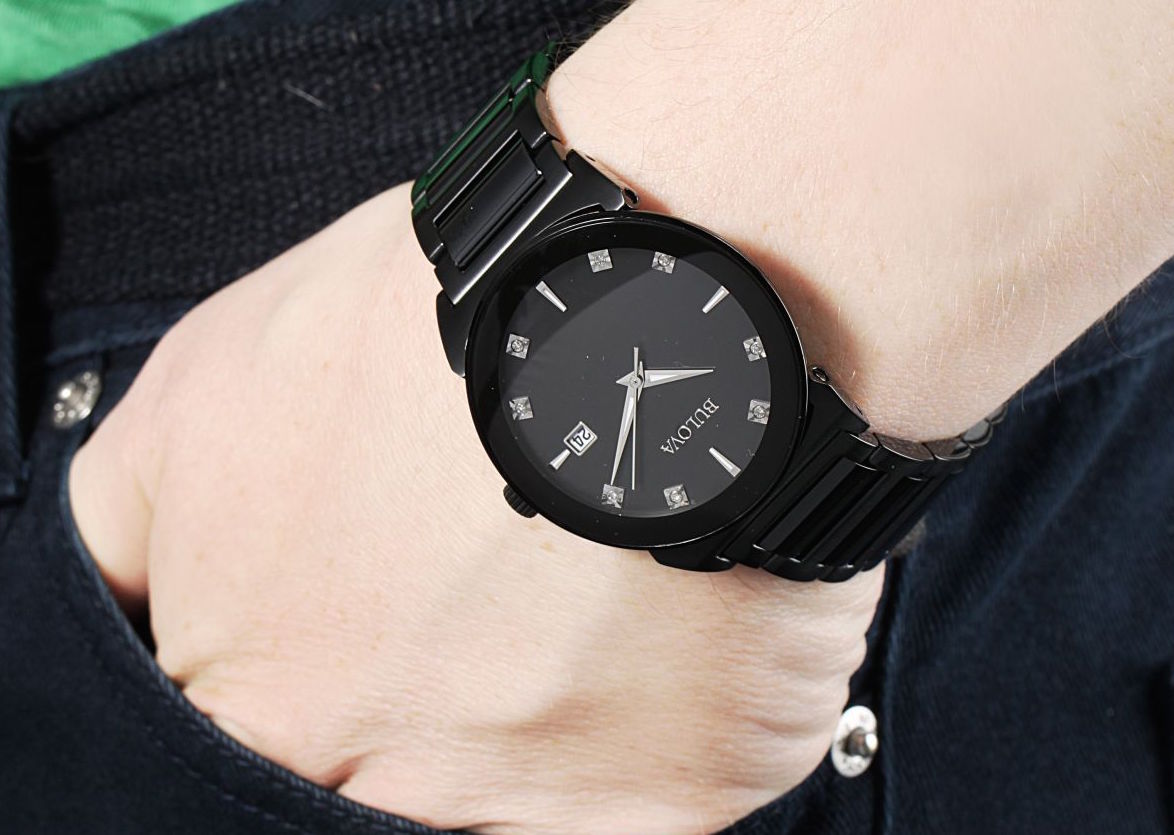 > > > Click here to see ratings, reviews, specifications and prices on Amazon < < <
The dial features a multi-functional design and out with the traditional time markers, comes with three smaller dials, found in the centre of the watch for easy reading, which shows the day and date. The white coloured hands show up well in contrast to the surrounding darkness and ensures it is easy to read in all lighting conditions. The dial gives this watch the sporty look and as far as practicality goes it would be easy to use in a sporty environment.
As well as being stylish and modern the 98C121 has a water resistance of up to 99 feet and is enhanced by the flat mineral crystal face to prevent the delicate details from any bumps and scrapes along the way, this will be sufficient if you take care of the watch and don't intend to get into any sticky situations.
The stainless steel black band is the key to keeping this watch together. It boasts sturdiness and strength and looks great at the same time. However the band may feel heavy and is not exactly the greatest material for a band on a sporty piece. As a fashion statement, Bulova have worked well to provide a sporty watch in a stylish manner, and this time-piece really does fit well with a lot of outfits and styles.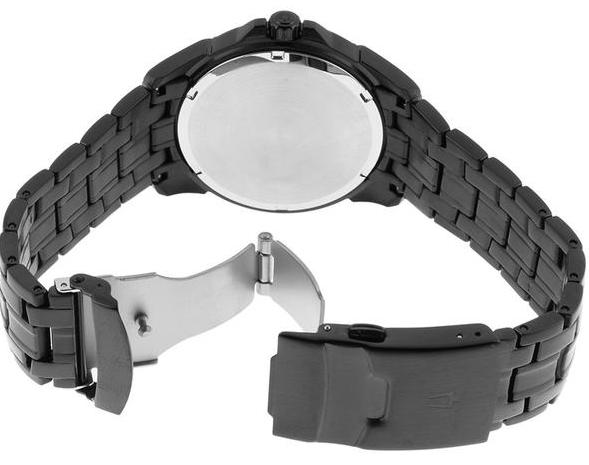 Overview
Smart, sporty and stylish – the Bulova 98C121 stands out for being a well-designed and unique watch. This may not be the top dog when it comes to technological features however it does offer a sporty and professional look and gives the impression of someone who cares about their style.
Bulova have put in the attention to detail with this one and have made the dial look more complicated than it actually is – which is never a bad thing. The date and day markers are neatly presented in the three smaller dials, giving easy access to useful information at a glance.
The Ion-plated design choice is unique but works well, once again giving this watch a sporty look but in a professional style. The downside to this unusual plating choice is that the watch will be heavier than other designs and may be distracting or uncomfortable for those who use this watch on a more frequent basis.
For the price of around $165 (at the time of this review), Bulova have made this piece affordable for the general consumer and provides all the great aspects of a watch with the added sporty feel and stunning design.
If you are looking for a sporty and stylish time piece then the 98C121 will definitely suit what you are looking for and ensures you get a high quality piece from a reputable brand.
> > > Click here to see ratings, reviews, specifications and prices on Amazon < < <